December, 2, 2011
12/02/11
9:00
AM ET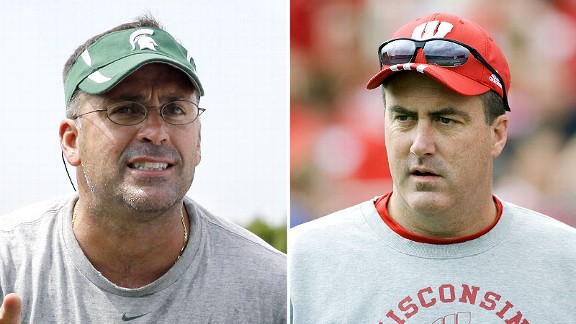 Getty ImagesPat Narduzzi, left, and Paul Chryst coordinate elite units, which will lock horns in the Big Ten title game.
If your team has a head-coaching vacancy -- looking at you, Illinois fans -- you're probably hearing the names Paul Chryst and Pat Narduzzi right about now.
Chryst, the Wisconsin offensive coordinator, and Narduzzi, the Michigan State defensive coordinator, are the two hottest candidates among Big Ten assistants to become head coaches in the coming days and weeks.
Both men have been instrumental in Wisconsin and Michigan State becoming new powers in the Big Ten. Both men oversee units ranked in the top 15 nationally in several major statistical categories (scoring defense, total defense, pass defense, rush defense, scoring offense, total offense, rushing offense). And both should be fielding some calls from other programs.
If you're not familiar with Chryst and Narduzzi, there's some good news for you. They'll be coaching directly against one another Saturday night when No. 13 Michigan State takes on No. 15 Wisconsin in the inaugural Big Ten championship game in Indianapolis.
While Chryst is working on another record-setting season with Wisconsin's offense, Narduzzi's defense has taken a significant step forward this year.
The Spartans' defense moved from good -- it ranked 43rd nationally in total defense and 39th in points allowed last year -- to nationally elite. Michigan State's defense leads the Big Ten in the following categories: rushing defense (102.5 yards per game), total defense (266.7 ypg), sacks (38), interceptions (16) and third-down defense (32.9 percent conversions). Narduzzi's crew has held seven opponents to 17 points or fewer and six opponents to fewer than 100 rushing yards. Michigan State has allowed only eight rushing touchdowns all year and just 30 trips inside the red zone.
"I think he's a genius," Spartans senior safety Trenton Robinson said. "With how we watch film and how he breaks everything down -- him and the GAs and the coaches -- they do such a great job. Every game we go into, even the games that we've lost, we lost on not executing. It's not like bad coaching, play calls or anything, it's just us missing a tackle or blowing a coverage ."
Narduzzi and the other Michigan State coaches were off-limits to the media this week, but he took some time this spring with ESPN.com to break down the Spartans' approach to defending the power run. Check out the videos
here
and
here
. Coincidentally, the opponent in the clips is Wisconsin.
Robinson said he and his fellow defenders are never shocked by a formation or a play an opponent showcases. They've already seen it in practice.
Narduzzi also keeps his players in mind when crafting game plans.
"Nothing's really complicated for us," said Robinson, who is tied with teammate Isaiah Lewis for the Big Ten interceptions lead with four. "He makes it as simple as possible, and if the guys aren't liking something, like a certain play, coach will be like, 'You guys aren't liking this? OK, scratch it. If you're not comfortable with it, we're not doing it.' So he makes sure all of us players are comfortable with the calls that he has. It's a great thing."
Wisconsin's offense has thrived in Chryst's five-plus seasons as offensive coordinator, averaging more than 34 points per game. Last year the Badgers averaged 41.5 points, shattering the team scoring record by more than a touchdown per game. This year's unit is on pace to surpass the mark, averaging 44.8 points a game.
Under Chryst's watch Wisconsin has produced the Big Ten offensive player of the year in two of the past three seasons (running back John Clay in 2009, running back
Montee Ball
this year). Quarterbacks like John Stocco, Scott Tolzien and more recently
Russell Wilson
are among the most successful in team history.
"Paul Chryst uses players' abilities as good as any coach I've ever been around," Badgers head coach Bret Bielema said. "As a head coach, you really appreciate coordinators that understand the skill set of your players and how to use them and maximize those skills. Everybody has a weakness, and if you can hide it or minimize it, you're going to be better overall. Paul really does a good job of that."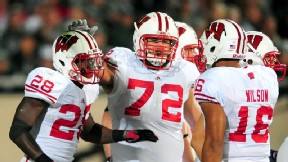 Andrew Weber/US PresswireWith Montee Ball (28) and Russell Wilson (16), coordinator Paul Chryst has made Wisconsin's offense even more prolific than in past years.
Wisconsin's offense lacks glitz or gimmicks, and the Badgers make no secret about their intention to overpower their opponents from a one-back set. Although Wisconsin recruits to its vision on offense, Chryst has shown the ability to adjust, especially this year with Wilson, whose skills are unlike what the Badgers typically have at quarterback.
"We'll do some things that will become staples of your offense or of your program," Chryst said, "but each year, you adjust to the players you have."
Chryst played a big role in attracting Wilson to Madison from North Carolina State, and Wilson describes his coach as having "a calmness to him, but a competitive edge that most people can't match."
"He always wants his players to understand the whys of football," Wilson said. "That's what I love. ... I ask a lot of questions."
Wilson admits to peppering Chryst about his past experiences working with quarterbacks like Derek Anderson at Oregon State. Chryst also spent time with Drew Brees during a one-year stint as a San Diego Chargers offensive assistant.
"The value to coaching a lot of different players is it really just reinforces how different each guy is," Chryst said. "It's your job as a coach then to know the player and then adjust. There's a lot of different ways to have success. You realize Scotty Tolzien can have success different than Russell Wilson or Derek Anderson or other guys I've been around."
Chryst's name has come up before at this time of year for coaching vacancies elsewhere. Texas courted him for its offensive coordinator vacancy after the 2010 season, and Chryst was on Purdue's radar to replace Joe Tiller.
Earlier this week Chryst denied having contact with Illinois about its vacancy, and he remains focused on facing the Narduzzi-led Spartans defense on Saturday night.
"You can put yourself into a cocoon," he said. "Who cares what's being rumored about? I've got a job and that's to coach football here at Wisconsin. The best thing you can do is do your job well."
Both Chryst and Narduzzi have done their jobs very well this season, possibly setting them up for better things.
February, 22, 2011
2/22/11
5:30
PM ET
You know
how to reach me
. And don't forget to follow me
on Twitter
(more than 30,000 strong).
Let's get started.
Jon from Berkeley, Calif., writes:
Hi Adam-Bay Area Wolverine fan here. What's your feeling as to what we should the UM offense to look like next fall? We hear about toughness and running the football, but Michigan returns what has to be one of the deepest (talented) receiving corps in at least the Big Ten.My thought: Al Borges should take a look at 2006 Ohio State film. Physically,
Denard Robinson
resembles Troy Smith. He has great armstrength, as Troy Smith did. AND, he's a faster and more powerful runner than Troy. That Buckeye team also featured an immensely talented receiving corps (wasn't Robiskie like the 5th wideout on that squad?). Why not look to your Rival to gain some inspiration for a playbook that must gear itself towards the reigning BTPOY. I love the idea of michigan spreading the field with 3-4 WRS, and then utilizing Stephen Hopkins/Mike Cox/Shaw up the gut... ala Pittman & Wells in '06.Thoughts?
Adam Rittenberg:
Jon, great to hear from my hometown of Bezerkely. You bring up some very interesting points. Michigan's receivers had some huge performances in 2010, but they also dropped too many passes at critical times. I wouldn't quite put them on the level with Ohio State's corps from 2006, but they can get there. The other big question is how running backs recruited for Rich Rodriguez's spread scheme will adjust to a
more "downhill" offense under Borges
. If Michigan can find a running back who can do what Pittman did for Ohio State in 2006 (1,233 rush yards, 14 touchdowns), it can take the rushing load off of Robinson and allow him to make plays in other areas. Although Robinson's running skills are superior to most, he still has a way to go to match Troy Smith's passing in '06.
---
Luke from Philly writes:
Adam - last year, I remember recoiling in horror as I watched PSU's Blue/White spring game, because the QB play was ominously bad. Eventually that was the position that most affected the 2010 season's fortunes. What position should I watch most closely in this year's game, for a good idea of this coming season's direction?
Adam Rittenberg:
The quarterbacks again, as well as both lines. You'll see better play under center as Rob Bolden and Matt McGloin both have game experience, and
Paul Jones
, who performed pretty well in last year's spring game, has a year of college practices under his belt. While the quarterbacks will get most of the attention, don't forget to watch the lines. I think if Penn State can get more consistent play out of its lines, it can challenge Ohio State for the Leaders Division title. The offensive line has been too inconsistent the past two seasons, and the defensive line seemed to lose its edge last fall. I'll definitely be watching those two groups.
---
Steve from East Lansing, Mich., writes:
Hey Adam,As a Michigan State Spartan eagerly awaiting football season, I've got a big question about MSU's upcoming team, both for 2011 and beyond. What we saw from our team this year was great, and getting that Big Ten title was much needed. But I think it's not just about getting one Championship every so often; it's about having a solid program that can challenge for the Conference Title every single year and perform well in the postseason. Michigan State Football had a good year, but the past 20 or so seasons have been generally mediocre. So my questions is, do you think this year was a turning point? And will MSU start working up to being the traditional powerhouse that teams like Ohio State are every year? Or will we slip back into mediocrity again? Also, any thoughts on the upcoming Spartan/Wolverine rivalry? I doubt Michigan will be down forever, though that would be nice.
Adam Rittenberg:
Agree with all of your points, Steve. Michigan State needs to establish itself as a more consistent Big Ten title contender. Time will tell whether 2010 was a turning point, but you have to like the program's direction under coach Mark Dantonio. I think the models for Michigan State are Wisconsin and Iowa. All three programs run pro-style offenses and all three have shown flashes of being shutdown defenses. The difference I see between Michigan State and Wisconsin/Iowa is the quality of the line play, especially on the offensive side. Michigan State needs to be churning out elite lines year in and year out. The skill-position talent is definitely there in East Lansing. Once we see more elite lines from the Spartans, they'll be in the title mix as much as Wisconsin and Iowa.
---
Steiny from Dow City, Iowa, writes:
Adam, im just wondering why all the nebraska fans are whining about there schedule coming into the big ten. I beleive the Hawkeyes in 09 had a much worse schedule facing all the top big ten teams away from Kinnick so whats the problem? I thought nebraska wanted tough games, This isnt the big 12 anymore dorothy welcome to the Big Ten.
Adam Rittenberg:
Iowa's 2009 slate was no picnic, Steiny, as the Hawkeyes had to visit Penn State, Wisconsin, Michigan State and Ohio State and won three of the four. I think the Nebraska issue comes more from being new to the Big Ten and getting a very challenging slate right off the bat. Nebraska's three crossover games come against what many think are the top three teams in the Leaders division (Ohio State, Wisconsin and Penn State). Two of those games -- Wisconsin and Penn State -- come on the road. It's certainly a tough introduction to the Big Ten, and we'll see how Nebraska fares in Year 1.
---
Will from Davenport, Iowa, writes:
Adam, I enjoy reading the blog and thanks for helping to get me through these rough couple of months without football. What about William Tell Overture for the Illinois student section as one of the traditions? I may be biased, but that is one of the most unique and rowdiest cheers I've seen/been a part of.
Adam Rittenberg:
It's a good one, Will, and I included it in my full rundown of
Illinois' game-day traditions
as part of the Marching Illini pregame show.
---
Lance from Greensboro, N.C., writes:
I had to smile at your mention of Wisconsin's annual spring quarterback competition. It's an accurate description of the last 5 seasons, yet immediately prior to that the Badgers had one of the most stable quarterback situations in all of college football, with 5 starters in 15 seasons (Bevell for 4, Samuel 3, Bollinger 4, Sorgi 1 - but with a lot of experience, and finally Stocco for 3). Funny how quickly things can change, huh?
Adam Rittenberg:
For sure, Lance, and thanks for outlining what happened before the post-John Stocco era. These things can go in cycles, but if all goes well in the spring and summer, Wisconsin will identify a quarterback who can start multiple seasons. Sophomore
Jon Budmayr
will have every opportunity to win the job before
Curt Phillips
gets fully healthy, but both have a chance to start for more than one year.
January, 24, 2010
1/24/10
5:04
PM ET
I just got a chance to catch up with Minnesota head coach Tim Brewster, who on Friday
tabbed Detroit Lions quarterbacks coach Jeff Horton
as his new offensive coordinator.
Horton is the team's fourth offensive coordinator in five years and the second consecutive coordinator to join Brewster's staff from the NFL. Jedd Fisch came in from the Broncos and left after just one year in Minneapolis to join the Seattle Seahawks staff.
[+] Enlarge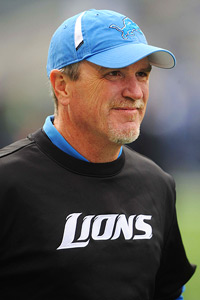 Kirby Lee/US PresswireJeff Horton takes over a Gophers offense that finished last in the Big Ten in total yards, points per game and touchdowns scored in 2009.
The NFL connection might concern Minnesota fans, who don't want to see a repeat of the 2009 offense -- which ranked last in the Big Ten in rushing, scoring and total yards -- during the 2010 season. It's hardly surprising Brewster looked to the NFL, as he wanted to keep a pro-style offense in place and not many college teams run one anymore.
Where Horton differs from Fisch is in his vast experience at the college level. Horton has logged 22 years in college football, beginning his career as a graduate assistant at Minnesota. While Fisch certainly had the youth and the enthusiasm of a college coach, his system and its complexities seemed much more suited to the NFL. There's only so much that college players can process, especially in limited time with the coaching staff, and Minnesota's players looked liked victims of information overload at times this season.
Horton should have a better grasp of what his new players can handle.
"Jeff Horton really loves college football and wanted very badly to get back into college football," Brewster said. "His time in the NFL was very well spent. He learned a lot. But he wanted to be here. ... He understands everything about the university, everything about the landscape here. All that makes it a perfect fit."
Horton needs to prove himself as a playcaller after serving as a position coach in both college and the NFL since 1998. But he boasts a strong track record of developing quarterbacks, a position where Minnesota needs more consistent results in 2010.
Horton had good success as Wisconsin's quarterbacks coach from 1999-2005, helping signal-callers like Jim Sorgi, John Stocco and Brooks Bollinger operate a system geared toward the power run and ball control. Wisconsin's quarterbacks managed games and limited costly errors, two qualities Minnesota wants to see from
Adam Weber
and
MarQueis Gray
in 2010.
"He's really been a great developer of quarterbacks," Brewster said. "That was really important to me. He's got an extremely calming influence on quarterbacks with his demeanor. He'll do a great job of coming in and helping us identify exactly what our strengths are and play to those strengths."
Horton also has familiarity with several Gophers assistants from his Wisconsin days, including offensive line coach Tim Davis and running backs coach Thomas Hammock.
"A lot of our guys have worked with Jeff before," Brewster said. "It'll be a very seamless transition offensively. Without changing the offense, Jeff will be able to come in and assimilate to what we want to do every easily. I wanted it to be obviously a player-friendly transition, and that's what Jeff gives us."
September, 28, 2009
9/28/09
9:45
AM ET

Posted by ESPN.com's Adam Rittenberg
I went 2-for-3 on
player picks
this week. A lot better than my picks for the games.
OFFENSE -- Wisconsin QB Scott Tolzien
In just his fourth game as a starter, Tolzien set career highs with 19 completions, 31 attempts and four touchdown passes to help Wisconsin improve to a perfect 4-0 on the season with a victory over Michigan State. The junior quarterback completed 61.3 percent of his passes for 243 yards and became the first Badgers' signal-caller to toss four scoring strikes in a game since John Stocco accomplished the feat on Oct. 14, 2006. Tolzien staked Wisconsin to a 21-7 halftime lead with a pair of touchdown throws to tight end
Garrett Graham
. After the Spartans pulled within 24-17 at the end of three quarters, the Illinois native opened the final stanza with two more scoring strikes. Tolzien hit
Nick Toon
for a 19-yard touchdown, then connected with Graham for a third time with a 23-yard touchdown pass to put the Badgers ahead 38-17.
DEFENSE -- Iowa LB Pat Angerer
Angerer racked up a game-high 14 tackles while producing a pair of key turnovers to help the Iowa defense limit Penn State to only 10 points in a road triumph. After the Hawkeyes took their first lead of the game, 11-10 on a blocked punt return for a touchdown in the fourth quarter, the Nittany Lions' offense marched into Iowa territory on the ensuing drive looking to reclaim the lead. On third-and-7 from the 49-yard line, Angerer recorded his first interception of the season and rambled 38 yards to set up the visitors' second touchdown of the quarter and an 18-10 advantage. After a good kickoff return and a penalty, the hosts started their next possession at Iowa's 36-yard line with less than nine minutes left in the game. On first down, the PSU running back sprinted 18 yards before Angerer forced a fumble that was recovered by the Hawkeyes at the 18-yard line. Iowa would add another interception on Penn State's next drive and tack on a field goal for the 21-10 victory. Angerer spearheaded a defensive effort which picked off three passes and forced two fumbles, including one that led to a safety to give Iowa its first points of the game.
SPECIAL TEAMS -- Iowa DE Adrian Clayborn
Trailing 10-5 in the fourth quarter at nationally ranked Penn State, Clayborn turned the game around by blocking a Nittany Lions' punt and returning it 53 yards for the touchdown and a lead Iowa would not relinquish. Clayborn's punt block score was the first for the Hawkeyes since Sean Considine returned a blocked punt seven yards for a touchdown in Iowa's win over LSU in the 2005 Capital One Bowl. Clayborn, who also recorded two tackles on defense, scored his first career touchdown and blocked the second kick of his career, after rejecting a field goal as a freshman in a 2007 victory at Northwestern.
July, 20, 2009
7/20/09
10:15
AM ET
Posted by ESPN.com's Adam Rittenberg
It's nearly August, and Wisconsin tight end Garrett Graham still doesn't know who will be throwing him passes this season.
What else is new?
| | |
| --- | --- |
| | |
| | Tim Larson/Icon SMI |
| | Garrett Graham led Wisconsin in receptions (40), receiving yards (540) and receiving touchdowns last season. |
"You get used to it, I guess," Graham said. "It seems like the same thing happens every year in our program. But I don't think a lot of guys worry about it. The best guy is going to play and you can't argue with that."
Graham has grown accustomed to Wisconsin's revolving door at quarterback. He worked with John Stocco in 2006, Tyler Donovan in 2007 and both Allan Evridge and Dustin Sherer last year.
The uncertainty under center will create some concern among Badgers fans heading into the fall, but they have no such worries about the personnel turnover among the tight ends/H-backs.
Former All-American Travis Beckum has moved on, but Graham leads a formidable group that should once again be a strong point for the team.
Beckum's injury woes in 2008 created increased opportunities for Graham, who led Wisconsin in receptions (40), receiving yards (540) and receiving touchdowns (5). Graham enters the fall as a candidate for the Mackey Award and will be backed up by veterans Lance Kendricks and Mickey Turner.
"We have to put the offense on our shoulders this year," Graham said.
Beckum put up big numbers in 2006 and 2007 at the H-back position, a place where Graham could see increased time this season. Graham and Turner both can move seamlessly between the tight end and H-back spots, and Kendricks, listed primarily as an H-back, is starting to gain the same versatility.
"I'm comfortable being on the line and motioning into the backfield, dropping back into a fullback position every once in a while," Graham said. "Then again, I'm fine with being split out on a single side."
Graham will be an asset to Wisconsin's quarterback no matter where he lines up. After earning first-team All-Big Ten honors last season, the 6-foot-4, 248-pound Graham filed paperwork with the NFL to check his draft status before opting to return.
Graham declined to say where he was projected in April's draft but "never really seriously considered" leaving Wisconsin. He spent the offseason developing his speed and quickness to complement his sturdy frame.
"We incorporated a lot more speed and agility this year, and I feel as fast as I ever had and as agile," he said. "It definitely paid off."
September, 25, 2008
9/25/08
11:59
AM ET
Posted by ESPN.com's Adam Rittenberg
It violates college football's time-honored code to suggest this, but Saturday's trip to Michigan could be a trap game for No. 9 Wisconsin.
Now before screaming sacrilege and summoning the ghosts of Yost, Crisler and Schembechler, consider the facts.
Michigan sits in last place in the Big Ten at 1-2. The massive turnover of both personnel and coaching philosophy has brought growing pains on both sides of the ball. Wisconsin's depth chart lists 17 juniors or seniors among the 22 starters on offense and defense. Michigan's depth chart lists 10 starters who are freshmen or sophomores, including those at quarterback (Steven Threet), running back (Sam McGuffie) and wide receiver (Martavious Odoms, Darryl Stonum).
And look at what's up next for Wisconsin. Next week, the Badgers host defending Big Ten champ Ohio State in a Saturday night game at Camp Randall Stadium, where Wisconsin has never lost under coach Bret Bielema. Then the Penn State Nittany Lions, considered by many to be a better team than Wisconsin despite facing weaker competition, visit Madison for another Saturday night affair.
Given those factors, the term "trap game" applies to Saturday's contest at Michigan Stadium (ABC, 3:30 p.m. ET). Will the Badgers let things get that far? Don't bet on it.
Wisconsin has the benefit of history -- both recent and long term -- to consult before visiting the Wolverines. The Badgers haven't won in Ann Arbor since 1994, a span of four games. In 1998, they fell 27-10 but still went on to win the league title and reach the Rose Bowl.
"The Big House is 110,000 people, so we definitely want to go in there and try to do something different," senior cornerback Allen Langford said. "We definitely go in there trying to make some history."