August, 4, 2014
8/04/14
3:30
PM ET
Online sportsbook Bovada
updated its Big Ten title odds
last week, making Ohio State even more of a favorite (10-to-11) while placing Purdue as a 300-to-1 long shot.
We decided to check in with Bovada sportsbook manager Kevin Bradley about those new odds and about B1G betting in general. Here's what he had to say:
What were some of the bigger jumps, or key changes, in the updated list of the Big Ten odds?
[+] Enlarge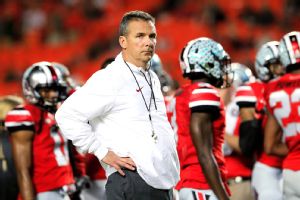 Chris Trotman/Getty ImagesUrban Meyer and the Buckeyes are the odds-on favorites to win the Big Ten.
Kevin Bradley:
There's really nothing that stood out as a huge move in that conference. Ohio State remains the favorite at 10-to-11; actually, they moved a little bit. They've taken the most money out of every team, followed by the next two favorites -- Michigan State and Wisconsin. So I think our odds were pretty on for this conference, particularly.
The only team that sort of dropped a little bit was Northwestern. We had them at 75-to-1 at one point; now they're at 40-to-1. They've actually taken a little bit of money. They're a long shot, but there are people that like betting on those big long shots. You never know what's going to happen.
How much does the B1G take in compared to conferences like the SEC?
KB:
I'd say it's pretty significant, but the SEC still remains our biggest conference by far -- even when it comes to betting on the national championship, or even if you look at game lines from week to week or win totals that we have up. It always seems like the SEC still kind of reigns over everybody else.
In your updated odds, Purdue is listed at 300-to-1 while newcomer Rutgers -- which has a pretty difficult schedule -- is 200-to-1. That's a big difference. Where do you come up with odds like those?
KB:
A lot of times when we're doing these odds, we're ranking the teams just like anyone else who ranks college football teams. And we're sort of looking at what the chances are for each team to win the conference. And if we're going to have an odds-on favorite like Ohio State at minus money, the need is to balance out the odds to make them fairer to people. So, in order to do that, we'll have some teams with super high odds like Purdue. If you look at all of conferences, we'll have some teams as high as 500-to-1 to win a particular conference. It's basically looking at their schedule, looking down the road, looking at their win total, looking at some of their projected lines, that means -- realistically -- they have no chance.
In the Big Ten there are very few bets, very little money, on the huge long shots. People in the conference are sticking with the favorites -- Ohio State, Michigan State, Wisconsin, a little bit of Nebraska. But there's not too much money on the big long shots.
One team missing from your odds is Penn State, which is currently banned from the postseason. There is some talk the ban could be lifted next month, so was there any discussion about leaving the Lions in and factoring in those odds? And where would Penn State be here if it was eligible for the postseason?
KB:
They'd probably be in the middle of the pack. But in those types of situations -- and obviously the NCAA, whether it's basketball or football, causes a lot of problems a lot of times with suspensions and weird rulings and that sort of stuff. Like [Jameis] Winston, when we were doing Heisman odds when he had all those charges against him, we had put him up and down because we didn't know if people would vote for him. And the [Johnny] Manziel suspension, who knew if they were only going to suspend him for half of a game? You can imagine our struggles keeping up with all that stuff because it's so shady in my opinion because you never know what they're going to do.
So we're always monitoring it but, if Penn State's eligible, we'll add them in. And a good example was I was talking to one of my guys who's keeping an eye on baseball futures, and I told them to close them down until the trade deadline was over -- because every time there was a rumor about anyone, the odds fluctuated so much. It's just safer to keep them down. So, the same thing happens in college football.
Speaking of Penn State, head coach James Franklin doesn't discuss or divulge injuries at all. How hard does that make your job, and how will that affect the lines and everything this season?
KB:
It's a complete pain in the ass, especially in college sports because there's so many teams to keep up with. So, when people are hiding injuries or you don't know the status of players, we post lines a lot later and we have to be careful with our win totals and our future odds, our conference odds, because of those things. It's sort of like the NFL; a good comparison is Bill Belichick and the Patriots. We go through injury reports daily because the NFL is so big that we're super on top of that. And every guy on his team is questionable every week, and I hate it. Every week when I look at it, I scream.
So, yeah, that definitely makes our job harder. And you can just imagine once November rolls around when every sport is in full swing, keeping up with all these reports and rumors. No doubt we're on top of that as much as we can be. But there are times where we'll miss it for a couple minutes when some guys will pick off some lines or future odds -- and those things get me even more mad. But that's the name of the game.
July, 1, 2014
7/01/14
8:00
AM ET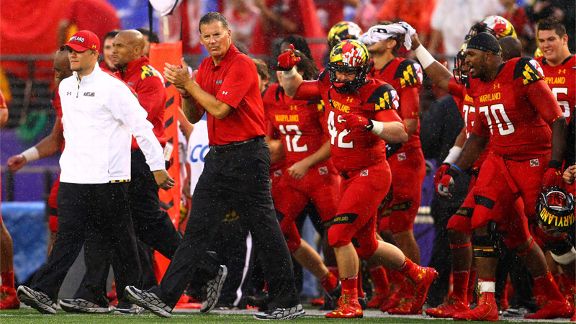 Tony Quinn/Icon SMIThere's no easy winning formula for Randy Edsall and Maryland as they transition to the Big Ten.
Utah coach Kyle Whittingham knew exactly what to expect -- and where to focus -- when his Utes moved from the Mountain West in 2011 to the Pac-12: Recruit better prospects. Upgrade the facilities. Break down new opponents.
But that didn't make the transition any easier.
The Utes made a big splash that first season and finished 8-5, before dropping to 5-7 in the two seasons thereafter. Whittingham knew a drop-off like that was possible -- a move into one of the Power Five carries with it certain risks -- but that doesn't mean any challenges caught the 54-year-old head coach off guard.
"No real surprises," Whittingham told ESPN.com. "Nothing blind-sided us from a football perspective. It was exactly as anticipated. ... The bottom line is it's just a process transitioning. We're not making excuses -- people don't care; we have to win -- but it takes time to ramp up."
With three programs set to officially join a new power conference Tuesday -- Louisville to the ACC; Maryland and Rutgers to the Big Ten -- that process will play out once again. New members know they'll have to adjust, improve and upgrade before taking a step forward in their new conferences. But that doesn't make the task any easier.
Since 2000, a dozen other football programs have transitioned into one of the Power Five conferences. And, in their first seasons, only three teams improved upon their previous year's record -- with just two watching their win total increase by more than one. For most teams, the acclimation has been gradual.
"There are no shortcuts," Whittingham added. "But I don't think there's anything that's undiscovered or a secret. It's pretty simple and pretty plain."
In one interview after another, five coaches told ESPN.com the same three keys for transitioning successfully: improve recruiting, upgrade facilities and figure out those new teams. That really shouldn't come as a shock, as those tips are useful for any team in any circumstance. But when it comes to transitioning, several coaches said, those priorities are magnified.
All of a sudden, during that conference transition, Utah's great facilities in the Mountain West didn't quite pass muster with USC's 110,000-square-foot sports facility or Oregon's $68 million football building. So it unveiled its
own new facility last fall
. In 2004, Virginia Tech's old Big East recruiting footprint wasn't enough to dominate long-term in the ACC. So the staff immediately sought out prospects in Georgia and the Carolinas. And, in 2005, Boston College's staff was forced to scout nine new opponents on a schedule that ballooned from No. 74 in terms of strength to No. 22. So, even during "off time," some coaches stared at their laptop screens morning to night.
Each team needed to improve in that area immediately or risk falling behind their conference foes. Transitioning is a constant arms race, after all, a game where teams that tread water end up sinking. There's no such thing as being stationary in college football, especially during such a transition. Especially during that first season.
"It's definitely more of a burden that first season, for sure. No doubt," said former Boston College assistant Jerry Petercuskie, who helped oversee the Eagles' transition to the ACC and currently coaches at FCS Elon. "But there's no magic in it. It's just getting your players to play and adapting to the enemy."
Truthfully, several coaches said, there's not much they can do to quicken that Year 1 transition. Payoffs in recruiting and facility upgrades aren't immediate; the main short-term advances come from locking yourself in the film room and studying up on new opponents.
In other words, the recipe for such immediate success isn't a big secret either. Of the three teams that did improve their record that first season, they all returned solid teams that boasted solid quarterbacks. Texas A&M had Heisman winner Johnny Manziel (7-6 record to 11-2), Virginia Tech started first-team All-ACC QB Bryan Randall (8-5 to 10-3), and Pitt had NFL draft pick Tom Savage under center (6-7 to 7-6).
So, until that increased recruiting focus starts to yield changes on the field, most coaches during the transition spend a considerably higher amount of time figuring out opposing schemes, opponents and situations.
"When you're away from the office, every coach is looking at the opponent. You need to figure out that new enemy," Petercuskie said. "[Coaches] are a paranoid group of people. We don't want to go out on a Saturday afternoon in front of a national TV audience and get embarrassed. So we're going to do whatever we have to do."
Added Tom Bradley, who coached at Penn State during its move to the Big Ten and is currently the senior associate head coach at WVU: "I would say it took a couple of years for us to really get a beat on teams -- to understand the fans and feel comfortable with the climate you're entering. What do they like to do in certain situations? Not knowing that definitely made it harder."
No one can say for sure exactly how Louisville, Rutgers and Maryland will fare in their new conferences: Virginia Tech assistant Charley Wiles believes the Terrapins are already a bowl-caliber team; Temple assistant Ed Foley thinks Rutgers will wind up in the middle of the pack. But everyone knows what these teams have to do to succeed.
They can't win in Year 1 without a solid group of returners. They have to upgrade their facilities to stay competitive. And above all -- Whittingham said this was 80 percent of the transition – they need to recruit well. Do all that, and the wins will roll in faster than the fans' question marks.
Transitioning successfully is as simple -- and as difficult -- as that.
June, 25, 2014
6/25/14
9:00
AM ET
Maryland and Rutgers are to officially join the Big Ten on July 1 and, until their first seasons are in the books, plenty of questions will swirl around just how they will perform.
So, we decided to take a look at how past teams did in similar situations. Did new conferences help or hinder the programs? How did those first seasons go? And just how quickly did the teams assimilate?
We looked at teams that moved into new BCS conferences (outside of the Big Ten) prior to the 2012 season. Obviously, there are plenty of variables at play, but here is a look at nine programs that transitioned -- and how they fared:
---
Boston College, Big East to ACC, 2005
Record prior to move (Strength of schedule rank):
9-3 (SOS – 74), won 2004 Big East title. Beat North Carolina in Continental Tire Bowl, 37-24
Record in first year of move (Strength of schedule rank):
9-3 (SOS – 22), won 2005 ACC Atlantic Division. Beat Boise State in MPC Computers Bowl, 27-21
Synopsis:
The Eagles didn't skip a beat in the first season with the ACC, and they actually ended up winning three division titles in their first four years in the conference. The wheels only started to come off for Boston College once it
fired Jeff Jagodzinski for interviewing with the New York Jets
following the 2008 season. The 2009 season was the last time Boston College had a winning conference record.
---
Colorado, Big 12 to Pac-12, 2011
Record prior to move (Strength of schedule rank):
5-7 (SOS – 33), finished fifth in Big 12's North Division. No bowl berth
Record in first year of move (Strength of schedule rank):
3-10 (SOS – 21), tied for last in Pac-12's South Division. No bowl berth
Synopsis:
The Buffaloes haven't had a winning season since Gary Barnett coached the team in 2005, so the move to the Pac-12 really only saw Colorado go from bad to slightly worse. In its first three seasons with the Pac-12, Colorado won three, one and four games, respectively.
---
Miami (Fla.), Big East to ACC, 2004
Record prior to move (Strength of schedule rank):
11-2 (SOS – 40), shared 2003 Big East title. Beat Florida State in Orange Bowl, 16-14
Record in first year of move (Strength of schedule rank):
9-3 (SOS – 9), tied for third in ACC. Beat Florida in Peach Bowl, 27-10
Synopsis:
The Hurricanes rolled into the ACC as a great team, but the conference has been relatively harsh on them. After making four straight BCS bowls in the Big East, Miami hasn't made a single one in the 10 seasons since joining the ACC. On the plus side, they have had winning records in eight of those past 10 seasons -- but they have never had double-digit wins during that span.
---
Missouri, Big 12 to SEC, 2012
Record prior to move (Strength of schedule rank):
8-5 (SOS – 13), finished fifth in Big 12. Beat North Carolina in Independence Bowl, 41-24
Record in first year of move (Strength of schedule rank):
5-7 (SOS – 1), finished fifth in SEC East Division. No bowl berth
Synopsis:
Lingering injuries to quarterback James Franklin didn't do Missouri any favors in that first season, as Missouri's pass efficiency dropped from No. 30 in 2011 to No. 103 in 2012. The Tigers bounced back in their second year in the SEC, however, and finished first in the SEC East Division with a 12-2 record.
---
TCU, Mountain West to Big 12, 2012
Record prior to move (Strength of schedule rank):
11-2 (SOS – 86), won 2011 Mountain West title. Beat Louisiana Tech in Poinsettia Bowl, 31-24
Record in first year of move (Strength of schedule rank):
7-6 (SOS – 16), tied for fifth in Big 12. Lost to Michigan State in Buffalo Wild Wings Bowl, 17-16
Synopsis:
In TCU's seven seasons in the Mountain West, it finished with within the top 25 a total of six times -- and came away with four conference titles. In the Big 12, so far, it has underachieved by quite a bit. Part of the reason for the drop-off in Year 1 was that quarterback Casey Pachall
withdrew in October to enter inpatient rehab
. But even with Pachall back in 2013, TCU fared even worse at 4-8, the first time it didn't make a bowl since 2004.
---
Texas A&M, Big 12 to SEC, 2012
Record prior to move (Strength of schedule rank):
7-6 (SOS – 4), tied for sixth in Big 12. Beat Northwestern in Meineke Car Care Bowl, 33-22
Record in first year of move (Strength of schedule rank):
11-2, (SOS – 6), tied for second in SEC Western Division. Beat Oklahoma in the Cotton Bowl, 41-13
Synopsis:
A new head coach like Kevin Sumlin and a freshman like Johnny Manziel are enough to ease any transition. The Aggies finished with 11 wins during their first season in the SEC, which also happened to be the first time they broke double-digit victories since 1998. With Mack Brown leaving Texas, A&M is a team whose stock is certainly on the rise now. A move to the SEC only helped.
---
Utah, Mountain West to Pac-12, 2011
Record prior to move (Strength of schedule rank):
10-3 (SOS – 50), finished second in Mountain West. Lost to Boise State in Maaco Bowl, 26-3
Record in first year of move (Strength of schedule rank):
8-5 (SOS – 49), tied for third in Pac-12's South Division. Beat Georgia Tech in Sun Bowl, 30-27 OT
Synopsis:
Utah fared extremely well in the Mountain West -- finishing with double-digit wins in five of its last eight seasons there -- and did pretty well in its first season in the Pac-12. But, in the past two seasons, the Utes twice finished 5-7 in part because their passing game has been grounded. Still, if quarterback Travis Wilson is healthy this season, some are
expecting Utah to return to the postseason
.
---
Virginia Tech, Big East to ACC, 2004
Record prior to move (Strength of schedule rank):
8-5 (SOS – 60), finished fourth in Big East. Lost to Cal in the Insight Bowl, 52-49
Record in first year of move (Strength of schedule rank):
10-3 (SOS – 42), won 2004 ACC title. Lost to Auburn in the Sugar Bowl, 16-13
Synopsis:
The move appears to be a great one for the Hokies. From 1991 to 2003, Frank Beamer came away with just three Big East titles. From 2004 to the present, he has won four ACC championships. Although the past two seasons have been a step back, Virginia Tech finished with double-digit wins during its first eight seasons in the ACC.
---
West Virginia, Big East to Big 12, 2012
Record prior to move (Strength of schedule rank):
10-3 (SOS – 57), won share of Big East title. Beat Clemson in Orange Bowl, 70-33
Record in first year of move (Strength of schedule rank):
7-6 (SOS – 29), tied for fifth in Big 12. Lost to Syracuse in Pinstripe Bowl, 38-14
Synopsis:
In WVU's past 10 seasons in the Big East, it made 10 straight bowls and won at least eight games every year. But Year 1 in the Big 12 was a defensive disaster and a step backward. The Mountaineers allowed more than 45 points in six of their first seven conference games and, the next season, had to replace a lot of starters and finished No. 100 in the nation by allowing 33.3 points per game. West Virginia missed the postseason last season, the first time since 1999.
December, 10, 2013
12/10/13
10:00
AM ET
These programs gave us one of the most memorable finishes in bowl history nine years ago, and now they return to sunny Florida on New Year's Day for the Outback Bowl. Let's take a closer look at the matchup between No. 16 LSU (9-3) and Iowa (8-4) when they meet at 1 p.m. at Tampa's Raymond James Stadium.


Who's under center?:
This was something of a question for both teams before their coaches cleared it up in the last few days. Iowa coach Kirk Ferentz said
Jake Rudock
should be "absolutely fine" to play against LSU after leaving the regular-season finale against Nebraska with a right knee injury. Meanwhile, LSU's Les Miles said freshman
Anthony Jennings
will take over for the injured
Zach Mettenberger
as the Tigers' starter. Mettenberger suffered a season-ending knee injury in the finale against Arkansas, but Jennings came on to complete the Tigers' comeback, hitting
Travin Dural
with the game-winning, 49-yard touchdown pass with 1:15 to play.
When last we met:
Iowa fans will never forget how the 2005 Capital One Bowl ended, when Drew Tate hit little-used receiver Warren Holloway with a 56-yard touchdown pass to beat LSU as time expired. That 30-25 loss marked an ugly end to Nick Saban's LSU tenure, as he left to coach the Miami Dolphins immediately afterward. Within hours of the game's end, Miles was named as Saban's successor.
What's at stake:
Not much, really. Fresh off an awful 4-8 record in 2012, Iowa started the season with a loss to Northern Illinois. But it's certainly possible that Ferentz's Hawkeyes can finish the season as a ranked team if they beat LSU. Meanwhile, the Tigers have already bid farewell to Mettenberger and could be featuring some of their top draft-eligible skill players for the final time as well. A win in the bowl would give LSU its fourth straight season with at least 10 wins, a school record.
Hit the ground running:
It would not be a surprise to see this become a run-heavy game. Without Mettenberger -- who was one of the nation's most effective passers -- LSU offensive coordinator Cam Cameron might opt to lean heavily on
Jeremy Hill
(1,185 rushing yards, 14 TDs) and
Terrence Magee
(614-8) against the Hawkeyes. The problem there is that Iowa's defense is no pushover. The Hawkeyes rank seventh nationally in total defense (303.2 ypg) and are 17th against the run (120.8 ypg). On the other hand, all Iowa wants to do is run. The bruising
Mark Weisman
(937-7) and slippery duo of
Damon Bullock
(467-1) and
Jordan Canzeri
(451-2) take most of the carries for Iowa, which ranks 41st nationally in rushing (188.6 ypg).
Back to the Outback:
This will be LSU's second visit to the Outback (formerly Hall of Fame) Bowl, having last played in Tampa at the end of the 1988 season when it lost 23-10 to Syracuse. Iowa has played an SEC club in this bowl three times in the previous 11 seasons, beating Florida 37-17 in 2003, losing 31-24 to the Gators in 2005 and blasting South Carolina 31-10 in 2008.
Best wins:
It didn't seem like much at the time, but LSU was the only team to beat No. 2 Auburn, jumping out to a 21-0 lead and winning 35-21 on Sept. 21. LSU also posted a memorable 34-10 victory over
Johnny Manziel
and Texas A&M near the end of the season. Iowa closed with a three-game winning streak to secure its first winning record (5-3) in league play since 2009. That run included a 24-21 win over Michigan and a decisive 38-17 victory at Nebraska to conclude the season.
Worst losses:
Iowa's four losses are all respectable, particularly since three of the teams that beat the Hawkeyes -- Northern Illinois, Ohio State and Michigan State -- finished with 12-1 records, and the other was to 9-3 Wisconsin. LSU's worst loss was certainly its 27-24 defeat against Ole Miss, although the 38-17 loss at Alabama also felt like a low point.
[+] Enlarge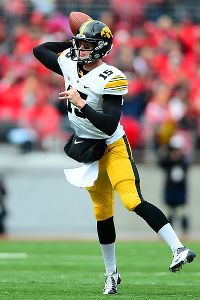 Andrew Weber/USA TODAY SportsWith LSU's Zach Mettenberger out with a knee injury, Iowa has the edge at QB with Jake Rudock.
Offensive stars:
He doesn't generate as many headlines as Rudock or the running backs, but All-Big Ten left tackle
Brandon Scherff
certainly ranks among Iowa's most valuable players. Scherff announced on Monday that he will return for his senior season. Receivers
Odell Beckham
Jr. (57 catches, 1,117 yards, 8 TDs) and
Jarvis Landry
(75-1,172, 10 TDs) will both go down as two of the most dangerous wideouts in LSU history.
Defensive stars:
All-Big Ten linebackers
Anthony Hitchens
(102 tackles, 13 tackles for a loss) and
James Morris
(98 tackles, 14.5 TFLs) are the headliners for Iowa's stingy defense along with defensive back
B.J. Lowery
(55 tackles, three interceptions, 16 pass breakups). Linebacker
Lamin Barrow
leads LSU's defense with 86 tackles, while defensive linemen
Anthony Johnson
(32 tackles, 7 TFLs) and
Ego Ferguson
(58 tackles, 3.5 TFLs) lead the defensive front and safety
Craig Loston
(51 tackles, two interceptions) and cornerback
Jalen Mills
(61 tackles, three sacks, three interceptions) anchor the back end of the defense.
X-factor:
Even if both teams run and run some more, quarterback play could be the determining factor. Jennings will surely need to get the ball to Beckham, Landry and company -- and do so without many costly turnovers -- to force the Hawkeyes to respect the pass. And Rudock will have to prove he can get the job done against a strong opponent. In Iowa's eight wins, he hit 64 percent of his passes for 11 touchdowns and six interceptions. But in the Hawkeyes' four losses -- against the only four ranked teams on their schedule -- he completed 55 percent of his passes for seven touchdowns and six picks.
November, 29, 2013
11/29/13
10:00
AM ET
You already know who's going to land in the Big Ten title game -- but I bet you don't know most of these crazy Big Ten facts and figures:
It should be a good battle in the trenches for The Game. No, seriously -- the Ohio State rush offense vs. Michigan rush defense should be a good matchup. The Wolverines have allowed just five rushes that have gained 20 or more yards this season, tied for the fifth fewest allowed among FBS teams. Ohio State's offense has had 32 such rushes -- which is tied for fifth most in the FBS.
Braxton Miller might be better in the pocket this season, but that doesn't mean he can't run anymore. In his first seven games this year, he attempted 25 zone-read rushes and gained 87 yards from them. In the last two contests, Miller has shown he can still get it done by rushing 15 times on such plays for 216 yards.
Wondering just how much Devin Gardner's performance has dropped off since last season? Well, besides the obvious stats, take a look at his performance on third downs. Last season, he had a QBR of 98.3 on third downs, which ranked second behind only Johnny Manizel among players with at least 50 third down plays. This season? His QBR has fallen to 49.8 on third downs this year and Gardner has taken 15 sacks and committed seven turnovers. He's thrown nine TDs to seven interceptions on third downs this season, compared to 11 touchdowns and two picks last year.
Minnesota's run-heavy offense could be in trouble against Michigan State. The Gophers have run on 68 percent of their plays this season -- the seventh-highest ratio in the FBS -- and Michigan State has not been kind to those run-first teams. The Spartans have allowed just 15 rushes of 10 or more yards this season, six fewer than the No. 2 team in that category. Also, Michigan State has not allowed a drive of 80 yards or longer this season. The last team to do that? Alabama in 2008.
Michigan State's Jeremy Langford has rushed for at least 100 yards in six straight games -- and those yards have been well-earned. During that span, he has the third-most yards after contact (453) of any BCS player. He's behind only Boston College's Andre Williams (608) and Arizona's Ka'Deem Carey (512).
The ability of Wisconsin to run the ball has been well-documented this season, so let's look at the affect those runs have had on the passing game. On play-action passes, Joel Stave is averaging 12.1 yards per attempt. Without play-action, he's averaging 6.5 yards through the air. Also, the touchdown-to-interception ratio is pretty noticeable. With the play-action, he has nine touchdown strikes and two interceptions. Without? Eight TDs, seven interceptions.
In the Penn State passing attack, there's basically Allen Robinson and ... well ... OK, that's pretty much it. Just look at the numbers. When Christian Hackenberg throws Robinson's way, he's completing 63.6 percent of his passes, averages 9.2 yards per attempt and has thrown five TDs to one pick. When he targets anyone not named Robinson, he's completing 50.4 percent of his passes, averages 5.1 yards per attempt and has thrown four touchdowns to four picks.
The Hawkeyes' defense might not get as much love because of the Spartans, but their run defense is pretty darn good. Iowa has held 10 of its 11 opponents under their rushing average this season. Iowa has allowed just four rushing touchdowns this year -- tied for lowest total in the nation -- and it's allowing an average of just 3.6 yards per rush.
Ameer Abdullah didn't get much love from voters for the Doak Walker Award, but he's still having quite the season. Here are a few Nebraska numbers to chew on: His rushing total right now (1,483 yards) is the most by a Husker since Ahman Green's 1,877 in 1997. He's rushed for 100 yards in eight straight games, which ties him for the fourth-longest streak in Nebraska history. And he also has 10 100-yard games this season, which is also good for fourth on the Cornhuskers' record lists. He needs just one more game to tie the record of 11 held by Mike Rozier (1983), Lawrence Phillips (1994) and Green (1997).
November has been a pretty good month for Illinois' Nathan Scheelhaase. He's gone 128-for-189 (67.7 percent) for 1,316 yards -- which is the second-most passing yards this month behind only Fresno State's Derek Carr (1,374). He's also the only active player in the nation with more than 8,000 passing yards and 2,000 rushing yards ... but, of course, that's for his career -- not just November.
November, 22, 2013
11/22/13
10:00
AM ET
Because knowledge is power!
Ohio State coach Urban Meyer has praised Braxton Miller for being a complete quarterback this season, and the numbers certainly bear that out. He's attempting 84 percent of his passes inside the pocket -- an increase of 18 percentage points compared to last season -- and he's completing 71.3 percent of those passes, which is the best in the Big Ten.
Both Indiana and Ohio State are tied for second in the FBS with 18 touchdowns on drives lasting 1 minute or less. But the Hoosiers haven't been able to piece together sustained drives. The Buckeyes have eight touchdown drives lasting five minutes or longer. Indiana? Zero.
Michigan State's defense is arguably the best in the nation. And here are some numbers to chew on that might just back that up: The Spartans have allowed 13 runs of 10 yards or longer, which is seven fewer than any other FBS team. They lead the BCS with 122 total pressures (hurries, knockdowns, sacks). And they've allowed a BCS conference-low 29.1 yards-before-contact per game on designed runs.

[+] Enlarge

AP Photo/Al GoldisConnor Cook is among the best in the country on third down.

Just how good has MSU quarterback Connor Cook been in the clutch? On third downs, he's statistically the best quarterback in the conference. In Big Ten games, he has a QBR of 93.2 on third downs. He's converting 49 percent of those downs, completing 64.7 percent of his passes and averaging nine yards every pass attempt.
Northwestern's penchant for snatching defeat from the jaws of victory has been pretty well documented this season, and no other team has really experienced as much heartbreak. The Wildcats have an FBS-high six losses when it has a lead in the fourth quarter in the last two seasons. And they've lost four games this year when tied or leading in the fourth quarter, which is tied for the most such losses in the country along with Temple, South Alabama and Utah.
In some respects, Wisconsin's rushing attack has been the most dominant in the nation. The Badgers average 4.3 yards per rush before first contact, the most in the BCS. It's averaging a BCS-best 9.4 yards per rush outside the tackles. And it leads the nation in rushes of 30 yards or longer (20) and 50 yards or longer (9).
Minnesota quarterback Philip Nelson obviously has made some long strides since the beginning of the season, but he's really been on top during Minnesota's four-game winning streak. His 90.5 opponent-adjusted QBR ranks second-best in the FBS since Week 8, behind only Florida State's Jameis Winston (94.3). (He's a full point above Texas A&M's Johnny Manziel.)
Nebraska has shown, again and again, its ability to win the close games. As a matter of fact, Nebraska has won seven games in a row that were decided by seven or fewer points. That's the second-longest streak in the country, behind only Arkansas State's eight wins. And the Cornhuskers also have won six Big Ten games in the past two seasons after trailing in the fourth quarter.
Iowa's defense doesn't get as much credit as the Spartans, but it's still a top-10 unit -- and it's especially good in the red zone. The Hawkeyes have allowed just nine red-zone touchdowns, which is tied for the lowest total in the nation. And they haven't allowed a first-quarter touchdown since Week 1.
Illinois sophomore tailback Josh Ferguson is quite the balanced player. He leads the Illini in rushing yards (554), but he's also a big part of the passing game. He has 498 receiving yards on 43 receptions, which puts him at second in the nation in terms of receiving yards by a running back. And he needs just six yards to break Kameno Bell's single-season school record for receiving yards by a running back.
November, 5, 2013
11/05/13
9:00
AM ET
COLUMBUS, Ohio -- The Heisman Trophy campaign was effectively over before it could even really start.
With the starter and a preseason awards favorite on the sideline, the backup made his own push for some hardware and was seemingly well on his way to making a case as the next-best quarterback in the Big Ten when given the stage.
Like Braxton Miller's bid for the biggest prize in college football, Kenny Guiton's run for individual glory was short-lived as well when the centerpiece of Ohio State's spread offense returned from a nearly three-week absence due to a knee sprain. But imagine voting committees having the option to put them together, and there might not be a bronze statue safe from the one-two punch the Buckeyes have unleashed this season.
Certainly the contributions of both have been integral in the 21-game unbeaten streak Ohio State has put together, and the two friends have gone out of their way to praise each other and stress that team goals come first. And while Guiton's recent cameos in the same formation as Miller and increased playing time in blowouts may have improved his chances of sneaking onto an All-Big Ten team in some capacity, if it were possible to put the production of the two together, a combined resume with nearly 2,800 yards of offense and 36 touchdowns would stack up with just about any quarterback in the country.
"We've not seen all the teams yet," Buckeyes coach Urban Meyer said. "But I've got the two that I like.
"I have a lot of respect for the other quarterbacks in the league, but if we're drafting, I've got the two that I like."
Meyer would almost certainly need two pretty high picks if he was going to keep his tandem together in a hypothetical Big Ten draft, with Guiton again receiving some chances to show how valuable he is to the Buckeyes and how useful he might have been to a large handful of teams around the league as a full-time option.
After more than a year of kicking around the idea, Ohio State has also finally found a way to put Guiton and Miller on the field at the same time, with the former taking the snap and the latter lining up as a receiver. That package has already produced a pair of touchdowns in the last two games, with Guiton scoring on a designed rush against Penn State and then throwing a jump pass for a score in the blowout last weekend of Purdue.
But with Miller sitting out the entire second half of the laugher against the Boilermakers, Guiton also had a chance to pad his stats outside of the red zone, rushing for 98 yards, throwing for 59 more and picking up right where he left off during his unforgettable September. Both the absence due to injury and the recent lopsided scores have impacted Miller's personal numbers, leaving him on the outside of the Heisman conversation despite clearly playing the best football of his career.
But assuming Miller would have been able to match the statistics Guiton has put up when he was on the sideline, imagine an awards contender who has completed more than 71 percent of his passes for 2,065 yards with 29 touchdowns and just 5 interceptions, rushed for 717 yards and 7 more scores and also guided a team to a perfect record and a No. 4 ranking.
Those stats would match up quite well with current Heisman front-runners
Johnny Manziel
of Texas A&M, Oregon's
Marcus Mariota
and Florida State's
Jameis Winston
, even if they don't really mean much and there's no such thing as splitting an individual honor like the Heisman among two players at the same position. But they can at least offer another reminder of just how prolific the Buckeyes have been at quarterback, regardless of which one is actually on the field.
"I haven't watched enough of the other [Big Ten] guys, so it would be too hard for me to say," offensive coordinator Tom Herman said. "I like our No. 1 guy, and I'd put our No. 2 guy up against anybody.
"Now, whether he's better than them or not, I'm sure there are other guys that may do certain things better than him, but when it comes to managing the game and being a leader and all that, you'd have to do a lot of convincing, a lot of lobbying for me to say there's a better one out there in this conference."
Put the two together, though, and that lobbying might have to go to the national level.
September, 15, 2013
9/15/13
3:38
AM ET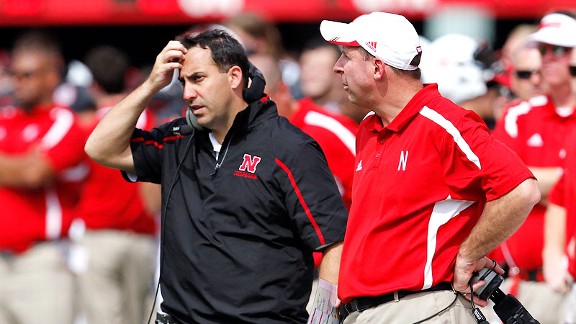 Bruce Thorson/USA TODAY SportsBo Pelini and defensive coordinator John Papuchis watched their team crumble against UCLA.
CHICAGO -- A CBS camera followed
Johnny Manziel
's every move Saturday, tracking the Texas A&M quarterback from the magical to the mundane.
More than 750 media members converged on Kyle Field for a game that had been anticipated for months. This was another SEC Saturday, and no matter what happened in the Big Ten, the eyes of the nation would be on Alabama-A&M.
But the Big Ten had a chance to steal a glance, build some credibility and maybe change the narrative, not to mention a few minds. However, the league fell short in its one Saturday showcase of September.
Nothing to see here, folks. Same old story.
Michigan forgot to show up against an Akron team that had lost 27 consecutive road games. Nebraska decided to pack it in during the third quarter against UCLA. And Penn State's defense made a very good college quarterback (UCF's
Blake Bortles
) look like a Heisman Trophy candidate.
There was one Big Ten game that left everyone talking and tweeting well into Sunday morning, thanks to one of the more bizarre finishes you'll ever see. The clock ran out on Wisconsin after quarterback
Joel Stave
tried to center the ball deep in Arizona State territory. The officials, seemingly confused that Stave placed the ball on the ground rather than make an obvious kneeling motion, delayed in spotting the ball and time expired.
No one could believe it, even the victorious Sun Devils.
Wisconsin deserved a chance to win a big game on the road and salvage something for the Big Ten. Thanks to the inexcusable officiating blunder, the Badgers' 32-30 loss was a black mark on a mostly sour Saturday.
Make no mistake, Week 3 wasn't as bad as Week 2 of the 2012 season, when the Big Ten went 6-6, a virtual impossibility given the forgiving nature of nonconference schedules. After that sorry Saturday, league
commissioner Jim Delany told the critics to swing away
, acknowledging the Big Ten's status as a national pinata.
The Big Ten bashing will continue after this Saturday, although not as much as it did last season. But perhaps just as damaging, the league didn't give people a reason to pay attention. The Big Ten is still viewed as a has-been conference, not a right-now conference.
[+] Enlarge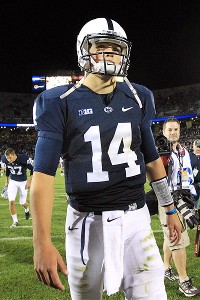 Matthew O'Haren/USA TODAY SportsChristian Hackenberg and PSU were stunned at home by UCF.
Oh, there's Ohio State, which flexed its offensive muscles at Cal despite being without starting quarterback
Braxton Miller
. Michigan State's offense showed up, and so did Indiana's defense. Iowa ended its slide in the Cy-Hawk series and captured a win it absolutely had to have in mostly impressive fashion. Purdue gave Notre Dame a better game than expected before folding early in the fourth quarter. Illinois fought hard against a good Washington squad here at Soldier Field. Northwestern continues to look very good.
But nothing that happened Saturday boosted the Big Ten's poor perception.
Nebraska's fight for national relevancy continues to be sidetracked by complete collapses. After storming ahead to a 21-3 lead against a seemingly emotionally wounded UCLA team, the Huskers allowed
the Bruins to score 38 unanswered points on Big Red's home field
.
This is who you are, Huskers. Your Big Ten legacy can be summed up in a series of numbers: 48-17, 45-17, 30-13, 63-38, 70-31, 45-31 and 41-21. Those are the final scores of Huskers losses in nationally relevant games against Wisconsin (2011), Michigan (2011), South Carolina (2012 Capital One Bowl), Ohio State (2012), Wisconsin (2012 Big Ten championship game), Georgia (2013 Capital One Bowl) and UCLA (Saturday).
They're not stunning collapses because they happen so often. They're as much a part of Nebraska's identity as the Blackshirts, the balloons and the Tunnel Walk.
Coach Bo Pelini said his players
looked like they'd seen a ghost
as UCLA took over in the second half. Maybe they had just seen this movie so many times before.
While Nebraska continued to bring negative attention, Michigan brought unwanted attention. The Wolverines' game against Akron was off the radar in a slate that featured four matchups with the Pac-12, the Iowa-Iowa State rivalry and other superior pairings.
Devin Gardner
and his teammates were supposed to make quick work of Akron, which has won one game in each of the past three seasons.
Akron's best hope for an upset? Former Ohio State coach Jim Tressel, who tortured Michigan during his tenure, is the school's vice president for student success. Maybe Michigan can chalk up Saturday's near-upset to The Curse of The Vest, as Akron's student-athletes had plenty of success at the Big House.
Michigan was a yard away from arguably the worst loss in program history. It wasn't Appalachian State, as the 2007 Mountaineers were miles better than the Toledo team Michigan lost to in 2008 or the current Akron squad. The 2008 Wolverines might have been the worst edition in school history. Michigan entered Saturday off an impressive win against Notre Dame. A letdown was possible? A letdown loss to Akron? Not a chance.
But it nearly happened.
"We almost lost to Akron," said Gardner, who committed four turnovers in
the 28-24 win
. "No disrespect to Akron, but we almost lost after coming out and having a great win last week in front of the whole world, and we come out and almost blow it. I definitely would have been sick if we [had lost]."
Michigan fans thankfully don't have to debate whether 2008 Toledo or 2013 Akron is a worse loss, but they do have to figure out what type of team they'll have the rest of the season after such a step backward.
Penn State can't help the Big Ten's ragged reputation in a bowl game because of NCAA sanctions. But the Lions could have taken care of business against UCF, a 10-win team in 2012.
However, a normally sound defense didn't come through, surrendering 507 yards and failing to get key second-half stops in a
34-31 loss
. Get ready to hear a lot about how the sanctions are finally getting to Penn State.
Listen, it's not all gloom and doom for the Big Ten. There are some bright spots. If Ohio State goes on to win a national title, all the negative stuff washes away. That's how it works in college football.
This could turn out to be a better league than it was last season, when it set a historically low bar. We'll find out in late December and early January.
Until then, it'll be all SEC, all the time.
After another lost Saturday, the Big Ten still doesn't give the nation a reason to care.
August, 6, 2013
8/06/13
5:00
PM ET
Time to check the mail again. Don't forget to follow us
on Twitter
.
Craig from Braintree, Mass., writes:
Is it just a coincidence that Northwestern, Stanford, and Vanderbilt are on the upswing as far as football programs?
Adam Rittenberg:
There are definitely some favorable circumstances in place for each program, like having the right head coaches in place. But all three institutions have made greater investments in their football programs in recent years, too. There's a realization that academically focused private schools can also succeed on the gridiron, and that the pool of recruits who can make the grade at these schools is large enough to achieve that success. Also, all three schools either have made or will make significant facilities upgrades.
Stanford has put its program among the nation's elite thanks to Jim Harbaugh and David Shaw, while Northwestern is enjoying the most consistent period of success in its history under Pat Fitzgerald. Although I'm not as sold on James Franklin and Vanderbilt as some of my media colleagues, I see the obvious strides being made in recruiting. The bottom line: it's not a coincidence that all three programs are on the rise, although the circumstances each enjoys play big roles.
Divine Wind from Tokyo writes:
In a scenario where the top three teams at the end of the year are Oregon, Ohio State and Alabama, the first two teams are 13-0 and the Tide is 12-1. Is there any realistic scenario you see where an OSU team with a 25-game winning streak doesn't make it to the championship game? And if not, who would be their opponent?
Adam Rittenberg:
It all depends on the strength of the SEC and Pac-12 vs. the Big Ten and how that translates to the BCS computer rankings, but I wouldn't rule out any scenario in the final year of the BCS system. Ohio State will open the season ranked higher than Oregon in the human polls, and while it's possible an undefeated Oregon leapfrogs and undefeated Ohio State based on the Pac-12's strength, I can't imagine much would separate the teams in the voting. It'll come down to the computers and whether the SEC's strength (real or perceived) would vault Alabama past an undefeated Oregon or Ohio State squad. As many know, the Buckeyes' schedule could work against them as they don't play any top teams in non-league play and miss Nebraska and Michigan State in the Legends division. The Buckeyes need to beat teams like Wisconsin, Northwestern and Michigan, and then have those teams all go onto strong seasons. Ohio State could be hurt by
Vanderbilt backing out of the season opener in Columbus
. Beating an SEC team would help the Buckeyes' cause. Ultimately, I doubt an undefeated Ohio State team gets left out of the title game. As to who would be Ohio State's opponent in the Rose Bowl, I'd go with Stanford or UCLA.
Fred from Annapolis, Md., writes:
Hi Adam, a Husker expatriate here whose memory goes back to the late-Devaney era. I am writing about Bo Pelini being on the hot seat, and for me, that is certainly his status. I appreciate that he wins wins most of his games and has brought stability to the program. But the fact that I think his defenders miss is that too many losses are not even competitive, dare I say that they are of a Callahan-ian level. I think he has put together a great young coaching staff, and I would hate to lose any of them, but maybe Bo should take off the head phones (ala Brady Hoke) and let them coach.
Adam Rittenberg:
Your first point is fair, Fred, and I agree that blowout losses, particularly in big games, cause more damage than falling on a last-minute field goal or touchdown. Pelini's Husker teams have fallen flat when the lights are brightest, most notably in last year's Big Ten championship game against a 7-5 Wisconsin team playing with a nothing-to-lose attitude. It might be a while before Nebraska has an easier path to the Rose Bowl than it did last season. I'm not sure about your second point. If anything, Pelini has been criticized for hiring so many young coaches and giving them a lot of responsibility. Pelini doesn't seem to be impacting Tim Beck's ability to coordinate one of the nation's top offenses. I agree that good coaches know when and how to keep their distance, but I think Pelini does that, and his involvement on defense could be really beneficial for Big Red.
Jason from Columbus, Ohio, writes:
Adam, football is upon us! I'm sure you're looking forward to it as well. On the targeting rule: "The ref & replay officials must agree." What is the process for this? Ref calls it and then the replay official looks for "incontrovertible video evidence" to disagree or isn't bound by that and uses his opinion on intent? This may not seem different to some but it is vastly different to me. Video evidence to overturn a subjective call would just result in it not being overturned often.
Adam Rittenberg:
Good question, Jason. Every targeting penalty that results in an ejection must first be called on the field. The replay official then will review the foul and determine if it meets the standards for an ejection. The replay official will need to see clear evidence that the call should be overturned or downgraded to a 15-yard penalty with no ejection. Here's how
Big Ten coordinator of football officials Bill Carollo
explained it to me in March: "We're asking replay to get a little bit involved more in the judgment call. They do [currently] have some judgment, a few rules where they can create penalties, but the replay person in the booth is not the eighth official. The game is being officiated by the seven men or women on the field. Now he'll buzz down once it's targeting, and he'll confirm that hit. ... The targeting calls are going to stand unless there's indisputable video evidence that shows it's nowhere near above the shoulders." So the bigger responsibility rests with the on-field officials. We'll see how often targeting ejections get overturned or downgraded, but given the seriousness of the foul, I hope replay officials wouldn't hesitate to step in when a foul isn't blatant targeting above the shoulders.
Ty from Des Moines, Iowa, writes:
Adam, your comment regarding Pelini running a cleaner program than Osborne rubbed me the wrong way. Pelini has run a very clean program, no doubt, but any criticism of Osborne is really unfair. The man was head coach for 25 seasons, and all any non-Nebraska fan wants to bring up is two players (Christian Peter and Lawrence Phillips) from his best team in 1995. The thing many people do not realize is that any second chances TO gave to his players were due to him truly caring about and believing in his players, nothing at all to do with winning. Do you really think Nebraska needed Lawrence Phillips to beat Florida in the 96 Fiesta Bowl?? Not to mention, the man wrote a book called "More Than Winning"!!!. He cared only about what may happen to these guys if they didn't have a chance in football. He didn't want to give up on them which I believe is very admirable. The easy thing to do is to kick a guy off the team. He knew he would be criticized heavily, but he went with his heart. Obviously, with Lawrence Phillips, hindsight is 20/20 and TO wouldn't have kept him around knowing his future. But at the time, he was doing what he believed to be the right thing and I respect him even more for it.
Adam Rittenberg:
Ty, you bring up some good points here, and my intent with that response wasn't to disparage Osborne and the way he ran the Nebraska program. But let's face it, Bo Pelini hasn't had a Lawrence Phillips situation or a Christian Peter situation at Nebraska. The most high-profile player to find trouble during Pelini's tenure -- former cornerback Alfonzo Dennard -- did so after his Husker playing days had ended. My point is that Pelini doesn't get as much credit for keeping his team on track both academically and from a conduct standpoint. Sure, Osborne coached Nebraska longer, so you would expect more conduct issues over time. But one coach had a few high-profile incidents and the other has not. I would give the edge to Pelini in terms of conduct, and he clearly takes a no-nonsense approach toward discipline. No one is saying Osborne isn't a great man or a great coach. He undoubtedly won more at the highest level than Pelini. But I think when you look at the total picture -- won-loss, academic progress, off-field conduct -- Pelini has done pretty well in Lincoln.
John from Atlantic Beach, Fla., writes:
Double Standard? Ohio State receives a year probation, bowl ban, and lost games for six players selling gold pants trinkets they owned and the nation didn't think it was enough. Now Johnny F. accused of violating rule #1 of selling autographs for profit and the nation thinks we should change the rule.
Adam Rittenberg:
John, while I understand your frustration, I'm not sure this is a double standard. The outrage about Ohio State stemmed more from the fact that head coach Jim Tressel knowingly played ineligible players and didn't speak up even after the violations initially surfaced, leading to the "Tat-5," thanks in large part to Big Ten commissioner Jim Delany, being allowed to play in the 2011 Sugar Bowl, a Buckeyes victory later vacated by sanctions. I think there were many back then, just like there are now, who think players should be allowed to sell their merchandise/autographs. Tressel really seemed to be the lightning rod with Ohio State. Unless Texas A&M coach Kevin Sumlin knew that Manziel had committed the alleged violations and did nothing, this case will be more about Manziel, his celebrity, his off-field issues and whether he should have the right to profit off of his fame. Ultimately, the rules haven't changed and that's what it will come down to for Manziel, just like it did for Terrelle Pryor and the other Ohio State players.
Mitch from East Lansing, Mich., writes:
Hey Adam, I'm a current MSU senior and I love my football program. But there is one thing that drives me absolutely off the wall about it. Friday night games. If you've noticed, MSU has kicked off the past 2 seasons with a Friday night home game, and they're doing it again this year. I'm a science major, which means that I have Friday classes. This upcoming semester, I have Calculus 3 at 3 PM. Tailgating starts at 1 PM for night games. That means that walking to and from class through MSU's huge campus will entail having to weave through drunken tailgaters. But this isn't nearly as bad as it is for those students who commute. Parking lots around campus are closed down for tailgating, meaning that commuting students need to use lots that are a 30+ minute walk from their classes. I know that many college students don't have Friday classes, but this is getting out of hand for those of us who do. I feel like this is the complete opposite of what the NCAA wants- to put the emphasis on education and not on athletics. Will ADs realize this and put a stop on Friday/Thursday night games, or is the money too big to think about the students?
Adam Rittenberg:
Mitch, my man, you're a senior and you're taking calculus on Friday afternoons? You clearly missed the seminar on senior scheduling. Friday at 3 is beer o'clock to most folks. All kidding aside, I understand your frustration, and the hassle the season opener will create for you, your classmates and all the commuter students on Aug. 30. The reason you're seeing more Thursday/Friday night games is the branding opportunity it creates for teams. Michigan State has the Big Ten stage by itself on the Friday night, rather than being in a crowd of games at noon on Saturday. Last year's opener against Boise State was more of a national showcase and would have received attention on Saturday, but more people will pay attention to Michigan State-Western Michigan on Friday night than Saturday afternoon. Michigan State athletic director Mark Hollis, one of the more creative ADs when it comes to scheduling, saw an opportunity when many Michigan high schools moved their Labor Day weekend games to Thursday night rather than Friday night. Many fans start the holiday weekend early and can attend a Friday night game, especially when it doesn't conflict with high school contests.
Hollis wrote in his blog in 2011
: "We realize that some challenges are created due to work schedules and we respect the campus academic mission of the day. At the same time, the timing of this game brings a positive impact to our team, fans and state." I also see the value in these games. They're fun for many MSU students and fans. But I understand that it creates a hassle for you and others.
June, 5, 2013
6/05/13
2:00
PM ET
Is it preseason All-America team season already? You bet it is.
Phil Steele has issued his
2013 preseason All-America teams
, and a total of 15 players from the Big Ten made the four squads.

Let's take a look:
First team
Second team
Third team
Fourth team
Some notes and thoughts:
May, 1, 2013
5/01/13
6:35
PM ET
Big Ten commissioner Jim Delany met with myself and several others reporters Wednesday after the league's annual athletics communications directors meetings at league headquarters. He touched on several key topics, including the
Ed O'Bannon antitrust lawsuit
against the NCAA, the future College Football Playoff selection committee and the Big Ten's future bowl lineup.
Here's a recap:
Delany said the NCAA won't settle in the O'Bannon case and fully expects the case to take years to resolve as it goes through the court system. "There should be no compromise on this," he said, adding that by the time the case is resolved, most of the current conference commissioners and university presidents won't be in their positions.
He reiterated the Big Ten's support to increase the value of an athletic scholarship to the full cost of education, which he originally proposed in May 2011. The Big Ten remains supportive of Federal Pell Grants and other grants to help student-athletes in need. Delany noted that other leagues haven't been as keen to increase the value of athletic scholarships. "The Big Ten is very active in trying to get more to the needy athlete, make sure they get the Pell Grant, make sure they get the things that they can't get," Delany said. "But once you cross that line where you're negotiating with players in a few sports, it changes."
Delany clarified his well-publicized remarks to SI.com that the Big Ten presidents would rather go to a Division III model than a pay-for-play one, if the O'Bannon plaintiffs win their case.. "We don't want to go to Division III, we want to [stay with] Division I," he said. "We want plenty of scholarships for women, plenty of scholarships for men." He later added, "You think they're going to force the Ivy League to pay their players?"
Asked about the money a player like Heisman Trophy winner Johnny Manziel brings to an institution through jersey sales, Delany replied, "Texas A&M is a core institution. It goes back 130 years. If Johnny Manziel was playing Arena Football, what's the uniform worth? … You could have gone down that road with Wilt Chamberlain."
Delany said the top priority in forming the College Football Playoff selection committee is to find people with "football savvy" and a true national perspective, whether they're current athletic directors, former coaches, former media members or others. Although every FBS conference will be represented on the committee, "You can't be a congressman," Delany said. "You can't come from this part of the country to take care of that. We don't need that. We have to be aware of that, but the way you're aware of that is finding great football people. You earn through the due diligence and the assessment and the transparency to explain why you did what you did."
I asked Delany about Wisconsin athletic director and former coach Barry Alvarez, who told ESPN.com earlier this spring that if asked, he'll serve on the selection committee. "Alvarez qualifies not as an AD," Delany said. "His football background is strong. If you get a core group of football who are football smart, football savvy, great integrity, and there's some national distribution. If you don't get that, you're not there. I don't care what else you do."
In Delany's view, it will be harder to put together the football committee than the men's basketball tournament selection committee. One reason is the longer period for debate after the selections are made. "You're going to have close to a month, so that's going to make it hard," Delany said. "It's a bigger decision and a longer time for scrutiny. That's why they have to do such a good job of getting the core group together."
Delany said the Big Ten's new bowl lineup, beginning in the 2014 season, could have "a lot" of new games. The Big Ten could share tie-ins with other leagues and should have more say in which teams go where. Delany hopes to have a full lineup in place for approval by the league's presidents in early June. I'll have more on the bowls Thursday.
The Big Ten is in the early stages of finding a location for its East Coast office. The office could be included in the existing office of one of the league's television partners. New York is the most likely destination for the office, Delany said.
December, 14, 2012
12/14/12
4:30
PM ET
Hoping you have a great weekend.
Gary from Olathe, Kan., writes:
I know I'm in the minority, but I'm starting to think the so called "super conferences" are a good thing. Say the B1G goes to 16 teams. We'll basically have two 8-team conferences (does the Big 8 ring any bells) that have a television and scheduling agreement with another 8-team conference. It seems to be a more formal version of what the B1G and PAC tried to do earlier.
Adam Rittenberg:
Gary, this is an interesting way of looking at it. A key question is whether the Big Ten divisions into two eight-team divisions or four four-team pods, which might preserve rivalries a bit better and create some nice scheduling flexibility. I know the Big Ten wouldn't look at it like that -- two separate conferences -- and if there were two eight-team divisions, the number of crossover games would be minimal (two or three). But you would have more teams in the group and a chance to make more money. My big concern is whether further expansion kills some of the exciting non-league matchups (Ohio State-Texas, etc.) we've seen in recent months.
---
Rich from Des Moines, Iowa, writes:
Adam, Would it make sense for Alvarez to coach a year or two and then bring in Chryst? What is the appropriate waiting period in this situation before Wisco brings in the People's Choice as coach? Thank you.
Adam Rittenberg:
Rich, I've thought about this very possibility this week as Wisconsin's search twists and turns. I don't know if Alvarez can take such a presumptive approach, as who knows what will happen with Chryst at Pitt. He could struggle there. He could do so well that he gets an NFL job. Who knows? I do agree that the timing was off to bring in Chryst to Wisconsin right now, after only one year at Pitt. And he definitely makes the most sense for the UW job. I think Alvarez would be fine coaching for a year, although recruiting could be affected if there isn't a long-term plan. As for the appropriate waiting period, I think another year or two would create a different situation for Chryst, but again, you can't assume he'll take the job.
---
Kyle from Denton, Texas, writes:
Adam,With what happened today with the catholic schools in the Big East is this a prime opportunity for the Big Ten to maybe capitalize and go to 16 schools? South Florida would be a great addition. Sure they aren't an AAU member, but that is an overrated thing by the Big Ten. By adding South Florida the Big Ten would have a recruiting presence in the Midwest (Nebraska), Iron Belt (original Big Ten schools), North East (PSU, Maryland, and Rutgers), California (Rose Bowl), and Florida (with SFU). The only area the Big Ten would not be in is the deep south and Florida. They could then try and go for a school like Georgia Tech to get into the deep south, or even go after a school in Texas ... just seems like the best opportunity to expand the Big Ten's footprint.
Adam Rittenberg:
Kyle, you couldn't be more wrong about the AAU status being overrated in the Big Ten. It's incredibly important to Big Ten presidents. I've talked to several league sources who say Nebraska might not have been admitted into the conference if it had lost its AAU status at the time of admission. Big Ten presidents aren't pleased that Nebraska is no longer an AAU member (although it could regain the status in the future). But you're deluding yourself if you dismiss the AAU/academic component of this. That's a long way of saying the Big Ten won't add South Florida. Georgia Tech? Definitely in play. Other ACC teams with AAU status like Virginia and North Carolina? They're on the Big Ten's radar. But South Florida isn't happening.
---
Jay from Arlington writes:
While your selection criteria limits the ability to praise Larry Johnson and Ron Vanderlinden (the two best position coaches in the country) after their units excelled as usual, you missed out on Mac MacWhorter. He turned the smartest football player in the country (
John Urschel
) into an all Big Ten selection. Elevated Stank's game, put together the best pair of starting tackles in the league (with depth) while putting together a unit that was a team asset.
The Dave from Sarasota, Fla., writes:
I will refrain from casting personal aspersions because I think you are very tolerable overall, but how could you leave Greg Mattison off your best assistant list and still look at yourself in the mirror? Who has done more with less talent and depth? Who has completed a bigger turn around? With less talent than Narduzzi his unit plays better more sound D.
Adam Rittenberg:
Jay, I strongly considered including McWhorter on the list. Ultimately, we had to cap it somewhere and he didn't make it, but he did a terrific job with a line that entered the season with some major question marks. Honestly, we could have included all of Penn State's offensive assistants, as they really improved the unit in 2012. You also can't minimize the head coach's impact on the group as well.
As for Mattison, he had another great year for sure, but I wanted to spread around the credit a bit to coaches who don't receive as much. Those who read the blog know what Brian and I think of Mattison, and we praised him repeatedly last season as he transformed the Michigan D. For this post, I wanted tor recognize Curt Mallory, who doesn't get nearly as much credit, for doing what he did with the secondary. This isn't a Mattison vs. Narduzzi debate. Michigan State didn't have one position coach that, to me, stood out as much as Narduzzi did with the entire defense, so that's why he was listed.
---
Kevin from Rochester writes:
I know you say that Northwestern is better off playing in a smaller bowl to get a win but Id rather them win as an underdog. They have been known to pull off big upsets and ruin teams goals such as big ten titles. They pulled off the win against Ricky Stanzi #4 Iowa a couple years ago and ruined Nebraska's big ten hopes late last year. Id rather have them break they're bowl streak by winning a bowl game thats similar to their identity which is pulling off an upset. Am I wrong to think this way. I really think they could have pulled off an upset and kept the game interesting if they played in the Capital One bowl against Johnny Football and A&M
Adam Rittenberg:
I think Johnny Football and A&M would have destroyed Northwestern, and extended the bowl streak and all the chat about how the Wildcats can't get over the hump in a bowl. Northwestern hasn't won a bowl game since 1949! You really care how the streak ends at this point? The underdog wins tradition is nice, and Northwestern almost pulled off a nice upset of Missouri in the 2008 Alamo Bowl. But the poor bowl matchups are a huge reason why Northwestern keeps losing.The most important thing here is a win, and Northwestern has a much better chance against Mississippi State than Texas A&M or Georgia or South Carolina. I just don't understand your mind-set. A bowl win would change the narrative about Northwestern and resonate throughout the offseason before a potentially huge 2013 campaign.
---
Nate from Council Bluffs, Iowa, writes:
Adam, As a Hawkeye fan I entered this season only expecting a 6-7 win season, with big coordinator changes, the question mark at running back, and favorable schedule. I never expected this outcome though. Now thinking ahead, because that?s all we can do at this point: With all the returning starters next year, and all the underclassmen who got playing time this year (Also if AIRBHG stays out of Iowa City this offseason!!), is there light at the end of the tunnel for next season?
Adam Rittenberg:
Nate, there's definitely hope when a team returns a lot of core players and won't be going through another staff transition like Iowa went through last winter. My concern, however, is the Legends division. Who do you see getting worse so Iowa can rise up? Nebraska returns virtually its entire offense, led by quarterback
Taylor Martinez
. Michigan State might lose running back
Le'Veon Bell
, but its best defenders return and the offense should be at least serviceable in Year 2 with
Andrew Maxwell
at quarterback. Northwestern returns virtually everyone from a 9- or 10-win team (depending on the bowl game). Brady Hoke will have more of his recruits in key positions at Michigan, and
Devin Gardner
's emergence down the stretch raises hope. Minnesota just went from three wins to six wins. My point is that while Iowa shouldn't be this bad again, the division is only getting tougher for the Hawkeyes.
---
Fred from Spokane, Wash., writes:
For programs on the rise, such as Minnesota, does it help the program to go to a bowl game and get blown out? Does a blow out help or hurt recruiting?
Adam Rittenberg:
Fred, in Minnesota's case, the bowl game itself is secondary to the bowl practices. The fact Minnesota gets 15 extra practices is huge, especially with a true freshman (
Philip Nelson
) at the quarterback spot. It gives coach Jerry Kill and his staff more time to evaluate younger players who will play bigger roles in 2013. Although there are quite a few seniors on defense, the offense is very young for the most part, and that's the unit that must make significant strides for next season. Minnesota can sell the bowl appearance to recruits and the fact it doubled its wins total in Kill's second season. The outcome of the game itself, even if bad, shouldn't impact recruiting too much.
December, 13, 2012
12/13/12
4:00
PM ET
The 2012 college football season saw a redshirt freshman (Texas A&M's
Johnny Manziel
)
win the Heisman Trophy
for the first time. The number of young starting quarterbacks for major conference programs likely has never been higher. And while the rule requiring players to spend three seasons in college before making the jump to the NFL makes sense for most, there are some NFL-ready true sophomores.
Michigan will see one of them -- South Carolina's
Jadeveon Clowney
-- on Jan. 1 at the Outback Bowl.
The ESPN Scouts Inc. crew of Todd McShay, Steve Muench and Kevin Weidl have
ranked the nation's top 25 underclassmen
--
true freshmen, redshirt freshmen and true sophomores
-- for the 2012 season. They evaluated them based on tape from the season and based the evaluations on the players' impact in college, not their NFL potential.
Three Big Ten players made the list:
No. 4:
Ohio State QB
Braxton Miller
, true sophomore
No. 12:
Ohio State LB
Ryan Shazier
, true sophomore
No. 22:
Nebraska RB
Ameer Abdullah
, true sophomore
All worthy selections here. Miller won Big Ten Offensive Player of the Year honors and finished fifth in the Heisman voting. Shazier put up monster numbers in Big Ten play and was a candidate for Big Ten Defensive Player of the Year. Abdullah did a terrific job filling in for injured Huskers star I-back
Rex Burkhead
, racking up 1,089 rush yards and eight touchdowns.
Who else merited consideration from the Big Ten? Penn State wide receiver
Allen Robinson
, a true sophomore, won the Big Ten's Richter-Howard Receiver of the Year award after leading the league in receptions (77), receiving yards (1,018) and receiving touchdowns (11). Robinson isn't USC's
Marqise Lee
, but I can make a good case he was one of the nation's top 25 underclassmen this season.
Robinson's teammate, Penn State redshirt freshman tight end
Kyle Carter
, also made our All-Big Ten team (along with Robinson, Miller and Shazier; Abdullah was a second-team selection). Carter ranked second on the team in both receptions (36) and receiving yards (453).