March, 10, 2014
3/10/14
10:30
AM ET
Non-Minnesota fans might have missed Friday's official announcement that Mike Sherels has been promoted to Gophers linebackers coach after serving on the team's recruiting staff. Sherels is the first new assistant Jerry Kill has hired in his Minnesota tenure, but the move likely signified -- likely being the operative word -- something bigger for the Big Ten.
The end of the coaching carousel for 2014.
This post always includes a reminder that additional coaching changes still can happen, even though most of the Big Ten has started spring practice. It's the nature of the business.
Despite two new teams in the Big Ten, the number of overall changes in the league dropped for the second consecutive year, going from 32 in 2013 to 27 this year. There was only one complete staff overhaul, at Penn State, and four programs -- Illinois, Iowa, Michigan State and Northwestern -- kept all of their coaches from last season. After replacing more than half of his staff in the last offseason, Illinois' Tim Beckman hopes continuity pays off in what likely will be a make-or-break 2014 campaign. Iowa is back to its stable self after two years of coaching flux, while Northwestern coach Pat Fitzgerald hasn't made a staff change since after the 2010 season.
Michigan State made a major commitment
to Mark Dantonio and his assistants after the Spartans' Rose Bowl win, but it's still impressive that Dantonio retained the entire staff after such a great season.
Both Rutgers and Maryland have some new faces on staff before their inaugural season of Big Ten play. Rutgers has two new coordinators (one outside hire, one promotion), while Maryland has new assistants overseeing both lines.
[+] Enlarge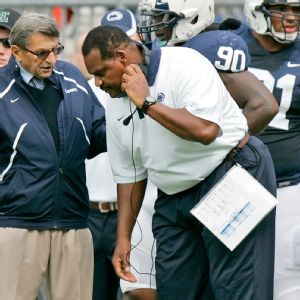 Michael R. Sisak/Icon SMILongtime Penn State defensive line coach Larry Johnson moved to Ohio State this offseason after James Franklin was hired as the Nittany Lions' head coach.
Other than Penn State, Indiana and Rutgers are the only teams featuring two new coordinators in 2014. Although IU assistant Kevin Johns previously held the co-offensive coordinator title, he'll be the main man, as he takes over for Seth Littrell.
For the most part, the coaches leaving Big Ten programs did so voluntarily and for potentially better positions. Penn State head coach Bill O'Brien took the same role with the Houston Texans, while two assistants -- Ohio State's Everett Withers and Maryland's Greg Gattuso -- left to become FCS head coaches at James Madison and Albany, respectively. The Big Ten lost several assistants to the NFL, as O'Brien brought four assistants with him from Penn State (John Butler, Stan Hixon, Charles London and Anthony Midget) and swiped another from Ohio State's staff (Mike Vrabel). Wisconsin also lost running backs coach Thomas Hammock to the Baltimore Ravens.
Arguably the most interesting move took place within the league, as longtime Penn State defensive line coach Larry Johnson replaced Vrabel at Ohio State.
OK, let's get to it already.
Here's the rundown of coaching changes (head coach and full-time assistants only; number of new coaches in parentheses):
INDIANA (3)
Who's gone?
Doug Mallory, defensive coordinator/safeties
Seth Littrell, offensive coordinator/QBs
Jon Fabris, defensive line
Who's in?
Brian Knorr, defensive coordinator/defensive ends/outside linebackers
Larry McDaniel, defensive line
Noah Joseph, safeties
Other moves
Promoted Kevin Johns to main offensive coordinator. Johns also now coaches quarterbacks in addition to wide receivers.
Moved James Patton from assistant defensive line/special teams to tight ends and fullbacks
MARYLAND (3)
Who's gone?
Tom Brattan, offensive line
Lee Hull, wide receivers
Greg Gattuso, defensive line
Who's in?
Greg Studwara, offensive line
Keenan McCardell, wide receivers
Chad Wilt, defensive line
MICHIGAN (1)
Who's gone?
Al Borges, offensive coordinator/quarterbacks
Who's in?
Doug Nussmeier, offensive coordinator/quarterbacks
Other moves
Defensive coordinator Greg Mattison is overseeing linebackers instead of defensive linemen
Mark Smith moves from linebackers to defensive line
Roy Manning moves from outside linebackers to cornerbacks

Curt Mallory will coach only safeties rather than the entire secondary
MINNESOTA (1)
Who's gone?
Bill Miller, linebackers/assistant head coach
Who's in?
Mike Sherels, linebackers (promoted from recruiting staff)
Other moves
Pat Poore moves from wide receivers to running backs
Brian Anderson moves from running backs to wide receivers
NEBRASKA (1)
Who's gone?
Terry Joseph, secondary
Who's in?
Charlton Warren, secondary
OHIO STATE (2)
Who's gone?
Everett Withers, co-defensive coordinator/safeties
Mike Vrabel, defensive line
Who's in?
Chris Ash, co-defensive coordinator/safeties
Larry Johnson, defensive line/assistant head coach
PENN STATE (10)
Who's gone?
Bill O'Brien, head coach/offensive playcaller
John Butler, defensive coordinator/cornerbacks
Charlie Fisher, quarterbacks
Stan Hixon, wide receivers/assistant head coach
Larry Johnson, defensive line
Charles London, running backs
Mac McWhorter, offensive line
Ron Vanderlinden, linebackers
John Strollo, tight ends
Anthony Midget, safeties
Who's in?
James Franklin, head coach
John Donovan, offensive coordinator/tight ends
Bob Shoop, defensive coordinator/safeties
Charles Huff, running backs/special teams
Brett Pry, co-defensive coordinator/linebackers
Josh Gattis, wide receivers/assistant special teams
Herb Hand, offensive line
Ricky Rahne, quarterbacks
Sean Spencer, defensive line
Terry Smith, cornerbacks
PURDUE (1)
Who's gone?
Jon Heacock, defensive backs
Who's in?
Taver Johnson, defensive backs
RUTGERS (4)
Who's gone?
Dave Cohen, defensive coordinator/linebackers
Ron Prince, offensive coordinator
Rob Spence, quarterbacks
Damian Wroblewski, offensive line
Who's in?
Ralph Friedgen, offensive coordinator/quarterbacks
Bob Fraser, linebackers/special teams
Mitch Browning, offensive line
Ben McDaniels, wide receivers
Other moves
Promoted special teams coordinator Joe Rossi to defensive coordinator
Anthony Campanile is coaching only tight ends after overseeing both tight ends and wide receivers
WISCONSIN (1)
Who's gone?
Thomas Hammock, running backs/assistant head coach
Who's in?
Thomas Brown, running backs
January, 10, 2014
1/10/14
1:15
PM ET
Indiana had one of the most explosive and high-scoring offenses in the Big Ten and the country in 2013.
But the Hoosiers went just 5-7 because they still couldn't stop anybody for the third straight year under head coach Kevin Wilson. So Wilson is taking the natural next step: he's shaking up his defensive staff.

On Friday, Wilson announced that defensive coordinator Doug Mallory and defensive line coach Jon Fabris won't return. The move is hardly a surprise, as Indiana gave up 38.8 points per game and ranked 120th out of 123 FBS teams in total defense. There were times during the season where that defense looked completely lost, especially in a 63-47 loss to Michigan in which the Hoosiers surrendered 751 yards.
Mallory is the son of Indiana's most successful head coach, Bill Mallory, so firing him couldn't have been an easy call for Wilson. But IU's defense simply didn't show any noticeable improvement in three years despite some recruiting successes that were supposed to upgrade the talent on that side of the ball.
Whether it was truly a lack of good schemes and coaching or whether Indiana simply lacks Big Ten quality defensive players -- defense has been a huge issue at the school for years -- doesn't really matter. The numbers speak for themselves, and no coordinator could expect to keep his job after that kind of performance. Indiana would have had a credibility problem with its fans if it didn't make major defensive changes in the offseason. The only real surprise is that Wilson waited until now to make the move instead doing it right after the season ended. But Wilson has time to hire a new coordinator before coaches hit the road for recruiting again next week, and with the coaches' convention starting Sunday in Indianapolis, he doesn't have to go far for his shopping needs.
Fabris' departure is slightly more surprising since he came to Bloomington after coaching at Georgia and had helped the Hoosiers recruit well in the South. At the same time, however, Indiana's defensive line has been a major contributor to the overall failures on defense.
Can a new coach come in and right the ship immediately on defense? That's a big question. But if Indiana can field one of the best offenses in the country, there's no real reason why the program can't at least be mediocre on defense. The good news -- or maybe it's bad news, considering how they performed -- is that 10 starters return on defense next year, with only safety Greg Heban departing. For a change, the Hoosiers will have a veteran group to work with on that side of the ball.
It will be up to the new coordinator to finally make something out of it.
February, 11, 2013
2/11/13
1:00
PM ET
Indiana coach Kevin Wilson has added an assistant coach to his staff, and it's a guy with a strong track record.

James Patton, who has spent the past seven years as Oklahoma's offensive line coach, will become the Hoosiers' new recruiting coordinator, special teams coordinator and assistant defensive line coach. Patton has worked with Wilson before, including six years at Miami of Ohio (1990-94, 98), three at Northwestern (1999-2001) and five at Oklahoma (2006-10).
"I have a lot of trust and confidence in James Patton," Wilson said in a statement released by the school. "I coached him and worked with him as a graduate assistant and an assistant coach. James was one of the toughest players that I've ever coached, and he is an enthusiastic, hard-working football coach. He has been in the big time arena, is a Midwest guy and brings some balance to our staff."
The move allows current IU assistant Jon Fabris, who served as defensive ends coach last year and oversaw punt return and block in 2011, to become defensive line coach with no special-teams duties.
"We are excited about Jon Fabris coaching the front four," Wilson said. "It gives us the consistency of one voice in the meeting room and on the field. Our players won't have to shuffle back and forth between coaches, and James will be a great complement to Jon."
Patton fills the vacancy created when defensive line coach Mark Hagen left for Texas A&M. Patton has spent his entire career coaching on the offensive side of the ball, including working with the offensive line and tight ends at Northwestern, so it's interesting to see him move to defense and special teams for Indiana. But he has proven that he can coach, and defense is the Hoosiers' biggest area for growth.
"I will bring energy and enthusiasm to help take our defense to greater heights," Patton said in a statement. "I am also looking forward to overseeing special teams and recruiting. I am very familiar with the league and the region and will continue to build off of the positive momentum Kevin and his staff have created. It is an exciting time to join the Hoosiers."
February, 8, 2013
2/08/13
1:00
PM ET
Kevin Wilson
hopes his rebuilding project at Indiana just took its next step forward on signing day.
The Hoosiers brought in one of their
better classes in recent years
, according to the rankings services. It included ESPN 150 athlete
Rashard Fant
and ESPN 300 defensive tackle
Darius Latham
. I recently spoke with Wilson, whose team went from 1-11 in 2011 to 4-8 last year, about the class:
Looks like you loaded up on defense. Was that the plan going in?
Kevin Wilson:
You always want to get good players, but you also look at your needs. If you look at our offense, it isn't so bad. It's pretty average. We only lose one senior there. That being said, we need to make improvements on defense. We really only lost five seniors that played, and we only signed 22 kids but we have a lot of players coming back. You're not starting from scratch. We have 13 kids for sure on defense and then we have four of those tweener, hybrid kids who could be a running back or a linebacker or a safety or a receiver or a cornerback. There are three or four skill position guys where I could see them being on either side. So people look at it as 13 defensive players, but it could end being 14,15 or even 16 kids who are defensive players.
You signed three highly-rated kids from Indianapolis. How important was it to lock down the best kids in the state?
[+] Enlarge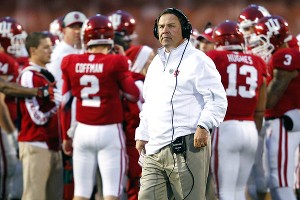 Michael Hickey/Getty ImagesIndiana coach Kevin Wilson has now had a full cycle to recruit players.
KW:
If you want to be the state school, to me, you've got to represent the state. But just because they're from your state doesn't mean you're going to get them, and just because they're from your state doesn't mean you have to like them. They've got to be good players, and sometimes you don't get them all. It was good to get quality players and highly-rated kids, guys we think can make decent impacts. We don't need them to just sign with us. We need them to become good players.
They all come from quality programs. We do want to always have a presence within our state. The other comment about that, in all honesty, is that, we show up two years ago in December and had January to recruit. Last year, we get a full year, but this to me was the first year, with the way recruiting goes, where we got a full cycle. We saw them as 10th graders. We had them at camps. We had them at basketball games, had them on campus and went and watched them as juniors. We were able to build some relationships. I think the combination of that and folks thinking we're getting better helped. That's why I think some of the Indiana kids came our way.
It's hard not to notice that you signed four kids out of Georgia. How did you get that pipeline going?
KW:
A couple of things. No. 1, we've got [defensive ends coach] Jon Fabris, who we hired from down there. He worked at the University of Georgia for nine years and knew his way around. He was able to go down there last spring and camp out there and go to spring practices and get us in there. It's a heck of a football state, with a big population. The next deal is, shooting down I-75, we're talking eight or nine hours to the metro Atlanta area. When you go outside of Indianapolis, our biggest alumni areas are Chicago, Atlanta and New York City because of the Kelley School of Business and all the alums we've got. So there's a little presence there. And I think the Big Ten Network helps when you go down south. When you go down to Florida, every home has the Big Ten Network, so that helps.
Rashard Fant is your top-rated prospect. Where do you see him fitting in?
KW:
We see him as a cornerback and we need some help over there. But you look at his tape, and he's a great athlete -- great in the return game, really good as a slot receiver and they played him at Wildcat quarterback. Like a lot of guys we got, he can run. He needs to get a little bigger, a little stronger to compete at the Big Ten level, but he's a very athletic kid. We'll use him on returns starting out and defensively. But he has flexibility. When you evaluate his tape, you see him making plays with the ball in his hands. He's pretty skilled there. Same goes for some of our defensive backs like
Antonio Allen
.
Chase Dutra
is a running back hybrid; he could be a safety.
Noel Padmore
, guys like that.
How much do you think you strengthened your defensive front seven with this class?
KW:
Again, we don't lose a lot. We only lose two D-tackles defensively. A lot of those guys are back and we need to make a bunch of strides there. We got two junior college D-tackles.
Jordan Heiderman
, he's already in school. Then you've got Chris Cormier. Our high school guys, Darius Latham and
Maurice Swain
, those are two 6-5, 6-6, 280-to-300 pound kids who can run.
Patrick Dougherty
is another inside guy. David Kenney is an edge guy.
Steven Funderburk
and
T.J. Simmons
are linebackers already in school and two really good athletes.
Clyde Newton
, he ran for the most yards of any running back we signed.
Marcus Oliver
was the conference player of the year in a big-time Ohio league.
So we've got four 'backers, six guys up front, and three of them are already in school. You'll see a lot of those guys in the two-deep mix right away. We signed a couple of fast guys. The big guys are a little bit more blessed athletically then we've recruited in years past. ... The really good teams, everybody has got a fast guy, whether it's a running back or a fast receiver or a defensive back. The best teams are fast with the big people. We didn't hit home runs or go off the charts like some people do. But for Indiana, the overall athleticism is pretty good.
You've thrown a lot of true freshmen into the fire the past couple of years. Are you to the point where you won't have to do that as much with these players, or do you expect plenty to play right away?
KW:
It's a great question. Are we mature enough to take the entitlement out of, "Just because I'm a returning starter, this my job" versus just keep getting better? We've got a bunch of guys coming back, but they are a bunch of guys who were 4-8. And that's not the standard that were trying to establish or the culture we want to build. Just because you started, that's cool, but we're still not at the level we need to play at.
These recruits coming in, their skill set may be better than the guys in front of them. Now the guys in front of them are older, we've been coaching them and developing them and they might be farther along. But the starting points of some of these recruits are higher maybe than previous years with guys that play. So I believe in competition. I believe in the more we can get that environment going where you're fighting to get on the field, and we like to play multiple guys on offense and defense with as fast as we play.
When you don't play games, it can be a negative. Man, these kids make such a big commitment, in any program. It's year-round training. So, yeah, a guy might be better five years down the road, but sometimes you lose kids and they don't develop right if you don't get them on the field. You get one more year if you redshirt them, but once they play in that game I think the winter workouts, the summer workouts are a lot more positive. We haven't promised any of these guys that they'll play, but I bet you''ll see a bunch of them out there in the fall.
April, 2, 2012
4/02/12
12:00
PM ET
I had to get these links done early so I could hit up a lunch buffet with Betty Draper.
March, 7, 2012
3/07/12
10:15
AM ET
Indiana completed its second spring practice on Tuesday, and head coach Kevin Wilson knows his team needs a lot of work. The Hoosiers finished 1-11 and went winless in the Big Ten while playing numerous true freshmen in Wilson's first season. Things can only get better in Year 2, and Wilson recently spoke to ESPN.com about the state of his program and what he hopes to accomplish this offseason:
You played so many freshmen last year, many of whom were not even on campus this time last year. Does that put you ahead a little bit going into spring?

[+] Enlarge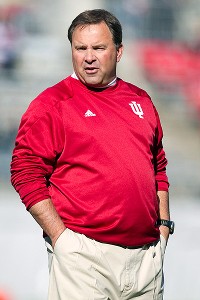 Greg Bartram/US PresswireIndiana coach Kevin Wilson is hoping to improve on last season's 1-11 campaign.
Kevin Wilson:
I wouldn't by any means say ahead because, number one, it's their first spring. So they're still trying to figure out what spring is all about. They're doing those offseason workouts, the morning conditioning programs and running. Some of these guys, you're like, "Hey, you've been playing," so you expect them to do really great. Instead they're doing good or fair or whatever. And you're sitting there looking at the kid, and really, he's been here for like seven months.
So we've got to be smart as coaches to realize we're still extremely young, and we've got to continue bringing them along instead of maybe having greater mental and physical expectations than guys are ready to fill right now.
Is there a different attitude or energy in Year 2 now that everyone knows what to expect from you?

KW:
Yeah. I don't think it was bad the first year. I just think there's a much better understanding from them to me and me to them. An understanding of the typical day, what I expect as a coach, but also the dynamics of what they're going through as students here. The ebb and flow of Monday through Saturday here.
Your team was competitive at Ohio State late in the year and played Purdue tough in the finale. Did that give you any optimism that things were starting to get better?

KW:
Yeah, and that's the disappointing thing. As hard as guys were working, you want to be rewarded with W's, and we were on the wrong side of that stick too much. But if you didn't know anything and just watched us practice down the stretch, you wouldn't have sensed it. There was a much more positive environment and much more potential for better outcomes than we were having. We were a really good practice team, our energy was high and the kids really got in sync with what we were trying to do. The more the young guys played the more comfortable they got.
At the same time, you want to win and we didn't get much of that done at all. It's nice to show that maybe we're not that far away, but ultimately when you're not winning games, you are far away.
Defensively, your numbers were obviously bad. How can that improve this year?

KW:
It's the second year in the system and also now for us the second year in the league and understanding it. Maybe we'll tweak some things in the system scheme wise. Subtle things. I don't see any wholesale changes, but just in the leverages of players, situations, when to attack and when to not, how to help people and how to hide people. In the second year, we need to make as much improvement mentally. Broken plays, busted assignments -- that happened way too much. We can't give up the big plays.
We brought in five junior college guys and this spring we have two safeties, two linebackers and a defensive end here right now. They're all going to be in the two-deep. It's only Day 2 and we're not in pads yet, so there's lot of work to do to determine where they'll fall. But it looks like on defense and special teams we'll need them to come through, and I expect them to.
You have starters back at defensive tackle, but what about the defensive end spot and improving your pass rush this season?

KW:
Ryan Phillis
really played his best from the Ohio State game on. I think he had like nine tackles before that and then 10 at Ohio State, and he played really well against Purdue. Ryan's a guy who showed up the summer of his freshman year and had a broken ankle, and his first workout was when I got here. So he had one spring and then last fall. So he wasn't even a true redshirt freshman. He really came on late, which was good to see.
Bobby Richardson
was a freshman we moved to D-line and he really came on strong. Those two guys will be sophomores now. We got a junior college guy [Justin Rayside] who's got speed off the edge. And I really like the background of coach [Jon] Fabris from Georgia. He'll be a nice addition. We had a very good coach there who we lost [Brett Dierson] but we were lucky to have coach Fabris because he brings a great deal of expertise there as well.
Speaking of coaching changes, you also have a new offensive coordinator in Seth Littrell. In what ways will the offense change with him running the show?

KW:
I think the change will be in some ways how we're practicing the pass game and some subtle ways. Not the plays that are called but how to run some routes, and some quarterback progressions to bring greater continuity and rhythm to the pass game. I think the plays will look very, very similar and the formations and mindset will be very, very similar, but I think the means will be different.
Coach Littrell is a direct descendant of [Mike] Leach. He worked with him for five years and also worked with [Dana] Holgorsen for five years. So I think we'll be a little cleaner and a little bit more into that type of passing game. The plays will look a lot alike, but the execution, the way they're practiced and the developing of the quarterback and wide receiver position, I'm hoping we'll see some significant gains there.
At quarterback, Tre Roberson really emerged for you midway through last season as a true freshman. How do you see his development continuing?

KW:
He's another one of those guys who's been here seven months. Saturday was his first spring practice ever. So there's still a learning curve of getting through it the first time. Coach [Kevin] Johns and coach Littrell will do a nice job of developing him as a passer, and I think he has the skill set to develop into a really solid, strong quarterback. I don't think he's an athlete. I know he can run well, but I think he's a guy who's going to be a complete player and bring some great things to the passing game. And I believe he's going to be a great leader, but he's still young and has a lot of work to do.
How's the state of your receiving corps this spring?

KW:
A little thin.
Duwyce Wilson
is coming off a knee injury. He's healthy but not he's allowed to practice yet, though he's ahead of schedule and looks good. I think we'll see some good things out of
Shane Wynn
and
Kofi Hughes
and even
Ted Bolser
, with the way the passing game will be taught and implemented by Coach Littrell. Ted will be a very nice complement and you'll see him as maybe more of a receiving threat at tight end.
Cody Latimer
and
Jay McCants
were two freshmen who showed some flashes last year, so we've got a bunch of freshman coming back. We've got
Nick Stoner
, who just set a record in the 4X400 and qualified for the NCAA indoor [championships], so he's a fast kid. It's just a young crowd. But as we go through spring and if guys on their own have a great summer ... Tre can do well but he's not going to do well until he and those those receivers play well for one another.
Stephen Houston came on as your leading rusher last year, and now you finally have some depth at running back. Will you look to spread the ball around more there?

KW:
You need to, because they're getting beat up enough there that you can wear a guy out. It's not just games during the season -- you've still got to be a great practice player to play on Saturday, and there's wear and tear from practice. Even when you've got a great back, you need a nice complementary guy. You look at NFL teams, most of them are playing two or three [running backs] and it's the same deal in college.
So now we've got
D'Angelo Roberts
, we've got
Matt Perez
back,
Isaiah Roundtree
is a kid who transferred in and I'm very intrigued by, and then we signed a really good player in Tevin Coleman. Last year, every running back in the spring seemed like they were hurt. This year, it's a little bit better, and we should be in a solid position by fall, we hope.
Finally, you played so many young players and don't have a lot of seniors. How is the leadership on this team?

KW:
Every team has leaders, whether they're good or bad. Every is team being led by players in a locker room, by a core group of guys. We've worked really hard this offseason and did a couple neat little things I'm not going to get too detailed about. We've been able to do some team building. We are trying to develop leaders and put our players in charge and take ownership for our actions on the field, off the field, in season out of season, on campus and in the community.
It's been going really pretty good, but once you get some adversity, that's where the leadership is going to come in. We've had about 6-to-8 really good, behind-the-scenes [leaders]. Even though it's young -- we've only got five seniors -- I think it's significantly better than a year ago. I think it's developing. But I'm really looking forward to seeing when we get a bump in the road, do we have great, positive leadership. I won't know that until we get a couple hiccups and see how we respond.
January, 20, 2012
1/20/12
3:59
PM ET
Indiana has hired veteran assistant Jon Fabris as its new defensive ends coach. Fabris replaces Brett Dierson, who resigned earlier this month.

Fabris comes to Bloomington from Northwest Mississippi Community College, where he surfaced after being fired at Georgia. He spent nine years coaching for the Bulldogs and also has worked at Georgia Tech, Washington State, Iowa State, Notre Dame, Kansas State, South Carolina and the Cleveland Browns. Fabris will also handle punt return and punt block team duties.

"We are pleased to have Jon and his family on board," Hoosiers coach Kevin Wilson said in a statement. "He brings a wealth of experience and unparalleled passion and enthusiasm to our staff. He has made a career in the collegiate ranks as a relentless recruiter, a great teacher and coach of the defensive end position and an exceptional special teams coach. He is a great fit for our program."

Fabris coached Georgia's defensive ends from 2001-09 and was recognized as the SEC's top position coach in 2009. However, he and two other Bulldogs assistants were fired following that 2009 season in a staff shakeup by Mark Richt. Fabris coached one of the top Georgia defensive players of all time in current ESPN commentator David Pollack.

"I wanted to be on a high level of competition, and certainly Indiana being in the Big Ten is about as high as you can get," Fabris said in a school release. "Coach Wilson is a very competitive guy. He's had success at Miami (Ohio), Northwestern and a whole lot of national success at Oklahoma. That was attractive to me."

Indiana could use an upgrade in its pass rush. The Hoosiers had just 18 sacks last season, ranking 91st in the nation and 11th in the Big Ten.