May, 30, 2011
5/30/11
10:30
AM ET
Jim Tressel's
resignation as Ohio State's coach
means one of the most coveted jobs in college sports is now available.
To be fair, we don't know what type of program the next coach will inherit after the NCAA gets done with the Buckeyes. But even without Tressel, Ohio State has the pieces in place to compete for the national championship.
[+] Enlarge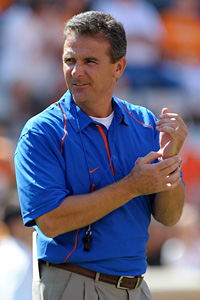 Jim Brown/US PresswireFormer Florida coach Urban Meyer figures to be high on Ohio State's list of potential replacements for Jim Tressel.
Assistant Luke Fickell will serve as Ohio State's interim coach throughout the 2011 season before a formal search of both external and internal candidates takes place.
Colleague Bruce Feldman has examined
who might be on Ohio State's list
when it looks for a long-term solution. He identifies seven candidates:
1. Urban Meyer: This would be the grand slam hire for Ohio State, given Meyer's pedigree, track record and age. Meyer grew up in Ohio, graduated from the University of Cincinnati and was a graduate assistant for the Buckeyes in 1986-87. He stepped down at Florida after the 2010 season and is now spending more time with his family and doing TV for ESPN. In the book Meyer wrote in 2008, he said that Notre Dame, Ohio State and Michigan were the only coaching jobs his wife had no power to veto.
2. Bo Pelini: The fiery former Buckeyes safety grew up in the football hotbed of Youngstown. He got his coaching start as a graduate assistant under Hayden Fry at Iowa and then spent a decade in the NFL. Pelini is one of the sharpest defensive minds in college football. Other defensive coaches are very impressed by the system he runs. In three seasons since taking over the Nebraska program, he has restored much of the power to the Huskers brand, leading them to a 30-12 mark that includes back-to-back 10-win seasons.
3. Gary Patterson: The 51-year-old Patterson has elevated TCU to a legit big-time program by winning an eye-catching 66 games in the past six years. No head man working in the college game is more driven than the Kansas native. He is very hands-on, running practice and developing his players into a tough, physical, disciplined team. His style would play well in Columbus.
4. Jon Gruden: I know this guy is a natural on TV talking football, but at some point you'd think he'd be tempted to try out all the scheme studying he's been doing at the college level. Gruden spent hundreds of hours going to school on Chip Kelly's system and several others. I suspect it would be quite a lab for him. My hunch is that Gruden, whose charisma is off the charts, would be the ultimate closer as a recruiter. In terms of fit, there aren't many college jobs that have the luster Ohio State does.
5. Mark Dantonio: Seeing as how Dantonio is a Tressel protégé, it's very possible that this might be too awkward of a move for either party. But you can't dismiss Dantonio's credentials. He was the Buckeyes' defensive coordinator when OSU won the BCS title. He did a nice job in his first shot as a head coach at Cincinnati and has Michigan State on the upswing. In 2010, he led the Spartans to an 11-2 season and a share of the Big Ten title.
6. Mark Stoops: If there's a Stoops that would fit at this point for Ohio State, I suspect it would be Mark, not Bob, whom I doubt would ever leave OU for another college job knowing the setup he has in Norman (elite program, history, great boss). Mark, the FSU defensive coordinator, is a product of Youngstown and played defensive back at Iowa in the late 1980s. He was a high school coach in Ohio and has gone on to coach in every time zone in the country. Stoops actually coached against and lost to the Buckeyes in the BCS title game while he was defensive backs coach at Miami.
7. Gary Pinkel: Like many guys on this list, Pinkel is an Ohio guy. He was born in Akron, played at Kent State (where he roomed with Steelers legend Jack Lambert) and spent a decade winning a lot of football games at Toledo. Since leaving the MAC, he has done a very nice job as head coach of the Missouri Tigers and has won 40 games in the past four seasons. Is there much more realistically he can do for Tigers football? Then again, does OSU -- which will be dealing with the fallout of the end of the Tressel era and NCAA sanctions for a while -- want to hand the keys to a coach who just turned 59?
It's an interesting list.
Meyer is an extremely intriguing choice, given his credentials, his Ohio roots and the fact that he isn't coaching a team right now. His health issues might be a concern, but Feldman is right: Meyer would be a home run hire.
Patterson is another interesting name. His defensive style certainly would resonate with Buckeye Nation. But would he leave a very comfortable situation at TCU for a new region and a job that brings incredible pressure?
Pelini and Dantonio also could draw interest from Ohio State because of their ties to the school and to the state. Both men still must prove they can win on a truly national level, but both are defensive-minded coaches who could thrive in Columbus.
I would add Bob Stoops to my list of candidates. Sure, he's got a great gig at Oklahoma, but Ohio State would be foolish not to at least gauge interest from one of the game's most successful coaches, not to mention a guy with local ties.
Although Fickell certainly could help his cause for the permanent job by steadying the ship this season, Ohio State must conduct a true national search. Anything less would be a disservice to the Buckeyes football brand. If Fickell emerges as the best choice, fine, but Ohio State has to conduct a thorough search process.
April, 20, 2011
4/20/11
12:00
PM ET
November, 13, 2009
11/13/09
9:00
AM ET
| | |
| --- | --- |
| | |
| | US PRESSWIRE |
| | Notre Dame coach Charlie Weis and Michigan coach Rich Rodriguez are facing similar problems within their programs. |
Posted by ESPN.com's Brian Bennett and Adam Rittenberg
Notre Dame and Michigan treated us to one of the season's
most entertaining games
back on Sept. 12 at the Big House. Both teams seemed destined for solid seasons back then, but the Fighting Irish and Wolverines have since fallen on hard times. Michigan hasn't beaten an FBS team since Sept. 26 and needs to upset No. 20 Wisconsin or No. 11 Ohio State to avoid missing a bowl for the second straight season. Notre Dame likely fell out of the BCS bowl mix by losing to Navy for the second consecutive time in South Bend. Not surprisingly, head coaches Rich Rodriguez and Charlie Weis are in the crosshairs.
Which coach's problems are worse? How did these two programs get here? Brian Bennett and Adam Rittenberg take a closer look.
Adam Rittenberg:
Let's talk about Charlie Weis and the Irish. They lose to Navy at home again. Nose tackle Ian Williams says they're getting outschemed. What's going on with Weis and the Domers?
Brian Bennett:
There's very little excuse for Notre Dame to be only 6-3 at this point. The Irish have legitimate stars in quarterback
Jimmy Clausen
and receivers
Golden Tate
and
Michael Floyd
, an experienced offensive line and seasoned upperclassmen all over the roster. But this program continues to lose to every ranked team it plays and throws in at least one head-scratcher each year (this time, Navy. Again.).
Something just isn't working here, and you have to blame Weis. He remains a brilliant offensive mind, but I think sometimes he outthinks himself in an effort to prove his intelligence. He doesn't appear to be able to properly motivate his teams, likely because of his NFL coordinator background. And years of suspect recruiting or talent evaluation on the defensive side has again led to a team that can't stop anybody.
Notre Dame, simply put, should be better than this in Year 5 under Weis. It's only Year 2 under Rodriguez in Ann Arbor, but people expected a lot more than this. What's wrong with the Maize and Blue?
| | |
| --- | --- |
| | |
| | Gregory Shamus/Getty Images |
| | There were high expectations for both Michigan and Notre Dame this season. |
Rittenberg:
Those expectations certainly increased after Michigan's 4-0 start, highlighted by the win over the Fighting Irish. I remember thinking then that Notre Dame was the better team in that matchup, but Michigan found a way to win and had the potential to make major progress. Instead, the mistakes Michigan overcame in its first four victories began to cost the Wolverines in October.
Quarterback
Tate Forcier
has battled injuries and some inconsistent play. He still creates a lot of plays with his feet, but he's still too much of a freelancer and struggles with his throws in the pocket.
Brandon Minor
might be the Big Ten's most dominant running back, but he just can't stay healthy. But for the most part, the offense hasn't been the problem. Like Notre Dame, Michigan's major issues are on the defensive side. There's a lot of youth and not much depth there, as evidenced by several walk-ons in the two-deep, but the number of major breakdowns is shocking. It's one thing to allow big plays to Notre Dame on Sept. 12. But to give up the same plays to Iowa, Illinois and Purdue later in the season is unacceptable.
Rodriguez isn't to blame for all the problems, but like Weis, I think he fights himself a lot. He has won a certain way for years, and he can be stubborn. Rich has talked a lot about the need to have patience but admits he doesn't have much himself. And he still talks too much about the program he inherited from Lloyd Carr. Last I checked, he coaches Michigan, not Eastern Michigan, and while there were problems in 2007, a program like Michigan should never miss bowls in consecutive years (a strong possibility), especially in an average Big Ten.
Both of these coaches are known for offense, and yet both have major problems on defense. Has Weis put enough focus on the other side of the ball?
Bennett:
Well, as you know, Weis is the offensive coordinator again this year and fully admits that he leaves most of the responsibility for the defense in the hands of veteran coordinator Jon Tenuta. The blitzing schemes favored by Tenuta haven't really worked, but that's mostly because of the personnel. Though Weis has brought in some highly rated recruiting classes, there still aren't enough big-time playmakers on defense, especially up front. When you look at, say USC, or even this week's opponent, Pittsburgh, the Irish simply don't stack up athlete for athlete on the defensive line.
What I don't understand is how Michigan can have talent problems, even in the coaching transition. Shouldn't the Wolverines have enough blue-chippers to field a good defense even as they adjust to a new offensive system?
Rittenberg:
You would think, Brian, but Michigan has had an abnormal amount of attrition on that side of the ball, coupled with some bad recruiting classes for defense toward the end of Carr's tenure. The Wolverines also have had veteran players regress this season, and there aren't enough young guys ready to fill the gaps. Rodriguez needs his defensive recruits to blossom immediately, especially since Michigan will be losing its best defensive player (DE Brandon Graham) and possibly its No. 2 defender (junior CB Donovan Warren). It will be interesting to see what happens with first-year coordinator Greg Robinson, who hasn't had the desired effect on this unit.
OK, you're on the spot. What's your prediction for the rest of Notre Dame's season? Can Weis turn things around? Will next year's Fighting Irish head coach be Weis or your man-crush, Brian Kelly?
Bennett:
The rest of the season brings a trip to No. 12 Pitt this week, followed by a visit from dangerous UConn next week and the season finale at Stanford. I have a hard time seeing Notre Dame winning more than two of those, so 8-4 or 7-5 looks like the final tally.
Jack Swarbrick isn't going to call me for advice, but I wouldn't think that record would be enough to keep Weis, especially since the Irish could once again lack any real quality wins. They don't hang banners for Gator Bowls in South Bend.
If there is a change, I would imagine Notre Dame would first try and land a big-time name, such as Urban Meyer or Jon Gruden. Once those guys say no -- and I don't think either would take the job -- the Irish would be crazy not to go after Kelly. He's Catholic, a great program salesman, he's built strong recruiting ties in the Midwest and he just wins big everywhere he goes.
He'd be a perfect fit at Notre Dame -- unless Michigan came calling first. Any chance Rodriguez doesn't survive, especially if the NCAA finds something in that whole practice time investigation?
Rittenberg:
The
NCAA investigation
is the wild card, especially if major violations are found for the first time in Michigan football history. But this isn't boosters paying players or academic fraud, so I can't see the penalties being too terrible. Michigan AD Bill Martin said earlier this week that
Rodriguez is safe
, and though Martin will be retiring soon, they're not going to make a change in football after only two years, especially during an athletic director transition.
A 5-7 season combined with NCAA violations would really sting, but Rodriguez should be back in 2010. He'll definitely be on the hot seat entering next fall, needing at least eight or nine wins to keep his job at a tradition-rich program.
Sound familiar?