January, 25, 2011
1/25/11
9:00
AM ET
National Signing Day is just about a week away, so let's take a look at the recruiting needs for each Big Ten team.
In compiling these lists, I tried to look at positions that have depth issues for 2011 and/or 2012.
Let's start off with the Legends division.

IOWA
Running back:
Marcus Coker
's breakout performance in the Insight Bowl got Iowa fans excited for the future, but there's still a significant depth issue here. If
Adam Robinson
can't get reinstated, the Hawkeyes will be looking for No. 2 and No. 3 options behind Coker. As we've seen the past two seasons, freshmen backs will see the field at Iowa.
Linebacker:
Iowa felt the losses of Pat Angerer and A.J. Edds this season, and it must continue to rebuild the depth at the three linebacker spots. Multiyear starter Jeremiha Hunter departs along with players like Jeff Tarpinian and Troy Johnson. Iowa needs to build around rising star James Morris.
Wide receiver/tight end:
Iowa loses Derrell Johnson-Koulianos,
Allen Reisner
and
Colin Sandeman
this year. Also, receiver
Marvin McNutt
and tight end
Brad Herman
depart after the 2011 season. Although the Hawkeyes boast young talent at both positions, they need to build depth with this class.

MICHIGAN
Secondary:
The Wolverines couldn't find many answers here in 2010, and though the return of players like cornerbacks Troy Woolfolk and J.T. Floyd will help, there are opportunities for freshmen to make an immediate impact. Michigan simply needs more options at both secondary spots in 2011.
Defensive line:
It's crucial for coach Brady Hoke and defensive coordinator Greg Mattison to begin building depth up front. Future NFL player Mike Martin departs after 2011 along with Ryan Van Bergen, so Michigan needs to solidify both line positions.
Kicker:
Field goals were an adventure in 2010, and Michigan simply can't have so much uncertainty at kicker going forward. The Wolverines need a reliable leg here ASAP.

MICHIGAN STATE
Linebacker:
I like some of the young linebackers the Spartans bring back in 2011, but you can't overlook the losses of multiyear starters Greg Jones and Eric Gordon, not to mention reserve Jon Misch. Michigan State should have a decent group of first-string 'backers, but wants to build depth in the defensive midsection.
Offensive line:
Not only do the Spartans lose three starters from the 2010 line, but they're still not where they need to be depth-wise up front to become a consistent top-tier Big Ten program. Michigan State wants to become like Iowa and Wisconsin. The big step is to keep fortifying both lines, especially on the offensive side.

MINNESOTA
Pass rusher:
Minnesota finished last in the Big Ten in sacks last season (9) and hasn't had an intimidating pass rusher since Willie VanDeSteeg in 2008. The recent departure of defensive tackle Jewhan Edwards, who led the team in both sacks and tackles for loss in 2009, underscores this need.
Offensive line:
The Gophers lose three starters up front, and while they boast some promising young linemen like tackle Ed Olson, the depth just isn't there yet. Minnesota's best teams had powerful offensive lines, and new coach Jerry Kill must continue to create competition up front.

NEBRASKA
Running back:
The Huskers lose standout
Roy Helu Jr.
, and while
Rex Burkhead
quickly will become one of my favorite Big Ten players, he might not be an every-down back for Nebraska going forward. You always want options in the backfield, and Nebraska must continue to address its run game with the 2011 class.
Wide receiver:
Nebraska loses
Niles Paul
and wants to identify playmakers to surround
Taylor Martinez
or whomever starts at quarterback.
Brandon Kinnie
departs after the 2011 season, and while Burkhead helps in the receiving department, Nebraska needs others to emerge.

NORTHWESTERN
Running back:
Although
Mike Trumpy
and
Adonis Smith
emerged as possible answers late in the 2010 season, Northwestern needs to create real competition here. The Wildcats have lacked a dominant back during the Pat Fitzgerald era and need a dangerous rushing option to complement
Dan Persa
.
Defensive line:
The Wildcats lose only one starter (Corbin Bryant) from the 2010 squad, but four more rotation players (Vince Browne, Jack DiNardo, Kevin Watt and Niko Mafuli) depart after 2011. Fortifying the pass rush is a major priority going forward.
December, 17, 2010
12/17/10
12:00
PM ET
Thanks to colleague
Heather Dinich
for filling in on the links Thursday. I caught a 24-hour flu bug, and it wasn't pretty.
October, 2, 2010
10/02/10
9:32
PM ET
EAST LANSING, Mich. -- Linebacker Jon Misch tried to get as close to the BlackBerry as possible, making sure he could hear one of the more unique post-game speeches in college football history.
Misch and his Michigan State teammates had just finished a
34-24 win
against No. 11 Wisconsin, overcoming three first-half turnovers and a second-half rally by the Badgers. The Spartans validated themselves as a Big Ten title contender and beat their highest-ranked opponent since upsetting No. 10 Notre Dame in 2005. Michigan State had dropped 14 of its previous 15 games against ranked opponents.
The win was certainly cause for celebration, but Michigan State's raucous locker room quieted down for a few moments as a voice came through one of the coach's speaker phones.
[+] Enlarge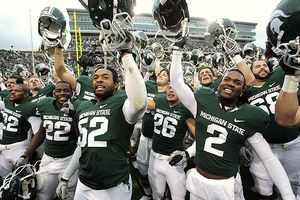 AP Photo/Carlos OsorioMichigan State took a big step by beating No. 11 Wisconsin. "This game was a big-time game that if we come out and win it, people are going to start opening their eyes and saying, 'Michigan State's got something,'" linebcker Jon Misch said.
Head coach Mark Dantonio wanted to congratulate his team -- from the hospital.
"He said, 'I'm so proud of you guys, unbelievable win,'" Misch said. "People were yelling, 'I love you, coach! That's for you!' and things like that. It was honestly so hard to hear it, but I made out those few words."
Those few words meant a lot to a team that made a very loud statement to the rest of the country Saturday: These aren't the same old Spartans, so you better get used to it.
"People used to say the big games, when we had the national spotlight on us, we'd crack," Misch said.
Michigan State had its opportunities to crumble, even before Saturday's game. Players only found out Friday night that Dantonio wouldn't be in the stadium after the coach was readmitted to the hospital because of a blood clot in his leg.
Their response?
"Business as usual," quarterback
Kirk Cousins
said.
Michigan State came out a little shaky, as it had in so many other showcase games. Cousins threw two interceptions and
Keith Nichol
fumbled.
Wisconsin converted the giveaways into 10 points but did nothing else in the half, and Michigan State amazingly led 20-10 at halftime despite the minus-3 turnover margin.
But the real test came later. Michigan State held a second-half lead, as it had many other times against ranked opponents, only to fall apart. Wisconsin cut its deficit to three points with 10:53 left, and had Michigan State facing third-and-9 from its own 17-yard line.
At that point, Cousins began to lead the drive of his life. And offensive coordinator Don Treadwell, handling the head-coaching duties in Dantonio's absence, made some of the biggest calls of his life.
Third-and-9 from the MSU 17: Cousins hits Mark Dell on a slant for 12 yards.

Third-and-11 from the MSU 28: Treadwell catches Wisconsin in an all-out blitz, and Cousins finds Larry Caper on a screen pass for 35 yards.

Third-and-5 from the Wisconsin 21: The Spartans line up in the shotgun but hand it off to Caper, who scampers 11 yards for a first down.
It all set up a fourth-and-goal from the Wisconsin 1-yard line. Treadwell had gone 1-for-2 on fourth-down attempts, and he decided to pull the trigger again. Cousins, who had executed the play-action perfectly all afternoon, faked a handoff, waited for
B.J. Cunningham
to get open and fired a touchdown.
"We've had that play in since camp, and I've called for it three or four times," Cousins said. "I wanted it against Florida Atlantic, it didn't get called. I wanted it against Western Michigan, didn't get called. So I guess this was the moment to have it."
It was Michigan State's moment.
Treadwell validated himself as a play-caller and a decision-maker, making several bold decisions down the stretch.
"[Dantonio] has taught us if we don't get a verbal cue from him, then we're going to go play for the win," Treadwell said.
But did Dantonio provide a cue from the hospital? Treadwell said the fourth-and-goal decision was his call, but Dantonio managed to stay involved despite being a few miles away from the stadium.
"He was texting and calling the entire game," said defensive coordinator Pat Narduzzi, who coached from the press box. "I've never been on the phone so much during the game. He was with us the entire time. ... There was a couple times we called him and said, 'Do we go for it or not?' And he was right there with us."
It's not known when Dantonio will be released from the hospital or when he'll return to his full-time duties. But his assistants and his players are doing just fine without their leader, a major step for a program that has, in past years, had shaky leadership from the top down.
Why is Michigan State finally overcoming adversity?
"We had to learn how to win," Cousins said.
The dramatic overtime win against Notre Dame helped, but a convincing performance against Wisconsin left a stronger imprint.
"We don't feel like people respect us the way we want them to," Misch said. "This game was a big-time game that if we come out and win it, people are going to start opening their eyes and saying, 'Michigan State's got something.'"
The Spartans can gain more respect by beating
Denard Robinson
and archrival Michigan next week. But it's an uphill battle for a program that has disappointed so many for so long.
"I still feel like we're not respected," running back
Edwin Baker
said. "We're not going to get our respect until we're 13-0."
Michigan State took another step toward perfection Saturday. After the game, the Spartans sang their fight song, and through the phone, Dantonio listened to every word.
"He's still there," Cousins said, "leading us."
October, 2, 2010
10/02/10
8:45
PM ET

Spartans linebacker Jon Misch talks about earning some respect with the win over Wisconsin.
October, 2, 2010
10/02/10
3:27
PM ET
EAST LANSING, Mich. -- The Michigan State students were here early, but it's a bit of a late-arriving crowd here at Spartan Stadium. Must be finishing off some of those tailgates.
The rain is staying away, but the wind could be a bigger factor. Game-time conditions call for cloudy skies, 48 degrees and winds gusting to more than 20 miles an hour.
Some depth-chart notes for Michigan State:
Edwin Baker
starts at running back, while
Keith Nichol
and
Keshawn Martin
start at receiver. Tyler Hoover and Denzel Drone are the starting rush ends, Blake Treadwell starts at nose tackle and Jon Misch starts at the "star" linebacker spot.
Sit back, relax and keep reading. Much more to come from Sparta.
August, 23, 2010
8/23/10
9:00
AM ET
Scrimmages took center stage around the Big Ten this weekend as teams moved closer to the end of camp and the start of game preparations. I have links and a few thoughts on each scrimmage below, but only on the teams that put out information about what happened or had media in attendance. Those teams are:
Illinois, Indiana, Michigan State, Minnesota, Northwestern, Ohio State
and
Wisconsin
.
I'll do my best with
Michigan
's scrimmage, which oddly was open to fans but not media.

ILLINOIS
The Illini broke camp in Rantoul, Ill., and scrimmaged Saturday at Memorial Stadium. Check out what happened
here
and
here
and
here
and
here
.
Quick hitters
Illinois' coaches can talk all they want about running back by committee, but it's clear that junior Mikel Leshoure is the team's top option. As he did throughout the second half of last season, Leshoure showcased his big-play ability Saturday with a 49-yard touchdown run. Leshoure finished with 102 rush yards and two scores on only 12 carries. Jason Ford also had a nice day Saturday, but Leshoure is the guy to watch out for this fall.
After struggling in the first camp scrimmage, Illinois' first-team defense rebounded nicely Saturday. According to Mark Tupper, the first-team defense allowed only 59 net yards in 41 plays in the scrimmage. Defensive end Michael Buchanan and linebacker Martez Wilson were among the standouts.
Although starting quarterback Nathan Scheelhaase had a shaky day, Illinois might have found another capable wide receiver in Eddie McGee, the team's former backup quarterback. McGee beat cornerback Miami Thomas on a jump ball in the end zone to record a touchdown and finished with three receptions for 56 yards.

INDIANA
The Hoosiers held a 96-play Saturday at Memorial Stadium, and you can read all about it
here
,
here
(subscription required) and
here
.
Quick hitters
Redshirt freshman Dusty Kiel has established himself as the team's backup quarterback in camp. Kiel, who has been competing with Edward Wright-Baker, had an excellent scrimmage, completing 14 of 16 passes for 129 yards and a touchdown.
Indiana used the scrimmage to assess its offensive line depth and limited the participation for sure-fire starters like center Will Matte and right tackle James Brewer. Coach Bill Lynch wanted to get a better read on his backup center and had Jordan Marquette, Chris Ahlfeld and Steve Fiacable take reps in the scrimmage. Ted Bolser stepped up nicely at tight end with five catches for 46 yards and a touchdown.
The Hoosiers' already-shaky secondary suffered a blow as safety Chris Adkins had to be carried off the field because of an ankle injury. The extent of Adkins' injury is unclear at this point.

MICHIGAN
Michigan held a scrimmage Saturday at Michigan Stadium. It was open to some fans but not media, and while I love fan reports, I'm relying mostly on
this video
from the school's official website.
I really like what I've seen from freshman running back Stephen Hopkins, both in Saturday's scrimmage and during the Big Ten Network's tour stop. He gives the Wolverines a different look in the backfield at 6-foot, 227 pounds. Michigan boasts plenty of speed backs, but Hopkins provides the type of downhill, between-the-tackles running you need in the Big Ten.
Quarterback Denard Robinson looked pretty smooth in the scrimmage video, both as a passer and a runner. He hit his receivers in stride and broke off a long touchdown run, juking safety Jared Van Slyke before reaching the end zone. All signs continue to point toward Robinson being named the starter, but we'll see.

MICHIGAN STATE
The Spartans held a 130-play controlled scrimmage Saturday at Spartan Stadium, closed to the media. The defense prevailed 45-32 as the team used a modified scoring system. Recaps can be found
here
and
here
.
Quick hitters
It was a good day for the defense and a great day for the linebackers, who should be Michigan State's strongest unit this fall. Eric Gordon recorded a scrimmage-best nine tackles, while Greg Jones added eight, including two for loss. Jon Misch had 2.5 tackles for loss and a quarterback hurry, and Chris Norman had six tackles and a pass breakup. "The linebackers were very active," coach Mark Dantonio said.
Wide receiver B.J. Cunningham is having a very strong camp, and he continued it Saturday with five receptions for 67 yards, including a 30-yard touchdown from Kirk Cousins. Cousins and Cunningham hooked up for two touchdowns in the team's first fall scrimmage. It's a pretty crowded mix at receiver, but Cunningham has put himself in a great position.

MINNESOTA
Minnesota held an open scrimmage Saturday at TCF Bank Stadium, and you can read all about it
here
,
here
and
here
.
Quick hitters
Minnesota's first-string offensive line stepped up nicely in the scrimmage, keeping quarterback Adam Weber safe and allowing him to complete 7 of 9 passes for 70 yards and two touchdowns. There was, however, a significant drop-off when the second- and third-team offensive linemen entered the scrimmage. "I didn't feel like some of the [second and third team] took advantage of the opportunity to go play today," coach Tim Brewster told the (St. Paul) Pioneer Press.
Freshman running back Donnell Kirkwood has put himself in the mix for carries this fall alongside Duane Bennett and DeLeon Eskridge. Kirkwood had 19 carries in Saturday's scrimmage with a long run of 14 yards. Offensive coordinator Jeff Horton praised Kirkwood when we talked a few weeks ago.
MarQueis Gray is still getting reps as a reserve quarterback, but it's coming clear his primary role this fall will be at wide receiver, as long as Weber stays healthy. Gray seems to be embracing the change, and his big frame could really help the Gophers after the loss of Eric Decker. "I am pretty sure I can find a hole somewhere to catch the ball and get upfield for Weber when he throws it to me," he told the Star Tribune.

NORTHWESTERN
The Wildcats ended their off-campus training in Kenosha, Wis., with an open scrimmage. Head coach Pat Fitzgerald held out a large group of starters on both sides, so second- and third-teamers got most of the work. Recaps can be found
here
and
here
.
Quick hitters
Freshman receiver Venric Mark will make an immediate impact this fall, especially for Northwestern's middling return teams. Mark had an excellent scrimmage, recording a 28-yard touchdown catch and breaking off several big returns. Generously listed at 5-8 and 165 pounds, Mark also threw a block that helped classmate Adonis Smith reach the end zone.
A battle could be brewing at backup quarterback. As starter Dan Persa watched from the sideline, true freshman Trevor Siemian completed 10 of 13 passes for 112 yards with a touchdown and an interception. Siemian could push redshirt freshman Evan Watkins, who completed only four of seven passes.
Freshman defensive end Will Hampton could work his way into the rotation this fall. Hampton recorded a tackle for loss in the scrimmage.

OHIO STATE
Ohio State held its jersey scrimmage Saturday at Ohio Stadium, as the offense prevailed 54-48 after 130-140 plays. The scrimmage was open to the media, and you can find recaps
here
,
here
and
here
.
Quick hitters
Quarterback Terrelle Pryor had a so-so day, although he wore a no-contact jersey and couldn't be the running threat he'll be after Sept. 4. Pryor completed only 10 of 24 pass attempts but did fire a 25-yard touchdown strike to Taurian Washington, considered the front-runner for the No. 3 wide receiver spot. He also found tight end Jake Stoneburner for a 25-yard gain and nearly threw an interception in the end zone.
Andrew Sweat appears to have a slight edge on Etienne Sabino for the third starting linebacker spot. Sabino entered camp as the favorite to start, but Sweat logged more time with the first-team defense Saturday and recovered a Brandon Saine fumble.
Coach Jim Tressel said he hopes to get defensive end Nathan Williams (knee) back by the Sept. 2 opener against Marshall. Meanwhile, several young defensive linemen stood out Saturday. Redshirt freshman Adam Bellamy recorded three sacks and true freshman Johnathan Hankins added one.

WISCONSIN
The Badgers scrimmaged Saturday at Camp Randall Stadium. The session was open to the media, and you can read all about it
here
and
here
.
Wisconsin's offense moved the ball decently but struggled to finish drives, as Antonio Fenelus picked off a Scott Tolzien pass and safety Aaron Henry broke up a pass in the end zone. It was a theme throughout the scrimmage. There's little doubt Wisconsin can control the clock and keep moving the chains with its balanced attack, but it must execute in the red zone.
Freshman running back James White had a good day and could push Zach Brown for the No. 3 spot on the depth chart. White had runs of 29, 26 and 22 yards, the last for a touchdown, in the scrimmage. Starting tailback John Clay, by the way, had 11 carries for 51 yards.
Backup quarterback Jon Budmayr had a tough scrimmage, going 0-for-9 passing on his first three series with two near interceptions. He finished 9-for-27 for 107 yards for a touchdown and an interception. Wisconsin really can't lose Tolzien and would get a big boost if Curt Phillips can return from his knee injury early in the season.
April, 7, 2010
4/07/10
3:00
PM ET
EAST LANSING, Mich. -- This spring, Michigan State is auditioning several players with the first-team defense to fill the third linebacker spot alongside mainstays Greg Jones and Eric Gordon.
There are several candidates in the mix, including sophomore
Chris Norman
, fifth-year senior Jon Misch and possibly freshman
Max Bullough
, an impressive-looking early enrollee.

Gholston
But arguably the Spartans' best option watched Tuesday's practice from the sideline, decked out in an Under Armour All-America sweatshirt.
William Gholston
was pretty easy to spot on the practice field, all 6-foot-7, 237 pounds of him.
Gholston headlined Michigan State's 2010 recruiting class, ranking as the Big Ten's second-highest rated prospect by ESPN recruiting. The Detroit native doesn't arrive at Michigan State until the summer, but he's a regular at Spartans' spring practices and attended Tuesday's workout while on spring break.
"We think he can be a big linebacker type guy that can bounce around and be an edge rusher, bring it up inside," Michigan State defensive coordinator Pat Narduzzi said.
It begs the question: Should Gholston play outside linebacker or defensive end, or some sort of hybrid position?
Narduzzi doesn't need to see Gholston in a Spartans uniform to know the answer. He wants to identify another blitzing linebacker to pair with Jones, the reigning Big Ten co-Defensive Player of the Year.
Last season, opposing teams consistently moved their protection schemes to account for Jones and didn't worry about anyone else. Narduzzi wants to "make people pay for that" in 2010, and Gholston is the man to do it.
"He's got the ability to run like any of our other linebackers can," Narduzzi said. "People want to sit there and stereotype him and tell him, 'Oh, you're a D-end because you're 6-7.' Well, guess what? That guy's a special guy who can run like a linebacker at 6-foot-7.
"To be able to stand him up and move him around like we do with Greg Jones is something we'd like to do."
Although Gholston isn't practicing this spring, his presence around the coaches has paid off. Narduzzi has been impressed with the incoming freshman's football knowledge, which should benefit him at linebacker.
"He is a very intelligent individual, smarter than I thought he was," Narduzzi said. "During [Michigan State] basketball games this season, he'd come up an hour before a basketball game and talk football. Most high school players don't know a thing, but he knows a lot of things.
"Stuff that I talked about two weeks ago, he'll come in here today and I'll say, 'Tell me what we do on this.' And he knows. He didn't forget. So he's got the smarts to play linebacker."
April, 21, 2009
4/21/09
7:21
PM ET
Posted by ESPN.com's Adam Rittenberg

EAST LANSING, Mich. -- It's pretty miserable outside right now, so thankfully Michigan State held practice Tuesday afternoon on its indoor field. Media were allowed to stay for nearly 13 practice periods, the most all spring, so I clearly picked a good day to visit Sparta.
The quarterback competition is clearly the burning issue in these parts, so let's get right to it.
Head coach Mark Dantonio said before practice that sophomores Kirk Cousins and Keith Nichol would split reps evenly in Saturday's Green-White Game, as they have throughout the spring. Michigan State is a long way from choosing a starter, but there's still an opportunity for both players to distinguish themselves.
"You can inch somebody ahead of the other guy, but they've both performed very well this spring," Dantonio said. "They both have strong arms. They both can create and have running ability, some a little bit more than the other. They both have good leadership skills and they're extremely hard workers. And they both have three years left.
"With that being said, you don't want to name somebody and then all of a sudden, have to reverse your thinking later on."
Both players had their moments during team periods and 7-on-7s at Thursday's practice. Cousins, who performed well as Michigan State's backup last fall, has excellent mechanics and a strong arm. He looks a little smoother on his passes than Nichol, who has a bit of an awkward motion but still get the ball out fairly quickly.
Many have characterized Cousins as the pure passer and Nichol as the versatile athlete, but offensive coordinator Don Treadwell said it's a misperception.
"It's deceptive," Treadwell said. "It's not like one guy's a runner and one guy's a pocket passer. Those guys both are able to move their feet very well, get out of trouble and keep their eyes down the field at the same time."
The competition is neck-and-neck, but Cousins looked a little more impressive at Tuesday's workout.
The sophomore showed good zip on his passes, hitting Mark Dell on several deep out routes during team drills and 7-on-7s. Dell definitely appeared to be his favorite target. After overthrowing wideout Cam Martin on a deep post, a disgusted Cousins muttered, "That's six points."
Cousins also had a nice gain on an option keeper, taking a rare hit (he and Nichol wore red "no contact" jerseys) and popping back up and nodding his head. His run delighted starting left tackle Rocco Cironi, who is out for spring ball following shoulder surgery.
"It's fun to get in there, run and get hit," Cousins said. "You feel like a football player instead of a quarterback."
Nichol had a bit of a slow start in team drills, but he heated up during 7-on-7s, hitting Chris D. Rucker on a go route and finding Keshawn Martin on a deep out. It would have been nice to see Nichol run more, but he moves his feet well.
The quarterbacks traded off on each play during 7-on-7s. There were no interceptions, though Cousins fumbled a snap during red-zone drills.
Other observations from Michigan State's practice:
The competition at running back also remains tight, and a fourth player, redshirt freshman Caulton Ray, has entered the mix. Sophomore Ashton Leggett created some separation a few weeks ago before being slowed by a knee sprain, but he was back at practice Tuesday. Leggett, Ray and senior A.J. Jimmerson each had nice gains during team drills.
None of the running backs had much success during red-zone drills, as Jones, Wilson, Neely and others recorded tackles for loss. Sophomore Andre Anderson, who most resembles Javon Ringer in body type and running style, had a nice burst. He runs very hard for a smaller guy.
I got the best look at the backs during a 1-on-1 drills against the linebackers. Anderson looked particularly impressive in the open field, juking All-Big Ten performer Greg Jones and reserve Jon Misch.
Cousins and Nichol both rotated with the first-team offense, but the top offensive line consisted of: left tackle Brendon Moss (in place of Cironi), left guard Joel Foreman, center Joel Nitchman, right guard Jared McGaha, right tackle J'Michael Deane. Dantonio singled out the offensive line as a group that has progressed more than he had envisioned during spring ball, though there's still a long way to go.

Dell, Blair White and B.J. Cunningham took most of the reps as first-team wide receivers. Michigan State will use the tight ends a ton this fall, and several players made catches during team drills, including Garrett Celek and Brian Linthicum, a transfer from Clemson who looks impressive. There's also some buzz about third-team wideout Milton Colbert, a 6-5, 211-pound walk-on who might just work his way into the rotation. Colbert definitely passes the eye test.

The first-team defense: defensive end Colin Neely, defensive tackle Kevin Pickelman, defensive end Trevor Anderson, nose tackle Oren Wilson, outside linebacker Eric Gordon, outside linebacker Brandon Denson, middle linebacker Greg Jones, safety Danny Fortener, safety Trenton Robinson, cornerback Chris L. Rucker, cornerback Ross Weaver. Several players are banged up in the secondary, including safeties Kendell Davis-Clark and cornerback Jeremy Ware.
The option might not be a major part of the offense next fall, but it will certainly be used more with Nichol and Cousins taking snaps. Michigan State ran several option plays Tuesday and also could incorporate more misdirection into its scheme.
Individual practice periods are usually pretty boring, but Michigan State's running backs were worth watching because of a familiar face. Ringer, who remains in town leading up to this weekend's NFL draft, was on the field helping running backs coach Dan Enos in a direction drill. The All-American wore a New York Jets T-shirt but told me afterward he dons apparel from all the teams for whom he worked out. So don't get too excited, Jets fans. Former Spartans right tackle Jesse Miller also attended practice.
Place-kicker Brett Swenson, an All-America candidate, looked solid on field goals and even took a pitch on a fake and raced around right end.

The Spartans paid homage to Michigan native Kid Rock and played his version of "Sweet Home Alabama" to simulate crowd noise during team drills.