January, 19, 2012
1/19/12
5:00
PM ET
The Big Ten had three head-coaching changes in recent weeks, and new leading men have stepped in at Ohio State, Illinois and Penn State. We will be sharing our thoughts on the three new coaching staffs as they become complete. First up is Illinois, as head coach Tim Beckman finalized his staff earlier this week with the
hiring of Tim Banks as defensive coordinator
.
Here's the new Illinois staff:
[+] Enlarge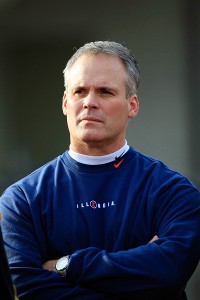 AP Photo/Marcio Jose SanchezNew Illinois coach Tim Beckman has high expectations for his team as it begins spring practices.
Tim Beckman -- head coach
Tim Banks -- defensive coordinator/safeties
Billy Gonzales -- co-offensive coordinator/receivers
Chris Beatty -- co-offensive coordinator/quarterbacks
Luke Butkus -- offensive line
Steve Clinkscale -- cornerbacks
Keith Gilmore -- defensive line
Alex Golesh -- tight ends/specialists/recruiting coordinator
Tim Salem -- running backs/special teams coordinator
Mike Ward -- linebackers
So
Today's Take Two topic is:
How did Beckman fare in putting together his staff at Illinois?
Take 1: Adam Rittenberg
There were a few bumps along the way, namely Jon Tenuta's hiring as defensive coordinator and subsequent change of heart, but Beckman eventually got his staff in place. The youth of the staff certainly stands out, as six of the nine assistants are 40 years old or younger. This certainly could help Illinois on the recruiting trail, and by all accounts Beckman has added some strong recruiters to the mix. He made a good move in retaining Gilmore, who helped defensive linemen Corey Liuget and Whitney Mercilus become stars the past two seasons. Banks also comes in with a strong background, especially after helping the Cincinnati defense lead the nation in tackles for loss and rank second in sacks during the 2011 season. Although Mercilus departs, Banks inherits talented defenders like linebacker Jonathan Brown who can pressure the quarterback. This isn't the most experienced offensive staff, and it will be interesting to see how Gonzales and Beatty fare as co-coordinators. Illinois' offense fell apart late in the 2011 season, and the coaches need to get quarterback Nathan Scheelhaase and others back on track. Butkus is a former Illinois player with a famous name, but he'll be taking on a key position group by himself for the first time in his career. Salem is certainly the veteran on the offensive side, and he looks like a strong addition to help the running backs and also Illinois' special teams, which really struggled in 2011. I felt defensive coordinator would be Beckman's most important hire after Illinois lost Vic Koenning to North Carolina. Banks looks like be a strong addition. I'm really interested to see if the offensive staff can prove itself in Year 1.
Take 2: Brian Bennett
Youth is definitely the buzzword on this staff. Banks and Beatty are in their late 30s, Gonzales is 40
,
Butkus is 32 and Golesh graduated from Ohio State less than six years ago.
They should be able to relate to the Illinois players and fare well on the recruiting trail. They should also bring a lot of energy, something that will be needed to keep up with the naturally caffeinated Beckman. While many of the assistants are young, they have some intriguing résumés. Gonzales worked for Urban Meyer at Florida and was part of two national title teams and nearly won another one this year at LSU. I know Beatty from my old beat on the Big East, and West Virginia people thought he was a promising up-and-coming young coach. Neither has called plays at the FBS level and will be asked to run Beckman's spread offense; even though Beckman has a defensive background, I'd expect him to be highly involved in the offense. Banks was a nice hire after turning around Cincinnati's defense in 2011. A lot of these assistants will have to prove themselves in some ways, whether it's in a new role or against tougher competition. Few seem to have strong connections or history in recruiting the state of Illinois, which will be a key for the program's long-term success. Beckman might not have brought in a lot of high-profile names, but a young, hungry staff might be just the thing to help him move the Illini forward.
January, 5, 2012
1/05/12
12:00
PM ET
January, 4, 2012
1/04/12
2:20
PM ET
Jon Tenuta's tenure as the Illinois defensive coordinator lasted fewer than 24 hours.

The veteran coach was named an Illini assistant on Tuesday afternoon. But on Wednesday, Tenuta said he had a change of heart and will remain at NC State, where he coaches linebackers.

"From the top, I want to say that Illinois is a great program and I think the world of Tim Beckman," Tenuta said in a statement. "I've known Beck for 20 years and I have no doubt that with the staff he is putting together, he will have Illinois at the top of the Big Ten very soon. However, my family comes first and I may have made a decision without fully thinking through the situation with them. My son is a senior in high school and has signed a letter of intent to play baseball at NC State, and it is something I just don't want to miss. I was one of the first people to contact Beck and congratulate him on the opportunity at Illinois, and I wish him and the Illini nothing but the best."

Coaches often use family reasons as an excuse not to do something they don't want. But for Tenuta to turn down a coordinator job and remain a position coach makes you think this is a little more sincere than most.

I had my doubts about Tenuta, anyway, after covering him at Notre Dame in 2009. I'm not sure his style is what Illinois needs.

This is the second known coach to turn down the defensive coordinator job at Illinois, as Vic Koenning opted not to remain on with Beckman. Koenning instead went to North Carolina.

In the end, it won't matter as long as Beckman finds the right guy. But now he has to start looking for another defensive coordinator with a prime recruiting period fast approaching.
January, 3, 2012
1/03/12
7:38
PM ET
New Illinois coach Tim Beckman has added three assistants to his staff, including coaching veteran Jon Tenuta as his defensive coordinator.

Tenuta coached linebackers the past two years at NC State. He has been defensive coordinator at Notre Dame, Georgia Tech, North Carolina and Kansas State, among other stops. He's also familiar with the Big Ten from his time at Ohio State, where he served as defensive backs coach from 1996-2000 and defensive coordinator in 2000.

Tenuta's defenses at Georgia Tech from 2002 to 2007 were often among the best in the country, but he was not as successful at Notre Dame. In his second season in South Bend, the Irish ranked 86th nationally in total defense and their inability to stop anybody helped lead to head coach Charlie Weis' firing.

Tenuta is known for liking aggressive blitzing schemes, which sometimes can be seen as a gambling style. Beckman will have to hope Tenuta can maintain the level of defensive production the unit turned in under former coordinator Vic Koenning, who turned down a chance to stay on staff. Though star defensive end Whitney Mercilus is skipping his senior year for the draft, the Illini still have talent on defense. Linebacker Jonathan Brown in particular could thrive under Tenuta.

The other two new assistants are Chris Beatty and Luke Butkus. Their roles have not been specified, though Butkus is expected to coach the offensive line.

Beatty spent the past season at Vanderbilt as wide receivers coach and offensive recruiting coordinator. Before that, he worked three seasons at West Virginia as running backs/slot receivers coach and recruiting director. Beatty was well regarded in Morgantown as a strong recruiter and up-and-coming coach.

Butkus is well known to Illlini fans, as he was a three-year starting center for the program from 1999-2001. He was a two-time All-Big Ten honoree who was on the 2001 Sugar Bowl team. Butkus has worked the past five seasons in the NFL, the last two with the Seattle Seahawks as a quality control assistant with the offensive line. He was also an assistant offensive line coach for three seasons with the Chicago Bears from 2007-09. It never hurts to have a guy named Butkus on your staff, especially in Illinois.

Beckman had previously announced that defensive line coach Keith Gilmore will stay on staff, while he hired Alex Golesh and Mike Ward from Toledo. He still has three open coaching spots, including offensive coordinator.
November, 13, 2009
11/13/09
9:00
AM ET
| | |
| --- | --- |
| | |
| | US PRESSWIRE |
| | Notre Dame coach Charlie Weis and Michigan coach Rich Rodriguez are facing similar problems within their programs. |
Posted by ESPN.com's Brian Bennett and Adam Rittenberg
Notre Dame and Michigan treated us to one of the season's
most entertaining games
back on Sept. 12 at the Big House. Both teams seemed destined for solid seasons back then, but the Fighting Irish and Wolverines have since fallen on hard times. Michigan hasn't beaten an FBS team since Sept. 26 and needs to upset No. 20 Wisconsin or No. 11 Ohio State to avoid missing a bowl for the second straight season. Notre Dame likely fell out of the BCS bowl mix by losing to Navy for the second consecutive time in South Bend. Not surprisingly, head coaches Rich Rodriguez and Charlie Weis are in the crosshairs.
Which coach's problems are worse? How did these two programs get here? Brian Bennett and Adam Rittenberg take a closer look.
Adam Rittenberg:
Let's talk about Charlie Weis and the Irish. They lose to Navy at home again. Nose tackle Ian Williams says they're getting outschemed. What's going on with Weis and the Domers?
Brian Bennett:
There's very little excuse for Notre Dame to be only 6-3 at this point. The Irish have legitimate stars in quarterback
Jimmy Clausen
and receivers
Golden Tate
and
Michael Floyd
, an experienced offensive line and seasoned upperclassmen all over the roster. But this program continues to lose to every ranked team it plays and throws in at least one head-scratcher each year (this time, Navy. Again.).
Something just isn't working here, and you have to blame Weis. He remains a brilliant offensive mind, but I think sometimes he outthinks himself in an effort to prove his intelligence. He doesn't appear to be able to properly motivate his teams, likely because of his NFL coordinator background. And years of suspect recruiting or talent evaluation on the defensive side has again led to a team that can't stop anybody.
Notre Dame, simply put, should be better than this in Year 5 under Weis. It's only Year 2 under Rodriguez in Ann Arbor, but people expected a lot more than this. What's wrong with the Maize and Blue?
| | |
| --- | --- |
| | |
| | Gregory Shamus/Getty Images |
| | There were high expectations for both Michigan and Notre Dame this season. |
Rittenberg:
Those expectations certainly increased after Michigan's 4-0 start, highlighted by the win over the Fighting Irish. I remember thinking then that Notre Dame was the better team in that matchup, but Michigan found a way to win and had the potential to make major progress. Instead, the mistakes Michigan overcame in its first four victories began to cost the Wolverines in October.
Quarterback
Tate Forcier
has battled injuries and some inconsistent play. He still creates a lot of plays with his feet, but he's still too much of a freelancer and struggles with his throws in the pocket.
Brandon Minor
might be the Big Ten's most dominant running back, but he just can't stay healthy. But for the most part, the offense hasn't been the problem. Like Notre Dame, Michigan's major issues are on the defensive side. There's a lot of youth and not much depth there, as evidenced by several walk-ons in the two-deep, but the number of major breakdowns is shocking. It's one thing to allow big plays to Notre Dame on Sept. 12. But to give up the same plays to Iowa, Illinois and Purdue later in the season is unacceptable.
Rodriguez isn't to blame for all the problems, but like Weis, I think he fights himself a lot. He has won a certain way for years, and he can be stubborn. Rich has talked a lot about the need to have patience but admits he doesn't have much himself. And he still talks too much about the program he inherited from Lloyd Carr. Last I checked, he coaches Michigan, not Eastern Michigan, and while there were problems in 2007, a program like Michigan should never miss bowls in consecutive years (a strong possibility), especially in an average Big Ten.
Both of these coaches are known for offense, and yet both have major problems on defense. Has Weis put enough focus on the other side of the ball?
Bennett:
Well, as you know, Weis is the offensive coordinator again this year and fully admits that he leaves most of the responsibility for the defense in the hands of veteran coordinator Jon Tenuta. The blitzing schemes favored by Tenuta haven't really worked, but that's mostly because of the personnel. Though Weis has brought in some highly rated recruiting classes, there still aren't enough big-time playmakers on defense, especially up front. When you look at, say USC, or even this week's opponent, Pittsburgh, the Irish simply don't stack up athlete for athlete on the defensive line.
What I don't understand is how Michigan can have talent problems, even in the coaching transition. Shouldn't the Wolverines have enough blue-chippers to field a good defense even as they adjust to a new offensive system?
Rittenberg:
You would think, Brian, but Michigan has had an abnormal amount of attrition on that side of the ball, coupled with some bad recruiting classes for defense toward the end of Carr's tenure. The Wolverines also have had veteran players regress this season, and there aren't enough young guys ready to fill the gaps. Rodriguez needs his defensive recruits to blossom immediately, especially since Michigan will be losing its best defensive player (DE Brandon Graham) and possibly its No. 2 defender (junior CB Donovan Warren). It will be interesting to see what happens with first-year coordinator Greg Robinson, who hasn't had the desired effect on this unit.
OK, you're on the spot. What's your prediction for the rest of Notre Dame's season? Can Weis turn things around? Will next year's Fighting Irish head coach be Weis or your man-crush, Brian Kelly?
Bennett:
The rest of the season brings a trip to No. 12 Pitt this week, followed by a visit from dangerous UConn next week and the season finale at Stanford. I have a hard time seeing Notre Dame winning more than two of those, so 8-4 or 7-5 looks like the final tally.
Jack Swarbrick isn't going to call me for advice, but I wouldn't think that record would be enough to keep Weis, especially since the Irish could once again lack any real quality wins. They don't hang banners for Gator Bowls in South Bend.
If there is a change, I would imagine Notre Dame would first try and land a big-time name, such as Urban Meyer or Jon Gruden. Once those guys say no -- and I don't think either would take the job -- the Irish would be crazy not to go after Kelly. He's Catholic, a great program salesman, he's built strong recruiting ties in the Midwest and he just wins big everywhere he goes.
He'd be a perfect fit at Notre Dame -- unless Michigan came calling first. Any chance Rodriguez doesn't survive, especially if the NCAA finds something in that whole practice time investigation?
Rittenberg:
The
NCAA investigation
is the wild card, especially if major violations are found for the first time in Michigan football history. But this isn't boosters paying players or academic fraud, so I can't see the penalties being too terrible. Michigan AD Bill Martin said earlier this week that
Rodriguez is safe
, and though Martin will be retiring soon, they're not going to make a change in football after only two years, especially during an athletic director transition.
A 5-7 season combined with NCAA violations would really sting, but Rodriguez should be back in 2010. He'll definitely be on the hot seat entering next fall, needing at least eight or nine wins to keep his job at a tradition-rich program.
Sound familiar?
September, 11, 2009
9/11/09
12:39
PM ET

Posted by ESPN.com's Adam Rittenberg
Greetings from Columbus, my home for the next two days. I got an early start on my Big Ten chatter during the flight down, as I sat next to Scott Chipman, the league's assistant commissioner for communications.
The weather is beautiful and should remain that way through the game.
I'll be heading down to USC's walk-through at Ohio Stadium later this afternoon, so check back for updates.
January, 13, 2009
1/13/09
9:00
AM ET
Posted by ESPN.com's Adam Rittenberg
Step into my office ...
Brian from Batavia, Ill., writes: Adam, I think we all need to watch out for a huge break out season from Thaddeus Gibson this next year. We saw that he has the game breaker ability when he returned a fumble this year for a touchdown! He had a solid Fiesta Bowl (even though he got flagged for personnel fouls???), but i was wondering what players also are bound to have huge breakout seasons this next year?
Adam Rittenberg: Brian, I completely agree with you on Thad Gibson. He was a force during the second half of the season and really made the Buckeyes' defensive line better. I look for huge things from him in 2009. Other guys who should step up next fall include Penn State linebacker Navorro Bowman, Michigan defensive end Brandon Graham, Iowa running back Jewel Hampton, Northwestern safety Brad Phillips, Minnesota quarterback Adam Weber, Illinois linebacker Martez Wilson and Ohio State wide receiver DeVier Posey. I could go on and on.
---
Rob from Seattle writes: Who do you think RichRod WILL get to fill the DC vacancy at Michigan, and who do you think he SHOULD get? I think Corwin Brown would be a great fit - he's played and coached the 3-4 and 3-3 defenses, he's got Michigan roots (which Rod could REALLY use) and he should be available, given the situation at ND.
Adam Rittenberg: That's an interesting take, Rob. I doubt Corwin would want to leave Notre Dame for another coordinator spot, but you never know. It's a bit of an odd arrangement in South Bend with Brown and Jon Tenuta, but Brown has some loyalty to Charlie Weis. I don't see him leaving unless it's a head-coaching position. The fact Rich Rodriguez hasn't promoted another assistant (Jay Hopson) suggests he'll be talking to candidates this week at the AFCA Convention. West Virginia defensive coordinator Jeff Casteel would seem like a good fit, but he didn't join Rodriguez the first time around at Michigan. I think Rich wants to go with a three-man front, so he should find someone who specializes in that alignment.
---
Brian from New York writes: Dear Adam, Watching Terrelle Pryor in the Fiesta Bowl evade tacklers in the open field and catch that fade pass for a TD over a hapless Texas DB had me wondering. Is Terrelle Pryor in fact a better pro prospect at WR rather than QB. OSU will win more with him at QB, but if he spent the next two years learning how to run precise pass routes instead of fixing his subpar throwing mechanics (which clearly have a long way to go), he could become unstoppable in college and perhaps the next Randy Moss at the pro level with his combination of size, speed, and hand-eye coordination. Then again, he could just wait until he graduates to switch over to WR like Matt Jones or Antwan Randle El, but I'm assuming some NFL scouts have already started thinking about this possibility.
Adam Rittenberg: Brian, you're not the first person to bring up the point about Pryor playing wide receiver in the NFL. But Ohio State surely will stick with him at quarterback and try to help him develop as a passer. Keep in mind that he just finished his freshman year and has time to improve his passing. After watching him repeatedly beat Texas defenders to the corner in the Fiesta Bowl, I think Pryor needs to have the ball as much as possible for the Buckeyes. He needs to run the ball as much as Tim Tebow does for Florida. Pryor still can become a top-line pro prospect at quarterback, and my sense is that's where he'll stay throughout his pro career. But Ohio State should use his talents in as many ways as possible.
BIG TEN SCOREBOARD
Saturday, 12/20
Monday, 12/22
Tuesday, 12/23
Wednesday, 12/24
Friday, 12/26
Saturday, 12/27
Monday, 12/29
Tuesday, 12/30
Wednesday, 12/31
Thursday, 1/1
Friday, 1/2
Saturday, 1/3
Sunday, 1/4
Monday, 1/12
Tweets from https://twitter.com/ESPNCFB/lists/b1g