January, 5, 2010
1/05/10
11:47
PM ET
For a while, it seemed like neither team wanted to win the FedEx Orange Bowl. But after an odd sequence midway through the fourth quarter, Iowa's offense once again came up big in the clutch. The Hawkeyes held on for a
huge win
, improving the Big Ten's bowl record to 4-3, its first winning mark since 2002. Georgia Tech's loss drops the ACC to 3-4 in the postseason.


How the game was won:
After dominating the first half everywhere but the scoreboard, Iowa had enough offense down the stretch to stymie Georgia Tech and the celebrated triple option offense, which took way too long to get going. Norm Parker's defense completely shut down
Josh Nesbitt
,
Jonathan Dwyer
and company for a half and Iowa's offense overpowered Georgia Tech down the stretch. Following several bizarre blunders by both teams in the fourth quarter, the Hawkeyes (11-2) rode freshman running back
Brandon Wegher
and an inspired offensive line to the clinching touchdown.
Turning point:
Iowa surprised everyone by running a fake field goal from the 4-yard line midway through the fourth quarter, only to fail miserably. But Dwyer committed an even bigger mistake on the next play, nearly taking a safety and preventing Georgia Tech from getting into an offensive rhythm. Dwyer's huge loss set up a punt, and Iowa marched down the field for a touchdown with 1:56 left.
Player of the game:
Ricky Stanzi
deserves a ton of credit for making huge plays in his first action since Nov. 7, but I'm giving this to a defensive player. Iowa defensive end Adrian Clayborn once again proved to be a force throughout the game, stuffing the run and dropping Nesbitt for two sacks. Clayborn was the face of the team in its first signature win at Penn State and its last against Georgia Tech. And, he's coming back in 2010.
Stat of the game:
Georgia Tech (11-3) entered the game without punting for 22 consecutive possessions. The Yellow Jackets went three-and-out on their first four possessions and punted six times in the first half. Iowa held Georgia Tech to 156 total yards, just 32 in the first half.
Unsung hero of the game:
If you told Kirk Ferentz before the season that Wegher would be his leading rusher in a BCS bowl game, he would have told you to take a hike. But Wegher stepped up in a big way for the ailing
Adam Robinson
, gaining 113 yards and a 32-yard touchdown on 16 carries (7.1 ypr).
What it means:
It's a huge win for Iowa and the Big Ten, which restores national respect after being college football's piņata ever since Ohio State's first national-title flop. Iowa completed a storybook season by winning in its own style, with suffocating defense and just enough offense from Stanzi and his weapons. Parker showed why he's one of the best defensive coaches in the game: Iowa limited Georgia Tech to just one offensive touchdown. Georgia Tech once again looked mortal on offense in a bowl game, and while the Yellow Jackets fought hard, they made too many mistakes against a more disciplined Iowa team.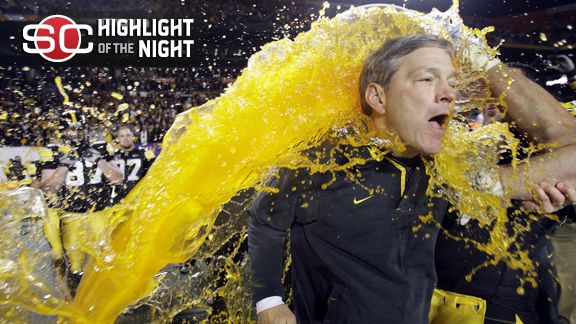 January, 5, 2010
1/05/10
9:00
AM ET
No Big Ten team has waited longer for its bowl game than Iowa, which finally hits the field tonight against No. 9 Georgia Tech in the FedEx Orange Bowl (Fox, 8 p.m. ET).
Here are three keys for the Hawkeyes in the game:

1. Run the ball well on first down to take pressure off of Stanzi:
It's time for Iowa's offensive line to rise to the challenge. The Hawkeyes can keep Georgia Tech's offense off of the field by effectively running the ball to set up the play-action pass to
Marvin McNutt
and
Derrell Johnson-Koulianos
. Iowa has been one of the nation's worst first-down rushing teams, but if it gets into manageable second and third downs, it can do quarterback
Ricky Stanzi
a big favor. Stanzi struggled with slow starts even when he was playing every week, so he can use all the help he can get from the run game because he hasn't played since Nov. 7.
2. Strong performances from the defensive tackles:
The defenses that have the best success against the triple option receive big plays from the big guys inside. Iowa defensive tackles Karl Klug and Christian Ballard aren't huge space eaters, but they move very well and can generate push off of the line. Klug and Ballard need to take away the lanes between the tackles and force Georgia Tech quarterback
Josh Nesbitt
into some quick decisions. All of Iowa's defensive linemen need to shed blocks and prevent Nesbitt and
Jonathan Dwyer
from getting into the secondary.
3. Own the fourth quarter:
The final 15 minutes has been Iowa's time to shine this season. Stanzi is at his best down the stretch, and the Hawkeyes' downfield passing attack usually comes to life in crunch time. Iowa needs to avoid a slow start, as Georgia Tech could grab the lead and kill the clock with its offense. But if Iowa has a chance down the stretch, you have to like the Hawkeyes' chances. They've outscored opponents 114-55 in the fourth quarter this season. Georgia Tech isn't too shabby in the fourth quarter, either, outscoring foes 109-83.
January, 5, 2010
1/05/10
8:00
AM ET
A winning bowl record is on the line for both the ACC and the Big Ten as No. 9 Georgia Tech takes on No. 10 Iowa in the FedEx Orange Bowl on Tuesday night (Fox, 8 p.m. ET). Georgia Tech makes its first Orange Bowl appearance since 1967, while Iowa hopes for a better showing in Miami after getting crushed by USC 38-17 in the 2003 game.
As kickoff approaches, bloggers Heather Dinich (ACC) and Adam Rittenberg (Big Ten) break down an intriguing matchup that has largely flown under the national radar.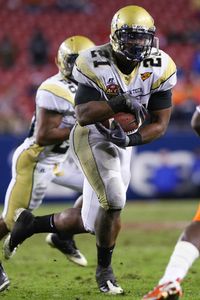 Tim Larson/Icon SMIGeorgia Tech has a lot of weapons on offense, including running back Jonathan Dwyer.
Heather Dinich:
Well, Adam, it's almost time for the showdown of the two conferences whose recent bowl history has been suspect at best. Both the Big Ten and ACC have 3-3 records this postseason entering the Orange Bowl. Consider this game the tiebreaker. It's been one of the most difficult games of the season to predict, but I think Georgia Tech's offense will come through as it has all season, the ACC will finish with a much-needed winning bowl record and the Big Ten will fall to 3-4 in the postseason. Besides, the Big Ten only has three teams with winning bowl percentages (granted, Iowa is one of them), so why should this year be any different?
Adam Rittenberg:
You're right about the records, HD, but I'd like to challenge the ACC or any other league to go through the Big Ten's bowl lineup. No other lineup comes close in terms of difficulty with matchups and locations. I doubt the ACC would enjoy facing USC in its backyard every Jan. 1, especially after stumbling in all those Orange Bowls. I definitely agree with you about picking this game. It ain't easy (more on that later). Let's talk more about the game's premier matchup, Georgia Tech's triple option offense vs. Iowa's fundamentally sound defense. The Hawkeyes are very solid in all three phases of their defense, especially the front seven with Adrian Clayborn, Broderick Binns, Pat Angerer and others. Veteran defensive coordinator Norm Parker has had about a month to prepare for the triple option, and it still might not be enough time to stop
Jonathan Dwyer
and
Josh Nesbitt
.
Do you think a team has a major advantage with more time to prepare for Georgia Tech's offense, or are the Yellow Jackets simply too good on that side of the ball?
Dinich:
As Iowa coach Kirk Ferentz said, there is simply no way for Iowa – or any other team for that matter – to simulate what Georgia Tech can do, in terms of the precision, speed and playmakers who will execute it on Tuesday night. Yes, there is some advantage to having more than a week to prepare -- both Clemson and Miami devoted some of their summer camp to getting a head start on that conference game and it paid off (especially for Miami). The key is how long it will take Iowa's defense to get comfortable with it? Norm Parker will have his players as prepared as they can be, and Iowa has the discipline it will take to stop them, but my question is whether or not the Hawkeyes have the offense to keep Georgia Tech off the field. The best defense against the Jackets is for Iowa to sustain its own drives and control the clock. Do the Hawkeyes have the offensive line to make that happen?
Rittenberg:
That's an excellent question, Heather. Iowa's offensive line gets a lot of accolades, and the group boasts two first-team All-Big Ten performers in tackle Bryan Bulaga (Big Ten Offensive Lineman of the Year) and guard Dace Richardson. But most of us who have watched Iowa all season agree that at times, the line has underachieved. It's far from a bad O-line, but Iowa certainly has the potential to stall. According to ESPN's Stats & Information group, Iowa averages just 3.3 yards rushing on first down, which is seventh worst in the country. The Hawkeyes should have backs
Adam Robinson
and
Brandon Wegher
on the field Tuesday night, and Richardson's return from injury will be huge, but they'll need to run the ball decently to set up the play-action passing attack. The line also needs to keep Derrick Morgan away from
Ricky Stanzi
, which won't be easy.
I was struck by something you wrote Monday, about Georgia Tech
not being a catch-up team
. That description fits Iowa, which has rallied in eight of its 10 victories. Iowa has been a pretty average team in the first three quarters, but a great one in the fourth.
Should Georgia Tech grab the early lead, how do you see things playing out?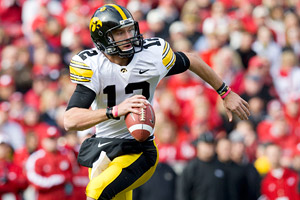 Jeff Hanisch-US PRESSWIREIowa quarterback Ricky Stanzi's Hawkeyes have come from behind in eight of their 10 victories this year.
Dinich:
If Georgia Tech starts fast, it could be a long night for Iowa. On the flip side, though, it could make for one heck of an interesting fourth quarter. We both know Iowa has been one of the most exciting teams in the country to watch in the final minutes, but Georgia Tech has come from behind in seven of its last eight games, including in the ACC championship, when it trailed Clemson 34-33 in the fourth quarter. In fact, they had to come from behind to beat Clemson both times this season. I'll be honest, I have no idea who's going to win this game, but I think how Iowa's defense starts will go a long way in revealing that answer to that. So what's your final prediction on this one, Ritt?
Rittenberg:
Ah, so they are a catch-up team. You trying to trick me, HD? As you know, Georgia Tech has several NFL-ready players and an offense that seems to be working well in other bowl games (Air Force, Navy). But having been around Iowa a lot this season, I can say there's something special about this Hawkeyes team, which just won't go away and continues to find ways to win games. The combination of Parker with a month to prepare and Stanzi's return to the lineup gives Iowa enough confidence to pull out another thriller, in come-from-behind fashion, of course. Iowa wins this one, 28-27. What say you?
Dinich:
Haha yes, always trying to baffle the Big Ten. :) But really, if Iowa is the hot team early, that means they've figured Georgia Tech out, and the Jackets won't be able to overcome that, especially knowing how they've struggled defensively. That being said, I think Paul Johnson controls the clock, Stanzi gives up a gift or two (not five) and GT wins, 28-24. And knowing my picks and the ACC, that adds up to a win for the Hawkeyes.
January, 4, 2010
1/04/10
10:15
AM ET
From a macro level, there's very little mystery about the Georgia Tech offense.
The Yellow Jackets run the football 82.5 percent of the time, and have great success in doing so, ranking second nationally in rushing average (307.2 ypg). Iowa knows exactly what's coming from Georgia Tech on Tuesday night in the FedEx Orange Bowl (Fox, 8 p.m. ET), and while figuring out the triple option isn't easy, the Hawkeyes defenders can dig in to stop the run.
"We've going to have to do a really good job with our front four," Iowa head coach Kirk Ferentz told me. "In a lot of games, certain players only have to really focus on one part of the attack, but these guys do a great job of making all 11 guys play at their best. They've got good players who are very well coached. It's going to be a heck of a challenge for our defense."
How has Iowa fared against the run this season? For the most part, very well.
The Hawkeyes rank 30th nationally in rushing defense (122 ypg), allowing only eight touchdowns on the ground and none in the first five games. Iowa's defensive line of Adrian Clayborn, Broderick Binns, Karl Klug and Christian Ballard is quite possibly the most recognizable group on the team.
But there are misperceptions about this Iowa team. One, which I'll explore later in the blog, is that the Hawkeyes run a boring and conservative offense. That's dead wrong.
Another claims that Iowa has a lockdown run defense. It's true in most games but off base in others.
The Hawkeyes were very effective in limiting the run against good teams and good backs like Penn State (
Evan Royster
) and Wisconsin (
John Clay
). But they also allowed 190 rush yards to Iowa State, struggled to stop Michigan's ground game for a stretch in the second half and couldn't keep a one-dimensional Ohio State offense in check on Nov. 14.
Iowa can't expect to totally shut down
Josh Nesbitt
,
Jonathan Dwyer
and the Tech rushing attack Tuesday, but it will need a better showing than the one in Columbus.
Here's a game-by-game breakdown of Iowa's rush defense:
December, 7, 2009
12/07/09
9:00
AM ET
The regular season is complete, so let's take one final look at the league before the bowls begin later this month. Wisconsin kicks off the Big Ten slate against Miami on Dec. 29 in the Champs Sports B0wl.
1. Ohio State (10-2, 7-1):
Once again, the Buckeyes are carrying the Big Ten banner, this time to a place (Pasadena) they haven't played since Jan. 1, 1997. A win against Oregon would mark the first big step toward regaining national respectability. A loss would simply continue the Buckeye bashing for another offseason, until Jim Tressel's team enters 2010 ranked in the top 5.
2. Iowa (10-2, 6-2):
The Hawkeyes got what they deserved, a BCS at-large berth. Now they need to beat Georgia Tech to truly validate this season in the eyes of the nation. Quarterback Ricky Stanzi returns to the field, but Iowa's stout defense will have to be the difference against Georgia Tech's effective triple-option offense led by Jonathan Dwyer.
3. Penn State (10-2, 6-2):
Guys like Daryll Clark and Sean Lee have done a lot to put Penn State back where it belongs among the Big Ten's best. It would be nice to see those guys end their careers with a Jan. 1 bowl victory. Penn State gets its chance against LSU, a fellow national powerhouse that it has faced just once before. Will the Lions' veteran leadership prove to be the difference?
T-4. Northwestern (8-4, 5-3):
After years of getting leapfrogged for bowls, Northwestern got the postseason destination it desired and will face Auburn in the Outback Bowl. There are so many similarities between NU's season and Iowa's 2008 season, and the Wildcats hope to end on an equally good note in Tampa.
T-4 Wisconsin (9-3, 5-3):
I moved up the Badgers one spot after their dominating performance against Hawaii on Saturday night. Unfortunately for Bret Bielema's team, the game clearly didn't matter to the Outback Bowl selection committee. Still, Wisconsin has a more exciting matchup against Miami and can reach the 10-win plateau.
6. Michigan State (6-6, 4-4):
The Spartans will be shorthanded in San Antonio, which could result in disaster or a gutsy victory against a favored Texas Tech squad. Head coach Mark Dantonio needs big performances from quarterback Kirk Cousins, linebacker Greg Jones and a secondary that has struggled for most of the season.
7. Purdue (5-7, 4-4):
It must not have been easy for Purdue to watch the bowl selections, as a .500 Big Ten record almost always gets a team into the postseason. The Boilers turn their attention to 2010, as linebacker Jason Werner might return for a sixth season and Miami transfer Robert Marve enters the competition at quarterback.
8. Minnesota (6-6, 3-5):
A return trip to the Insight Bowl wasn't ideal for the Gophers, but they received a pretty favorable draw in Iowa State. The Cyclones are a lot like Minnesota, with an up-and-down offense and a defense capable of carrying the team. It's critical for Tim Brewster to win this game and show some progress on offense before a make-or-break 2010 season.
9. Illinois (3-9, 2-6):
The Illini endured a heartbreaking end to a miserable season, losing
in a manner
I never thought was possible. Running back Mikel LeShoure was fabulous and quarterback Juice Williams deserved a win in his final collegiate game, but the defense totally let them down. Changes are coming to Champaign, and the program certainly has reached a crossroads.
10. Michigan (5-7, 1-7):
Rich Rodriguez is looking toward 2010, but Michigan's
defense could once again be a problem
as end Brandon Graham departs and cornerback Donovan Warren likely will declare for the NFL draft. The offense should be pretty solid next fall, but revamping and rebuilding the defense during the offseason should be Rodriguez's top priority.
11. Indiana (4-8, 1-7):
Like Michigan, Indiana will lose several key contributors from a defense that wasn't great to begin with. The Hoosiers could be explosive on offense next fall with Ben Chappell, Tandon Doss and Darius Willis, but until the defense gets on track, the program will linger at the bottom of the Big Ten.
December, 6, 2009
12/06/09
9:00
PM ET
FedEx Orange Bowl: Iowa (10-2) vs. Georgia Tech (11-2)
Jan. 5, 8 p.m., (FOX)
Nothing came easily for Iowa this season, even the team's BCS at-large berth.


Hawkeyes fans had to sweat it out Sunday night and hope bowl selection committees prioritized what had happened on the field ahead of outside factors in their final decisions. Because between the lines, Iowa was a heck of a football team this fall. And it gets one final chance to silence its critics against ACC champion Georgia Tech in the FedEx Orange Bowl.
Kirk Ferentz's team will get a big boost for the bowl as quarterback
Ricky Stanzi
returns from a severe right ankle sprain. Stanzi drives fans nuts with interceptions, but he's a tremendous clutch player and instills confidence in everyone around him. Stanzi and big-play wideouts
Marvin McNutt
and
Derrell Johnson-Koulianos
face a Georgia Tech defense that can be gashed.
The big question Jan. 5 will be how Iowa's fundamentally sound defense handles
Jonathan Dwyer
,
Josh Nesbitt
and Georgia Tech's triple-option offense, which ranks second nationally in rushing (307.2 ypg) and 11th in scoring (35.3 ppg). Iowa boasts an excellent defensive front seven, led by linebacker Pat Angerer and ends Adrian Clayborn and Broderick Binns. Those defenders need to be at their best against the Ramblin' Wreck.
Iowa returns to the Orange Bowl for the first time since 2003, when it got crushed by USC. The Hawkeyes never have faced Georgia Tech.