Big Ten:

Jordan Heiderman
February, 28, 2013
2/28/13
1:00
PM ET
There's reason to be cautiously optimistic about Indiana football in 2013. The Hoosiers improved their wins total last fall by three and amazingly in November found themselves in contention to represent the Leaders Division at the Big Ten title game. All but three starters return, including the playmakers from an offense that finished second in the Big Ten. Quarterback
Tre Roberson
has
recovered from a broken leg
and will compete to reclaim his starting job this spring. The schedule features eight home games for just the second time in team history. IU isn't without major concerns, namely a defense that hasn't consistently stopped anyone for more than a decade and
recently lost co-coordinator Mike Ekeler to USC
. The team only went 4-8 in 2012 and must build much better depth at several positions, starting in spring ball, which kicks off Saturday.
ESPN.com caught up with IU head coach Kevin Wilson to discuss the spring.
What's the big theme for your team entering the spring?
Kevin Wilson:
We've got enough guys back, we're stronger, we're mature, we understand each other and understand the standard. We've just got to continue to work at a higher level. When you're not mentally or physically as strong as you want to be, you've got to gain on it. There's different levels of that. It's nice that we get a lot of guys back, but you start over. We are starting over at a better spot because a lot of guys are back. We're building a foundation to play better football next year.
Where would you like to be from a depth standpoint by the end of the spring?
KW:
Everybody's got depth issues and we could be better in certain areas, but we only lose about four or five guys who really played [in 2012]. We've got a lot of what's back, and we've got, on paper, a nice recruiting class that will help, but really it's not about the depth as much as it's about competition. Guys are pushing guys to be on the field. We've got a lot of guys back who have been second-teamers and the first-teamer [ahead of them] is back. Now how do you push that first-teamer and beat him him out? A great example is at quarterback. We've got three guys that have all played, they've all played kind of well, their stats are OK, but we haven't won a lot of games. There's really not a proven winner. We've got guys that look like they can do OK, but they haven't proven they can win at a high level of Big Ten football. I think that will be an awesome competition. We want to see that across the board.
[+] Enlarge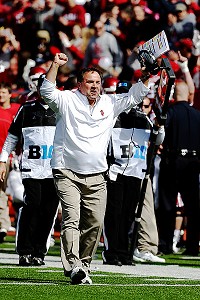 AP Photo/Darron CummingsWith numerous key players returning, Indiana coach Kevin Wilson is optimistic heading into spring workouts.
How do you identify winners in that group or other groups when you're not playing games?
KW:
Sometimes you'll see who moves around, who gets the group in the end zone. But that sometimes can be skewed. A guy busts a coverage and a guy scores a touchdown, does that mean the quarterback is a better quarterback? Sometimes it's a play where there's not a good call and he's got to throw it out of bounds and it's a great play because there's nothing open. I just think your body of work, your body language, your leadership skills. Are you the best extension of the coaching staff and what we're trying to do? The game's called football and we put the football in your hands every snap. It's got to be a guy you trust because you give him the game, every game, and say, 'Go play.'
Right now, those guys have all had some fair stats, but we want to see winning football played at that position.
How is Tre [Roberson] physically, and what do you expect out of him?
KW:
He's been full-go. Right now, we're doing our offseason program, our agility program, and he's full-go. There's no limitations. I don't want him to be tackled, but we don't tackle the quarterbacks anyway, so I would anticipate he'll be out there every day. He's gotten bigger. When he got hurt, he was under 185 [pounds], right around there, and now he's pushing 200 pounds. He's bigger, stronger, looks good running. I don't think he's at full tilt, but every day he gets stronger, every day he gets better and every day he gets more confident. Knock on wood, he should have no limitations, and he'll compete every day with those other two guys [
Cameron Coffman
and
Nate Sudfeld
].
You really bring back a lot at wide receiver, running back and tight end. How much competition is there at those other offensive positions?
KW:
We've got everybody back except [center]
Will Matte
on offense. We didn't lose a quarterback, we don't lose a running back, we don't lose any receivers. So we've got basically the crowd back. It's the same deal. Our kids realize, though, that the deal is we're going to play a number of guys. It doesn't matter whether you go out there first or second, we're going to play six, seven, eight, nine guys. We need to have one or two more receivers than we have. We're going to [use] two tight ends at least, with two or three running backs and seven or eight receivers. So when you say depth, it would be nice to see some of these guys that redshirted continue to come on and help us as complementary tight end guys and complementary receivers.
The tempo we play with, you've got to play a number of skill guys. A lot of guys are back, they've seen that we're going to throw the ball to them, and they believe they have quarterbacks who will get it to them so they can make plays. I'm expecting that receiver group to pick it up. We'll see if they can keep plugging along there.
You lose a few pieces up front on defense. How does the defensive line shape up entering the spring?
KW:
We signed two JC guys, one guy is here now [Jordan Heiderman]. We redshirted a big guy who we like. We did sign a couple of guys there, so some of those guys might get into the mix when preseason rolls around. But we need to play better across the board because we're making tweaks with what we're doing. We definitely need to play better run defense.
Schematically, will there be some new things on defense?
KW:
I don't know if it's that. We've just got to look at the position we're putting guys in, where we're playing them. It's not major [changes]. Same with offense, you're always playing to your strengths and weaknesses. Right now, we've played OK on offense, and not very good on defense. So we have to keep coming on both sides. Defensively, we're developing players, but we have to make sure we're putting them in the right spots with play calling to play winning football.
We have enough guys coming back. We should continue to improve this program. We should continue to take a very positive step this year. That being said, we have to play better football on the defensive side. We made some subtle changes from Year 1 to 2. It still wasn't what we needed. There won't be wholesale changes, major deals, but we've got to keep looking for what works.
Where do you see the leadership emerging on the team, and can the secondary be a strength for you guys because you have quite a few players back who have played?
KW:
Probably more competition and depth back there than we've had. And I think we've signed a couple kids who can get in the mix to help us. The linebacker corps got real beat up last year.
Jacarri Alexander
and
Chase Hoobler
missed some games, two of our starting three missed four, five, six games independent of each other. It took a toll. We're losing [Adam] Replogle and [Larry] Black and Will Matte and Nick Sliger, those are the four guys who really played. The fifth guy would be Charles Love, the backup tight end. So when you look at the football team, basically everyone's back, so with the leadership, hopefully you'll see that linebacker corps pick up and the secondary. We've got to establish a standard of what winning defensive football is at Indiana, and how we're going to play it. We'll build a mindset, we'll do some subtle structure things to hopefully position our players in better places, and we'll tackle better and get off the field and make stops and get some turnovers.
We've got to take a step offensively, be more wide open, continue to improve, take care of the ball and score more points. And we've got to improve defensively. When you're a 4-8 football team, that's not good. We're definitely moving in the right direction. Nineteen starters are back, and 14 of them are sophomores and juniors. So we've got some guys we can work with, and we've got the best recruiting class we've brought in. We basically have five seniors on scholarship and we signed 22. So we've got the core team back. It needs to get better. I think we'll make some nice additions as preseason comes around, and hopefully we'll continue to be more competitive and play the brand of football we're trying to build here.
February, 28, 2013
2/28/13
10:00
AM ET
Spring practice is under way in the Big Ten, so let's take a look at what's on tap for the six teams in the Leaders Division.

ILLINOIS
Spring start:
March 5
Spring game:
April 12
What to watch:
1. Coaching staff makeover:
Illinois players are used to coaching changes, and Tim Beckman's staff received a significant overhaul during the winter as five assistants departed the program (four voluntarily). The biggest change comes at offensive coordinator, as former Western Michigan head coach Bill Cubit takes over. Cubit has to implement his system and identify more playmakers with a unit that finished last in the Big Ten in both scoring and total offense last season.
2. Lines in limbo:
The Illini not only lost significant pieces on both the offensive and defensive lines, but they have new position coaches at both spots as well. Defensive line has been Illinois' strongest spot, but the team must replace two future NFLers in
Michael Buchanan
and
Akeem Spence
.
Glenn Foster
is also gone, so the front four will have a very different look. The offensive line struggled mightily in 2012 and needs young players such as
Michael Heitz
and
Ted Karras
to take steps this spring.
3. Getting healthy:
Illinois
lost so many starters to injury in 2012
that it became difficult to get an accurate gauge on what Beckman could do with a healthy roster. Although linebacker
Jonathan Brown
and receiver
Darius Millines
will be limited this spring, the rest of the team is ready to go and Illinois added several potential big contributors from the junior college ranks. If Illinois has any chance of taking a major step in 2013, its best players must stay on the field this spring and allow the coaches a chance to evaluate and scheme for the season.

INDIANA
Spring start:
March 2
Spring game:
April 13
What to watch:
1. Quarterback cluster:
While some Big Ten teams (Penn State, Purdue) have hardly any experience at quarterback, Indiana has three signal-callers who have logged significant field time.
Tre Roberson
, who started the 2012 season before suffering a broken leg in Week 2, returns this spring, and it will be interesting to see how he looks and whether he outperforms
Cameron Coffman
and
Nate Sudfeld
. Coffman started the final 10 games last fall and passed for 2,734 yards and 15 touchdowns, while Sudfield added 632 passing yards and seven TDs. Indiana's quarterback depth is a good problem to have, but it would be good to see some separation this spring.
2. Defensive leadership:
Fielding a Big Ten-level defense remains Indiana's top priority, and the Hoosiers need leaders to develop this spring. Top linemen
Adam Replogle
and
Larry Black Jr.
depart, and Indiana needs to build depth up front after allowing a league-worst 231.3 rush yards per game in 2012. Linebacker is another spot IU must upgrade, and
David Cooper
should be ready to take the reins after recording 86 tackles in 12 starts a year ago. Like Illinois, Indiana also welcomes several junior college defenders, including tackle
Jordan Heiderman
.
3. Secondary surge:
All the question marks in Indiana's defensive front seven make it even more important for the secondary to make strides this spring. The Hoosiers have no shortage of experience in the back four with players such as
Greg Heban
,
Mark Murphy
,
Brian Williams
(12 starts last season) and
Antonio Marshall
(started final seven games). There's potential for the secondary to be a strength for IU in 2013, but the group must make more plays after recording a league-low seven interceptions last fall.

OHIO STATE
Spring start:
March 5
Spring game:
April 13 (at Paul Brown Stadium, Cincinnati)
What to watch:
1. Taking a pass:
The highest-scoring offense in the Big Ten returns every starter but two, and all that experience, talent and familiarity with the spread attack heading into Urban Meyer's second season with the Buckeyes figures to make them even more dangerous. The key will be how much more efficient
Braxton Miller
can become as a passer.
2. Getting defensive:
For all the pieces the offense retains, the defense is a completely different story heading into spring camp. The Buckeyes have to replace the entire defensive line after losing three seniors and junior
Johnathan Hankins
to the draft, two starting linebackers are gone and the graduation of cornerback
Travis Howard
leaves an additional hole in the safety. There will be no shortage of competition for first-team reps.
3. Looking for leaders:
Meyer and the senior class that has since departed quickly forged a deep bond, and he has gone out of his way to praise those players' leadership as integral in the unbeaten season that started his tenure with the Buckeyes. Now he needs a new wave of emotional speakers and relentless workers to take the torch from the likes of
John Simon
and
Zach Boren
, and Meyer will be making a point to identify his best candidates over the 15 workouts leading into the summer.
-- Austin Ward, BuckeyeNation

PENN STATE
Spring start:
March 18
Spring game:
April 20
What to watch:
1. Quarterback competition:
With the departure of fifth-year senior
Matt McGloin
, quarterback is now the biggest question mark on this team. Sophomore
Steven Bench
has a head start and will compete against juco early enrollee
Tyler Ferguson
.
Christian Hackenberg
won't join the team until summer. Can this no-huddle offense be as effective?
2. Replacing LBs Michael Mauti and Gerald Hodges:
Mike Hull
, who usually played inside, will have to make some adjustments as one of the expected replacements for the All-Big Ten linebacker tandem. The other spot is up for grabs, and fans should expect to see a battle between
Ben Kline
and
Nyeem Wartman
.
3. New faces at WR, TE:
Redshirt freshman
Eugene Lewis
, the headliner of PSU's 2012 class, could challenge
Brandon Moseby-Felder
as the No. 2 WR target.
Adam Breneman
, the No. 1 tight end recruit in the country, is also hoping to be recovered from a torn anterior cruciate ligament in time for the Blue-White Game. Both could be stars down the road for PSU.
-- Josh Moyer, NittanyNation

PURDUE
Spring start:
March 18
Spring game:
April 13
What to watch:
1. Behind these Hazell eyes:
Yes, I'll justifiably take the abuse for the Kelly Clarkson reference, but new Purdue coach Darrell Hazell has his first chance to evaluate his team on the field this spring. Hazell brings a completely new coaching staff and a new approach to Purdue, which fell short of expectations in 2012 and has significant questions on both sides of the ball. He seems to be getting good buy-in from the players so far, but it'll be interesting to see how things progress during the 15 workouts this spring.
2. Quarterback race:
If you like mysteries, you'll enjoy Purdue's quarterback competition this spring. The combination of a new coaching staff and unproven but talented candidates makes the race
virtually impossible to predict
. Hazell and new offensive coordinator John Shoop will study redshirt freshman
Austin Appleby
, who could have a slight edge to win the job, along with redshirt freshman
Bilal Marshall
and early enrollee
Danny Etling
, a decorated recruit. Don't forget about
Rob Henry
, who started in 2010 and would have been the top quarterback in 2011 if not for an ACL injury weeks before the season.
3. Short stopper:
Purdue has to find a replacement for standout defensive tackle
Kawann Short
, the centerpiece of the defensive line the past few seasons.
Bruce Gaston Jr.
will continue to occupy the other top tackle spot, but there will be plenty of competition to join him in the starting lineup. Purdue's defensive line underachieved in 2012, and while Gaston and ends
Ryan Russell
and
Ryan Isaac
all return, the Boilers will really miss Short's production if they don't build more depth up the middle.

WISCONSIN
Spring start:
March 9
Spring game:
April 20
What to watch:
1. New era dawns:
Consistency is the norm at Wisconsin, but players will have to adjust to a dramatically different coaching staff for the second consecutive season. This time, it includes a new leading man in Gary Andersen, who gets his first chance to work with the players on the practice field. Andersen doesn't plan to overhaul the schemes, but he and his coaches will put their spin on things and see what works. He'll also bring a different personality to practice but one that athletic director Barry Alvarez thinks will fit the program's culture.
2. Intrigue at quarterback:
Arguably no team in America has a more interesting quarterback race than the Badgers do this spring. They have three players with starting experience --
Joel Stave
,
Curt Phillips
and
Danny O'Brien
-- plus a talented redshirt freshman (
Bart Houston
) who arrived as a decorated recruit and a junior college addition (
Tanner McEvoy
) brought in by the new coaches. Add in a new system under coordinator Andy Ludwig, and it's anyone's guess who will separate himself this spring. Be sure to tune in.
3. Secondary in the spotlight:
The Badgers lose three of four starters in the secondary from the 2012 squad, including top cornerbacks
Devin Smith
and
Marcus Cromartie
. The new staff is aware of the numbers issue and signed junior college All-American
Donnell Vercher
earlier this month. Other players who will compete for starting spots include cornerbacks
Darius Hillary
and
Peniel Jean
and safeties
Michael Trotter
and
Michael Caputo
. Wisconsin hopes to have some answers in the back four by the end of the spring.
February, 8, 2013
2/08/13
1:00
PM ET
Kevin Wilson
hopes his rebuilding project at Indiana just took its next step forward on signing day.
The Hoosiers brought in one of their
better classes in recent years
, according to the rankings services. It included ESPN 150 athlete
Rashard Fant
and ESPN 300 defensive tackle
Darius Latham
. I recently spoke with Wilson, whose team went from 1-11 in 2011 to 4-8 last year, about the class:
Looks like you loaded up on defense. Was that the plan going in?
Kevin Wilson:
You always want to get good players, but you also look at your needs. If you look at our offense, it isn't so bad. It's pretty average. We only lose one senior there. That being said, we need to make improvements on defense. We really only lost five seniors that played, and we only signed 22 kids but we have a lot of players coming back. You're not starting from scratch. We have 13 kids for sure on defense and then we have four of those tweener, hybrid kids who could be a running back or a linebacker or a safety or a receiver or a cornerback. There are three or four skill position guys where I could see them being on either side. So people look at it as 13 defensive players, but it could end being 14,15 or even 16 kids who are defensive players.
You signed three highly-rated kids from Indianapolis. How important was it to lock down the best kids in the state?
[+] Enlarge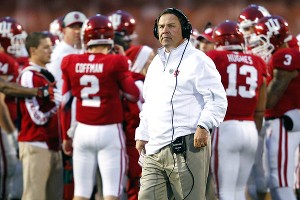 Michael Hickey/Getty ImagesIndiana coach Kevin Wilson has now had a full cycle to recruit players.
KW:
If you want to be the state school, to me, you've got to represent the state. But just because they're from your state doesn't mean you're going to get them, and just because they're from your state doesn't mean you have to like them. They've got to be good players, and sometimes you don't get them all. It was good to get quality players and highly-rated kids, guys we think can make decent impacts. We don't need them to just sign with us. We need them to become good players.
They all come from quality programs. We do want to always have a presence within our state. The other comment about that, in all honesty, is that, we show up two years ago in December and had January to recruit. Last year, we get a full year, but this to me was the first year, with the way recruiting goes, where we got a full cycle. We saw them as 10th graders. We had them at camps. We had them at basketball games, had them on campus and went and watched them as juniors. We were able to build some relationships. I think the combination of that and folks thinking we're getting better helped. That's why I think some of the Indiana kids came our way.
It's hard not to notice that you signed four kids out of Georgia. How did you get that pipeline going?
KW:
A couple of things. No. 1, we've got [defensive ends coach] Jon Fabris, who we hired from down there. He worked at the University of Georgia for nine years and knew his way around. He was able to go down there last spring and camp out there and go to spring practices and get us in there. It's a heck of a football state, with a big population. The next deal is, shooting down I-75, we're talking eight or nine hours to the metro Atlanta area. When you go outside of Indianapolis, our biggest alumni areas are Chicago, Atlanta and New York City because of the Kelley School of Business and all the alums we've got. So there's a little presence there. And I think the Big Ten Network helps when you go down south. When you go down to Florida, every home has the Big Ten Network, so that helps.
Rashard Fant is your top-rated prospect. Where do you see him fitting in?
KW:
We see him as a cornerback and we need some help over there. But you look at his tape, and he's a great athlete -- great in the return game, really good as a slot receiver and they played him at Wildcat quarterback. Like a lot of guys we got, he can run. He needs to get a little bigger, a little stronger to compete at the Big Ten level, but he's a very athletic kid. We'll use him on returns starting out and defensively. But he has flexibility. When you evaluate his tape, you see him making plays with the ball in his hands. He's pretty skilled there. Same goes for some of our defensive backs like
Antonio Allen
.
Chase Dutra
is a running back hybrid; he could be a safety.
Noel Padmore
, guys like that.
How much do you think you strengthened your defensive front seven with this class?
KW:
Again, we don't lose a lot. We only lose two D-tackles defensively. A lot of those guys are back and we need to make a bunch of strides there. We got two junior college D-tackles.
Jordan Heiderman
, he's already in school. Then you've got Chris Cormier. Our high school guys, Darius Latham and
Maurice Swain
, those are two 6-5, 6-6, 280-to-300 pound kids who can run.
Patrick Dougherty
is another inside guy. David Kenney is an edge guy.
Steven Funderburk
and
T.J. Simmons
are linebackers already in school and two really good athletes.
Clyde Newton
, he ran for the most yards of any running back we signed.
Marcus Oliver
was the conference player of the year in a big-time Ohio league.
So we've got four 'backers, six guys up front, and three of them are already in school. You'll see a lot of those guys in the two-deep mix right away. We signed a couple of fast guys. The big guys are a little bit more blessed athletically then we've recruited in years past. ... The really good teams, everybody has got a fast guy, whether it's a running back or a fast receiver or a defensive back. The best teams are fast with the big people. We didn't hit home runs or go off the charts like some people do. But for Indiana, the overall athleticism is pretty good.
You've thrown a lot of true freshmen into the fire the past couple of years. Are you to the point where you won't have to do that as much with these players, or do you expect plenty to play right away?
KW:
It's a great question. Are we mature enough to take the entitlement out of, "Just because I'm a returning starter, this my job" versus just keep getting better? We've got a bunch of guys coming back, but they are a bunch of guys who were 4-8. And that's not the standard that were trying to establish or the culture we want to build. Just because you started, that's cool, but we're still not at the level we need to play at.
These recruits coming in, their skill set may be better than the guys in front of them. Now the guys in front of them are older, we've been coaching them and developing them and they might be farther along. But the starting points of some of these recruits are higher maybe than previous years with guys that play. So I believe in competition. I believe in the more we can get that environment going where you're fighting to get on the field, and we like to play multiple guys on offense and defense with as fast as we play.
When you don't play games, it can be a negative. Man, these kids make such a big commitment, in any program. It's year-round training. So, yeah, a guy might be better five years down the road, but sometimes you lose kids and they don't develop right if you don't get them on the field. You get one more year if you redshirt them, but once they play in that game I think the winter workouts, the summer workouts are a lot more positive. We haven't promised any of these guys that they'll play, but I bet you''ll see a bunch of them out there in the fall.