Big Ten:

Jordan Jefferson
January, 6, 2010
1/06/10
11:54
AM ET
In today's college football, offense sells. I get that. Players love offense, sports writers love offense, TV broadcasters love offense, fans love offense. Heck, I love offense, too.
And particularly when the offense uses a gimmicky, er, innovative scheme, it will attract a ton of attention.
Did anyone else get tired of hearing about Oregon's high-powered zone read spread or Georgia Tech's unstoppable triple option?
In the end, Big Ten defenses made those offenses look pedestrian. All four Big Ten bowl winners faced teams boasting high-powered offenses and/or supposedly superior skill players. And all four bowl winners played lock-down defense.
While the Big Ten received surprisingly strong quarterback play in the bowls -- more on that later -- it regained some national respect because of its defensive performance. Sound fundamentals and strong preparation trumped tricky systems.
Here's a look at how Big Ten defenses stepped up to win bowls:
WISCONSIN
Result:
20-14 win
against No. 15 Miami in the Champs Sports Bowl
Opposing QB:
Jacory Harris
completed 16 of 29 passes for 188 yards with one touchdown and no interceptions. He had nine rushes for minus-1 yard.
Defensive superlatives:
Recorded five sacks and nine tackles for loss as seven players contributed TFLs
Allowed only 249 yards (Miami came in averaging 412.5)
Allowed only 61 rush yards on 23 carries (Miami came in averaging 144.4 rush yards)
After Miami scored on its first play from scrimmage, the Badgers blanked the Hurricanes for the next 58 minutes
Held Miami to six drives of nine yards or fewer
PENN STATE
Result:
19-17 win
against No. 12 LSU in the Capital One Bowl
Opposing QB:
Jordan Jefferson
completed 13 of 24 passes for 202 yards with a touchdown and an interception. He had eight carries for 11 yards.
Defensive superlatives:
Allowed only three points, 67 yards and two first downs in the first half. LSU gained 54 of those yards on just two plays, as Jefferson twice found wideout Brandon LaFell
Held LSU to 41 yards rushing and a season-low nine first downs in the game
Kept LSU out of the end zone for the first 44:47
Recorded two sacks and six tackles for loss to go along with two takeaways
OHIO STATE
Result:
26-17 win
against No. 7 Oregon in the Rose Bowl Game presented by Citi
Opposing QB:
Jeremiah Masoli
completed only 9 of 20 passes for 81 yards with no touchdowns and an interception. He had just six carries for nine yards and a touchdown.
Defensive superlatives:
Held Oregon well below its season averages in points (17 vs. 37.7), total yards (260 vs. 424.7), offensive plays (53 vs. 69.3), 20-yard plays (3 vs. 6) and possession time (18:23 vs. 28.12)
Held Oregon to season lows in passing yards (81). Oregon's total yards total was its second lowest of the season, and its 12 first downs marked a low for a Ducks bowl game.
Held Oregon to just 2 of 11 on third down
Forced two turnovers, giving Ohio State 35 takeaways for the season
IOWA
Result:
24-14 win
against No. 9 Georgia Tech
Opposing QB:
Josh Nesbitt
completed 2 of 9 passes for 12 yards with no touchdowns and an interception. He had 20 rushes for 46 yards
Defensive superlatives:
Georgia Tech had season lows in points (14), total yards (156) and first downs (9)
Iowa forced Yellow Jackets punts on their first six possessions after Tech had gone 22 consecutive possessions without a punt
The Hawkeyes held Georgia Tech to 32 yards of total offense in the first half, marking Tech's lowest first-half total in at least 20 years
Georgia Tech's scoreless second quarter marked just the eighth time in 55 quarters that the Yellow Jackets failed to score
Iowa recorded three sacks, five tackles for loss and an interception
January, 2, 2010
1/02/10
1:46
PM ET
How many Penn State fans held their breath when they saw this headline?
No, I'm not referring to junior linebacker Navorro Bowman's upcoming decision of whether or not to enter the NFL draft. Bowman will make his future plans known soon, and few will be surprised if he chooses to turn pro. The guy is an absolute stud, and he doesn't need to prove much more at the college level.
If the Capital One Bowl indeed marks Bowman's final game as a Nittany Lion, he'll be remembered for an interesting sequence in the final minute that led to Penn State's 19-17 win.
Out of timeouts, LSU was in hurry-up mode and reached the Penn State 45-yard line on a short pass to
Brandon LaFell
with about 30 seconds left. Bowman and fellow linebacker Sean Lee brought down LaFell on the play. Bowman took his sweet time getting off the ground -- and LaFell -- and Tigers offensive lineman Lyle Hitt finally stepped in. Hitt moved Bowman off of LaFell but drew a personal foul penalty that pushed LSU back into its own territory.
After some awful clock management from quarterback
Jordan Jefferson
, the Tigers had only two desperation plays left.
"He threw me aside but I had a plan for what I was doing," Bowman
told reporters after the game
. "You know, I was using my brain. They had no timeouts left, I thought if I lean on the guy for a couple extra seconds to let the clock run out, it would help us out."
Bowman didn't think a penalty should have been called, and worried that he'd be flagged when he saw the yellow hankie.
"My reasoning for doing what I was doing, you know, it wasn't a positive thing, it wasn't a good thing," Bowman said. "It was [just] to help my team win."
December, 31, 2009
12/31/09
10:15
AM ET
It's time to take a quick look at the Capital One Bowl, as No. 13 Penn State (10-2) takes on No. 12 LSU (9-3) on Friday in Orlando (ABC, 1 p.m. ET).


WHO TO WATCH:
Daryll Clark
. One way or another, this game will go a long way toward shaping Clark's ultimate legacy at Penn State. He already owns a bunch of team passing records, and a New Year's Day bowl win will cement him as one of the program's finest quarterbacks. If Penn State loses, Clark will be remembered for winning a lot of games, but not many big ones. Last year's Rose Bowl loss to USC wasn't Clark's fault, and he didn't get much help in a Sept. 26 loss to Iowa, but quarterbacks are judged primarily on how they perform against the nation's elite. LSU ranks 29th nationally in pass defense and 17th in passing efficiency defense, so Clark will need to be at the top of his game
WHAT TO WATCH:
Penn State's pass rush and LSU's punt returns. Both areas are strengths for these teams and weaknesses for their opponents. The Nittany Lions rank fifth nationally in tackles for loss (8.25 per game) and seventh in sacks (2.92 per game), while LSU is 108th nationally in sacks allowed (2.92 per game). You can bet Penn State defensive coordinator Tom Bradley will turn up the heat with Jack Crawford, Jared Odrick and Navorro Bowman. LSU leads the nation in punt returns (18.6 ypr) behind
Trindon Holliday
, quite possibly the fastest player in the country. Penn State's special teams have been a weakness all season, and the Lions rank 116th nationally in punt return yards defense (14.7 ypr).
WHY TO WATCH:
No non-BCS bowl pairs two higher-ranked teams than the Capital One, generally regarded as the best of the rest. Both head coaches are at their best in the postseason, as Penn State's Joe Paterno owns an NCAA-record 23 bowl victories, and Les Miles is 4-0 in bowls at LSU and has won by an average of 28.5 points. Plus, these two storied programs play for just the second time after meeting in the 1974 Orange B0wl (a 16-9 Penn State win to cap a perfect season). Both teams are highly ranked, but neither has a true signature win. One will walk out of Citrus Bowl Stadium feeling pretty good about itself.
PREDICTION:
Penn State's experience and defensive pressure will be the difference in this one. LSU boasts a ton of young talent, and a Tigers win will only strengthen the SEC's case against the Big Ten. The Tigers' defense holds Penn State in check for a half, but Clark and running back
Evan Royster
get it going in the third quarter. LSU doesn't protect
Jordan Jefferson
well, and Penn State's defenders will get home enough. The Lions win, 21-17.
December, 30, 2009
12/30/09
4:15
PM ET
Sean Lee began his career with a bowl win, getting on the field as a reserve linebacker as Penn State beat Florida State in the 2006 Orange Bowl.
Lee wants to end his career the same way. Penn State is known for winning bowl games, and Lee carries a 3-0 mark into Friday's Capital One Bowl matchup against No. 12 LSU (ESPN, 1 p.m. ET). Remember that Lee missed last year's Rose Bowl loss to USC with a knee injury, so he doesn't know what it feels like to be on the field for a postseason loss.
[+] Enlarge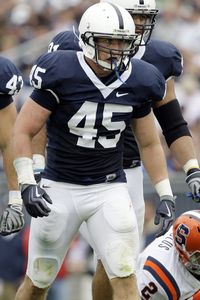 AP Photo/Carolyn KasterSean Lee hopes to finish his college career with a win in Friday's Capital One Bowl.
And he has no intention of starting now.
"I've told the guys it's good to have fun during the trip and experience the city, but you will remember the game," said Lee, a co-captain for the Nittany Lions. "You will remember winning the game, and it'll spoil everything if you don't work as hard as you can and try to win this game.
"We've had that attitude. We've come down here on a mission."
Penn State traveled to Florida earlier than teams usually do for bowl games, a strategy head coach Joe Paterno employs to get his players acclimated to the environment. The team spent the first five days in Daytona Beach, where it was "just straight football," Lee said
That meant two-a-day practices, 7:15 a.m. wake-up calls and a training camp-like atmosphere.
"We were on the beach in Daytona," Lee said, "but we barely got a chance to go partly because it was raining a little bit and secondly, because we were practicing so much and everyone was so tired."
Players have had a bit more fun in Orlando, going to Best Buy on Tuesday for a shopping spree. But Lee and his teammates are locking in on LSU, an opponent stocked with young talent and athleticism.
Lee sees similarities between LSU and the Tennessee squad he faced in the 2007 Outback Bowl, which Penn State won 20-10.
"They have a ton of athletes," he said. "When it comes to their wide receivers, [Trindon] Holliday they use in a ton of ways. And their quarterback, [Jordan] Jefferson, is a really good athlete. When he gets out of the pocket, he makes a lot of plays and gets the ball to their big, good, really athletic receivers. And their running back, [Stevan] Ridley, replaced [Charles] Scott as the year's gone on. He's been a big reason why they've had success."
Lee, who battled a knee injury early this season but surged down the stretch, feels as healthy as he's been since the summer. He leads a Penn State defense that owns sick stats -- fourth nationally in scoring (11.8 ppg), eighth in total defense (277.1 ypg), sixth in tackles for loss (8.25 per game) and eighth in sacks (2.92 per game) -- but lacks a signature victory.
LSU provides that opportunity.
"We didn't play as well as we would have liked in our two big games at home, against Ohio State and Iowa," Lee said. "This is just another chance to prove the type of football team we are, and to be able to play a team with a ton of tradition like LSU just adds to it."