September, 4, 2010
9/04/10
5:14
PM ET
ANN ARBOR, Mich. -- Here's a quick look back at the first 30 minutes, as Michigan leads Connecticut
21-10 at halftime
.
Best player in the half:
Michigan sophomore quarterback
Denard Robinson
. "Shoelace" has been brilliant in his first career start, wrong-footing Connecticut defenders and showing impressive accuracy on his passes. He already has 131 rushing yards and a touchdown on 15 carries, and he completed his first eight pass attempts.
Turning point:
Really two of them here. Robinson set the tone on Michigan's first drive, leading the offense 96 yards in 14 plays and putting Connecticut's defense on its heels. Connecticut grabbed the momentum late in the half following
Michael Smith
's juggling 47-yard catch on third-and-10 to set up a
Jordan Todman
touchdown with 17 seconds left.
Best call:
Randy Edsall kept his team in the game with a great call late in the half. He called timeout on third-and-goal, fully intending to go for it on fourth down. When Connecticut was stopped short, the offense rushed to the line and scored easily as Michigan was caught off guard.
September, 4, 2010
9/04/10
4:26
PM ET
ANN ARBOR, Mich. -- Michigan's defense has had several "uh-oh" moments so far, but the Wolverines certainly are bringing the heat in the first half against Connecticut.
Craig Roh and
Mike Martin
have looked great pressuring Connecticut quarterback
Zach Frazer
. Roh ended a Huskies drive late in the first quarter on a blitz in Frazer's face. The sophomore looks bigger, but he hasn't lost a step. If Michigan can continue to take away the middle of the field, it should be in good shape against Huskies star tailback
Jordan Todman
.
Frazer has looked shaky so far, missing several open receivers on plays that could have changed the game. The big-play opportunities are there in Michigan's secondary; he just needs to start cashing in.
Michigan still leads 14-0 early in the second quarter.
September, 1, 2010
9/01/10
11:00
AM ET
Connecticut at Michigan is one of the more intriguing opening-week matchups. The Wolverines desperately need to get off to a good start, while UConn has drawn a lot of offseason buzz. Plus, the biggest Big House yet makes its debut.
Big Ten blogger Adam Rittenberg and Big East blogger Brian Bennett break it all down.
BB:
All right, Adam. No more talk of the Big Ten raiding the Big East. Just Big Ten and the Big East meeting, thankfully, on the field. How badly does Michigan need this win, and are the Wolverines aware of just how good Connecticut is?
[+] Enlarge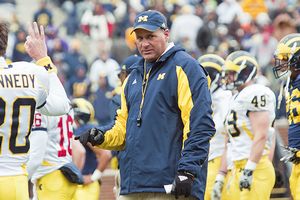 Icon Sports MediaAfter another rough offseason, coach Rich Rodriguez needs to start the season off with a win.
AR:
Michigan needs this game real bad, but not for the obvious reasons. We saw this team start fast last year and fall apart in Big Ten play, so a win against Connecticut might still be greeted with some skepticism. Michigan needs a win because it needs something good to happen after another rough offseason. The Wolverines need to show their fans that progress is being made, especially on the defensive side of the ball. They need to get their renovated stadium fired up again. They need to revive what's left of the Michigan mystique. This gets us to your second question (double-barrel, tsk, tsk). After the last two seasons, the Wolverines shouldn't be taking any team lightly, especially a very solid UConn team that consistently produces NFL talent and has an outstanding head coach in Randy Edsall. Michigan players know many folks are picking them to lose to the Huskies.
Let's look a little deeper at UConn. What are the two or three things Michigan must be most concerned about on Saturday?
BB:
I know, it was bad question form but we're trying to save space here. Anyway, Michigan must be most concerned about the UConn running game. The Huskies have a big, physical offensive line that bulldozes people.
Jordan Todman
went over 1,100 yards last year, and they have a stable of other backs including USC transfer D.J. Shoemate.
Defensively, Connecticut has three standout, senior linebackers in Lawrence Wilson (140 tackles last year), Scott Lutrus and -- surprise! -- Greg Lloyd. They can all run and make plays. And mostly, Randy Edsall's team never beats itself. UConn is always very well coached, fundamentally sound and avoids mistakes.
[+] Enlarge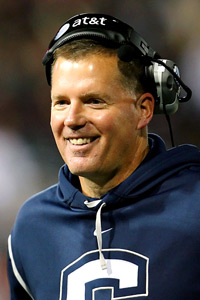 Jim Owens/Icon SMIA win for Randy Edsall's Huskies against Michigan would be one of the biggest in Connecticut history.
On the other hand, the Huskies are small up front defensively and will have their hands full with Michigan's offensive line. Speed could be a major issue, as it was whenever Rodriguez played Edsall when the former was at West Virginia. The secondary is also unsettled and was the worst in the Big East against the pass last year.
What other areas should concern UConn?
AR:
Michigan certainly can put up a ton of points. Everyone is fussing about the quarterback situation, but I'm not overly concerned.
Denard Robinson
and
Tate Forcier
both have experience in Rodriguez's system, and true freshman Devin Gardner might be the most natural fit for the offense. You can't underestimate the importance of Year 3 in the spread. The O-line should be solid, as center David Molk returns to a group that has a good mix of experience and promising young players.
Rodriguez hasn't announced a starter at quarterback, but Robinson seems likely to take the first snap. He's got ridiculous wheels, and he has improved as a passer after completing just 45.2 percent of his throws last year. Forcier also brings some playmaking ability to the backfield, especially when he's on the move. The receiving corps could be a strength for Michigan, as
Roy Roundtree
leads a group that boasts excellent speed.
The biggest questions for Michigan are on defense, especially after losing Big Ten co-MVP Brandon Graham and corner Donovan Warren. There's not much depth in the secondary, so the Wolverines need a strong performance from hulking nose tackle Mike Martin and the rest of the defensive line. The kicking game also is a concern.
Connecticut had a historic win at Notre Dame last year but fell just short against several good teams on the road. How do the Huskies get over the hump at what should be a fired-up Big House?
BB:
This is a veteran, confident UConn team that won't be intimidated by the atmosphere. As long as the Huskies can keep the Michigan quarterbacks from running wild like
Pat White
used to do against them, I like their chances of pulling this one off. They're going to score points with
Zach Frazer
running the no-huddle offense and the running game pounding away. I say they get an early lead, causing Michigan and its fans to get nervous and tight. Dave Teggart kicks a winning field goal in the final minute for a 31-28 win.
Your take?
AR:
I agree that UConn won't flinch at what's left of the Michigan mystique, but I still expect the Wolverines to make some big plays early and feed off of the atmosphere. Robinson doesn't need much space to take it to the house, and I expect him and some of the backs to break off several big runs behind an improved offensive line. Michigan's defense worries me, especially in the back seven, but Martin leads a strong effort from the front four to contain the Huskies' rushing attack. This one definitely goes down to the wire, but I have the more desperate team winning. Michigan, 28-27.
July, 8, 2010
7/08/10
3:00
PM ET
Since I'm handling this blog for Adam today, I thought I'd offer up an early preview of the Big Ten/Big East matchup awaiting us in Week 1. Let's see what Michigan faces in its opening game against the
Connecticut Huskies
.
Opponent
: Connecticut
Coach
: Randy Edsall (12th year, 66-65)
2009 record
: 8-5 (3-4 Big East)
Returning starters
: 16 (8 offense/ 8 defense)
About the Huskies
: No team in college football had a more tumultuous 2009 than UConn.
The Huskies dealt with the tragedy of losing captain Jasper Howard, who was stabbed on campus after a midseason game. They lost five games by a total of 15 points, including three straight heartbreakers following Howard's death.
Then Connecticut rebounded to beat Notre Dame on the road in overtime, beginning a four-game winning streak that culminated with a victory over South Carolina in the Papajohns.com Bowl. UConn was playing as well as any team in the Big East at the end of the year, and Edsall brings back the vast majority of last season's team and may have the deepest, most experienced roster of his tenure.
The offense is led by
Jordan Todman
, who compiled a 1,000-yard season despite splitting handoffs with the departed
Andre Dixon
last season. Quarterback
Zach Frazer
struggled early and then was hurt, but the former Notre Dame transfer hit his stride late and looked good this spring. The receiving corps lacks a proven No. 1 guy but has depth, while the offensive line is the heftiest in the Big East and one of the most underrated units in the country.
Defensively, the Huskies are led by senior linebackers Scott Lutrus and Lawrence Wilson, the latter of whom finished among the national leaders with 140 tackles a year ago. The defensive line is undersized but tries to counter that with speed. The secondary is the team's glaring weakness right now; UConn was the worst in the Big East in defending the pass a year ago, and its two best defensive backs graduated.
Random factoid
: When Rich Rodriguez was at West Virginia, he beat Edsall's UConn teams by an average of 28.8 points and never by fewer than 12 points.
My totally unscientific percentage chance that Michigan wins this game
: 47.5 percent. Sure, I'm the Big East interloper here, so you may consider me biased. It certainly won't be easy for Connecticut to open the season in the Big House and come away with a victory. Just about every one of Michigan's players was a higher-rated recruit than UConn's guys, and the Wolverines will have a serious size advantage at some key positions.
But underestimate the Huskies at your own peril. This is a deep, veteran and fundamentally sound team that I think deserves to start the year in the Top 25. Given the Wolverines' struggles of late and the pressure they will be under to get off to a good start for the sake of Rodriguez's job, this could be a game that UConn just might steal on the road.