March, 12, 2012
3/12/12
10:30
AM ET
Purdue is getting a little bit of a buzz as a sleeper team for 2012 after breaking through with a bowl game (and win) in 2011. The Boilermakers opened spring practice last week and went for a couple of days straight before taking off for spring break. I had a chance to catch up with Purdue head coach Danny Hope to talk about how things are going in his program and the areas of concentration this spring.
Did you sense any different attitude this offseason after getting to that bowl game last year?
[+] Enlarge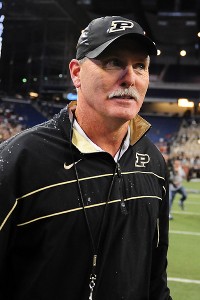 Andrew Weber/US PresswireCoach Danny Hope said the momentum from boilermakers' bowl win last season has carried over into the spring.
Danny Hope:
I think we ended the season on a high note and with some momentum, and I think it carried over into the offseason. I think we're really hitting on all cylinders with our new director of sports performance, whom we hired last year about this time. It's the first time since I've been the head coach at Purdue that we're going into spring with a quarterback that's healthy that's played any football.
Caleb TerBush
wasn't penciled in as the No. 1 [quarterback], but he became No. 1 about a week before the opener. He had to get his feet wet and learn throughout the course of the season, but by the end of the season he was playing pretty good. That momentum carried right over into the bowl preparation and the win carried right into the weight training offseason and that carried into spring practices. And having experienced quarterbacks is important. It's the first time since I've been here we've been able to do something as simple as getting signals in early in spring. It's a little different tempo out there right now as a result. We've got some good players back and we've got some confidence as a football team.
You have quite a few experienced quarterbacks now, in fact. How are you splitting up the reps for them this spring?
DH:
Well,
Sean Robinson
is playing on defense right now. It's hard to get four quarterbacks ready in spring ball, and he wasn't going to get as many reps as he needed to. So we're going to try him some at the linebacker position. That leaves TerBush and
Robert Marve
, who's finally healthy. I think Robert did some good things last year, but I think he's in position to take some big steps in his development because this is the first time since he's been here that he's been able to get a lot of reps without concern about an injury or an eligibility situation. Then
Rob Henry
is back. He's a little bit limited right now because he's coming off knee surgery, but I'm really pleased with where his recovery is, and most of the time when he's out there right now you can't tell much of a difference. But you have to limit his reps a little just because you don't want to overdo it and create a swelling issue. So the numbers are kind of taking care of themselves in some ways. We went into the spring with TerBush as No. 1 and all those other guys are competing.
Your leading rusher, Ralph Bolden, tore his ACL again, but you have two pretty good running backs in Akeem Shavers and Akeem Hunt. How do you feel about the depth at running back this spring?
DH:
We had a real strong running attack last year. We were fifth in the Big Ten in rushing. The past couple of years, we've been able to establish a strong running game. I like the progress that we've made and having good running backs is a big part of that, and any more, having a couple of running backs you can play is a big part of it. We had a lot of different guys rush for us last year, probably 10 different guys who were utilized as ball carriers. We really like Akeem Shavers. He's a fast, physical back who finishes runs. Akeem Hunt is an excellent sprinter who's a member of our track team and was a state champion track performer in Georgia. So he's a class sprinter in a lot of ways for a football player.
We've also got a kid we redshirted last year in
Doug Gentry
, and he's a skilled player. We have
Gavin Roberts
, who has good size but was injured last year. He's a big back we can utilize in the backfield. Then we've got a couple fullbacks in
Derek Jackson
, who weighs about 240 pounds, and
Kurt Freytag
. So we've got some guys still in the stable even though Ralph is out. And we've utilized
Antavian Edison
and
Raheem Mostert
some as ball carriers out of their slot position, and both those guys are really skilled players. So we've got some athletes who can tote the mail, and we spread the wealth out around here.
Were you upset about the new kickoff rules because you have such a weapon at kick returner in Raheem Mostert?
DH:
Well, we all play by the same rules. You'll have to make decisions about bringing some out, so the return man is going to have to be a good decision-maker. From a kickoff standpoint it might change some things. You can kick them all deep and try to force the touchback if you want to, but you're going to be giving the opponent the ball at the 25. Or you can kick the ball high and deep and try to pin them down and do a great job covering. So there's going to be some game planning and schemes involved. I think it will all even out. ... I don't think it's going to shut down all kick returns, but I think there will be about 25 percent less, is my guess.
July, 14, 2009
7/14/09
11:01
AM ET
Posted by ESPN.com's Adam Rittenberg
Illinois picks up a major commit at tight end, while Penn State bolsters its quarterback position and other teams add key pieces. Here's your latest recruiting rundown in the Big Ten.
ILLINOIS
2010 verbal commits: 8
ESPNU 150 Watch List: Safety Corey Cooper, quarterback Chandler Whitmer, tight end C.J. Fiedorowicz
Quick take: Fiedorowicz is a big get for the Illini, who lose starting tight end Michael Hoomanawanui after the 2009 season. Illinois also will be breaking in a new starting quarterback and could lose superstar wideout Arrelious Benn to the NFL draft, so Fiedorowicz should be a big help during the transition.
INDIANA
2010 verbal commits: 9
ESPNU 150 Watch List: None
Quick take: Things have slowed down a bit for the Hoosiers, who are still glowing from the commitment of defensive end Jibreel Black from Cincinnati. Indiana has found a good offense-defense balance so far in the 2010 class.

IOWA
2010 verbal commits: 10
ESPNU 150 Watch List: Defensive end Matt Hoch, tackle Andrew Donnal

Quick take: Both lines have been the focus of Iowa's recruiting so far, and the Hawkeyes made a big splash with Donnal, who could protect his fellow Ohioan Ricky Stanzi at some point down the line. At least seven of Iowa's commits could contribute on the offensive or defensive lines.
MICHIGAN
2010 verbal commits: 15
ESPNU 150 Watch List: Quarterback Devin Gardner, wide receiver Jeremy Jackson, wide receiver Ricardo Miller, guard Christian Pace, safety Marvin Robinson
Quick take: The nucleus for Michigan's 2010 class is in place, and the team hasn't added a commit since Courtney Avery on June 20. There are a ton of great athletes in this group, and Michigan likely will turn its attention to line play to wrap up the class.

MICHIGAN STATE
2010 verbal commits: 9
ESPNU 150 Watch List: Defensive end William Gholston, linebacker Max Bullough, quarterback Joe Boisture

Quick take: After landing its first seven commits from within state borders, Michigan State went into enemy territory -- or Mark Dantonio's home state, depending on how you look at it -- to pick up offensive linemen Travis Jackson and Michael Dennis. The two Ohio natives balance out a class that is shaping up well for the Spartans.
MINNESOTA
2010 verbal commits: 10
ESPNU 150 Watch List: None
Quick take: The Gophers already have a strong in-state recruiting haul, and they went to the southeast for running back Donnell Kirkwood, a workhorse-type back who generated a lot of interest. Minnesota also remains in the mix for arguably the nation's biggest prize, local product Seantrel Henderson.

NORTHWESTERN
2010 verbal commits: 6
ESPNU 150 Watch List: None
Quick take: Pat Fitzgerald should never have a hard time recruiting linebackers, and Northwestern landed a good one -- with a good name -- in Chi Chi Ariguzo from Columbus, Ohio. Ariguzo can also play safety and should contribute on special teams early in his career. Northwestern has yet to land an in-state prospect.
OHIO STATE
2010 verbal commits: 8
ESPNU 150 Watch List: Tackle Andrew Norwell, linebacker Jamel Turner, defensive end David Durham, running back Roderick Smith

Quick take: A quiet week for the Buckeyes after filling their backfield needs with Smith and quarterback Taylor Graham. Ohio State hopes to go back into Florida for star linebacker Jeff Luc and possibly linebacker Deon Rogers.
PENN STATE

2010 verbal commits: 12
ESPNU 150 Watch List: Wide receiver Adrian Coxson, running back Silas Redd, center Miles Dieffenbach, defensive end Kyle Baublitz, defensive tackle Evan Hailes, quarterback Robert Bolden

Quick take: Does Penn State currently have the Big Ten's best recruiting class for 2010? It sure looks that way as Bolden gives the Nittany Lions six watch list commitments out of 12 overall. Both Bolden and Paul Jones should be able to operate effectively in the Spread HD offense.
PURDUE
2010 verbal commits: 7
ESPNU 150 Watch List: Quarterback Robert Marve (2007 watch list)

Quick take: The quality of Purdue's commits seems to be getting better as quarterback Sean Robinson and defensive tackle Josh Davis came aboard. Robinson joins Marve and Caleb TerBush in the quarterback mix, while Davis boasts excellent size (6-foot-5, 250) for a young interior lineman.
WISCONSIN
2010 verbal commits: 8
ESPNU 150 Watch List: Safety Frank Tamakloe

Quick take: The quarterback position might be a question mark this season, but it's shaping up well for the future as Joseph Brennan committed to the Badgers. Brennan has good mechanics and accuracy, and he should get better with increased strength. Cameron Ontko could be a contributor at fullback or H-back down the line.