September, 5, 2011
9/05/11
5:00
PM ET
The blog is lighter than normal during the Labor Day holiday, but Big Ten teams remain hard at work.
Here are a few personnel nuggets revealed today around the league:
NEBRASKA
Nebraska coach Bo Pelini said linebacker Will Compton is day-to-day with a foot injury but has no structural damage. Compton missed the first five games of last season with a foot ailment. Pelini also said star cornerback Alfonzo Dennard (pulled leg muscle) is improving and getting closer to a return. I'd expect to see Dennard on the field Week 3 against Washington, at the latest.
MICHIGAN
Michigan should be close to full strength for its prime time showdown against Notre Dame. Top cornerback Troy Woolfolk, who suffered a left ankle injury on kickoff coverage against Western Michigan, should be ready for the Irish, coach Brady Hoke said. Woolfolk missed all of last season with a dislocated right ankle. Linebacker Cam Gordon (back) also is expected to return. Freshman
Jake Ryan
performed well in Gordon's spot against Western. Left guard Ricky Barnum is back this week from a suspension, but he'll compete with Michael Schofield for the starting job in practice.
WISCONSIN
Wisconsin starting left guard Travis Frederick likely will miss this week's game against Oregon State after suffering a slight MCL sprain in the opener. Sophomore Ryan Groy is listed as the starter in place of Frederick. The Badgers should get receiver
Manasseh Garner
(hernia surgery) back for the Beavers. Backup quarterback
Jon Budmayr
underwent surgery Friday to relieve a nerve problem in his throwing arm. His return is uncertain. "It could be two weeks, it could be two months," coach Bret Bielema said.
NORTHWESTERN
As I tweeted Sunday, quarterback
Kain Colter
is fine after undergoing precautionary X-rays following the win against Boston College. Expect Colter to start again in place of
Dan Persa
this week against Eastern Illinois. The Wildcats will be without starting defensive tackle Jack DiNardo (leg). Sophomore Will Hampton and freshman Chance Carter will compete to fill DiNardo's spot.
INDIANA
Ed Wright-Baker is listed as the No. 1 quarterback for this week's game against Virginia. No surprise there, as Wright-Baker delivered a solid effort in his first career start and wasn't the reason why IU lost to Ball State. Two starters, linebacker Leon Beckum and right tackle Josh Hager, aren't listed on the depth chart following injuries in the opener. Junior Lee Rose is listed as the starting weak-side linebacker, while veteran offensive lineman Justin Pagan shifts from guard to tackle. Receiver
Duwyce Wilson
and tight end
Ted Bolser
both aren't listed on the depth chart again as they deal with injuries.
IOWA
Jason White
will be the No. 2 running back this week after the season-ending injury to freshman
Mika'il McCall
. Sophomore defensive tackle Dominic Alvis has leapfrogged Thomas Nardo into a starting spot, while defensive tackle Carl Davis isn't listed on the depth chart because of an injury.
October, 21, 2010
10/21/10
7:20
PM ET
Indiana has issued its official injury report for Saturday's game at Illinois.
OUT
RB Darius Willis, knee (out for season)
OL Josh Hager, knee (out for season)
S Chris Adkins, ankle
OT James Brewer, ankle
CB Richard Council, knee
K Nick Freeland, hip
S Lenyatta Kiles, groin
RB Nick Turner, concussion
The two areas of concern are the secondary and the offensive line. Indiana's injuries in the secondary aren't new, but the Hoosiers have to find ways to limit big pass plays without Adkins, Council and Kiles on the field. An arguably bigger issue is offensive line depth, as protecting star quarterback
Ben Chappell
will be paramount in the final six games. Brewer's continued absence hurts, and Hager's season-ending injury means sophomore Marc Damisch gets the nod as the starting right tackle against a good Illinois defensive line. Turner's absence places a bigger burden on
Trea Burgess
as Indiana's featured running back.
October, 18, 2010
10/18/10
5:30
PM ET
A few bits of injury news to pass along from around the Big Ten.
Wisconsin starting linebacker Mike Taylor is expected to play Saturday at No. 15 Iowa after injuring his ankle and knee against Ohio State. Badgers coach Bret Bielema said Taylor underwent X-rays that showed no structural damage after he rolled his ankle and hyperextended his knee. Defensive tackle Jordan Kohout (foot) and tight end Lance Kendricks also should be fine for the trip to Iowa.
Indiana expects running backs Trea Burgess, Nick Turner and Antonio Banks to be ready for this week's trip to Illinois, but the news along the offensive line isn't so good. Coach Bill Lynch said starting right tackle James Brewer (ankle) likely will miss another week, and reserve Josh Hager also likely is out, putting sophomore Marc Damisch in the starting role. Depth also could be an issue up front, as Dustin Dopirak writes. Defensive backs Richard Council and Chris Adkins remain out.
Northwestern defensive end Vince Browne participated in Monday's practice and will play Saturday against No. 7 Michigan State, coach Pat Fitzgerald said.
Michigan's bye week comes at a good time, as quarterback Denard Robinson (shoulder) and others have time to heal. Coach Rich Rodriguez said Robinson, who dealt with shoulder soreness last week in practice, "should be fine" for the Penn State game on Oct. 30. Center David Molk, defensive tackle Mike Martin and running back Michael Shaw also should be fine for Penn State.
Middle linebacker Jeff Tarpinian (stinger) once again isn't listed on Iowa's depth chart. Troy Johnson is pegged to start against Wisconsin with James Morris backing him up.
August, 6, 2010
8/06/10
3:34
PM ET
Schedule:
Coach Bill Lynch and the Hoosiers open practice today at 4 p.m. ET.
What's new:
The defense has a new look in terms of both personnel and alignment. Indiana is switching to the 3-4 set this year as it tries to spark a unit that has struggled for most of the last decade. The Hoosiers lose seven starters on defense, including linebacker Matt Mayberry, defensive end Jammie Kirlew and safety Austin Thomas. Mo Moriarity returns to Indiana as offensive line coach after a successful run in the state's high school circuit.
Sidelined:
Indiana enters camp very healthy, although linebacker linebacker Ryan Phillis is out with a foot injury. Safety
Mitchell Evans
returns after missing spring ball with a hip injury, and wideout
Damarlo Belcher
is fine after battling a hamstring issue this spring.
Key battle:
The Hoosiers lose a lot at linebacker and defensive back, and besides senior Tyler Replogle, there are few guarantees at those spots. Evans and converted receiver
Matt Ernest
are projected to start at strong safety and cornerback, but expect plenty of competition. Thomas and Leon Beckum will compete for time at inside linebacker. Indiana also must replace left tackle Rodger Saffold, a second-round draft pick in April.
Andrew McDonald
is the projected starter, with Josh Hager behind him.
New on the scene:
The Hoosiers hope three junior college transfers can help their long-suffering defense. Cornerback Lenyatta Kiles and linebacker Jeff Thomas went through spring ball and should contribute right away at their positions. The most heralded of the three arrivals, Andre Kates, a one-time Florida commit, gets on the practice field today.
Time to shine:
Running back
Darius Willis
has shown he can be a difference maker for Indiana, but he has got to stay healthy. After dealing with various injuries his first three seasons, Willis looks to spark the Hoosiers' rushing attack and add balance to what should be an excellent passing game.
Quotable:
"What we've talked to our guys about is learning how to finish. When you go back and look at it, I really mean that. We were about 12 plays away from playing in a really good bowl game."
-- head coach Bill Lynch
March, 17, 2010
3/17/10
2:30
PM ET
Here's the second half of my interview with Indiana head coach Bill Lynch, who opens spring practice Tuesday.
For Part I, click
here
.
It sounds like you have high expectations for Mitchell Evans. He's been moved around to a lot of places, but transitioning back to safety, how do you feel about him there?
Bill Lynch:
He's just a good football player, and he can play a lot of places. But we have a need there, and he's certainly a guy who will have an opportunity to play every snap. Where on offense, we've got some depth at wideout and we aren't in three and four wideouts all the time. He had a limited number of snaps as the Wildcat guy, so this will get him an opportunity to be on the field all the time, and that will help our football team.
[+] Enlarge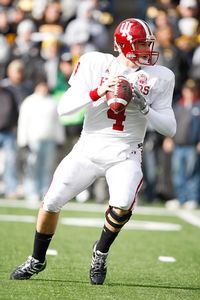 Scott Boehm/Getty ImagesBen Chappell enters spring practice as the Hoosiers' leader on offense.
Are there other guys you're moving over to defense that might be able to play?
BL:
Matt Ernest. Matt is an interesting guy. Matt played some wideout for us last year, and we had pretty good wide receivers with some depth. And he played special teams. But we're going to move him over and have him compete at cornerback. We think he's got a lot of skills, he played [cornerback] in high school. But he's playing baseball now. He had been a good high school baseball player but didn't play his first two years here, and he walked on and now he's pitching for them and pitching pretty well. He'll be a little limited as far as what he does in the spring, but he'll be going through drills so we'll have a chance to look at him over at corner.
So will he keep playing baseball while spring ball goes on?
BL:
Yeah, we won't get him beat up, because he's becoming pretty important for the baseball team, so we don't want to take that opportunity away from him. It's very similar to Andrew Means a few years ago.
And then on offense, do you look to build off of some of the good performances last year?
BL:
I think so. I like what we're doing scheme-wise offensively, and now it's just getting better at it. We've got to replace Rodger Saffold at left tackle, and we've got two juniors who have played and have been in the program a long time in Andrew McDonald and Josh Hager. Those are the first two guys who will get a crack at it, and I know they're anxious to go. And then it'd be nice to get a good spring out of [running back]
Darius Willis
. He seems to be healthy. He was banged-up a lot last spring, and then he was in and out last fall. He had a little shoulder surgery right after the season, and I know that helped. He seems to be ready to go now. And then we've got a freshman that we redshirted [in 2009],
Nick Turner
, who I'm anxious to watch compete at tailback this spring as well.
Will anyone be out or limited this spring?
BL:
Evans isn't going to practice a whole lot, even though he's going to play safety. He had some surgery after the season. And Justin Pagan, one of our offensive linemen, had some surgery, so he's not going to do too much. Zach Davis-Walker, a backup tailback, is going to be pretty limited.
Terrance Turner
's not going to practice at all. He's going to have a little surgery. All should be in good shape and ready to go in August.
For Ben [Chappell], having a full offseason as the starter, is he clearly the leader on the offense now?
BL:
I think so. He's a great leader, and he played very well in the fall. He's got a whole year of experience as the starter. Now we've got a couple of young guys who are going to compete for the second spot, and you're able to give them some shots [with the first-team offense] in the spring, but certainly going into it, they've got to beat Ben out.