October, 4, 2013
Oct 4
9:00
AM ET
COLUMBUS, Ohio -- The motivational techniques were working even then, regardless of how well they were nationally known.
The spread offense was putting up crazy numbers, despite the fact Bowling Green didn't settle on one starting quarterback until near the end of the season.
[+] Enlarge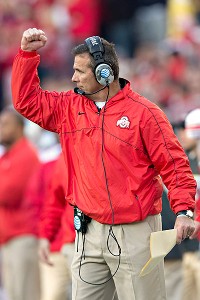 AP Photo/Cal Sport MediaUrban Meyer remembers clearly and fondly a win at Northwestern while at Bowling Green
And Urban Meyer was already coaching aggressively and unafraid to get a little creative with the game on the line, though that reputation was only just being established as he took his Falcons to Northwestern in mid-November 2001.
But the Meyer trademark was all over his first team, and in hindsight it's plain to see.
In spite of the conference affiliations and a late comeback, his quarterback didn't consider Bowling Green an underdog then and doesn't remember the win as an upset now. In just his second start in the spread offense, Josh Harris set a school record for total offense and the Falcons scored 43 points on the road. And perhaps most important of all, those last 2 points not only came after a gutsy decision to play for the win, Bowling Green scored them on a reverse to a converted wide receiver who had the option to throw and the outcome in his hands.
"Not only was it a huge game, but it was also an opponent that we, quote unquote, weren't supposed to beat," Harris said. "Even if they weren't a super name-brand [program], they were in the Big Ten and we were the little guys from the MAC.
"We went and put it down on them. It was definitely one of those defining moments of my career."
The dramatic victory also set the stage for Meyer's career, giving him the first of what would become many shining moments on the sideline and offering an early glimpse at his potential leading a program.
Now 12 years later, he's leading a different team to Northwestern under far different circumstances as the No. 4 Buckeyes hit the road as clear favorites in the Big Ten and a potential threat to win the national title. But even three programs and more than a decade removed from Bowling Green, the memories of his debut season and a signature win still come back easily.
"Coaches are weird ducks, man," Meyer said. "I don't know my address but I can tell you every play in that game.
"We had a sixhour bus ride, and we refused to leave the locker room for about two and a half hours. Those kids wouldn't leave, and I wouldn't leave with them. We were just crying and enjoying it."
There was a real possibility the tears of joy could have been for disappointment after trailing for nearly the entire game and facing long odds down 14 points in the final four minutes.
But Harris operated a pair of flawless hurry-up drives sandwiched around a Northwestern fumble, capping an outing with 402 yards passing with a short touchdown pass to pull within a point with 36 seconds to go. Meyer kept the offense on the field after that, dialed up a bit of trickery and trusted Cole Magner to make the right decision with the football as the outcome -- and Northwestern's chances to earn a bowl bid -- hung in the balance.
"What was unique about it was the guy whose hands he put the ball in," Harris said. "I mean, you're talking about a true freshman from Alaska, quarterback-turned-wide receiver. At the time he was probably 150 pounds, and we called a little reverse pass with an option to run, and I don't think he ever even thought about throwing the ball. He caught the pitch and just booked it for the pylon.
"It didn't end up being unique [for Meyer], but at the time it was still pretty unprecedented."
That first visit to Northwestern, though, did wind up helping set the standard for Meyer and his teams. Now he's returning to the scene of the crime, looking to add to his memory bank.
October, 22, 2012
10/22/12
12:45
PM ET
Ohio State coach Urban Meyer made it clear Monday: he's not going to change
Braxton Miller
.
"You let him be him," Meyer said.
It could result in more moments like the one late in the third quarter Saturday against Purdue, when Miller writhed in pain on the turf after being slammed on his neck. While no one hopes it results in another trip to the hospital, the quarterback's style of play as a runner keeps the ambulance team on alert.
Miller has taken fans' breath away with his dynamic running skills in Meyer's spread offense this season. He also has had Buckeye Nation holding its breath a few times.
It's hard to have one without the other, especially as Ohio State tries to develop more reliable offensive weapons around its best player. Meyer noted Monday that if other offensive players step up, Miller will have to do less, thereby reducing his injury risk. Interestingly enough, Ohio State got several out-of-nowhere contributions -- notably from wide receiver
Chris Fields
-- after Miller left Ohio Stadium in an ambulance.
[+] Enlarge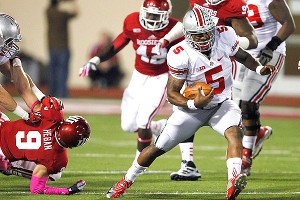 AP Photo/Sam RicheWhile Ohio State coach Urban Meyer is concerned with Braxton Miller taking heavy hits, he said he won't change the QB's aggressive running style.
Fortunately,
Miller is OK
. Meyer said the sophomore quarterback has a "very, very sore neck," and had a whiplash-like feeling at the time. But after all the tests came back negative, Miller will return to the practice field Tuesday. He's expected to start Saturday night against Penn State.
"We are trying to balance it," Meyer said. "We don't go crazy with him running the ball. At some point, though, you have to try to move the ball a little bit. We're very cognizant of that."
Meyer is still "very concerned" about Miller taking big shots, as the quarterback has in games against Michigan State, Nebraska and Purdue to name a few. Asked if the trend is symptomatic for quarterbacks in his offense, Meyer noted that former Florida star Tim Tebow took some shots, while Chris Leak, Alex Smith and Josh Harris did a better job of staying out of harm's way.
"He doesn't go down very easily, and he's a competitive guy," Meyer said of Miller. "The good thing is, he usually bounces right back up. This one was a tough one. … He just is a dynamic athlete. He's more difficult to bring down."
The Ohio State coaches can tell Miller to keep his well-being in mind -- to run out of bounds after getting a first down, maybe even to slide once in a while. They can limit him to 12-15 carries rather than 18-20. But it's not in Miller's nature to go down easily. Miller's natural ability to break tackles and find running room when none seems to be available also leads to fewer safe plays.
Asked if Miller's injury issues will have any impact on his play calling against Penn State, offensive coordinator Tom Herman said, "None. We've got to win the game. ... That won't factor into any of our decisions."
This is Ohio State's reality in 2012 as it tries to build scoring threats around Miller. For long stretches, he has been the Buckeyes' offense.
If that's the case going forward, there will be more breathtaking runs -- and more breath-holding hits. Bring your oxygen.
April, 20, 2012
4/20/12
10:30
AM ET
COLUMBUS, Ohio -- Urban Meyer raves about
Braxton Miller
's competitive spirit these days, but not long ago the Ohio State coach felt differently about his quarterback.
"It was very alarming in the [winter]," Meyer told ESPN.com.
New coaches must wait until the spring to work with players on the practice field, but they keep close tabs during winter conditioning. It's no coincidence the coaches' offices at programs like Nebraska
overlook the team's weight room
.
When Meyer observed Miller this winter, he became concerned. It wasn't as if Miller slacked off or didn't get his work in with the strength coaches. But he didn't measure up to the starting quarterbacks Meyer had in the past.
"Chris Leak doesn't get enough credit at Florida," Meyer said, referring to the quarterback who helped him win his first national title, against Ohio State. "He was a very hard worker in the weight room, a very competitive guy in the weight room.
[Tim] Tebow
was off the charts.
Alex Smith
was extremely competitive in the offseason program. I didn't see that from Braxton."
"He worked hard," Meyer continued. "He was fine. I didn't see him compete at the level he's competing at right now. The lights come on, you get the ball in his hands and he becomes an excellent competitor."
The lights of spring practice are only so bright, even here at Ohio State, but Miller's work on the field has put Meyer's concerns to rest. The sophomore still has a long way to go in absorbing a new offense and improving the technical aspects of his game, but his drive to win isn't in doubt for a coach who knows what he wants in a starting quarterback.
"In the winter, it's just all working out, a little bit of competitive drills going on," Miller told ESPN.com. "But when the pads come on, the lights come on, it's just more natural for me to have fun and compete."
He showed glimpses of it as a freshman last fall, never more so than in the closing moments of Ohio State's 33-29 win against then-No. 15 Wisconsin. The Buckeyes had squandered a 12-point lead with 4:39 to play and trailed 29-26 when Miller rallied the team in the closing seconds. On first down from Wisconsin's 40-yard line, Miller rolled out, spotted teammate
Devin Smith
slipping behind Wisconsin's secondary, and fired the game-winning touchdown pass with 20 ticks left.
[+] Enlarge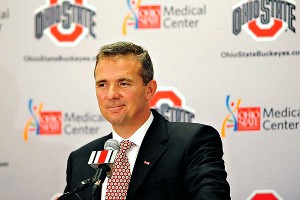 Andrew Weber/US PresswireNew Ohio State coach Urban Meyer says quarterback Braxton Miller needs to improve as a leader.
Miller also led a late scoring drive in regulation at Purdue, and didn't seem fazed by his first trip to Ann Arbor, passing for 235 yards and two touchdowns with an interception against a top-20 Michigan defense.
Although he had limited production in a limited role in a limited offense last season, Miller didn't shy away from big moments.
"All my life, when I get the chance to get the ball in my hands, it's exciting," he said.
When spring ball began, Buckeyes offensive coordinator Tom Herman had different concerns than Meyer about Miller. Herman knew he had inherited an athlete -- Miller rushed for 715 yards and seven touchdowns last season -- but he had never seen Miller pass the ball live.
Despite starting 10 games in 2011, Miller only attempted 157 passes, including a laughable four in a win at Illinois.
"I crossed my fingers and held my breath and went out there for the first practice," Herman said. "It was a big sigh of relief, seeing him throw the football. How he throws the football from the shoulders up is actually very mechanically sound. His footwork is probably the biggest thing we're continuing to work on.
"They're not easy fixes, but they're a lot less complex than trying to break a kid's arm mechanics down and build him back up."
Meyer likens Miller to Josh Harris, who played quarterback for Meyer at Bowling Green in 2001-02. But Miller has his "own little niche," Meyer said.
Like Meyer, Herman has seen Miller compete hard in practices, particularly during winner/loser days.
"He wants it to be perfect every time, and especially when he's the one contributing to those mistakes, then it really frustrates him," Herman said. "That's a good thing. If he wasn't frustrated, we'd have problems."
For the most part, Miller remains even-keeled. Buckeyes offensive tackle
Jack Mewhort
doesn't expect Miller to become "more rah-rah" in the weight room. Mewhort also doesn't expect Miller to be rattled in big moments.
"He wants the ball in his hands because he knows he can do great things with it," tight end
Jake Stoneburner
said. "You weren't really able to see that in the winter, because it's all lifting and running, but once you get on the field, some guys change, and he's one of those guys."
Stoneburner has seen significant changes in Miller this spring, acknowledging that a quarterback who was "a little bit intimidated" last season is taking charge more in the huddle. The soft-spoken Miller is trying to be more vocal, whether it's flipping protections with his linemen, or changing the routes for his pass-catchers.
"I grew up a lot," he said.
But he's not where he needs to be.
"He's an average leader right now," Meyer said. "We need to make him a great leader. You have to raise the level of play of those around you. This summer, he has to do it. He hasn't done it to this point. He's been at Ohio State for a little over a year, and his leadership qualities are not where they need to be.
"I think he will get there, because he's sharp, he's smart and he's a competitor."
Especially when the lights come on.
March, 20, 2009
3/20/09
9:42
AM ET
Posted by ESPN.com's Adam Rittenberg
The departure of a three-year starter at quarterback is never cause for celebration, but Northwestern offensive coordinator Mick McCall could get exactly what he wants in the backfield this fall.
| | |
| --- | --- |
| | |
| | Jonathan Ferrey/Getty Images |
| | Mike Kafka is one option for the Wildcats at quarterback in 2009. |
Northwestern's spread offense works best with a mobile quarterback who poses a legitimate rushing threat. After all, the roots of the Wildcats' system can be traced directly to Rich Rodriguez, who has directed dynamic offenses with mobile quarterbacks (Shaun King, Woody Dantzler, Pat White) and struggled mightily when his quarterbacks lack foot speed (Michigan's 2008 season).
McCall also enjoyed his best coaching success when he mentored mobile quarterbacks Josh Harris and Omar Jacobs at Bowling Green.
Outgoing Northwestern starter C.J. Bacher and his predecessor Brett Basanez showed decent mobility at times, but the team has lacked a true rushing threat since Zak Kustok finished his career in 2001.
McCall will have two when spring practice opens March 30.
"It puts a lot of pressure on the defense when the quarterback can run and be able to break some things open that way," McCall said. "The defense definitely has to be a lot different."
Projected starter Mike Kafka already has established himself as a rushing threat in the Big Ten. Making his first start in three years Nov. 1 against Minnesota, Kafka set a Big Ten quarterback record with 217 rushing yards. He followed with 83 rushing yards the next week against Ohio State.
Backup Dan Persa can move a bit, too.
As a high school senior in Bethlehem, Pa., he became the first player in state history to eclipse 2,000 passing yards and 1,000 rush yards in the same season. Despite serving as Northwestern's third-string quarterback last fall, Persa was used regularly on special teams, even returning a kickoff against Michigan.
Kafka and Persa should enhance a rushing attack that loses Tyrell Sutton, a four-year starter at running back, but McCall chooses to focus more on their arms than their legs.
"We've still got to find ways to move the football through the air because you cannot sit there and pound the quarterback and pound him and pound him, and expect him to throw for 65 percent completion or 70 percent completion," McCall said. "[Tim] Tebow can't even do it, and you're talking about a guy who's won a Heisman.
"We've got to be realistic about what our guys can do and how many hits they can take."
August, 7, 2008
8/07/08
6:05
PM ET
Posted by ESPN.com's Adam Rittenberg
EVANSTON, Ill. -- Most offensive coordinators are evaluated according to the plays they call, but Northwestern's Mick McCall would rather be judged on his concepts.
McCall works backward with an offense, starting with the players before moving onto the formations and, eventually, the plays. His conceptual approach is designed to maximize the skills of every player, regardless of position.
So when McCall maps out a pass route, the wide receivers aren't the only ones who learn it.
"It might be a tight end the next time, it might be a running back the next time, it might be the second quarterback on the field, I don't know," he said. "That's why we teach together because we're teaching conceptually. Everybody gets taught everything, but everybody can't do everything. That's where we come up with players, formations, plays."
Fortunately for McCall, who enters his first season as Northwestern's offensive coordinator after coming over from Bowling Green, he inherits a deep and versatile group of skill players.
Northwestern's top two running backs, Tyrell Sutton and Omar Conteh, have combined for 134 receptions and six receiving touchdowns in their careers. Andrew Brewer, a projected starter at slot receiver, started three games as a run-first quarterback in 2006. Drake Dunsmore, the team's starting superback (tight end-fullback hybrid), ranked third on the team in yards per reception among players with at least 10 catches last season. Another starting wide receiver, Eric Peterman, came to Northwestern as a quarterback and can do damage as a rusher.
Those players provide options for McCall, whose offense at Bowling Green isn't a dramatic departure from the shotgun spread Northwestern has used since 2000.
"It definitely makes his job a lot easier when you can put guys at X, Y, Z or H," said Sutton, referring to the receiver spots. "We're all interchangeable. With the concepts that we have, you have to know everything. If you don't know, you ain't playing."
Sutton expects to line up as a receiver more this season, but his rushing ability won't be neglected. Northwestern finished last in the Big Ten in rushing offense in 2007 -- Sutton missed almost six games with a high ankle sprain -- but returns two proven backs.
McCall said he'll consider using two-back formations this fall. Though he's primarily known for mentoring standout quarterbacks Josh Harris and Omar Jacobs at Bowling Green, the coach also has a history with the run game.
"You ever heard of P.J. Pope?" Sutton said, referring to the Chicago Bears reserve. "[McCall has] had running backs, too. He was a running back [briefly with the Detroit Lions]. I just found that out. So he knows what he's doing."
July, 21, 2008
7/21/08
1:22
PM ET
Posted by ESPN.com's Adam Rittenberg
| | |
| --- | --- |
| | |
| | Jerry Lai-US PRESSWIRE |
| | Pat Fitzgerald took over a tough situation, but sees improvement from his squad regularly. |
EVANSTON, Ill. -- The Northwestern football office is filled with memories from Pat Fitzgerald's playing career. Visitors are immediately greeted by one of his National Defensive Player of the Year trophies, and a display case several feet away holds several other awards given to the former Northwestern linebacker, who headlined the 1995 Rose Bowl team. More items are on the way when Fitzgerald gets enshrined into the College Football Hall of Fame next summer.
The Hall of Fame selection provided Fitzgerald the chance to reflect on his on-field accomplishments, but his focus has switched back to his current responsibilities. He wants to bring more hardware to Evanston, this time as a head coach. Northwestern underachieved in 2007, falling short of a bowl game, and Fitzgerald's missteps cost the team at times. Fitzgerald's legacy a player is undeniable, but he still has plenty to prove as a coach. No longer the novice who took over following the sudden death of Randy Walker, Fitzgerald understands the significance of this season.
After a family vacation to Florida during which he did not get a tan -- impossible, he claims -- Fitzgerald sat down last week to discuss the Hall of Fame, the upcoming season, his two new coordinators and his evolution as a coach.
How has your life changed since being selected for the Hall of Fame?
Pat Fitzgerald: (laughs) I don't know if it's changed at all. It's an incredible, humbling honor. Someone asked me what it meant to be on the ballot. I think it just shows how strong of a football team we had. My career in the NFL was not very long, probably the shortest of anybody being enshrined this year. So I look back to what we accomplished here and I look at this honor, and it's my name, but it's more of our team that's going to be inducted into the Hall of Fame.
You're obviously asked about that team a lot, but did this make you reminisce about it even more?
PF: As you get a little bit older, you look back at that time in your life and you really appreciate the experiences you went through and the people you were with. For me, still living it every day, still being here every day, I think about it almost daily. We had a little milestone with the 10-year reunion the last couple years, and hopefully for some of my teammates, this opportunity to celebrate our team will be an opportunity to reconnect again.
Given all the places you've been and the experiences you've have since then, does the Rose Bowl feel like a long time ago?
PF: Yeah, it does. So much has changed, not only for myself, but a lot of my teammates. Most of them are married now, most of them have children, so we've all taken another step in our lives, milestone-wise. It seems a little distant now. We need to get back.
Coaches talk about finding their voice. Do you think you've found your voice now more than before?
PF: I'm more set on what I want. Looking back to Year 1, there were things I felt strongly about, but now as we've gone through a couple years of it, I'm very confident in what I want to have. I'm excited about this year. We've got a lot of experience coming back, a lot of guys that have been around me and know what I expect. I think I'm doing a better job of articulating that.
With (quarterback) C.J. (Bacher), what's been the biggest difference in him, leadership-wise, from when he took over as the starter?
PF: He's confident. He's kind of run the whole gamut you go through at quarterback. He was the backup, watched a great player (Brett Basanez) have a great end to his career, got hurt, had to battle his way to a starting job, won it, we didn't have success, then got us to bowl eligibility last year, was not satisfied with that. Now he's poised to have a great year. He's worked hard, he's strong. I'm encouraged with where he's at.
Mick (McCall) is his third offensive coordinator in four years. How did it go with those two in spring practice?
PF: Mick came in with some automatic credibility to the development of two All-American quarterbacks (Josh Harris and Omar Jacobs) while he was at (Bowling Green). So C.J. was excited to work with a coach like that. Not that things weren't going great with Garrick (McGee), but to have this opportunity and to watch the job C.J. did, learning and growing, giving extra time to get to know coach McCall better, I'm excited where that relationship is right now.
Will fans notice dramatic differences with what you do on offense with Mick calling plays?
PF: Mick is smart enough and our offensive staff has got a good dynamic where they're not going to ask C.J. to do things he doesn't do very well and put him in an area where he's strong. I don't think it'll be dramatic. Will there be some nuances? Yeah.
More dramatic on the defensive side?
PF: Hopefully in being a little bit more successful, but from a scheme standpoint, we're trying to attack and be more aggressive. What does that mean? As we solidify that top 11, 12, 13, 14, 15 guys, what do they do best? I would assume we'll be four-down most of the year, based on where we're at health-wise right now and the strength of our defensive line. But who ends up being that nickel guy? Do we keep two linebackers in? Do we keep one linebacker in? Is it a corner? Is it a safety? Those are all left to be determined. But Mike Hankwitz has run just about everything you can run, so the flexibility in our system will give us an opportunity to be successful.
How beneficial has having him around been for you, as a young head coach?
PF: Both him and Mick. Mick's been a former head coach for a number of years, and for me, it's great to have those two guys in the room. I like being in a staff room where there's not a bunch of yes-men, where anything I say, they bobblehead, 'Yeah, yeah.' That's what I enjoyed the most about the spring, the challenge of being able to say, 'Do you have any ideas? We did this a certain way.' And they say, 'Well, OK, we did that a couple years ago, too.' To talk through those things, the growth that happens is tremendous.
Who needs to step up on that side of the ball?
PF: The experiences we had there are going to hopefully make us a better defense. You think of the experience up front, Corey Wootton being a multi-year starter, John Gill being a multi-year starter, Adam Hahn being a multi-year starter, Kevin Mims, as we sit here today, being a multi-year starter. And they're being pushed every day by the Vincent Brownes and the Corbin Bryants and the Marshall Thomases. I'm excited about that group, but that group needs to step up. We had good pressure last year. Now we need to finish the job. That's kind of indicative of our whole team. We had some games that we need to finish the job in and we didn't and stayed home for the holidays. At linebacker, Malcolm Arrington had a very solid spring. In the secondary, I'll rattle off more names than we've ever rattled off. (Brendan) Smith coming back off
injury and (Brad) Phillips, two guys that have made a lot of plays for us. They're going to be pushed by David Arnold, who we were going to play as a freshman but then got a little banged up. Same thing with Brian Peters. At corner, Sherrick (McManis) is being pushed by (Jordan) Mabin and (Mike) Bolden and then on the other side, you've got (David) Oredugba and (Justan) Vaughn fighting it out for a starting job. That's six names at corner. We've never had six names at corner of guys I feel confident about. We need to figure out which 11 pieces fit.
July, 11, 2008
7/11/08
2:54
PM ET
Posted by ESPN.com's Adam Rittenberg
The offseason didn't bring an overwhelming amount of change to Big Ten coaching staffs. Aside from Michigan, which brought in a completely new group, and Northwestern, which lost one coordinator and fired the other, most of the league's assistants remained in their posts. But there were several notable moves, particularly at the coordinator spots. Here's a look at the new -- and, in some cases, familiar -- faces in charge of Big Ten offenses and defenses.
Michigan offensive coordinator Calvin Magee: If anyone had an uglier departure from West Virginia than Rich Rodriguez, it was probably Magee. He's back with Rodriguez at Michigan, helping to implement a wildly successful offense with completely new personnel. Magee coached running backs for the last seven seasons at West Virginia, adding the title of offensive coordinator in 2005. He was named the American Football Coaches Association Assistant Coach of the Year in 2007 and has overseen a top-5 rushing attack in each of the last three seasons. He now must work his magic with Brandon Minor, Carlos Brown and Kevin Grady.
Michigan defensive coordinator Scott Shafer: Shafer must have a very understanding wife. He has been at three spots -- Illinois, Western Michigan and Stanford -- in the last four seasons. But it's for positive reasons. The rising star coordinated a Western Michigan defense that led the nation in both interceptions and sacks in 2006. At Stanford, he played a key role in last season's stunning road win against USC -- one of the biggest upsets in college football history. Shafer's energetic style was a hit at Western Michigan, and he should do well up I-94 in Ann Arbor.
Wisconsin defensive coordinator Dave Doeren: Coach Bret Bielema promoted Doeren to oversee a defense that was hardly porous (38th nationally) last season but fell off from its 2006 form. His decision to fire veteran Mike Hankwitz was surprising at first, but a background check on both Doeren and Bielema shows that this move was coming sooner or later. Both coaches spent time at Big 12 schools in Kansas before moving up the ranks. Doeren brings a fiery personality to a veteran-laden defense. Injuries depleted the unit this spring, so preseason camp will be important for Doeren to cement his philosophies.
Northwestern offensive coordinator Mick McCall: The spread offense has been Northwestern's calling card since 2000, so when coordinator Garrick McGee left for Arkansas, coach Pat Fitzgerald needed someone familiar with the system. He found it in McCall, the Bowling Green offensive coordinator who coached standout quarterbacks Josh Harris and Omar Jacobs. Bowling Green runs a slightly different version of the spread than the Wildcats, but McCall inherits a veteran offense stocked at the skill positions.
Northwestern defensive coordinator Mike Hankwitz: This was the more important hire for Fitzgerald, and he scored a coup by hiring Hankwitz, the Wisconsin cast-off. While the Badgers chose a younger voice to lead their defense, Northwestern hired a much-needed sage. The 60-year-old Hankwitz has served as defensive coordinator at six different schools, first holding the title in 1982. He's known for zone blitzes and provides a veteran ear for the 33-year-old Fitzgerald. He takes over a defense that hasn't finished higher than 68th nationally since 2000.
Minnesota defensive coordinator Ted Roof: Perhaps no new coordinator has as daunting an assignment as Roof, who must fix the nation's worst defense -- one that set several school records for futility in 2007. He couldn't fix Duke -- then again, who can? -- and was fired after four-plus seasons as head coach, but he brings a strong reputation for crafting formidable defenses. He engineered defensive turnarounds at Georgia Tech and, briefly, Duke. Roof made tackling a priority this spring and must figure out how to work in several talented junior-college transfers.
July, 10, 2008
7/10/08
2:43
PM ET
Posted by ESPN.com's Adam Rittenberg
| | |
| --- | --- |
| | |
| | Scott Boehm/Getty Images |
| | C.J. Bacher threw for 3,656 yards a year ago, but he isn't afraid to run with the ball. |
It was a weird 2007 for Northwestern quarterback C.J. Bacher. He led the Big Ten and set a school record with 3,656 passing yards. He had an insane two weeks during which he combined for 990 passing yards and nine touchdowns in wins against Michigan State and Minnesota.
But the gaudy numbers were a bit hollow as Bacher ranked seventh in the Big Ten in pass efficiency and tied with Minnesota's Adam Weber for the league lead in interceptions. He finished with as many touchdowns (19) as picks, a fitting stat for a Wildcats team that ended up 6-6 and missed a bowl game.
Bacher heads into his senior season hoping to lead a talented Northwestern offense back to the postseason. The skill positions are well-stocked, but he's dealing with his third offensive coordinator (Mick McCall) in four seasons and a rebuilding line. I caught up with Bacher on Thursday afternoon.
What has been your mental preparation heading into your senior season?
C.J. Bacher: We have a new offense now, so things have changed a little bit. I'm trying to get really comfortable with the offense and make sure my teammates are getting comfortable. That's the biggest focus right now, working to get better with the intricacies of the offense.
How has the offense changed?

CB: It's a lot like what we ran before. It's just the terminology's different and the routes are different. Small things have changed. We just have to learn those little things and get used to each other in the offense.
At Bowling Green (McCall's former school), they ran their quarterbacks quite a bit. Do you expect to be on the move a lot more this fall?

CB: Coach McCall's all about plays. He's had Josh Harris, who was a good runner and he ran with him. And he had Omar Jacobs, who was a great passer and he threw the ball a lot with him. We'll see what he thinks of me, and we'll find out when the season starts.
What do you think of yourself as a runner?

CB: I think I can run. I like running. I'd rather be back there throwing the ball, but I enjoy running, too. If I can pick up 5-10 yards on a run, I'll be happy to get ready for the next play.
This is your third coordinator in four years. How does Mick compare, personality-wise, with Garrick McGee and Mike Dunbar?
CB: It's been interesting. You start to get comfortable with an OC and then you have a new one the next year. It's a little tough to adjust. Coach McCall has done a great job making us feel comfortable with the offense and with him. He's got a real live personality. He's one of those guys who's happy-go-lucky and then he has the ability to really bear down and be a disciplinarian as well. We really enjoy being around him. It's been a lot of fun so far.
Has he incorporated plays that you guys ran in the past?

CB: There's a lot of both. We have a lot of plays we're running now that we haven't run before, and we have a lot of plays that are very similar to plays that we've run before, maybe details that are a little different. That's what we're trying to get used to. It's going to be a little different, but we're still a spread offense. We're still doing the same things that we were recruited here to do. It should be a smooth transition.
Who has had the toughest adjustment?
CB: I'd like to say the quarterback (laughs). I'm sure the receivers would say the receivers and the running backs would say the running backs. It's a lot to learn, it's a lot to digest, but we're all smart kids at Northwestern. We're going to figure it out.
Speaking of the receivers, how confident are you with that group? You've got familiarity with guys like Eric Peterman and Ross Lane. Is that the strongest group you've worked with?

CB: I think we've got the best receiving corps in the Big Ten. Top to bottom, we have a lot of guys that can make plays, both running routes and making plays after the catch. I'm really excited. We've got speed guys, we've got possession guys, but everybody in our receiving corps can make plays. The four guys that are looking like the frontrunners to get most of the playing time -- Eric, Ross, (Andrew) Brewer and Rasheed (Ward) -- are really doing a good job this summer. I'm excited. It makes my job that much easier when I've got those guys around me.
Andrew has only caught one pass in college, but he's a guy that creates a lot of excitement with his speed as a former quarterback. What does he bring to that group?

CB: The biggest thing about him is he's bigger than anybody on the perimeter and he's faster than anybody inside. He's a mismatch for us inside. I don't know how defenses are going to be able to defend him. I'm just excited to be able to throw him the ball, see him juke a corner or run past a linebacker. We're all excited to see what he can do in game situations. He's had this amount of time at receiver under his belt, and he's picked up the route-running a lot. He really knows what he's doing as a receiver.
When you look at your season last year, did it mirror the team's?
CB: Last year was, obviously, a very up-and-down season for us and, personally, I felt it was kind of the same way. The main focus for me to stay more consistent is to take care of the football and really not take as many shots. In a lot of games last year, I was trying to do too much. Coach McCall has really pounded it into my head that we can compete with anybody. I don't have to make the spectacular play, just the smart one.
Pat Fitzgerald has talked about sometimes the best throw is in the fourth row. Is that hard for you because you want to make plays?

CB: A couple years ago, we were a little overmatched against some of these teams. I've just got to realize that our team is so stacked on the perimeter, there's so many guys that can make big plays after they catch it, so a 2-yard pass might turn into a 50-yard gain, whereas a 50-yard pass is pretty hard to complete.
Most of the concerns with your offense are about the line, wh
ich loses three starters. What have you seen from that group so far?

CB: I'm really excited about our additions to the offensive line. Keegan Kennedy's moved over from defensive tackle to offensive guard. He's been looking really good. I'm really excited about his progress. Ben Burkett, who was injured last year and redshirted, he's looking really good, too. And then we added Al Netter over at left tackle. It's a process to get these guys to mesh, but Coach (Bret) Ingalls is doing a good job so far. I expected improvement from last year. With Ben, Keegan and Al, as soon as they can come together and mesh, they're going to do a great job protecting me and opening up holes.
Do you take on an even greater leadership role as a senior quarterback?
CB: As a senior, you do feel a bit of a sense of entitlement just because you've been here so long. We've got so many seniors now. It's pretty easy to get those guys to help us out with the leadership. When you get older and you've been on the field, people really look up to you. We have a lot of young guys who can help us this year, so it's definitely made it easier having more seniors.
What have you sensed from running back Tyrell Sutton after an injury-plagued 2007 season?

CB: He feels a bit of a sense of urgency just because it's his last year. These last couple of years have been tough for him because of injuries. You can expect for him to be back and be stronger than ever. I'm excited to see what he can do on the field. It was such a layoff from being actually healthy. Now we've got him healthy and, hopefully, we can keep him that way. If he can stay healthy, I think he's the best running back in the Big Ten.