Big Ten:

Justin Carrington
March, 16, 2010
3/16/10
1:30
PM ET
Anyone who watched Indiana in 2009 could see the obvious improvement that took place in Bloomington. The Hoosiers had a more dynamic offense and good speed on both sides of the ball. But once again, progress didn't translate into a better record, as IU couldn't finish off potential victories against Michigan, Northwestern, Iowa and Penn State. Fourth-year head coach Bill Lynch will be on the hot seat entering 2010, and he'll need to see his team make more strides on the field, particularly on defense, and most important, in the win column this fall.
[+] Enlarge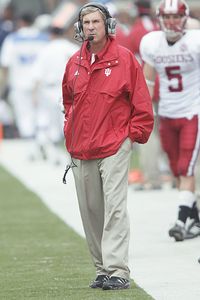 AJ Mast/Icon SMIAfter losing seven starters on defense, Bill Lynch's staff has it's work cut out on that side of the ball.
Indiana kicks off spring ball a week from today, and I recently caught up with Lynch to preview the spring.
You were so close in so many games last year. Is there any way to build off that as you hit the field again?
Bill Lynch:
I certainly think so. I've seen it throughout the winter program. We're building off what we did in the fall, and I've certainly seen good leadership, good gains in the weight room. We've got a great attitude going into the spring. Obviously, we've got two different kinds of teams. We've got great experience on offense. Certainly our skill position guys are back and healthier than they were a year ago. Offensive line, we lost a couple guys, but we've got some good young guys that have been waiting their turn. Defense is a bunch of young guys that are really anxious to go, some kids who have redshirted and we feel are very talented, guys that haven't played but who we think are going to be really good football players for us. So it will be fun to watch them get out and go. It's going to be a fun spring that way. I like what we're doing from an X's and O's standpoint. We just have to get better at it right now.
You mention the defense and I know you lose a lot [seven starters] on that side. As a head coach, I know you're an overseer, but will you spend more time with the defense this spring?
BL:
I don't think my personal time will be spent any more [with the defense]. We'll certainly do a great job of evaluating the kids. We've got to do more of it this spring than we've done in the last couple [of years], in terms of being very accurate in our grading and what we do in the spring with personnel, particularly on the defensive side. When you get out of the spring, you want to have a pretty good idea of your two-deep going into the fall. Now things can change and other kids can have great summers, but you have to have a starting point. In the spring, you give a lot of guys opportunities and see where it shakes itself out. But going into the fall, you have to have a pretty good idea.
So, would you like to know your depth chart on defense coming out of the spring?
BL:
Yeah, I think so. I've always felt like you'd like to come out of the spring knowing who your top 50 football players are. That's not to say you're not going to tweak some things over the summer before they get here in August, but it's important, not only offense and defense, but it gives you a great idea of how you'd like to start out with your special teams.
You mentioned the anxiousness of young players on defense to get out there. Who are some of the guys you're looking forward to seeing this spring?
BL:
I'll start at defensive end, because [Jammie] Kirlew and [Greg] Middleton played so much. Darius Johnson and Javon Cornley. We've got a guy named Kevin Bush, an older guy, really, but he's had a great fall and winter. He was a walk-on who was in the military and came back to school. And then Fred Jones, Eric Thomas are guys who have been in our program that are good football players. They've been waiting their turn to really go in and compete. At linebacker, it's more of a young group, but Damon Sims and D.J. Carr-Watson and Griffen Dahlstrom and Chad Sherer are all kids that are looking forward to showing what they can do because [Matt] Mayberry and [Will] Patterson and [Justin] Carrington and some of those guys that played so much [are gone]. We've got a JC kid in Jeff Thomas from Northern California; we like what we've seen from him in the winter, so I'm anxious to see him on the field. He's an inside [linebacker]. And then in the secondary, it's wide open. [Austin] Thomas and [Nick] Polk played so much, and then [Ray] Fisher played last year. There are some guys there that have had good winters because they know it's going to be very competitive, and this is their opportunity.
I'm sure you have a good idea of your leaders on offense, but who steps into those roles on defense?
Lynch:
There are a couple guys who are great leaders on that side. Tyler Replogle is as good as you're going to find, and Mitchell Evans is the same way, and we're moving Mitchell from offense to defense. So it starts there with those two guys. But all our [defensive] tackles played a lot of football for us last year, so we have good experience there. Evans certainly will give us some stability in the back end there because he's played so much football, even though it hasn't all been on defense.
October, 23, 2009
10/23/09
10:18
AM ET
Posted by ESPN.com's Adam Rittenberg
Indiana has issued its official injury report for Saturday's game at Northwestern (Big Ten Network, noon ET).
OUT
DE Darius Johnson, shoulder
DE Fred Jones, foot
LB Will Patterson, hand
CB Donnell Jones, elbow
CB Chris Adkins, elbow
DT Jarrod Smith, back
RB Zach Davis-Walker, foot
QUESTIONABLE
PROBABLE
Much like Northwestern, Indiana is having injuries pile up on the defensive side. Patterson is a big loss at linebacker, as he ranks third on the team in tackles (40). Indiana's depth at cornerback also will be tested with both Jones and Adkins missing the game. Fifth-year senior Justin Carrington will get the start for Patterson at weakside linebacker. Saxon's availability will be important, as he missed last week's game after hurting the ankle Oct. 10 at Virginia. Senior Mike Reiter would start his second straight game at right guard if Saxon can't go. Willis, who has been upgraded from questionable last week, would be a big boost for the Hoosiers' run game.
September, 15, 2009
9/15/09
6:00
PM ET

Posted by ESPN.com's Adam Rittenberg
Twice in as many games, Indiana's opponent has had the ball, driving toward the end zone for a game-winning touchdown. And twice, the Hoosiers defense has turned them away.
It's still early in the 2009 season, but the two stops speak volumes about a unit that ranked last in the Big Ten in most major statistical categories last fall, including both points allowed (35.2 ppg) and yards allowed (432.2 ypg).
"The last couple of games, they played with good composure, and that's really important," head coach Bill Lynch said. "Particularly last week, Western Michigan was taking the ball right down the field to score and win the game. It's one of those drives where there's some crazy plays and different things going on. But our kids had great composure, great communication between one another, and ultimately, we got a turnover."
Western Michigan trailed 23-17 with less than two minutes remaining and faced first-and-goal from the Indiana 5-yard line. But Hoosiers senior defensive end Greg Middleton jarred the ball loose from Western Michigan's
Aaron Winchester
, and linebacker Justin Carrington recovered.
After Indiana took a safety, Western Michigan had one final chance. Defensive end Jammie Kirlew dropped
Tim Hiller
for a sack, and a lateral-filled final play ended with a fumble recovered by Indiana safety Jerimy Finch.
A week earlier, Eastern Kentucky was five yards away from the go-ahead touchdown early in the fourth quarter when cornerback Ray Fisher forced a fumble that Kirlew recovered.
Middleton and Kirlew are among the nine starters Indiana returns on defense this year, while Fisher started at wide receiver before moving to the defensive side. The wealth of experience is paying off for a unit that has hurt Indiana for much of the decade.
"That's what you always hope with a football team," Lynch said. "When you're playing young kids, you want them to learn from their experiences so it'll pay off down the road, and we've seen that some over the last two weeks. Maybe where we didn't get it done in the past, they were able to rally and make the corrections on the field themselves during a two-minute drive.
"Experience helps in those situations."