March, 26, 2013
3/26/13
9:00
AM ET
Minnesota coach Jerry Kill guided the team to a bowl game during his second season in Minneapolis despite some depth and injury problems in 2012. What's in store for Year 3 of the Kill era? I recently caught up with him to get his outlook for the Gophers' spring practice, which opens today.
How has the offseason gone for you guys so far?
Jerry Kill:
Well, I think the bowl game, even though we lost, the kids played very hard and well. We got healthy, for one, before we went to the bowl, and we had a great month with our kids and a great experience. And coming into the offseason, I think there was a lot of confidence gained. All our kids' strength and testing numbers went up. I guess I can use
Ra'Shede Hageman
as an example, He benched 450 pounds, squatted well over 500 and cleaned 350, with a 38-inch vertical. So kids like that got a lot better.
We feel up front and on the defensive line, we've gotten stronger. I think we've added some depth to the defensive line, and secondary-wise, we played several freshmen in that game against Texas Tech. We've got the flexibility to play
Derrick Wells
at corner and safety. I think the biggest question mark we've got going in is, we lost five scholarship linebackers. It's like a year ago when we lost seven secondary players and kind of hit the jackpot in recruiting. Damien Wilson, a junior college transfer, has had a great spring, and I'm looking forward to seeing him on the field. The guys who need the reps this spring are
James Manuel
,
Aaron Hill
,
Lamonte Edwards
, and young men we redshirted named
Jack Lynn
and
Nick Rallis
. And then we've got four other kids coming when fall camp starts. Our secondary a year ago had a lot of questions and really played well. I think, this year, linebacker is where we need to step up on defense.
And then on offense, I feel we'll be a much better football team than we were a year ago because we get everybody back except for
Brandon Green
and Q [
MarQueis Gray
], really. So I think that unit will be much improved.
[+] Enlarge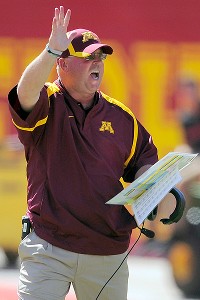 AP Photo/Mark J. TerrillJerry Kill begins his third season as head coach of the Gophers.
You showed off a good power running game in that bowl game. Is that what we should expect from your offense going forward?
JK:
Yeah, that's what we were at Northern Illinois. We could run the power at you, but then we were athletic enough to turn and run the zone read with the quarterback. Both [Chandler] Harnisch and [Jordan] Lynch, when we needed to throw it, we completed it. But we still made our living on running the football. It was the first time, in the bowl game, that we had the same offensive line that we had at the beginning of the seaon. We had so many people get experience there. But that's what we want to be -- a team that gives you a lot of different looks, shifting and motion and different personnel grouping. But you've still got to be able to run the football, and certainly in the Big Ten.
Speaking of that offensive line, after a lot of injuries there last year, how is the position looking this spring?
JK:
Well, we've got a lot of depth, no question. Eddie Olson, he won't go through the spring, but he had a good year a year ago. If we can get his foot healed up and done right, it kind of works out. He'll continue to get stronger. We redshirted
Jonah Pirsig
, who's a 6-foot-8, 6-9, 320 pound tackle,
Ben Lauer
, who's 6-7 and probably 305, and
Isaac Hayes
, who is a 6-2, 300-pound offensive guard. So those kids, I'm anxious to see them in the spring.
We've got
Zac Epping
,
Jon Christenson
and
Caleb Bak
-- in the weight room, he benched 350, squatted 550, so he's gotten stronger.
Josh Campion
is a strong kid; he benches well over 400 pounds. So the same guys who when I first got here were getting pushed around have gotten stronger. And then we've added these young kids that have come in.
Marek Lenkiewicz
is up to 290 pounds,
Tommy Olson
is healthy again and
Brian Bobek
, who transferred from Ohio State and had great credentials when he went to Ohio State, he's another one who's very physically strong. Then there's
Foster Bush
and
Joe Bjorklund
. They're all young kids, but they've gotten physically stronger.
When we got here, I think we had about seven or eight offensive linemen. So we've built it through walk-ons and kind of did it the hard way. But I feel good about that position, along with our tight ends, quarterbacks and receivers. Our defense improved tremendously from one year to the next. For us to be competitive in the Big Ten -- which I think we can be -- our offense has to take the steps our defense did a year ago. And I think we can.
Philip Nelson finished the season for you at quarterback and had a nice bowl game, but you also have some talented young guys there. Is it his job to lose this spring or a more open competition?
JK:
We took the redshirt off Philip last year, and he did some good things and had some things he struggled with, as you'd expect for a freshman. He did some great things in the bowl game. When we go into camp, somebody is going to have to go in there and beat him out. But the thing that's good about that is the competition.
Mitch Leidner
and Chris Streveler are great athletes who can play another position if needed, but they both want to play quarterback and they're very capable of giving someone a run for their money. I can tell you, our defense is very high on Leidner. Mitch is probably close to 6-5 and 230, and he is a 4.6, 4.65 guy [in the 40-yard dash]. And very strong. And then Streveler is quicker than that. He came in during the second semester, and I think he's the third-fastest guy on our team. When we had him in camp, he played receiver also.
So all three of those guys are great kids, students of the game, and the type of kids you want playing quarterback leadership-wise. We'll let it work out. Leidner and Streveler are the type of kids who would say, "Coach, if it helps the team if you move me, I'll do that." But in the spring we're going to let them compete and make sure we're solid at that position. If you look at last year, it was kind of a miracle we got to a bowl game, because we had three different quarterbacks and three different centers. Not many people can win doing that.
November, 6, 2012
11/06/12
1:00
PM ET
Turns out, my
Week 9 disaster
was an aberration, a speed bump on my path to take some of Brian Bennett's money in Indianapolis.
The predictions race returned to normal in
Week 10
, as I put up a perfect mark for the second time in three weeks and extended my lead against Bennett to four games in the season standings. Bennett did well, too, going 4-1, but his lack of faith in Indiana cost him dearly. Must be that University of Kentucky degree or growing up in Louisville. He actually fared better on score predictions, but the Iowa-IU pick cost him.
He needs a major turnaround in the final two weeks of the regular season, or he's buying dinner in Indy.
WEEK 10/SEASON RECORDS
Adam Rittenberg: 5-0, 61-18 (.772)
Brian Bennett: 4-1, 57-22 (.722)
Rewind time ...
Michigan at Minnesota
Iowa at Indiana
Nebraska at Michigan State
Illinois at Ohio State
Penn State at Purdue
August, 9, 2012
8/09/12
4:00
PM ET
In late June, a group of Minnesota offensive linemen passed Matt Limegrover in the hallway of Gibson-Nagurski Football Complex and did double-takes.
"Coach?" they asked Limegrover, the Gophers' offensive coordinator and line coach.
"Yeah," he replied. "It's me."
Limegrover started losing weight in January and had dropped 40-50 pounds by the time spring ball ended. But the players didn't notice a change until they went several weeks without seeing him.
"They got a big kick out of that," he said.
As of Thursday morning, Limegrover had shed nearly 120 pounds from his frame -- "It's like 119.8," he reported -- and often draws double-takes when spotted on campus.
Part of his motivation for the weight loss came from how he felt during the 2011 season.
"I felt so run down didn't feel like I was at my best, and felt like that was unfair to the kids I was coaching and the team in general," he said. "I feel like a million bucks out there now, 10 times better than I did at any point the last couple years.
"Now I'm not saying it'll help us win some games, but it can't hurt."
While Limegrover has slimmed down considerably, his offense could be fattening up this fall.
Minnesota struggled offensively in 2011, the first season of the Jerry Kill era, finishing last in the Big Ten in both scoring (18.4 ppg) and total offense (310.3 ypg), and 11th in passing offense (150.3 ypg). The Gophers failed to score 30 or more points in a game and had 17 points or fewer in half of their contests.
A big reason for the futility: no identity.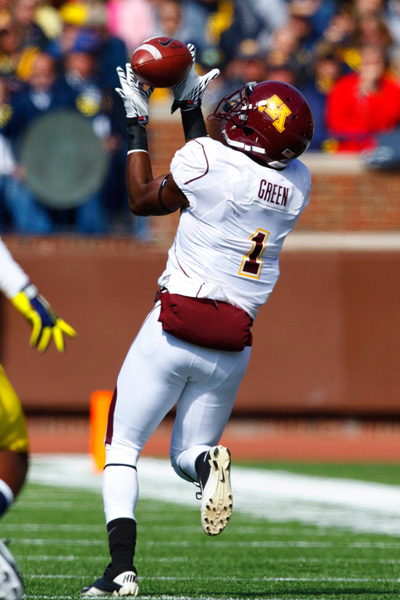 Rick Osentoski/US Presswire The Golden Gophers expect Brandon "Mr. Dependable" Green to be a leader in the receiving corps.
"We just weren't sure of who we were as an offense," Limegrover said. "That hurt us because we tried too hard to do all the things we had been doing at Northern Illinois, and this was a different group. It's Year 1 at Minnesota, not Year 4 at Northern Illinois."
Year 2 at Minnesota promises to bring greater production, and Limegrover is encouraged by what he's seen in the first few practices of fall camp. The best signs come from the running backs, a mostly anonymous group in 2011 that loses Duane Bennett (639 rush yards).
Junior college transfer
James Gillum
, who turned heads this spring, continues to display excellent vision and the power to run between the tackles. Sophomore
Devon Wright
and freshman K.J. Maye provide speed threats on the edge, while
Donnell Kirkwood
and
David Cobb
both are healthy and ready to contribute. All the backs have shown a greater grasp of the scheme and the versatility to help in multiple areas.
"Those kids have lifted the energy level of the offense," Limegrover said. "They've given us a spark. They're hitting holes and they're doing things on the perimeter. They're picking up their assignments in the pass game. It's really been a bright spot for us because that's an area I know a lot of people have questions."
The same holds true for the wide receivers. Minnesota loses Da'Jon McKnight, who accounted for 51 of the team's 134 receptions in 2011. No returning player had more than 15 catches a year ago.
Brandon Green
, a fifth-year senior who Limegrover calls "Mr. Dependable," leads the group and likely will be quarterback
MarQueis Gray
's top target.
Devin Crawford-Tufts
has filled out a bit and "can still run like a deer," Limegrover said. Speedster
Marcus Jones
is back from a knee injury, and incoming freshmen
Andre McDonald
and
Jamel Harbison
are already showing the ability to contribute right away. Tight end
John Rabe
should have a much bigger role in the passing game after recording two touchdown catches last fall.
"We're looking more like a Big Ten receiving crew and Big Ten running backs," Limegrover said. "We've worked to get our tight end position more involved. And especially in the O-line, we're a year bigger and more physical, even though we're still young."
About the only Gophers offensive player who doesn't spark skepticism is senior quarterback MarQueis Gray. He carried the unit for much of the 2011 season, rushing for 966 yards on a team-high 199 carries, and making strides as a passer.
Limegrover is thrilled with Gray's offseason, calling him a "papa bear" for Minnesota's younger players. But Limegrover knows the Gophers must give their signal-caller more help.
"It isn't like basketball where LeBron James, you just clear a side of the floor and let him do his thing," Limegrover said. "We've got to be able to have great support around him. The worst thing we could do for our offense and for this program and for MarQueis Gray is to sit back and go, 'Well, we're going to put it all on his shoulders and we'll only go as far as he'll take us.' That would be lazy and shortsighted. Every day, we get a little bit closer to everybody feeling good about those other spots.
"That's by far our biggest goal, to get to where we don't have just one bullet in our gun."