January, 8, 2014
Jan 8
11:42
PM ET
Michigan's offense has hopscotched under Brady Hoke, never establishing an identity despite repeated claims about a clear philosophy. We always hear about who the Wolverines want to be, but because of personnel, youth or fickle schematic decisions, we rarely see who they are.
Perhaps the best thing about Michigan's offensive coordinator transition was the lack of indecision. Hours after Michigan announced Al Borges had been fired, reports surfaced that Alabama offensive coordinator
Doug Nussmeier would be his replacement
. Hoke knew who he wanted, targeted him and got the deal done (the team has yet to officially confirm Nussmeier's hiring).
It's up to Nussmeier to refine Michigan's offense for the 2014 season. Otherwise, both he and Hoke could be looking for jobs in December. It's that simple.
[+] Enlarge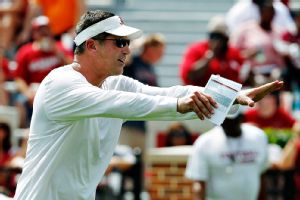 AP Photo/Butch DillHiring former Alabama offensive coordinator Doug Nussmeier is a step in the right direction for a Michigan offense that has sputtered lately and struggled to find an identity.
Nussmeier is a proven coach with an impressive track record, most recently at Alabama, which defended its national title in his first year as coordinator and put up solid offensive numbers this past season as well (38.2 points per game, 454.1 yards per game). Regardless of whether Alabama coach Nick Saban let Nussmeier walk to pave the way for Lane Kiffin, Michigan seems to be getting a high-quality coach. CBSsports.com's Bruce Feldman reports that Nussmeier, who earned $680,000 in 2013, will become
one of the five highest-paid coordinators in college football
. That's fine, too, as Michigan makes more than any Big Ten team and has yet to translate all that dough to championships on the field.
Hoke's rhetoric about Big Ten-title-or-bust and Team OneThirtySomething rings hollow until his teams start showing they can live up to Michigan's storied past. Rivals Ohio State and Michigan State have bypassed Michigan, and 2014 is pivotal for Hoke and the Wolverines, who enter the same division as the Buckeyes. They need to go for it now, and the Nussmeier hire is a good sign that they are.
Nussmeier must take a group of players, some recruited by Rich Rodriguez's staff and some by Hoke's staff, and mold them into a unit that's easy to identify. Quarterbacks such as Alabama's
AJ McCarron
, Washington's
Keith Price
and Michigan State's Drew Stanton and Jeff Smoker have improved under his tutelage. He must facilitate similar upgrades with Michigan's
Devin Gardner
and/or
Shane Morris
.
A record-setting signal-caller at Idaho who played in both the NFL and CFL, Nussmeier knows quarterbacks, but his first priority at Michigan will be resurrecting a run game that went dormant the past two seasons. Michigan's young offensive line needs to grow up in a hurry, especially after losing left tackle
Taylor Lewan
, a first-round draft pick in April, as well as right tackle
Michael Schofield
, a three-year starter. Nussmeier isn't exactly inheriting the Alabama offensive line in Ann Arbor. Or Alabama's running backs, for that matter. There's some young talent at Michigan, but it needs to be coached up.
As much criticism as Borges received, some of it deserved, coordinators can't do much when their offenses are incapable of generating moderate rushing gains between the tackles. Michigan set historic lows on offense this year, becoming the first FBS team in the past 10 seasons to record net rush totals of minus-20 or worse in consecutive games (losses to Michigan State and Nebraska).
Nussmeier has worked in different conferences as well as in the NFL (St. Louis Rams), but his stint in the Big Ten at Michigan State should help him in his new gig. His basic philosophy as a pro-style coach doesn't differ dramatically from Borges -- or what Hoke wants -- and shouldn't turn off Michigan's 2014 recruits.
But his ability to evaluate the strengths of Michigan's players and tailor his scheme around them will determine his success or failure. When Borges built a game plan around what Gardner does best, as we saw against both Notre Dame and Ohio State, the results proved positive. But we saw too much tweaking, too many versions of the Michigan offense, too many attempts to show who is the smartest coach in the building.
Nussmeier is a future head coach and entered the mix for recent vacancies at both Washington and Southern Miss. It might be hard for Michigan to keep him, but the future beyond the 2014 season isn't really important.
Michigan acted quickly and decisively Wednesday night. Nussmeier must do the same in refining the identity of an offense that will determine a lot about where Michigan is headed under Hoke.
October, 3, 2013
10/03/13
5:00
AM ET
1.
Keith Price
, the fifth-year senior quarterback for No. 15 Washington, has matured enough to no longer try to force the big play. Price has learned to love the third receiver. Against Illinois, "he checked it down twice on third-and-long and we got the first down," Huskies quarterback coach Marques Tuiasosopo said. "So we talk about, 'Hey, it's not sexy, but guess what? We're still on the field. Coach Sark [head coach Steve Sarkisian] gets to call more plays, and we have a chance to score another touchdown.'"
2. Among the 170 semifinalists for the National Football Foundation's Campbell Trophy -- the Academic Heisman -- are prominent FBS players such as quarterbacks
Aaron Murray
of Georgia and
Nathan Scheelhaase
of Illinois; offensive linemen
Spencer Long
of Nebraska,
Gabe Ikard
of Oklahoma and linebacker
Max Bullough
of Michigan State. But if any of them beats out Penn State center
John Urschel
, who's teaching undergraduate math, then he's one smart cookie. The NFF will whittle the candidates down to 16 finalists, each of whom will receive an $18,000 postgraduate scholarship, on Oct. 31.
3. The Little Brown Jug may not be important at Michigan, which has lost it only three times in 44 years. But that's exactly why Minnesota cherishes the Jug. The last time the Gophers won it, in 2005, then-head coach Glen Mason got off the plane from Ann Arbor and drove the Jug straight to dinner at Manny's, the best steakhouse in Minneapolis. Patrons gave Mason and the Jug a standing O, then oohed and aahed and took photos with it all night. That's what a trophy game should be all about.
May, 14, 2013
5/14/13
1:30
PM ET
The mail comes to you a little early today as I'll have coverage of the Big Ten spring meetings this afternoon.
Badger in Columbus from Columbus, Ohio, writes:
Please explain
giving the edge to Washington over Wisconsin
. If it was a contest of which defense would give up more points then Washington is the obvious choice. Or is this one of those auto-correct errors. Maybe some form of hangover. Did you forget which teams were which.... Help me out.
Adam Rittenberg:
I've received several similar emails from Wisconsin fans, and I'm quite frankly a little surprised. Wisconsin was a slightly above-average football team in 2012 that couldn't pass the ball, struggled in close games and only got to the Big Ten championship because Ohio State and Penn State were barred by NCAA sanctions. Both Wisconsin and Washington finished 7-6, and Washington beat two teams -- Stanford and Oregon State -- that Wisconsin lost to last season. The Huskies have a talented veteran quarterback in
Keith Price
, a solid running back in
Bishop Sankey
and one of the nation's best tight ends in Austin Seferian-Jenkins (currently suspended). Sure, the matchup might be a toss-up, but to say Wisconsin is leaps and bounds ahead of Washington is silly talk, especially after the Badgers went through a coaching change. You can't base these picks on how a program has done in the past decade (Wisconsin obviously better). You base it on the current teams and the upcoming season.
---
Matt from Omaha writes:
People are worried about how the BIG West will be just as bad as the Big Twelve North, but they forget one key argument that no one seems to be talking about, COACHING STABILITY. The old Big Twelve North was actually really good before instability in the Coaching position affected Nebraska, Kansas State, and Colorado. I mean, during that time both Kansas (that?s right I said Kansas) and Missouri had pretty dominant programs for a short while. The fact right now is that the BIG West has enough stability at the coaching position to be competitive. Nebraska, Northwestern, and Iowa have had the same head coach for five years or more and each schools coach doesn?t appear to be going anywhere anytime soon. Had the divisional split happened two or three years ago, there wouldn't be such a problem in my opinion. Remember that time when Michigan was terrible under Rich Rod., when Ohio State lost Tress, or when Joe Paterno was fired? All these programs had faltered, but became more attractive when coaching stability came back to eaches respective programs. Nebraska will be competitive, so will Northwestern, and does anybody really think Ferentz is going to let Iowa fall far and let Iowa State take over as the top school in the state?
Adam Rittenberg:
Good points here, Matt. Coaching stability is a big issue not only for the new Big Ten West division but throughout the Big Ten. We've seen coaching changes at eight of 12 programs in the past three years, and the lack of stability certainly has contributed to the league's overall downturn. Pat Fitzgerald doesn't appear to be going anywhere at Northwestern, but some would say this is a big season for both Bo Pelini at Nebraska and Kirk Ferentz at Iowa. I wouldn't put either coach on the hot seat, but there's some grumbling from both fan bases, and it wouldn't shock me to see either coach eventually leave for another job (Pelini in college, Ferentz in the NFL). Jerry Kill should remain at Minnesota for a while, as long as he remains healthy, and Gary Andersen has the potential to be a long-term answer at Wisconsin. Your point is a valid one, but I also think it's imperative that West division programs upgrade their recruiting efforts to keep up with Urban Meyer, Brady Hoke and Bill O'Brien in the East.
---
Adam from Chicago writes:
Lots of excitement within Northwestern fan circles about the forming 2014 recruiting class. Is this class a sign that Northwestern is ready to become a legitimate contender for the immediate future or is this class just exciting because previous ones have been more average?
Adam Rittenberg:
The recruiting uptick shows momentum is building at Northwestern. The combination of wins on the field, improved recruiting and, most important, the new
lakefront facility
being built puts Northwestern in position to be a more consistent division/league title contender. Northwestern's placement in the seemingly easier West division also helps. Pat Fitzgerald brought in some average recruiting classes at the start of his tenure, but the quality of recruits has improved in the past three seasons and 2014 has a chance to be the best yet. The question is whether Northwestern can continue to win 8-10 games per year as the schedules get a bit tougher in future seasons. Ultimately, it all comes down to wins and losses, but Northwestern definitely is bringing in more talent now than it was five years ago.
---
Aaron from Bettendorf, Iowa, writes:
After getting engaged over the weekend we have been discussing possible dates. We both like Fall 2014; however, that prime time Big 10 football season. We are in agreement that it CANNOT be on an Iowa weekend. With the additions of Maryland and Rutgers next year it is hard to know the schedule this far in advance. Any ideas when we might have some clarity on this situation regarding bye weeks for next season.
Adam Rittenberg:
First of all, congrats to you and your fiancée! The simple answer is to tell her, like I told my wife, that we had to get married in the spring or summer (wife still a bit peeved, by the way). If that doesn't fly, wait a few more weeks as the Big Ten hopes to release the 2014 and 2015 schedules by the end of May. The Big Ten would like to get all its significant business -- bowl lineup, future schedules -- finished by the presidents/chancellors meeting June 2. So sit tight for now and you should know the schedules soon. One thing in your favor is that Iowa will have two open weeks rather than one in the 2014 season, like it will this fall.
---
Craig from Braintree, Mass., writes:
Adam, like your choice of important games for Minnesota. Have you done any more in depth study as to why previous Kill teams have succeeded in their third year? I believe that there are three particular reasons - Kill's leadership, consistency of staff and the quality of his physical fitness coach.
Adam Rittenberg:
All three of those factors undoubtedly have contributed to Kill's Year 3 success at previous spots like Northern Illinois and Southern Illinois. Two other factors: he had more of his own recruits in positions to contribute, and every player had greater familiarity with his system. Former Northern Illinois quarterback Chandler Harnish, for example, was recruited by the previous staff but redshirted the season before Kill arrived. He had two years to develop in the offense under Kill's staff before putting together a record-setting 2010 season -- Kill's third at the school -- in leading the Huskies to the MAC title game.
---
Jeremy from Columbus writes:
You've said that Big Ten fan bases tend to frown upon games against the MAC, but why is this? Obviously we'd all rather watch a game against the Pac 12, but no team is going to schedule 12 games against BCS teams. If the Buckeyes demand on playing two 'cupcakes' each year, I'd much rather play local teams like Miami and Toledo than Alabama-Birmingham and Central Florida. When we played Miami last year, there were tons of Miami fans. Half the OSU students at the game had a friend from high school who had gone to Miami that they had been trash talking with in the week leading up to the game. In my opinion, that local aspect really helps build up the excitement for the game, even if the game itself usually isn't very good.
Adam Rittenberg:
Jeremy, some great points here. Most fans don't understand why teams play cupcake/guarantee/gimme games in non-league play, and that's not a bad thing as programs should be pressured to challenge themselves and schedule attractive opponents for the fans. But the reality is these games will be played in some form (one per year, two per year), and there's value in playing teams from the same state or region. Ohio State has done this a lot over the years, and it helps that six MAC programs are located in Ohio. These are great opportunities for MAC teams to not only play on bigger stages but record signature wins. As long as Big Ten teams are playing at least one marquee game per year, I think there will be less grumbling about the MAC games. But it's also important for the MAC to keep improving as a league. Last year was a step in the right direction, but the MAC had been on a steady decline for a while. Most Big Ten fans will never get excited about playing MAC opponents, but if they understand the realities of scheduling and the benefits for playing in the state/region, they could start tolerating them.
---
Ryan from Lincoln, Neb., writes:
No more Pretender or Contender? When will you finish the remaining schools?
Adam Rittenberg:
Ryan, we actually completed the series last week with
the Illinois post
. You can check out
all nine posts here
. As we pointed out in each post, we considered Ohio State, Michigan and Nebraska likely preseason top-20 teams and therefore bona fide contenders. So we didn't do polls for those squads. Maybe we should have for Michigan and Nebraska, but we didn't. There was some interesting voting. You guys don't think much of the Big Ten as only Northwestern was labeled a contender. Wisconsin finished with a 50-50 contender/pretender split. The voting for both Michigan State and Penn State was fairly even but leaned toward pretender. Illinois, Indiana, Iowa, Minnesota and Purdue all were clear-cut pretenders, according to the voting.
April, 12, 2013
4/12/13
4:30
PM ET
Wishing you a great weekend. We'll recap all the spring games on Monday, so be sure to check in early and often.
To the emails ...
Michael from South Sioux City, Neb., writes:
If
Taylor Martinez
puts up HUGE passing numbers, say 65% pass completion, 3,000+ yards passing and lowers his INT's, what would his heisman chances be? And will he ever be given a shot to play QB in the NFL?
Adam Rittenberg:
Michael, Martinez certainly could be on the Heisman radar if he improves upon his already strong 2012 numbers and, as you mention, cuts down on his turnovers (not just interceptions but fumbles, too). He has national name recognition, which is critically important for the Heisman, and leads an offense that could be one of the nation's best. Martinez will have to separate himself as the Big Ten's best quarterback -- Ohio State's
Braxton Miller
obviously is in the mix, too -- and perform big in Nebraska's biggest games, which come mostly in November. I think Martinez has an NFL future, but I'd be very surprised if it's at quarterback. Although his mechanics are a lot better than they were two years ago, they're nowhere near as polished as they need to be for a league that wants quarterbacks with no glitches in their throwing motion.
---
Ryan from Surprise, Ariz., writes:
With the expanding conference there is a need for more conference games. I've read the B1G is considering going to 9 or even 10 conference games with the goal that each team will play all of the other teams at least twice every 6 years or something like that. I'm wondering if they are considering rotating between 9 conference games two out of every 4 years and 10 conference games the other two out of every 4 years as an option at all. That way, with the 14 teams next year, each team would be able to play all of the other teams at least twice every 4 years. If the conference ever expands to 16 then it would require 10 conference games every year to maintain the same rotation. Thoughts?
Adam Rittenberg:
Ryan, you present an interesting schedule model, but I haven't heard anything about the Big Ten rotating between a 9- and 10-game conference schedules in the future. From talking with multiple athletic directors and other league sources, the 9-game league schedule is all but finalized and will begin in the 2016 season (8-game schedule will remain in 2014 and 2015). Although there's some support for a 10-game league slate, it's just too ambitious at the moment, especially with the unknowns about the college football playoff. If and when the Big Ten expands to 16, the 10-game league schedule once again will get serious consideration.
---
Anthony from Iowa City, Iowa, writes:
So with the draft coming up in 2 weeks, normally I'm looking forward to seeing which Hawkeyes are going to the next level. However looking over this group of guys on the block, I don't see a single one hitting an NFL practice field. question 1: your take on when and where they might go and question 2: when was the last time Iowa didn't send a single player to the NFL
Adam Rittenberg:
Anthony, while Iowa doesn't have its typical stable of NFL prospects this year, I think you're being a little pessimistic. Cornerback
Micah Hyde
and quarterback
James Vandenberg
were the only Hawkeyes players at the NFL combine, and while neither is a high-level prospect, I expect both to find their way into camps this summer. Hyde could be a late-round selection in the draft. Although Vandenberg had a lousy senior season, it had a lot to do with the system change. Could wideout
Keenan Davis
make a team? He'd have to really impress folks in individual workouts, but NFL scouts love Iowa players. The Hawkeyes have had at least five players selected in each of the past three drafts (2010, 2011, 2012). The last NFL draft not to include an Iowa player?
1977
. Could we see that streak end this year? It's possible, but I think Hyde's name will be called.
November, 28, 2012
11/28/12
5:00
PM ET
The Big Ten championship week chat took place earlier today. Good times.
Did you miss it? Not to worry. Just read
the transcript
.
Some highlights:
Jonathan from Greenville, N.C.: Any updates on the Purdue Coaching search? Heard Hazell is out now and that Butch Jones is the clear front runner...

Adam Rittenberg: There's definitely interest in Jones, Jonathan, and he'd be a great hire for Purdue. Brian and I both think Jones can hold out for a better job, but with the recent realignment news, Cincinnati is in a bad spot. Maybe he'll jump now and take a Big Ten job. Would be a coup for Purdue.

Adam from Florida: Which teams at the top of your head return the most talent and players next year?

Adam Rittenberg: Most of the Legends division teams should be just as good or better in 2013. Northwestern brings back almost everyone -- Wildcats should be very good. Nebraska brings back most of its key offensive players but loses some key pieces on D. Michigan State also brings back most of its key pieces. Ohio State returns most of its offense but could have a lot to replace on D. Michigan is still in the depth-building stage on both sides.

Chris from Denver: I'm a Pac-12 guy, so sorry to invade your chat. But as it's looking like Nebraska will represent the Big Ten in the Rose Bowl, can you compare Martinez to the mobile QBs in the Pac-12 (Marcus Mariota at Oregon, Brett Hundley at UCLA, and even Keith Price at U-Dub)? It seems like Martinez is more of a run-first guy, and both Stanford and UCLA have stout run defenses (and Stanford corralled both Mariota and Hundley), so what does Martinez bring to the table that Stanford hasn't seen already?

Adam Rittenberg: Welcome, Chris! I'm sure we'll dive into this more if Nebraska wins on Saturday. Martinez definitely is a gifted runner, but he's also much better as a passer this year than in 2011. He's much more accurate and looks more comfortable in the pocket. He's probably most similar to Hundley, although I haven't seen a ton of UCLA this year. I can tell you he plays behind a much better offensive line than Keith Price, who was beaten up more than any QB in the country this season.

Alvin from Michigan: Just wondering what SEC team you think would be the best match-up for Michigan in their bowl game? I realize they probably won't be able to compete with the higher level SEC teams, but what team would they have the best shot at beating(of the good ones, not talking about the Kentuckys or Auburns of the SEC)

Adam Rittenberg: Alvin, I think Michigan can hang with South Carolina, especially if the Wolverines' defense steps up. LSU is another team that lacks a really dynamic offense. Michigan vs. The Hat would be a lot of fun.

Vinnie from the ATL: Does the addition of Louisville into the ACC at all threaten Delany by the ACC coming ever closer to Big country? You mentioned Penn St was on an island and needed protection with the new ACC schools. Does Louisville add to this?

Adam Rittenberg: Vinnie, if you're asking whether the Big Ten should be concerned about losing a member or its market share to the ACC, I'd say no. But the addition of Louisville could solidify the ACC and make it harder for the Big Ten to add ACC teams like North Carolina, Virginia and Georgia Tech.
As always, thanks for your questions and your participation. If your question wasn't answered, my apologies, but try again next week. Same time, same place.
September, 17, 2011
9/17/11
5:24
PM ET
LINCOLN, Neb. -- Quick halftime analysis from Memorial Stadium, where No. 11 Nebraska leads Washington
20-17
.


Turning point:
It's been a back-and-forth, nearly-even 30 minutes of football in Huskies-Huskers III. Nebraska has the lead at halftime because
Taylor Martinez
engineered a solid drive after the Huskers took over on their own 41 with 1:49 left. The Huskers were aided by a Washington punt interference penalty. That set up a 34-yard field goal on the half's final play to give us this small separation at intermission.
Stat of the half:
After allowing 444 yards to Fresno State last week, Nebraska has surrendered 204 to Washington in the first half. Will the real Blackshirts please stand up?
Best player in the half
: Washington quarterback
Keith Price
has had a nice half, but Nebraska's offense stops and starts with Martinez once again. He has accounted for 197 of the Huskers' 237 yards and has thrown two touchdowns. More importantly, unlike last week, he has not turned the ball over.
Best call:
Nebraska's very first offensive play. Knowing that Washington was keenly aware of the option play, offensive coordinator Tim Beck had Martinez fake the option, step back and throw -- where he found a wide open
Kenny Bell
down the seam for a 50-yard gain. The Huskers scored on their next play, though their offense hasn't been consistent throughout the half.
September, 15, 2011
9/15/11
9:00
AM ET
Before we get to pad our stats (hopefully) in Week 4, it's time to forecast an intriguing slate of Week 3 games.
Thus far, neither of us has had anything resembling perfection. Will it change this week?
Let's get to the picking ...
EASTERN MICHIGAN at MICHIGAN
Brian Bennett: Michigan's biggest problem will be adjusting to the weirdness of playing during the day. Other than that, former Wolverines defensive coordinator Ron English's team has no answer for
Denard Robinson
. ...
Michigan 42, Eastern Michigan 10
Adam Rittenberg: I see the Wolverines starting off a bit slowly against the 2-0 Eagles, but Robinson and the running backs will get going in this one and coordinator Al Borges can stick to his system more. Don't see Brady Hoke running up the score on English and Mike Hart. ...
Michigan 36, Eastern Michigan 14
PENN STATE at TEMPLE
Adam Rittenberg: Penn State's ongoing indecision at quarterback concerns me, especially against a Temple defense playing well. Like last year's game, this contest will be low scoring but
Silas Redd
and
Brandon Beachum
come up big in the second half with touchdowns. ...
Penn State 23, Temple 16
Brian Bennett: I agree Temple will keep it close behind the running of
Bernard Pierce
at home. Penn State does just enough to win on a late TD pass to
Derek Moye
-- just don't ask me who throws it. ...
Penn State 21, Temple 17
PITTSBURGH at IOWA
Brian Bennett: I covered Pitt closely the past three seasons and have no confidence in the Panthers to win a tough road game, especially the way quarterback
Tino Sunseri
has played. Iowa's defense rebounds after a rough day in Ames and grounds the High Octane. ...
Iowa 28, Pitt 19
Adam Rittenberg: No love for the Big East? I hereby revoke your Primanti Bros. privileges. Pitt takes an early lead against a reeling Hawkeyes defense, but Iowa rallies in the second half behind running back
Marcus Coker
(last chance, Marcus). ...
Iowa 27, Pitt 20
SOUTHEAST MISSOURI STATE at PURDUE
Adam Rittenberg: The heat is rising on coach Danny Hope, but Purdue should get through the fourth quarter without tension for the first time this year. Both
Caleb TerBush
and
Robert Marve
play at quarterback, but Purdue's run game makes the big difference in this one. ...
Purdue 34, SE Missouri State 17
Brian Bennett: Just what Purdue needs after two shaky performances: a highly beatable FCS team. No field goal blocks needed this time. ...
Purdue 35, SE Missouri State 10
SOUTH CAROLINA STATE at INDIANA
Brian Bennett: And just what Indiana needs, too. Finally a big offensive performance for Kevin Wilson's club against an overmatched FCS squad. ...
Indiana 41, SCSU 17
Adam Rittenberg: Wilson can be as reckless as he wants to with big decisions and still get his first win as IU's coach.
Matt Perez
and the Hoosiers' run game show some signs of life for the first time this season. ...
Indiana 30, SCSU 17
NO. 15 MICHIGAN STATE at NOTRE DAME
Adam Rittenberg: Las Vegas isn't giving Michigan State any respect, and the Notre-Dame-is-actually-good-honest-to-God rhetoric is getting tiresome. The Spartans typically play well in South Bend and win another close one against a desperate Irish team that doesn't know how to close. ...
Michigan State 27, Notre Dame 24
Brian Bennett: How can anyone pick Notre Dame at this point? I wouldn't pick the Irish in an intrasquad scrimmage. The Spartans get a big step up in competition, but
Kirk Cousins
leads them to the first of what they hope are many road wins. ...
Michigan State 31, Notre Dame 28
MIAMI (OHIO) at MINNESOTA
Brian Bennett: A tough game to predict, not knowing how the players will respond to the Jerry Kill situation. I'm thinking Kill returns to the sidelines and they play inspired to give their coach a dramatic first victory with the Gophers. ...
Minnesota 21, Miami 20
Adam Rittenberg: I thought Minnesota would lose this game before the season, and then felt differently after the Gophers' gutsy performance at USC. But last week's clunker against New Mexico State soured me on Minnesota, and Miami has had two weeks to prepare. ...
Miami 27, Minnesota 21
WASHINGTON at NO. 11 NEBRASKA
Adam Rittenberg: After a week of enduring Bo Pelini's wrath, the Blackshirts respond against young quarterback
Keith Price
as Nebraska pulls ahead in the fourth quarter. ...
Nebraska 28, Washington 16
Brian Bennett: The defense simply has to get better, and I think it will slow down Washington's
Chris Polk
.
Taylor Martinez
atones for the bowl game as Huskers-Huskies III goes the home team's way. ...
Nebraska 31, Washington 14
NORTHWESTERN at ARMY
Brian Bennett: If
Dan Persa
doesn't play, will either team pass the ball more than five times? Army's unique style will give the Wildcats fits, but they pull it out in the end. ...
Northwestern 24, Army 20
Adam Rittenberg: Northwestern has to show more willingness to throw the ball with
Kain Colter
, as the Wildcats boast great weapons at receiver and tight end and Army struggles against the pass. Coordinator Mick McCall opens up the offense and the Wildcats' defensive line plays well enough for a win. ...
Northwestern 27, Army 21
NO. 7 Wisconsin vs. NORTHERN ILLINOIS (at Chicago)
Adam Rittenberg: There will be no shutout this week as Northern Illinois'
Chandler Harnish
makes some plays against Wisconsin. While former Badgers defensive coordinator Dave Doeren will improve the Huskies' defense eventually, NIU's youth and inability to stop the run proves costly against
Montee Ball
and
James White
. ...
Wisconsin 45, Northern Illinois 31
Brian Bennett: Doeren's knowledge of the personnel makes this one interesting, and Northern Illinois is better offensively than Oregon State.
Russell Wilson
is the difference as Doeren sells out against the run. ...
Wisconsin 38, Northern Illinois 24
NO. 22 ARIZONA STATE at ILLINOIS
Brian Bennett: Illinois is out to prove itself, but Arizona State is a little more battle tested after beating Missouri last week.
Brock Osweiler
throws the game-winning pass in overtime of a wild shootout. ...
Arizona State 51, Illinois 48
Adam Rittenberg: This is the type of game both of these programs tend to lose. But I'm buying into Illinois and think the Illini rise to the occasion and notch a statement win at home. Vontaze Burfict introduces himself to
Nathan Scheelhaase
a few times, but Scheelhaase scores a touchdown in the final minute for the game winner. ...
Illinois 33, Arizona State 31
NO. 17 OHIO STATE at MIAMI
Adam Rittenberg: This will be a slog for the Buckeyes, who remain shorthanded at key positions. Both Ohio State quarterbacks play and
Jordan Hall
helps in his return, but the main reason I'm picking the Buckeyes is because I simply don't trust
Jacory Harris
to limit mistakes.
Ohio State 20, Miami 17
Brian Bennett: I'd rather purchase snake oil in bulk from a traveling salesman than pin my hopes on Harris. And yet ... I just don't think Ohio State can make enough explosive plays on offense after that Toledo showing. The Fightin' Shapiros pull the upset. ...
Miami 21, Ohio State 16
SEASON RECORDS
Bennett:
19-5 (.792)
Rittenberg:
17-7 (.708)