June, 28, 2010
6/28/10
12:00
PM ET
In honor of the celebrity I saw this weekend in New York, I give you today's quote.
"Cameron's moment went on for a really, really long time. Turns out I could've run to the party and made it back for the end of his moment."
June, 22, 2010
6/22/10
12:00
PM ET
Rough Monday for Ohio State.
June, 21, 2010
6/21/10
2:50
PM ET
In announcing wide receiver
Duron Carter's departure from the team
, Ohio State also said Monday that defensive end Keith Wells will not return.
Wells, a 6-foot-5, 257-pound sophomore from Gainesville, Ga., redshirted last season after seeing limited action as a true freshman in 2009.
No reason was given for either player's departure, though we know that academics forced Carter to enroll at Coffeyville Community College in Kansas.
In other Ohio State news, police in Youngstown, Ohio, found
no connection in the shootings
of Buckeyes recruit Jamel Turner. Turner was critically injured early Saturday in a shooting that killed his companion, a 17-year-old girl. In April, Turner suffered gunshot wounds to the ankle and hip during a shooting along Interstate 680 in Youngstown.
April, 2, 2010
4/02/10
9:00
AM ET
Ohio State opened spring drills Thursday, and for the Buckeyes' defense, it's business as usual. Though the defense loses six starters, it remains one of the nation's elite units, thanks in large part to coordinator Jim Heacock. Ohio State has ranked among the nation's top-15 defenses in each of Heacock's five seasons as coordinator. The defense has recorded three top-5 finishes during the span, including a fifth-place finish in 2009. Standout defensive lineman Cameron Heyward and linebackers Ross Homan and Brian Rolle lead the 2010 version.
Heacock took some time this week to discuss the outlook for Ohio State's defense entering the spring.
Defensively, you really ended 2009 on a high note, and the 'no names' motto really seemed to work well. Is that still the motto for this unit, even though you have guys like Cam and Ross and Brian, who are more well known?
Jim Heacock:
I don't necessarily know for sure. Each defense takes on a little bit of an identity. Last year, those terms really fit our defense. There just wasn't anybody that had the big name. We had lost [James] Laurinaitis and [Malcolm] Jenkins and those guys, so it just seemed like [the motto] came together. This year, I assume that we'll have a different identity. We'll have some guys who have played a little bit more and probably have more guys on the field who played last year. So I'm not sure there will be much carryover on that.
I know building depth is always a goal in spring. Are there areas where you will spend more of your time during these practices?
JH:
The depth on the defensive line is going to be a little bit of a factor. We've got some guys that have played quite a bit, but depth-wise, we lost some seniors. That area is a place where we've got to find some guys to step up and fill in the gaps. Losing two safeties [Kurt Coleman and Anderson Russell] obviously opens up some holes there. Those two areas are going to be critical. Coming out of spring, you always hope you can identify your top-22 players that you feel like you can go to battle with next year.
Players like [John] Simon up front, are those the kind of guys who you'll be looking to for that next step?
JH:
Simon is a guy who proved his worth last year, and played a lot of reps for us, got a lot of downs, made some big plays, made some good strides, had a good bowl game. So he's a guy we're counting on to go in there and play in the fall. Nate Williams is another guy who's been getting a lot of reps. He's backed up Thaddeus Gibson for two years now. He didn't start, but he's gotten an awful lot of reps and made a lot of plays for us, so he's a guy who's got to step up as a starter-type guy. And then we've got a couple guys, Dexter Larimore and Cameron Heyward, that have been around for a while. They've got to be the leaders of the group. And then some young guys have got to come on: Solomon Thomas and Garrett Goebel and Keith Wells. It'll be a fun year for the front, just to get a lot of competition going and see who can step up.
With Cameron, you know what he can do. He talked to me about wanting to be dominant every game. What things does he need to do to get to that point?
JH:
You take a guy like Cameron, and you know he can play football, and you know he's got heart, he's tough and he's got all those intangibles you don't need to worry about. He can really improve on technique. He can take his game to another level, just with a lot of technique work, a lot of individual work, a lot of pass-rush techniques, a lot of run-defense techniques, just zeroing in on the little things. Any type of improvement in those little areas is going to help him become a little bit more dominant of a player, the player he wants to be.
How good can he be?
JH:
He can be an outstanding player.We've had different types of players, Will Smith, who was a great player, and some guys that could come off the edge that were great players. Cameron is a very physical player. His strength comes from dominating the man across from him and playing a physical brand of football and getting a push on the pocket. From that standpoint, he's pretty good.
In Part II: the competition at safety, expectations for leadership on defense
February, 24, 2010
2/24/10
9:00
AM ET
Perhaps more than any other Ohio State player, Cameron Heyward rose to the occasion in 2009.
In two of the Buckeyes' biggest games -- against USC and Penn State -- Heyward looked like the best player on the field.
[+] Enlarge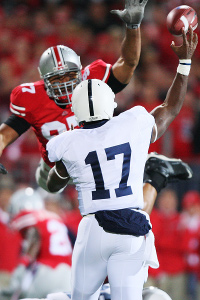 Jamie Sabau/Getty ImagesCameron Heyward had some of his biggest moments against Ohio State's toughest opponents last season.
He manhandled USC's celebrated offensive line in a Sept. 12 contest, recording seven tackles, two for a loss and a sack, while playing both defensive line positions. Ohio State lost the game, but Heyward played brilliantly. Two months later at Penn State, Heyward once again had his way with an opposing offensive line, recording 11 tackles, including three for a loss and two sacks, en route to winning National Defensive Player of the Week honors.
Big games in big moments put Heyward on the map in 2010. But when he steps on the field this fall, he doesn't plan to wait for the spotlight to shine his way.
"One thing I want to become is more consistent," Heyward said. "I can have some breakout games, but I want it to be every game. I want to dominate games from the get-go. Any defensive lineman can have a great performance, but if you can have a consistent base and build up a name for yourself and show you can be dominant against any offensive lineman, that's one of the goals for me."
Fortunately for Ohio State, Heyward will aim for consistency at the college level. The 6-6, 287-pound lineman could have entered the NFL draft and never looked back, as he projects extremely well to the pro game.
Instead, he'll return to Columbus for his senior season as a bona fide national award candidate. While former teammates like Thaddeus Gibson, Doug Worthington and Kurt Coleman gear up for the NFL combine, Heyward is looking toward 2010.
"I wish them the best with everything, and I think they're going to do big things in the future," Heyward said. "But I'm happy with my decision. Guys kind of tease me about it, but I think I made the right decision, and hopefully next year, I'm in that same position."
If Heyward builds on his 2009 performance, he'll be in an excellent position to make the jump.
Heyward leads a defensive line that loses three starters -- Gibson, Worthington and Todd Denlinger -- but gets Dexter Larimore back from injury and boasts some exciting young players in John Simon, Solomon Thomas and Nathan Williams. Heyward identified Melvin Fellows and Keith Wells as two players ready for bigger roles this spring.
"We learned a lot last year, and it can only help us to our advantage," he said. "We're worried about getting the W's and hopefully getting the national championship. If it means us sacrificing whatever it takes, we'll do it, because we're all dedicated and all on the right path."