August, 31, 2012
8/31/12
11:28
PM ET
Michigan State overcame four turnovers and rode
Le'Veon Bell
and a stifling defense to edge a plucky Boise State squad
17-13
in the opener.


Let's take a closer look.
It was over when:
Michigan State converted two third downs and received a first-down run from Bell inside the Boise State 5-yard line with 1:37 left. The Spartans then ran out the clock.
Game ball goes to:
Bell. Who else? The junior was Michigan State's offense Friday night, recording an insane 50 touches. He had a career-high 44 carries for 210 yards and two touchdowns. He added six receptions for 55 yards and provided a huge help to shaky quarterback
Andrew Maxwell
in Maxwell's first start. Forget
Montee Ball
or
Denard Robinson
. Bell might be the Big Ten's top Heisman Trophy candidate. He helped his cause and earned a long soak in the tub.
Stat of the game:
Michigan State outgained Boise State 348-179 in the first three quarters and held the ball for more than 28 of the first 45 minutes but trailed 13-10 entering the fourth quarter thanks to the turnovers, one of which led directly to a Broncos touchdown (
Jeremy Ioane
interception return).
Best call:
Despite Bell's dominance, Michigan State needed to mix in passes down the stretch and featured its tight ends. On third-and-3 from the Michigan State 49-yard line in the closing minutes, offensive coordinator Dan Roushar called a nifty pass to tight end
Andrew Gleichert
, who recently received a scholarship. Top tight end
Dion Sims
also had a big performance (7 receptions, 65 yards).
What Michigan State learned:
It has a championship-level defense with a ferocious line and two talented cornerbacks in
Johnny Adams
and
Darqueze Dennard
. It also has a championship-level running back in Bell. It doesn't have a championship-level quarterback or offense yet, although Maxwell can build off the opener. But the Spartans can't expect to give Bell 50 touches each game.
What Boise State learned:
The rebuilding process isn't easy when you lose a player such as Kellen Moore. The Broncos' defense certainly came to play, but they couldn't run the ball between the tackles and failed to hit on several big-play opportunities against the Spartans. Boise State's
Joe Southwick
will get better and should take some positives from Friday night's game, but the Broncos have some work to do.
What it means:
Boise State showed it still can hang with the big dogs, even after going through a dramatic roster overhaul. But Michigan State is the better team and proved it in the fourth quarter. First-time starting quarterbacks Maxwell and Southwick both looked the part and will need to improve going forward, although there were some bright spots. Michigan State secured a signature victory it absolutely had to have with Rose Bowl aspirations. Boise State's chances to bust the BCS again likely went up in smoke, as it failed to score an offensive touchdown.
August, 31, 2012
8/31/12
7:10
PM ET
EAST LANSING, Mich. -- Greetings from Spartan Stadium, where No. 13 Michigan State is hosting No. 24 Boise State in one of the best games of opening weekend.


I've been looking forward to this one for a long time. Adam and I have both picked the Spartans to win the Big Ten, so I'm anxious to see if they can live up to our expectations. It will not be easy against a Boise State team that is 73-6 under Chris Petersen. Give Petersen eight months to prepare, and you know he will come up with some interesting plays. But you could say the same about Mark Dantonio and his staff. If we don't see at least one gadget from each side, I'll be disappointed.
For Michigan State, I think running the ball with big
Le'Veon Bell
is a huge key. The Broncos have replaced their entire starting front seven from a year ago, so the Spartans need to run right at them while giving
Andrew Maxwell
and those green receivers a chance to ease into things a little. But I don't think that Maxwell will be especially reined in tonight. The Spartans coaches really trust the fourth-year junior quarterback and his decision-making.
Bennie Fowler
and tight end
Dion Sims
could be important players in the passing game.
Speaking of running the ball, Boise State needs to do so effectively as well. For all the talk about its trick plays, this is a team that has really thrived by using the run to set up the pass. So losing star running back Doug Martin might prove just as difficult as the graduation of quarterback Kellen Moore. Fifth-year senior
D.J. Harper
is expected to take the bulk of the carries for the Broncos, and you have to be two-dimensional to have a chance against Michigan State's outstanding defense.
It's a warm night -- about 87 degrees an hour before kickoff -- so that could play a role in the proceedings. Otherwise, the weather should not be much of a factor.
Can't wait to get this one going.
June, 19, 2012
6/19/12
5:30
PM ET
Mail time.
Bruce from Huntsville, Ala., writes:
I am a PSU graduate and a big fan. I was wondering what the take is on the Lions for this year. O'brien has names McGloin the starting QB, Redd is a very good running back, from what I've read the linemen are happy with the new weight program (and have gotten stronger - something they really needed). The defense should be pretty good (not sure about defensive backs), so I was wondering how good they might be this fall.
Adam Rittenberg:
The defense will be the strength of the team, particularly the front seven. The positions that need time to mature, in my view, are both secondary spots, quarterback, wide receiver and offensive line. The buzz this spring is that the offensive line is coming along at a very good rate, undoubtedly helped by their progress in the new weight program. This would be a huge plus for Penn State, which needs to establish
Silas Redd
in the run game and give McGloin enough time to get comfortable in the pocket. The defensive front and the run game need to get Penn State a few wins early in the season, and then the hope is McGloin and his receivers will be more settled. This is most likely a seven- to nine-win team, looking at the schedule.
---
Steven from Florida writes:
Adam,I enjoy your columns and reporting. I have not found the answer to below question anywhere:Name the 12 member BCS oversight committee and the universities/colleges they represent
Adam Rittenberg:
Here's the
full list
, Steven. The members are: Scott Cowen, Tulane; Rev. John Jenkins, Notre Dame; Bernie Machen, Florida; Max Nikias, USC; Duane Nellis, Idaho; Harvey Perlman, Nebraska; John Peters, Northern Illinois; Bill Powers, Texas; James Ramsey, Louisville; Gary Ransdell, Western Kentucky; Charles Steger, Virginia Tech; and John Welty, Fresno State. Steger is the committee chair, and Perlman obviously is the Big Ten's representative.
---
Wellington from Duluth writes:
Adam,I think most of the footballs nerds, such as myself, disagree with your opinions of the computer polls. Computer Polls take in to account strength of schedule, which seems to be your biggest argument for a selection committee, in fair, non-biased, sort of way. They are more fair than the human polls, which usually rely more on prestige than on the field performance when rating both a team and their schedule.Here's a basketball tournament example that might strike home with you...In years where they've been "on the bubble", have traditional powers Kentucky, Arizona, or UCLA ever been left out of the field? In years where they've been on the bubble has non-traditional power Northwestern ever bet let in?
Adam Rittenberg:
Wellington, I don't think anyone has an issue with using a computer system, as long as it takes into account the right factors and reveals how it reaches its calculations. The problem with the BCS computers is that five of the six systems aren't made public, so we don't really know what goes into them. How big of a factor is strength of schedule? What else is weighted? Why do we get such different results? As Big Ten commissioner
Jim Delany told me last week
, it's fine to use something like the RPI because the formula is known. But he also added that the human element must be involved in selecting teams for a playoff.
---
Dave from Columbus, Ohio, writes:
Hi Adam -Why is it that the B1G gets beat up all the time for the things they don't like (the way a playoff is designed; Rose Bowl inclusion; initially standing in the way of a playoff in the first place), but gets only passing mention of what it's done to improve the game of college football (putting in place the first replay; starting its own TV network; and now, doing comprehensive concussion research)? I'd argue that some of it's biggest accomplishments - things that many college football fans take for granted now - were B1G initiatives. What will it take for other fans to realize that the B1G, and by extension, Jim Delaney - aren't/isn't nearly as evil as they think?
Adam Rittenberg:
Dave, the Big Ten has a bit of an image problem with the media. A lot of it stems from its loyalty to the Rose Bowl and its opposition to changing the BCS. While some of the good things the league has done have affected other conferences, the opposition to a playoff is viewed as impacting the sport more. You couple this with winning only one national championship during the BCS era, and the Big Ten is seen as this loud voice in the room with no hardware behind it. It doesn't help when the Big Ten has some progressive ideas about the college football postseason (selection committee, etc.), but couches them with its preference to have the status quo or a plus-one, which has virtually no support nationally. The truth is the Big Ten has had a lot of achievements in recent years, and Jim Delany deserves a lot of credit for them. But when you aren't winning championships and you deliver messages in head-scratching ways, your image gets sullied.
---
Jacob from Seattle writes:
Adam, why no mention whatsoever of Ohio State's win over ESPN in the Supreme Court ruling over the release of records? No mention at all from ESPN or yourself? You say ESPN has no agenda against Ohio State, right?
Adam Rittenberg:
Here's
the story
. I'm sure it made your day.
---
Ryan from Fort Gordon, Ga., writes:
Adam, What do you see as the key to Michigan State's first game of the year against a good Boise State team? I know our defense is going to be great, and that we have alot of question marks on the offensive side, but what does Boise State bring to the table? Will it be a low or high scoring affair?
Adam Rittenberg:
Ryan, it's going to be all about the defenses on Aug. 31 in East Lansing. Both teams are replacing decorated senior quarterbacks (Kirk Cousins and Kellen Moore) and quite a lot of offensive firepower. Michigan State's defense is the single best unit on the field, and the Spartans must establish themselves early, perhaps with a big takeaway. A takeaway for points would be a huge boost for
Andrew Maxwell
and the Michigan State offense. I expect a low-scoring game for sure -- would be surprised if either team scores 24 points -- and it'll come down to the little things (turnover margin, special teams, etc.).
---
Herky from Iowa City writes:
Bird's eye view - If 6- 7 wins is the bottom for the Hawks don't you think that is a victory for the Iowa program ? With the Ferentz system in place it would take a lot of unfortune for the team to reach 5 or lower. This is good times to be a Hawk. Look at some of the other programs that bottom out at 6-7... the elite.
Adam Rittenberg:
That's true, Herky, as Iowa hasn't won fewer than six games since 2000, Ferentz's second season at the school. The flip side of the argument is Iowa has won more than eight games just twice in the past seven seasons after a wonderful run from 2002-04 (31 wins). So Iowa has done a good job of avoiding a really bad season, but the Hawkeyes haven't put together a ton of great seasons. Are seven- and eight-win seasons satisfying enough for Iowa fans? Some see Ferentz's salary and expect more. Then again, there are some inherent disadvantages (location, limited recruiting, etc.). So it all depends on your viewpoint.
---
Will from Hoboken, N.J., writes:
Hey Adam -- I just read the article saying Stoneburner and Mewhort were suspended. As a Buckeye fan, I am a bit shocked, but I would say in a positive way. These guys are two projected starters that are supposed to be leaders of the team. The spotlight is always on the Buckeye football team, even the smallest of infractions. I like how Meyer is making these guys earn their way back to the team. The culture of entitlement among football stars is always a constant struggle and Meyer is doing something about it. Yes, it may be a bit of posturing, but I see this as a wonderful opportunity of these guys to embrace the attention to detail necessary to be great representatives of Ohio State every single day in everything they do.
Adam Rittenberg:
As I mentioned in
this video
, Meyer is setting the tone for how he'll handle off-field issues involving players. In a way, the Stoneburner/Mewhort issue afforded Meyer the chance to make a statement. These are two senior starters and potential leaders. They have no history of off-field issues, and there's no reason to think they won't work their way back onto scholarship and with the team by the fall. The key is that Meyer's actions now are on record and he'll be looked at to respond similarly with other situations. The Stoneburner/Mewhort issue seemed fairly minor to me. What if there's a more serious situation involving a key player during the season? Does he lose his scholarship or sit out several games? If not, Meyer's response here might look more like posturing in a convenient situation.
March, 20, 2012
3/20/12
2:30
PM ET
Been a while. Great questions today. As always, thanks for the responses.
Ed from Minneapolis writes:
What do you think of Jerry Kill's first full recruiting class? Most rate it at the bottom of the B1G, but if Kill is to follow the Alvarez model of building a program, isn't his unprecedented success with in-state recruiting noteworthy? If not, perhaps this question is wishful thinking
Adam Rittenberg:
Ed, I definitely agree with you about the significance of Kill doing well within the state. It's vital Minnesota brings in the state's top recruits, even if they're not nationally elite prospects. Programs like Notre Dame and USC have raided Minnesota for national top prospects in recent years (
Michael Floyd
and
Seantrel Henderson
, to name two), and Minnesota needs to put itself in position to compete for the best players in every recruiting cycle. Although the overall class didn't receive high marks nationally, I know our recruiting guys liked some of the additions, such as wide receivers
Andre McDonald
and Jamel Harbison and quarterback Philip Nelson. McDonald and Nelson hail from the state.
---
Some guy from Ann Arbor, Mich., writes:
There have been rumors that Al Borges may be giving Deving Gardner some reps as a wide receiver. With our lack of depth at the position and DG's athleticism, would that be a good option?
Adam Rittenberg:
I'm in favor of getting your best players on the field, and Gardner is a guy who can help Michigan even if he's not taking snaps. There's some risk involved as an injury would leave the Wolverines thin at quarterback and with a starter (
Denard Robinson
) who has been banged up for much of his career. A lot depends on how the other wide receivers develop this spring and in the start of fall camp. If
Roy Roundtree
recaptures his 2010 form,
Jeremy Gallon
builds off a solid 2011 season and some young players emerge, Michigan might not need to experiment with Gardner. But at this point, the receiver position looks thin.
---
Ryan from Chicago writes:
If
Danny O'Brien
picks PSU and becomes the starter for the next 2 seasons, what is likely to happen (redshirt or transfer wise) with McGloin, Bolden, Jones, Bench and Hackenberg?
Adam Rittenberg:
Good question, Ryan. I was thinking about the same thing earlier today, and also in relation to Wisconsin's quarterbacks, especially heralded incoming freshman Bart Houston. I don't think McGloin is going anywhere. He loves Penn State and would compete like heck with O'Brien. It would be a surprise to see Bolden and/or Jones transfer if O'Brien came in and won the starting job. Bench would almost certainly redshirt this season if O'Brien came in -- quarterbacks coach
Charlie Fisher loves Bench
, by the way -- and Hackenburg doesn't arrive until next fall, so they wouldn't be overly impacted if O'Brien starts the next two seasons.
---
Matthew from Dallas writes:
Guys,Being a Husker fan I could care less about Mich St, but after reading your blog about the best week 1 game this week, don't you think Mich St is in a no win situation by playing Boise St?I mean if Mich St wins, everyone will just say its not the same Boise St team as the past few years so it doesn't matter. If they lose then they will look bad for getting beat by a Boise St team that is having to rebuild. What do you think?
Adam Rittenberg:
Interesting points, Matthew. Some folks will spin it that way if Michigan State wins, but I would hope that after seeing so many Boise State teams beat major-conference programs on the road, especially in the season opener, people would give Michigan State credit for beating the Broncos. Boise State went 50-3 during the
Kellen Moore
era, but the Broncos also won 10 games or more seven times between 1999-2007. Bottom line: Boise State doesn't lose many games. Any win against the Broncos should resonate nationally, especially for a Michigan State team that loses its own starting quarterback (
Kirk Cousins
) and several other key players.
---
Drew from Milwaukee writes:
Hey Adam - Hope you enjoyed Istanbul. Absolutely one of my favorite cities in the world. You've said repeatedly that the key for the Big 10 to return to the elite in football is depth. The Big 10 is unquestionably the deepest conference in men's basketball this year. Wondering if there is anything Big 10 football programs can learn from the success of their basketball counterparts, especially in the areas of recruiting or coaching. Thanks!
Adam Rittenberg:
Drew, it's a fabulous city, a unique mix of East and West. Also a fun sports town -- they love their hoops and futbol. As to your question, football depth and basketball depth are a little different because of the roster sizes. A recruiting class of three top-level prospects can get you over the hump in basketball, while football teams need more top-level prospects to compete at the national level.
One thing that sets Big Ten basketball apart from football is the number of programs that are either traditional powers, emerging powers and consistent winners. You have a traditional hoops power in Indiana that hasn't enjoyed much success in football. Illinois fits into this category as well, and in recent years, so does Purdue. You also have an Ohio State basketball program that has become nationally elite under Thad Matta. Tom Izzo has brought the type of consistent elite success to Michigan State basketball that we're only now seeing with the Spartans football program. You also have a consistent winner in Wisconsin under Bo Ryan. While the Badgers football program also has made strides in recent years, the hoops team has been a bit more consistent during the past decade. Big Ten football is no longer the Big Two and everyone else, but we haven't seen as many teams compete at the national level on the gridiron than on the hardcourt.
There are some factors that affect both football and basketball, such as Big Ten Network revenue and a school's investment in both programs (facilities, coaches' salaries, etc.). But I don't know if league-wide success in hoops can translate to football. Too many different variables.
---
Brandon P. from Lincoln, Neb., writes:
I have always been more of a Cam Meredith fan over Crick and i was wondering if you think he will be more of a staple for the Blackshirts defense than Crick was supposed to be? If not him, then who?
Adam Rittenberg:
They play different positions and Crick could have had a nice year in 2011 if not for the injury, but I think Meredith is a key player to watch this fall. From
talking with him a few weeks ago
, he's excited about new D-line coach Rick Kaczenski and new coordinator John Papuchis. He also realizes the need to be more of a leader for a unit that admittedly underperformed in 2011. He'll enter his third year as the starter and has some natural pass-rushing skills, as he showed in 2011 with five sacks and nine quarterback hurries. Nebraska didn't generate nearly enough pressure in 2011 -- the team ranked 84th nationally in sacks and 112th in tackles for loss -- so Meredith will need to trigger the rush this coming season.
---
Dave from Toledo, Ohio, writes:
How hard will it be to implement a new offense at Ohio State? How well does the current personnel on the team fit? RichRod's new offense did terrible at michigan his first few years until he had the right players, though I feel like he didn't try to adapt his offense to the players he had, which I'm hoping Meyer and Herman don't make the same mistake. I'm most concerned about our offensive line adapting, as well as having some wide receivers emerge as play makers.Thanks
Adam Rittenberg:
Dave, Rodriguez's offense had one bad year in 2008 and then got progressively better, setting some records in 2010. Offense wasn't the problem for Rodriguez at Michigan, and he did have some players recruited by the previous coaching staff who did well. One advantage Meyer has is he inherits a quarterback much more suited to his system (
Braxton Miller
) than the QBs Rodriguez inherited at Michigan (Steven Threet, Nick Sheridan). Miller likely will have an even higher ceiling under Meyer and Herman than he would have under the previous offensive staff, which drew a lot of criticism. How the offensive line develops will be an interesting subplot of the spring for sure, as Meyer has made some comments about the need for better conditioning, etc. Meyer also has been candid about the need for more difference-makers at wide receiver, a position that was a virtual nonfactor in 2011. I do think a more imaginative offensive game plan will help players blossom at several positions. It's not as if Ohio State lit it up on offense last year. While there could be some growing pains this fall, I think you'll like what you see from the Buckeyes offense.
---
Ahmet from Rochester, N.Y., writes:
Adam, I saw you traveled to Turkey, that is very nice. I would like you to to write soemthing about Turkish soccer since you saw Turkish soccer match
Adam Rittenberg:
It was pretty wild, Ahmet. I dragged my wife to the match, and let's just say she was one of the few females in the crowd. We had heard the fans of the home team, Kar_1yaka, were known for being pretty rowdy. There were a ton of police around the stadium, and we had to be patted down by security as we entered. There also were high fences surrounding the pitch so no one could enter from the stands. Everyone stood for the entire game, and there were some designated cheering sections surrounded by security. The chanting during the game was pretty cool even though I had no idea what they were saying. Fans were very demonstrative about bad calls, and some of them went a little too far, like the guy in our row who broke three stadium seats with his foot and almost got in a fight with a guy in the next section over. There were several near-fights among fans and the security didn't do much to step in. It was definitely an experience, and the match we went to was second division, not Süper Lig. I'd definitely go again, though.
March, 20, 2012
3/20/12
9:00
AM ET
Who doesn't love a good road trip? Big Ten fans certainly do, as they hit the highways by the tens of thousands every fall weekend to see their favorite teams play. We here at the Big Ten blog also love road trips, and we also love taking a peek at where we might be going throughout the 2012 season. While the Big Ten hasn't released its complete 2012 schedule just yet, the
conference slate is finalized
and so are the key non-league contests.
With this in mind, it's time to revive an idea Bennett first
hatched on the Big East blog in 2009
: the Ultimate Road Trip. We both will review the games for each week and select the one we'd most like to attend. Now it's worth mentioning for the umpeenth time that we don't pick the games we cover each week. To repeat: WE ... DON'T ... PICK ... WHERE ... WE ... GO. The fine folks in Bristol do, and we'd be happy to provide their home phone numbers and personal email accounts if you'd like to complain (especially Bevo's).
The magic of aviation would allow us to attend more than one game in a given weekend, but this is a road trip, dammit. One game per weekend.
Without further ado, let's get started with Week 1.
Week 1 Games
Minnesota at UNLV (Thursday)
Boise State at Michigan State (Friday)
Southern Miss at Nebraska
Iowa vs. Northern Illinois (at Chicago)
Michigan vs. Alabama (at Arlington, Texas)
Northwestern at Syracuse
Western Michigan at Illinois
Ohio at Penn State
Miami (Ohio) at Ohio State
Northern Iowa at Wisconsin
Eastern Kentucky at Purdue
Indiana State at Indiana
Adam Rittenberg's pick:
Boise State at Michigan State


As much as I'd love to go to Vegas or attend the Danny Hope Reunion Bowl, there are really only two choices for opening weekend: Boise-MSU and Michigan-Alabama. I fully admit the Michigan-Alabama game has greater implications for the Big Ten, as a win against the defending national champion and the standard bearer in college football would do wonders for the league and the Wolverines. But I'd rather be in Spartan Stadium the night before for what I think will be a better game. Despite 11 victories in each of the past two seasons, a co-Big Ten title in 2010 and a Legends division title in 2011, Michigan State is still looking for more national respect. The Spartans took an important step in the Outback Bowl, but they're looking for that ultimate breakthrough season that lands them in Pasadena or another first-rate January destination.
While Michigan State could be pegged as the preseason Big Ten favorite, some point to key personnel losses like quarterback
Kirk Cousins
and defensive tackle
Jerel Worthy
as too much to overcome. This is a huge game for the program to show it can reload and potentially be an even better team. In the bigger picture, Michigan State has a perfect opportunity to show how far its program has come on the national stage. Boise State has built its reputation on winning games like this, going into the backyard of a major-conference team in late August or early September and emerging victorious. Sure,
Kellen Moore
is gone, but Boise is Boise, and the Broncos will be tough to beat. Michigan would get more of a boost from beating Alabama, but Michigan State can put itself on the right track for another special season by beating Boise. The atmosphere should be absolutely electric, and if this game is anything like the
last one I attended in East Lansing
, I'll be thrilled.
Brian Bennett's pick:
Michigan vs. Alabama


While the Michigan State-Boise State will be very interesting and a lot of fun, it's not getting a ton of national buzz, most likely because of the loss of Moore. The Spartans will be breaking in a new quarterback and some new faces at receiver, too, so this game could be a little disjointed, at least on offense.
Buzz won't be lacking for the Wolverines' showdown with the Crimson Tide. You've got the defending national champions taking on the reigning Sugar Bowl winner. The Big Ten takes on the mighty SEC on at least somewhat neutral turf. Some criticized Michigan last year for playing an easy schedule, getting a nice draw in New Orleans and not even winning their division. Well, Brady Hoke and his team can prove they're for real beyond a doubt by taking down 'Bama. This won't be the same Tide that stomped on LSU in January; Nick Saban's squad suffered some key personnel losses on defense and at running back with
Trent Richardson
gone. Michigan also will be replacing some of its most valuable players in departed seniors
David Molk
,
Mike Martin
and
Ryan Van Bergen
, and you do not want to have holes in your trenches against Alabama.
But this is still two of the bluest of blue-chip programs in the history of college football. It's still
Denard Robinson
versus that Saban defense. The winner will be an early national-title favorite. And it will all take place in the grandeur that is Jerry's World. Sign me up.
January, 24, 2012
1/24/12
5:30
PM ET
Day 2 of Senior Bowl practice is in the books, and judging by the reports, the Big Ten contingent held its own.
ESPN Scouts Inc. Steve Muench and Kevin Weidl write that the
North team quarterbacks had good performances Tuesday
(Insider). While Boise State's
Kellen Moore
was the best of the bunch, Michigan State's
Kirk Cousins
and Wisconsin's
Russell Wilson
both showed strong arm strength.
Wilson "competed hard as the day went on and made some good throws to Ohio State's
DeVier Posey
during seven-on-seven drills." Cousins throws a "crisp ball" and displayed some touch on a deep pass to fellow Big Tenner Marvin McNutt from Iowa. The Scouts Inc. crew noted that Cousins must do a better job of deciding when to ease up on his throws, as one of his bullets was intercepted.
Other Big Ten nuggets:
McNutt had a good day for the most part, showing the ability to shake off press coverage.
The Scouts Inc. crew said Nebraska cornerback Alfonzo Dennard struggled as he tries to maintain a first-round grade.
There was good news and bad news for Ohio State's offensive linemen in Mobile. Tackle Mike Adams showed "good athleticism and doing a good job climbing to the second level to cut off defenders." Center Mike Brewster, meanwhile, "had trouble sinking his hips to anchor against inside rushers, and because he often played with his head down Brewster had trouble staying in front of defenders."
Wisconsin offensive lineman Kevin Zeitler reportedly had an up-and-down day but showed good recovery ability against rushers.
More to come from the Senior Bowl on Wednesday.
December, 8, 2011
12/08/11
1:59
PM ET
By
ESPN.com staff
| ESPN.com
On Thursday, we'll be chatting up some college football award finalists in advance of The Home Depot College Football Awards show, which airs Thursday night (ESPN, 9 p.m. ET).
We'll be setting up shop, mingling with the finalists.
So, check in to see who stops by to chat
. We'll be grabbing some of the best players from the 2011 college football season, like Stanford quarterback Andrew Luck, Oklahoma State's Justin Blackmon, USC's Robert Woods and Boise State's Kellen Moore.
December, 5, 2011
12/05/11
9:10
PM ET
My Heisman Trophy ballot has changed every week for the last couple of months.
I'm not surprised there are more than three players going to the trophy presentation.
Five players were invited to New York for Saturday night's Heisman Trophy presentation -- quarterbacks
Andrew Luck
of Stanford and
Robert Griffin III
of Baylor, tailbacks
Montee Ball
of Wisconsin and
Trent Richardson
of Alabama and cornerback Tyrann Mathieu of LSU.
It's a shame the Heisman Trust didn't have room for three more quarterbacks because Houston's
Case Keenum
, USC's
Matt Barkley
and Boise State's
Kellen Moore
were just as deserving.
With five finalists going to New York, it figures to be one of the closer votes in recent Heisman Trophy history.
The closest vote in Heisman Trophy history came just two years ago, when Alabama tailback Mark Ingram edged Stanford's Toby Gerhart by only 28 points. Ingram received 227 first-place votes, Gerhart got 222 and Texas quarterback Colt McCoy, the second runner-up, received 203.
Given the number of finalists and their geographical regions, we could have another really close finish on Saturday night.
Luck, the runner-up to Auburn's Cam Newton last season, entered the 2011 season as the Heisman Trophy favorite. His performance didn't slip much this season, as he completed 70 percent of his passes for 3,170 yards with 35 touchdowns and nine interceptions.
I still feel Luck might be the most valuable player on any team in the country. Without him, there's no way the Cardinal is ranked No. 4 in the country and playing No. 3 Oklahoma State in the Tostitos Fiesta Bowl. Luck has done more with less, as Stanford lacks the game-changing playmakers that other teams have.
But Luck might still be the second-best quarterback in New York. Griffin, who is widely known as RG3, completed 72.4 percent of his passes for 3,998 yards with 36 touchdowns and six interceptions. He also ran for 644 yards with nine touchdowns.
Without him, the Bears wouldn't have beaten TCU, Oklahoma and Texas. Griffin's one drawback: He had a late interception that sealed the Bears' fate in a 36-35 loss at Kansas State on Oct. 1 and threw two picks in a 59-24 loss at Oklahoma State on Oct. 29. But with everything else RG3 has done this season, it's easy to give him a mulligan for the miscues.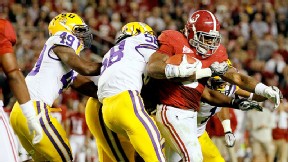 Kevin C. Cox/Getty ImagesRunning back Trent Richardson has been at his best in Alabama's biggest games.
I still believe Richardson is the best player in the country. He looked like the best player on the field in No. 2 Alabama's 9-6 loss in overtime to No. 1 LSU on Nov. 5. He had 89 rushing yards and 80 receiving yards in a game where every yard mattered. He finished the season with 1,583 yards with 20 touchdown runs and three touchdown catches. He's also Mr. Dependable, not losing a fumble in his past 520 touches and only once in 614 career touches.
Ball has been a scoring machine for the No. 10 Badgers this season, running for 1,759 yards with 32 touchdown runs and six touchdown receptions. His 38 total touchdowns are one shy of matching former Oklahoma State running back Barry Sanders' NCAA single-season record of 39 set in 11 games in 1988. Ball's production helped lead the Badgers to a Jan. 2 date against Oregon in the Rose Bowl Game presented by VIZIO.
Mathieu fell off my ballot after he was suspended from playing in the Tigers' 45-10 victory over Auburn on Oct. 22 for smoking synthetic marijuana. But his big plays helped the Tigers overcome deficits in each of their last two victories, over Arkansas and Georgia in the SEC championship game.
Mathieu -- aka the "Honey Badger" -- is the best player on the top-ranked team. He leads the Tigers with 70 tackles and has forced six fumbles and recovered five. He also is the most dynamic punt returner I've seen since Florida State's Deion Sanders. Mathieu has scored four touchdowns -- two on fumble returns and two on punt returns.
To penalize Mathieu for one foolish mistake wouldn't have been right. After all, Newton was briefly ruled ineligible at Auburn last season and 2010 Heisman Trophy finalist
LaMichael James
of Oregon was suspended from playing in last season's opener.
November, 18, 2011
11/18/11
9:00
AM ET
Some notes and nuggets to hopefully make you smarter as you watch your favorite Big Ten team in action Saturday afternoon. Thanks to ESPN Stats & Information for several of these.
Penn State and Ohio State have met 22 times since 1975. At least one team was ranked in 20 of the 22 meetings, with the higher-ranked team prevailing in all 14 games prior to 2005, when No. 16 Penn State beat No. 6 Ohio State 17-10. Prior to 2005, the last time the lower-ranked team had won was in 1964, when the unranked Nittany Lions stunned the No. 2 Buckeyes 27-0 in Columbus.
Michigan QB Denard Robinson and Nebraska QB Taylor Martinez have nearly identical numbers on designed runs this season, but Martinez seems to have slowed down a bit in recent weeks. Martinez is averaging only 4.3 yards per carry on designed runs in his past four games and hasn't had a 20-yard rush on such attempts since Week 3 against Washington. Both men have nine touchdowns on designed runs and five carries of 30 yards or longer. Robinson averages 6.4 yards on designed runs, while Martinez averages 6.3 yards.
Michigan State has finished the regular season strong under coach Mark Dantonio. Since Dantonio took over in 2007, Michigan State is 11-3 in the month of November, including five consecutive victories. The Spartans were 5-19 in November from 2000-06.
Purdue has seen 17 different players rush with the ball this season and not a single runner has lost a fumble on 388 carries. Two of the Boilers' three lost fumbles this season have come after receptions; the other was on a punt return.
Indiana's underclassmen have accounted for: all of the team's 15 rushing scores; all of the team's 179 completions, 2,104 passing yards and 10 passing touchdowns; 3,731 of the team's 3,735 total yards (99.9 percent); 1,627 of the team's 1,631 rushing yards (99.8 percent); 419 of the team's 421 rushing attempts (99.5 percent); 993 of the team's 999 kick-return yards (99.4 percent); 223 or the team's 229 points (97.4 percent); nine of the team's 10 receiving touchdowns (90.0 percent); 4,291 of the team's 4,831 all-purpose yards (88.8 percent); 1,610 of the team's 2,104 receiving yards (76.5 percent); 132 of the team's 179 receptions (73.7 percent).
Under offensive coordinator Mick McCall, Northwestern has found a way to move the chains efficiently on third down. The Wildcats have been successful on exactly 50 percent of their third-down attempts (69 of 138), the ninth-best average among FBS teams. Northwestern has finished in the top 20 nationally in that category each of the past two years.
Ohio State players have intercepted a pass against Penn State and returned it for a touchdown seven times since 2002. The Buckeyes won all five games where they recorded a pick-six. They recorded two pick-sixes against Penn State last season, as both Devon Torrence and Travis Howard had scoring returns.
Wisconsin QB Russell Wilson has thrown 101 touchdown passes in his career. That trails only Houston's Case Keenum (144) and Boise State's Kellen Moore (130) for the most among active FBS players. Wilson leads all current major-conference players. He became just the 13th quarterback in FBS history, and just the fifth from a BCS conference, to pass for 100 TDs.
Nebraska's defense has been stingy lately, especially in the first half. In the Cornhuskers' past four games, they have allowed a total of 10 points in the first half (Minnesota, Michigan State, Northwestern, Penn State).
Duane Bennett's 96-yard kickoff return for a touchdown in Saturday's loss to Wisconsin was the second kickoff return for a score this season by Minnesota; Marcus Jones returned a kickoff 92 yards at Purdue earlier this season. It is the first time Minnesota has had two kickoff returns for touchdowns in the same season since 1997.
Iowa's 37-21 loss to Michigan State last Saturday marked the first Iowa loss by more than 10 points in 53 games, dating back to a 31-6 loss at Purdue on Oct. 20, 2007. Iowa did not lose a game by more than a touchdown in 43 consecutive games, between a 28-19 loss to Western Michigan on Nov. 17, 2007, to the 13-3 loss at Penn State on Oct. 8 this season.
January, 10, 2011
1/10/11
5:57
PM ET
It's finally official. Indiana's new offensive coordinator is heading back to his old team.
Boise State just announced that Brent Pease will return to the school and receive a promotion to offensive coordinator. Pease had previously worked with Boise State's receivers before leaving to become Indiana's offensive coordinator.
But when Texas hired Boise State offensive coordinator Bryan Harsin to the same position days ago, Pease saw an opportunity to return. He wouldn't have left Boise had he known Harsin would leave his post.
"I'm very honored and fortunate to be able to return to Boise State," Pease said in a statement released by Boise State. "While I was very much looking forward to the opportunity at Indiana, the knowledge and relationships I have with the players, coaches and administration at Boise State made it a very logical choice for me and my family."
Two things jump out to me about how much college football has changed in recent years.
1.
Pease left a Big Ten team for the same job with a soon-to-be Mountain West squad
2.
It's hard to fault him for doing so
Not a knock against Indiana, but Boise State is one of the nation's premier programs and Pease has familiarity there. Head coach Chris Petersen will return, and Pease gets to oversee a dynamic offense and coach a Heisman Trophy candidate in quarterback
Kellen Moore
.
This certainly is disappointing for Indiana and new coach Kevin Wilson, who is compiling an outstanding staff of assistants. Wilson recently brought in Kevin Johns from Northwestern to coach receivers and serve as pass game coordinator, but he has some money to spend and will look for an offensive coordinator.
It'll be interesting to see Wilson's next move.
My biggest disappointment is not seeing Pease sport
this headgear
on the Hoosiers sideline this fall.
November, 5, 2010
11/05/10
4:00
PM ET
As always, you can
contact me here
, and don't forget to follow me
on Twitter
.
Kevin from Columbus, Ohio, writes:
Adam, as a lifelong Buckeye I've always liked your take on the Big Ten - you've never led me astray. Until now. In this week's Rooting Interest, you said the Buckeyes should root for Indiana to upset Iowa. Can't do it. I trust Ohio State to take care of business in November, which would mean beating Iowa and knocking them out of the race. But it has to be an impressive victory (our "signature" win so far is at Illinois). Beating an Iowa team that loses to Indiana and ends up 8-4 instead of 9-3 isn't as strong a statement.
Adam Rittenberg:
That's a good point, Kevin, and you're showing confidence in your team. But from a purely objective perspective like mine, Ohio State should want the other league title contenders to lose so it can win the Big Ten outright and reach the Rose Bowl. If the Buckeyes indeed win out, they should want Iowa to keep winning to improve their place in the BCS standings, which could break a three-way tie with Wisconsin and Michigan State. Note that for Ohio State's rooting interest
to earn a BCS at-large berth
, I write that the Buckeyes should root for an Iowa win Saturday, which would make a win on Nov. 20 all the more impressive.
---
A.J. from Bergenfield, N.J., writes:
I love what Matt McGloin did vs UMich, every team needs players like him. But let's keep in mind that he faced the worse Big 10 D I've ever seen, while Bolden faced the 2nd, 8th, 12th & 19th ranked scoring D's in the country. I believe Bolden (and
Silas Redd
, who needs more carries now!) is the future and present of PSU football.
Adam Rittenberg:
Good points here, A.J. Rob Bolden and Silas Redd certainly look like the future for Penn State. I just felt that McGloin provided a confidence boost for the offense last game that could carry over into another emotion-charged game as JoePa goes for No. 400. I certainly won't throw a fit if Bolden starts, which appears to be the case, but I'd keep riding the hot hand with McGloin until he struggles, and then put Bolden in the game.
---
Lyndon from Mission Viejo, Calif., writes:
Northwestern prides itself on pulling out close games and even cites a 28-8 record in the last 36 games decided by 7 points or less. However, having watched their last 3 games (4th-quarter losses to Purdue & Michigan State, and a much closer outcome than it should have been w/Indiana), I'm thinking the "Cardiac Cats" are a product of their own doing. I love Fitz, but it feels like their offense tightens up when in the lead. It seems like they strive to drain the clock to win by 4 rather than closing out the game to win by 14. Thoughts?
Adam Rittenberg:
Totally agree, Lyndon. Northwestern has never shown killer instinct for as long as I've covered the team. The Wildcats have been a couple of plays away from some much more lopsided wins, but they're not to be trusted with big leads. It's no mystery why they were on the losing end of the biggest comeback in NCAA history. Northwestern has to stay aggressive on both sides of the ball when in front, but this has been a struggle. There's an art to playing with the lead, and while Fitzgerald has done a lot of good things for NU, he has yet to master this.
---
Jon from Grand Rapids, Mich., writes:
Adam, In reading your blog, there's been a lot of talk since Saturday about Big Ten tie-breakers, which may come down to BCS standings. In looking at the BCS after this weekend, as a Buckeyes fan in MI, there's a head-scratcher that I can't figure out: OSU beats Minn 52-10, LSU has a bye, and yet LSU jumps OSU from the 12 spot to the 10 spot with OSU staying put at 11. Can you help me understand this?
Adam Rittenberg:
The
BCS computers
simply don't like the Buckeyes, who have an average ranking of No. 16. A win against a one-win Minnesota team, regardless of the score or the location, doesn't help your computer profile. LSU, meanwhile, has an average computer rank of No. 6, which is helped by the strength of the SEC, a win against No. 20 Mississippi State and its lone loss to No. 2 Auburn. So it comes down to the computers, because Ohio State is well ahead of LSU in both the Coaches' and Harris polls. If LSU falls to Alabama on Saturday, the Buckeyes will move up for sure.
---
Joseph from Iowa City, Iowa, writes:
Adam,Why is it that
Denard Robinson
has fallen off in the heisman voting so much. He has more yards rushing than LeMichael James (widely considered as #2 in the race now) as a QB! He is #23 in passer rating AND the nation's leading rusher. I understand that often as a team goes, so goes their heisman contender, but is it really fair to penalize Denard for the high school caliber defense he has been placed with?
Adam Rittenberg:
Michigan's slide certainly has hurt Robinson, who turned into another amazing performance last week at Penn State. Robinson's passing numbers aren't nearly what they were in the first five games, but his rushing totals continue to be incredible. Like it or not, perception largely shapes these awards races, and the perception about Michigan right now isn't favorable, which in turn hurts Robinson. His numbers are great, but he ultimately needs the wins to go along with them to catch Cam Newton,
LaMichael James
and
Kellen Moore
, each of whom plays for an undefeated team.
---
Alexander from Los Angeles writes:
Adam - Love the blog, especially love that it focused on michigan state for the last few weeks here. Anyways, you responded to Matt from Champaign (my roomate from east lansing), that MSU was not in firm control of the Wisconsin game from the start and that he must not have watched the game. Anyone can read the box score and say that wisconsin was up 10-3 in the second quarter- how about that MSU smashed wisconsin all game in total yards, 3rd AND 4th down conversions, and time of possesion? A true fan of football and someone who actually watched the game would know that msu showed no signs of losing that game at any point. No hard feelings, keep up the good work!
Adam Rittenberg:
None taken, Alexander. But I'm someone who actually watched the game as I was in the press box at Spartan Stadium. Michigan State absolutely deserved to win as it made the key plays in clutch situations. I just refuse to call it a total domination when Wisconsin trailed by only three points midway through the fourth quarter. No sign of losing? What about when Michigan State led 27-24 and faced third-and-11 from its own 28? People were a little nervous at that point. Yes, Michigan State finished with a sizable edge in total yards (444-292) and possession time (36:24-23:36) but had only four more first downs (19-15). It came down to playmaking, and the Spartans made more when they had to.
January, 8, 2009
1/08/09
5:39
PM ET
Posted by ESPN.com's Adam Rittenberg
The Football Writers Association of America today announced its freshman All-America team, which included four players from the Big Ten.
Five of the six BCS conferences -- Big Ten, ACC, Big 12, SEC and Pac-10 -- placed four players on the list.
Here are the Big Ten honorees:
Joel Foreman, guard, Michigan State
Mike Brewster, center, Ohio State
Jordan Mabin, cornerback, Northwestern
Philip Welch, kicker, Wisconsin
All four players played prominent roles this fall.
Brewster, a true freshman, moved into the starting lineup midway through the season. Foreman started on a line that helped Javon Ringer finish third nationally in rushing. Mabin tied for the team lead with three interceptions and added eight pass deflections in his first season as a starter. Welch proved to be an excellent replacement for All-Big Ten kicker Taylor Mehlhaff, converting 17 of 20 field-goal attempts.
Boise State quarterback Kellen Moore got the nod over Ohio State's Terrelle Pryor. I was a little surprised that neither of the Big Ten's outstanding freshman punters -- Chris Hagerup (Indiana) and Brad Nortman (Wisconsin) -- made the list.
December, 2, 2008
12/02/08
9:06
AM ET
Posted by ESPN.com's Adam Rittenberg
It's a bit of a slow week around the blog and you guys have a ton of questions (well done, folks), so this will be the first of two Tuesday mailbags. Let's get it going.
John from Austin, Texas, writes: Adam, First off, congrats on a great year with the blog! Its been a pleasure having someone cover the Big 10 as well as you do. My question is: What the heck is keeping Mike Locksley at Illinois? His name was mentioned for a few of the higher profile head coach jobs this season, but never seemed to get past the first interview. I can understand why he might be shy about an SEC job, but what else is keeping him from going to the next level?
Adam Rittenberg: Thanks for the kind words, John. Locksley is definitely holding out for a BCS-conference head-coaching position, ideally on the East Coast near his recruiting hub of Washington, D.C. He did talk with Clemson but didn't have a great chance to get that job. Other than Clemson, it has been reported that he interviewed at Syracuse as well. Locks gets paid well at Illinois and has no need to leave for a non-BCS job if he doesn't want one. He'll be a frontrunner for the Maryland job whenever Ralph Friedgen moves on, and he should get a close look for Syracuse. Locksley definitely has the personality and recruiting clout to succeed as a head coach on the highest level.
---
Rob from Philadelphia writes: I've been reading the national media since Oregon State lost and (most likely) gave USC a Pac10 championship and a Rose Bowl birth. Most people of the opinion that it's very unfortunate that USC is resigned to destroying Penn State. Some USC players are acting like they've already won the game. Defense aside, what is the basis for the Trojan's status as a national media darling this year?
Adam Rittenberg: The national media loves teams that dominate November and win bowl games, and USC does both. After watching the USC-Notre Dame game on Saturday night, I'll admit I bought into the hype quite a bit as well. The Trojans' defense is merciless, and it will be tough for Penn State to score points. That said, USC's offense is nothing special, and this team falls short of previous editions with Matt Leinart and Reggie Bush. Penn State has a strong bowl record and doesn't seem like the type of team to play itself out of a game. I'll have a hard time picking against USC, but it won't be a rout.
---
Ian from Hartford, Conn., writes: It's not necessarily big ten related, but who would play in the national championship game should OU get knocked off by Missouri this weekend. Texas is still ahead of USC in the BCS, but would they take a team that didnt win their conference? If USC does get bumped out of the Rose Bowl in favor of the title game, does Oregon State take their spot or another BCS team maybe OU or Texas?
Adam Rittenberg: If Missouri wins, I'd expect Texas to get the nod and play the winner of the SEC championship game in Miami on Jan. 8. USC might get bumped to No. 2, but the Trojans really lack quality wins, while Texas has beaten Oklahoma, Oklahoma State and Missouri. Texas absolutely deserves to go over the Trojans, who needed a marquee win down the stretch and couldn't get one because of the competition. Should USC jump into the title game, the Rose Bowl likely would take a team not from the Pac-10 (Texas would be my guess). USC, of course, also has to take care of business against UCLA.
---