May, 23, 2014
May 23
4:00
PM ET
Wishing you a fun and safe Memorial Day weekend. Barring
breaking news
-- fingers crossed -- we'll be back with you bright and early Tuesday.
Follow the Twitter brick road
.
Mail call ...
Rajiv from Tallahassee, Fla., writes:
Do you think that there are any programs in the B1G that would automatically get or deserve a spot in the playoff if they ran the table in any given year? Secondly, suppose a team like Northwestern or Minnesota ran the table and then beat a 12-0 Michigan State team in the BIG Championship. Should one of those teams get an automatic bid? Don't think that situation would happen, but certainly an undefeated Ohio State would garner more recognition than Northwestern.
Adam Rittenberg:
Rajiv, it's my belief that any major-conference team that runs the table and wins a league title game to go 13-0 would make the field of four. Why else would you expand the field from two to four? Most Big Ten teams are playing at least one marquee non-league opponent, so even if their league schedule is a little soft like Iowa's or Wisconsin's this year, a perfect mark would be enough to get them in, regardless of their reputation. It would be incredibly disappointing if the committee functions like poll voters and gives preferences to historically strong teams. There would have to be odd circumstances -- two or more undefeated teams from major conferences -- for a 13-0 Big Ten team to be left out.
---
Jason from Tampa writes:
What are your thoughts around Penn State and its stance on the Paterno lawsuit? On one hand, Penn State is a defendant in the lawsuit, has made great strides, and a majority of the severe sanctions are behind them. On the other hand, Penn State might get temporary or full relief of all sanctions. Do you believe their stance is a calculated move to avoid bad publicity and not disrupt the relationship with the NCAA in regards to further sanction reductions?
Adam Rittenberg:
Jason, I think your first point about Penn State making strides and moving past some of the more severe sanctions is a motivator for the school's position. There's no full relief from the sanctions, since Penn State has had two bowl-eligible teams stay home and continues to operate with reduced scholarships. But the school clearly feels that cooperation with the NCAA is the best route. Penn State also has aligned itself with the Freeh Report, which the Paterno family claims isn't credible. Ultimately, PSU seems too far down the road in lockstep with the NCAA to dramatically change its position.
---
Paul from Lincoln, Neb., writes:
I heard Ed Cunningham say on "College Football Live" that from what he observed in the Big Ten last year that the QB play is very poor compared to other conferences. My question(s) to you is: 1) Do you really believe the QB play is that bad in the conference? 2) Who are the QBs in the BIG that could go and start for other major college football programs in other conferences? (You can pull names from last year as well).
Adam Rittenberg:
Paul, quarterback play in the Big Ten has been down for some time. The league hasn't had a quarterback selected in the first round of the NFL draft since Penn State's Kerry Collins in 1995. That's stunning. Although quarterbacks such as
Drew Brees
(Purdue),
Tom Brady
(Michigan) and
Russell Wilson
(Wisconsin) have gone on to win Super Bowls, the league isn't mass-producing elite signal-callers. Something needs to shift, and it could be the quality of quarterback coaches in the Big Ten. Besides Indiana's Kevin Wilson, are there any true QB gurus in the B1G?
Your second question is a bit tricky because there are some major-conference teams elsewhere with dire QB situations. But
Braxton Miller
,
Connor Cook
and
Christian Hackenberg
could start for any FBS squad.
---
Moss from Ann Arbor, Mich., writes:
The Big Ten is starting to resemble a very wealthy yet dysfunctional family. Consumed by more wealth and shiny toys but not paying attention to their children (teams) as they grossly underperform. Is the BIG more interested in the brand than the actual product? The conference has all the advantages but can't seem to get its proverbial act together.
Adam Rittenberg:
Moss,
it just doesn't seem to add up
. A league should be able to build its brand, generate revenue for its schools and win championships on the field. What do you mean by not paying attention? What do you want the Big Ten to do for its underperforming teams? That's the hard part. Commissioner Jim Delany gets criticized a lot, but he has significantly increased the resources for Big Ten programs, which can pay coaches more and invest in their facilities. Ultimately, the Big Ten can move its campuses to the south and west, where more of the elite players are. But I don't agree the league is neglecting its programs by trying to expand its brand.
---
@roberthendricks via Twitter writes:
Do you think OSU has a long-term solution going forward in
J.T. Barrett
,
Cardale Jones
or
Stephen Collier
? I know taking a hot QB in this class is essential, but what if they don't? Post-Braxton fear is setting in.
Adam Rittenberg:
That fear is real, Robert, as Ohio State's quarterback situation beyond 2014 seems cloudy. Miller's injury this spring allowed Jones and Barrett both to get some significant work in practice. While both struggled in the spring game, Jones enters the summer as Miller's primary backup. Ohio State would be wise to get at least one, if not both, into games this season, even in mop-up time. Collier seems like more of a project, and all three men need some time to develop. I don't think it's realistic to expect Ohio State's next quarterback to match Miller's big-play ability.
October, 29, 2013
10/29/13
2:00
PM ET
Former Ohio State guard LeShun Daniels reclined on his oversized couch, next to two of his sons, while they sipped lemonade Saturday night and watched the Penn State-Ohio State game on the big-screen TV.
[+] Enlarge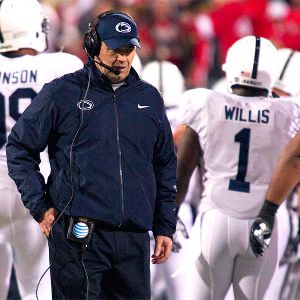 Trevor Ruszkowksi/USA TODAY SportsBill O'Brien and Penn State will need their leadership to help them get over the lopsided loss to Ohio State.
They'd laugh and joke during the game, and Daniels would flip on channels to the Oregon and Missouri games -- only when -- a commercial break interrupted the action.
But Daniels, who started for the Buckeyes from 1994 to 1996, couldn't take his eyes off the TV. These were his Buckeyes after all, a team still close to his native Ohioan heart. And he smiled to himself before midnight when that final score stuck. It was all too familiar.
Ohio State won, 63-14, Saturday night -- the identical score from Oct. 29, 1994, when he played Penn State. But, this time, the numbers were reversed. Daniels had stood on the Beaver Stadium grass -- and still remembers listening to the Lion roar over the loudspeaker -- when his beloved Buckeyes dropped a 63-14 contest to PSU. Now, the Buckeyes were celebrating as the victors.
"It just clicked, watching the game the other night," Daniels said with a laugh. "The Bucks did play a good game, so it was good to see that. But also seeing that score, even 19 years later, that was really good to see. I remember hearing about that game like 1,000 times while we were playing Penn State. So it was good."
Former OSU linebacker Lorenzo Styles remembers the Penn State game all too well. He can still remember watching one completion after another from Kerry Collins -- who went 19-of-23 for 265 yards and two TDs -- and chasing down a speedy Ki-Jana Carter (19 carries, 137 yards, four TDs). But, more than anything, he remembers the frustration his defense felt lining up against PSU's mammoth offensive line.
"It sticks with you, kind of even today," former defensive end Matt Finkes said. "People will still bring that up; even before this week there were people talking about that loss. They'll be like, 'Oh it was 56-7.' And I'll be like, 'No, it's 63-14.' It's etched in my memory. That's something you don't forget."
Bill O'Brien's squad of 61 scholarship players probably hopes to forget about the scarlet and gray this week -- but they could learn a lesson from those 1994 Buckeyes and that 63-14 landslide. After suffering its worst loss in nearly a half-century, the 1994 Ohio State squad rebounded with three straight wins, including a 24-3 victory over a good Wisconsin team the very next weekend.
The Buckeyes were young and inexperienced that year -- not unlike PSU this season. Finkes moped on the sideline late in the third quarter and just wanted the game to be over; a sense of relief washed over the team once the refs blew the final whistle.
"The coaching staff just sat us down and said we still have a lot of goals to accomplish -- and let's not lose this whole season just because of one game," Finkes said "And then that's the year we beat Michigan."
Added Styles: "You don't forget about it, but you understand you have to come out ready with what you're supposed to do the next week. We knew we had the rest of the season left."
They had played terribly and lost to the far-superior team, one that finished the season undefeated and boasted five offensive All-Americans. They wouldn't see another team like that one and, they vowed, they wouldn't perform like that again either.
"You get another win under your belt," former OSU DT Matt Bonhaus said, "and that feeling, that loss, goes away."
The Nittany Lions are a 10-point favorite against Illinois on Saturday. Whether they insist they've moved on or not, that loss to Ohio State will still be on their minds.
But the OSU quartet's advice for PSU was simple: Focus on the new opponent, don't lower expectations and don't dwell. Be resilient, and put more time in the film room to correct mistakes.
"They're resilient," Styles said of Penn State, explaining how the team stuck together through the sanctions. "The leadership on this team is like the leadership we had; they'll move forward."
But they won't forget. And the former Buckeyes say that's the way it should be.
"I'm happy we went out and played that good game Saturday night," Finkes said. "But nothing's going to make that 1994 game go away -- even if we would've beaten them 100-7. No matter what, it was still me losing 63-14 back in 1994."
June, 5, 2012
6/05/12
5:00
PM ET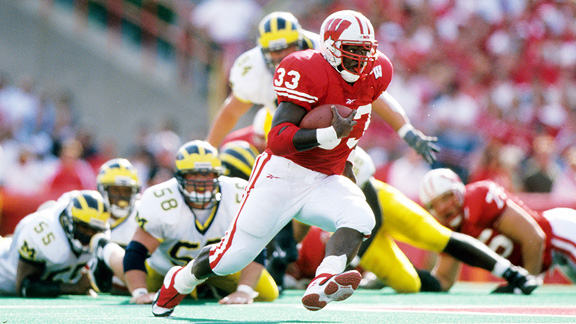 US PresswireWisconsin's Ron Dayne capped off his senior season in 1999 earning several national awards.
On Monday we revealed our list of
top five individual seasons by a Big Ten player in the past 50 years
, and as Brian Bennett explained, the choices weren't easy. We omitted several incredible individual performances, and some of you let us hear about it.
Here's a list of 10 outstanding individual seasons that just missed the cut. As a reminder, these are performances from the
past 50 seasons only
(1962-2011). Although Nebraska has played only one season as a Big Ten member, we considered Huskers' performances from the time span, as well as those by Penn State players before the 1993 season, when Penn State joined the Big Ten. Again, this is a list of outstanding individual seasons, not individual careers.
Even with this list, we're leaving out many great performances.
Here's the rundown, in alphabetical order:
Brad Banks, QB, Iowa, 2002:
Banks played only two seasons in Iowa City, but he left quite an impression in 2002. He led the nation in pass efficiency with a 157.1 rating and had 26 touchdown passes and just five interceptions, to go along with 423 rush yards and five touchdowns on 83 carries. Banks finished second for the Heisman Trophy but took home plenty of awards, including AP Player of the Year, Davey O'Brien and Big Ten MVP.
Kerry Collins, QB, Penn State, 1994:
Penn State is known for producing star running backs, but Collins broke the mold in the team's second Big Ten season with an outstanding performance. He set team records for total offense (2,660), completions (176), passing yardage (2,679), completion percentage (66.7), yards per attempt (10.15) and passing efficiency (172.86). His efficiency mark ranks third in Big Ten history. Collins won the Maxwell and O'Brien awards and finished fourth in Heisman Trophy voting. He led Penn State to an undefeated season and a Rose Bowl title.
Ron Dayne, RB, Wisconsin, 1999:
It was a tough call between Dayne's 1999 campaign and his historic freshman year in 1996, but he capped his Badgers career by sweeping the major national awards (Heisman, Walter Camp, Maxwell, Doak Walker). Dayne rumbled for 1,834 yards and 19 touchdowns, averaging 6.1 yards per carry, as Wisconsin repeated as Big Ten and Rose Bowl champions.
Eddie George, RB, Ohio State, 1995:
Like Wisconsin's Montee Ball, who made our top five list from Monday, George was a model of consistency at the running back spot. He eclipsed 100 rush yards in 11 consecutive games despite often playing sparingly in the fourth quarter, and he finished the season with 1,927 rush yards and 23 touchdowns. He edged Nebraska's Tommie Frazier for the Heisman Trophy and also won the Maxwell, Walter Camp and Doak Walker.
Desmond Howard, WR, Michigan, 1991:
He's the only Big Ten wide receiver to win the Heisman Trophy (Nebraska's Johnny Rodgers played in the Big Eight), and his
Heisman pose
after a punt return touchdown against Ohio State remains an iconic image. Howard had 62 receptions for 985 yards and 19 touchdowns that year. He averaged 27.5 yards per kick return with a touchdown, 15.7 yards per punt return with a touchdown and had 13 carries for 180 yards and two scores. He still holds the single-season record for receiving touchdowns in Big Ten games (13).
Larry Johnson, RB, Penn State, 2002:
Johnson's numbers from 2002 are simply insane, as he averaged 183.1 yards per game and 7.7 yards per carry en route to leading the nation in rushing (2,087 yards). His yards total is the second highest in Big Ten history, and he had 54 fewer attempts than Dayne in 1996. Johnson won the Walter Camp, Maxwell and Doak Walker awards and finished third in Heisman Trophy voting.
Orlando Pace, OT, Ohio State, 1996:
Offensive linemen shouldn't be excluded from a list like this, and Pace was one of the best in recent college football history. He capped his career with an outstanding 1996 season, finishing fourth in Heisman Trophy voting, the best total for a lineman (offense or defense) since 1980. He popularized the term "pancake block" and earned his first Outland Trophy and his second Lombardi Award that year. Pace also earned Big Ten MVP honors.
Ndamukong Suh, DT, Nebraska, 2009:
Everyone around the country learned the name and the "Suuuuuuuh!" calls from Huskers fans. Suh turned into one of the more dominant seasons by a defender in college football history, racking up 12 sacks, 24 tackles for loss, 26 quarterback hurries, 10 pass breakups, three blocked kicks, a forced fumble and an interception. Suh won several national awards (Bednarik, Rotary Lombardi, Nagurski, Outland) and finished fourth in Heisman voting.
Anthony Thompson, RB, Indiana, 1989:
Thompson capped a brilliant career with a flourish, winning the Walter Camp and Maxwell Awards in 1989 and earning his second consecutive Big Ten MVP honor. The Hoosiers star rushed for 1,793 yards and 24 touchdowns, and added 35 receptions for 201 yards. He recorded the top single-game rushing total (377 at Wisconsin) and set the Big Ten's career scoring record, which Dayne eclipsed a decade later.
Lorenzo White, RB, Michigan State, 1985:
There are several work-horse efforts that could be included in this list, but none is more impressive than White's 1985 campaign. The Walter Camp Award winner set a Big Ten record with 419 carries and became the first Big Ten ball-carrier to eclipse 2,000 yards, piling up 2,066. He also ranks second in Big Ten Conference games in both rushing yards (1,470) and rushing average (183.7 yards per game).
May, 8, 2012
5/08/12
4:00
PM ET
Thanks to user
Lavar A. from Silver Spring, Md.
, for inspiring this post:
We're coming up on the one-year anniversary of Nebraska joining the B1G and pretty much have completed a cycle of sports. How would you rate this experiment? Was the first year good for Nebraska and the B1G? Any surprises? How does it compare to PSU's first year in the B1G? In football, what do you think Nebraska's chances are to pull a PSU in their 2nd year and run the table?
Before delving into these questions, let's look at how the two teams stacked up.
PENN STATE, 1993


Record:
10-2 (6-2 Big Ten, 3rd)
Bowl result:
31-13 win against Tennessee in Florida Citrus Bowl
Regular-season highlight:
Penn State rallied from a 37-17 third-quarter deficit at No. 24 Michigan State to win 38-37
Low point:
24-6 loss at No. 3 Ohio State
Record versus ranked opponents:
3-2
Final rankings:
No. 8 AP, No. 7 coaches'
Stats:
first in Big Ten in scoring (32.3 ppg), fifth in points allowed (17.9 ppg)
First-team All-Big Ten selections:
3 (TE Kyle Brady, WR Bobby Engram, G Jeff Hartings)
NEBRASKA, 2011
Record:
9-4 (5-3 Big Ten, 3rd in Legends division)
Bowl result:
30-13 loss to South Carolina in Capital One Bowl
Regular-season highlight:
Nebraska dominated Michigan State, handing the eventual Legends division champ a 24-3 beat-down in Lincoln
Low point:
The week after the Michigan State triumph, Nebraska fell to 2-5 Northwestern on its home field
Record versus ranked opponents:
2-2
Final rankings:
No. 24 AP, No. 24 coaches'
Stats:
fourth in Big Ten in scoring (29.2 ppg), seventh in points allowed (23.4 ppg)
First-team All-Big Ten selections:
4 (RB
Rex Burkhead
, K/P
Brett Maher
, LB Lavonte David, CB Alfonzo Dennard)
Penn State undoubtedly had the better first season in Big Ten play, but the teams shared some similarities. Both had the ability to put up points but underwhelmed a bit on the defensive side. Both struggled against the league's elite teams: Penn State's only losses came against Ohio State and Michigan, while Nebraska fell to BCS bowl participants Wisconsin and Michigan. Nebraska actually has the best win between the two squads, against then-No. 9 Michigan State, but the Huskers also have the only bad loss (Northwestern at home). The teams had about the same number of first-team All-Big Ten players (four versus three).
The Big Ten was a stronger league in 1993 than it was in 2011. Wisconsin won the Rose Bowl and the Big Ten went 4-3 overall in the postseason with its top four teams -- Wisconsin, Ohio State, Penn State and Michigan -- all winning games. The Big Ten went 3-5 in bowl games last season with losses by Wisconsin, Nebraska, Ohio State and Penn State on Jan. 2.
To answer Lavar's question, Nebraska's first year in the Big Ten turned out OK, not great. Some of us, including yours truly, overestimated the difficulty the Huskers would have moving to a new league. Although Nebraska delivered some impressive performances, it also had some clunkers (Wisconsin, Michigan) and seemed to be a bit fragile in handling success.
Can Nebraska replicate what Penn State did in its second year as a Big Ten member (12-0 record, Rose Bowl championship)? It will be extremely tough, but the
Huskers are confident they can take a giant step
this fall. The key for Big Red will be to mirror Penn State's evolution on offense. The Lions went from a good offense in 1993 to a record-setting one in 1994, as they had the highest scoring average (47 ppg) for a Big Ten team in the modern era and averaged a league-record 48.1 points in league games. Nebraska returns eight starters on offense and will be in its second year in coordinator Tim Beck's system. The Huskers also expect to make upgrades on defense after backsliding in 2011.
May, 1, 2012
5/01/12
5:45
PM ET
Catching up on the mail. You can always reach me with questions or comments
here
.
Matt from Dallas writes:
Adam, good article on whether players benefited from jumping early to the draft, can you do a similar article about players who were hurt this year by waiting to enter the draft then going last year. Being a Husker fan I believe Dennard and Crick were hurt significantly, just curious on your thoughts about other teams and players in the Big 10.
Adam Rittenberg:
Matt, not sure if I'll do another post, but I can definitely discuss some of those players here. It would have been interesting to see where Crick would have been drafted had he come out after the 2010 season. He almost certainly would have gone higher than the fourth round. Missing half the 2011 season didn't help Crick, and there seemed to be some questions about him even before he suffered the pectoral injury. Dennard is a different case. He didn't hurt his draft stock much during the regular season and arguably helped it with performances like the ones against Michigan State and Iowa. His problems seemed to surface in predraft events, which could have happened after the 2010 season as well, and the arrest on the weekend before the draft.
One player who certainly should have come out after 2010 is Ohio State center Mike Brewster, who didn't hear his name called at all last weekend. Brewster wasn't part of the infamous Tat-5, but he was hurt by their actions, as Ohio State's offense went from potentially elite to one of the nation's weakest. Penn State receiver
Derek Moye
is another undrafted player who might have fared better had he come out after 2010. An extra year in State College with shaky quarterbacks didn't help his stock.
---
Hunter from Jackson, Mich., writes:
I've heard several analysts saying that this may be Michigan's year to run the table and win the National Championship. But why are the Spartans left out? Though their offense may be hard to predict right now, they are returning 10 of 12 starters from one of the nation's best defenses last season. They also have very winnable games at home in ND, OSU, and NEB. If the offense can work out its kinks by the time conference play begins, and if they can pull out two winnable games in Madison and Ann Arbor, why not us?
Adam Rittenberg:
Who is saying Michigan will run the table? Have you seen that schedule? Alabama (neutral but basically road), Notre Dame (road), Nebraska (road), Ohio State (road) and Michigan State (home). While I see more folks predicting Michigan to win the Big Ten, it's a stretch to see the Wolverines making the national title game with such a tough slate. That said, you're right about people overlooking Michigan State. There's too much attention paid to who leaves on offense and not enough to who comes back on defense. The Spartans might need to win a lot of games 17-14 this season, but I don't expect many teams to put up points against
William Gholston
,
Denicos Allen
,
Johnny Adams
& Co. As far as the national title, I don't put Michigan State in the mix, largely for the same reason as Michigan. The schedule isn't easy, despite more marquee games at home than the Wolverines. It will be very tough to win in both Ann Arbor and Madison.
Bottom line: Michigan State and Michigan are both Big Ten title contenders, not national title contenders. And not much separates the teams.
---
Andrew from Indianapolis writes:
You mentioned how Iowa and Wisconsin placed so many players in the NFL, and how programs that develop NFL talent resonate with potential recruits. Given that, wouldn't
Denard Robinson
's best shot at the NFL be at a position other than QB? And might recruits look at Hoke's decision to keep him at QB as hindering, not helping his chances to get to the next level?
Adam Rittenberg:
No, I don't think that'd be the case, Andrew. Robinson wants to be a quarterback, and he gives Michigan the best chance to win by playing quarterback right now. NFL scouts see him run around and make defenders look terrible each week for the Wolverines. It's not a stretch for them to envision him catching passes at wide receiver, where he'll likely play at the next level. Robinson certainly will have to show he can play a different spot in the predraft workouts, but I don't think Brady Hoke is holding him back at Michigan. It might be a different situation if Hoke was forcing Robinson to play quarterback, which isn't the case at all.
---
David from State College, Pa., writes:
With a playoff basically coming the last real thing I see that is being looked at is the location of the Semifinals. 1 and 2 seed's hosting the sites on their campus seems to rub people the wrong way because they say some college stadiums are small or the town cant deal with the influx of people. Why not allow each conference (All not just the power six) choose a site for there semi if they have a team hosting a semi? Just as an example the B1G could choose Indy and no matter what B1G team ended up 1 or 2 Indy would be the location. This would also lessen the travel burden on fans if chosen correctly by the conferences.
Adam Rittenberg:
David, I like the idea, but it would be tough to execute. The challenge would be the relatively short time to prepare between championship weekend and the semifinal games. Would Lucas Oil Stadium be willing to keep a date open for a possible semifinal? That's a bit of a gamble, and the venue could end up losing a lot of money. The
proposal being considered that includes "anchor" bowls
gives leagues a bit of freedom, like the Big Ten ensuring the Rose Bowl is a semifinal if it has a team in the top 2. The Rose Bowl is going to have a game no matter what, so advance planning isn't an issue. The plan I advocate, the one that truly benefits the fans, is to have these games on campus. The campus venues will be available, and the travel burden would be minimal for most of the fans attending the games.
---
Stephen from Chicago writes:
Hi Adam, I'm sure you saw that Purdue recently unveiled a new train logo that Nike designed because they thought our old logo was too hard to work with on apparel. (Despite working for so many years...) Well, like most Boilermakers, I was none too pleased with the new logo as it takes away a lot of the dynamic, aggressiveness, and uniqueness of our original Boilermaker Special logo. So being a graduate of Purdue's industrial design program, I designed my own interpretation of a new logo, merging the old logo with the new one. I kept it symmetrical as that was one of Nike's biggest complaints, but added in the things they took away, like the block P, the angled smokestack, the two-toned Purdue text, and the old gold (which is our official school color; not that pale yellow). I also simplified the smoke, and only used 4 colors like the old logo, rather than the 5 of the newer one. So you can check it out
here
. Let me know what you think! I'm just trying to keep my fellow Purdue fans excited about our athletics program despite the changes the administration keeps making that deflates fans' enthusiasm. Thanks for reading and looking. Boiler up!
Adam Rittenberg:
Thanks for the note, Stephen, and well done on the design. I like it. The block P in the train logo is definitely a nice touch, and the old gold is definitely preferable to what I saw with the new logo, which looks a bit cartoonish to me. There's always going to some disagreement when schools change their logos, and I understand the reasons (Nike, $$$) why Purdue needed to make a switch. It's always good, however, to see some different views, so thanks for providing one.
---
Adam from Chicago writes:
At a totally unscientifically random point in the 3rd round of the NFL draft, the Big Ten has had 14 players taken (out of 94, which isn't so bad at all). But look at these breakdowns: 9 are down linemen, 1 is a quarterback (this will soon be 2 as the excellent Kirk Cousins goes somewhere), and 4 play all the other positions combined. The Big Ten is clearly one of or the preeminent producer of professional linemen among the conferences. I would argue 2 drafted QBs is solid, and I don't think it's fair to call Big Ten QB play poor lately. Clearly though, it's the other positions that are increasingly dreadful in the Big Ten. This is an often discussed topic, but is there any hope for better Big Ten skill players?
Adam Rittenberg:
Adam, it's definitely a problem in the Big Ten, especially compared against leagues like the SEC and Big 12. The Big Ten had a lot of good wide receivers in 2011, but only one, Illinois' A.J. Jenkins, went in the first two rounds. Ohio State's DeVier Posey, who only played in three games last year, was the next Big Ten wideout off of the board in the third round. This trend needs to change going forward, and it's hard to pinpoint the solution, whether it's recruiting differently or placing a greater premium on developing receivers. The quarterback position also needs to be upgraded, as the Big Ten hasn't had a signal caller drafted in the first round since Penn State's Kerry Collins in 1995! That's horrible. I also think cornerback is a spot where the Big Ten needs more elite-level prospects to emerge. Again, a lot of it is recruiting, but it's also developing players into stars who appeal to NFL teams.
January, 10, 2012
1/10/12
5:30
PM ET
The season might be over, but the mail never stops.
Let's do this.
Mike from Phoenix writes:
As a Badger fan I was waiting to see your final power rankings of the year because I had a feeling that you might make MSU number 1. I just don't get it. It's the same way the coaches poll has MSU and Michigan ahead of Wisconsin. That's a joke.Look at the teams everyone played in the bowl season. MSU barely beat Georgia who is not the 2nd best team in the SEC even though they went to the title game. They are the 4th best team in that league. Michigan looked bad, and played one of the easiest teams in BCS history. Wisconsin would have destroyed both Georgia and Va. Tech, but you are penalizing them for going blow for blow with the most talented offensive team in the country. They were a fumble away from possibly winning.
Adam Rittenberg:
Brian and I had a spirited debate about Wisconsin vs. Michigan State for No. 1. You can make good cases for both teams, but you can't base it solely on the bowl competition. Would Wisconsin have rolled Georgia? Maybe, maybe not. Georgia has a much better defense than Oregon and would have moved the ball against a Wisconsin defense that wasn't nearly as good as its stats indicated. Wisconsin also was extremely fortunate to beat Michigan State in the Big Ten title game, which the Spartans dominated for stretches. The two teams are evenly matched, as their two games this season showed. And I believe Michigan State ended the season playing better football than Wisconsin. I also tend to value teams with good to great defenses above those that rely on their offense. Michigan State is certainly superior to Wisconsin on defense.
---
Tim from Iowa writes:
While it might get you some back lash, I'd like your opinion on this.....me and several friends have the opinion that if 2 B10 teams(esp in our champ game) played like LSU-Bama, the B10 would once again be ripped for 3 yards/cloud of dust 1950's football. I watched parts ofthe game last night, then the final 8min. what I saw was one great def, 2 bad quaterbacks, a very repeative ineffective O from LSU, and Iowa/B10 style ball control from Bama. then Saban being proclaimed the next "Bear".
Adam Rittenberg:
Tim, you're right to a degree, although there was less SEC love about the national title game than there was about the 9-6 contest. The SEC in a sense has earned the right to have ugly games because teams from other leagues simply haven't stacked up against the SEC's best. The common belief is that while Oklahoma State would have scored against Alabama, the Tide still would have rolled the Cowboys by 20-30 points. But I agree the SEC is the only league that can "get away" with games like last night's. Most people would much rather see games like the Rose Bowl and the Fiesta Bowl. Alabama is a great football team with one of the best defenses I've ever seen. But LSU's offense would be mediocre to bad in most leagues, not just the SEC.
---
Ryan from Pittsburgh writes:
Adam,What are your thoughts on the new Penn State staff? I have to admit I'm somewhat surprised. For years I thought that PSU would turn the corner if they could only get a younger fresher staff in place to energize recruiting. This new staff that O'Brien has coming in is not young at all, so I doubt they're great recruiters. Plus any Auburn fan will tell you that Roof was fired. Mack Brown fired McWhorter last year. Am I overreacting?
Adam Rittenberg:
You bring up a good point, Ryan. A lot of veteran assistants are joining Bill O'Brien in State College. Keeping Larry Johnson is huge and a somewhat obvious move. He's one of the Big Ten's top recruiters, and he'll maintain Penn State's presence in the Maryland/DC area. His age isn't a factor in that regard. Ted Roof is the hire that has some Penn State fans upset. I agree he doesn't have the best track record, but the overall defensive staff with both Johnson and Ron Vanderlinden still looks solid to me. Charles London is a younger guy (mid-30s), but he's definitely the junior member right now. It'll be interesting to see who O'Brien hires to fill out the staff. Some more youth would be nice.
---
Jeff from Omaha, writes:
Adam? Why am I so awesome?
Adam Rittenberg:
Ask myself the same thing every morning.
---
Sam from Kalamazoo, Mich., writes:
Adam, can you please explain your rationale for naming MSU as an early favorite to win the B1G in 2012 over, say, Michigan? The Wolverines return two 1,000 yard rushers in Denard and Fitz Toussaint, 3 starting receivers, and a top-5 recruiting class loaded with 4 and 5 star DLs, LBs, and OLs. Molk, Van Bergen, and Martin will be sorely missed, but I'm not sure it makes sense that MSU is so ramped for success after losing 6 All-Big Ten players and playing in the Big House. Can you even name next year's replacement for mighty
Kirk Cousins
off the top of your head?
Adam Rittenberg:
Sure, Sam.
Andrew Maxwell
. Michigan State has been grooming him the past two seasons. Will he be as good as Cousins? That's a tall order, but he's not coming out of nowhere. Michigan State is my pick because of its defense. While Jerel Worthy is a big loss, the Spartans return a ton of elite athletes in all three levels, players like Will Gholston, Denicos Allen, Johnny Adams and Darqueze Dennard. The Spartans have more difference-makers on defense than Michigan will in 2011, at least in my view. I also believe MSU will be a more effective running team than it was this season because of an experienced line and a strong lead back in
Le'Veon Bell
. I certainly could see Michigan winning the division, but the Wolverines have a much tougher schedule in 2012 and could have a better team with a worse record (much like MSU this season versus 2010).
---
Ben from Fargo, N.D., writes:
One of the big stories in 2012 will be a surprising improvement in Minnesota's defensive line play. Ask Jerry Kill about Thieren Cockran. He's coach Kill's secret weapon.
Adam Rittenberg:
Will do, Ben. Thanks for the note. Minnesota's defensive line play has struggled since Willie VanDeSteeg departed following the 2008 season. Gophers have ranked and 78th, 120th and 86th nationally in sacks in the past three seasons. It's an area of focus throughout the offseason as Minnesota loses linebacker Gary Tinsley and standout safety Kim Royston. Cockran, a redshirt freshman defensive end from Florida, is among those who needs to step up in 2012.
---
Matt from Burbank, Calif., writes:
Hi Adam,Regarding Northwestern next year, do you think
Kain Colter
gets the starting QB job? I've been of the opinion that he is more dangerous in a utility role as he was used these season, but on the other hand he's proven he can win and be effective as the top guy. Additionally, do you think there's any hope for this defense?Thanks for a great season, can't wait till next year! Bowl win or bust!
Adam Rittenberg:
Matt, I think Colter will be the starter for 2012, but he has to make some important strides as a passer during the offseason. Northwestern's offense is predicated on short passing and accuracy. The Wildcats convert a lot of third downs, and Colter has to be able to make the throws
Dan Persa
, Mike Kafka and C.J. Bacher have made in recent years. He's the best athlete Northwestern ever has had at quarterback, and he's a perfect fit for the spread -- as long as he gets better as a passer. If there's little to no progress, Northwestern will have to use another quarterback, likely
Trevor Siemian
, to spark the passing game. Offensive coordinator Mick McCall has developed quarterbacks well at Northwestern, and Colter is his next big project.
---
Kevin from New Orleans writes:
It's been a tough couple weeks to be a Badger. Lost the Rose Bowl, lost 3 straight in hoops, lost 5 coaches. First let me say, if Bielama has Barry's confidence and support, then he has mine. Have you heard anything? Are the Badgers getting some really good coaches? I doubt we'll get anybody that can match the talent we are losing, but maybe we get an upgrade on the recruiting. 4 of the 5 coaches that left were not good recruiters. I'd love to hear your thoughts.
Adam Rittenberg:
Kevin, while it's tough right now, I think Wisconsin fans should have faith in Bret Bielema to make some good hires. As you note, Joe Rudolph is the only major loss from a recruiting standpoint. Bielema has made good choices in the past, such as defensive coordinator Dave Doeren (now head coach at Northern Illinois), Dave Huxtable (did a great job with UW linebackers in only year) and Chris Ash (has upgraded secondary, now defensive coordinator). It'll be interesting to see where he turns to replace Paul Chryst and Bob Bostad, but a lot of good coaches will want to come to Madison after seeing what Wisconsin has done the past few years. So I would look at Bielema's hiring track record and feel confident.
---
Lance from Arlington writes:
"While Penn State has produced some solid college quarterbacks -- most recently Daryll Clark, the 2009 Big Ten Offensive Player of the Year"While your opinion is correct in general, saying Daryll Clark was solid does him an injustice. DC (along with Drew Brees) was the best QB the Big Ten has had since Kerry Collins and Michael Robinson is right there. Simply put, Penn State has produced three of the top five QB's to have competed in the Big Ten since their arrival. You will no doubt disagree since you hate Penn State but you are wrong.
Adam Rittenberg:
Lance, I don't hate Penn State. I hate every school according to you folks. Let's get that cleared up. I was a big Daryll Clark fan during his career, but your argument doesn't hold up. Troy Smith won a Heisman Trophy in 2006. He played between Brees and Clark. Iowa's Brad Banks won the Davey O'Brien award in 2002. He played between Brees and Clark. While Clark led the Big Ten in pass efficiency in conference games in 2009 (136.6), it's the lowest rating for a Big Ten leader since at least 1980. His season rating that year (142.6) didn't lead the league (Terrelle Pryor did) and ranks behind all of the league leaders since 1980. Again, not hating on Daryll, who has a really nice career in State College, as did Michael Robinson. But there have been better Big Ten quarterbacks since Kerry Collins, including Wisconsin's
Russell Wilson
this year.
January, 6, 2012
1/06/12
5:15
PM ET
If Penn State fans are disappointed with the list of candidates for the school's head-coaching vacancy, they should check out another list: the school's recent quarterbacks.
This exercise isn't meant to further depress Nittany Lions supporters. It actually should get them excited about the team's future
under new coach Bill O'Brien
.
Bear with me here.
[+] Enlarge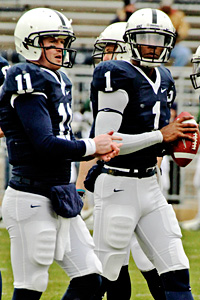 AP Photo/Gene J. PuskarMatt McGloin (11), Rob Bolden (1) and all quarterbacks who follow could be the biggest beneficiaries of new coach Bill O'Brien.
One of the biggest knocks on Penn State during the Joe Paterno era was the team's inability to produce viable NFL quarterbacks. Unless Kerry Collins returns to an NFL team in 2012, Penn State will have no former quarterbacks playing quarterback at the next level (Michael Robinson is a running back for the Seattle Seahawks). The San Francisco 49ers in 2006 drafted Robinson as a running back, meaning that Penn State hasn't had a quarterback selected in the NFL draft since 1997, when the Baltimore Ravens selected Wally Richardson in the seventh round.
That's a stunning drought for a program considered a traditional power. In the Big Ten, only Minnesota and Nebraska have gone longer without having a quarterback selected.
Penn State has had only two other quarterbacks drafted -- Collins, a first-round pick in 1995, and Tony Sacca, a second-round pick in 1992 -- since Todd Blackledge in 1983. Sacca played only two games in his pro career. Blackledge played six seasons with the Pittsburgh Steelers and Kansas City Chiefs, throwing 29 touchdowns and 38 interceptions in his career.
While Penn State has produced some solid college quarterbacks -- most recently Daryll Clark, the 2009 Big Ten Offensive Player of the Year -- the program has been lacking at the position.
O'Brien could provide a boost at quarterback and for an offense that ranked 93rd nationally this season and that has finished in the top 30 nationally just twice (2002, 2008) since the 2000 season. One of the common complaints I've heard from Penn State fans, particularly the past two seasons, is that the team's offense is stuck in the past.
O'Brien has worked with one of the best quarterbacks to ever play -- Tom Brady -- the past few years with the New England Patriots. While his track record as an offensive coordinator in college isn't overly impressive, he was part of a Maryland staff that produced the nation's No. 28 offense in 2003. Georgia Tech finished 15th nationally in total offense in 2000, while O'Brien served as the team's running backs coach and recruiting coordinator.
If nothing else, O'Brien has seen what good offense and good quarterback play looks like. The Patriots rank second in the NFL in both total offense (428 ypg) and pass offense (317.8), and third in scoring (32.1 ppg).
That doesn't mean O'Brien's arrival automatically makes Penn State one of the Big Ten's top offenses in 2012. But if he hires the right staff and can develop players effectively, things will be looking up for the Lions attack. Penn State needs much more out of the quarterback position than it received this year, as
Matthew McGloin
and
Rob Bolden
shared time and neither had much success.
Maybe O'Brien gets the most out of McGloin. Maybe O'Brien fosters the development not seen from Bolden. Maybe another quarterback emerges this fall under O'Brien's tutelage.
O'Brien clearly has more important things on his plate as he transitions into a job he's never held before.
But his presence in State College could be just what Penn State needs to upgrade the most important position on the field.
November, 26, 2011
11/26/11
9:45
PM ET
MADISON, Wis. -- The game ended one debate and added intrigue to another.
Wisconsin's
45-7
dissection of Penn State left no doubt as to which is the best team in the Leaders division. After falling behind early, the Badgers outclassed the Nittany Lions, as they're prone to do in a building where they've now won 16 consecutive games. They earned the right to face Michigan State next week in the inaugural Big Ten championship game.
But the decisive victory only brought more uncertainty to a question Badgers players and coaches love to get asked even though few have an answer.
Who is the Big Ten's Offensive Player of the Year: quarterback
Russell Wilson
or running back
Montee Ball
?
[+] Enlarge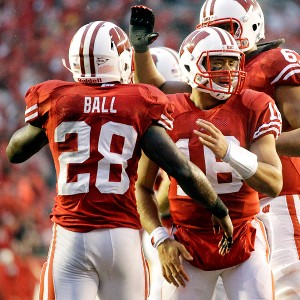 AP Photo/Morry GashWill Russell Wilson and Montee Ball end up sharing the Big Ten's top offensive player of the year honors?
"I'd split it," Wisconsin coach Bret Bielema said. "I don't know if there's ever been co-offensive MVPs off the same team. I don't know if that's ever been done, but I don't know how you can give it to one without the other."
It has happened once: Big Ten coaches voted Iowa quarterback Matt Rodgers and running back Nick Bell as co-Offensive Players of the Year in 1990. Will it happen again next week?
Wisconsin wouldn't be where it is without the contributions of Wilson and Ball, who are putting together the best combined quarterback-running back performance in a season in Big Ten history (more on that later). The senior quarterback and junior running back both sparkled again Saturday, having a hand in all six Wisconsin touchdowns against the nation's No. 8 defense. Wilson finished the game 19-of-29 passing for 186 yards and two touchdowns, while Ball recorded 156 yards and a touchdown on 25 carries.
It's rare when one NCAA record is set in a game, much less two. How about two records by two players in the same half? Wilson and Ball delivered Saturday.
Ball's second rushing score late in the second quarter gave him 12 consecutive games with multiple touchdowns, breaking Barry Sanders' NCAA record of 11 straight games. Wilson's 21-yard touchdown strike to
Jared Abbrederis
in the first quarter gave him 36 consecutive games with at least one touchdown pass, tying the NCAA record held by former Texas Tech star Graham Harrell.
Wilson's team single-season touchdown passes record stands at 28. Ball, meanwhile, has his sights set on a loftier mark, one thought to be unreachable. His four touchdowns Saturday give him 34 for the season, the second-most in NCAA history behind only Sanders' 39 scores in 1988.
"It's extremely rare," Wilson said of his and Ball's performances this season. "It's a once-in-a-lifetime type thing. You don't see it very often, but I think with Montee's ability to do a lot of different things, and then with my ability to throw the ball extremely well and to improvise when I have to, it's pretty dangerous."
You think?
Big Ten awards voting wraps up Sunday, and all-conference teams will be announced Monday night. The league's Offensive and Defensive Player of the Year awards are announced Wednesday afternoon, so the debate about Wilson vs. Ball will continue until then.
Don't expect much help from the Badgers.
"I'm very happy I don't have to make that decision," offensive lineman Travis Fredrick said.
"I couldn't say," added fellow offensive lineman Ryan Groy. "I'd be split between both of them."
Ball appeared to provide a definitive answer the first time I asked him.
"I'd pick myself," he said. "Of course, I'd pick myself."
But when asked during a
video interview
, Ball flip-flopped, saying he'd vote for "the pretty boy, Russell. Because what he brought to this team was a lot." When called out, Ball tried to backtrack, the first time all afternoon he had to.
Wilson was a bit more decisive.
"I'd definitely vote for Montee," he said.
While the debate carries on about which individual performance is superior, the combined effort from Ball and Wilson is more notable.
There's never been anything quite like it in Big Ten history. Wilson's passer rating of 192.9 this season keeps him on pace to break Colt Brennan's single-season NCAA record of 186. He should have no trouble breaking the Big Ten season record of 175.3 set by Michigan's Bob Chappuis in 1947.
Ball already has shattered the Big Ten season touchdowns mark of 26 and should finish among the league's top 10 in single-season rushing (he currently has 1,622).
While the Big Ten has witnessed better individual rushing and passing performances, the combined effort from Ball and Wilson stands alone in league annals. It's the best since Penn State's Kerry Collins and Ki-Jana Carter 1994: Collins passed for 2,679 yards and had a quarterback rating of 172.8, which ranks second in Big Ten history; Carter rushed for 1,539 yards and 23 touchdowns.
Former Wisconsin coach and current athletic director Barry Alvarez brought up Iowa's Chuck Long and Ronnie Harmon in 1985. They had impressive numbers -- Long racked up 3,297 pass yards, 27 touchdowns and a rating of 153.1; Harmon had 1,166 rush yards and nine touchdowns -- but not as impressive as the Wilson-Ball tandem.
"They're both really special," Alvarez told ESPN.com. "You only have one ball, so it's hard to have two guys with numbers like that."
It wasn't hard for Ball and Wilson to mesh. They play different positions and have different responsibilities, but they're driven in the same way.
"It goes back to how hard I worked in the offseason and how hard he worked when he got here," Ball said.
When Wilson arrived July 1, he told Ball he would compete to become one of the best quarterbacks in the country.
"He gravitated to that," Wilson said. "Every day in practice, we work together and communicate extremely well. Our desire to be great and to never be afraid to excel is something we definitely have in common."
For those arguing that Wisconsin and its stars feast on inferior competition, consider this: Ball racked up 495 rush yards and seven touchdowns and added two receiving scores against three top-10 defenses (Michigan State, Penn State and Illinois). While Wilson wasn't at his best in the Michigan State game, he still rallied his team brilliantly in the fourth quarter and stepped up against an excellent Penn State defense on Saturday, completing 15 of 21 passes for 149 yards in the first half.
"Two of the most complete players at their respective positions that I've ever seen play the game," Bielema said.
Wilson and Ball could share Big Ten Offensive Player of the Year. One or both could earn an invitation to New York for the Heisman Trophy presentation.
But the two are more focused on sharing a podium in two other places -- Indianapolis and Pasadena.
July, 14, 2010
7/14/10
4:30
PM ET
The Davey O'Brien Award preseason watch list came out today, and it includes three quarterbacks from the Big Ten.
They are:
No surprises with these three. Stanzi is one of five semifinalists for the 2009 O'Brien Award who appear on the 2010 watch list. The list will be narrowed to 16 semifinalists on Oct. 25, and then to three finalists on Nov. 22 before the winner is announced Dec. 9 during the Home Depot ESPNU College Football Awards Show.
Quarterbacks don't have to be on the preseason watch list to contend for the honor, so I'll throw out another two more names for you: Michigan State quarterback
Kirk Cousins
and Indiana quarterback
Ben Chappell
. Both Cousins and Chappell have some of the better receivers in the league at their disposal this fall and could put up some big-time numbers.
Stanzi, Tolzien and Chappell appear on the
preseason watch list for the Johnny Unitas Golden Arm Award
.
Four Big Ten quarterbacks have won the Davey O'Brien Award: Ohio State's Troy Smith (2006), Iowa's Brad Banks (2002), Penn State's Kerry Collins (1994) and Iowa's Chuck Long (1985). Penn State's Todd Blackledge won in 1982 while the Nittany Lions were still a Division I-A independent.
August, 14, 2009
8/14/09
2:00
PM ET
Posted by ESPN.com's Adam Rittenberg
I'm a lot like The Most Interesting Man in the World. If I disagree with you, it is because you are wrong.
Kurt from Chesapeake, Va., writes: Adam, As you are talking bowl tie-ins I got to thinking. One of the reasons that the Big Ten has such a bad record in bowl games is because there have been 2 teams in BCS games. Because of this, the rest of the Big Ten has been "bumped up" in the slotting. Take last year for example. If Ohio State would have not been a BCS team, they would have taken Michigan States place and probably beat Georgia. Michigan State would have then played in Iowa's place and beat South Carolina. And so on. Is the Big Ten looking at this senario when making new bowl tie in agreements?
Adam Rittenberg: You're absolutely spot on, Kurt. While the Big Ten must perform better in BCS games, the league's overall bowl record would be much better if each team moved down a slot and there was only one BCS selection. No league plays as challenging a bowl lineup as the Big Ten, especially when you factor in the geography. That said, I don't think the Big Ten will ever scream, "Please don't take two of our teams for BCS bowls!" The revenue and exposure is way too appealing to pass up. But as far as the proposed lineup, it does give the Big Ten another manageable matchup on Jan. 1 in the Gator Bowl. The Big Ten still will be "playing up" against the ACC in Jacksonville, but I doubt there'll be a major difference between those teams.
---
Brett from Scranton, Pa., writes: Adam,Great job on the blog, I've been reading up on the stuff you've posted about Northwestern and had a couple questions for you about them. They have always given my alma mater (PSU) trouble and also have a similar recent history with Iowa. Playing those schools consecutively might not be helpful, but not having Ohio State on the schedule could do wonders for them. Do you think Northwestern has a chance of playing two major Big11Ten games in a row against PSU and Iowa late in the season? Their non-conference is about as friendly as PSU's so I could see them making it to October 31st unscathed or with only one loss. It's always hard to tell which Northwestern you're going to get, but I could see it happening. Looking past Northwestern seems like it would be a bad idea for anyone in the league this year, thoughts?
Adam Rittenberg: Thanks, Brett. Northwestern has some issues to work out on offense at both running back and wide receiver, but the defense carried the team last year and figures to do so again. A hot start is certainly possible, and the Penn State game could really turn into a bigger deal than many people think. Critical early games for Northwestern are Minnesota (home) and Purdue (road). The Penn State-Iowa-Illinois stretch is undoubtedly Northwestern's toughest of the season, and the Wildcats would be thrilled to go 2-1 there. Penn State isn't the same team away from Happy Valley, but Northwestern could have a hard time running the ball against the Lions. A lot of people are waiting to see if Northwestern can reload at the offensive skill spots, but I would agree that looking past the Wildcats would be a mistake.
February, 18, 2009
2/18/09
1:22
PM ET
Posted by ESPN.com's Adam Rittenberg
It's incredibly difficult to sift through the long and storied history of Penn State football and identify four faces who best symbolize the program. I could create Mount JoePa and include four faces of the iconic head coach over the decades, but that's too easy.

Penn State has produced dozens of standout players, but only one Heisman Trophy winner (John Cappelletti in 1973). There aren't a lot of slam dunk picks with this program. Which linebacker best represents Linebacker U? Who was the best Penn State running back?
I'm sure this list will fill up my inbox with angry e-mails, but here goes.
Joe Paterno -- Few people have meant more to a college football program than Paterno has to Penn State. The game's all-time winningest coach will enter his 44th season this fall. He owns two national championships, five perfect seasons and 23 bowl victories.
Jack Ham -- Ham set the groundwork for Linebacker U. with an impressive career as a three-year starter. He recorded 251 career tackles, blocked three punts and was selected to both the college and pro football Halls of Fame.
John Cappelletti -- The running back had the most decorated season in team history when he captured the Heisman Trophy, the Maxwell Award and the Walter Camp Award in 1973. Cappelletti won first-team All-America honors and helped Penn State to a perfect 12-0 season. His Heisman Trophy acceptance speech is one of the more memorable moments in Penn State history.
LaVar Arrington -- A unique physical specimen, Arrington was the most exciting defensive player in college football during the late 1990s. A two-time first-team All-American, Arrington won the Bednarik and Butkus awards in 1999. He finished ninth in the Heisman Trophy voting.
If it makes you feel better, the final choice was extremely tough. I also considered Curt Warner, Kerry Collins, Lydell Mitchell, Ki-Jana Carter and Paul Posluszny.
September, 5, 2008
9/05/08
10:49
AM ET
Posted by ESPN.com's Adam Rittenberg
Here's a scary thought for Big Ten defensive coordinators.
In 1994, Penn State led the nation in both scoring (47.8 ppg) and total offense (520.2 ypg), broke three Big Ten records, 14 team records and 19 individual records. The Nittany Lions' produced five first-team All-Americans on offense, including running back Ki-Jana Carter, the No. 1 overall selection in the 1995 NFL draft. Penn State didn't lose a game that fall, beating its opponents by an average of 26 points.
But in terms of big-play threats, the type of players who can change games upon contact with the ball, the 1994 Lions team might be jealous of the current one.
"We didn't have as many [in 1994]," coach Joe Paterno said. "Carter was the first guy picked in the whole draft, Bobby Engram's still playing, [Kerry] Collins was a first-round pick, [Kyle] Brady's still playing tight end with the Patriots. We had four or five on that team that were playmakers and game-breakers, the whole bit.
"We probably have more kids on this team who have that kind of potential."
Whether Penn State makes a push for a Big Ten title in what could be Paterno's final season on the sideline remains to be seen.
The Lions lost linebacker Sean Lee, their top defender, to a knee injury this spring. The team's off-field problems continued this week with the suspensions of three players, including All-Big Ten defensive end Maurice Evans and starting defensive tackle Abe Koroma, for Saturday's critical home matchup against Oregon State (ABC, 3:30 p.m.).
But a glance at Penn State's skill-position depth makes it clear there will be plenty of dizzying highlights this fall in Happy Valley. Throw in a system -- the Spread HD -- that should better utilize the talent, and the Lions should be even more dangerous.
"There's not enough spots on the field for the amount of athletes we have," wide receiver Brett Brackett said. "To get them all to touch the ball and make plays is going to be exciting."
The 6-foot-6, 235-pound Brackett plays behind three senior wide receivers -- Derrick Williams, Deon Butler and Jordan Norwood -- who entered the season with 366 career receptions, 32 total touchdowns and 4,597 career receiving yards. Though the group has fallen short of expectations at times, the arrival of a new offensive system and a new quarterback (Daryll Clark) should help.
Williams' value goes beyond the passing game, as he showed last Saturday against Coastal Carolina, returning a kickoff 89 yards for a touchdown. The co-captain has three career touchdowns on returns to go with five rushing scores.
"There's different people that can beat you in different parts of the offense," Brackett said. "It's not just [Anthony] Morelli throwing deep or Rodney [Kinlaw] making runs. There's different guys that can make plays and different abilities."
Williams played an integral role in Penn State's Orange Bowl run in 2005, but when it comes to playmakers, the current team has more -- "by far," he said.
"Right when last year's team was over with, it was definitely a sign of how many weapons we had," Williams continued. "There's so many people on the field that are very good that can do things at any given moment."
The veteran receivers help, but Penn State's biggest strength will be in the backfield. In addition to Clark, whose scrambling ability gives the offense something it didn't have the last two seasons, the Lions boast a core of young ball carriers. There's a reason why seven running backs are listed on this week's depth chart.
Sophomore Evan Royster leads the group after finishing second on the team in rushing and averaging better than six yards a carry last season. Next up is redshirt freshman Stephfon Green, whose speed and elusiveness makes him one of the most anticipated arrivals in recent years. Sophomore Brent Carter also will contribute alongside true freshman Brandon Beachum.
The Lions averaged 7.8 yards a carry and scored seven rushing touchdowns against Coastal Carolina.
"We're in good shape," Paterno said. "But you can't play 'em all, also. Sometimes it's a luxury that we can't exploit."

Brackett and his teammates occasionally watch highlights from the 1994 season, trying to pick up lessons from the offense. But the scheme barely resembles what Penn State now runs.
In some ways, neither do the players.
"They had a lot of offensive weapons," Brackett said, "but I don't think they had the same type of athlete we have now and the amount we have, it's unbelievable. ... It'll be hard to live up to what they did on the field, but we have the ability to do that."
August, 1, 2008
8/01/08
12:30
PM ET
Posted by ESPN.com's Adam Rittenberg
Here's a look at 10 players who earned the title of "Captain Clutch" during their Big Ten careers:
Anthony Carter, WR, Michigan [1979-82] -- Carter was only a freshman when he played a part in one of the greatest plays in Michigan history, hauling in a 45-yard touchdown pass as time expired to beat Indiana in 1979. The wideout/return man had 37 touchdown receptions in three seasons.
Kerry Collins, QB, Penn State [1991-94] -- Penn State joined the Big Ten in 1993, and Collins made his mark the next year. He led the Nittany Lions to a 12-0 record, which included three road victories (Michigan, Indiana, Illinois) by seven points or fewer.
Ron Dayne, RB, Wisconsin [1996-99] -- The NCAA's all-time rushing leader made his mark in big games, winning back-to-back Rose Bowl MVP awards after rushing for 246 yards and 200 yards in Badger victories. Dayne also had a 246-yard effort in his first bowl appearance, a Cotton Bowl win against Utah.
Bob Griese, QB, Purdue [1964-66] -- Griese's near-flawless performance in Purdue's upset of No. 1 Notre Dame in 1965 stands as one of the greatest in team history. The next year he led the Boilermakers to their first Rose Bowl appearance and a 14-13 win against USC.

Brian Griese, QB, Michigan [1994-97] -- After coming off the bench to rally the Wolverines past Ohio State in 1996, Griese cemented himself as a clutch quarterback the next season. He led Michigan to a 12-0 record and a national championship, winning five games by 10 points or fewer, including a 21-16 triumph over Washington State in the Rose Bowl.
Jim Harbaugh, QB, Michigan [1983-86] -- Considered by many to be the best quarterback in school history, Harbaugh led Michigan to a 27-23 win against Nebraska in the 1986 Fiesta Bowl. He won four games by three points or fewer as a senior.
Nile Kinnick, RB, Iowa [1937-39] -- The stadium is named after him for a reason. Kinnick did it all for Iowa, including a 63-yard punt that pinned No. 1 Notre Dame at the 6-yard line in a 7-6 Hawkeyes win in 1939.
Craig Krenzel, QB, Ohio State [2000-03] -- He took heat for his arm strength, but no one could question his late-game toughness. The two-time Fiesta Bowl MVP led Ohio State to a national title in 2002 with his arm and his legs.
Chuck Long, QB, Iowa [1981-85] -- A dramatic fourth-down touchdown run against Michigan State kicked off a memorable 1985 season for the Hawkeyes and Long, who many believe should have won the Heisman Trophy. Two weeks later, Long rallied Iowa past Michigan.
Mike Nugent, PK, Ohio State [2001-04] -- Record-setting kicker was nearly unshakable under pressure. He kicked game-tying and game-winning field goals to beat Purdue in overtime in 2003, and his game-winning 55-yard kick against Marshall stands out in an otherwise forgettable 2004 season.