April, 22, 2014
Apr 22
9:00
AM ET
Last week, in response to a
mailbag question from reader and Rutgers fan Ed
, I came up with a hot-seat ranking for all the coaches in the Big Ten.
That list sparked a bit of discussion in some places, notably Nebraska. How accurate were my rankings, and what were some of the factors that went into them? I thought I'd bring Adam Rittenberg into the debate for a little bit of fact vs. fiction.
[+] Enlarge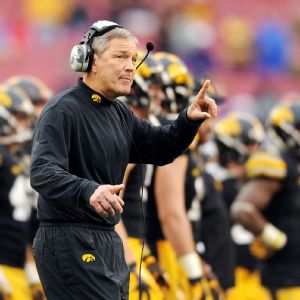 Steve Mitchell/USA TODAY SportsKirk Ferentz, who began at Iowa in 1999, appears to be secure heading into 2014.
Brian Bennett:
Adam, I listed seven coaches as being completely safe, barring some unforeseen scandal: Ohio State's Urban Meyer, Michigan State's Mark Dantonio, Penn State's James Franklin, Minnesota's Jerry Kill, Northwestern's Pat Fitzgerald, Wisconsin's Gary Andersen and Iowa's Kirk Ferentz. While Ferentz hasn't won at an elite level of late, his contract keeps him basically unfireable. Fact or fiction on my Tier 1 of coaches?
Adam Rittenberg:
Fact. It would truly take something disastrous, Brian, for one of these coaches to lose his job. Ferentz helped himself last season as another losing campaign would have placed more pressure on Iowa's administration to part ways with their highly paid coach. Unless the Hawkeyes take a significant step backward in 2014, which is tough to do given an extremely favorable schedule, Ferentz is on very secure footing. Minnesota
awarded Kill a contract extension and a raise
in February, and with facilities upgrades on the way, no change is imminent. The rest are as safe as you can get in this line of work.
BB
: My second tier included three coaches who should be fine but could be sweating things out if they have a rough season: Indiana's Kevin Wilson, Purdue's Darrell Hazell and Michigan's Brady Hoke. Some might say Hoke is actually on a hot seat, but I think his first-year success, recruiting and support from athletic director Dave Brandon means he is at least a year away from feeling any substantial pressure. Fact or fiction on these guys?
AR:
I would say fact on both Wilson and Hazell and possibly fiction on Hoke. Wilson has to make a bowl game fairly soon after IU squandered a great opportunity last season (eight home games). But Indiana athletic director Fred Glass, upon
hiring Wilson in 2010
, stressed the need for continuity at a program that hadn't had much since Bill Mallory. A 1-win or 2-win season could change things, but I can't see IU making another change, especially with recruiting on the rise and the offense surging. Hazell is a second-year coach, so unless Purdue lays another 1-11 egg, he's fine.
As for Hoke, his first-year success seems a long time ago. Michigan's recruiting has looked better in February than October, although some players still need time to develop. It comes down to this: if Michigan wins nine or more games, he's fine. If Michigan wins eight or fewer games, it gets interesting. Are the Wolverines losing close games to good teams or getting blown out? How do they perform against their three top rivals -- Ohio State, Michigan State and Notre Dame -- on the road? Are the offensive problems being fixed? You're right that Brandon doesn't want to fire his guy. But if Michigan gets blown out in its three rivalry games and still can't run the ball consistently, Brandon might not have a choice. Remember, Hoke has set the bar -- Big Ten title or bust -- and he's not reaching it.
BB:
OK, now we're down to the four guys I put on the hot seat. Let's take them individually, starting with perhaps the most controversial one. You'd have to suffer from amnesia not to remember how close Bo Pelini came to losing his job at Nebraska last season. But is it fact or fiction that he's on a hot seat?
[+] Enlarge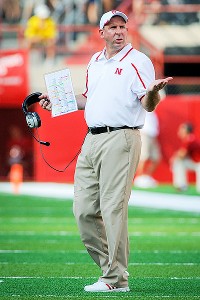 Eric Francis/Getty ImagesBo Pelini is 58-24 as coach of Nebraska.
AR:
Fact. I'm not sure where the pro-Pelini push is coming from. Does a bowl win and some Twitter fun with
@FauxPelini
really change anything? Nebraska has been a bigger national story during its spring game the past two seasons than when the games actually count. While it's nice to this side of Pelini, the only thing that matters is winning more games and getting Nebraska that elusive conference championship.
BB:
I debated whether to include Randy Edsall from Maryland, who showed progress last season and has dealt with many tough injuries. But moving to the new league and not overwhelming fans for three seasons convinced me he needs to deliver a bowl game this year, or at least be very competitive. Fact or fiction?
AR:
Fact. Athletic director Kevin Anderson has been supportive of Edsall, but Maryland needs to see continued progress this season, despite the transition. The injury situation has to turn around eventually, so we should get a better gauge of a team that, on paper, should be better. But the schedule isn't easy. It also doesn't help to have Franklin, once Maryland's coach-in-waiting, in the same division.
BB:
The other Big Ten newbie also has a coach on the hot seat, according to my list. Kyle Flood is only in his third season and did win nine games his first season. But he was on shaky ground last winter and replaced both coordinators, which is a sign of a coach trying to hang on. Fact or fiction on Flood's seat being warm?
AR:
Fact. A coaching shuffle like the one Rutgers had almost always precedes a make-or-break type season for the head guy. Although athletic director Julie Hermann must consider the upgrade in competition and a brutal initial Big Ten schedule (East Division plus crossovers against both Nebraska and Wisconsin), a bowl-less season could spell the end for Flood. Rutgers has reached the postseason in eight of the past nine years.
BB:
And, finally, Tim Beckman. He has won just one conference game at Illinois. I'd be surprised if anyone disagreed with his placement on this list, but what say you in regard to fact or fiction?
AR:
Fact. Although AD Mike Thomas hired Beckman, he'll face even more pressure to make a change if Illinois misses a bowl for a third consecutive season. The Illini showed improvement last fall, but they'll have to take another step for Beckman to secure Year 4.
January, 11, 2014
Jan 11
9:30
AM ET
Penn State is Dream Job No. 2 for
James Franklin
.
Dream Job No. 1 slipped out of his grasp in 2010, when Maryland hired Kevin Anderson as its athletic director.
In February 2009, Franklin was Maryland's offensive coordinator and one of the country's fastest-rising young assistants. He was one of the nation's top recruiters and locked in to become the program's next head coach. Franklin was
named Maryland's head-coach-in-waiting,
patiently working alongside former coach Ralph Friedgen as offensive coordinator and waiting for his turn as the CEO of the struggling program.
[+] Enlarge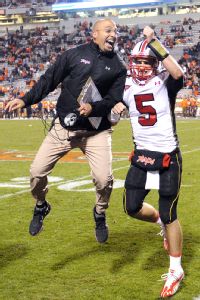 G Fiume/Maryland Terrapins/Getty ImagesNew Penn State coach James Franklin, shown in 2010 as Maryland's offensive coordinator, was once Maryland's head-coach-in-waiting.
"I always dreamed of this opportunity," Franklin, a two-time assistant with the Terps,
said at that time
. "I think I have a pretty unique perspective on the university and what it's going to take to be successful here. Really, our plan and our discussion was about continuing to build off the foundation Ralph has laid here and continue to build this program into one of the elite programs in the country."
How ironic.
As Maryland heads into the Big Ten next season, James Franklin is going to be the Terps' worst nightmare. (Well, him and Ohio State ...)
He's already established as a recruiter in Maryland's backyard, working the high schools of the District of Columbia and the surrounding counties of Maryland. He's well connected with high school coaches, prospects and their families throughout the Baltimore-Washington-Pennsylvania territories -- all areas that the Nittany Lions have successfully recruited in the past. (Franklin, a native of Langhorne, Pa., versus Mike Locksley in recruiting will be as good as any rivalry in the ACC – or the Big Ten, for that matter.) Franklin is an energetic, passionate young coach who will take over a program that – despite all its lingering issues – still has more resources and support than Maryland.
And yet there was a time when Maryland was the only place he wanted to be.
Franklin used to spend his Thanksgivings at the University of Maryland, where his aunt used to work in admissions. Franklin, a graduate of East Stroudsburg University in Pennsylvania, had plenty of connections to the area, much as he does to Penn State. When Anderson was hired in 2010, though, he made it very clear that while Franklin could be a candidate to replace Friedgen, there was no guarantee Anderson would honor the coach-in-waiting plan.
In retrospect, it was a smart move by Anderson. Had Franklin stuck around and not been named head coach by January 2012, Maryland would have owed him $1 million. By letting Franklin know there were no promises, it not only opened the door for him to leave on his own, it encouraged the move before Friedgen was even fired. Had Franklin still been on staff when Friedgen was fired, many would have expected Franklin to take over.
So when Vanderbilt called, Franklin had little choice but to answer.
Vandy's win was Maryland's loss, as it was impossible not to compare the direction of the programs during Anderson's tenure.
The Commodores' 24-15 record under Franklin matched the legendary Dan McGugin for the most victories in school history by a coach in his first three seasons. For the first time in the program's 124-year history, Vandy was ranked in the AP Top 25 in back-to-back seasons. Vanderbilt's 41-24 win over Houston in the BBVA Compass Bowl gave the Commodores back-to-back nine-win seasons for the first time in program history.
Meanwhile, Maryland was thrilled just to get to a bowl game for the first time under Randy Edsall – a bowl game they lost Dec. 27 to Marshall in nearby Annapolis.
While the decision made sense to many at the time and eliminated a sticky situation on Maryland's coaching staff, Maryland will now continue to be haunted by the one who got away.
The timing of the hire is certainly uncanny.
Once seemingly inseparable, Maryland and James Franklin are heading to the Big Ten together -- and yet they couldn't be further apart.
January, 2, 2014
Jan 2
12:16
AM ET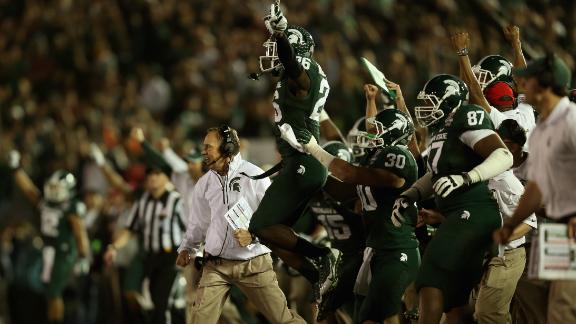 PASADENA, Calif. -- For a year, Mark Dantonio challenged his Michigan State team to find the inches that separate good from great and great from special.
Plenty of programs ascend, but most reach a point and then stall. They just can't push through.
Sometimes it's because of talent or coaching or tradition. Maybe it's a penalty in the closing moments of the 2011 Big Ten championship game, or five Big Ten losses by a total of 13 points in 2012. Maybe it's an off-field situation like a campus fight before the 2009 Alamo Bowl or the shocking suspension of a star player a week before the Rose Bowl. Any of these things can leave a program just short of its goals.
But when the inches are located and traversed, it's obvious. You can see it on the faces of current players and coaches, former players, family members, fans and everyone connected to the program.
[+] Enlarge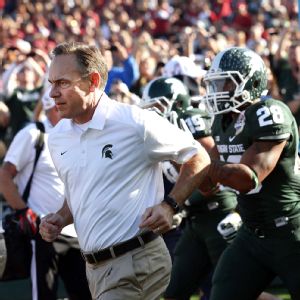 Richard Mackson/USA TODAY SportsMark Dantonio and Michigan State proved that the Spartans can run with any program in the country.
It happened for Michigan State early Wednesday night at the most historic setting in college football. MSU's 24-20 win against Stanford in the 100th edition of the Rose Bowl Game presented by VIZIO marked a final step, a ceiling shattered and a confirmation that the Spartans indeed belonged.
"You've got to find the inches, and more importantly, you've got to believe that you belong there, too," Dantonio said. "You can't second-guess yourself. You have to dream big."
The Spartans can dream bigger than they have in nearly 50 years after recording a team-record 13 wins, including status-affirming triumphs against Ohio State and then Stanford. Fittingly, MSU found the final inches by stuffing Stanford fullback
Ryan Hewitt
on a fourth-and-1 attempt with 1:46 to play.
Middle linebacker
Kyler Elsworth
, replacing suspended co-captain and All-Big Ten selection
Max Bullough
, made the initial hit while leaping over a mass of massive Stanford linemen.
Darien Harris
, Bullough's other understudy, and end
Shilique Calhoun
also converged on Hewitt, stopping him inches shy of the marker.
"It's like a movie," defensive coordinator Pat Narduzzi said. "You couldn't put in a better story. We had our leader out and he stepped up, just like I thought."
Elsworth, a senior who had played mostly special teams, started his first game in his final game and earned defensive player of the game honors. He triggered a defense that didn't allow a touchdown after the game's first drive and held Stanford to 71 yards on 27 carries in the final three quarters.
Narduzzi counted only one "misfire" in communication, a major concern without Bullough.
"I couldn't imagine a better stage to play on, a better stage to start my first game in five years," Elsworth said. "This is the way everybody wants to end their career."
That Bullough's absence didn't matter epitomized a Michigan State team unfazed by adversity. The Spartans didn't have a quarterback, a running back or an offensive identity in September. They found one in October. Several questionable pass-interference penalties helped doom them at Notre Dame. The no-fly zone secondary went on to rank second nationally in pass defense efficiency.
When Ohio State erased a 17-0 lead in the Big Ten title game with 24 consecutive points, MSU responded by scoring the final 17. And when Stanford surged to a 10-0 lead Wednesday, the Spartans cleaned up their play and dominated the final three quarters.
"I told our guys, 'This is your legacy right here,'" Narduzzi said. "I think we'll go down as the greatest team ever to play Michigan State football."
No player symbolizes the Spartans' resilience like quarterback
Connor Cook
. He made some bad throws Wednesday, none worse than an ill-advised screen that Stanford's
Kevin Anderson
returned to the end zone late in the second quarter. After the pick-six, Cook approached Dantonio.
"Hey, you good?" Dantonio asked.
"I'm fine," Cook responded.
They exchanged a fist bump. On the ensuing series, Cook led MSU downfield for a touchdown 28 seconds before halftime.
"Any time you can end the half on a touchdown, that gives you so much momentum," said Cook, who passed for a career-high 332 yards. "That was like the turning point of the game."
MSU became the first team to rally from a halftime deficit to win the Rose Bowl since Wisconsin in the 2000 game. Back then, the Big Ten more than held its own here, but the league since had gone 1-9 in its most celebrated game.
A system that often didn't place the Big Ten champion in the Rose could be blamed, but the league also lacked teams that proved they belonged. MSU has added its name to a very short list.
"Not only did they get here, but they won," said former Spartans quarterback Kirk Cousins, the team's honorary captain. "They beat a good Ohio State team and an outstanding Stanford team to make this happen. They didn't back into it."
"

The national championship, that's the next step for us. The Rose Bowl was this year, but the national championship is definitely next year.

"

-- Michigan State DE Shilique Calhoun
The Spartans are assured of their first top-five finish since 1966. The playoff era dawns next fall, and MSU suddenly can target the Final Four not only in basketball.
Cook and most of the offense returns. The defense should be strong again.
"One of the elite teams throughout college football," wide receiver Macgarrett Kings said. "We've got players, we've got talent, we have the coaches."
MSU plans to keep its coach for the foreseeable future, despite potential overtures from Texas.
The Detroit Free Press
reports Dantonio soon will be awarded a raise that will put him among the top three Big Ten coaches in salary.
It's big-boy money for the leader of a big-boy program.
"The national championship, that's the next step for us," said Calhoun, who plans to return for his junior season. "The Rose Bowl was this year, but the national championship is definitely next year."
No one put MSU in the national title talk when Dantonio arrived. Former linebacker Greg Jones described a "loose" culture that Dantonio had to rein in.
It was a gradual climb. First bowl appearances, then bowl wins, then a Big Ten title and finally a Rose Bowl championship.
"They made me a believer," Jones said. "They made everybody a believer."
The Spartans found the inches and broke through ceiling. They've reached the next floor.
They don't plan on leaving.
May, 14, 2013
5/14/13
6:15
PM ET
CHICAGO -- Maryland has made no secret of the fact that money played a huge role in its move from the ACC to the Big Ten.

The school's athletic program
cut seven varsity sports last June
to offset the department's multimillion-dollar deficit. In announcing the Big Ten move, Maryland president Wallace Loh said he never again wanted to tell student-athletes that their sport couldn't be funded. The
Big Ten's massive financial projections
ultimately were too good for Maryland, a founding member of the ACC, to pass up.
Maryland is working toward reaching stable financial footing again.
"It isn't finalized yet, but we're looking at probably by 2017 or 2018 that we'll be able to balance the budget and be stable financially," athletic director Kevin Anderson said Tuesday.
Maryland won't get a full Big Ten revenue share until it has been in the league for five years, Anderson said. The same holds true for Nebraska, which joined in 2011.
Anderson talked about the challenges the Big Ten presents for Maryland and the financial commitment the school must make to compete, especially in football. The Terrapins will be in the same division as Ohio State, Michigan and Penn State beginning in 2014.
"We're looking at places where we might have to make more of an impact," Anderson said. "At some point, we know we will have to make a bigger commitment than what we're making now."
Some Maryland fans initially expressed disappointment about the Big Ten move because the Terps will leave behind many of their longtime rivals in the ACC. But Anderson sees fans warming up to the new league.
"One of the things that excites them and our student-athletes is they know when they travel, they're going to play in front of a lot of people," Anderson said. "That hasn't always been the case with the ACC."
May, 13, 2013
5/13/13
7:30
PM ET
CHICAGO -- The Big Ten's annual joint group meetings are under way as men's basketball coaches, athletic directors and others gathered Monday afternoon.
The portion of the ADs' meetings most relevant to the Big Ten football blog take place Tuesday and Wednesday, so I'll have much more coverage on those days. Groups of athletic directors are scheduled to meet with media members both days, and Big Ten commissioner Jim Delany will make an appearance Wednesday afternoon.
A few quick notes from Day 1:
The Big Ten's bowl lineup will be changing beginning in 2014, and colleague Brett McMurphy has some more details here. McMurphy reports that the Big Ten and ACC will share tie-ins with the Gator Bowl and Music City Bowl during a six-year agreement, so three Big Ten teams would go to Jacksonville and three to Nashville in the span. They'll face SEC opponents in both games. The Big Ten had a tie-in with the Music City Bowl from 2002-2005. As ESPN.com reported earlier, an ACC team could replace a Big Ten team in the Capital One Bowl when a Big Ten team makes the Orange Bowl. Other bowls the Big Ten could add to the lineup include Pinstripe (against ACC) and Holiday (against Pac-12). Don't expect the Meineke Car Care Bowl of Texas to be part of the next Big Ten bowl lineup.
All 12 current Big Ten athletic directors are here along with Maryland AD Kevin Anderson, whose program joins the conference in 2014. Rutgers has yet to hire an athletic director to replace the ousted Tim Pernetti, although The Star-Ledger reports that the pool is down to two candidates: Wisconsin deputy athletic director Sean Frazier and Louisville senior associate athletic director Julie Hermann. A decision is expected later this week. Frazier has been with Wisconsin since 2007 and became deputy AD in 2011 after Shawn Eichorst left for the top job at Miami. Eichorst is now AD at Nebraska.
The Big Ten will move its spring meetings to its new office beginning in 2014. Coaches from football, men's basketball and women's basketball will attend on a rotation basis. Since men's basketball coaches are here this year, football coaches or women's basketball coaches will attend next year's event.
March, 7, 2013
3/07/13
11:10
AM ET
Shawn Eichorst isn't the highest-profile athletic director in the Big Ten. While Nebraska fans are a pretty sharp bunch, I bet some would have a hard time picking out Eichorst in a crowd. The fact Eichorst succeeded Nebraska legend Tom Osborne as AD also makes him fly under the radar.
But there's little doubt Nebraska considers Eichorst a rising star in the AD ranks. Either that, or Eichorst is a brilliant contract negotiator. Perhaps it's both.

When USA Today came out with its
new survey of athletic director salaries
, which not surprisingly are
on the rise nationally
, Eichorst's compensation at Nebraska certainly stands out. His base salary of $973,000 ranks highest in the Big Ten, and his total compensation of $1,123,000 ranks second in the league behind only Wisconsin's Barry Alvarez ($1,230,000). Eichorst served as Alvarez's deputy AD from 2009-11 before taking the top job at Miami.
Here are 11 of the 12 Big Ten athletic director salaries (as a private school, Northwestern doesn't disclose AD Jim Phillips' salary), sorted from highest to lowest:
Barry Alvarez, Wisconsin: $1,230,000 ($1,143,500 from university, $86,500 in outside pay)
Shawn Eichorst, Nebraska: $1,123,000
Gene Smith, Ohio State: $1,099,030
Dave Brandon, Michigan:$900,000
Mark Hollis, Michigan State: $700,000
Mike Thomas, Illinois: $589,250
Norwood Teague, Minnesota: $500,000
Gary Barta, Iowa: $490,842 ($487,842 from university, $3,000 in outside pay)
Morgan Burke, Purdue:$464,437
Fred Glass, Indiana: $430,746
Dave Joyner, Penn State: $396,000
Eichorst received a one-time payment of $150,000 for moving expenses from Miami. Alvarez received a one-time payment of $118,500 for coaching the football team in the Rose Bowl against Stanford. He would have received a $50,000 bonus if Wisconsin had won the game.
Ohio State's Smith has the highest maximum bonus in the league ($250,000), followed by Michigan's Brandon and Illinois' Thomas, both at $200,000.
Alvarez and Eichorst rank fourth and fifth nationally, respectively, in total compensation. They trail Vanderbilt vice chancellor/general counsel David Williams (who oversees athletics and seemingly everything else at the school), Louisville AD Tom Jurich and Florida AD Jeremy Foley. Smith ranks seventh nationally, and Brandon is tied for 12th with Iowa State's Jamie Pollard.
Michigan State's Hollis, named
2012 athletic director of the year
at the Sports Business Awards,
last summer received a significant raise
-- the
highest bump among any incumbent AD
from a public school since October 2011. Purdue's Burke is the Big Ten's longest-serving AD (started Jan. 1, 1993) but ranks near the bottom in salary. Joyner began his term as Penn State's acting AD in November 2011 after Tim Curley took leave. He
had the tag removed in January
and will remain in the role through the term of university president Rodney Erickson.
Looking ahead to the future Big Ten, Maryland AD Kevin Anderson earns $499,490 (max bonus of $50,000), while Rutgers' AD Tim Pernetti earns $410,000 (max bonus of $50,000).
November, 19, 2012
11/19/12
4:45
PM ET
Maryland's top officials along with Big Ten commissioner Jim Delany concluded a news conference today in College Park, Md., confirming
the school's move to the Big Ten
.
The Terrapins will officially become a Big Ten member on July 1, 2014, and begin competing in athletics in the 2014-15 season.
[+] Enlarge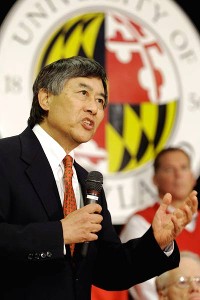 Patrick Semansky/AP PhotoUniversity of Maryland President Wallace Loh speaks at a news conference to announce Maryland's decision to move to the Big Ten.
Maryland president Wallace Loh made it very clear from the start of the announcement that the financial gains the Big Ten offered were the primary reason why the school left the ACC, where it had been a founding member. In June, Maryland
eliminated seven varsity sports
because of financial woes.
Loh and athletic director Kevin Anderson repeatedly stated that they never want to make such cutbacks again, and the move to the Big Ten ensures financial stability "for decades to come." In perhaps the best news of the announcement, Loh said Maryland immediately will start the process of reinstating those teams. Loh and Anderson obviously felt they would have had to cut more teams if Maryland stayed in the ACC.
SI.com reports that Maryland expects to
make $100 million more in conference revenue
from 2014 to 2020 as a Big Ten member, according to information Delany presented to the school. As SI.com's Pete Thamel notes, the big jump comes after the Big Ten negotiates its new television contract.
Some other notes and thoughts:
Although Loh and others repeatedly pointed to the Big Ten's financial advantages, they danced around questions of how Maryland would pay a $50 million exit fee from the ACC. Clearly, folks like Maryland super booster Kevin Plank, the founder of Under Armour, will help in this area, as well as a projected Big Ten revenue windfall, but it'll be interesting to see how Maryland addresses its immediate debts as it looks for future gains.

Delany revealed the Big Ten will open an East Coast office in addition to its main headquarters, currently in Park Ridge, Ill., but soon moving to nearby Rosemont, Ill. With Maryland in the league and Rutgers soon to follow, the Big Ten will have a larger East Coast presence. Delany said the Big Ten isn't a national conference, but it now has a presence in two distinct areas of the country (Midwest, East Coast).

Anderson said he has discussed the Big Ten move with football coach Randy Edsall and that Maryland "will take on the Big Ten and be very competitive." Better question: Will Edsall be around to coach the Terrapins in their first Big Ten game?

Delany noted that when the Big Ten announced its last expansion push in December 2009, it triggered an unexpected wave of bad reports and tension on a number of campuses. The league didn't expect such a response and took a much quieter approach this time around. The talks with Maryland really heated up in the past 2-3 weeks.

Delany said there were no direct conversations with Maryland during the Big Ten's last expansion push, but the league looked at models that included the school.

Loh acknowledged the disappointment many Maryland fans have about leaving the ACC, but he also noted that the ACC is changing with new membership and that some of Maryland's long-term rivalries would be changing, too. He also waited until noon ET today to inform ACC commissioner John Swofford of the school's departure from the league. Ouch. Almost as cold as Nebraska chancellor Harvey Perlman ripping Texas when Nebraska joined the Big Ten. Good times.
BIG TEN SCOREBOARD
Wednesday, 12/24
Saturday, 12/20
Monday, 12/22
Tuesday, 12/23
Friday, 12/26
Saturday, 12/27
Monday, 12/29
Tuesday, 12/30
Wednesday, 12/31
Thursday, 1/1
Friday, 1/2
Saturday, 1/3
Sunday, 1/4
Monday, 1/12
Tweets from https://twitter.com/ESPNCFB/lists/b1g