January, 16, 2015
Jan 16
9:00
AM ET
Subbing in on morning links duty. It's a big stage, but I'm ready. My friends call me Cardale.
1.
Speaking of Cardale Jones, he's
coming back to Ohio State
, a decision that surprised many because of the way he announced his decision (with a big to-do at Ginn Academy, his high school in Cleveland). The Buckeyes quarterback joked, "I don't know why you guys made such a big deal." Us? Us?!?! Jones' decision sparked a swarm of opinions, from
the positive
to
the skeptical
. Doug Lesmerises
puts it best in this excellent in-depth piece
: "
Jones and Ginn Academy are more than a news conference."
After proving his on-field mettle in three huge games for the Buckeyes, Jones showed how much he had matured Thursday, sincerely talking about
his desire to get an education
and set an example for other underprivileged kids from Cleveland. Sure, the news conference was unusual, but it provided great exposure for Ginn Academy and the good things that happen there.
Time will tell if Jones made the right call for his pro football future. His draft stock might never be higher. He might not retain the starting job next season, although he has a major advantage right now as Ohio State's only healthy option. Still, he seemed like a man at peace with his decision. Jones is on the right track, both in football and in life. And as college football fans, you should be thrilled he's sticking around for another season.
2.
The NCAA's methods for getting Penn State to sign a consent decree in the wake of the Jerry Sandusky child sex abuse scandal are facing more scrutiny. A
USA Today investigation
finds that NCAA president Mark Emmert had virtually no support to impose the so-called death penalty on Penn State, a threat then-PSU president Rodney Erickson said was made. Emmert appears to have been bluffing.
This is
more good news for those challenging the NCAA
for imposing the historic sanctions against Penn State (and Penn State officials for accepting them). Momentum seems to be building for a settlement in the lawsuit filed by two state officials against the NCAA and Penn State, as a trial date looms Feb. 17. How will the summer of 2011 be remembered? As more facts are revealed, the narrative is changing.
3.
Graham Couch makes some good points in
his guide for Big Ten fans to counter SEC snobbery
. It's important for fans to understand the philosophical differences in the ways leagues are run. Big Ten fans should be proud of the league's broad-based philosophy and the opportunities it offers to so many athletes, while also demanding market-value investment in football, which is certainly possible.
This league can be good in a lot of sports without shortchanging its football fans.
Elsewhere ...
West Division
East Division
December, 30, 2014
12/30/14
10:00
AM ET
Stanford
is favored to beat fellow 7-5 opponent
Maryland
by 14 points in this Foster Farms Bowl, and that's the biggest point spread of any game this bowl season. It's easy to see why the Cardinal are expected to win so handily. Coach David Shaw's squad is coming off its more impressive win of the season (a 31-10 romp at No. 8
UCLA
), while the Terrapins blew a 35-17 halftime lead to
Rutgers
in a home loss their last time out. So can Maryland pull off the shocker in Santa Clara, California, and put a dent in what has been an undefeated Pac-12 bowl season? Here's a look at some key facets of Tuesday's game (10 p.m. ET, ESPN):
1. Can Maryland stop Stanford's run game?
: The Cardinal's vaunted rushing attack struggled to find consistent footing for much of the 2014 season, but the unit finally hit its stride against
California
and UCLA, posting consecutive 200-yard efforts for the first time all year. That's bad news for Maryland, the nation's 100th-ranked rushing defense. The Terrapins surrendered 201 yards per game on the ground, and they're in for a long day if they can't shed blocks from Stanford monsters
Andrus Peat
and
Joshua Garnett
up front.
The Cardinal finished 1-5 against top-25 teams this season but posted a 6-0 record against unranked clubs while winning those games by an average of nearly 25 points -- primarily because it dominated the line of scrimmage in those contests. Unranked Maryland has plenty of work up to do up front if it intends to reverse that trend.
2. The Kevin Hogan saga
: After an up-and-down 2014 campaign, Hogan was spectacular in Stanford's statement win at UCLA. He finished 16-for-19 in what was perhaps the best outing of his career. That performance re-ignited speculation that Hogan might forego his fifth year of eligibility and declare for the 2015
NFL draft
. That decision
is up in the air
right now, although Shaw has indicated he expects his starting quarterback to return next season.
The main point remains: With so many questions swirling around the Stanford offense following its worst season in years, there will be many eyes on Hogan's play during this bowl game. He's seen plenty of success when given the benefit of a strong running game in his career, and, given Maryland's rush-defense struggles, Hogan figures to enjoy that ground help at Levi's Stadium.
3. Will C.J. Brown hold his own against the Stanford defense?
: The Cardinal's defense was ranked at or near the top of the nation in most categories over the course of this season, so Maryland's quarterback has a tall task in front of him if the Terrapins are to be competitive in this game. The 6-foot-3, 218-pound senior is one of just five quarterbacks in the nation to have led his team in rushing -- more than 700 yards before sacks are factored in -- and that dual-threat tally poses a threat that Maryland hopes will keep Stanford off balance. This will be Brown's final college game following a gutsy career in College Park, Maryland. The Terrapins have struggled to protect him at times this season, and Stanford's front seven loves to get after quarterbacks, so Maryland must scrap to keep Brown clean.
January, 1, 2014
1/01/14
9:00
AM ET
The 100th edition of the Rose Bowl Game presented by VIZIO kicks off later today. Here's a look at 10 reasons why No. 4 Michigan State could beat No. 5 Stanford in Pasadena.
[+] Enlarge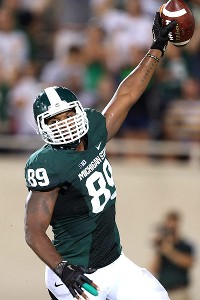 Mike Carter/USA TODAY SportsMichigan State will send Shilique Calhoun, and many other defenders, at Stanford's offense.
1. MSU can match Stanford's physicality:
Stanford's only two losses this season came against teams with big, physical players, especially up front. The Cardinal can simply overpower most of their Pac-12 foes, but Michigan State can match them along the line of scrimmage. Even without middle linebacker
Max Bullough
, the Spartans defense should be able to contain a traditional offense like Stanford's. Spread teams give the "Spartan Dawgs" slightly more trouble, but Stanford isn't one of them.
2. The kicking game:
No one is talking enough about MSU's edge in special teams. Stanford's
Ty Montgomery
is an exceptional return man, but Michigan State has arguably the nation's best punter in
Mike Sadler
and a superior kicker in
Michael Geiger
, who has connected on 14 of 15 field-goal attempts. MSU also has been brilliant in executing special-teams fakes and has had nearly a month to brainstorm some for the bowl.
3. Shilique Calhoun:
Michigan State's improved pass rush has made an already elite defense even better this season, and Calhoun is the biggest reason why. He has 7.5 sacks and 14 tackles for loss and can pressure Stanford quarterback
Kevin Hogan
in obvious passing situations. Calhoun will be challenged by Stanford mammoth left tackle
Andrus Peat
in what should be one of the game's best individual matchups.
4. Big-play receivers:
This item would have been laughed at a year ago, but MSU's receiving corps turned things around early this season. Players such as
Bennie Fowler
,
Keith Mumphery
,
Tony Lippett
and
Macgarett Kings
can stretch defenses, and the group has repeatedly helped out quarterback
Connor Cook
with tough catches. Coordinator Dave Warner said the upgrade at receiver play has been the biggest difference with this year's offense.
5. No-fly zone:
MSU undoubtedly will miss Bullough's run-stopping ability, but it has the luxury of committing more defenders to the run than most teams, especially against offenses like Stanford's. Cornerbacks
Darqueze Dennard
and
Trae Waynes
are talented enough to be left on their own against a Stanford team that features only one player (Montgomery) with more than 27 receptions. Dennard also could help against the rush.
6. The magic man:
There's no doubt Cook has had the magic touch during Michigan State's nine-game win streak, making tough throws into traffic and on the move. He has gotten away with mistakes, some of which have turned into big plays for the Spartans. Will the magic run out against Stanford? It's possible, but Cook had his first career 300-yard passing performance in the Big Ten championship. The bigger the stage, the better he seems to play.
7. Sparta West:
Big Ten fans love to complain that the league's bowl games are essentially road games. Well, the Rose Bowl will feel like Spartan Stadium as Michigan State fans have traveled here in large numbers. At least half of the stadium will be green, and MSU should feed off of the crowd after going 7-0 at home this season. The ideal weather conditions likely favor Stanford, but the overall environment gives MSU an edge.
8. Langford in the fourth quarter:
Michigan State has won its past nine games by double digits and often finishes off its opponents with strong fourth quarters. The Spartans have outscored their opponents 105-27 in the final 15 minutes this season, and running back
Jeremy Langford
has delivered several long scoring runs down the stretch. Stanford has been outscored 85-82 in the fourth quarter this fall.
9. Extra prep time for coaches:
This could be an edge for both teams as both coaching staffs are excellent, but Mark Dantonio and his assistants have been excellent in their preparation throughout the season. Defensive coordinator Pat Narduzzi has had ample time to study Stanford's offense and its line combinations, and the offense could incorporate some new wrinkles in the pass game. Definitely expect a PG-named fake or two from Dantonio.
10. Sparty:
Michigan State has the coolest non-live-animal mascot in the country in
Sparty
, a chiseled warrior with a glare that intimidates anyone he encounters. Stanford's mascot looks like a 6-year-old's art project, with big googly eyes and a stupid grin on its face. Sparty will crush the tree and inspire Michigan State's players to do the same to Stanford. And yes, I grew up in Berkeley, Calif.
December, 28, 2013
12/28/13
6:30
PM ET
LOS ANGELES -- When a team loses a three-year starter, a two-time All-Conference performer and a two-time team captain to a shocking suspension in advance of the Rose Bowl, as Michigan State did with linebacker
Max Bullough
, it matters. It matters big-time.
This is something that Michigan State and Stanford players agree on.
[+] Enlarge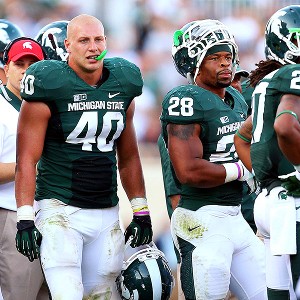 Mike Carter/USA TODAY Sports Michigan State's defense will have to find ways to replace the leadership of Max Bullough (40).
"You can tell he was a leader on defense by the way the team reacts to him," Cardinal fullback
Ryan Hewitt
said. "So you know they're going to be missing their leader, their smartest player on defense."
The Spartans led the nation in rushing and total defense, and Bullough was a big reason why. His 76 tackles and 9.5 tackles for a loss ranked third on the defense. His potential replacements, senior
Kyler Elsworth
and sophomore
Darien Harris
-- a starter hasn't been named -- combined for 17 tackles.
While the physical loss is big, it's perhaps more challenging to lose Bullough's smarts and leadership. Mental mistakes, even more than physical shortcomings, are often critical in defensive-minded, low-scoring games, as most expect the Rose Bowl to be.
"I think they'll probably miss his leadership," Stanford offensive coordinator Mike Bloomgren said. "I feel like he was probably the quarterback of their huddle, and in addition they will miss some of those checks at the line of scrimmage."
And that could provide Stanford with the opportunity for an explosive play.
STANFORD STYLE
: Bloomgren was asked about Stanford's style of play. In past years, Stanford players have talked about "class and cruelty." It appears they have a new colorful mantra.
"When I think about our offense," Bloomgren said. "I want it to be intellectual brutality."
In other words: It's about smart guys who run over their opponents.
Quarterback
Kevin Hogan
, who is not known for turning colorful phrases to the media, picked up this same theme without much prodding.
"I would say that no one can out-weigh our physicality, out-toughen us," he said. "That's our goal. We want teams to quit, we want them to tap out and say, 'If you do that one more time, I'm done.' That's our goal."
MOVING UP FROM THE IVY LEAGUE
: One of the popular topics this week is Stanford's rise to national football power as the preeminent academic university playing AQ conference football. Defensive coordinator Derek Mason pointed out that the Cardinal's recruiting pool is about "one percent" of the AQ-conference capable high school football players.
But recruiting has gotten easier than it was during the early Jim Harbaugh years. Fifth-year senior outside linebacker
Trent Murphy
said he didn't know anything about Stanford when it first started recruiting him out of Mesa, Ariz.
"I couldn't tell you what division Stanford was in," he said. "I thought it was an Ivy League school and played Harvard in a smart school bowl every year. My perception was skewed until Jim Harbaugh showed up at my door with a big grin on his face and a hungry look in his eye and he said, 'Here is what we want to do and we want you to be a part of it.' And I was like, 'Okay!'"
GOAL LINE STAND
? Stanford RB
Tyler Gaffney
has scored 18 of his 20 rushing touchdowns against eight or more defenders in the box, the most such touchdowns among AQ running backs. On average, 50 percent of rushing touchdowns are scored against defenses with eight or more defenders in the box.
Michigan State, meanwhile, has allowed just seven rushing touchdowns all year.
GETTING DEFENSIVE
: Michigan State and Stanford both rank in the top 10 in ESPN's defensive efficiency ratings. Michigan State leads the FBS in yards allowed per game (247.8), rush yards allowed per game (80.5) and third-down defense (28 percent). Entering bowl season, Stanford ranks atop the Pac-12 and among the top 15 nationally in each of those categories.
December, 9, 2013
12/09/13
1:30
PM ET
The Big Ten's bowl lineup is now official. Both participants from the league championship game are headed to BCS bowls, while five others will play postseason games in Florida, Arizona and Texas. The overall lineup doesn't seem quite as daunting as last season's, when the Big Ten had zero top-10 teams and played three top-10 opponents in the postseason.
We'll be breaking down these games for the next few weeks, but we wanted to share our first impressions of the lineup:
Rose Bowl Game presented by VIZIO, Jan. 1:
Michigan State vs. Stanford
Discover Orange Bowl, Jan. 3:
Ohio State vs. Clemson
Capital One Bowl, Jan. 1:
Wisconsin vs. South Carolina
Outback Bowl, Jan. 1:
Iowa vs. LSU
Buffalo Wild Wings Bowl, Dec. 28:
Michigan vs. Kansas State
TaxSlayer.com Gator Bowl, Jan. 1:
Nebraska vs. Georgia
Texas Bowl, Dec. 27:
Minnesota vs. Syracuse
Let's begin ...
Adam Rittenberg's first impressions
[+] Enlarge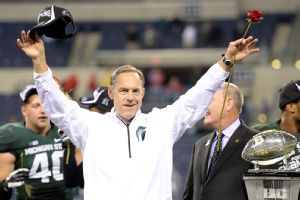 Allen Kee/ESPN ImagesMark Dantonio's Spartans enter the Rose Bowl on a nine-game win streak.
Best game:
Rose. The most tradition-rich bowl will celebrate its 100th edition with a matchup of teams with traditional offenses based around the power-run and aggressive, hard-hitting defenses. Michigan State recorded the signature win of the Mark Dantonio-era against Ohio State in the Big Ten championship game and enters the Rose Bowl on a nine-game win streak, winning each contest by at least 10 points. Both teams have standout defenders (MSU's
Darqueze Dennard
,
Max Bullough
,
Shilique Calhoun
and
Denicos Allen
; Stanford's
Shayne Skov
,
Trent Murphy
,
Jordan Richards
), underrated quarterbacks in
Connor Cook
and
Kevin Hogan
and impressive running backs in
Jeremy Langford
and
Tyler Gaffney
. Good times.
Worst game:
Gator. I'm probably not as upset about this one as Brian (or most Nebraska fans), but a rematch of last season's Capital One Bowl featuring two teams playing without their starting quarterbacks doesn't move the needle. At least running backs
Ameer Abdullah
(Nebraska) and
Todd Gurley
(Georgia) are fun to watch.
Sneaky good game:
Capital One Bowl. Not sure how sneaky this one is, but both teams are talented on both sides of the ball and easily could have better records. The game features the nation's most talented defender in South Carolina's
Jadeveon Clowney
against one of the nation's most accomplished defenders in Wisconsin's
Chris Borland
. The Badgers' seniors want to go out on a good note after a stunning home loss to Penn State, not to mention three consecutive losses in the Rose Bowl.
The bowl season will be a success if:
The Big Ten records a winning record with at least one BCS bowl win. This season's lineup is slightly more favorable, and four wins certainly isn't out of the question. Ohio State and Minnesota both should win their games, and Michigan State, while less experienced than Stanford in BCS games, is playing its best football. Wisconsin needs to rebound, Iowa has a tough draw and both Michigan and Nebraska have been enigmatic, but the Big Ten should expect a little more in its final season of its self-created meat-grinder bowl lineup.
Brian Bennett's first impressions
Best game:
The Rose Bowl is tremendous and looks to be the second-best game outside of the BCS title game. But let me also put in a plug for a possible underrated Orange matchup between Ohio State and Clemson. I saw Clemson earlier this season, and while the Tigers stumbled badly against Florida State and South Carolina, they are loaded with athletes. Put
Tajh Boyd
,
Sammy Watkins
,
Braxton Miller
and
Carlos Hyde
all on the same field, and you're guaranteed some fireworks. Both teams score more than 40 points per game so we could have an entertaining shootout with some intriguing back stories (the Woody Hayes punch, Urban Meyer's return to the state of Florida).
Worst game:
Minnesota had a great season and has a legitimately good defense and solid running game led by
David Cobb
. So I was hoping to see the Gophers get a chance to prove themselves against a decent opponent. Unfortunately, they drew a 6-6 Syracuse squad that beat absolutely no one and has an even lower-scoring offense than Minnesota. A bowl win is probably all that matters to Jerry Kill and his players, but I think they deserved a better showcase opportunity.
Sneaky good game:
Outback. Iowa will have to make up for a talent gap with LSU -- as most teams do when they play the Tigers. But the Hawkeyes really hit their stride in the season finale at Nebraska, and they have only lost to teams ranked in the top 20. LSU, meanwhile, will be without starting quarterback
Zach Mettenberger
, who tore his ACL in the season finale, and this was not a vintage Tigers' defense. Both teams like to run the ball a lot, and Iowa linebackers
James Morris
,
Anthony Hitchens
and
Christian Kirksey
must continue to lead the way for Phil Parker's defense. Maybe if we're lucky, we'll get an ending half as good as the 2005 Capital One Bowl.
The bowl season will be a success if:
At least one BCS win is a necessity, especially with opponents who are similar in style in both games. Winning at least one of the games against the SEC on New Year's Day is also important; that holiday has been unkind to the Big Ten of late, and Georgia and LSU look more vulnerable than usual. An overall winning record is possible and could start to change the conference's image. Another sign of success will be if Wisconsin can avoid adding to Clowney's postseason highlight reel.
January, 1, 2013
1/01/13
8:29
PM ET
PASADENA, Calif. -- A nip-and-tuck defensive battle was expected in the 99th edition of the Rose Bowl Game presented by Vizio. And neither Stanford nor Wisconsin disappointed as the Cardinal downed the Badgers
20-14
. Here's how it all went down in Pasadena:


It was over when
: Stanford's
Usua Amanam
recorded the first turnover of the game when he intercepted Wisconsin's
Curt Phillips
with two minutes left in the fourth quarter.
Turning point
: An interference penalty while
Drew Terrell
attempted to fair-catch a punt gave the Cardinal great field position with about 10 minutes left in the game. The drive resulted in a 22-yard field goal from
Jordan Williamson
and a 20-14 Stanford lead.
Game ball goes to
: While this certainly wasn't the cleanest game for Stanford quarterback
Kevin Hogan
(12-of-19, 123 yards), he kept plays alive with his feet, rushing for 54 yards on seven carries, and he didn't turn the ball over. As we saw, even one turnover can make the difference.
Unsung hero:
After taking quite a beating following last season's Fiesta Bowl, Williamson turned in a solid performance, hitting field goals of 47 and 22 yards.
What it means for Stanford
: It's a bit of good news for the Pac-12, which has had a disappointing bowl season. The Cardinal, playing in their third BCS bowl game in as many years, get to wash away a bit of the bad taste from last season's Fiesta Bowl loss.
What it means for Wisconsin
: The Badgers now are 0-for-their past three Rose Bowls, and the Big Ten has won just one Rose Bowl Game since 2000. It also caps a disappointing day for the conference, which saw Michigan, Nebraska and Purdue all go down.
January, 1, 2013
1/01/13
10:30
AM ET
Three keys for Stanford in today's Rose Bowl Game presented by Vizio:


1. Be yourself
: The Cardinal got to this point by doing what they do best -- dominating the line of scrimmage on both sides of the ball and playing hard-nosed, power football. Offensively, it's power left, power right, rinse, repeat. Once that's been established on offense, the middle is usually nice and open for tight end
Zach Ertz
on the play-action passes. Sure, there may be a wrinkle or two, and offensive coordinator Pep Hamilton might window dress a couple of things. But in the end, the Cardinal should feed
Stepfan Taylor
20-25 times and let him do what he's done exceptionally well for the past three seasons. Defensively, it's stop the run first and foremost. That presents a challenge, considering Wisconsin is led by
Montee Ball
, the Doak Walker award winner, who rushed for 1,730 yards and 21 touchdowns.
2. The Hogan factor:
What
Kevin Hogan
has brought to the Stanford offense is the ability to make plays with his legs and move the pocket. While Taylor will get plenty of touches, Hogan's feet enable the Cardinal to run more bootlegs and a read-option package that keeps defenses guessing. He won't be the centerpiece of the running game -- nor should he be with Taylor and a capable stable backing him up. But don't be surprised to see a handful of designed runs for Hogan. Plus, if something isn't there downfield, you'll probably see a few runs by Hogan that aren't by design. He's proven to be an apt scrambler and has a knack for picking up first downs.
3. Penetrate
: One of the things that makes Stanford's front seven so talented is that it can usually get pressure with just four defenders, which frees up the linebackers to either create tackles for a loss, sacks or wreak general havoc in the backfield. Plus, if the Cardinal are able to get penetration early without sending extra blitzers, it opens up the defensive playbook later in the game for stunts and blitzes that the Badgers haven't seen yet. Stanford leads the nation with 56 sacks, which is the most of any team since the NCAA started keeping it as a team record in 2005. The less they can do without getting too exotic early, the better off they are. But if that four-man rush is established, the occasional blitz should keep the Badgers off balance.
January, 1, 2013
1/01/13
10:00
AM ET
Stanford (11-2) vs. Wisconsin (8-5)
Who to watch
: The running backs. Wisconsin's
Montee Ball
-- the Doak Walker award winner -- and Stanford's
Stepfan Taylor
-- a three-time 1,000-yard rusher -- are two of the best in the game. Both are the engines that make their respective machines go. Each team will work furiously to establish a running game. So while you are watching two of the elite running backs in the country, keep an eye on the lines as well -- because how each team's big boys do will go a long way toward determining how the running backs do.
What to watch
: For sure, the fourth quarter. These two teams have combined to play six overtime games, Stanford has had to overcome ties or deficits six times in the fourth quarter, and Wisconsin has lost all five of its games by a combined 19 points (four field goals and a touchdown). If this game is a microcosm of these teams' seasons, then there should be high drama up until the final play.
Why to watch
: Aside from the fact that it's the Granddaddy, this game is oozing with subplots. You have Barry Alvarez making his return to coaching -- although for just one game. You have Stanford playing in its third consecutive BCS bowl game (Wisconsin as well, for that matter) even after the departure of Andrew Luck and a midseason quarterback change from
Josh Nunes
to
Kevin Hogan
. You have a Wisconsin team that some say backed into the Rose Bowl, and you have mirror teams with nearly identical philosophies.
Predictions
: In case you missed it Tuesday morning, you can see the
predictions from Pac-12 bloggers Kevin Gemmell and Ted Miller here
. This is what the
Big Ten bloggers are thinking
.
December, 24, 2012
12/24/12
3:00
PM ET
Our snapshots of each bowl game featuring a Big Ten team continues.
ROSE BOWL GAME PRESENTED BY VIZIO
Wisconsin (8-5) vs. Stanford (11-2)


Where:
Rose Bowl; Pasadena, Calif.
When:
Jan. 1, 5 p.m. ET (2 p.m. PT)
TV:
ESPN
About Wisconsin:
The Badgers' road to the Rose Bowl has been anything but smooth. They had a shaky start that led to a change at both offensive line coach (Mike Markuson to Bart Miller) and starting quarterback (
Danny O'Brien
to
Joel Stave
). They had another quarterback change midway through Big Ten play (Stave to
Curt Phillips
), lost five games by a total of 19 points (three in overtime) and endured the loss of head coach Bret Bielema to Arkansas three days after a dominant performance in the Big Ten championship. This team isn't as strong as the previous two Badgers squads that played in Pasadena, but its resilience has been impressive. Hall of Famer Barry Alvarez will lead the Badgers after being asked to coach the team following Bielema's exit. Alvarez led Wisconsin to three Rose Bowl wins in his tenure and was inducted into the Rose Bowl Hall of Fame in 2009. Although the Badger offense has been inconsistent, it put up 70 points in the Big Ten championship and boasts a three-headed rushing attack of
Montee Ball
,
James White
and
Melvin Gordon
. An underrated defense kept Wisconsin in every game and ranks in the top 20 in both points allowed and yards allowed.
About Stanford:
Arguably no FBS team finished the season playing better than Stanford, which won its final seven games following a controversial overtime loss at Notre Dame on Oct. 13. The Cardinal stunned recent nemesis Oregon in Eugene on Nov. 17 and punched their ticket to Pasadena with back-to-back wins against UCLA. An aggressive and physical defense fueled Stanford in its first season without Andrew Luck, as the unit led the nation in both sacks and tackles for loss, ranked third against the run and ranked 14th in points allowed. First-team All-Pac-12 linebackers
Chase Thomas
and
Trent Murphy
led the way for the defense, which allowed 17 points or fewer in nine games. The offense endured some predictable ups and downs without Luck, although redshirt freshman quarterback
Kevin Hogan
showed promise down the stretch.
Key players, Wisconsin:
Ball didn't quite replicate his historic 2011 season, but he still performed extremely well in Big Ten play and earned the Doak Walker Award as the nation's top running back. The senior finished seventh nationally in rushing average (133.1 ypg) and scored 21 touchdowns, becoming the NCAA's all-time touchdowns king. The speedy White gives Wisconsin another excellent ball-carrying option, and Gordon had a breakout performance in the Big Ten title game (216 yards on nine touches). All-Big Ten linebackers
Chris Borland
and
Mike Taylor
combined for 215 tackles, 25 tackles for loss and 7.5 sacks to trigger the defense.
Key players, Stanford:
Thomas and Murphy fuel Stanford's aggressive 3-4 defense, combining for 17.5 sacks and 32.5 tackles for loss. Veteran linemen
Henry Anderson
and
Ben Gardner
add to the rush with a combined 27.5 tackles for loss. First-team All-Pac-12 safety
Ed Reynolds
has six interceptions on the season, while fellow safety
Jordan Richards
has three picks and 12 pass breakups. Running back
Stepfan Taylor
earned second-team All-Pac-12 honors after finishing 20th nationally in rushing (110.9 ypg). Senior tight end
Zach Ertz
, a
John Mackey
Award finalist, is the team's top receiver with 66 receptions for 837 yards and six touchdowns.
Did you know:
Wisconsin is the first five-loss team ever to play in the Rose Bowl. The Badgers are the third Big Ten program to play in three consecutive Rose Bowl games, joining Ohio State (1973-76) and Michigan (1977-79). Alvarez is the only Big Ten coach to win Rose Bowls in consecutive years (1999, 2000). ... Stanford is making a team-record fourth consecutive bowl appearance, reaching a BCS bowl for the third straight year. The Cardinal have recorded 11 wins in three straight seasons for the first time. Wisconsin is making its fifth appearance in a BCS bowl game. Only six teams have made more: Ohio State (9), Oklahoma (8), Florida State (7), Florida (7), USC (7) and Virginia Tech (6). ... Stanford is 5-6-1 in 12 previous appearances in the Rose Bowl Game, including a 17-9 loss to Wisconsin in its last appearance in 2000. ... Alvarez becomes the fourth member of the College Football Hall of Fame to be inducted as an FBS coach and then coach a game after his induction, joining Chris Ault (Nevada), Bobby Bowden (Florida State) and Joe Paterno (Penn State). Alvarez will join Ault as the only Hall of Famers to come out of retirement to coach a game (Bowden and Paterno were inducted as active coaches).