May, 12, 2014
5/12/14
1:00
PM ET
Tired of NFL draft rewind posts? Well, it's nearly over. And besides, not much else is happening in mid-May.
We're taking a closer look, roundtable-style, at
the Big Ten's draft
: how certain teams did, the risers, the falls and more. Noted draft hater Brian Bennett is somewhere in Italy, so Big Ten reporters Mitch Sherman, Josh Moyer and Austin Ward are kind enough to join me in breaking down the draft.
The draft roundtable is on the clock ...
[+] Enlarge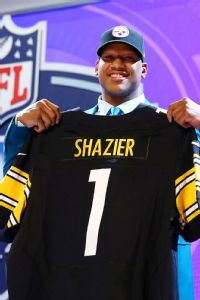 Elsa/Getty ImagesRyan Shazier ended a three-year drought without a Buckeye in the first round.
Let's start off with individual teams you cover -- Nebraska (Sherman), Penn State (Moyer) and Ohio State (Ward), for those who need a refresher. What stood out to you most about each team's draft showing?
Moyer:
Penn State had just three players drafted, so what really stood out to me was how divided the opinion was on
Allen Robinson
, who was picked up by the
Jacksonville Jaguars
in the second round. At times, he was a projected first-rounder. At other times, he wasn't projected to go until Day 3. Some lauded the Jags' pick; others labeled it a reach. Let me add my two cents: He's going to succeed in the NFL. I spoke with two former PSU and NFL wideouts,
O.J. McDuffie
and Kenny Jackson, and they both said last season that A-Rob boasts more physical skills than they ever did. That has to count for something.
Sherman:
NFL organizations continue to rate Nebraska defensive backs highly. Cornerback
Stanley Jean-Baptiste
(second round to the Saints) was the 11th draftee from the secondary in the past 10 years. Since 2003, though, just two Nebraska offensive players, including new Redskins guard
Spencer Long
, have landed in the top three rounds. Receiver
Quincy Enunwa
, despite technical shortcomings, offers value to the Jets as a sixth-round pick. As expected, all others, including quarterback
Taylor Martinez
, had to take the free-agency route.
Ward:
Ohio State has long been a pipeline for the next level, but it had actually been three years since it had produced any first-round picks until
Ryan Shazier
and
Bradley Roby
on Thursday night. The Buckeyes followed that up with four more players being selected, which suggests the talent level is starting to get back to the level the program is accustomed to after going through a bit of a down stretch. It seems a bit backward that two guys from a beleaguered defense were the top picks while the record-setting offense wasn't represented until
Carlos Hyde
and
Jack Mewhort
were grabbed in the second round, but either way the Buckeyes appear to be back as a favored target for NFL organizations.
Turning our attention to the entire Big Ten, which player surprised you by how high he was drafted, and which player surprised you with how far he fell in the draft?
Rittenberg:
I was a little surprised to see
Michael Schofield
go before the end of Day 2. We knew Michigan's poor offensive line play wouldn't impact
Taylor Lewan
, but I thought it might make teams hesitant about selecting Schofield. He's a good player who enters a great situation in Denver. Another Big Ten offensive lineman on a struggling unit, Purdue's
Kevin Pamphile
, surprised me with how early he went. I didn't see
Darqueze Dennard
, the nation's most decorated cornerback on arguably the nation's best defense last season, dropping to No. 24 overall. Wisconsin's
Chris Borland
and Ohio State's Hyde went later than I thought they would.
Sherman:
Long's rise to the third round surprised me after he missed the final six games of his senior season with a knee injury that kept him out of the combine and limited him at Nebraska's pro day. I pegged the former walk-on as a fifth- or sixth-round pick. And I thought Lewan might slip past the first 15 picks because of character questions from a pair of off-field incidents at Michigan. Conversely, I thought Borland's exemplary résumé at Wisconsin might propel him into the top 50 picks. At No. 77 to the 49ers he's a steal.
Ward:
There really weren't guys who made shocking jumps up the board in my mind, though Ohio State safety
Christian Bryant
sneaking into the seventh round was a feel-good story after he missed the majority of his senior season with a fractured ankle. The Big Ten also had a handful of first-round caliber players slide to the second day, so Minnesota's
Ra'Shede Hageman
, Indiana's
Cody Latimer
, Hyde or Penn State's Robinson all qualified as minor surprises -- and great values for their new teams.
Moyer:
How many people thought
Dezmen Southward
would be the first Badger drafted? I sure didn't. The
Atlanta Falcons
scooped him up early in the third round, and they probably could've snagged him two rounds later. As far as guys who fell, I expected both Latimer and Dennard to go sooner. They didn't free-fall, but you kept hearing before the draft how those two improved their stock -- and then Latimer nearly fell to the third round, anyway.
[+] Enlarge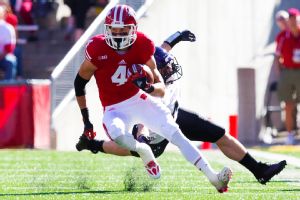 Jeff Hanisch/USA TODAY SportsWisconsin WR Jared Abbrederis went in the fifth round to the Green Bay Packers.
Which Big Ten players will be the biggest sleepers/best values in the draft?
Ward:
General managers and coaches might view running backs as easily replaceable in this new era in the NFL, but the league's most recent champion offered another reminder of how important it is to have a productive rushing attack and an elite tailback. Hyde hasn't proven anything at the next level yet, so comparing him with Seattle's
Marshawn Lynch
is a bit premature. But Hyde has all the physical tools to be a star, from his well-built frame to his often overlooked speed, and he's going to a team in San Francisco that has a system that will put him in position to thrive.
Rittenberg:
Southward's high selection surprised me, too, but the other four Wisconsin players -- Borland,
Jared Abbrederis
, running back
James White
and nose tackle
Beau Allen
-- all are good value pickups. White is an extremely versatile player who might never be a featured back but can block, catch passes and do whatever his coaches need. Allen gained great experience as a nose tackle last fall. I think the
New York Jets
get a sixth-round steal in Enunwa, whose blocking skills should help him get on the field. Big Ten coaches loved
DaQuan Jones
, who looks like a nice value pickup for Tennessee in the fourth round.
Sherman:
I'll place Robinson (second round to Jacksonville) and Abbrederis (fifth to Green Bay) together in a category of undervalued Big Ten receivers. Perhaps it illustrates a general stigma about offensive skill players from the conference; throw second-rounders Latimer and Hyde into the discussion, too. NFL decision-makers might not respect the competition these players face on a weekly basis and count it against them in evaluations. If so, that's a big problem for the Big Ten.
The Big Ten had eight more players drafted this year than in 2013, but its champion, Michigan State, had only one selection. What does this say about the league and its trajectory?
Sherman:
After 2012, the Big Ten presumably had nowhere to go but up in producing quality prospects. The influx of Urban Meyer-recruited talent will soon impact the Big Ten in the draft. Same goes for Brady Hoke, even if he's not making gains in the standings. Penn State and Nebraska, too, are upgrading their talent, so the trajectory figures to continue upward. As for Michigan State, it was young on offense and clearly better than the sum of its parts on defense, a testament to Mark Dantonio and Pat Narduzzi. The absence in the draft of
Max Bullough
and
Denicos Allen
caught me off guard.
Moyer:
Having more picks shows the Big Ten is on the right track ... but it still has a long way to go. Yes, it improved on last year -- but it still finished behind the SEC (49), ACC (42) and Pac-12 (34) this year, in terms of players drafted. As far as Michigan State, I think their success serves as a reminder that the right coaching and the right schemes can still trump a roster full of NFL-caliber players. Penn State's success during the sanctions also helps to reinforce that.
Ward:
It's another reminder of how well-coached the Spartans were a year ago, particularly in turning a defense that had just one player drafted into the nation's best unit. Dantonio deserves another bow for the job he and his staff did a year ago, even if they didn't have much to celebrate during the draft. The league does seem to be on the rise again in the minds of top athletes around the country with Meyer, Hoke and now James Franklin upping the ante on the recruiting trail. Those efforts should produce even better weekends than the one that just wrapped up.
Rittenberg:
It says something when arguably the best Big Ten team in the past seven or eight years -- MSU had nine double-digit league wins plus the Rose Bowl triumph -- produces only one draft pick. Still, I think the arrow is pointed up after a horrendous 2013 draft. The Big Ten has struggled to produce elite prospects at both cornerback and wide receiver in recent years. This year, the league had three corners drafted in the first two rounds, and while I agree the Big Ten's wide receivers were undervalued, the league still produced five picks. The next step is obvious: generating better quarterback play as no Big Ten QBs were drafted this year.
May, 12, 2014
5/12/14
9:00
AM ET
The biggest non-game on the American sporting calendar is
all done
, as the 2014 NFL draft wrapped up Saturday afternoon in New York. After
arguably its worst draft in the modern era
in 2013, the Big Ten performed better this year with 30 picks. Still, the league finished fourth among conferences in selections, trailing the SEC (49), ACC (42) and Pac-12 (34).
After a big Friday night with six second-round selections -- including four in a row -- and six third-round selections, the Big Ten's momentum slowed a bit Saturday in the final four rounds. The league had only one sixth-round pick and only four in the seventh round.
Let's start the breakdown by listing Big Ten draftees by round (with comments below). Maryland and Rutgers players aren't included here because neither group competed in the Big Ten (Terrapins CB Dexter McDougle went in the third round; Rutgers had no players drafted).
FIRST ROUND (4)
[+] Enlarge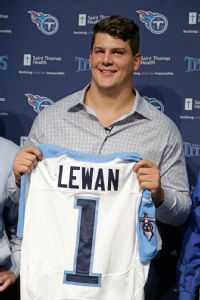 AP Photo/Mark HumphreyTaylor Lewan was the first Big Ten player selected, going 11th overall to the Tennessee Titans.
Analysis:
Click here for my first-round thoughts
SECOND ROUND (6)
Analysis:
Hageman ends up in a really good spot with the Falcons. Although Latimer had an excellent pre-draft performance, it wasn't surprising to see him end up in the middle of the second round. Hyde waited longer than many anticipated, but he enters a great situation with a team that loves to play power football. Robinson joins a new-look Jaguars passing attack featuring quarterback
Blake Bortles
and wideout
Marqise Lee
.
THIRD ROUND (6)
Analysis:
Everyone had Southward going before Borland, right? Borland, the 2013 Big Ten defensive player of the year, had an exceptional college career, but concerns about his height and perhaps his injury history moved him down the draft boards. The Iowa Effect shows up here as both Fiedorowicz and Kirksey were swept up by teams that respect what the Hawkeyes do. What does it say that Michigan's offensive line struggled mightily in 2013 but had two tackles drafted in the first three rounds? Those young Wolverines linemen had better step up this fall.
FOURTH ROUND (4)
Analysis:
Some really good pickups in this round, especially White, who will fit in very well with New England's offense. Although
James Morris
received the most accolades among Iowa's linebackers at the college level, both Kirksey and Hitchens were mid-round selections, while Morris went undrafted and signed with New England as a free agent. As a Chicago Bears fan, I love the Vereen pick. He's a smart, athletic versatile player who knows from his older brother what it takes to succeed in the NFL.
FIFTH ROUND (5)
[+] Enlarge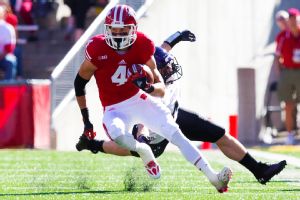 Jeff Hanisch/USA TODAY SportsJared Abbrederis isn't venturing far from Madison as he was drafted by the Green Bay Packers.
Analysis:
Like his teammate Borland, Abbrederis had a much longer wait than expected but lands in a very familiar spot with Green Bay. I think he's a steal and will surprise people with his ability to make plays despite less-than-ideal measurables. Pamphile had a fairly quiet college career but is seen as a project and could develop into a better pro. Urschel is another player who lacks the ideal physical traits sought in the NFL, but could make up for it with exceptional intelligence.
SIXTH ROUND (1)
Analysis:
Enunwa complemented his superb blocking skills with big-play ability in the pass game as a senior. He's a good value for a Jets team that needs to boost the league's 31st-ranked pass offense.
SEVENTH ROUND (4)
Analysis:
All four players could be very good values. Bolser is an athletic tight end who had 15 career touchdown catches. Allen showed versatility as a senior, transitioning to a 3-4 scheme. Gallon heads to a Patriots team that has had success with smaller, productive receivers. Bryant likely would have been selected higher if not for major leg and ankle injuries last season.
Here are the draft picks per B1G team:
Ohio State:
6
Wisconsin:
5
Michigan:
3
Penn State:
3
Nebraska:
3
Iowa:
3
Purdue:
2
Minnesota:
2
Indiana:
2
Michigan State:
1
The big surprise is a Michigan State team that dominated Big Ten play and won the Rose Bowl had just one player selected, as standout linebackers
Max Bullough
and
Denicos Allen
didn't have their names called. Only four teams -- LSU, Alabama, Notre Dame and Florida State -- had more selections than Ohio State. Illinois, which led the Big Ten in draft picks last season (4) and had 18 picks between 2009-13, had no selections. Northwestern also went without a draft pick for the second straight year.
Curious about the Big Ten's undrafted free-agent signings? Check back in a bit as we take a look.
August, 27, 2012
8/27/12
5:00
PM ET
It's Depth Chart Monday around the Big Ten as most teams revealed new or updated depth charts for their upcoming season openers.
Indiana
and
Iowa
released depth charts last week, while Nebraska's won't come out until later this week. A few more teams unveil new or updated depth charts Tuesday, and we'll break down those as they file in.
While we won't break down the depth charts each week of the season, the first installments always carry a bit more weight as players have jockeyed for position during camp.
Here are some notes and thoughts from what we learned today:
MICHIGAN
Depth chart
(page 13)
Suspended players Fitz Toussaint and Frank Clark both are listed -- Toussaint is the starting running back, Clark as a backup weakside defensive end -- but their status for the opener against Alabama is yet to be determined. Coach Brady Hoke will make a decision soon. While it seems highly unlikely Clark will play, Toussaint's status will be a big story this week.
Roy Roundtree is listed as a starter at receiver despite missing a chunk of camp following knee surgery. Although Michigan has some decent other options at wideout, it really needs "Tree" on the field at JerryWorld. Speaking of receivers, backup quarterback Devin Gardner is listed as a third-string receiver and should see a bit of work there against the Crimson Tide.
Depth is a bit of a concern for Michigan entering the season, and it's the main reason why the Wolverines list 12 true freshman on the depth chart, four in backup roles. Expect freshmen like linebacker Joe Bolden and safety Jarrod Wilson to see plenty of field time.
As for position battles, Quinton Washington claimed a starting defensive tackle spot, moving Jibreel Black back to the end position. Will Hagerup and Matt Wile are listed as co-starters at punter, but Hagerup will get the starting nod against Alabama.
OHIO STATE
Depth chart
Regarding position battles, Reid Fragel, a converted tight end, claimed the starting right tackle spot ahead of freshman Taylor Decker. Travis Howard maintained his starting cornerback spot ahead of Doran Grant. The team's starting wide receivers entering the fall are Corey Brown, Devin Smith and Jake Stoneburner, a converted tight end. Ohio State's only unsettled position is tight end, where freshman Nick Vannett and sophomore Jeff Heuerman are listed as co-starters.
Like Michigan, Ohio State will have plenty of youth on the field this fall. Coach Urban Meyer lists 13 freshmen on the depth chart, including highly touted defensive linemen Noah Spence and Adolphus Washington, spring game star Michael Thomas at backup receiver and backup middle linebacker Camren Williams. The Buckeyes have three freshmen listed as backup offensive linemen, underscoring the depth issues there.
With projected starting running back Jordan Hall (foot) out at least a week, Ohio State will start Carlos Hyde at running back. Freshman Bri'onte Dunn will back up Hyde.
WISCONSIN
Depth chart
(page 13)
The Badgers put out a depth chart last week but made a few changes, including junior Zac Matthias and sophomore Kyle Costigan being listed as co-starters at right guard. Costigan had been listed as the starter, but Matthias made a push late in camp.
Backup cornerback Peniel Jean will miss four to six weeks after fracturing his foot last week in practice and undergoing surgery. Redshirt freshman Darius Hillary moves into the No. 2 role behind Devin Smith and likely will be the team's primary nickel back.
Sophomore Kyle French is listed as the starter for both field goals and kickoffs (he only occupied the kickoffs role last week). Coach Bret Bielema said freshman Jack Russell (great name) also will see time as a kicker in Saturday's opener against Northern Iowa.
PENN STATE
Depth chart
ILLINOIS
Depth chart
Safeties Steve Hull and Supo Sanni, the projected starters, aren't listed on the two-deep. Earnest Thomas and Pat Nixon-Youman are listed in their places. Both Hull and Sanni are week-to-week with injuries. Coach Tim Beckman said both would practice this week and likely will be game-time decisions.
Illinois shuffled its offensive linemen between positions throughout camp, and there could be more changes before game day. But ... Graham Pocic is listed as the starting center after playing mostly guard in camp. Pocic has started the past 26 games at center. Redshirt freshman Ted Karras, who has recovered from a foot injury, is listed as the starting right guard.
Tim Kynard will start at defensive end in place of Justin Staples, who will serve a one-game suspension against Western Michigan. Offensive lineman Simon Cvijanovic also won't play Saturday for undisclosed reasons.
Illinois lists co-starters at both running back (Donovonn Young and Josh Ferguson) and tight end (Jon Davis and Eddie Viliunas). Both Young and Ferguson should get plenty of carries against Western Michigan.
NORTHWESTERN
Depth chart
(Page 7)
After a strong camp, Venric Mark will start at running back for Northwestern. The 5-foot-8, 175-pound Mark, who came to Northwestern as a return specialist, moved from wide receiver after the season. Mike Trumpy, who comes off of ACL surgery, is the backup, and Northwestern likely will spread the carries around. Treyvon Green has recovered from a scary neck injury midway through camp and will play at Syracuse.
USC transfer Kyle Prater is listed as a backup receiver. Northwestern will start Demetrius Fields, Christian Jones, Rashad Lawrence and Tony Jones at receiver against the Orange. Prater saw some time with the first-team offense in camp and will be part of the rotation, but he still seems to be lacking a step as he gets back into game shape.
The Wildcats have no unsettled starting spots, and while there are a number of young players on the depth chart, only two true freshmen, defensive end Dean Lowry and superback Dan Vitale, made the two-deep. Heralded incoming freshman defender Ifeadi Odenigbo likely will redshirt and isn't listed on the depth chart.
PURDUE
Depth chart
(Page 6)
The Boilers have four unsettled starting spots, three on the offensive side. Juniors Kevin Pamphile and Justin Kitchens are battling at the left tackle spot, while juniors Devin Smith and Cody Davis are co-starters at right guard. Junior Gabe Holmes and fifth-year senior Crosby Wright are still competing for the top tight end spot. The lone unsettled spot on defense is at end opposite Ryan Russell, as Ryan Isaac and Jalani Phillips continue to compete.
No surprises in the starting backfield as Caleb TerBush, Robert Marve and Rob Henry are listed at quarterback in that order. It'll be interesting to see how Purdue uses Henry this year. It doesn't make much sense to waste his talents on the bench. No Ralph Bolden on the depth chart as the senior running back is still working his way back from the knee injury. The Akeems (Shavers and Hunt) will carry the rock against Eastern Kentucky.
The placekicking spot is also up in the air with three players -- Sam McCartney, Paul Griggs and Thomas Meadows -- in the mix to replace standout Carson Wiggs.
More depth chart fun comes your way Tuesday, so be sure and check in.
May, 11, 2012
5/11/12
6:30
AM ET
2011 record:
7-6
2011 conference record:
4-4 (third place, Leaders Division)
Returning starters:
Offense: 9; Defense: 9; kicker/punter: 1

Top returners
DT
Kawann Short
, CB
Ricardo Allen
, QB
Caleb TerBush
, QB
Robert Marve
, QB
Rob Henry
, RB
Akeem Shavers
, RB
Ralph Bolden
, DE
Ryan Russell
, WR
Antavian Edison
, DT
Bruce Gaston
, OT
Trevor Foy
Key losses
LB Joe Holland, S Albert Evans, LT Dennis Kelly, OG Nick Mondek, WR
Justin Siller
, K Carson Wiggs
2011 statistical leaders (*returners)
Rushing:
Ralph Bolden* (674 yards)
Passing:
Caleb TerBush (1,905 yards)
Receiving:
Antavian Edison* (584 yards)
Tackles:
Joe Holland (94)
Sacks:
Kawann Short* (6.5)
Interceptions:
Ricardo Allen* (3)
Spring answers
1. Healthy QBs:
After two years of dealing with injuries and inexperienced signalcallers, Danny Hope finally had enviable depth at the position this spring. With Robert Marve healthy, last season's starter Caleb TerBush a year wiser, and Rob Henry on the mend from a torn ACL, Purdue has three former starters at quarterback. Hope said the depth made for much improved offensive execution this spring, which should carry over into the fall. Now he just has to figure out whom to play and when, as it's likely more than one will see the field in the same game.
2. Defensive front and back set:
The Boilermakers have a chance to be very good up front defensively, and it all starts with defensive tackle Kawann Short. He passed up the NFL draft, and could work his way into first-round status with a big senior season. Bruce Gaston returns along side him in the middle, and sophomore defensive end Ryan Russell looks like a future star after coming on strong at the end of last season. The secondary is also in great shape, with returning cornerbacks Ricardo Allen and
Josh Johnson
possibly forming the best tandem in the league, according to Hope. Nickel back
Normondo Harris
had a big spring game, and
Max Charlot
returns at safety. Purdue should have the ability to generate a pass-rush and defend the ball in the air.
3. More confidence:
There's little doubt that there's more confidence in the air around West Lafayette. That comes from the team making -- and winning -- its first bowl game under Hope last season, and returning 18 offensive and defensive starters. This is Hope's deepest team, and it should be his best. Some are picking Purdue as a potential Big Ten sleeper, and the players believe that talk is justified.
Fall questions
1. Linebacker Who?
While the defense looks stout up front and in the secondary, questions remain at linebacker. Joe Holland, the team's leading tackler a year ago, graduated.
Dwayne Beckford
missed the bowl game after a DUI arrest, and his status for the fall remains in flux.
Will Lucas
is the only returning starter guaranteed to suit up in September. There's talk of using some 3-4 looks under new defensive coordinator Tim Tibesar, who implemented his system in practices closed to the media this spring. Does Purdue have enough linebackers to make it work?
2. Offensive line chemistry:
The Boilers' offensive line didn't get a lot of hype last season, but it produced two NFL draft picks in Dennis Kelly and Nick Mondek. Trevor Foy is moving from right to left tackle, and
Kevin Pamphile
and
Rick Schmeig
worked at multiple positions this spring. Purdue will mix in some new faces and some veterans in new places this fall, and how well that unit comes together will have a large say in how the offense flows.
3. X-factors on offense:
Some things we simply don't yet know include the following: Can Ralph Bolden successfully return from knee surgery? If not, is Akeem Shavers a capable every-down back? What will happen to leading receiver Antavian Edison after his arrest on weapons charges this week? Will fellow wideout
O.J. Ross
make it back from academic suspension? Can kick returning dynamo
Raheem Mostert
make an impact at receiver? Purdue has a lot more options on offense than in the recent past, but there also remains a lot of question marks.
April, 3, 2012
4/03/12
12:00
PM ET
March, 12, 2012
3/12/12
10:30
AM ET
Purdue is getting a little bit of a buzz as a sleeper team for 2012 after breaking through with a bowl game (and win) in 2011. The Boilermakers opened spring practice last week and went for a couple of days straight before taking off for spring break. I had a chance to catch up with Purdue head coach Danny Hope to talk about how things are going in his program and the areas of concentration this spring.
Did you sense any different attitude this offseason after getting to that bowl game last year?
[+] Enlarge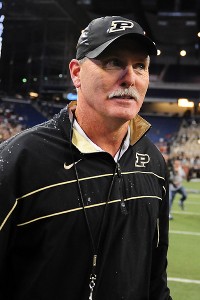 Andrew Weber/US PresswireCoach Danny Hope said the momentum from boilermakers' bowl win last season has carried over into the spring.
Danny Hope:
I think we ended the season on a high note and with some momentum, and I think it carried over into the offseason. I think we're really hitting on all cylinders with our new director of sports performance, whom we hired last year about this time. It's the first time since I've been the head coach at Purdue that we're going into spring with a quarterback that's healthy that's played any football.
Caleb TerBush
wasn't penciled in as the No. 1 [quarterback], but he became No. 1 about a week before the opener. He had to get his feet wet and learn throughout the course of the season, but by the end of the season he was playing pretty good. That momentum carried right over into the bowl preparation and the win carried right into the weight training offseason and that carried into spring practices. And having experienced quarterbacks is important. It's the first time since I've been here we've been able to do something as simple as getting signals in early in spring. It's a little different tempo out there right now as a result. We've got some good players back and we've got some confidence as a football team.
You have quite a few experienced quarterbacks now, in fact. How are you splitting up the reps for them this spring?
DH:
Well,
Sean Robinson
is playing on defense right now. It's hard to get four quarterbacks ready in spring ball, and he wasn't going to get as many reps as he needed to. So we're going to try him some at the linebacker position. That leaves TerBush and
Robert Marve
, who's finally healthy. I think Robert did some good things last year, but I think he's in position to take some big steps in his development because this is the first time since he's been here that he's been able to get a lot of reps without concern about an injury or an eligibility situation. Then
Rob Henry
is back. He's a little bit limited right now because he's coming off knee surgery, but I'm really pleased with where his recovery is, and most of the time when he's out there right now you can't tell much of a difference. But you have to limit his reps a little just because you don't want to overdo it and create a swelling issue. So the numbers are kind of taking care of themselves in some ways. We went into the spring with TerBush as No. 1 and all those other guys are competing.
Your leading rusher, Ralph Bolden, tore his ACL again, but you have two pretty good running backs in Akeem Shavers and Akeem Hunt. How do you feel about the depth at running back this spring?
DH:
We had a real strong running attack last year. We were fifth in the Big Ten in rushing. The past couple of years, we've been able to establish a strong running game. I like the progress that we've made and having good running backs is a big part of that, and any more, having a couple of running backs you can play is a big part of it. We had a lot of different guys rush for us last year, probably 10 different guys who were utilized as ball carriers. We really like Akeem Shavers. He's a fast, physical back who finishes runs. Akeem Hunt is an excellent sprinter who's a member of our track team and was a state champion track performer in Georgia. So he's a class sprinter in a lot of ways for a football player.
We've also got a kid we redshirted last year in
Doug Gentry
, and he's a skilled player. We have
Gavin Roberts
, who has good size but was injured last year. He's a big back we can utilize in the backfield. Then we've got a couple fullbacks in
Derek Jackson
, who weighs about 240 pounds, and
Kurt Freytag
. So we've got some guys still in the stable even though Ralph is out. And we've utilized
Antavian Edison
and
Raheem Mostert
some as ball carriers out of their slot position, and both those guys are really skilled players. So we've got some athletes who can tote the mail, and we spread the wealth out around here.
Were you upset about the new kickoff rules because you have such a weapon at kick returner in Raheem Mostert?
DH:
Well, we all play by the same rules. You'll have to make decisions about bringing some out, so the return man is going to have to be a good decision-maker. From a kickoff standpoint it might change some things. You can kick them all deep and try to force the touchback if you want to, but you're going to be giving the opponent the ball at the 25. Or you can kick the ball high and deep and try to pin them down and do a great job covering. So there's going to be some game planning and schemes involved. I think it will all even out. ... I don't think it's going to shut down all kick returns, but I think there will be about 25 percent less, is my guess.
August, 6, 2010
8/06/10
2:00
PM ET
Schedule:
Purdue will hit the field for its first practice at 4:25 p.m. ET Saturday.
What's new:
The
Robert Marve
era is under way, as the Miami transfer enters camp as Purdue's clear-cut starting quarterback. Marve has done everything right off the field, and after admittedly being concerned about his surgically repaired knee this spring, he should be able to push himself in camp. Purdue made an important staff change during the offseason, as former assistant Gary Emanuel returns as co-defensive coordinator/defensive line coach. Emanuel will play a big role in trying to boost the Big Ten's worst rushing defense. The Boilers also have a completely new-look secondary as all four starters depart.
Sidelined:
Starting running back
Ralph Bolden
is out indefinitely following ACL surgery in early May. Head coach Danny Hope hasn't ruled out Bolden's return this season, but this is Bolden's second ACL injury in the past five years. Also, defensive tackle Kevin Pamphile, a projected starter after the spring, will be out until October after surgery to help a stress fracture in his foot.
Key battle:
The secondary and the offensive line are the two position groups to watch this month. Safety Albert Evans is Purdue's lone returning defensive back with legit game experience, so there will be major competition at both cornerback spots and one safety spot. Purdue has two returning starters along the offensive line in left tackle Dennis Kelly and right guard Ken Plue, but the other three spots are wide open. Keep an eye on junior Nick Mondek, who tops the preseason depth chart at right tackle despite only switching from defensive tackle this spring.
New on the scene:
Defensive tackle Bruce Gaston has impressed the coaches with his speed and will compete to fill Pamphile's starting spot during his recovery. Also keep an eye on two high school teammates from Florida -- wide receiver O.J. Ross and defensive back Ricardo Allen -- who could see the field early.
Back in the fold:
After a year-long suspension from school,
Justin Siller
is back with the team and poised to make a big difference this fall. Michigan fans certainly will remember Siller, who started three games at quarterback in 2008 and also played some running back. He's listed as a wide receiver and could be a dangerous No. 2 option behind All-Big Ten selection
Keith Smith
. Purdue will find a way to get the ball in Siller's hands.
Breaking out:
Al-Terek McBurse
was a heralded recruit who took a little longer to make an impact last fall because of some initial eligibility issues. McBurse will get the first shot at running back after showing impressive burst on kickoff returns in 2009, averaging 24.6 yards per runback with a touchdown. Everyone knows about defensive end Ryan Kerrigan, but keep an eye on Purdue's other D-linemen, namely Gerald Gooden and Kawann Short.
Quotable:
"When he came to Purdue, it was as a transfer from Miami, and a lot of things [were] written about him, a lot of controversy. He's done a great job fitting in. The team has embraced him. His teammates love him. Exceptional player and exceptional athlete and great teammate. We like everything about Robert Marve, and we certainly think he has the potential and talent for us to win on Saturday."
-- Purdue head coach Danny Hope
August, 3, 2010
8/03/10
12:00
PM ET
Since there are so many links, I've broken this up into two categories for you.
BIG TEN NEWS

TEAM NEWS
July, 21, 2010
7/21/10
11:15
AM ET
The depth chart means a lot everywhere, but especially at Purdue.
Head coach
Danny Hope has been known to post a different depth chart
at the entrance to Purdue's practice field every day of spring ball or preseason camp. Boilermakers players constantly know where they stand with the coaches, and that they can't let up, even for one practice.
Given the ever-changing nature of Purdue's depth chart, the
pre-camp version revealed Tuesday
(page 16) should be studied accordingly. Still, it provides some clues about what the coaches are thinking entering preseason practice, which kicks off next month.
We already knew that
Robert Marve
will
enter camp as Purdue's No. 1 quarterback
, but here are a few more notes:
Ralph Bolden is still listed at Purdue's starting running back despite undergoing ACL surgery in May. From the moment Bolden went down, Hope has remained very optimistic about the junior's status for the season despite the severity of the injury. Al-Terek McBurse is listed as the backup but likely will start the opener Sept. 4 against Notre Dame. Former wide receiver Keith Carlos is the third-string running back.
Former quarterback Justin Siller, who rejoined the team this summer after a year-long dismissal from the university, is listed as a starting wide receiver alongside Keith Smith and Cortez Smith.
The offensive line figures to feature some competition this summer, and here's how the starting five looks entering camp: left tackle Dennis Kelly, left guard Justin Pierce, center Peters Drey, right guard Ken Plue and right tackle Nick Mondek, who switched to offensive from defensive tackle this spring.
The secondary is another group with some question marks. Charlton Williams and Josh Johnson are listed as the starting cornerbacks, while Albert Evans and Logan Link are tabbed as the starting safeties. Evans looks like the guy at strong safety, but the other three spots are fluid.
Redshirt freshman Kevin Pamphile is listed as a starting defensive tackle next to Kawann Short. It'll be interesting to see if Pamphile maintains the top spot throughout camp, as there should be some good competition.
Carson Wiggs could once again be a busy man this fall. He's listed as Purdue's starting kicker and a co-starter at punter with freshman Cody Webster. Wiggs or freshman Jonathan Linkenheimer will handle kickoffs.