February, 16, 2015
Feb 16
11:00
AM ET
It's been quite an offseason already nationally and around the Big Ten. Earlier Monday, colleague Adam Rittenberg provided a rundown of the
altered coaching landscape of the Big Ten's East Division
.
We continue our recap of the coaching moves with a look at the West Division, featuring a mix of turnover at high-profile Nebraska and Wisconsin and longevity elsewhere:
ILLINOIS
Who's out?
Greg Colby, defensive line
Tim Salem, special teams
Who's in?
Mike Phair, co-defensive coordinator
Notes:
Coach Tim Beckman remains in the market for an assistant coach to fill Salem's spot. The Illini got Phair from the Tampa Bay Buccaneers. He will run the defense with Tim Banks after Illinois ranked last in the Big Ten for the past two years in defending the run, a factor in Colby's removal. Before turning to Phair, Beckman attempted to hire Missouri defensive line coach Craig Kuligowski, but the longtime sidekick of Gary Pinkel opted to stay with the Tigers.
IOWA
Who's out?
No changes, though coach Kirk Ferentz made a few assignment shifts last week.
Promoted/moved
Brian Ferentz adds run-game coordinator to work with offensive line
Seth Wallace adds cornerbacks and nickelbacks to work as recruiting coordinator
LeVar Woods moves from linebackers to tight ends
Notes:
Some have argued that Kirk Ferentz, set to enter his 17th season, should have made more significant changes after the Hawkeyes underachieved, especially on offense. Brian Ferentz has done nice work with the line. His promotion should allow offensive coordinator Greg Davis to focus more on the tenuous quarterback situation. Defensive coordinator Phil Parker can also focus on more big-picture work after the changes this month, and Jim Reid will alone handle the linebackers with Woods moving to the offensive side.
MINNESOTA
Who's out?
Are you kidding?
Notes:
Status quo for the Gophers after two straight eight-win seasons. Coach Jerry Kill's staffers, including strength coach Eric Klein, have worked together for a combined 131 years, more than any staff nationally. Defensive coordinator Tracy Claeys has been with Kill for 20 seasons; offensive coordinator Matt Limegrover for 16 and so on. Their longevity pays obvious dividends. Little changes look big for the Gophers, such as the switch last year of Brian Anderson to coach receivers and Pat Poore to running backs.
NEBRASKA
Who's out?
Bo Pelini, head coach
Tim Beck, offensive coordinator/quarterbacks
John Papuchis, defensive coordinator
Ron Brown, running backs
Barney Cotton, assistant head coach/tight ends
Ross Els, linebackers
Rich Fisher, receivers
John Garrison, offensive line
Rick Kaczenski, defensive line
Charlton Warren, defensive backs
Who's in?
Mike Riley, head coach
Mark Banker, defensive coordinator
Danny Langsdorf, offensive coordinator/quarterbacks
Trent Bray, linebackers
Mike Cavanaugh, offensive line
Reggie Davis, running backs
Hank Hughes, defensive line
Bruce Read, special teams
Keith Williams, receivers
Notes:
Riley brought Banker, Bray, Cavanaugh and Read straight from Oregon State, and added Langsdorf, a former OSU coordinator, from a one-year stopover as quarterbacks coach of the New York Giants. Davis, who came from Jim Harbaugh's staff with the San Francisco 49ers, is another former Riley assistant. Hughes came from Cincinnati, and Williams from Tulane. Riley retained Warren, but after two months with the new staff, he left last week for North Carolina, leaving the new coach to look for another man to coach the secondary -- Nebraska's fifth hire for the position in six years.
NORTHWESTERN
Who's out?
No changes.
Notes:
Longevity reins in Evanston. Despite the Wildcats' struggles of the past two seasons, coach Pat Fitzgerald, entering his 10th season, has shown great confidence in his staff. Assistants Randy Bates (linebackers), Adam Cushing (offensive line), Matt MacPherson (running backs) and Jerry Brown (secondary) have been with Fitzgerald all the way. Brown, in fact, has coached at the school since 1993.
PURDUE
Who's out?
Kevin Sherman, receivers
Notes:
Darrell Hazell remains in search of a replacement for Sherman, who spent two years with the Boilermakers before bolting for Pat Narduzzi's new staff at Pitt. The core of Hazell's staff has remained with him since the coach arrived from Kent State after the 2012 season.
WISCONSIN
Who's out?
Gary Andersen, head coach
Andy Ludwig, offensive coordinator/quarterbacks
Chris Beatty, receivers
Bill Busch, safeties
Jeff Genyk, tight ends/special teams
Chad Kauha'aha'a, defensive line
Ben Strickland, cornerbacks
T.J. Woods, offensive line
Who's in?
Paul Chryst, head coach
Joe Rudolph, offensive coordinator/offensive line
Inoke Breckterfield, defensive line
Chris Haering, special teams
Daronte' Jones, defensive backs
Tim Tibesar, outside linebackers
Mickey Turner, tight ends
Retained:
Dave Aranda, defensive coordinator/linebackers
Thomas Brown, running backs
Notes:
Despite early reports that Matt House would come with Chryst from Pitt as defensive coordinator, Aranda remained, which was a popular move. Rudolph (a former Wisconsin player and assistant coach), Breckterfield, Haering and Turner did follow Chryst to his new job at his alma mater. Jones comes from Hawaii and Tibesar, the former Purdue defensive coordinator, comes from Northwestern where he served as a consultant last year. The Badgers also appear set to hire Ted Gilmore, who spent the past three seasons with the Oakland Raiders, as their receivers coach. Strickland looks in position to remain as an in-house recruiting coordinator.
January, 23, 2015
Jan 23
12:00
PM ET
We're into the final stretch on our trip around the Big Ten to examine three areas with each team that need attention during the offseason. Next on the list is the
Purdue Boilermakers
.
1. Settle on a quarterback:
Purdue must go into August with better definition at the most important spot on the field.
Austin Appleby
, a rising junior, looks the part at 6-foot-5 with a solid and accurate arm, but he struggled with consistency after taking over for classmate
Danny Etling
in October. Too often, Purdue relied on Appleby to carry it to victory with his arm. It was never a good strategy. In the four games that he attempted 35 passes or more, Purdue lost by an average of 16.5 points as Appleby fired four touchdowns to go with eight interceptions. Appleby enters spring as the man to beat, but Etling returns to provide competition, and
David Blough
, as a redshirt freshman, is a dark horse.
2. Identify playmakers:
Gone are talented running backs
Akeem Hunt
and
Raheem Mostert
. Top receiver
Danny Anthrop
, a senior next fall, continues to recover from a torn ACL suffered Nov. 1 at Nebraska. So the spring offers a chance, on both sides of the ball, for talent to emerge. Offensively, Purdue needs more from junior wideouts
DeAngelo Yancey
and
Cameron Posey
– now in need of a new position coach after Kevin Sherman left this week for Pitt. Fellow receiver
Gregory Phillips
figures to build on playing time earned late as a freshman. But who's the difference-maker? Maybe it's
Markell Jones
, an under-recruited back out of Columbus, Indiana, who was nothing short of spectacular as a high school senior, running for 60 touchdowns and more than 3,500 yards. He enrolled this month, as did junior-college transfer
Anthony Mahoungou
, originally from France. Defensively, cornerback
Frankie Williams
and a young corps of linebackers can build on solid performances in 2014.
3. Work on the mindset:
It showed only slightly in Purdue's 2014 record, but the Boilermakers were much improved from coach Darrell Hazell's first season to his second. Purdue was oh so close on the road at Minnesota and competed well against Michigan State after Hazell notched his first Big Ten win in October over Illinois. Momentum slowed in November, but Purdue returns a lot, in particular at linebacker and on the offensive line, and it can build on that midseason stretch. This program is not far removed from a run of success under former coach Joe Tiller. Even Danny Hope won seven league games over his final two years before Hazell arrived from Kent State in 2013. The opportunity is there for Purdue to rise again in the West, easily the weaker of the Big Ten divisions.
January, 21, 2015
Jan 21
9:00
AM ET
Tuesday brought an end to questions about the final spots on the coaching staffs at Michigan and Nebraska.
Both are now full, though at Michigan, the addition of Mike Zordich as
secondary coach
and Jay Harbaugh as
tight ends coach
came as no surprise. Nebraska, more than two weeks after Mike Riley unveiled additions to bring his staff to eight,
tabbed a receivers coach
, Keith Williams, from Tulane.
An official announcement is forthcoming after Williams, 42, spent time Tuesday in Lincoln.
Great to meet Coach Williams! Welcome to the family. Can't wait to get to work! GBR.

— Jordan Westerkamp (@JordanWesty1) January 21, 2015
The highlight of the Jay Harbaugh hire came as the head coach's 25-year-old son revealed that his dad once
poured Gatorade on his cereal
.
Excuse me, what? Way to set the bar high on your first official day, Jay; we'll definitely expect more where that came from that in future interviews.
Fact is, Jim Harbaugh could have hired daughters Grace, Addie or Katie, ages 14, 6, and 4, respectively, to fill a spot on this staff, and Michigan fans would have leapt with joy. Such is their level of excitement with Harbaugh, as it should be.
And that's no knock against Jay, 25, who worked for his uncle, John, the past three seasons as an offensive quality control coach for the
Baltimore Ravens
. The young Harbaugh looks like a fine pick, especially paired with Jedd Fisch and Tyrone Wheatley on the offensive side and veteran special teams coordinator John Baxter.
If Jay brings a fraction of his father's enthusiasm, he'll be a big hit on the recruiting trail.
Back to Jay Harbaugh. It's interesting that he worked on Riley's staff at Oregon State as an undergraduate assistant for four years. Not surprising, though, that Jim's son got his foot in the door with Riley.
The Riley-Harbaugh connections run deep. New Nebraska running backs coach Reggie Davis came to Riley from Harbaugh's
San Francisco 49ers
.
And oh, yes, Harbaugh played on Riley's
San Diego Chargers
in 1999 and 2000.
When Nebraska and Michigan meet again in 2018 -- if both coaches last that long and they don't meet first in a Big Ten title game -- it's going to feel a little like a family reunion.
Around the rest of the Big Ten:
East Division
West Division
March, 28, 2014
3/28/14
9:00
AM ET
WEST LAFAYETTE, Ind. -- Purdue quarterback
Danny Etling
showed up to a recent interview holding a piece of paper marked with X's, O's and notations.
It wasn't a play sheet for that afternoon's practice. Etling had created most of the page himself. Boilers offensive coordinator John Shoop provides his quarterbacks with general concepts, and then lets their minds run wild. He encourages Etling,
Austin Appleby
, 2014 signee
David Blough
and the other signal-callers to submit plays for review. Some will be used in practice. Some will even be used in games this season.
[+] Enlarge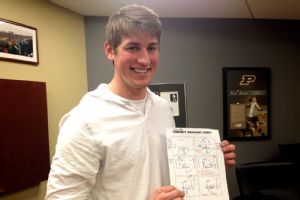 Adam Rittenberg/ESPNPurdue QB Danny Etling shows off the sheet where he creates plays that could find their way into a game.
"You just throw it on a piece of paper," Etling told ESPN.com "He'll be like, 'Terrible, terrible, terrible ... that one's not bad. Let's talk about it.' That's how our plays develop, by that thought process. Out of every 10 plays you draw, nine of them suck but one might be good and that's the one you might run on Saturday."
Shoop is the "puppet master," as Etling puts it, and has final say on all play calls, but Purdue's quarterbacks are very involved in the planning process for practices this spring -- and will be for games this fall.
"I value that," Shoop said. "It's our job as a staff to make our team feel empowered, like they're in control. These guys are not robots. Our staff takes a great deal of pride that the men who come and play for us are going to learn the game of football."
After a 1-11 season, where one of Purdue's biggest problems -- not lining up correctly -- occurred before the snap, you would expect the coaches to take even greater control of the learning process. The classic scenes of coaches and players -- red-faced coaches screaming and pounding on tables, players scared out of their cleats -- would seem likely inside the Mollenkopf Center this spring.
But there's a problem with that teaching model.
"They'll just sit there and nod their heads, say they got it," defensive backs coach Taver Johnson said, "and then we'll go down to the field and they'll have absolutely no clue."
Purdue has chosen a different direction this spring. There's plenty of teaching being done, but the Boilers' coaches are doing all they can to involve players in the process.
"Every time you take over a new program, your staff has to teach everything," coach Darrell Hazell said. "How do you line up, how do you break a huddle, where you are on the field. Now it's becoming fun, because you don't have to worry about all those little things.
"You can concentrate on ball and getting guys better."
It beats the alternative.
For Shoop, it means having quarterbacks present their own plays at each meeting, and seriously considering them for use. For Johnson, it's having a player stand at the front of the room and teach his teammates press technique. For wide receivers coach Kevin Sherman, it's having each wideout prepare a report on a concept or set of concepts, while encouraging them to get creative.
Sophomore receiver
Cameron Posey
took it to heart.
"

It's our job as a staff to make our team feel empowered, like they're in control. These guys are not robots. Our staff takes a great deal of pride that the men who come and play for us are going to learn the game of football.

"

-- Purdue offensive coordinator John Shoop
"Cameron used little Indians and cowboys on a cardboard," Sherman said. "He used different color lines on his routes. Very creative. I was very proud of them. They were very, very invested in what we're trying to do."
Etling admits the plays he submitted last year were "high school stuff," possibly because he had just come from high school. But he eventually learned all that goes into a play and what Shoop likes. One of his submissions made it into a game against Illinois and went for a completion.
Although the players' submissions still need refining, Shoop never writes them off immediately. He fully expects to use an Etling play or an Appleby play in games this fall.
"These coaches are very unique, especially with Coach Shoop in the way he challenges us mentally, physically, emotionally, spiritually," Appleby said. "Coach Shoop says if you never walk into this room comfortable, we're not doing our jobs and we're not getting better.
"The only time I would say I wouldn't be able to develop as a complete quarterback is if there was a ceiling put over my head. There is no ceiling."
Appleby hopes to pursue coaching after his playing career and would like to be an offensive coordinator in college.
"I can't get enough of it," he said. "It's my favorite class. I know we're student-athletes, but my football class is what I look forward to all day. I get a chance to learn from [Shoop], not only as a player, but if I pursue a coaching career, it's going to pay dividends."
The coaches have successfully created more player investment in the learning process. The next step: translating it to the field when it matters.
"Any time you can get the players thinking like the coaches," Hazell said, "you have a chance to move forward."
June, 24, 2013
6/24/13
12:00
PM ET
You know what they say about Detroit: It's all fun and games until they shoot you in the face.
May, 29, 2013
5/29/13
10:00
AM ET
Two Big Ten assistants will attend this year's NCAA Champion Forum, a networking and leadership development seminar for minority assistants identified as potential head coaches.
Purdue wide receivers coach Kevin Sherman and Ohio State co-defensive coordinator/safeties coach Everett Withers, who also serves as the Buckeyes' assistant head coach, are among the 11 FBS assistants attending the event, held June 13-15 in Orlando, Fla. Assistants from the ACC, Pac-12, Big 12 and SEC also will be in attendance.
Sherman, Withers and the other assistants will have simulated job interviews, media training and other sessions during the event. There's an athletic directors panel on June 13 that will include two Big Ten ADs: Illinois' Mike Thomas and Northwestern's Jim Phillips. There also are networking events with ADs on the first two nights of the forum. Big Ten senior associate commissioner Mark Rudner will represent the league.
The Big Ten has sent 22 coaches to the event, formerly called the Minority Coaches Forum, between 2006-2012 (no event was held in 2011). Five of those attendees -- Don Treadwell, Darrell Hazell, Mike Locksley, Ron English and Garrick McGee -- went on to become FBS head coaches. Hazell, who took over at Purdue in December, is the Big Ten's first African-American head coach since Bobby Williams at Michigan State (2000-02) and just the fourth in league history.
Michigan State secondary coach Harlon Barnett and Northwestern receivers coach Dennis Springer attended last year's Champion Forum.
Sherman,
hired by Hazell in January
, spent the past seven seasons as Virginia Tech's receivers coach. His other FBS stops include Wake Forest and Ohio.
Withers already has been a head coach, albeit on an interim basis with North Carolina in 2011 after
the school fired Butch Davis
weeks before the season. He has been defensive coordinator at North Carolina, Minnesota and Louisville and also coached defensive backs at Texas and with the NFL's Tennessee Titans, among others.
January, 18, 2013
1/18/13
2:30
PM ET
We figured Purdue would announce its new coaching staff eventually, at least before national signing day.
The wait is over, at least partially over, as Purdue on Friday officially revealed six new assistant coaches for Darrell Hazell's staff.
Most of these names already have been out there, but
the confirmed Boilers assistants
are:
Greg Hudson, defensive coordinator
Jim Bollman, offensive line
Marcus Freeman, linebackers
Jon Heacock, cornerbacks
Kevin Sherman, wide receivers
Jafar Williams, running backs
Hazell also named Doug Davis as the football team's head strength and conditioning coach, and Tommy Cook as the team's supervisor of football operations.
Freeman, Heacock and Williams all served on Hazell's staff at Kent State last season, as did both Davis and Cook. Both Freeman and Williams will occupy the same positions they had with the Golden Flashes, while Heacock had served as Kent State's defensive coordinator in addition to coaching corners. Hudson instead will lead the defense after serving as Florida State's linebackers coach the past three seasons. He has previous defensive coordinator experience at both East Carolina and at Minnesota under former Gophers coach Glen Mason from 2000-2004.
Ohio State fans will recognize several names on the list. Freeman starred at linebacker for the Buckeyes while Hazell served as an assistant there. Hazell, the Buckeyes' wide receivers coach from 2004-2010, worked under Bollman while Bollman served as Ohio State's offensive coordinator (and line coach) from 2001-2011. Heacock's older brother Jim served as Ohio State's defensive coordinator during Hazell's tenure. Jon Heacock served as Indiana's defensive coordinator from 1997-99.
Bollman spent the 2012 season with Boston College, while Sherman comes to Purdue from Virginia Tech, where he coached wide receivers for the past seven seasons.
Hazell in a news release called Freeman "perhaps the top up-and-coming coach in the profession." Hazell also praised Williams, Sherman and Heacock for their recruiting efforts.
All six coaches have been recruiting for Purdue.
Hazell's final three hires will be offensive coordinator/quarterbacks, defensive line and tight ends. The tight ends coach also likely will serve as the team's recruiting coordinator and oversee the special teams units. It's also
possible that Hudson coaches the Boilers' safeties
.
The big addition will be offensive coordinator, and it's interesting to see where Hazell turns. Hazell said Friday that
he'll have input on the offensive play calls
.