February, 13, 2014
Feb 13
1:00
PM ET
The loss of freshman tight end
Jake Butt
to
an ACL injury suffered during winter conditioning
is obviously a huge blow to the Wolverines.
It hurts not only from a production standpoint, but it's a big disappointment for a young player who showed such potential in 2013.
[+] Enlarge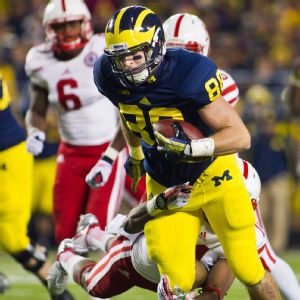 AP Photo/Tony DingMichigan will look for other options to replace Jake Butt's productivity (20 receptions, 235 yards and two TDs).
Butt's diagnosis marks the ninth ACL injury during coach Brady Hoke's tenure at Michigan. The most impressive recovery came from linebacker
Jake Ryan
, who returned in six months, coming back midway through this past season. Players such as quarterback
Russell Bellomy
and offensive lineman
Joey Burzynski
have yet to play in a game after suffering their injuries. But cornerback
Blake Countess
and defensive lineman
Chris Wormley
both made solid recoveries as well.
That number (average of three per season under Hoke) seems quite high. Following running back
Drake Johnson
's ACL tear, which happened in early September, Hoke said that there would be a self-assessment among the coaching staff. The general thought was that, essentially, sometimes these things just happen. It could be just bad luck.
"You know, I'm sure we'll look at it, but with Drake's -- he gets pushed in the back a little bit, he's busting his butt trying to make a tackle, guy kind of pushed him in the back. I mean, those things -- I don't know what else you can do about it," Hoke said on Sept. 2. "But we will, because I know our strength coach and I know our training staff. They'll get their heads together on it."
Outside of the larger issue of ACL injuries under Hoke, the Wolverines will regroup and try to figure out how to address this from a tight end production level.
Devin Funchess
is still around and will lead the way at the position. He was the team's second-leading receiver last season with 49 catches for 748 yards and six touchdowns.
Butt had been the third-leading receiver with 20 receptions for 235 yards and two touchdowns. However, outside of Funchess and Butt, the only other Michigan tight end to appear on the stat sheet was
A.J. Williams
(one catch).
So Michigan will dive into its depth now to find players who can block, catch and possibly do both. Williams is more of a blocking tight end, and while Funchess has progressed a bit in that category, he is obviously more talented as a pass-catching TE.
The Wolverines have other options, but are limited in experience.
Redshirt junior
Dylan Esterline
and redshirt freshman
Michael Jocz
both appeared in one game last fall. Freshman
Khalid Hill
redshirted, and redshirt junior
Jordan Paskorz
was a name that was mentioned during bowl season and during Williams' one-game suspension. Paskorz played in seven games and recorded one start.
Michigan signed one tight end in the 2014 class,
Ian Bunting
. He has the height factor at 6-foot-6 and with experience in basketball and volleyball, he should be productive.
Another option would be early enrollee/linebacker
Michael Ferns
. Michigan offensive coordinator Doug Nussmeier actually offered Ferns as a tight end at Alabama, so he clearly saw his potential.
Nussmeier should be able to find players to get some reps. And with six-and-a-half months until the season starts, it's not completely outlandish to say that Butt could return before or during the Big Ten schedule. However, he is eligible for a medical redshirt, and with the ACL issues Michigan has had, it might want to give the young player a longer time to recover and make sure he doesn't do any long-term damage.
Regardless, spring camp starts in less than two weeks and Nussmeier and Hoke, who already had their work cut out for them with this Michigan offense, were just given another challenge on top of that by losing Butt.
October, 13, 2013
10/13/13
12:00
AM ET
STATE COLLEGE, Pa. -- Defensive coordinator John Butler scanned the sideline after the referees signaled touchdown, finally bringing to end an instant classic that'll be talked about five years from now.
He watched as more than 100 Penn State players erupted in ecstasy -- spinning around, hugging, pumping their fists -- as they sprinted to the end zone to join their offensive teammates, who clinched a 43-40 win. In quadruple overtime. Against Michigan.
Two seconds after the game had ended, no one was left on the sideline. Maybe Butler was just looking for an assistant coach to embrace after the season-defining win. But he couldn't find one; they had already started a celebration that's sure to last until morning. He instead looked around, turned to the person closest to him and said one line before jogging off.
"We're going to be fine," he said, with no smile on his face but a sense of conviction in his voice. "Write that -- we're going to be fine."
[+] Enlarge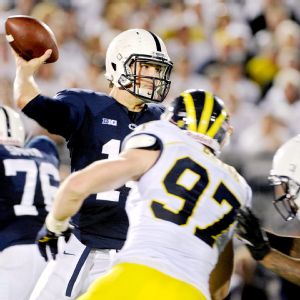 Abby Drey/Centre Daily Times via Getty ImagesChristian Hackenberg passed for 305 yards and 3 TDs in the upset of Michigan.
Beaver Stadium was filled with a sold-out crowd of more than 108,000 -- but it was also filled with question marks. Had Penn State's magic run out? Could this team really come away with a big win? Would this defense collapse again when it counted? Was there anyone on this offense besides
Allen Robinson
who could make plays?
The Nittany Lions didn't punctuate each answer with an exclamation mark. But they won. With dozens of lettermen on the sideline for homecoming, the Nittany Lions did to UM what it did to PSU in 2005: put an end to a perfect season.
"You can't really compare this to anything else; it's pretty much indescribable," quarterback
Christian Hackenberg
said. "It's just one of those things where if you're fortunate enough to be in this type of game and you experience it -- it's something that's going to stick with you for the rest of your life."
Added tailback
Bill Belton
: "Oh, I'm going to remember this. Ten years from now? Yeah."
This wasn't a game that anyone "deserved" to win. Then again, maybe no one deserved to lose. Michigan quarterback
Devin Gardner
paced the sideline, with a headset over his ears, as
Brendan Gibbons
' 40-yard attempt was blocked in the first overtime. Then, in the third overtime, Michigan's players stared at the ground -- tight end
Khalid Hill
yelled, "Damn!" -- when Gibbons' missed a 33-yarder.
Both teams had plenty of opportunities to win. Michigan came into this game always making plays when it needed to, while Penn State always seemed to watch the ball bounce in a bad direction. The roles were reversed this time around. Call it luck, call it skill, call it whatever -- but, whatever it was, it couldn't have come at a better time for Penn State.
"I would just say that in a lot of situations, God was on our side today," Robinson said. "We were able to make some plays down the stretch to keep this game alive."
Safety
Stephen Obeng-Agyapong
promised after the UCF loss that a game like that wouldn't happen again. Then Indiana happened. And wideout
Eugene Lewis
took to Twitter to let everyone know PSU was better than that. If PSU loses this game? Well, at some point, you stop believing it gets better. Those words don't have meaning if the losses pile up.
Bill O'Brien usually heads into every game by taking the dais and telling the media that every game is important. This week, he said he'd be crazy to say this was just another game. It wasn't. Win or lose, this was going to be a turning point for the Lions.
And, for the first time this season, it turned out the right way for Penn State.
"I'm just so jacked-up and so happy because you're putting it out on the line every single play," linebacker
Mike Hull
said. "This says we're a resilient bunch of guys."
Offensive tackle
Garry Gilliam
lingered beneath the tunnel and slapped hands with the fans. Linebacker
Glenn Carson
jumped around as if he were at a track meet. And fans, many of whom wore the same color for a stadium-wide "White Out," didn't move from their seats minutes after the game had ended and the Wolverines had already retired to their locker room.
Penn State had answered the questions by scoring 10 points in the final seven minutes of the fourth quarter to force overtime; then enduring a swing of emotions -- unlike any game either team has played this season -- and coming out with a win.
But, overall, the answers all revolved one simple theme. And it's one these fans can head home through snarled traffic with in mind.
These Nittany Lions are going to be just fine.