January, 24, 2012
1/24/12
3:23
PM ET
It looks like those trying to cash in on Thursday's public Joe Paterno memorial service --
tickets were distributed by Penn State on Tuesday morning
-- are getting crushed by Internet users.
A few sets of tickets popped up on eBay and craigslist not long after they were distributed, but the postings were either removed by the original poster or flagged for removal.
One set of tickets slowly escalated from a $0.99 initial bid to $500 before bids moved into the ridiculous range of $10,000 and $90,000 -- eBay users' way of protesting the sale to the seller. At least two other auctions were put up by different sellers and then removed.
At least two craigslist ads were removed by early Tuesday afternoon, though a handful of people have posted "wanted" listings for tickets.
In the case of the first set of tickets on eBay that drew the $90,000 bid, the seller amended the posting with this message: "To those opposing this auction: no one is forcing you to buy tickets; it is a choice. And yes, there are much worse ways to make a dollar, judge not lest ye be judged. You do not know my situation. Thank-you."
Penn State and eBay have an agreement that no free tickets can be auctioned. Penn State officials are urging those who see such sales to report them to eBay.
December, 16, 2011
12/16/11
8:36
AM ET
More than 40 years after his death, Vince Lombardi's brand is as strong as ever. Last year, a Broadway play based on his life debuted and ran for more than 200 shows. In January, a movie about the legendary coach featuring Robert De Niro as Lombardi will open in theaters nationwide. Framed copies of his "What It Takes To Be Number One" speech adorn people's offices around the country.
Similarly, Bear Bryant's legend lives on almost 30 years after his death.
[+] Enlarge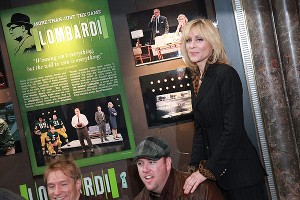 Astrid Stawiarz/Getty ImagesActors Bill Dawes, Chris Sullivan and Judith Light of "Lombardi" On Broadway.
Six months ago, Joe Paterno's legacy at Penn State and beyond was no doubt headed for a similar path.
But given Jerry Sandusky, we know where it stands now -- cemented with Penn State's
recent announcement
that the university will no longer handle licensing Paterno's name and likeness. Retailers can only sell merchandise that associates Paterno with Penn State until supplies run out, and manufacturers have 60 days to sell or dispose of such products. Mary Kay Hort, Paterno's daughter, will handle all future licensing for Paterno under JVP Properties.
It's a necessary end between the school and former coach, says Paul Swangard, managing director of the Warsaw Sports Marketing Center at the University of Oregon.
But the real loss from the controversy surrounding Paterno comes not for Penn State but for the Paterno family, and eventually, his estate.
Sales of licensed items such as T-shirts, coffee mugs and hats don't add up to all that much money in the end. But a Lombardi-like book, movie or play does.
"From a branded entertainment perspective, it is the rare brand that would finance or become a major sponsor of an original production about a disgraced sports figure, especially if related to sexual misconduct," says Frances Page, director of entertainment media for RJ Palmer.
Any future disagreements among family members about future licensing opportunities may lead to unauthorized biographies instead of revenue-producing opportunities, Page says.
Roger Goff, an attorney who has handled life rights deals for movies, says there is generally an initial option fee of anywhere from a few thousand dollars to $75,000. If the option is exercised and a movie goes forward, the license is approximately 1 percent to 2 percent of the movie's budget -- sometimes as high as 5 percent. Profits also might shared – sometimes 1 percent to 4 percent.
Gordon Firemark, an attorney who represents artists, writers, producers and directors in film and theater, says an initial fee in the high-five-figure to low-six-figure range would typically be split between the subject or his estate and writers. Once the show begins its run, royalties of 5 percent to 7.5 percent of the box office would be split between the same parties.
Lynn Guerin, president of Guerin Marketing, worked with John Wooden to create the Wooden Course and other methods to spread Coach Wooden's legendary Pyramid of Success. The Wooden Course is a classroom-based course on leadership customized for corporate clients. Guerin says a course can run anywhere from a couple of hundred dollars per person to more than $2,000 per person. Mercedes Benz, Chick-Fil-A and General Mills are some companies that have participated.
Of considering the Paterno legacy in a similar fashion, Guerin says: "In his lifetime, he has touched hundreds of young men and people who will forever know and love him because of what he did to help them become the men they've become. He's been a great role model. That'll never be forgotten. But the public legacy -- I would not be optimistic that someone could take the books written on him and develop this sort of course."