December, 9, 2013
Dec 9
12:00
PM ET
After Sunday's announcements, these links are served in a bowl.
November, 18, 2013
Nov 18
1:00
PM ET
Wednesday marks the one-year anniversary of
Rutgers' admission to the Big Ten
.
Things haven't exactly gone swimmingly for The State University of New Jersey since that landmark day.

There was the
Mike Rice bullying scandal
, which led to the
ouster of popular athletic director Tim Pernetti
. More
controversy arrived when Rutgers named Julie Hermann as athletic director
and some of Hermann's former volleyball players at Tennessee made allegations of abuse. Even the hiring of basketball coach Eddie Jordan
didn't go smoothly
.
The football season brought some good news, at least initially, as Rutgers started 4-1, including a win against Arkansas. But the Knights since have lost three of four, including a 52-17 setback Saturday against Cincinnati.
The on-field struggles aren't Rutgers' biggest issue, as allegations of a coach verbally abusing a player once again have surfaced. Cornerback Jevon Tyree, who left the program Nov. 6,
alleges that defensive coordinator Dave Cohen verbally abused him
and threatened him during a study hall session this spring. Tyree and his parents have sought disciplinary action against Cohen.
From NJ.com:
The incident -- which Jevon Tyree said occurred in April with the Rice fallout still fresh -- happened in front of approximately 10 teammates and a tutor, Jevon Tyree said, and it led to the 19-year-old's escalating ostracization, eventually driving him to quit.

Clarice Tyree called it "an outright bullying episode," and Mark Tyree said the behavior soon "transferred to the other coaches." Jevon Tyree, a redshirt freshman on scholarship, said that after the frightening incident, his standing on the team plummeted, along with practice repetitions and any shot at playing time. He said there were team meetings from which he was excluded.

Eventually, after coaches used a wide receiver instead of him in the injury-decimated secondary during a game this month, Tyree quit.
Rutgers on Friday responded to the allegations,
saying in a statement
that it was an isolated incident, after which Cohen apologized, and that no physical threats were made. According to the school, the incident resurfaced only after Tyree's father approached Hermann to discuss his son's diminishing playing time. The school says Hermann contacted head coach Kyle Flood, who arranged a meeting with the Tyrees and appeared to resolve the situation.
Tyree told NJ.com that
there was no apology
, and his parents
say they never communicated with Hermann
, and that they initiated a meeting with Flood, not the other way around.
There are a lot of conflicting statements here, and it's hard to know who to believe. The time between the incident, Tyree's departure from the team and the allegations is somewhat curious. But it's still a messy situation for
an athletic program that recently has been under the national microscope for allegations of coaches bullying players.
I wrote in May that
the Big Ten simply needs Rutgers to stay out of the news
until the school officially enters the league on July 1, 2014. Institutional competency was questioned in the spring, and those questions are still being asked today.
Then again, as long as Rutgers doesn't move its campus, it's all good, right?
November, 8, 2013
Nov 8
4:00
PM ET
A few questions and answers before Week 11 in the Big Ten. Don't forget to follow us
on Twitter
, the best place to track the latest news on Saturdays.
Ready? Break.

Darin from Lyme, N.H., writes:
The Buckeyes don't need to worry about making the national title game if they win out. If you look at the BCS historically, only one out of 15 years has an undefeated team from a major conference not made the game (Auburn 2004). The odds are extremely long that we will end up with more than two undefeated teams.
Adam Rittenberg:
Darin, you make a good point. The BCS usually works itself out to where undefeated teams from major conferences aren't on the outside looking in. Oregon's loss to Stanford on Thursday night certainly helps Ohio State, as the Ducks once again won't be going to the national title game. Baylor's big victory against Oklahoma helps the Bears' chances, but I still don't think Baylor runs the table. Ohio State won't jump Florida State or Alabama if both teams win out, and FSU's path to the title game certainly looks easier than that of Alabama, which still has LSU, Auburn and most likely South Carolina or Missouri in the SEC title game. The Buckeyes simply need to keep winning, ideally in impressive fashion, and hope teams like Wisconsin and Michigan State also continue to win. Ohio State already has beaten Wisconsin and would benefit from facing an 11-1 MSU team in the Big Ten championship game.
---

Bob from Forest, Va., writes:
I realize you don't know much about the Rutgers program.
Regarding coaching salaries
you said "fairly or unfairly" the fact that RU is paying the football coach 800-900K per year leaves the perception that RU doesn't belong in a league like the Big Ten. Do you recall what they paid Coach Flood's predecessor? Also I always thought it was on-field performance that determined whether or not a team belonged. Outside of Ohio State, is there really a single B1G team RU can't compete with? We've held our own vs the Big Ten if you take out Penn State pre-B1G with a .500 record. What I don't get are the jabs from you. Is it an ESPN thing or are you just writing what you think your readers want to hear?
Adam Rittenberg:
Bob, you're absolutely right that on-field performance, and not coach salary, determines whether a team like Rutgers will sink or swim in the Big Ten. It always comes down to winning, and Rutgers has an excellent opportunity to prove itself in a loaded East Division with Ohio State, Michigan, Penn State and Michigan State. You say Rutgers has held its own with the Big Ten outside of Penn State. Who else has Rutgers played? Rutgers hasn't played a Big Ten team since 2006 (Illinois) and has never faced seven current Big Ten teams (Indiana, Iowa, Michigan, Minnesota, Ohio State, Purdue and Wisconsin). Your argument is therefore irrelevant.
I realize Rutgers paid more for Greg Schiano, and that Flood is a young coach who doesn't demand a huge salary. But like I wrote, the perception looks like Rutgers is small time when every other Big Ten coach is making at least $1.2 million. Placed in the larger context of what major conference coaches make, it looks pretty low. Purdue faced the same perception when it paid coach Danny Hope less than $1 million. That's just the way it is. But you're right that Rutgers can improve its perception by beating teams coached by guys making four times as much as Flood does.
---

Anthony from New York writes:
Why didn't you include Michigan in your list of BCS at-large candidates? We know from 2011 that a two-loss Michigan team will be attractive to BCS bowls if ranked in the top 14. As you've said, Michigan is better off not making the B1G title game if it wants an at-large bid. It is perfectly plausible to see Michigan beat Nebraska, Iowa, and Northwestern (though none are easy games). Add in an upset of unbeaten Ohio and you've got a top-14 Michigan team coming off four straight wins. Wouldn't they be a very attractive team?
Adam Rittenberg:
Anthony, as I specified in the top of
the post
, I'm not including any unranked teams in the conversation for at-large berths at this point. If and when Michigan re-enters the BCS standings, it will appear as a candidate. But even then, how attractive would Michigan be? The Wolverines would have to look a lot better in their final four games than they have in their first eight. You and your fellow Michigan fans won't agree, but it would be a real shame if a Michigan State team that went 11-1 in the regular season and lost in the Big Ten title game to Ohio State missed out on a BCS berth in favor of a team like Michigan, which the Spartans embarrassed last week. I also wonder whether Michigan would get into the top 14 of the final BCS standings and be eligible for selection. An Ohio State win certainly would help, but it would depend on what other teams do elsewhere. Let's see how things play out, but I don't see a top-15 team in Ann Arbor this year.
---
Pat from East Lansing, Mich., writes:
You both always pretty much have the same predictions week to week. Can we get creative?
Adam Rittenberg:
We have to pick the teams we think will win, Pat, and sometimes they'll all be the same. I've differed from Brian in one game in each of the past two weeks and lost both times, as Nebraska's Hail Mary got me last week. One chatter Thursday suggested we incorporate score prediction into the race, which isn't a bad idea. We might look to do something with that next year. I think you'll see a few more disagreements down the stretch, but we're not going to be contrarians here, especially with an expensive dinner in Indianapolis on the line.
---
Charley from New York writes:
Is it a journalist's job to lobby for millionaires to paid even more money? I must admit my jaw dropped
when I read from you
: "Both Wilson and Kill earn less than coaches from Colorado State, Navy, South Florida and Central Florida. That seems a bit troubling for teams in a loaded league like the Big Ten." Troubling? I notice you haven't been much of an advocate for paying the kids who actually generate the millions of dollars colleges earn from football, but you have always been an advocate for higher head and assistant coaches' salaries. Is this your way of trying to brown-nose your sources or do you really believe that educational institutions should devote more and more of their budgets to football coaches' salaries?
Adam Rittenberg:
Charley, do I believe college football coaches make ridiculous salaries for university employees? Yes. But they also bring in a ton of money, and the market is dictating what they're making. We can have a discussion on the larger issue of coach salaries if you want, but the pay structures are what they are in major conferences. People look at why the Big Ten is struggling right now. It's hard to completely dismiss the fact that SEC head coaches are making much more on average (SEC assistants are, too). As I wrote last month,
money isn't the problem in the Big Ten
, even though the league sponsors more sports than the SEC. From a perception standpoint, not necessarily reality, it doesn't look like Minnesota and Indiana are that invested in their programs when you look at the league they're in and the market rates for college coaches.
---

Chris from Knoxville, Tenn., writes:
I know most people, myself a Michigan fan, included, favor Ohio State over Michigan later this month. But so many people are calling it to be a blowout. I disagree -- even in 2011 a downtrodden Ohio State kept that game close, and I expect this year's game to also be close, especially since it's at the Big House. Teams tend to preform better in rivalry games. Who do you think is right, the many people mentioned or my pick of a close game?
Adam Rittenberg:
It's way too soon to call for a blowout in The Game. It's still three weeks away, we don't know the injury situations for both teams and we don't know how the teams will be playing entering that one. I don't expect Michigan to magically become a top-10 team by Nov. 30, but the Wolverines could remedy some of their issues before Ohio State comes to town. You're absolutely right that teams perform better in rivalry games. Michigan likely is out of the Big Ten title mix, so beating Ohio State is really the only major goal left for Brady Hoke's crew. More important, as you mention, Michigan plays much better at home under Hoke, never losing a game in his two-plus seasons. I'm not sure of my prediction for The Game, but I doubt I'll pick Ohio State to win by more than 10 points. Michigan will give its best effort on that day.
---

Grant from Cincinnati writes:
Is it just me, or is Luke Fickell's stock much higher than it should be? His track record as a recruiter and positions coach is well documented, and he seems to be a high quality, character guy. However, in his only season as head coach, he went 6-7. It's not as though the cupboard was bare for him, as that year was sandwiched between a Sugar Bowl victory and an undefeated season. Also, his defense has underachieved for much of this season, though it seems to be getting back on track a bit. Now he's interviewing for a head coaching gig and you're mentioning that you expected him to hold out for a major conference head coaching position. In short, Fickell seems like a good guy, but why the love fest?
Adam Rittenberg:
Some fair points here, Grant. Fickell's stock certainly seemed higher before he became a head coach -- albeit under very difficult circumstances -- or a defensive play-caller (Jim Heacock handled those duties until last season). I don't think you can judge him too much for the struggles in 2011, as the program was rocked by Jim Tressel's resignation and had a tough situation at quarterback because of Terrelle Pryor's departure. Fickell handled himself well overall, although the on-field product left much to be desired. There have been some valid criticisms of him as a defensive coordinator, as Ohio State hasn't been a salty as it used to be on that side of the ball. But I think Fickell could thrive as a head coach because of his personality and recruiting ability. He might be a better CEO type than a coordinator, and I think fans and players would rally around him. It needs to be the right situation, unlike the one in 2011.
---

Nick from East Lansing, Mich., writes:
How likely is it that MSU has to look for a new coach in the offseason? It would be hard to turn down if Texas came calling.
Adam Rittenberg:
Sure, Texas certainly has its perks, but I highly doubt Mark Dantonio is going anywhere. He's in a great situation at Michigan State, works for a great athletic director (Mark Hollis) who he loves, and has roots in the Midwest as an Ohio native. Dantonio definitely is
due a raise
at Michigan State, although it's more important to him to pay his assistants, which the school has been doing. At this stage in his career, I don't think Dantonio wants to deal with all the excess stuff at a place like Texas. You never say never, but I'd be very surprised if he's not back at MSU in 2014.
---

Matt from Michigan writes:
I am a little confused after reading the
"rooting interests" article
. Why would Michigan want Minnesota to lose? If Michigan State loses to Minnesota and either Northwestern or Nebraska and if (big IF) Michigan were to win out and finish 6-2 along with MSU finishing 6-2, it would be MSU winning the tie breaker. However, wouldn't Michigan still have a chance to represent the Legends in a three-way (or even four-way) tie at 6-2? Looking at the schedule, I think it is possible to have MSU, Michigan, Nebraska and Minnesota ALL finish at 6-2. Not saying likely, but that would make for a compelling last weekend!
Adam Rittenberg:
Indeed it would, Matt. My rationale for the Minnesota loss would be to knock the Gophers out of the race, but if the tiebreaker is Michigan's best chance to win the division, which it may well be, it would make sense for Minnesota to win out. The key obviously is for Michigan State to start losing games, beginning next week against Nebraska. If Michigan State loses out -- highly unlikely -- and Michigan wins out, the Wolverines would go to Indy.
November, 6, 2013
Nov 6
4:00
PM ET
USA Today has come out with its
annual database of college coaching salaries
. Not surprisingly, Alabama's Nick Saban tops the chart with a salary of $5,545,852 for 2012.
[+] Enlarge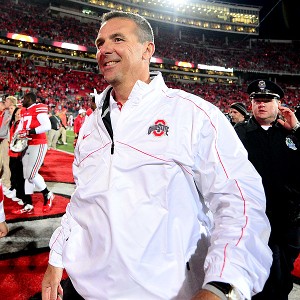 Andrew Weber/US PresswireOhio State's Urban Meyer is the highest-paid coach in the Big Ten.
Those questioning Bret Bielema's move from Wisconsin to Arkansas might change their opinion after seeing Bielema's 2013 salary with the Hogs ($5,158,863), which ranks third behind Saban and Texas' Mack Brown. Then again, Bielema's compensation also i
ncludes a $1.9 million buyout that had to be paid to Wisconsin
.
Where do the Big Ten coaches stack up?
Ohio State's Urban Meyer is first in the Big Ten and sixth nationally with a salary of $4,608,000, two spots ahead of Michigan's Brady Hoke ($4,154,000). Meyer and Hoke both are eligible for $550,000 bonuses in 2013.
Iowa's Kirk Ferentz follows Hoke and ranks ninth nationally in salary ($3,985,000). Ferentz also has an insane maximum bonus of $1,750,000. The conversation about his value for a program hovering around .500 isn't going to go away.
Penn State's Bill O'Brien ($3,282,779) and Nebraska's Bo Pelini ($2,975,000) also appear among the top 20 coaches in 2013 salary. The SEC has three of the nation's four highest-paid assistants, four of the top seven and eight of the top 20. The Big Ten and Big 12 are tied for the second-most in the top 20 with five each.
But there's a sizable dropoff after Pelini as Northwestern's Pat Fitzgerald comes in next at 41st nationally ($2,221,153). Michigan State's Mark Dantonio undoubtedly is the best value in the league at $1,959,744, behind first-year coaches Darrell Hazell of Purdue ($2,160,833) and Gary Andersen of Wisconsin ($2,120,823).
Purdue had been criticized for underpaying for coaches, but Hazell's deal, which includes a maximum bonus of $1,095,000, is certainly competitive nationally.
Illinois coach Tim Beckman comes in 60th nationally in salary ($1,700,000), while Indiana's Kevin Wilson ($1,291,220) and Minnesota's Jerry Kill ($1,200,000) round out the list. Both Wilson and Kill earn less than coaches from Colorado State, Navy, South Florida and Central Florida. That seems a bit troubling for teams in a loaded league like the Big Ten.
Although the Big Ten is somewhat competitive with the SEC at the top in paying coaches, the
overall numbers aren't close
.
Maryland coach Randy Edsall, whose team joins the Big Ten in 2014, ranks right behind Andersen in salary at 48th overall ($2,025,440). Rutgers coach Kyle Flood is earning just $860,000, trailing the coaches from Air Force, Memphis, Wyoming and others. Fairly or unfairly, that won't help the perception that Rutgers doesn't belong in a league like the Big Ten.
What are your thoughts on the coaching salaries around the Big Ten and nationally?
May, 13, 2013
May 13
2:30
PM ET
There has been plenty of recent news on the recruiting trail around the Big Ten, and we're a bit
overdue for a scorecard
, so here's the latest rundown. Teams are sorted based on most verbal commitments for the 2014 class.
MICHIGAN
Total commits:
9
ESPN 150 commits:
8
The latest:
Michigan's recruiting once again is off to an extremely fast start, as the Wolverines not only are piling up commits but quality players. Defensive end Lawrence Marshall on Saturday
became the eighth ESPN 150 prospect
to pick Michigan. No other FBS team has more than five ESPN 150 players pledged for the 2014 class. Barring a surprise turn, Michigan will sign a top-5 class in February. The Wolverines currently rank No. 3 in the RecruitingNation rankings.
PENN STATE
Total commits:
9
ESPN 150 commits:
1
The latest:
Penn State has filled out most of its 2014 class before mid May, and the Lions are adding quality prospects like ESPN 150 athlete De'Andre Thompkins, wide receiver Chris Godwin and linebacker Troy Reeder. The Lions picked up two more commits late last week in defensive back Marcus Allen and linebacker Jared Wangler. Bill O'Brien and his staff have to be selective because of scholarship restrictions, but they've also been aggressive in piling up early commits. Penn State is No. 13 in the latest class rankings.
NORTHWESTERN
Total commits:
8
ESPN 150 commits:
0
The latest:
Northwestern is quietly putting together the best class in coach Pat Fitzgerald's tenure. The Wildcats are 19th in RecruitingNation's class rankings after an excellent week that ended with them landing talented running back Auston Anderson on Thursday. Anderson's pledge came on the heels of four-star athlete Dariean Watkins choosing Northwestern. Although Northwestern hasn't landed an ESPN 150 prospect, it boasts several commits (QB Clayton Thorson, Watkins) who are close.
OHIO STATE
Total commits:
8
ESPN 150 commits:
1
The latest:
Urban Meyer's assistants are all over the recruiting trail -- and
letting us
know
about it on Twitter
-- and after a six-week drought without a commitment, the
Buckeyes added one Sunday
in wide receiver Lonnie Johnson. The Gary, Ind., native had offers from Indiana, Purdue and Nebraska, among others, but gives Ohio State a four-star prospect at a position of need. Ohio State checks in at No. 14 in the latest class rankings.
MICHIGAN STATE
Total commits:
6
ESPN 150 commits:
0
The latest:
The Spartans' total hasn't changed since they picked up linemen Brian Allen and Enoch Smith Jr. during spring game weekend, but they're
closing in on prospects like tight end
Matt Sokol and
defensive end
Rashawn Pierce. The downside is that Michigan State lost Marshall to rival Michigan
after many believed Marshall would go green
. Michigan State also had been pursuing Watkins, who verballed to Northwestern.
WISCONSIN
Total commits:
4
ESPN 150 commits:
1
The latest:
Gary Andersen's staff has added just one 2014 commit (defensive tackle Craig Evans) since taking over in late December. Although Evans pledged in March, the Badgers staff has been active on the recruiting trail and
extending plenty of scholarship offers
. Wisconsin made a
late addition to its 2013 class last week
by picking up junior-college cornerback Tekeim Reynard.
ILLINOIS
Total commits:
4
ESPN 150 commits:
0
The latest:
The Illini added to their quarterback depth earlier this month by
picking up a commitment
from Ohio prep signal caller Chayce Crouch. Crouch led his team to the state championship game last season and had received scholarship offers from several MAC programs, as well as some interest from other Big Ten schools. Illinois also has injected some more spice into its in-state rivalry with Northwestern by picking up defensive end recruit Tito Odenigbo, the younger brother of Wildcats defensive end Ifeadi Odenigbo.
IOWA
Total commits
: 3
ESPN 150 commits:
1
The latest:
The Hawkeyes haven't added to their total since getting a pledge from offensive lineman Lucas LeGrand in early April. But with three in-state prospects -- headlined by guard Ross Pierschbacher, the nation's No. 47 player and highest-ranked Big Ten commit, according to RecruitingNation -- Iowa still is off to a decent start. Iowa is
extending its recruiting reach to Georgia
and recently offered defenders Henry Famurewa and Bradley Chubb.
MINNESOTA
Total commits:
3
ESPN 150 commits:
0
The latest:
The Gophers added two verbals during spring game weekend in athlete Dimonic McKinzy (early All-Name team nominee) and defensive tackle Steven Richardson. In-state running back Jeff Jones, a three-star prospect, headlines the class so far. Like the previous coaching staff, Jerry Kill and his assistants are targeting Texas for recruits like linebacker Everett Williams and defensive end Noah Westerfield.
NEBRASKA
Total commits:
2
ESPN 150 commits:
0
The latest:
The Huskers wait for their second 2014 commitment ended last week as Texas defensive back Jason Hall pledged for Big Red. At 6-foot-2 and 192 pounds, Hall brings
excellent size to Nebraska's defensive backfield
. Although Nebraska should continue to add to its total in the coming weeks and months, recruiting coordinator Ross Els told ESPN.com last week that the Huskers
likely won't see a surge until prospects start coming to campus on official visits
this fall.
PURDUE
Total commits:
1
ESPN 150 commits:
0
The latest:
Purdue is going back to its recruiting roots under new coach Darrell Hazell, as its first verbal for 2014 comes from the fertile state of Texas. The Boilers recently added wide receiver Trae Hart to the mix. I'll have more on this later in the week, but Boilers recruiting coordinator Gerad Parker said the program is ramping up its efforts in the Lone Star State, mindful of the success former Purdue boss Joe Tiller had there.
INDIANA
Total commits:
0
ESPN 150 commits:
0
The latest:
After signing an excellent recruiting class in February, Indiana's efforts for 2014 are off to a slow start. Indiana and Colorado are the only programs from a big-five conference (ACC, Big 12, Big Ten, SEC and Pac-12) without a verbal commit for next year. Things should pick up when camps kick off next month in Bloomington.
Future Big Ten members Rutgers and Maryland also are recruiting for the Big Ten, so here's a quick look at how they're doing ...
RUTGERS
Total commits:
9
ESPN 150 commits:
0
The latest:
The Scarlet Knights recruited well under Greg Schiano, had six players selected in April's NFL draft and continue to bring in quality players under Kyle Flood. After a productive March and April, Rutgers began May by adding a pledge from defensive tackle Pete Mokwuah. Running back Joshua Hicks and defensive end Justin Nelson headline Rutgers' 2014 so far. Rutgers also went into current Big Ten territory for quarterback Tyler Wiegers from Detroit Country Day School.
MARYLAND
Total commits:
3

ESPN 150 commits:
0

The latest:
The Terrapins added two pieces to their 2014 class in recent weeks in running back Johnathan Thomas from Massachusetts and athlete William Ulmer from Washington D.C. Maryland has plenty of local and regional players on its radar for 2014, as the areas surrounding College Park consistently produce a ton of FBS talent. The Terps picked up most of their 2013 recruits before the start of the season, but they might have to be more patient after a 4-8 record in 2012.
February, 6, 2013
Feb 6
5:00
PM ET
Wide receiver
Taivon Jacobs
on Wednesday
signed with Maryland instead of Ohio State
, the school where he originally committed. But Jacobs will be seeing the Buckeyes quite a bit in the future.
Like his fellow
Maryland signees
, Jacobs will play most or all of his career in the Big Ten, the league the Terrapins will join in 2014. The same holds true for
Rutgers' 2013 recruiting class
, as the Scarlet Knights are headed to Big Ten country following the 2013 season. Unless Wednesday's signees see the field this coming fall, they'll all be Big Ten players.


Both Maryland and Rutgers essentially are recruiting for the Big Ten. How did their future home impact their 2013 classes? I reached out to bloggers Heather Dinich (
ACC
) and Andrea Adelson (
Big East
/ACC) for some insight.
Dinich on Maryland
The minute Maryland's move to the Big Ten became official, coach Randy Edsall changed his recruiting philosophy.
"We'll get into Ohio more, get into Detroit, Chicago, Indianapolis, St. Louis, Kansas City, those areas," Edsall told the Washington Times in November. "I think because of the Big Ten Network, the exposure you're going get might even help us in other areas, and we can go and look at some of the kids and say, "This is what we have to offer.'"
The offer to play in the Big Ten in 2014 might have helped Edsall in his own backyard in 2013.
If you look at Maryland's current class, it looks like a typical Terps recruiting class – comprised mainly of athletes from the Washington, D.C. and Maryland area. Of the 20 commits in Edsall's 2013 class, 12 are from D.C. or Maryland – including former Ohio State commit Taivon Jacobs, a Forestville, Md., native who flipped to the Terps earlier today.
The biggest difference in this Big Ten-to-be class is not where they're from, it's where they're ranked. With five four-star recruits, it's one of Maryland's best classes in recent years. Whether or not the pending move to the Big Ten played a role that is up to each individual recruit, but Edsall didn't have to travel far this year to recruit players for the program's eventual move.
Adelson on Rutgers
Rutgers is going to wind up with the top recruiting class in the Big East once again.
But Rutgers is not recruiting for the Big East anymore. It is recruiting for the Big Ten, where it hopes to begin play in 2014. So the obvious question is whether or not this class has laid a strong enough foundation for the program moving forward. We will not know the answer for quite some time.
What we do know: this is a good class. Not a great class. And certainly not a home-run class, which is what Rutgers got with its Top 25 group in 2012. Several top in-state prospects got away -- only 11 in the class are from New Jersey.
Rutgers lost out on a few guys on Signing Day, too -- three-star linebacker
Skai Moore
chose South Carolina; New Jersey native
Damon Mitchell
, a three-star athlete, signed with Arkansas.
But the Scarlet Knights also picked up two ESPN 300 prospects -- quarterback
Chris Laviano
and athlete
Nadir Barnwell
, both already enrolled. In all, they got four four-star athletes, slightly fewer than the six who signed in 2012.
Still, Rutgers currently ranks No. 36 in the ESPN Recruiting Nation class rankings. That would place the Scarlet Knights No. 7 in the Big Ten.
Rutgers coach Kyle Flood said during his Signing Day news conference that the recruiting philosophy this year did not change with the impending move to the Big Ten. The program continues to emphasize recruiting the Northeast and Florida. Of the 22 players
signed this year, 21 are from that area.
What changed was having certainty. No more questions about conference stability.
"What the Big Ten does for us is it eliminates questions," Flood said. "Before that, I think we had to answer some questions about what was going to happen in the future. All of those questions have been eliminated. We're going to be playing in the premier athletic and academic conference in all of college sports. We couldn't be more excited about doing that. It has not changed our approach, but what it has done is it has kind of streamlined some of the questions that we have had to answer when you're getting to know a recruit."
BIG TEN SCOREBOARD
Saturday, 12/21
Monday, 12/23
Tuesday, 12/24
Thursday, 12/26
Friday, 12/27
Saturday, 12/28
Monday, 12/30
Tuesday, 12/31
Wednesday, 1/1
Thursday, 1/2
Friday, 1/3
Saturday, 1/4
Sunday, 1/5
Monday, 1/6
Tweets from @ESPNCFB/big-ten