November, 13, 2012
11/13/12
11:15
AM ET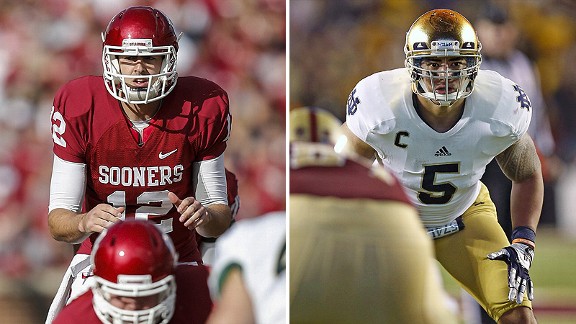 AP PhotoLandry Jones or Manti Te'o would make for an intriguing foe for the Big Ten champ in the Rose Bowl.
Big Ten bloggers Adam Rittenberg and Brian Bennett will occasionally give their takes on a burning question facing the league. We'll both have strong opinions, but not necessarily the same view. We'll let you decide which blogger is right.
We know the Big Ten champion is going to the Rose Bowl. But we don't know which team the league will face in Pasadena. So
today's Take Two topic
is: Which team would you most like to see play the Big Ten in the Rose Bowl?
Take 1: Brian Bennett
If we were talking about the best chance for the Big Ten to win the game, then I think the league ought to be rooting for Oregon State, UCLA and Stanford, three very good teams who would be evenly matched with the Big Ten champ. But this is more about who we would like to see in the game. Oregon is without a doubt the marquee team from the Pac-12, but we've seen the Ducks in Pasadena a couple of times recently and the storylines would be a little tired. That's why I'm rooting for a scenario where the Rose Bowl goes a non-traditional route and selects Notre Dame.
It could happen, though it's a little unlikely. Oregon would have to make the BCS title game, and no other Pac-12 team could finish in the Top 14 of the BCS standings. Right now, Stanford is No. 13, while Oregon State (16), UCLA (17) and USC (18). But let's say Oregon crushes Stanford and Oregon State, Notre Dame blows out USC and USC tramples UCLA. Then you could see a scenario where the Pac-12 runner up is outside the Top 14. And then the Rose could select a potential 12-0, No. 3 Notre Dame. All of a sudden, the game would be squarely in the national spotlight with an undefeated Irish team trying to impress voters. You'd have the Big Ten trying to atone for going 0-3 against Notre Dame this season. If Nebraska or Wisconsin made the Rose Bowl, their offenses are good enough to test the terrific Irish front seven. If Michigan got some luck and reached Pasadena, the Wolverines and
Denard Robinson
would have a chance to make up for all those turnovers in South Bend and possibly stick it to their rival for backing out of future games.
The Rose Bowl is supposed to be a game for champions. So if the Pac-12 champ can't get there, let's see the Golden Domers take on the Big Ten.
Take 2: Adam Rittenberg
I wouldn't mind seeing Notre Dame in the Rose Bowl, although we've already seen the Big Ten face the Irish this season. After covering a sloppy Michigan-Notre Dame on Sept. 22, I don't know how excited I'd be for a rematch. I look at this from the standpoint of which Big Ten team is most likely to reach Pasadena, and which matchup featuring that team is the most appealing. Nebraska in my view has the best chance to get to Pasadena. The Huskers already have faced UCLA this season, and while I wouldn't be opposed to Nebraska-USC, Nebraska-Stanford or even Nebraska-Oregon, we can do a little better. I want Nebraska-Oklahoma. Let's get the longtime rivals back together.
The teams last played in the 2010 Big 12 championship, and they've met 86 times, with Oklahoma holding the series edge at 45-38-3. The Huskers and Sooners are close to announcing an agreement for a series in 2020 and 2021, but that's a really long way off. Let's get the matchup Jan. 1 in Pasadena. Would it be a traditional Rose Bowl? No. But with the Big Ten's best team (Ohio State) on probation and the Pac-12's best team (Oregon) likely going to the national title game, the traditional matchup isn't nearly as appealing. If it's not the Big Ten's best vs. the Pac-12's best, let's think outside the box. The game would feature two dynamic quarterbacks (
Taylor Martinez
and
Landry Jones
) leading two top-20 offenses. You have two fiery coaches (Bob Stoops and Bo Pelini) who are longtime friends. You have two passionate fan bases that would fill the Rose Bowl with red and crimson. Good times.
If I can't have Ohio State-Oregon -- and I can't -- Nebraska-Oklahoma definitely looks appealing.
August, 16, 2012
8/16/12
1:30
PM ET
By
ESPN.com staff
| ESPN.com
Stanford's Andrew Luck left a year early for the NFL. USC's Matt Barkley returned for his senior season. Baylor's Robert Griffin III bolted. Oklahoma's Landry Jones stayed. Alabama's Trent Richardson moved on. Wisconsin's Montee Ball is still in Madison.

The top six finishers in the Heisman Trophy vote were all underclassmen. The top three left early (Griffin, Luck and Richardson). But the next three came back (Ball, Tyrann Mathieu and Barkley, though Mathieu was given the boot from LSU).

On the defensive side of things, while superstars such as LSU's Morris Claiborne, Mississippi State's Fletcher Cox and Alabama's Dont'a Hightower entered the draft early, others, such as LSU's Sam Montgomery, Utah's Star Lotulelei and Notre Dame's Manti Te'o, came back.

Bottom line: There's a lot of star power returning to college football in 2012. More, perhaps, than usual. Each player has his own reasons for coming back, though visions of national championships, individual awards and, yes, better NFL draft position certainly danced in their heads.
Read
more from Ted Miller by clicking here
.
December, 31, 2011
12/31/11
1:38
AM ET
Oklahoma ended a disappointing year on a high note,
winning its third consecutive bowl game
to record back-to-back seasons of 10 or more victories. Iowa's bowl magic vanished despite a plucky effort as the mistake-prone Hawkeyes lost in the postseason for the first time since 2006.


Let's take a closer look at the Insight Bowl:
How the game was won:
Oklahoma's pressuring defense flustered Iowa and forced enough mistakes to buy time for
Landry Jones
and the offense to get going. The Sooners led 14-0 at halftime despite mounting only one productive drive, but their defense never backed down or broke down. OU made Iowa work for everything, and the Hawkeyes repeatedly shot themselves in the foot with penalties, dropped passes, poor throws, questionable play calls and other mistakes. Junior quarterback
James Vandenberg
and the Iowa offense established a rhythm midway through the third quarter and closed to within 21-14 with 6:56 left, but Oklahoma's power game, led by quarterback
Blake Bell
, responded to seal the victory.
Player of the game:
Sooners cornerback Jamell Fleming. The senior set the tone early with an interception return to the Iowa 10-yard line, setting up the first of three Bell-dozer touchdown runs. Fleming also contained Iowa's All-Big Ten wide receiver
Marvin McNutt
, who had just four catches for 46 yards and appeared frustrated for much of the game.
Stat of the game:
Oklahoma ran eight offensive plays in the first quarter, and had 12 yards and no first downs. But the Sooners led Iowa 7-0.
Candid camera:
There was a scary moment late as ESPN's Skycam fell onto the field and nearly struck McNutt on a bounce. It delayed the game several minutes with 2:22 left to clear the wiring.
Second guessing:
It's seems odd to question a Kirk Ferentz decision to go for a fourth-and-short situation, but Iowa really could have benefited from points following a 13-play, 68-yard drive midway through the first quarter. Down 7-0, the Hawkeyes marched to the Oklahoma 6-yard line before failing on third-and-4. Rather than kick the short field goal, Ferentz went for the touchdown and Iowa lost 3 yards on fourth down. Iowa didn't score until early in the fourth quarter.
What it means for Oklahoma:
The Sooners ended on a positive note and showed they could be motivated to win a bowl despite a disappointing regular season. After being shredded by rival Oklahoma State, the Oklahoma defense responded very well against Iowa, controlling play for the first two and a half quarters. For a unit that endured inconsistent play in October and November, this was a good ending. The victory sends the Sooners into a crucial offseason, which begins with Jones' decision on whether to stay for his senior season or enter the NFL draft. Oklahoma loses some key seniors but still should enter the 2012 season as one of the top contenders for the Big 12 title.
What it means for Iowa:
Hawkeyes fans can't be disappointed with the effort, but a team that repeatedly made mistakes away from its home field couldn't survive them again Friday night in Tempe, Ariz. The defense played very hard for retiring coordinator Norm Parker, but Iowa needed a cleaner performance to upset Oklahoma. Iowa sees its wins total drop for the second consecutive season, and the team now enters a critical offseason. Ferentz soon will name a new defensive coordinator, and he needs to put a stop to the revolving door at running back. Iowa loses key parts but should be more experienced at several spots. However, Hawkeyes fans expect more from their program and its well-paid coach, and they should. The Big Ten is only getting harder, and Iowa should be mirroring what Wisconsin and Michigan State have done rather than falling back into the pack. Not much has gone right for this program since the 2010 Orange Bowl victory.
December, 29, 2011
12/29/11
2:30
PM ET
It's time to look at three keys for the
Iowa Hawkeyes
before their Insight Bowl showdown Friday night against Oklahoma.

1. Establish some type of run game:
Iowa must win the Insight Bowl without its top rusher for the second consecutive season, but this year brings an even bigger challenge. Suspended sophomore
Marcus Coker
basically has been Iowa's rushing attack this season, accounting for 67.4 percent of the carries and 80.7 percent of the yards. While Iowa boasts a strong passing attack and Oklahoma ranks 83rd nationally in pass defense, the Hawkeyes aren't built to win games with a one-dimensional offense. The onus is on the offensive line to create room for an inexperienced stable of backs.
Jordan Canzeri
could be a factor, while
Brad Rogers
,
Damon Bullock
and
De'Andre Johnson
also could get touches.
2. Rattle Landry Jones:
The OU quarterback hasn't been the same since star receiver
Ryan Broyles
tore his ACL. Jones has thrown five interceptions and zero touchdowns in the past three games, barely completing half of his pass attempts against Iowa State and Oklahoma State. Iowa's defensive backs must make some impact plays in the game, and cornerback Micah Hyde is more than capable after recording the game-deciding pick-six against Missouri's Blaine Gabbert in last year's bowl to earn defensive MVP honors. Hyde and fellow corner Shaun Prater both need strong performances, and perhaps more important, the Iowa defensive line has to get in Jones' face. Iowa's line has been hot and cold, recording three or more sacks in six games and one or zero sacks in five other contests. The Hawkeyes need the good front four to show up.
3. Start off strong:
Many are questioning Oklahoma's motivation for this game after a disappointing season. While it's hard to imagine a Bob Stoops not being ready for a winnable bowl, Iowa must capitalize on any Sooners letdown. The Hawkeyes have outscored their opponents 69-50 in the first quarter and 175-118 in the first half this season. Oklahoma stumbled out of the gate in all three of its losses (Texas Tech, Baylor and Oklahoma State). Iowa had a blistering start in the 2010 Insight Bowl, building a 17-3 lead against Missouri before having to rally late. A few quick scores could put the Sooners on their heels and have them start questioning whether they really want to be in Tempe.
December, 4, 2011
12/04/11
11:22
PM ET
Iowa Hawkeyes (7-5) vs. Oklahoma Sooners (9-3)
Dec. 30, 1o p.m. ET (ESPN)

Iowa take by Big Ten blogger Adam Rittenberg:
Iowa football hasn't had much go its way in the past 11 months aside from a dramatic victory against Missouri in the 2010 Insight Bowl. The Hawkeyes will return to Tempe, Ariz., later this month looking for another boost after an up-and-down 2011 campaign.
Kirk Ferentz's teams typically save their best for the postseason, as Iowa is 6-3 in bowls during his tenure as coach, including victories in each of the past three years (2010 Insight, 2010 Orange, 2009 Outback). But extending the win streak will be tough against Oklahoma, the preseason No. 1 team. Both teams struggled down the stretch, each dropping two of the final three games.
Iowa is led by its big three on offense: receiver
Marvin McNutt
, running back
Marcus Coker
and quarterback
James Vandenberg
. Coker burst on the scene as a freshman at the 2010 Insight Bowl, setting an Iowa bowl record with 219 rushing yards. McNutt also has been fabulous, while Vandenberg struggled away from Kinnick Stadium but can put up big numbers.
The Hawkeyes' defense was in rebuilding mode for most of the season, as the NFL losses along the defensive line and at safety stung. Oklahoma isn't nearly as dangerous on offense without star receiver
Ryan Broyles
, who is out for the season with a knee injury. But Iowa can't let
Landry Jones
settle into a rhythm and must pressure the Sooners junior quarterback.
Oklahoma coach Bob Stoops faces his alma mater in Iowa, which goes up against the Sooners for just the second time after dropping a 1979 game in Norman.
---

Oklahoma State take from Big 12 blogger David Ubben:
The "Chase For Eight" quickly went awry for the Sooners, who lost a 41-38 game at home to five-win Texas Tech. The Red Raiders didn't win again the rest of the season. The Sooners' defense fell to powerful offenses late in the season, too. Baylor bested the Sooners on a last-second touchdown from
Robert Griffin III
, and Oklahoma State receivers ran free in a Cowboys blowout.
Injuries played a huge role. That's undeniable, but this season, with the expectations that came with it, is nothing but a disappointment. The Sooners suffered two losses after losing Broyles and
Dominique Whaley
.
Blake Bell
's Tebow-esque "BellDozer" formation was pretty effective late in the season, but Oklahoma is bested only by Texas A&M as the Big 12's most disappointing team.
September, 22, 2009
9/22/09
9:00
AM ET

Posted by ESPN.com's Adam Rittenberg
Seems like
this little rant
struck quite the chord.
Jack from Midwest City, Okla., writes:
Adam what have you been drinking. USC got beat by an 0-12 team! OSU could've beaten SC if they had a QB. OU is playing with a backup QB. This will all be disspelled after the Miami-OU game. If the backup QB (Landry Jones) goes into Miami and wins, then watch out! I think you media guys are the ones that set the tone! Just like the FSU-BYU game Saturday it reminds me of the OU-TTU game last year I think the best teams won but it is certainly not indicative of the difference in the two teams. Sometimes teams get on a roll and that's called college football!
Adam Rittenberg: Well, we can agree on that last sentence, Jack, but let's explore your logic. USC didn't get beat by an 0-12 team. USC got beat by a 1-1 team that gave LSU a game and has its standout quarterback (Jake Locker) back on the field. The Trojans also played with their backup quarterback (Aaron Corp). Now I agree if Jones goes into Miami and beats the surging Canes, Oklahoma should definitely get the nod over Ohio State. But to this point in the season, before conference play begins, Ohio State has a better resume than the Sooners. The BYU loss looks worse than the USC loss because of what BYU did against Florida State.
---
Donovan Clark from Tulsa, Okla., writes:
Adam, i know you are a Big 10 homer - but seriously, were there tears in your eyes when you wrote this awful story about how OSU doesnt get ragged on like OU? Listen, OU plays in a very good conference - the same can NOT be said about OSU. Yes, yes, yes i know about the BCS bowl losses, but hey, who wouldnt want to get to 4 (count em 4!) national championship games in 10 years? And OU won one of them!! Every team would love that to be at that level. Stop crying. OU lost their QB and the best tight end in the country, and lost to a good team on a neutral site - by 1 freaking point. Dude, are you blind?? Do you not realize that OSU barely beat Navy at home at full strength?? Come on man, you are so biased, it's shameful. Your momma ought to slap you. Anyway, i have left my real name and real email address in the fields to the left. So please reply anytime. Big 10 = weak; Big IX = strong
Adam Rittenberg: Don't be talkin' bout my momma. You know the funny thing, Donovan? Your comment about national championship games and "every team would love to be at that level" sounds awfully familiar. I hear it all the time from Ohio State fans because they can make the same case as Oklahoma fans. Yet their team regularly gets trashed while Oklahoma gets a pass. Ohio State's win against Navy certainly wasn't impressive, but BYU lost a ton of credibility by performing like it did against Florida State. And what's the Big IX? Is that a new conference?
---