Big Ten:

Lawrence Phillips
November, 29, 2013
11/29/13
10:00
AM ET
You already know who's going to land in the Big Ten title game -- but I bet you don't know most of these crazy Big Ten facts and figures:
It should be a good battle in the trenches for The Game. No, seriously -- the Ohio State rush offense vs. Michigan rush defense should be a good matchup. The Wolverines have allowed just five rushes that have gained 20 or more yards this season, tied for the fifth fewest allowed among FBS teams. Ohio State's offense has had 32 such rushes -- which is tied for fifth most in the FBS.
Braxton Miller might be better in the pocket this season, but that doesn't mean he can't run anymore. In his first seven games this year, he attempted 25 zone-read rushes and gained 87 yards from them. In the last two contests, Miller has shown he can still get it done by rushing 15 times on such plays for 216 yards.
Wondering just how much Devin Gardner's performance has dropped off since last season? Well, besides the obvious stats, take a look at his performance on third downs. Last season, he had a QBR of 98.3 on third downs, which ranked second behind only Johnny Manizel among players with at least 50 third down plays. This season? His QBR has fallen to 49.8 on third downs this year and Gardner has taken 15 sacks and committed seven turnovers. He's thrown nine TDs to seven interceptions on third downs this season, compared to 11 touchdowns and two picks last year.
Minnesota's run-heavy offense could be in trouble against Michigan State. The Gophers have run on 68 percent of their plays this season -- the seventh-highest ratio in the FBS -- and Michigan State has not been kind to those run-first teams. The Spartans have allowed just 15 rushes of 10 or more yards this season, six fewer than the No. 2 team in that category. Also, Michigan State has not allowed a drive of 80 yards or longer this season. The last team to do that? Alabama in 2008.
Michigan State's Jeremy Langford has rushed for at least 100 yards in six straight games -- and those yards have been well-earned. During that span, he has the third-most yards after contact (453) of any BCS player. He's behind only Boston College's Andre Williams (608) and Arizona's Ka'Deem Carey (512).
The ability of Wisconsin to run the ball has been well-documented this season, so let's look at the affect those runs have had on the passing game. On play-action passes, Joel Stave is averaging 12.1 yards per attempt. Without play-action, he's averaging 6.5 yards through the air. Also, the touchdown-to-interception ratio is pretty noticeable. With the play-action, he has nine touchdown strikes and two interceptions. Without? Eight TDs, seven interceptions.
In the Penn State passing attack, there's basically Allen Robinson and ... well ... OK, that's pretty much it. Just look at the numbers. When Christian Hackenberg throws Robinson's way, he's completing 63.6 percent of his passes, averages 9.2 yards per attempt and has thrown five TDs to one pick. When he targets anyone not named Robinson, he's completing 50.4 percent of his passes, averages 5.1 yards per attempt and has thrown four touchdowns to four picks.
The Hawkeyes' defense might not get as much love because of the Spartans, but their run defense is pretty darn good. Iowa has held 10 of its 11 opponents under their rushing average this season. Iowa has allowed just four rushing touchdowns this year -- tied for lowest total in the nation -- and it's allowing an average of just 3.6 yards per rush.
Ameer Abdullah didn't get much love from voters for the Doak Walker Award, but he's still having quite the season. Here are a few Nebraska numbers to chew on: His rushing total right now (1,483 yards) is the most by a Husker since Ahman Green's 1,877 in 1997. He's rushed for 100 yards in eight straight games, which ties him for the fourth-longest streak in Nebraska history. And he also has 10 100-yard games this season, which is also good for fourth on the Cornhuskers' record lists. He needs just one more game to tie the record of 11 held by Mike Rozier (1983), Lawrence Phillips (1994) and Green (1997).
November has been a pretty good month for Illinois' Nathan Scheelhaase. He's gone 128-for-189 (67.7 percent) for 1,316 yards -- which is the second-most passing yards this month behind only Fresno State's Derek Carr (1,374). He's also the only active player in the nation with more than 8,000 passing yards and 2,000 rushing yards ... but, of course, that's for his career -- not just November.
August, 6, 2013
8/06/13
5:00
PM ET
Time to check the mail again. Don't forget to follow us
on Twitter
.
Craig from Braintree, Mass., writes:
Is it just a coincidence that Northwestern, Stanford, and Vanderbilt are on the upswing as far as football programs?
Adam Rittenberg:
There are definitely some favorable circumstances in place for each program, like having the right head coaches in place. But all three institutions have made greater investments in their football programs in recent years, too. There's a realization that academically focused private schools can also succeed on the gridiron, and that the pool of recruits who can make the grade at these schools is large enough to achieve that success. Also, all three schools either have made or will make significant facilities upgrades.
Stanford has put its program among the nation's elite thanks to Jim Harbaugh and David Shaw, while Northwestern is enjoying the most consistent period of success in its history under Pat Fitzgerald. Although I'm not as sold on James Franklin and Vanderbilt as some of my media colleagues, I see the obvious strides being made in recruiting. The bottom line: it's not a coincidence that all three programs are on the rise, although the circumstances each enjoys play big roles.
Divine Wind from Tokyo writes:
In a scenario where the top three teams at the end of the year are Oregon, Ohio State and Alabama, the first two teams are 13-0 and the Tide is 12-1. Is there any realistic scenario you see where an OSU team with a 25-game winning streak doesn't make it to the championship game? And if not, who would be their opponent?
Adam Rittenberg:
It all depends on the strength of the SEC and Pac-12 vs. the Big Ten and how that translates to the BCS computer rankings, but I wouldn't rule out any scenario in the final year of the BCS system. Ohio State will open the season ranked higher than Oregon in the human polls, and while it's possible an undefeated Oregon leapfrogs and undefeated Ohio State based on the Pac-12's strength, I can't imagine much would separate the teams in the voting. It'll come down to the computers and whether the SEC's strength (real or perceived) would vault Alabama past an undefeated Oregon or Ohio State squad. As many know, the Buckeyes' schedule could work against them as they don't play any top teams in non-league play and miss Nebraska and Michigan State in the Legends division. The Buckeyes need to beat teams like Wisconsin, Northwestern and Michigan, and then have those teams all go onto strong seasons. Ohio State could be hurt by
Vanderbilt backing out of the season opener in Columbus
. Beating an SEC team would help the Buckeyes' cause. Ultimately, I doubt an undefeated Ohio State team gets left out of the title game. As to who would be Ohio State's opponent in the Rose Bowl, I'd go with Stanford or UCLA.
Fred from Annapolis, Md., writes:
Hi Adam, a Husker expatriate here whose memory goes back to the late-Devaney era. I am writing about Bo Pelini being on the hot seat, and for me, that is certainly his status. I appreciate that he wins wins most of his games and has brought stability to the program. But the fact that I think his defenders miss is that too many losses are not even competitive, dare I say that they are of a Callahan-ian level. I think he has put together a great young coaching staff, and I would hate to lose any of them, but maybe Bo should take off the head phones (ala Brady Hoke) and let them coach.
Adam Rittenberg:
Your first point is fair, Fred, and I agree that blowout losses, particularly in big games, cause more damage than falling on a last-minute field goal or touchdown. Pelini's Husker teams have fallen flat when the lights are brightest, most notably in last year's Big Ten championship game against a 7-5 Wisconsin team playing with a nothing-to-lose attitude. It might be a while before Nebraska has an easier path to the Rose Bowl than it did last season. I'm not sure about your second point. If anything, Pelini has been criticized for hiring so many young coaches and giving them a lot of responsibility. Pelini doesn't seem to be impacting Tim Beck's ability to coordinate one of the nation's top offenses. I agree that good coaches know when and how to keep their distance, but I think Pelini does that, and his involvement on defense could be really beneficial for Big Red.
Jason from Columbus, Ohio, writes:
Adam, football is upon us! I'm sure you're looking forward to it as well. On the targeting rule: "The ref & replay officials must agree." What is the process for this? Ref calls it and then the replay official looks for "incontrovertible video evidence" to disagree or isn't bound by that and uses his opinion on intent? This may not seem different to some but it is vastly different to me. Video evidence to overturn a subjective call would just result in it not being overturned often.
Adam Rittenberg:
Good question, Jason. Every targeting penalty that results in an ejection must first be called on the field. The replay official then will review the foul and determine if it meets the standards for an ejection. The replay official will need to see clear evidence that the call should be overturned or downgraded to a 15-yard penalty with no ejection. Here's how
Big Ten coordinator of football officials Bill Carollo
explained it to me in March: "We're asking replay to get a little bit involved more in the judgment call. They do [currently] have some judgment, a few rules where they can create penalties, but the replay person in the booth is not the eighth official. The game is being officiated by the seven men or women on the field. Now he'll buzz down once it's targeting, and he'll confirm that hit. ... The targeting calls are going to stand unless there's indisputable video evidence that shows it's nowhere near above the shoulders." So the bigger responsibility rests with the on-field officials. We'll see how often targeting ejections get overturned or downgraded, but given the seriousness of the foul, I hope replay officials wouldn't hesitate to step in when a foul isn't blatant targeting above the shoulders.
Ty from Des Moines, Iowa, writes:
Adam, your comment regarding Pelini running a cleaner program than Osborne rubbed me the wrong way. Pelini has run a very clean program, no doubt, but any criticism of Osborne is really unfair. The man was head coach for 25 seasons, and all any non-Nebraska fan wants to bring up is two players (Christian Peter and Lawrence Phillips) from his best team in 1995. The thing many people do not realize is that any second chances TO gave to his players were due to him truly caring about and believing in his players, nothing at all to do with winning. Do you really think Nebraska needed Lawrence Phillips to beat Florida in the 96 Fiesta Bowl?? Not to mention, the man wrote a book called "More Than Winning"!!!. He cared only about what may happen to these guys if they didn't have a chance in football. He didn't want to give up on them which I believe is very admirable. The easy thing to do is to kick a guy off the team. He knew he would be criticized heavily, but he went with his heart. Obviously, with Lawrence Phillips, hindsight is 20/20 and TO wouldn't have kept him around knowing his future. But at the time, he was doing what he believed to be the right thing and I respect him even more for it.
Adam Rittenberg:
Ty, you bring up some good points here, and my intent with that response wasn't to disparage Osborne and the way he ran the Nebraska program. But let's face it, Bo Pelini hasn't had a Lawrence Phillips situation or a Christian Peter situation at Nebraska. The most high-profile player to find trouble during Pelini's tenure -- former cornerback Alfonzo Dennard -- did so after his Husker playing days had ended. My point is that Pelini doesn't get as much credit for keeping his team on track both academically and from a conduct standpoint. Sure, Osborne coached Nebraska longer, so you would expect more conduct issues over time. But one coach had a few high-profile incidents and the other has not. I would give the edge to Pelini in terms of conduct, and he clearly takes a no-nonsense approach toward discipline. No one is saying Osborne isn't a great man or a great coach. He undoubtedly won more at the highest level than Pelini. But I think when you look at the total picture -- won-loss, academic progress, off-field conduct -- Pelini has done pretty well in Lincoln.
John from Atlantic Beach, Fla., writes:
Double Standard? Ohio State receives a year probation, bowl ban, and lost games for six players selling gold pants trinkets they owned and the nation didn't think it was enough. Now Johnny F. accused of violating rule #1 of selling autographs for profit and the nation thinks we should change the rule.
Adam Rittenberg:
John, while I understand your frustration, I'm not sure this is a double standard. The outrage about Ohio State stemmed more from the fact that head coach Jim Tressel knowingly played ineligible players and didn't speak up even after the violations initially surfaced, leading to the "Tat-5," thanks in large part to Big Ten commissioner Jim Delany, being allowed to play in the 2011 Sugar Bowl, a Buckeyes victory later vacated by sanctions. I think there were many back then, just like there are now, who think players should be allowed to sell their merchandise/autographs. Tressel really seemed to be the lightning rod with Ohio State. Unless Texas A&M coach Kevin Sumlin knew that Manziel had committed the alleged violations and did nothing, this case will be more about Manziel, his celebrity, his off-field issues and whether he should have the right to profit off of his fame. Ultimately, the rules haven't changed and that's what it will come down to for Manziel, just like it did for Terrelle Pryor and the other Ohio State players.
Mitch from East Lansing, Mich., writes:
Hey Adam, I'm a current MSU senior and I love my football program. But there is one thing that drives me absolutely off the wall about it. Friday night games. If you've noticed, MSU has kicked off the past 2 seasons with a Friday night home game, and they're doing it again this year. I'm a science major, which means that I have Friday classes. This upcoming semester, I have Calculus 3 at 3 PM. Tailgating starts at 1 PM for night games. That means that walking to and from class through MSU's huge campus will entail having to weave through drunken tailgaters. But this isn't nearly as bad as it is for those students who commute. Parking lots around campus are closed down for tailgating, meaning that commuting students need to use lots that are a 30+ minute walk from their classes. I know that many college students don't have Friday classes, but this is getting out of hand for those of us who do. I feel like this is the complete opposite of what the NCAA wants- to put the emphasis on education and not on athletics. Will ADs realize this and put a stop on Friday/Thursday night games, or is the money too big to think about the students?
Adam Rittenberg:
Mitch, my man, you're a senior and you're taking calculus on Friday afternoons? You clearly missed the seminar on senior scheduling. Friday at 3 is beer o'clock to most folks. All kidding aside, I understand your frustration, and the hassle the season opener will create for you, your classmates and all the commuter students on Aug. 30. The reason you're seeing more Thursday/Friday night games is the branding opportunity it creates for teams. Michigan State has the Big Ten stage by itself on the Friday night, rather than being in a crowd of games at noon on Saturday. Last year's opener against Boise State was more of a national showcase and would have received attention on Saturday, but more people will pay attention to Michigan State-Western Michigan on Friday night than Saturday afternoon. Michigan State athletic director Mark Hollis, one of the more creative ADs when it comes to scheduling, saw an opportunity when many Michigan high schools moved their Labor Day weekend games to Thursday night rather than Friday night. Many fans start the holiday weekend early and can attend a Friday night game, especially when it doesn't conflict with high school contests.
Hollis wrote in his blog in 2011
: "We realize that some challenges are created due to work schedules and we respect the campus academic mission of the day. At the same time, the timing of this game brings a positive impact to our team, fans and state." I also see the value in these games. They're fun for many MSU students and fans. But I understand that it creates a hassle for you and others.
November, 14, 2012
11/14/12
2:00
PM ET
The first senior day in the Big Ten took place last Saturday at Indiana, and five more schools -- Illinois, Michigan, Michigan State, Nebraska and Wisconsin -- will honor this seniors this week.
Every senior will be recognized, but it would be nice to see two Big Ten players who are the faces of their respective programs step between the lines before the home crowd one final time. Both players are dealing with injuries, and there's no guarantee either will play.
[+] Enlarge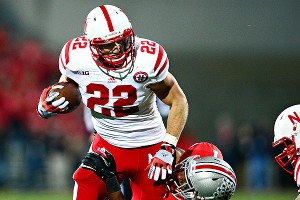 Andrew Weber/US PresswireNebraska's Rex Burkhead hopes to get some carries against Minnesota on senior day.
I'm talking about Nebraska's
Rex Burkhead
and Michigan's
Denard Robinson
. Superman and Shoelace. When you think of Nebraska football and Michigan football in recent years, these two players immediately come to mind.
Both entered their senior seasons with hopes of contending for national awards, perhaps even the Heisman Trophy. Robinson struggled early, enduring the worst performance of his career in a Sept. 22 loss to Notre Dame, but responded well early in Big Ten play with several strong rushing performances. He still ranks 13th nationally in rushing (118.3 ypg). He injured a nerve in his throwing elbow Oct. 13 against Illinois and aggravated it in the first half against Nebraska on Oct. 27. He hasn't played since, and coach Brady Hoke isn't saying much about his availability for Saturday's game against Iowa.
Burkhead's promising senior season never got off the ground. He suffered a sprained MCL in his left knee in the season opener, missed two games, aggravated the injury in the third quarter Oct. 6 at Ohio State, and aggravated it again in the first quarter Oct. 20 against Northwestern. He hasn't played since.
After putting Nebraska's offense on his back in 2011 with 284 carries, two shy of Lawrence Phillips' team record, Burkhead has played just one full game this season -- the Big Ten opener against Wisconsin (he played only the first half the week before against Idaho State).
He returned to practice this week. Asked how much he wants to play Saturday against Minnesota, Burkhead replied, "Real bad."
"It's my last home game here being a senior," he said. "It'd mean the world to be able to get out there on the field, but at the same time I have to be smart. I have a bunch of family coming up, and it'd be nice to get out there and play in front of them."
Nebraska has to be careful with Burkhead, who probably came back too quickly after the Ohio State game. Burkhead noted that he'd rather be ready for the Big Ten title game Dec. 1 if Nebraska punches its ticket to Indianapolis, but one final appearance at Memorial Stadium would be special.
[+] Enlarge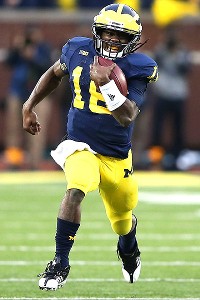 Leon Halip/Getty ImagesMichigans Denard Robinson hasn't played since aggravating an elbow injury Oct. 27.
No Husker player is more popular than Burkhead among fans. We've heard a lot this season about what
Manti Te'o
means to Notre Dame fans. Although Burkhead hasn't received nearly the same attention because of his injuries, he has the same connection with those who follow Big Red.
"When he's on the field, all the fans are excited," Huskers quarterback
Taylor Martinez
said.
Although Robinson has had more ups and downs on the field than Burkhead, he remains very popular among Michigan fans. He's still the most recognizable player in the Big Ten, and his record-setting performances won't be forgotten in Ann Arbor.
Michigan unfortunately didn't make Robinson available to the media this week, and though he had a big smile on his face while attending the Wolverines' basketball game Tuesday night, his status for Senior Day is unclear. Coach Brady Hoke hasn't said much about Robinson since the injury.
"I made a lot of plays here. I love the team I've been with," Robinson told Inside Michigan Football. "The whole time I've been here, I enjoy coming down the tunnel. I don't know how it's going to feel being my last time running down the tunnel."
Nebraska and Michigan both need to protect Burkhead and Robinson from further injury. But it would be a treat to see both players enjoy senior day with the football in their hands.