January, 12, 2015
Jan 12
10:30
AM ET
LOUISVILLE, Ky. -- Sweat beads coalesced on Ron Burton's shaved head as he paced a packed ballroom at the Kentucky International Convention Center on Sunday night.
Coaches from just about every level of the game, from small high schools to major FBS programs, squeezed into the room and peppered Burton with questions during a "buzz session" at the American Football Coaches Association national convention. They wanted nuggets of wisdom from the man who has overseen one of the top position groups in the country as Michigan State's defensive line coach the past two seasons.
[+] Enlarge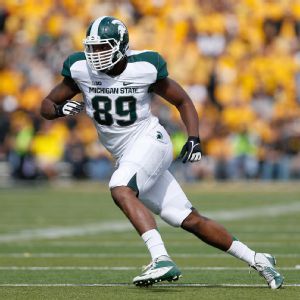 Scott Boehm/AP ImagesMichigan State defensive line coach Ron Burton welcomed the news Sunday that end Shilique Calhoun will return for his senior season.
Burton was happy to share some of his secrets. At one point, a coach asked about the Spartans' "pre-practice plan," and Burton swiped a page on his tablet and pulled up a detailed checklist on all the drills Michigan State's defensive linemen go through before and during practice.
"Merry Christmas," he said, as several attendees snapped cell phone pictures of the document from the overhead projector.
The 22-year coaching veteran also dished out pointers on how the Spartans teach minutiae such as stance and hand placement, how defensive linemen are taught to split double teams and execute a twist. But he didn't empty the entire cupboard.
He got tight-lipped when one coach asked how Michigan State uses its defensive ends to stop a power-read play. When another convention-goer asked a follow-up question about keying on the quarterback on that play, Burton shut it down.
"I'm not sharing that," he said. "That's all I'm going to tell you. I've got Iowa sitting here [in the crowd]. I got Tennessee sitting here. I see Nebraska over there. Let's not be first-graders."
Still, sessions like these at the convention are unique in that some of the experts in the coaching profession offer a master class in the finer points of the game to all who are interested. It helps grow the game.
"It's a motivating tool," Burton told ESPN.com afterward. "We've got a lot of competition. But it's all verbiage and how it's being taught. What I try to do is be as simple as I can while also being able to share and and not give away anything serious. Let them know the fundamentals of the game and the way it needs to be played. And do it in a fun way that forces people to think."
Burton was already having a great day Sunday. Earlier in the afternoon, star defensive end
Shilique Calhoun
announced he would return for his senior year rather than enter the NFL draft. Burton was in Louisville when Calhoun texted him the news.
"He's one of the key parts of this program, and I was glad to see him come back," Burton said. "I was pulling a hammy [celebrating], that's for sure."
Calhoun's return should help the Spartans field yet another dominant defensive line. They lose invaluable senior end
Marcus Rush
but bring back
Lawrence Thomas
,
Joel Heath
, rising sophomore
Malik McDowell
and others.
"We expect Malik to continue maturing this spring," Burton said. "We've got a nice group."
As he told the crowd at his buzz session, Burton wants first and foremost for his defensive linemen to attack up the field. Michigan State plays a 4-3 scheme and, he said, "We keep it simple because we ask our kids to play fast."
Some other things he told the coaches gathered in that ballroom:
"With youngsters, teach them to pass-rush first. Make them attack the line of scrimmage. That allows you to put a lot of young kids [out there] who are wild. That's what we do, and we take the good with the bad."

"Our defense was so-so this year. We flashed a couple times."

"We played 12 guys [on the line] my first year and 10 this past year. The fresh guy is better than the tired guy. ... Fans [will say] "Who's that in the game?" But we believe in that. We got into that situation in the Oregon game, where we had some tired guys. We didn't have that problem against Baylor."

"You've got to have a motor to play for us. If you don't have a motor, we've got a problem."
As he wrapped up his 45-minute presentation, Burton handed out one last piece of advice, and maybe the most important bit.
"Remember: What's our lifeblood?" he asked. "Recruiting, recruiting, recruiting. It's like shaving -- you've got to do it every day."