September, 7, 2014
Sep 7
10:23
PM ET
The Early Offer is RecruitingNation's regular feature, giving you a daily dose of recruiting news across the country. Today's offerings: Ohio State and Michigan State likely won't see any effects of their defeat's this weekend, but two Big Ten recruiting coordinators believe others like Michigan, Purdue and Northwestern could be hurt by the non-conference losses. Plus, USC should be able to gain some momentum against Stanford after beating the Cardinal. We also continue our tour of the top recruiting happenings on social media.


July, 16, 2014
Jul 16
12:00
PM ET
Every pitch is grooved for the links.
July, 14, 2014
Jul 14
1:00
PM ET
COLUMBUS, Ohio --
Ohio State Buckeyes
coach Urban Meyer came up a bit short in his recruiting bid for the services of LeBron James more than a decade ago. But they've wound up essentially on the same team anyway, as the Ohio State coach will almost certainly be calling on basketball's biggest star and one of the Buckeyes' most vocal fans as yet another tool to help sway future recruiting targets.
James won't be sitting in any offices on campus calling the best players in the country. He's got his own career to worry about on the hardwood, so he also won't be swinging down from Cleveland to Columbus every weekend to shake hands on the sideline at the Horseshoe. In some ways, James' high-profile fandom, his locker in the renovated basketball complex and his friendship with Meyer already allowed the Buckeyes to use him as a potential selling point for recruits looking at the program, no matter where he was playing professionally.
@KingJames Welcome home my friend. See you this fall!!! pic.twitter.com/6rj8uwiHCp

— Urban Meyer (@OSUCoachMeyer) July 11, 2014
But his choice to leave South Beach for Northeast Ohio strengthens the relationship between Ohio State and the college he likely would have attended, despite the offer from a young wide receivers coach at Notre Dame when James was a high school sophomore and already on the fast track to greatness in a different sport. Meyer jokes often about coming up short in his pitch to James, and just as frequently he cites him as the perfect model for what he's looking for in a player when it comes to competitive drive, athleticism and work ethic.
Meyer carved out some time for James during a high-profile recruiting weekend last year when the Buckeyes hosted Wisconsin for a prime-time game, and there's little doubt that his presence helped make the game seem just a little bit bigger. Coaches and current players raved about his message when James spoke to the team. And while it's difficult to gauge how much of an impact having James around really made, it seems a safe bet that impressionable high school athletes took notice that James was there, decked out in Ohio State gear.
"I just know I love athletes that handle their business," Meyer said then. "I love athletes that live right off the field and show incredible leadership. And I've always been a LeBron fan.
"Plus he's a Buckeye. He loves Ohio State, and he's made that clear several times to me throughout the year."
James will have no shortage of opportunities to keep expressing those feelings moving forward. And while Ohio State might not benefit as much or as directly as the Cavaliers, Meyer undoubtedly picked up a valuable new sales pitch as two native sons of Ohio try to bring championships back to the state after finding success down in Florida.
August, 9, 2012
8/09/12
4:00
PM ET
In late June, a group of Minnesota offensive linemen passed Matt Limegrover in the hallway of Gibson-Nagurski Football Complex and did double-takes.
"Coach?" they asked Limegrover, the Gophers' offensive coordinator and line coach.
"Yeah," he replied. "It's me."
Limegrover started losing weight in January and had dropped 40-50 pounds by the time spring ball ended. But the players didn't notice a change until they went several weeks without seeing him.
"They got a big kick out of that," he said.
As of Thursday morning, Limegrover had shed nearly 120 pounds from his frame -- "It's like 119.8," he reported -- and often draws double-takes when spotted on campus.
Part of his motivation for the weight loss came from how he felt during the 2011 season.
"I felt so run down didn't feel like I was at my best, and felt like that was unfair to the kids I was coaching and the team in general," he said. "I feel like a million bucks out there now, 10 times better than I did at any point the last couple years.
"Now I'm not saying it'll help us win some games, but it can't hurt."
While Limegrover has slimmed down considerably, his offense could be fattening up this fall.
Minnesota struggled offensively in 2011, the first season of the Jerry Kill era, finishing last in the Big Ten in both scoring (18.4 ppg) and total offense (310.3 ypg), and 11th in passing offense (150.3 ypg). The Gophers failed to score 30 or more points in a game and had 17 points or fewer in half of their contests.
A big reason for the futility: no identity.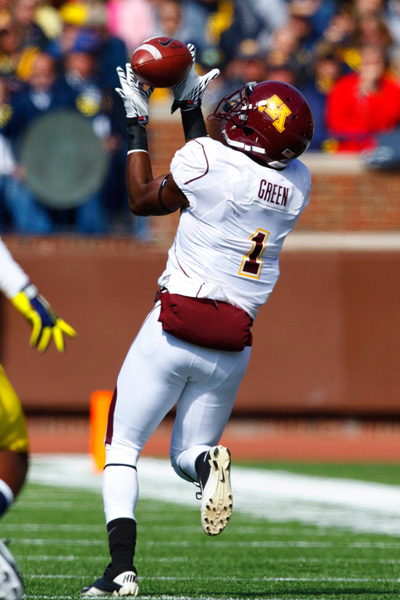 Rick Osentoski/US Presswire The Golden Gophers expect Brandon "Mr. Dependable" Green to be a leader in the receiving corps.
"We just weren't sure of who we were as an offense," Limegrover said. "That hurt us because we tried too hard to do all the things we had been doing at Northern Illinois, and this was a different group. It's Year 1 at Minnesota, not Year 4 at Northern Illinois."
Year 2 at Minnesota promises to bring greater production, and Limegrover is encouraged by what he's seen in the first few practices of fall camp. The best signs come from the running backs, a mostly anonymous group in 2011 that loses Duane Bennett (639 rush yards).
Junior college transfer
James Gillum
, who turned heads this spring, continues to display excellent vision and the power to run between the tackles. Sophomore
Devon Wright
and freshman K.J. Maye provide speed threats on the edge, while
Donnell Kirkwood
and
David Cobb
both are healthy and ready to contribute. All the backs have shown a greater grasp of the scheme and the versatility to help in multiple areas.
"Those kids have lifted the energy level of the offense," Limegrover said. "They've given us a spark. They're hitting holes and they're doing things on the perimeter. They're picking up their assignments in the pass game. It's really been a bright spot for us because that's an area I know a lot of people have questions."
The same holds true for the wide receivers. Minnesota loses Da'Jon McKnight, who accounted for 51 of the team's 134 receptions in 2011. No returning player had more than 15 catches a year ago.
Brandon Green
, a fifth-year senior who Limegrover calls "Mr. Dependable," leads the group and likely will be quarterback
MarQueis Gray
's top target.
Devin Crawford-Tufts
has filled out a bit and "can still run like a deer," Limegrover said. Speedster
Marcus Jones
is back from a knee injury, and incoming freshmen
Andre McDonald
and
Jamel Harbison
are already showing the ability to contribute right away. Tight end
John Rabe
should have a much bigger role in the passing game after recording two touchdown catches last fall.
"We're looking more like a Big Ten receiving crew and Big Ten running backs," Limegrover said. "We've worked to get our tight end position more involved. And especially in the O-line, we're a year bigger and more physical, even though we're still young."
About the only Gophers offensive player who doesn't spark skepticism is senior quarterback MarQueis Gray. He carried the unit for much of the 2011 season, rushing for 966 yards on a team-high 199 carries, and making strides as a passer.
Limegrover is thrilled with Gray's offseason, calling him a "papa bear" for Minnesota's younger players. But Limegrover knows the Gophers must give their signal-caller more help.
"It isn't like basketball where LeBron James, you just clear a side of the floor and let him do his thing," Limegrover said. "We've got to be able to have great support around him. The worst thing we could do for our offense and for this program and for MarQueis Gray is to sit back and go, 'Well, we're going to put it all on his shoulders and we'll only go as far as he'll take us.' That would be lazy and shortsighted. Every day, we get a little bit closer to everybody feeling good about those other spots.
"That's by far our biggest goal, to get to where we don't have just one bullet in our gun."
June, 1, 2011
6/01/11
11:00
AM ET
It feels like I've done this post 50 times in the past few days, but the Ohio State situation continues to dominate the national sports headlines. Pretty much everyone -- even LeBron James -- is weighing in on Jim Tressel, Terrelle Pryor and the Buckeyes.
Here are some of the reactionary nuggets that caught my eye:
Former Ohio State coach John Cooper told WBNS-TV in Columbus: "Compliance is not doing their job when this kind of stuff happens and they act like they don't know about it. When I was coaching over there, compliance was around everywhere. It's almost like they were trying to find us violating a rule."
An Ohio State offensive starter told colleague Joe Schad: "I haven't spoken with Terrelle and I don't care to. It really sucks coach Tress had to take the fall for a couple idiots' mistakes."
Pryor's grandmother also told Schad of her grandson: "He'd be better if people would leave him alone. Pray for him."
Michigan coach Brady Hoke issued the following statement: "I have great respect for Jim Tressel and what he has accomplished during his coaching career. We enjoy competing in 'The Game' and have great respect for our rivals in Ohio. Our program looks forward to the last weekend of November."
Golfer Jack Nicklaus had this to say at The Memorial tournament: "Obviously, the cover-up was far worse than the act. And once you got the cover-up, it became a situation where Jim had to say some things that weren't exactly truthful. That's where he got himself in trouble. I feel very bad for Jim. He's a nice man."
LeBron James on Tressel: "It's unfortunate. He's done some great things for the university. It's unfortunate what allegations and things have come out in the past year, not only with the players. Everyone in Columbus and Ohio knows how important, how great he was for the university. … The university will come back. It's one of the greatest universities we have in America. They will figure something out."
Former Ohio State star Eddie George on Pryor: "Now that Tressel is gone and Luke Fickell takes over, you've got to ask yourself the questions, do you really want [Pryor] to come back with all the baggage with him when you're trying to move on from that? So I don't think he'll be back with the Buckeyes this season, and I don't think he'll be remembered by the Buckeye faithful the same way."
Several SEC coaches weighed in on Tressel at the league's spring meetings, including Alabama's Nick Saban: "I guess if you were in the military you would say we lost a fine comrade in this whole thing. He's a good friend. He's been somebody I've had a tremendous amount of respect for, for a very, very good number of years in terms of the job he did at Youngstown State. ... I don't know the details of this whole circumstance and the situation there and certainly don't want to comment on that, but obviously there were mistakes made and there are going to be consequences for it."
Also here's Ole Miss coach Houston Nutt: "I went to Iraq with him and spent nine days [with him for the second annual Coaches Tour to the Middle East]. He's one of the finest men I know. I don't know everything that happened at Ohio State, I'm just now reading it, but I just know his core, what he's about, and I think he's a good man."
Former Youngstown State quarterback Ray Isaac: "Jim Tressel is as good a man as you'll ever meet. It's almost to the point where it's hokey; you would think he is phony. Jim Tressel is like the person you want to be when you grow up. … He's always treated me like a son, always got on my case. I'm just appalled by the lack of facts in the article concerning me and him. … It almost looked like he read 50 articles of the Jim Tressel/Ray Isaac situation and mixed them all together and then wrote a paragraph because he could not get any words out of my mouth."
Former Ohio State linebacker A.J. Hawk on ESPN's "First Take": "He was trying to protect his guys, and I think what people always say, he was loyal to a fault. He wanted what was best for his players and for his team and in the end, he's being the fall guy when in truth, at some point, you've got to put some of this on the players. They have to take responsibility for their actions, and obviously they are with the guys that are suspended."
A lot of interesting comments, and more to come.
September, 10, 2010
9/10/10
1:00
PM ET


Adam Rittenberg looks at the Big Ten's top storylines in Friday Four Downs.

September, 9, 2010
9/09/10
11:00
AM ET
How much pull does
Terrelle Pryor
have with Ohio State fans?
We might find out Saturday afternoon.
[+] Enlarge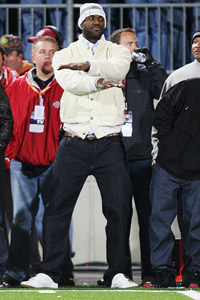 Jamie Sabau/Getty ImagesLeBron James was on the sidelines for the Ohio State-Penn State game on October 25, 2008 in Columbus, Ohio.
There are rumors that
LeBron James
will attend the Ohio State-Miami game
(ESPN, 3:40 p.m. ET)
at Ohio Stadium. James last showed up at The Shoe for the Ohio State-Penn State game in 2008.
Needless to say, his attendance Saturday would feel extremely ironic after he left his home state and the
Cleveland Cavaliers
in July for, yep, Miami. A few Ohioans were a little ticked off by James' Decision.
Pryor
has a message for Buckeye Nation
if The King chooses to grace them with his presence.
"If LeBron does come, just treat him with respect and respect his decision. Please, no name-calling or booing or anything like that. Please. That's my mentor, and I've got a lot of respect for him and a lot of love for him."
Pryor and James have exchanged text messages this week, and he hopes the hoops star shows up Saturday. The Ohio State quarterback has no doubt about James' loyalty when it comes to college football.
"He's a Buckeye."
Will Buckeyes fans feel the same way? I have my doubts.
June, 23, 2010
6/23/10
10:00
AM ET
Football strength training is the flavor this week on ESPN.com, as we attempt to pump ... you up! Sorry, couldn't resist.
Head coaches get most of the credit -- and, to be fair, most of the blame -- but strength coaches spend more time with players than anyone else on campus. They play major roles in developing personnel for the season.
So who are these guys? Here's a quick look at the Big Ten strength coaches.

ILLINOIS
Name:
Lou Hernandez
At Illinois since:
2005
The skinny:
Hernandez made the transition from Florida to Illinois with Fighting Illini head coach Ron Zook, for whom he has worked since 2003. A native Texan, Hernandez received both his bachelor's and master's from the University of Houston, where he worked from 1992-2001 as both an assistant strength coach and the head man. Hernandez spent 2002 as the assistant strength and conditioning coach for the New York Jets. Despite being just 5-foot-8, Hernandez
was a competitive power lifter
who could bench 507 pounds and squat 720 in his heyday. He also consults Illinois players on nutrition and
helped defensive end Will Davis add to his frame
in 2008.

INDIANA
Name:
Mark Wateska
At Indiana since:
2002
The skinny:
Wateska has spent nearly a quarter century as a strength and conditioning coach, including the last eight seasons with the Hoosiers football program. He played football at Penn State and was part of the 1986 national championship team. Wateska received both his bachelor's degree and his master's degree in exercise and sports science from Penn State and started his career there. He eventually left for Boston College, where he served as an assistant strength coach for four years before he took his first head job at Maine. Before Indiana, Wateska spent seven years as Stanford's head strength and conditioning coach. After his first year at The Farm, Wateksa was named Pac-10 Strength and Conditioning Professional of the Year by the National Strength and Conditioning Association (NCSA).

IOWA
Name:
Chris Doyle
At Iowa since:
1999
The skinny:
Doyle has been in Iowa City for
every step of the program's resurgence
under Kirk Ferentz. He made his mark right away, earning Big Ten Strength Coach of the Year honors from the NCSA in 1999. Doyle has helped 149 players who have reached the professional ranks in the NFL, NHL and NBA, including 24 Iowa players selected in the last six NFL drafts. A native of Quincy, Mass., who earned two degrees at Boston University, Doyle came to Iowa after a year at Utah but was no stranger to the Big Ten. He served as Wisconsin's assistant strength and conditioning coach from 1996-98. Doyle worked both the football and hockey teams in Madison.

MICHIGAN
Name:
Mike Barwis
At Michigan since:
2008

The skinny:
Barwis followed Rich Rodriguez to Michigan after spending 14 years at West Virginia, where he worked with the school's Olympic sports programs before taking over strength and conditioning for football in 2003. Rodriguez is extremely loyal to Barwis and gives Barwis a lot of credit for the Mountaineers' rise to national prominence from 2005-07. Barwis has coached 24 NCSA All-Americans since 1999 and received the Bronze Award from the NCSA certification commission in 2004. A former mixed-martial arts fighter, Barwis'
workout regimes at West Virginia
became legendary, and the Philadelphia native has developed quite a reputation among Michigan players and fans.

MICHIGAN STATE
Name:
Ken Mannie
At Michigan State since:
1994
The skinny:
Mannie made the transition with Nick Saban from Toledo to Michigan State in 1994, but while Saban moved on, Mannie remained a fixture in East Lansing. He has received numerous awards and honors during his Michigan State tenure, including being named Master Strength and Conditioning Coach by the NSCA in 2002 and being inducted into the Varsity S Club as an honorary member in 2007. Mannie, who oversees the strength and conditioning programs for all of Michigan State's sports, is a regular contributor to the
Scholastic Coach and Athletic Director
publication. He first met Spartans head coach Mark Dantonio at Ohio State, where they both served as graduate assistants in 1984.

MINNESOTA
Name:
Mark Hill
At Minnesota since:
2007
The skinny:
A 1999 graduate of Tennessee-Chattanooga, Hill already has worked as a high-level strength coach in the Big 12, Pac-10 and Big Ten. He joined Minnesota's staff in head coach Tim Brewster's first season after spending three years as associate director of performance enhancement at Arizona. Hill worked closely with Antoine Cason at Arizona, helping the defensive back win the Thorpe Award. He has mentored six All-Big Ten players at Minnesota and helped coach 13 All-Americans and 28 NFL draft picks as the assistant strength and conditioning coach at Oklahoma from 2000-03. Hill was an All-Southern Conference wide receiver at Tennessee-Chattanooga.

NORTHWESTERN
Name:
Larry Lilja
At Northwestern since:
1981
The skinny:
Lilja is the dean of Big Ten strength coaches and counts current Northwestern head coach Pat Fitzgerald among the many Wildcats players he tutored during his lengthy run in Evanston. He was a three-year starter at Northwestern from 1973-75, serving as a captain in 1974, before returning in 1981 to run the school's strength and conditioning center. Lilja played a major role in helping Northwestern transform its football program by winning Big Ten championships in 1995 and 1996. He earned Big Ten Conference Strength and Conditioning Professional of the Year honors in 1996. The Lilja family has deep roots in the Big Ten, as Larry and his brothers George (Michigan) and Dave (Indiana) are the only siblings in league history to serve as captains for three different teams.

OHIO STATE
Name:
Eric Lichter
At Ohio State since:
2006
The skinny:
Lichter built his reputation in the private sector by opening the Speed Strength Athlete Training Center in Euclid, Ohio, where he trained athletes in many sports, including Ohio State NFL draft prospects like Donte Whitner and Bobby Carpenter. He served as a consultant to Ohio State's 2002 national championship team and brought
Power Plate technology
to the program. Head coach Jim Tressel hired him in 2006 to oversee the strength and conditioning program. Lichter has trained six Top 10 NFL draft picks and has worked with LeBron James, Ron Dayne and others. His mother, Linda Lichter Witter, is Ohio State's synchronized swimming coach, and Eric served as a consultant for the synchronized swimming team before joining Tressel's staff.

PENN STATE
Name:
John Thomas
At Penn State since:
1992
The skinny:
Like pretty much every member of Joe Paterno's staff, Thomas has been in State College for quite some time,
making his mark on the Penn State program
. In 2002, Thomas was named a Master of Strength and Conditioning Coach by the NSCA, one of only 27 people to carry the title at the time. He also was named National Collegiate Strength and Conditioning Coach of the Year in 1997. Thomas is a staunch supporter of the High Intensity Strength Training System (HIT), which early last decade
created some discontent
that has since subsided. Thomas came to Penn State from Army, where he served as head strength and conditioning coach in 1990-91. He played both offensive and defensive line at Muskingum College.

PURDUE
Name:
Jim Lathrop
At Purdue since:
1998 (sixth year as director of strength and conditioning)
The skinny:
Lathrop made the trek with Joe Tiller and Danny Hope from Wyoming to Purdue after being named the WAC's strength and conditioning coordinator professional of the year in 1996. He spent seven years as strength and conditioning coordinator before being promoted to oversee strength and conditioning for Purdue's entire athletic program. Lathrop designs specific training programs for football, wrestling, and men's and women's track. A former offensive guard for Northwest Missouri State, Lathrop served as both an assistant and a director of strength and conditioning at Georgia Tech from 1988-92. Georgia Tech won the 1990 national championship during his first year as director.

WISCONSIN
Name:
Ben Herbert
At Wisconsin since:
2002 (named head strength and conditioning coach in January 2009)
The skinny:
Herbert cut his teeth under longtime Wisconsin strength coach John Dettman before working his way into the top football job last winter. A two-year starter on the defensive line for the Badgers, Herbert helped Wisconsin reach back-to-back Rose Bowls in 1998 and 1999. He joined Wisconsin's strength and conditioning staff as an intern in 2002 before being promoted to an assistant the next year. Herbert
shook things up after becoming the head strength coach
, introducing position group workouts, innovative competitions and some unique motivational props, including a WWE replica belt and two potted plants.
October, 22, 2009
10/22/09
9:49
AM ET
Posted by ESPN.com's Adam Rittenberg
Ohio State fans are still waiting for clear evidence of
Terrelle Pryor
's maturity on the field, but they had to like the way the sophomore quarterback handled himself off of it Wednesday night.
Let's be clear: Dealing with the media isn't the same as dealing with 265-pound defensive ends, but Pryor seemed much more relaxed in his session with reporters, most of whom didn't expect to see the quarterback make an appearance after Wednesday's practice.
Pryor addressed his struggles in Saturday's loss to Purdue and the comments his high school coach, Ray Reitz, made to ESPN's Joe Schad on how Ohio State
should be using Pryor differently in the offense
.
On the Purdue loss, in which he committed four turnovers: "That opened me up to the world and opened me up to myself and who I am as a person. I think maybe that was the best thing to happen to us last week; maybe we'll learn from it. We're having real good practices, and we're just trying to get the fans back on our side."
On Reitz's comments: "I came here to be a quarterback, and for the rest of the season, we're going to be pretty darn good. I don't know why [Reitz] would say something like that. I wouldn't trade where I'm at right now. I love the offense here, and it's just going to keep on getting better and better here."
On dealing with the criticism: "I just think I've been so tense and maybe handling things the wrong way, maybe not talking to my teammates the way I should, instead of being the leader I want to be. We just need to turn this around, and we can do it. All we need is the fans' faith and the faith in each other that we have."
Pryor certainly needs to pick up his play in games, but he certainly seemed like a different guy, a more comfortable guy, on Wednesday. He also has been
getting advice
from NBA star LeBron James, who certainly understands what it's like to be hyped at a young age.
It's clear Pryor will be a work in progress at Ohio State, not the overnight success many had expected from the nation's No. 1 recruit. But he seems to be taking the right steps from a maturity standpoint.
May, 29, 2009
5/29/09
12:30
PM ET
Posted by ESPN.com's Adam Rittenberg
You know ... there's like a butt-load of gangs at this school. This one gang kept wanting me to join because I'm pretty good with a bo-staff.
Minnesota head coach Tim Brewster agrees with Penn State's Joe Paterno that the Big Ten needs to expand with an Eastern team, preferably Rutgers, Steve Politi writes in the Star-Ledger.
"I am definitely for the addition of another team, and it would be great to bring in a team from the Eastern market," Brewster said. "I certainly believe Rutgers is a tremendous candidate, one that obviously makes sense."
March, 12, 2009
3/12/09
4:30
PM ET
Posted by ESPN.com's Adam Rittenberg
The Friday mailbag comes a day early, as I'll be taking most of Friday off and you guys sent in some real good e-mails. Keep 'em coming.
A popular issue this week seemed to be Penn State and whether the Lions would be better suited in the Big East than the Big Ten. This is a fascinating topic and one that will be discussed more on the blog in the coming weeks.
Joe from Harrisburg, Pa., writes: Hey, thanks for the post about the Big East and Penn St. It's an often over-looked point that Penn St. is a very unnatural fit for the Big 10 -- and we continue to search for an identity in this conference. Besides the new-born rivalry with Ohio State, nothing about PSU in the B10 really fits: Geographically, historically, storied rivalries, etc. It's really sad to imagine what could have been: a conference with PSU, Pitt, BC, Miami, FSU, WVU, and more all playing one another every season. Suddenly the landscape of college football would be dramatically different, because a strong unified eastern conference such as that would certainly alter history as we know it: Bowden and Paterno would go head to head every season. The PSU Pitt rivalry would still exist. Paterno may have 3 national championships. The B10 would be able to have the championship game they desperately need. Had Syracuse not spoiled the deal back in ?82, I think college football would have been a lot better off.
Adam Rittenberg: I certainly don't object to having Penn State in the Big Ten, but you bring up some pretty valid points. The geographical gap between Penn State and the rest of the Big Ten is significant. Penn State and its fans are more Northeast-based than Midwest-based, so I can understand if they feel like outsiders at times. And though a rivalry is brewing between Penn State and Ohio State, it wouldn't compare to built-in rivalries like Pitt.
Who knows if the addition of Penn State would have kept Miami and Florida State in the Big East, as Mike Tranghese said, but it would make it harder for those schools to leave. The Joe Paterno-Bobby Bowden matchups would be a lot of fun.
---
Derek from Baltimore writes: Re: Your piece on Penn State and the Big East... I'm taking a big leap into the deep end of hypothetical-land, but I'd trade Penn State to the Big East for ND and Pitt, provided ND plays football in the Big Ten. Quite honestly, I'd even go for a Penn State-Pitt trade with the Big East, provided we pick up Iowa St. or Mizzou from the Big 12. Then the Big 12 could grab TCU and be even again. Split into 2 divisions (Pitt, MSU, Michigan, OSU, Indiana, Purdue; Illinois, NW, Wisc. Minn., Iowa, Iowa St.) It could be done. How the mind whirrs on this issue :)
Adam Rittenberg: Interesting take, Derek, though this would once again split up Penn State and Pitt. Notre Dame is the natural fit that will never happen for the Big Ten, and I'm not so sure Pitt wants to give up its Big East affiliation in basketball. The divisions argument is always tricky in the Big Ten because of Michigan and Ohio State, but adding a school to the west (Iowa State, Missouri) seems logical. Then again, as Jim Delany said Wednesday, expansion isn't even on the back burner.
---
Jareth from Mount Pleasant writes: Love the blog keep it up!! I was just wondering what you think about the situation at Michigan and the quarterback position? I know that Threet is gone and he was the better of him and Sheridan but with Forcier coming in early and Robinson this summer that will help with depth and competition. The biggest thing that I think will help, even if they have a true freshmen start is the supporting staff of all the OL, RBs, and WRs returning so who ever starts will have more weapons and more experience surronding them. That should take a little bit of the pressure off of them. Just wondering what you think? Thanks.
Adam Rittenberg: Thanks, Jareth. I'll touch on this more in Friday's blog, but you're absolutely right in identifying the other positions as a benefit for the starting quarterback. Rich Rodriguez basically has said the position competition under the previous regime wasn't where it needed to be, and he wants to increase it everywhere this spring. There will definitely be good competition at wide receiver and offensive line, and running back might be Michigan's deepest position next fall.
This is still a quarterback's game and Michigan must get better at that position, but the 2009 starter will have a lot more help surrounding him. It should be easier to move the ball and sustain drives.
---
Tom from Charlotte writes: Adam, really liked the post on "Comparing Big Ten football and hoops identities." It reminded me of the LeBron James hype around playing for the Browns. What recent Big Ten hoops player would make the best transition onto the gridiron? Do you project OSU's Greg Oden at TE? Or maybe Wisconsin's Mike Flower's at CB? It almost goes without saying that Northwestern's Brett Basanez could probably dunk from the free throw line.
Adam Rittenberg: Hmmm, good question, Tom. I think most Big Ten secondary coaches would take Michigan State's Kalin Lucas as a cornerback right now. As far as recent Big Ten hoopsters, I'd take Terence Dials on my defensive line. I'm sure we could find a spot for Oden, maybe as a pass-deflecting defensive tackle. Luther Head could play wide receiver. So could Devin Harris. And Deron Williams would be a load at running back. As for Baz dunking from the foul line? I'd highly doubt that.
---
Jake from Hampton, Va., writes: Adam i was just wondering with all the experience we have returning on sides of the ball i think Iowa has a good shot at the big ten title this year whether you look at Jewel Hampton replacing green or Klug and Binns filling in at DT. What are your thoughts?
Adam Rittenberg: Hampton should be able to step in nicely for Shonn Greene. I wouldn't expect another season like Greene had, but with Hampton, Jeff Brinson and a very good offensive line, Iowa should be able to run the ball. My bigger concern is the defensive tackle spot. Karl Klug won Big Ten Player of the Week honors last year, but I don't see much else returning at that position. You can't undervalue what Mitch King and Matt Kroul meant to that team, and I'd expect a pretty significant drop-off there.
October, 24, 2008
10/24/08
1:00
PM ET
Posted by ESPN.com's Adam Rittenberg
Happy Friday to all. I'll be heading to Columbus this afternoon for the big one Saturday night (ABC, 8 p.m. ET).
Time to study up.
Rich Rodriguez is recruiting a specific type of player to Michigan, and he's not afraid to travel to find to him. While RichRod racks up frequent flier miles, Michigan State's Mark Dantonio continues to land home-grown talent, Michael Rosenberg writes in the Detroit Free Press.
"Rodriguez's approach might do wonders for U-M, but it is also helping Michigan State."

August, 27, 2008
8/27/08
8:37
AM ET
Posted by ESPN.com's Adam Rittenberg
Three more Big Ten teams have quarterbacks as we wind toward the openers, which are only four days away. Here's what's happening around the league.
"Minnesota's freshman class had the lowest [entrance exam] scores among the eight Big Ten programs that complied with the request, and the scores were significantly lower than for the recruiting classes in the final years of Glen Mason, who coached the Gophers from 1997 to 2006."