May, 28, 2014
5/28/14
3:00
PM ET
Two years ago, Iowa had a simple goal with its running backs: just get somebody on the field.
An unusual stretch of misfortune -- handed down by AIRBHG or some other dastardly entity -- had crippled Iowa's once-formidable running back room. So when a 240-pound sledgehammer named
Mark Weisman
essentially came out of nowhere and grabbed the football, Iowa simply jumped on his back for as long as it could. Weisman recorded 98 carries during a four-game stretch from mid-September to mid-October in 2012. He opened the 2013 season with 85 carries in Iowa's first three games.
[+] Enlarge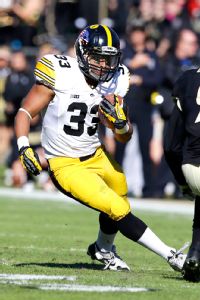 AP Photo/Michael ConroyJordan Canzeri ranked third in carries for the Hawkeyes but first in average yards per carry (6.5).
If Weisman records a similar workload early this season, something has gone very wrong for the Hawkeyes. One of the many luxuries Iowa enjoys entering the 2014 campaign -- along with a favorable schedule, a stable quarterback situation and solid line play on both sides of the ball -- is depth at running back.
Jordan Canzeri
and
Damon Bullock
might not be known names around the Big Ten, but both have started games and add to Iowa's backfield mix.
Weisman likely will enter the season as Iowa's lead ball-carrier, but his workload should be much more manageable. The goal is to keep all the backs fresh for the stretch run, which includes late November home games against West Division challengers Wisconsin and Nebraska.
"Hopefully, we'll be able to use everybody in a smart way," coach Kirk Ferentz told ESPN.com. "It's a good mix for us."
Although Weisman looks and at times performs like a workhorse back, he has a point of diminishing returns. In 2012, he recorded 673 yards and eight touchdowns during the 98-carry stretch between Sept. 15 and Oct. 13, but he suffered an ankle injury in the final game against Michigan State. He had just 14 carries the next two contests before sitting out two weeks to heal.
Weisman had 100 yards or more in four of Iowa's first five games last fall, while accumulating 119 carries in the process. But another foot injury, also against Michigan State, limited him both in practices and in games for about a month. He had no more than 13 carries in the five games between Oct. 5 and Nov. 9.
"We've kind of seen it for two years," offensive coordinator Greg Davis said. "As the season goes on and his carries begin to mount, there comes a point where he's not quite as effective as he was early. Though Mark would never say a word, I've got to think his body's getting beaten up."
Canzeri's emergence late last season suggests a better carries balance for Iowa's backs. As Weisman healed, Canzeri had 332 yards on only 43 carries in Iowa's final four regular-season contests, averaging 7.7 yards per carry. He produced runs of 43 yards against Wisconsin and 37 yards against Nebraska and contributed as a receiver in wins against both Nebraska and Michigan.
Iowa improved from 101st nationally in rushing in 2012 to 50th last year.
Two springs ago, Canzeri had positioned himself as Iowa's likely starter before tearing his ACL. Despite a quick recovery, he sat out the 2012 season and worked on pass protection, among other things.
"I just knew it was a time to get stronger, get faster and get better," Canzeri said. "It was fortunate that it was during the 4-8 season that no one really wants to think about. Before I was confident, but I was smaller and my speed was my main attribute. Now I've gained another year and gotten stronger and more mature and have built into a more complete football player."
Ferentz looks at Canzeri differently than he did a year ago, expressing "total confidence" in the junior to contribute significantly. Bullock actually has more career carries (263) than Canzeri but likely will be used as a third-down back because of his strong pass-blocking and pass-catching skills (39 career receptions).
Each back has his own style, as Ferentz notes, but their differences aren't as stark as they were two springs ago. Sophomore
LeShun Daniels
, at 215 pounds, adds another power option, and Ferentz said the team's depth at fullback with
Adam Cox
and
Macon Plewa
is the best it has been in his tenure.
"Whoever's out there can do all those same things," Canzeri said, "which is good because when the person who has the hot hand is getting tired, the next person that comes in isn't just filling in but someone who can get the job done just as well.
"It's really cool to see."
It should lead to a fresher and faster group of backs, especially when Iowa needs them most.
April, 17, 2014
4/17/14
1:00
PM ET
IOWA CITY, Iowa -- The tempo trend sweeping through college football has, for the most part, skipped over the
Iowa Hawkeyes
.
While teams such as Oregon and Baylor operate at a breakneck pace, Iowa continues to shape its offense around power and play-action, ball control and sustained drives. Huddling is still encouraged.
In 2012, the Hawkeyes ran fewer offensive plays than any Big Ten team. In 2011, an Indiana team that played 12 games ran more plays (870) than an Iowa team that played 13 (866). In 2010, Iowa ran 136 fewer plays than Big Ten-leader Northwestern in the same number of games.
But a shift began taking place last season. Iowa eclipsed 900 plays in 13 games. The offense ramped up the tempo late against LSU in the Outback Bowl, leading some to question whether the Tigers were faking injuries to slow down the Hawkeyes. Process that for a minute: LSU's defense trying to slow down Iowa's offense.
[+] Enlarge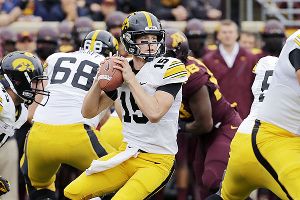 AP Photo/Ann HeisenfeltJake Rudock and Iowa are joining the trend toward a faster tempo on offense.
But tempo at Iowa is here to stay. In fact, it's getting ramped up even more this spring.
"We would like to be able to play fast with any group, be it two backs, two tight ends, three tight ends, three wide receivers," offensive coordinator Greg Davis told ESPN.com. "We played at a faster tempo last year than the year before, and we're playing at a faster tempo this spring than last year."
Iowa isn't going to turn into Auburn by Aug. 30. That's not Davis' intent. He recognizes the perils of pushing the tempo. At times, he wants his quarterbacks to have enough time to survey the defense before the ball is snapped.
More than anything, however, he wants defenses to be unsure about Iowa's pace.
"We're just trying to kick it up another notch," tackle
Brandon Scherff
said. "Once we get used to it, it'll be a good advantage for us."
Davis' ultimate goal is more explosion plays. Iowa averaged only 5.3 yards per play and 6.8 yards per pass play last season, ranking 10th in the league in both categories. There were some flashes, such as
Tevaun Smith
's spectacular catch and run for a 55-yard touchdown against Michigan.
But the Hawkeyes need more and could have the personnel to get it done. There are more options at receiver with veteran
Kevonte Martin-Manley
, Smith and
Jacob Hillyer
, along with
Damond Powell
, who averaged 24.3 yards per reception in limited action in 2013. Several redshirt freshmen are emerging this spring, including 6-foot-4, 210-pound
Derrick Willies
.
"If you don't have explosive plays, it's tougher to get the win at the end of the day," quarterback
Jake Rudock
said. "Every team needs to have those, whether it's running or whether it's passing."
Although running back will be a strength -- bruiser
Mark Weisman
returns alongside
Jordan Canzeri
,
Damon Bullock
and exciting sophomores
LeShun Daniels
and
Barkley Hill
-- the pass game should be enhanced this fall. Iowa returns two quarterbacks with game experience (Rudock and
C.J. Beathard
), depth at receiver and tight ends
Jake Duzey
and
Ray Hamilton
. Iowa will miss tight end
C.J. Fiedorowicz
's blocking, but Duzey is a superior athlete with a higher ceiling as a pass-catcher, as he showed with 138 receiving yards against Ohio State last fall.
"The ball's going to be in our hands more. I feel like they're going to call our number," Martin-Manley said. "A few more plays downfield, and we've also been adding new plays to get us open and use the tools we have at receiver."
After starting every game last season, Rudock has done nothing to harm his standing this spring, showing greater comfort with the scheme, the signals and a leadership position. But that coaches also like Beathard, who should have a role even if Rudock tightens his grip on the starting spot.
"He has a little more lateral quickness than Jake," Davis said, "so the discussion [among coaches] could carve out a package for him, a little more zone-read. At the same time, he can really spin the football."
The skill position depth is there, especially if the receivers keep making strides. Scherff's return to the line is huge, and Davis likes the starting five, which includes veterans
Austin Blythe
,
Jordan Walsh
and
Andrew Donnal
.
Sean Welsh
has emerged this spring as the starting left guard.
Line depth is a significant concern, Davis said, but beyond that there's a lot to like about an offense that will operate faster and should put more points on the board.
"The first year, new system, last year, new quarterback," Davis said. "We have more than we have in the past. I feel better about this spring than I have in any spring. We have the opportunity to be the best offense we've been in the three years I've been here."
October, 29, 2013
10/29/13
2:00
PM ET
Former Ohio State guard LeShun Daniels reclined on his oversized couch, next to two of his sons, while they sipped lemonade Saturday night and watched the Penn State-Ohio State game on the big-screen TV.
[+] Enlarge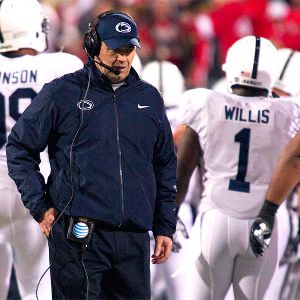 Trevor Ruszkowksi/USA TODAY SportsBill O'Brien and Penn State will need their leadership to help them get over the lopsided loss to Ohio State.
They'd laugh and joke during the game, and Daniels would flip on channels to the Oregon and Missouri games -- only when -- a commercial break interrupted the action.
But Daniels, who started for the Buckeyes from 1994 to 1996, couldn't take his eyes off the TV. These were his Buckeyes after all, a team still close to his native Ohioan heart. And he smiled to himself before midnight when that final score stuck. It was all too familiar.
Ohio State won, 63-14, Saturday night -- the identical score from Oct. 29, 1994, when he played Penn State. But, this time, the numbers were reversed. Daniels had stood on the Beaver Stadium grass -- and still remembers listening to the Lion roar over the loudspeaker -- when his beloved Buckeyes dropped a 63-14 contest to PSU. Now, the Buckeyes were celebrating as the victors.
"It just clicked, watching the game the other night," Daniels said with a laugh. "The Bucks did play a good game, so it was good to see that. But also seeing that score, even 19 years later, that was really good to see. I remember hearing about that game like 1,000 times while we were playing Penn State. So it was good."
Former OSU linebacker Lorenzo Styles remembers the Penn State game all too well. He can still remember watching one completion after another from Kerry Collins -- who went 19-of-23 for 265 yards and two TDs -- and chasing down a speedy Ki-Jana Carter (19 carries, 137 yards, four TDs). But, more than anything, he remembers the frustration his defense felt lining up against PSU's mammoth offensive line.
"It sticks with you, kind of even today," former defensive end Matt Finkes said. "People will still bring that up; even before this week there were people talking about that loss. They'll be like, 'Oh it was 56-7.' And I'll be like, 'No, it's 63-14.' It's etched in my memory. That's something you don't forget."
Bill O'Brien's squad of 61 scholarship players probably hopes to forget about the scarlet and gray this week -- but they could learn a lesson from those 1994 Buckeyes and that 63-14 landslide. After suffering its worst loss in nearly a half-century, the 1994 Ohio State squad rebounded with three straight wins, including a 24-3 victory over a good Wisconsin team the very next weekend.
The Buckeyes were young and inexperienced that year -- not unlike PSU this season. Finkes moped on the sideline late in the third quarter and just wanted the game to be over; a sense of relief washed over the team once the refs blew the final whistle.
"The coaching staff just sat us down and said we still have a lot of goals to accomplish -- and let's not lose this whole season just because of one game," Finkes said "And then that's the year we beat Michigan."
Added Styles: "You don't forget about it, but you understand you have to come out ready with what you're supposed to do the next week. We knew we had the rest of the season left."
They had played terribly and lost to the far-superior team, one that finished the season undefeated and boasted five offensive All-Americans. They wouldn't see another team like that one and, they vowed, they wouldn't perform like that again either.
"You get another win under your belt," former OSU DT Matt Bonhaus said, "and that feeling, that loss, goes away."
The Nittany Lions are a 10-point favorite against Illinois on Saturday. Whether they insist they've moved on or not, that loss to Ohio State will still be on their minds.
But the OSU quartet's advice for PSU was simple: Focus on the new opponent, don't lower expectations and don't dwell. Be resilient, and put more time in the film room to correct mistakes.
"They're resilient," Styles said of Penn State, explaining how the team stuck together through the sanctions. "The leadership on this team is like the leadership we had; they'll move forward."
But they won't forget. And the former Buckeyes say that's the way it should be.
"I'm happy we went out and played that good game Saturday night," Finkes said. "But nothing's going to make that 1994 game go away -- even if we would've beaten them 100-7. No matter what, it was still me losing 63-14 back in 1994."
June, 27, 2013
6/27/13
12:00
PM ET
February, 6, 2013
2/06/13
7:00
AM ET
ESPN RecruitingNation
has signing day covered. Follow ESPNU's coverage, chat with analysts and get breaking news on our
Signing Day Live
page beginning at 7:30 a.m. ET through 7 p.m. ET. For more on what to expect on signing day, check out the
Big Ten conference breakdown

.
Bold prediction:
Penn State will hang on to a top-25 class, even if just by the slimmest of margins. Bill O'Brien and his staff deserve all the credit in the world for having to originally put together a class after the scandal and then reshaping it after NCAA sanctions were levied in July.
Illinois
Biggest need:
The Illini's offense was arguably the worst in the Big Ten in 2012, and Illinois needs help just about everywhere on offense, especially at the skill positions.
Biggest recruit:
Four-star athlete
Aaron Bailey
is the future at quarterback for Illinois, and the coaches will expect him to be ready to take the reins once
Nathan Scheelhaase
moves on.
Indiana
Biggest need:
To just put up a fence around Indianapolis and the state of Indiana. Kevin Wilson did that, assuaging defensive line concerns in the process by adding Indianapolis linemen
David Kenney III
and
Darius Latham
.
Biggest recruit:
The Hoosiers are not accustomed to landing ESPN 150 prospects, but not only did they get
Rashard Fant
, but they got him all the way out of Georgia.
Iowa
Biggest need:
After having several productive running backs over the past decade, the Hawkeyes are hurting in the backfield due to injuries and off-the-field issues.
Biggest recruit:
The Hawkeyes were after
Berkley Edwards
for a while, but once that fell through they put the screws to former Boston College running back commit
LeShun Daniels
. He flipped shortly after an official visit to Iowa.
Michigan
Biggest need:
Brady Hoke is transitioning to a pro-style offense, and he needed a pocket passer and a running back who makes his living in between the tackles.
Biggest recruit:
ESPN 150 quarterback
Shane Morris
is that pro-style quarterback, but he is also the unquestioned leader of Team 134 and helped put together one of the nation's top classes.
Michigan State
Biggest need:
The Spartans will lose their top two rushers from 2012, including Big Ten rushing leader
Le'Veon Bell
, so running back is a priority. They are bringing in two.
Biggest recruit:
ESPN 300 dual-threat quarterback
Damion Terry
is a capable thrower and runner, and he led his high school to a state title as a senior.
Andrew Maxwell
did not exactly lock down the starting quarterback job with his performance last season.
Minnesota
Biggest need:
Donnell Kirkwood
is a promising player at running back, but he struggled against some of the league's better defenses and wore down late in the season. A complement is sorely needed.
Biggest recruit:
Three-star running back
Berkley Edwards
is the younger brother of former Michigan receiver Braylon Edwards. Berkley is one of the Gophers' highest-rated commitments, and running back is a position that lends itself to an easy transition.
Nebraska
Biggest need:
Nebraska needs to return to its days of the Blackshirts, as the Huskers' defense was gashed on the ground all season. The Huskers need help along the defensive line.
Biggest recruit:
Elite 11 finalist
Johnny Stanton
is a dual-threat quarterback, but he's a much more polished passer than Taylor Martinez, who has taken his share of lumps since his flashy start in Lincoln.
Northwestern
Biggest need:
Now that the Wildcats are a legitimate threat in the Big Ten under Pat Fitzgerald, the next step is to get better athletes to compete with Michigan and Ohio State. Fitzgerald is doing that with
Ifeadi Odenigbo
in 2012 and
Godwin Igwebuike
in 2013.
Biggest recruit:
ESPN 300 dual-threat quarterback
Matt Alviti
had offers from some big programs including Notre Dame, but he chose nearby Northwestern. The Wildcats have an unsettled situation at quarterback, and as a local product Alviti could be called for by the fans if the quarterback play does not improve.
Ohio State
Biggest need:
Linebacker was the biggest need for the Buckeyes, and after a shaky start Urban Meyer wrapped up a nice haul at the position with ESPN 150 products
Trey Johnson
and
Mike Mitchell
.
Biggest recruit:
It's a tie between
Jalin Marshall
and
Dontre Wilson
, who are separated by just a few spots in the ESPN 150. Both have game-breaking ability as a receiver or out of the backfield.
Penn State
Biggest need:
Despite significantly improved play from Matt McGloin in 2012, the Nittany Lions have not been blessed with quarterbacks the past decade, with the exception of a few good seasons from Michael Robinson and Daryll Clark.
Biggest recruit:
While the class did field its share of decommitments, the damage would have been irreparable if No. 1 QB
Christian Hackenberg
bolted. By staying on, he instilled confidence in several other recruits to stay or join him in State College.
Purdue
Biggest need:
The quarterback situation at Purdue has been unsettled the past few seasons, which is not good when it comes to the most important position on the field.
Biggest recruit:
An Elite 11 finalist,
Danny Etling
stuck with the Boilermakers through the coaching change. He will be looked at as the future of the program.
Wisconsin
Biggest need:
While the Badgers always have a strong stable of backs, losing Montee Ball is going to hurt, especially in the red zone. Wisconsin addressed it with top commitment
Corey Clement
.
Biggest recruit:
The loss of Russell Wilson left a major void at quarterback, but the Badgers landed quarterback
Tanner McEvoy
on Monday. McEvoy is ranked No. 44 among juco prospects nationally and the expectation is he will contend for a starting job immediately.