Big Ten:

Lions-Buckeyes-111119
November, 19, 2011
11/19/11
9:15
PM ET
COLUMBUS, Ohio -- The tendency during a time of crisis is to go conservative, limit risks and simply try to survive.
Penn State is mired in a crisis, perhaps the biggest crisis in college sports history. A sex-abuse scandal has enveloped the institution. Beloved football coach Joe Paterno has been fired, and recently his son Scott said his father had been diagnosed with a treatable form of lung cancer. Assistant coach Mike McQueary has been placed on administrative leave. Coaches are shuffling responsibilities. The future is hazy.
And, by the way, Penn State finds itself in the thick of the Big Ten title race.
Given these circumstances, few would blame Penn State, already known as one of the nation's most conservative football programs, to play it even safer with its schemes and personnel. Crisis Management 101, right?
Think again.
Interim coach Tom Bradley and his staff decided this would be the perfect time to shake up the offense. The Wildcat formation, run by two former high school quarterbacks,
Curtis Drake
and
Bill Belton
, fueled a potent rushing attack in Penn State's
20-14 victory
against Ohio State at Ohio Stadium.
The new wrinkle led to a new result in a place Penn State had won just once before (2008) as a member of the Big Ten.
"With all that we've been going through, we need a spark," said Drake, who had a 38-yard scamper and finished with 50 yards on three carries. "We need something new, we need to uplift ourselves. ... [The coaches] were looking at it just to say, 'We've got nothing else to lose. We've been kicked, we've been spit on by everybody. So now let's just go out and play.'"
[+] Enlarge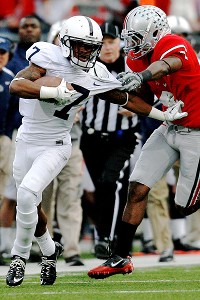 Kirk Irwin/Getty ImagesCurtis Drake was one of two Penn State players to take snaps out of the wildcat. "With all that we've been going through, we need a spark," Drake said.
Penn State set the tone Saturday on its opening drive when Drake, lined up in the Wildcat, took the snap and handed the ball to
Stephfon Green
, who raced 39 yards to the end zone. Penn State racked up 91 yards out of the Wildcat in the first half and finished the game with 239 rush yards and two touchdowns on 39 carries (6.1 ypc).
Belton had practiced at quarterback on the scout team heading into the Nebraska game. After seeing Belton "torch" his defense for 10 days, Bradley wanted to use Belton against the opposition. Drake always had been an option at Wildcat, but his recovery from a leg injury kept the plan on hold.
"We'd thought about it a while ago, but we never just got to the package," Bradley said. "We thought today coming in, it would just give us a little change of pace, which it did."
No team in America could use a change of pace more than Penn State. The program has been under siege the past two weeks. Paterno's firing last Wednesday triggered an outpouring of emotion, and the players weren't immune from it.
Then came Friday, when Bradley informed the players of Paterno's cancer diagnosis.
"When it rains, it pours," linebacker Glenn Carson said. "That was what was said amongst each other. It's been a tough week, it's been a tough couple days for us. But I can't be more proud of how this team [handled] the adversity."
Joe's son Jay, the team's quarterbacks coach, wanted to keep the news about his father private until the end of the season, but realized it wouldn't be possible with the intense media attention. While Jay Paterno learned of his father's diagnosis last week, he didn't even tell his children until Friday.
Bradley repeatedly checked in with Jay Paterno, telling him if he needed to miss a meeting to be with his family, don't hesitate to do go. Jay stayed.
"I would go to work and look at film of Ohio State and that was frightening enough," he said. "Working on the game plan, it really kept me distracted. ... It's one of those things that if I didn't do my job and didn't carry it like I'm supposed to, I think I'd be disappointed in myself. But it's not easy."
The other coaches have taken a similar approach.
"It's very emotional," said defensive line coach Larry Johnson, who coordinated the defense with linebackers coach Ron Vanderlinden on Saturday. "I try to leave the house in the morning, try to leave all that behind, walk in the [football] building and try to turn myself back into a coach as quick as possible. You can't help but have emotion with the things that have happened. The Coach Paterno news, the victims, we pray for them every day and we make sure we honor them.
"And then we go to work."
Johnson said the players, despite their age, might have an easier time focusing because they didn't know former assistant Jerry Sandusky and weren't at the school when the alleged sexual abuse occurred. But the players know Paterno and they know McQueary, who wide receiver
Derek Moye
said played a huge role communicating offensive plays and personnel decisions.
Although Friday's news was yet another blow, game day brought players a refuge.
"Guys are anxious to get on the field," quarterback
Matthew McGloin
said, "just to forget about what's been going on for however long it is, three hours, and just have fun and play the game. That's what we were able to do today, and that's what we were able to do all week in practice.
"Your problems off the field aren't going to go away, but once you step on the field, you have to focus."
In the Big Ten title race, Penn State's game Saturday meant nothing. Wisconsin's victory at Illinois earlier in the day ensured the Leaders Division would come down to next week's game between Penn State and the Badgers in Madison.
But for the Lions' players and coaches, Saturday meant everything, and it showed. Midway through the third quarter, Penn State faced fourth-and-goal from the Ohio State 1-yard line, leading by six.
"Normally, I would have probably kicked it," Bradley said. "But I felt that would have been the wrong decision. ... I'm asking those guys to go to the wall, so I'm going to the wall."
Although Penn State couldn't punch it in, it prevailed in the end. Team Crisis now heads to Madison with a chance to reach the Big Ten championship game.
"We're still at the top of the division, it's still in our hands," McGloin said. "I don't think people are too worried about what's going on outside."
November, 19, 2011
11/19/11
6:26
PM ET
COLUMBUS, Ohio -- The
Penn State Nittany Lions
finally can celebrate.
After enduring an emotionally draining two weeks, No. 21 Penn State held off Ohio State
20-14 to prevail
in Ohio Stadium for just the second time as a member of the Big Ten. The defense held the Buckeyes scoreless in the second half, and the offense continued to mix personnel and formations. Credit interim head coach Tom Bradley, offensive coordinator Galen Hall and the rest of the staff for a terrific game plan, and the team for remaining focused following so many distractions.


Penn State won a day after learning former coach Joe Paterno has lung cancer and 10 days after the school dismissed Paterno from his post after 45-plus seasons. The running back play was tremendous for the Lions, and DE Sean Stanley and LB Gerald Hodges led a stout defensive effort.
The win doesn't mean a whole lot in the Leaders Division race, which will be decided next week as Penn State visits Wisconsin. But it means a great deal to this Lions team, which has endured so much since the sex-abuse scandal broke.
Ohio State simply made too many mistakes to win, from penalties to a horrible false start penalty on J.B. Shugarts in the closing minutes. Luke Fickell and his assistants seemed to be a step behind Penn State's staff. While quarterback
Braxton Miller
made several electrifying plays, the Buckeyes didn't have enough contributions on both sides of the ball to beat an inspired Penn State team. Ohio State's run of six consecutive Big Ten titles is over, and the Buckeyes must beat Michigan next week in Ann Arbor just to secure a winning season.
Not a typical Senior Day at Ohio State, and not a typical season. For Penn State, the Big Ten title is still out there.
Much more to come from the Horsehoe.
November, 19, 2011
11/19/11
5:51
PM ET
COLUMBUS, Ohio -- Now
that's
more like it, a scoreless quarter between Penn State and Ohio State. Here are some notes and observations after 45 minutes of play, as No. 21 Penn State still leads Ohio State 20-14.
Both teams are in love with the Wildcat formation and have had some success, Penn State more than Ohio State. The Buckeyes went to the well one too many times deep in their own territory as running backs Jordan Hall and Dan Herron couldn't complete a handoff, leading to a fumble. Fortunately for Ohio State, its defense turned in an impressive goal-line stand to keep Penn State from taking a two-score lead.
I loved Penn State's decision to go for the touchdown on fourth-and-goal from the 1, but the play calls before were highly questionable. Running backs Stephfon Green, Silas Redd and Brandon Beachum have been terrific, and yet Penn State went with two Michael Zordich runs and a Matthew McGloin sneak. You've got to give the ball to the running backs before fourth down.
Ohio State seemed to have its offense cooking late in the quarter before a Carlos Hyde fumble. The turnovers are killers, but the Buckeyes must continue to pound away at the Penn State defense with Herron, Braxton Miller and others. Ohio State has had good success running to the outside.
Penn State kicker/punter Anthony Fera might be the team's MVP so far today. He has kicked field goals of 43 and 46 yards, both career longs. He also pinned Ohio State at its own 3-yard line late in the quarter.
November, 19, 2011
11/19/11
4:56
PM ET
COLUMBUS, Ohio -- Well, well, this has been a much more exciting game than I expected. Anyone predict these two teams to combine for 34 first-half points. Yeah, didn't think so.
No. 21 Penn State takes a 6-point lead into the locker room.


Some quick halftime hits:
Turning point:
Penn State led 17-7 and had the ball in good field position when a
Matthew McGloin
first-down pass was tipped and intercepted by Ohio State cornerback Orhian Johnson. Buckeyes quarterback
Braxton Miller
answered with an electrifying 24-yard run and fired a touchdown pass to
Jake Stoneburner
to cut his team's deficit to three points.
Stat of the half:
Both teams have been terrific on third down, with each converting 5 of 7 chances.
DeVier Posey
's brilliant one-handed grab on third-and-10 moved the chains and set up Ohio State's first touchdown.
Derek Moye
had a 16-yard grab on third-and-4 to set up Penn State's opening touchdown. Ohio State entered the game ranked 78th nationally in third-down conversions (38.4 percent), while Penn State ranked 96th (38.5 percent).
What Penn State needs to do:
Continue the creativity in the run game. Penn State has mixed backs and formations and had good success. The Lions finished the half with 188 rush yards on 21 carries. They got 91 of those yards from the Wildcat formation, as wide receivers
Curtis Drake
and
Bill Belton
both have been effective. Drake,
Stephfon Green
and
Silas Redd
each have runs of 38 yards or longer. Defensively, it's all about containing Miller, who has been tough to bring down in the open field.
What Ohio State needs to do:
Shore up the tackling, for starters. Luke Fickell can't be pleased with his defense, which has missed tackles and been out of position repeatedly against Penn State's offense. The Buckeyes need to tighten things up a bit. Offensively, Ohio State should show greater willingness to throw the ball, especially with Posey (2 catches, 57 yards) back in the fold. The Buckeyes must let Miller be a playmaker out there.
November, 19, 2011
11/19/11
4:13
PM ET
COLUMBUS, Ohio -- After another rough week off of the field, No. 21 Penn State looks poised so far at Ohio Stadium, where it leads Ohio State 10-0.
Some notes and observations:
Penn State's offense looks good early in this one. Coordinator Galen Hall is mixing personnel well and giving several ball-carriers chances. Top running back Silas Redd (collarbone) is a bit banged up, so Stephfon Green and Brandon Beachum are getting work. Green looks good for the second straight week and scored on a 39-yard run out of the Wildcat formation. Penn State mounted scoring drives of 80 and 54 yards and finished with 76 rush yards on 10 carries in the quarter.
Lions quarterback Matthew McGloin made some good early throws but finished the quarter completing just 4 of 9 attempts. He didn't get much help from his receivers, who had several drops.
Ohio State needs to mix it up more on offense and get its playmaking quarterback, Braxton Miller, in better positions to make plays. Miller's biggest play, a 39-yard completion to DeVier Posey, came while freelancing under pressure. The Buckeyes should consider moving the pocket with Miller in passing situations and letting him create.
Slow starts have been a problem for Ohio State in recent weeks, and the trend has continued today. Penn State started fast here in last year's contest, surging out to a 14-3 halftime lead before allowing 35 unanswered points. Let's see if the Lions can make their fast start hold up this time around.
November, 19, 2011
11/19/11
3:13
PM ET
COLUMBUS, Ohio -- A few pregame notes from Ohio Stadium, where Penn State and Ohio State will kick off in a bit.
Penn State running back Silas Redd (collarbone) didn't look limited during warmups, but he wasn't getting hit. It'll be interesting to see if the Lions will give Stephfon Green more carries again since Redd has been banged up the last few weeks.
Ohio State right tackle J.B. Shugarts warmed up with the first-team offensive line. How much will he play after dealing with a knee injury?
Defensive tackle Johnathan Hankins and wide receiver Corey Brown, also injury question marks, warmed up for the Buckeyes. Linebacker Andrew Sweat isn't dressed for the game.
Penn State acting athletic director Dave Joyner met with local media before the game. He said he and president Rodney Erickson will handle the coaching search and are forming a search committee. He also said he's open to becoming the school's permanent AD.
Penn State stayed on the field long after Ohio State for warmups. The Buckeyes had to prepare for the Senior Day celebration, but the Lions got in some extra work.
November, 19, 2011
11/19/11
2:00
PM ET
COLUMBUS, Ohio -- Greetings from the Horseshoe, where this afternoon No. 21 Penn State and Ohio State meet in a game like none other in recent memory.


Both programs are
dealing with controversy and uncertainty about the future
.
Penn State, still shaken from the sex-abuse scandal, learned Friday that former coach Joe Paterno has been
diagnosed with lung cancer
. Paterno's son, Jay, the Nittany Lions' quarterbacks coach, discusses the news
here
and notes that his father's cancer is treatable. Penn State also received a letter Friday from NCAA president Mark Emmert, who wrote that the NCAA will look into whether there was a lack of institutional control at the school in its handling of the sex-abuse allegations against former assistant coach Jerry Sandusky. It's up to interim coach Tom Bradley, whose future with the program is unknown, to get his team focused for a huge Leaders Division matchup.
Speaking of coaches with uncertain futures, meet Luke Fickell. He has guided Ohio State through a turbulent season, but the team sits at 6-4 after last week's loss at Purdue. The Buckeyes' streak of six consecutive Big Ten titles (outright or shared) is on life support. Rumors are swirling that Ohio State has a coaching replacement in line for 2012, and Fickell could be leading the Buckeyes for the final time at Ohio Stadium today. It's Senior Day, and a class with a complicated legacy will be honored before the game. One of its members, wide receiver
DeVier Posey
, will make his season debut after serving two five-game suspensions for violating NCAA rules. Posey, by far the team's best receiver, could play a big role in the game.
There's no rain in the forecast and it's partly cloudy, but wind could be a factor.
On the injury front, Ohio State senior linebacker Andrew Sweat (concussion) is out. Other Buckeyes like defensive tackle Johnathan Hankins, offensive tackle J.B. Shugarts and receiver
Corey Brown
are hobbled, but they all should play in limited fashion.
Penn State star running back
Silas Redd
also is expected to play despite practicing sparingly this week because of a collarbone injury. Redd, the Big Ten's No. 4 rusher at 105.9 yards a game, has been banged up for a few weeks.
The Lions have really struggled in Columbus, winning here just once since joining the Big Ten in 1993. Penn State has recorded only two touchdown passes at The Shoe as a Big Ten member, both from last year's game.
Much more to come from C-Bus, so don't go anywhere.