Big Ten:

Lions-Hawkeyes-102012
October, 21, 2012
10/21/12
1:43
AM ET
IOWA CITY, Iowa -- It's time to stop talking about Penn State as a nice little story.
The narrative about first-year coach Bill O'Brien getting the most out of his presumably talent-starved, transfer-wrecked roster sounds old, boring and, quite frankly, a bit condescending. Because even in praising O'Brien and his Nittany Lions, there's a subtle hint that things inevitably will fall apart. There's a suggestion that at some point, the letdown will happen -- at some point, Penn State will collapse under the weight of all that has happened to its program in the past 11 months.
Keep waiting.
Maybe it's time to be honest about Penn State. This is a merciless football team playing with tremendous confidence and urgency on both sides of the ball. O'Brien and his staff are one step -- or, in games such as Saturday night's -- three steps ahead of the competition, and they have more than enough talent to keep on winning.
Right now, the Big Ten has no hotter team than the Lions. A week from now, we could be proclaiming Penn State the Big Ten's best team.
[+] Enlarge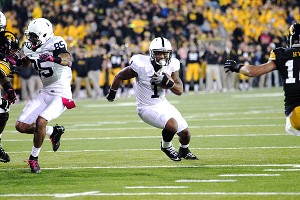 Reese Strickland/US PresswireA healthy Bill Belton ran for 103 yards and three touchdowns in Penn State's romp.
Nice little stories don't come into Kinnick Stadium and destroy Iowa the way Penn State did Saturday night in a
38-14 win
before 70,585 stunned souls who had striped the stands in black and gold. Nice little stories don't outgain the host Hawkeyes 504-209, record twice as many first downs (28-14), hold the ball for 38:08 and convert eight of 17 third downs. Nice little stories don't silence a raucous crowd in less than 13 minutes, continuing a trend of first-quarter dominance (Penn State has outscored foes 66-0).
"The sky's the limit for us now," senior defensive tackle
Jordan Hill
said. "Today just speaks a little about how well we can play."
O'Brien talked in July about the season being Penn State's chance to punch back. On Saturday night, the Lions scored a first-round knockout in a place where they hadn't won since 1999. It marked their fifth win in a row after an 0-2 start.
"Every day, we're running out of time," senior linebacker
Michael Mauti
said. "We don't believe in a lull or anything like that. You only have so many games to suit up in a Penn State uniform. That's something really special that we take a lot of pride in.
"There's so much emotion we bring."
Perhaps Penn State's strongest weapon isn't O'Brien's scheme, which has transformed one of the nation's worst offenses and one of the Big Ten's weakest quarterbacks (
Matt McGloin
). It isn't a stout defensive front seven or a group of surprisingly dynamic young receivers and tight ends.
It's urgency. The Lions have it, and it shows in their play.
"They know at the end of the day, there's only five games left," O'Brien said. "There's only five games left. So what are you going to do? OK, we're going to be flat today, and then the last four, we'll get up? I believe that these guys will come ready to play and be energized. Whether we win or not, who knows, but they'll be energized."
Open weeks haven't exactly been favorable to Big Ten teams in recent years. Many return to the field sluggish.
Penn State returned in fifth gear, shifting into its up-tempo offense -- O'Brien calls it NASCAR tempo -- on the game's second series and marching 84 yards in nine plays for a touchdown. The Lions kept the pedal down and scored on four of their next six possessions, as McGloin (26-for-38 passing, 289 yards, 2 touchdowns) spread the ball to several targets, namely freshman tight end
Kyle Carter
(6 catches, 85 yards), and received a big boost from a healthy
Bill Belton
(16 carries, 103 rush yards, 3 touchdowns) at running back.
"I didn't think we could come in here and huddle, and break the huddle, and run a normal pace," O'Brien said.
The result? "They couldn't keep up with it," McGloin said.
Penn State racked up 10 first downs and 187 yards in the first quarter, and finished the first half with 304 yards. Four players had multiple receptions, and Belton, finally near full strength after dealing with an ankle injury since the season opener, averaged 8.5 yards per carry.
A Lions offense that eclipsed 25 points just once in Big Ten play last season has put up totals of 35, 39 and 38 points in its first three league contests this season.
"Coach O'Brien's a great coach, and what he does is very unique and very effective," center
Matt Stankiewitch
said. "We're just proving it. Do we have an advantage? Coach O'Brien's the guy we have an advantage with because he's the coach."
Penn State's offensive renaissance under O'Brien has somewhat overshadowed a defense that keeps getting better each week. The Lions kept Iowa's offense out of the end zone for nearly 56 minutes -- the Hawkeyes scored on a kickoff return early in the fourth quarter -- and surrendered just 20 rush yards on 23 carries. Iowa star
Mark Weisman
played despite an ankle sprain and had 9 yards on five carries.
Hill and Mauti triggered the defensive effort, combining for 17 tackles, including three for loss, and two sacks. Mauti had one of two interceptions against struggling Iowa quarterback
James Vandenberg
(17-for-36 passing, 189 yards).
"It was one of my better games," said Hill, who led Penn State with nine tackles. "[Defensive line coach Larry Johnson] always says, 'Who's going to rise to the occasion when you're playing under the lights?'"
Penn State will be back under the lights next Saturday when it hosts undefeated Ohio State. The forecast calls for a whiteout at Beaver Stadium. No Big Ten fan base cherishes night games like Penn State's. For seniors such as Mauti, McGloin and Hill, it'll be their last time playing in front of the faithful at night.
It'll also give Penn State an idea of exactly where it stands.
"It'll be the best team we play so far this season," Hill said. "It'll be a great test for us, and we're up for the challenge."
In O'Brien's eyes, why wouldn't they be up for it?
"When you play football at Penn State," he said, "you have a hell of a lot to play for."
Saturday night against Ohio State, Penn State will play for the title of Big Ten's best team.
October, 20, 2012
10/20/12
11:23
PM ET
Penn State is for real, folks.
Bill O'Brien has worked wonders with a limited roster in his first year as Nittany Lions head coach, and his team appears to be getting better every week. On Saturday night, Penn State waltzed into Kinnick Stadium -- a house of horrors for this program in the past -- and absolutely threw the hammer down on an Iowa team that came in riding a wave of confidence. The offense is clicking in ways we haven't seen in years from Penn State, and the defense is locking things down. The Lions are playing as well as anybody in the Big Ten right now, and nobody expected that.


Here's a look at how Saturday's wildly impressive
38-14
blowout of the Hawkeyes went down:
It was over when ...
Penn State recovered a
James Vandenberg
fumble at the Iowa 14 and, two plays later, capitalized with a
Bill Belton
touchdown run. That made it 24-0 with 5:53 still left in the first half, and the rout was officially on.
Game ball goes to:
Quarterback
Matt McGloin
. The fifth-year senior is the league's best pro-style quarterback, which is still a shocking development. He's had a great season and showed his burgeoning mastery of O'Brien's offense with a crisp performance, going 26-of-38 for 289 yards and two touchdowns, with no interceptions. The defense also needs some major recognition after holding Iowa to zero offensive points until the final five minutes of the game.
Stat of the game:
Iowa had just 21 rushing yards for the game, including five in the first half.
Mark Weisman
's ankle injury probably had something to do with that (he had just 9 yards on five carries) but Penn State's defense also played a large role. When the Hawkeyes can't run the ball effectively, they're pretty much toast. Extra-crispy burnt toast, in this case.
Unsung hero of the game:
Penn State running back Belton was healthy for the first time since he hurt his ankle in the opener, and he ran 16 times for 103 yards and three touchdowns. Belton brings a much-needed speed element to the Nittany Lions' backfield.
What it means:
During the bye week, O'Brien described Penn State's remaining schedule as "Murderers' Row." Well, his team played the executioner tonight. That's five straight wins for the Nittany Lions, and astute Associated Press poll voters will give them serious consideration for the Top 25 this week. A win next week over Ohio State at home could put Penn State in line for a Leaders Division title, even if that doesn't equal any postseason opportunity. The Nittany Lions will be extremely tough for any league team to handle the rest of the way if they can stay relatively healthy.
For Iowa, its 2-0 start in the Big Ten was exposed as potentially fraudulent with this train wreck of a performance at home. The Hawkeyes still don't appear strong enough offensively to hang with the best teams in the Big Ten, and a defense that had been playing at a high level lately was destroyed by O'Brien's attack. It was a costly loss, too, as two starting offensive linemen -- left tackle
Brandon Scherff
and guard
Andrew Donnal
-- left the game with what looked like serious leg injuries in the first half. For an offense already struggling to score points, that's a tough blow. The Legends race isn't out of reach, since this was a cross-division game. But the Hawkeyes still have difficult games left with Northwestern, Michigan and Nebraska.
October, 20, 2012
10/20/12
6:20
PM ET
IOWA CITY, Iowa -- Week 8 in the Big Ten wraps up under the lights at Kinnick Stadium, where Penn State and Iowa meet in a matchup of two somewhat surprising unbeaten teams in Big Ten play.
Despite 2-2 marks in non-league play, both Penn State and Iowa have made strides in Big Ten games. Penn State scored 22 points to rally past Northwestern in its last game two weeks ago, while Iowa comes off of a road upset against Michigan State in two overtimes. Iowa has won four straight against Penn State at Kinnick, while Penn State won last year's meeting in State College.
Expect a truly electric atmosphere, as Iowa fans, like many in the Big Ten, love their night games. The tailgating scene around Kinnick looks fabulous, and I spotted a dude dressed like
Waldo
on my drive in.
Penn State is the healthier team following an open week and should have running back
Bill Belton
, hobbled by an ankle sprain for most of the season, in a bigger role. Iowa running back
Mark Weisman
, who has recorded four consecutive 100-yard games since claiming the featured role, is cleared to play with an ankle sprain and should be in there. How much? That's the key. The Hawkeyes will lean on true freshman
Greg Garmon
and junior
Jordan Canzeri
, who has made an incredible recovery from a torn ACL sustained in spring practice. Still, without much from Weisman, you have to wonder how Iowa will score against a solid Penn State defense led by All-America candidate
Michael Mauti
at linebacker.
Although Penn State quarterback Matt McGloin predicted a shootout this week, expect a low-scoring, physical game. Field position will be huge, and one key difference could be the kickers. Iowa's
Mike Meyer
has been fabulous, converting his last 13 field-goal attempts, including four in last week's win. Penn State, meanwhile, has little confidence in sophomore
Sam Ficken
.
Follow us on Twitter and keep it here for coverage of Penn State-Iowa throughout the night.
BIG TEN SCOREBOARD
Saturday, 12/27
Saturday, 12/20
Monday, 12/22
Tuesday, 12/23
Wednesday, 12/24
Friday, 12/26
Monday, 12/29
Tuesday, 12/30
Wednesday, 12/31
Thursday, 1/1
Friday, 1/2
Saturday, 1/3
Sunday, 1/4
Monday, 1/12
Tweets from https://twitter.com/ESPNCFB/lists/b1g