Big Ten:

Lions-Wolverines 102409
October, 24, 2009
10/24/09
8:50
PM ET
Posted by ESPN.com's Adam Rittenberg
| | |
| --- | --- |
| | |
| | AP Photo/Carlos Osorio |
| | Joe Paterno got his team fired up to face Michigan. |
ANN ARBOR, Mich. -- Joe Paterno knew the country didn't think much of this Penn State team.
Before the season, the Nittany Lions' easy nonconference schedule dominated discussion. Then, it was the team's struggles against Iowa, which worsened after a Sept. 26 loss to the Hawkeyes. Even after three convincing wins, Penn State players came here hearing all about their Big House losing streak, homer clock operators and Michigan's dominance in the series.
So on Friday night at the team hotel, Paterno provided a pick-me-up to his players.
"He said, 'I've been telling you guys how good I think you are. It's time you tell me how good you are, and go out and play that way,'" Penn State quarterbacks coach Jay Paterno said. "It was a great moment [Friday] night. When they left the snack last night, they were all pumped up."
The younger Paterno walked up to senior quarterback
Daryll Clark
after the meeting.
"He goes, 'Damn, I'm ready now,'" Jay said.
An energized Clark took the field Saturday and led No. 13 Penn State to a
35-10 victory
against Michigan. The senior quarterback dissected the Wolverines' secondary for 230 passing yards and tied his career high with four touchdown strikes, while Penn State's defense held Michigan to season lows in both points and yards (250).
The Lions gave Paterno his first win at Michigan Stadium since 1996. But they gave themselves a much more significant reward: the belief that they can still do some special things this season.
"They needed it maybe more than I needed it," Paterno said. "I kept telling them, 'You're pretty good, you're pretty good. You've got to go out there and play a big, tough game.'"
For a group that had never won here, the players needed to hear that they could.
"[Paterno] thinks that we don't walk around with enough swagger," left guard Johnnie Troutman said. "He wanted to make sure we proved to him that we're good as everybody thinks we are."
Paterno continued to emphasize his point in the stadium tunnel moments before kickoff.
"Both teams come out of the same tunnel, and we were waiting for Michigan to go down [first]," Clark said. "They're going rah-rah and making a lot of noise, running down the tunnel. We looked over and Joe and he's jumping up and down, talking about, 'Yeah, yeah.'
"I'm looking at him and I'm like, 'OK, it's time to play some football.'"
Penn State's defense came out slow, as Michigan marched 70 yards to the end zone on the game's opening drive. The Lions hadn't allowed a first-half touchdown all year, and they struggled to stop several formations that they hadn't seen before.
But after Michigan's first surge, Penn State locked down, allowing just three points and 180 yards the rest of the game. The defense had put up impressive numbers against offenses ranked 79th nationally or worse, but Saturday it bottled up a unit that led the Big Ten and ranked ninth nationally in scoring (37.3 ppg).
"We didn't come out like we usually come out, but we did adjust well," defensive coordinator Tom Bradley said. "There were some big-league plays out there."
Penn State proved its a big-league team led by a big-league quarterback. Clark took heat after tossing three interceptions in the Iowa loss, but since then he has thrown for 926 yards and accounted for 12 touchdowns (8 pass, 4 rush) with just one interception.
"Fans were awfully tough on him after the Iowa game," Jay Paterno said. "And the morning of the Illinois game [a week later], I told him, 'Think about the first time you ever set foot on a field when you were eight years old. Why did you play the game?' And he said, 'Because I enjoyed it.'
"I said, 'That's what you've got to do.'"
Clark was all smiles in the fourth quarter, as he chatted with wideout
Graham Zug
, the recipient of three of his touchdown passes. When safety Drew Astorino intercepted Michigan's
Tate Forcier
in the final minute, Clark bounded over to his helmet and raised his fist as he ran back onto the field.
And when it was over, he sprinted over to the Penn State fans assembled near the southeast corner of the field.
For the legendary coach, the star quarterback and the loyal fans, it was worth the wait.
"We lost in 2007, a tough game, 14-9, the 2005 game was heartbreaking, we lose in the final two seconds and [Paterno] felt we got a little bit ripped off," linebacker Sean Lee said. "It's been really tough, and he was tired of that, and wanted to let us know, 'It's time for you guys to go out and make a statement.'"
That they did, and they even overcame a reminder of the past.
Michigan had no timeouts as it drove downfield late in the first half. After a
Brandon Minor
run on first-and-goal, the game clock locked on 36 seconds for what seemed like 10-12 ticks as Paterno went ballistic on the sideline. Michigan eventually kicked a field goal.
"I don't know who the clock operator is, but if he was the same guy who was here in 2005," Paterno said, before trailing off.
He might have been. But this time, Penn State wouldn't be denied.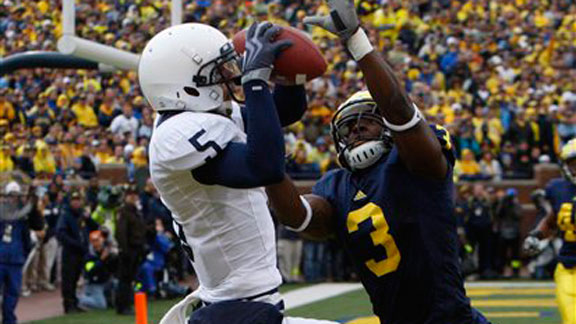 October, 24, 2009
10/24/09
6:48
PM ET
Posted by ESPN.com's Adam Rittenberg
ANN ARBOR, Mich. -- Penn State ended its Big House curse in convincing fashion.
The Nittany Lions crushed Michigan 35-10 to win here for the first time since 1996. Senior quarterback
Daryll Clark
was superb, throwing four touchdown passes, three to
Graham Zug
. The Nittany Lions defense locked down Michigan after the opening drive, and linebackers Navorro Bowman and Josh Hull led the way.
Penn State is right in the Big Ten title/BCS bowl mix and should climb in the national rankings.
Michigan clearly isn't ready for the big time yet. The Wolverines looked disorganized on offense and lack playmakers on defense aside from senior end Brandon Graham. Quarterbacks
Tate Forcier
and
Denard Robinson
both struggled for the first time this season.
I'm heading down for interviews but will be back with much more.
October, 24, 2009
10/24/09
6:14
PM ET
Posted by ESPN.com's Adam Rittenberg
ANN ARBOR, Mich. -- Michigan's speed looked like it would be a problem for Penn State's nationally ranked defense early on, as the Wolverines marched 70 yards on the game's opening drive.
But since then, the Lions have totally shut down Rich Rodriguez's offense. Since the opening march, Michigan has only 119 yards at the end of three quarters as Penn State leads 32-10.
Penn State linebacker Navorro Bowman and defensive end Jack Crawford both are having huge games, as they've made things hellish for Michigan quarterbacks
Tate Forcier
and
Denard Robinson
. Turnovers have been a major problem for the Wolverines, who look chaotic and undisciplined on offense. Forcier and Robinson are a combined 7 of 24 on passes today.
Michigan defensive end Brandon Graham has been fabulous today, but he's the only star for the Maize and Blue.
October, 24, 2009
10/24/09
5:53
PM ET
Posted by ESPN.com's Adam Rittenberg
ANN ARBOR, Mich. --
Denard Robinson
has sparked Michigan's offense at times this season, but the freshman quarterback is clearly not the answer today.
Rich Rodriguez has given Robinson two offensive series, and both ended with turnovers. He threw an interception right to Penn State linebacker Navorro Bowman in the second quarter and fumbled in Michigan territory moments ago.
Penn State cashed in yet again, as
Daryll Clark
and
Graham Zug
hooked up for their third touchdown of the day. The rout is on as Penn State leads 32-10. Clark's four touchdown passes tie a career high, and Zug's three scoring grabs set a career high.
If things couldn't get any worse for Michigan, two key contributors were injured on a punt return, as cornerback Donovan Warren ran into teammate
Junior Hemingway
, striking Hemingway's knees in a gruesome hit. Hemingway had to be helped off the field.
October, 24, 2009
10/24/09
5:37
PM ET
Posted by ESPN.com's Adam Rittenberg
ANN ARBOR, Mich. --
Daryll Clark
is performing surgery on Michigan's secondary right now, and he's using no anesthetic.
The Penn State senior quarterback fired his third touchdown pass to increase his team's lead to 25-10 early in the third quarter. On third-and-9 from the Michigan 11, Clark identified a mismatch as wide receiver
Graham Zug
went against linebacker Stevie Brown. Zug easily shook Brown and was wide open in the end zone for his second touchdown grab.
Michigan cornerback Donovan Warren will play in the NFL, but the rest of the secondary leaves a lot to be desired. Penn State's wide receivers and tight end
Andrew Quarless
are finding tons of open space, and Clark has taken advantage so far. He has completed 12 of 17 passes for 184 yards.
October, 24, 2009
10/24/09
5:14
PM ET
Posted by ESPN.com's Adam Rittenberg
ANN ARBOR, Mich. -- Quick analysis at halftime from Michigan Stadium, where No. 13 Penn State
leads Michigan 19-10
.
Turning point:
Trailing by only three points, Michigan botched a sequence near its goal line midway through the second quarter. The Wolverines committed three penalties inside the 10-yard line and then took a safety when David Moosman snapped the ball through the end zone when quarterback
Tate Forcier
wasn't ready for it. Penn State received great field position on the ensuing free kick, and
Daryll Clark
hit
Andrew Quarless
for a 60-yard touchdown on the next play to give the Lions a 19-7 lead.
Best player in the half:
Penn State's Clark is continuing his superb play since the Iowa loss on Sept. 26. The senior has picked apart a bad Wolverines secondary and completed 10 of 15 passes for 142 yards and two touchdowns with no interceptions.
What Penn State needs to do:
Continue to pound away with running back
Evan Royster
and take Michigan star defensive end Brandon Graham out of the equation. The Lions have struggled to stop Michigan running backs
Brandon Minor
and
Carlos Brown
and need to make the Wolverines' young quarterbacks win this game.
What Michigan needs to do:
Things really look chaotic for Michigan's offense, and sequences like the one near the goal line just can't happen against a team like Penn State. The Wolverines are having success moving the ball, and Minor has really come to play today. On defense, Michigan can't afford major breakdowns, which have happened way too often this season.
October, 24, 2009
10/24/09
4:49
PM ET
Posted by ESPN.com's Adam Rittenberg
ANN ARBOR, Mich. -- You might not see an uglier sequence of plays than Michigan had after being backed up deep in its own end.
Taking possession at its own 8-yard line, Michigan drew three penalties before David Moosman snapped the ball through the end zone for a safety. Moosman had replaced David Molk, who got hurt on the opening drive after returning from a broken foot that kept him out since Sept. 19. Quarterback
Tate Forcier
didn't expect the snap and had no time to react.
Penn State capitalized on the favorable field position it received following the safety, as
Daryll Clark
found a streaking
Andrew Quarless
for a 60-yard touchdown. Quarless beat linebacker Obi Ezeh on the play. The Lions now
lead 19-7
.
October, 24, 2009
10/24/09
4:25
PM ET
Posted by ESPN.com's Adam Rittenberg
ANN ARBOR, Mich. -- Michigan quarterback
Tate Forcier
has an uncanny ability to keep plays alive with his feet, but Penn State's defensive front is doing a nice job keeping him grounded.
After a slow start, the Lions have turned up the heat on Forcier. Linebackers Navorro Bowman and Josh Hull both recorded sacks, and linemen Jared Odrick and Jerome Hayes are getting good penetration. Michigan's David Moosman has taken over at center for the injured David Molk.
The Lions lead 10-7 and have moved the ball well on Michigan, racking up 128 yards in the first quarter.
October, 24, 2009
10/24/09
3:57
PM ET
Posted by ESPN.com's Adam Rittenberg
ANN ARBOR, Mich. -- Is this the Big Ten or the Big 12?
The league is known for defense and grind-it-out games, but Michigan and Penn State evidently didn't get the memo.
Both teams' offenses came out on fire and marched down field for touchdowns on their first possessions. Penn State's heralded defense had no answer for the Wolverines' speed and power on the game's opening drive.
Carlos Brown
's quickness and
Brandon Minor
's brute strength seemed too much for the Lions, who haven't seen an offense like this one. Michigan lost starting center David Molk, who had just returned from a broken foot, to an injury. Molk could be a big loss.
Tate Forcier
didn't have to do much but hit
Martavious Odoms
for a nice gain.
The Lions hadn't allowed a first-half touchdown all season until today.
Penn State came right back behind
Daryll Clark
and
Evan Royster
, who sizzled on a four-play drive. Michigan's defense once again broke down for a big play, as Royster surged into the open field for 41 yards. Clark made two excellent throws, including a 10-yard strike to
Graham Zug
in the end zone to tie things at 7-7.
Get your calculators out. This could be a shootout.
October, 24, 2009
10/24/09
3:26
PM ET
Posted by ESPN.com's Adam Rittenberg
ANN ARBOR, Mich. -- There's a light drizzle falling at the Big House, but the stands are packed and we're almost ready to go.
Michigan running back
Brandon Minor
looked good in warmups, and he should be fine after missing last week's game with an ankle/foot injury. Penn State linebacker Sean Lee warmed up in a knee brace. It will be interesting to see how many snaps Lee plays.
The start should be key, especially when Michigan's offense goes against Penn State's defense, ranked second nationally in scoring.
October, 24, 2009
10/24/09
1:00
PM ET
Posted by ESPN.com's Adam Rittenberg
ANN ARBOR, Mich. -- Greetings from Michigan Stadium, where in a few hours No. 13 Penn State will face Michigan in what figures to be a very exciting game.
Both teams have
plenty to prove
in today's contest.
Penn State needs to show it can win here, something it hasn't done since 1996, and confirm itself as a legitimate contender for the Big Ten title or possibly an at-large BCS bowl. The Lions snapped a nine-game losing streak to Michigan last year in Happy Valley, but the Wolverines hold a 10-4 edge in the all-time series, which marks Penn State's worst record against an opponent (minimum 10 meetings).
Michigan head coach Rich Rodriguez is still searching for his first signature Big Ten victory. A win today combined with an Iowa loss to Michigan State could open the door for Michigan to vault back into the league title race with games against both Ohio State and Wisconsin still left on the schedule.
The weather could be a factor, as light rain is likely this afternoon with winds around 15 miles an hour.
Injuries:
Penn State will be without backup running back
Stephfon Green
, who didn't make the trip because of an ankle injury. Lions linebacker Sean Lee tweaked his sprained knee last Saturday against Minnesota but practiced this week and expects to play. Michigan running backs
Carlos Brown
and
Brandon Minor
and center David Molk are all probable for the game. Molk has been out since Sept. 19 with a broken bone in his foot.
One other personnel note: Michigan cornerback Boubacar Cissoko is eligible for the game after being suspended the last two contests. Cissoko won't start but could play.

THREE KEYS FOR PENN STATE
1. Don't lose contain on QBs:
Michigan quarterbacks
Tate Forcier
and
Denard Robinson
both are best on the move, and it's important for Penn State's defensive front seven to keep them in the pocket. The defensive line has played very well in recent weeks, particularly tackles Jared Odrick and Ollie Ogbu, but they'll be tested by Michigan's overall speed.
2. Stop Brandon Minor:
Minor was limited in practice this week because of a lingering ankle injury, but he should be ready for the game. The senior rushed for 117 yards and two touchdowns last year against Penn State, and he gashed Iowa's talented defense in the third quarter on Oct. 10.
3. Daryll Clark in the clutch:
Clark has accomplished a lot in his two years as Penn State's starting quarterback, but the senior still needs to prove he can win a close game. He struggled against Iowa the last two seasons and left last year's close win at Ohio State with a concussion. This game figures to come down to the fourth quarter, and Clark will need to make clutch throws.

THREE KEYS FOR MICHIGAN
1. Give Forcier the chance to create:
Forcier has been at his best when freelancing, and most of his big plays come outside the pocket. Michigan's offensive line gets Molk back and gained confidence from the Iowa game, but left tackle Mark Ortmann admitted this week that Penn State's defensive front is more athletic.
2. Attack Penn State's secondary:
It's hard to find weaknesses with Penn State's defensive line or linebacking corps, so Michigan should target the secondary as much as possible. Penn State did a great job containing Minnesota star wide receiver
Eric Decker
last week, and cornerback A.J. Wallace seems to have hit his stride. But Michigan has more weapons than the Gophers and needs to use them.
3. Stop Evan Royster:
The Lions are a bit thin at running back and don't like to run Clark as much as they did last season. They'll want to pound the football with Royster, who is due for a huge game. Michigan's front seven will need to be disciplined and keep Royster from moving the ball and controlling the clock.