January, 4, 2012
1/04/12
12:10
AM ET
NEW ORLEANS -- Both Virginia Tech and Michigan faced doubts coming into this game, and both teams had their share of blunders, but in the end the Allstate Sugar Bowl delivered a thriller that went into overtime thanks to a third-string kicker who converted on all but the one field goal that mattered the most. Here's a look back at the highlights of the game as Michigan beat Virginia Tech
23-20
:


How the game was won:
Michigan's kicker made the field goal in overtime, and Virginia Tech's did not. Brendan Gibbons nailed his 37-yard attempt, while Justin Myer's 37-yard attempt sailed wide right. The Hokies weren't able to capitalize on their opportunities in the red zone during regulation and it was too little, too late. The Hokies had three turnovers and seven penalties. Myer tied the game at 20 and sent it into overtime and had made the first four field goals of his career -- 37 yards, 43, 36 and 25 -- but he missed the last and most important.
Stat of the game:
Virginia Tech was in the red zone five times in regulation and came away with just one touchdown. The Hokies were on the four-yard line twice in the first half.
Stat of the game II:
Michigan had just 56 rushing yards.
Player of the game:
Michigan receiver
Junior Hemingway
. He had two highlight-worthy touchdown catches, both in traffic, and finished with 63 yards and two touchdowns on just two receptions. His 45-yard touchdown pass in the second quarter gave the Wolverines a 7-6 lead and the momentum heading into halftime. He then out jumped Antone Exum for an 18-yard touchdown catch to give Michigan the 17-6 lead in the third.
Second guessing:
With 7:21 left in the game, Virginia Tech opted for a fake punt, a questionable move at best. The Hokies' defense was dominating, and it probably would have been best to either punt the ball or just go for it. Michigan didn't bite and Virginia Tech punter
Danny Coale
didn't stand a chance.
What Virginia Tech learned:
The Hokies' defense can't do it all. Bud Foster's group did a great job, but Virginia Tech's dependence on field goals was the difference. The good news? They learned they have a kicker. They also learned that quarterback
Logan Thomas
is good enough to be in the Heisman conversation next year, but he'll need more from the players around him and a rebuilt offensive line to get there.
What Michigan learned:
Denard Robinson
doesn't have to do it all. With a much-improved defense, the Wolverines found they can win without a spectacular performance by Robinson.
What it means:
The Big Ten got some validation, while the ACC sunk another rung deeper on the respect level.
Record performance:
Virginia Tech running back
David Wilson
surpassed former teammate Ryan Williams to set the school record for rushing yards.
January, 3, 2012
1/03/12
10:01
PM ET
NEW ORLEANS -- This game changed in less than a minute. Virginia Tech lost control and Michigan gained all of the momentum, thanks to a big passing play and a fumble on a kickoff return. It took until the waning minutes of the second half for the Wolverines' offense to wake up, but because of Virginia Tech's inability to capitalize in the red zone, it only took a few plays to change the game. Here's a quick look back at the first half:


Turning point:
On third-and-17 from the 45-yard line, Michigan quarterback
Denard Robinson
threw a 45-yard touchdown pass to receiver
Junior Hemingway
. Free safety Eddie Whitley was in position to make the interception, but he missed it and Michigan took the lead and the momentum for the first time all game.
Stat of the half:
Michigan had 116 of its 145 total yards in the second quarter. The Wolverines' offense was stifled in the first quarter, and didn't score until the final 49 seconds of the first half.
Best player in the half:
Virginia Tech quarterback
Logan Thomas
. Despite the scoreboard, he's been sharp and accurate with the passing game, and his size and strength continue to be an asset in the running game. He completed 8 of 11 passes for 117 yards, and also led the Hokies in rushing with eight carries for 26 yards.
January, 3, 2012
1/03/12
9:20
PM ET
NEW ORLEANS -- Michigan coach Brady Hoke spent much of Sugar Bowl week raving about Virginia Tech running back
David Wilson
.
It seemed pretty clear Hoke and his staff would gear the defense toward stopping Wilson, the Hokies outstanding junior running back who entered the game ranked sixth nationally in rushing. And so far, Michigan is bottling up Wilson, who has seven carries for minus-8 yards, including a 22-yard loss that negated a great touchdown opportunity.
The problem for Michigan is Virginia Tech quarterback
Logan Thomas
, who has been brilliant so far. Thomas has completed 7 of 10 pass attempts for 101 yards, converting three third-and-long situations. The mammoth sophomore also has 22 rush yards.
It's pick your poison with the Virginia Tech offense, but Michigan needs to slow down Thomas' passing ability.
Virginia Tech leads 6-0 early in the second quarter.
January, 3, 2012
1/03/12
10:30
AM ET
Here's a look at three keys for No. 13 Michigan against No. 11 Virginia Tech in the Allstate Sugar Bowl tonight in New Orleans.


1. Get "Shoelace" going early:
Michigan quarterback
Denard Robinson
ended the season playing his best football, putting together the best two-game stretch in his career against Nebraska and Ohio State. He has had more than five weeks off, so it will be interesting to see if he can settle into a rhythm early in the game. If he does, he'll quickly gain confidence and put some doubt in Virginia Tech's young defense, which was shredded by Clemson in its most recent performance. The Hokies want to make Robinson one-dimensional, and Robinson will have to make good decisions in the passing game against a defense that likes to pressure.
2. Smother David Wilson:
Michigan didn't play Wisconsin this season, so Virginia Tech's Wilson is most likely the best running back the Wolverines have faced all season. Coach Brady Hoke has raved about the Hokies star all week, and it's clear Michigan will cater its defense toward stopping No. 4. Wilson comes off of his worst performance this season, as he rushed for only 32 yards in the ACC title game and afterward questioned the play-calling. If Michigan can smother him early, frustration could set in for Wilson. Strong tackling is a huge theme for Michigan against both Wilson and mammoth Hokies quarterback
Logan Thomas
.
3. Don't believe the (lack of) Hokie hype:
The Sugar Bowl's selection of Virginia Tech drew nationwide criticism, and few think the Hokies actually belong in this game after their collapse against Clemson. Michigan can't buy into the Hokie hate and take Frank Beamer's team lightly. Virginia Tech has been on the BCS stage in three of the past four seasons, while Michigan hasn't played in a big bowl since after the 2006 campaign. The Wolverines aren't good enough to take anyone lightly, and while Hoke isn't the type of coach to let complacency set in, Michigan needs to respect Virginia Tech and come with the necessary focus.
January, 3, 2012
1/03/12
9:00
AM ET
Big Ten bowl season wraps up Tuesday night as No. 13 Michigan takes on No. 11 Virginia Tech in the Allstate Sugar Bowl at the Mercedes-Benz Superdome. The Wolverines aim for their first bowl win since the 2008 Capital One Bowl and their first BCS bowl win since the 2000 Orange Bowl. A victory gives Michigan four straight wins to end the season and the program's fifth 11-win season in the modern era.
Let's take a look at the matchup.


WHO TO WATCH:
Michigan junior quarterback
Denard Robinson
. Who else? The Wolverines fortunes are typically tied to their dreadlocked signal caller and how he performs. Robinson ended the regular-season with his best two-game stretch in a Michigan uniform, accounting for 628 yards (347 pass, 281 rush) and nine touchdowns (4 rush, 5 pass) with only one interception. If he can maintain that level, he'll provide problems for a Virginia Tech defense that couldn't stop Clemson quarterback
Tajh Boyd
in the ACC championship game. Virginia Tech is tied for 21st nationally in interceptions with 15, and the Hokies play aggressive coverage, so Robinson will need to be smart with his decision-making after struggling with interceptions midway through Big Ten play.
WHAT TO WATCH:
Michigan's defensive line vs. Virgina Tech's offensive backfield. The line is the biggest reason for Michigan's renaissance on defense this season, as seniors Ryan Van Bergen and Mike Martin have led the way. But depth will be an issue as senior tackle Will Heininger likely is out with a sprained foot. Michigan will turn to Will Campbell and Quinton Washington to help fill the void. Virginia Tech boasts a backfield combination in quarterback
Logan Thomas
and running back
David Wilson
unlike any Michigan has faced this season. When the Wolverines get to Thomas, they must find ways to bring the linebacker-sized quarterback down. And they'll need to contain Wilson, who ranks sixth nationally in rushing average (125.2 ypg). Michigan's defense wasn't at its best in its last performance against Ohio State but has contained teams most of the season.
WHY TO WATCH:
See if Michigan can complete its breakthrough season under first-year coach Brady Hoke with its first win in a BCS bowl since the 2000 Orange Bowl. And while the matchup has been panned nationally, it features two teams with similar profiles and some intriguing matchups. How will Robinson handle an athletic and aggressive Virginia Tech defense? Michigan appears to have the edge at the line of scrimmage on both sides, but a shorthanded defensive line will need to contain the Hokies' dangerous backfield combination. Leagues are always judged by BCS bowl games, and a favored Michigan team can boost the Big Ten with a victory and use it a springboard toward the 2012 season, when the Wolverines could be the preseason league favorites.
PREDICTION:
Michigan 27, Virginia Tech 21. Don't expect the Hokies to be nearly as bad as they were in the ACC championship game, but Michigan has several matchup advantages in the game. The Wolverines are stronger along both lines and should limit the damage from Thomas and Wilson. Robinson ended the season playing his best football and will give Virginia Tech trouble if he doesn't turn over the football. Michigan goes ahead early and holds on late to win.
January, 1, 2012
1/01/12
6:35
PM ET
NEW ORLEANS -- A paddleboat ride, curfew and for Michigan's players and its head coach, Brady Hoke, a night so close to New Orleans' party center on New Year's Eve, Bourbon Street, was something none could see.
"They always have curfew," Hoke said. "(I) didn't go out on Bourbon Street. They went out on a paddleboat ride, did that."
Senior tight end
Kevin Koger
said the team had a 9:30 p.m. curfew on New Year's Eve, and keeping his team out of trouble was just one of the many things Hoke hit on during his first news conference of 2012.
December, 31, 2011
12/31/11
1:45
PM ET
NEW ORLEANS -- Michigan's defense hasn't seen players quite like Virginia Tech quarterback
Logan Thomas
and Hokies running back
David Wilson
.
At least not this season.
[+] Enlarge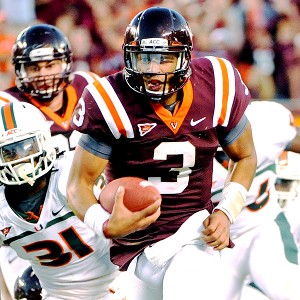 AP Photo/Don PetersenQuarterback Logan Thomas presents a challenge through the air (2,799 pass yards in 2011) and on the ground (416 rush yards, 10 TDs).
The 6-foot-6, 254-pound Thomas isn't your typical quarterback. Michigan defensive coordinator Greg Mattison said the hulking Hokie is "bigger than some of our defensive linemen." And Michigan isn't exactly slight of build up front.
Thomas has 2,799 pass yards and has added 416 rush yards and 10 touchdowns on the ground. He's extremely tough to bring down, as Virginia Tech has allowed only 15 sacks all season, tied for 21st fewest nationally.
"He kind of reminds me of Terrelle Pryor when I played against him," Wolverines defensive end Ryan Van Bergen said. "Maybe a little bit less athletic. I don't know if he has the speed that Terrelle Pryor [had], and the elusiveness, but he stands tall in the pocket, delivers a good ball. You've seen times where he's got guys around his legs that are trying to sack him, and he's just looking downfield. It's impressive, it really is.
"It's going to be a challenge, not only to get to him because they have a good offensive line, but to bring him down."
Pryor went 3-0 against Michigan as Ohio State's quarterback but wasn't overly dominant. His best performance came last year when he passed for 220 yards and two touchdowns (with an interception) and added 49 rush yards.
Wilson, the Hokies' junior running back, gives Michigan's defenders a different look. Wilson ranks sixth nationally in rushing average (125.2 ypg) and has 1,627 rush yards on the season, just 28 shy of Virginia Tech's single-season record.
He has been clocked at 4.29 seconds in the 40-yard dash but also brings some power when he runs.
When looking for comparisons to Wilson, Van Bergen again cited a player Michigan hasn't faced since 2010.
"
Montee Ball
's probably the most comparable running back to him, just because I watched the tapes and stuff," Van Bergen said. "The backs at Michigan State probably rival him in athleticism and stuff, but obviously Michigan State has the rotation. The one thing that's good about [Wilson] is he's just so smart. He knows when to bounce it out, he knows when to cut it up. He gains all the yards some running backs miss out on because they think they can get more by making a move in the hole.
"He's one of those running backs coaches are happy to have because of the way he picks and chooses the way he's going to get upfield."
Ball gashed Michigan for 173 yards and four touchdowns last year in Ann Arbor. He's a much different back now, having slimmed down significantly during the offseason to more closely resemble Wilson in size.
Michigan also is vastly different on defense since its struggles against Pryor and Ball.
December, 30, 2011
12/30/11
10:00
AM ET
NEW ORLEANS -- Before the SEC invades the Big Easy for the national title game, the Allstate Sugar Bowl kicks off Tuesday as No. 11 Virginia Tech and No. 13 Michigan meet in the Mercedes-Benz Superdome.
Although the matchup has been panned nationally, it pits two teams with somewhat similar profiles and the same goal: a place among the nation's elite.


Bloggers Heather Dinich (ACC) and Adam Rittenberg (Big Ten) are on hand and debate the matchup.
Adam Rittenberg:
HD, always a pleasure. Looking forward to ringing in the new year in NOLA. Few outside the Ann Arbor and Blacksburg areas were too thrilled to see this matchup in the Sugar Bowl, but there's no shortage of intriguing storylines. Michigan is back in a BCS bowl for the first time in five years. Virginia Tech is trying to win just its second BCS bowl game in the past seven attempts under coach Frank Beamer. The Wolverines ended the season playing arguably their best football, as they thumped Nebraska and ended The Streak in The Game against Ohio State. Virginia Tech, meanwhile, comes off of its worst effort of the season after being crushed by Clemson in the ACC title game. What's the mood of the Hokies heading into a game where few think they belong?
[+] Enlarge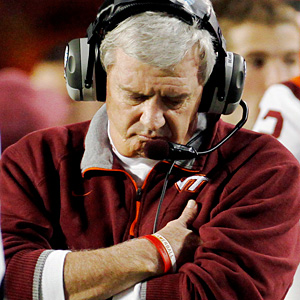 AP Photo/J Pat CarterFrank Beamer and the Hokies are 1-4 in BCS bowl games.
Heather Dinich:
Adam, let me tell you the emotions have been charged, and the disrespect hit defensive coordinator Bud Foster particularly hard. To put it mildly, he's a bit peeved anyone doubts Virginia Tech's place in the BCS. Frank Beamer is making no apologies, and his son, Shane, is following in his footsteps. The players know, though, that they need to perform better in these big games in order to gain some national respect. It's hard to forget the drubbing they took from Stanford last year in the Discover Orange Bowl. Here's the thing, though: The Hokies are ranked
higher
than Michigan in the BCS standings. Why aren't the Wolverines spending as much time as the Hokies answering why they deserve to be there?
Rittenberg:
It's because of the way Michigan finished as opposed to Virginia Tech. You're always judged by your last game, and Michigan's last was a win against Ohio State, its first in the series since 2003. The Wolverines also put together their best performance of the season the week before against Nebraska, crushing the Huskers 45-17. While many believed a Michigan State team that beat Michigan and won the Legends division was more deserving of a BCS at-large berth, the Spartans didn't finish in the top 14 of the final BCS standings. Few thought a Michigan team that finished in the top 14 would be passed over, especially a Michigan team that hadn't been to a BCS bowl since the 2007 Rose and boasts one of the best brand names and largest fan followings in the country. Oh, did I touch a nerve bringing up the fan base thing? I know Virginia Tech had its, um, difficulties with Sugar Bowl ticket sales. C'mon ACC, you got an at-large berth! Time to act like a big-boy conference!
But I digress. Let's talk about what's happening between the lines. Michigan's defense has been the biggest reason why the team won 10 games. No unit in college football made a bigger one-year improvement than the Wolverines. But they'll be tested in this game by Virginia Tech's rushing attack, led by the speedy and talented
David Wilson
. How do you think Virginia Tech's offense matches up against Greg Mattison's D?
HD:
I think they're going to struggle, to be honest with you. They couldn't get anything going against Clemson's defense, and Michigan's is better. It all starts with the running game, though, and I think Wilson has a chance to get his yards and will fare better than the season-low 32 yards he had in the title game. With that being said, Virginia Tech can't afford to get into too many third-and-long, and second-and-long situations. What worked for Clemson was the fact that the Tigers were pretty good on first downs and took away some of the Hokies' ability to run and forced them to win with the passing game. They began to press, never got into a rhythm, and Virginia Tech isn't at its best when it's one-dimensional. They've been good up front, though, and they've got a talented group of receivers, and one thing that's really fun to watch is defenders trying to bring down "Thomas the Tank." Quarterback
Logan Thomas
is built like Cam Newton, and he's not easy to tackle. He's been great in short-yardage situations. He's no
Denard Robinson
, though, and to me that's the main task for the Hokies: Slowing down Robinson. How do you think he'll fare against Bud Foster's defense, which has been one of the best in the country this year despite numerous injuries to key players?
[+] Enlarge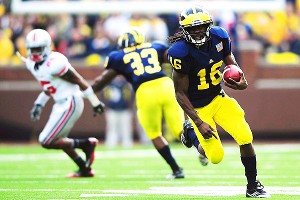 Andrew Weber/US PresswireSlowing down 'Shoelace' will be among the biggest challenges for the Hokies.
Rittenberg:
This is the game's pivotal matchup, in my view. If Robinson can do his best
Tajh Boyd
impression on Tuesday night, Virginia Tech is in trouble. But Michigan fans thinking the Hokies' defense will lie down again likely are mistaken. Virginia Tech always has tremendous talent on defense, and Foster, like Mattison, is one of the nation's best defensive coordinators. The good news for the Wolverines is Robinson ended the season playing his best football. He dealt with injuries midway through the season and regressed as a passer while adapting to an offense that maintains the look of a spread but features pro-style passing elements (deeper drops, more vertical routes). Robinson seemed to find his groove against Nebraska and had arguably his most polished performance as a Wolverine against Ohio State, completing 14 of 17 passes for 167 yards and three touchdowns and adding 170 rush yards and two scores. If he comes near that effort in the Dome, the Hokies are in trouble. But Robinson also makes mistakes. A ton of them. He has thrown 14 interceptions this season, three more than he had all of 2010. Michigan's defense repeatedly bailed him out and didn't make those giveaways sting.
How do you expect Foster to approach Robinson as well as running back Fitz Toussaint, a guy few are talking about who performed very well in Big Ten play?
HD:
It's hard because they're both so talented, but even with Toussaint's success, I think Robinson has to be the focus in the practices leading up to this game. A lot of times coaches will assign a guy who's "a spy," to constantly watch Robinson, and I would guess Foster would take that same approach and use a linebacker or strong safety to watch Robinson on each play and mirror him. The other thing is just in the preparation for him. They've got to spend plenty of time getting ready for the speed option, quarterback counter, things like that, and his speed will be hard to simulate in practice. The good thing for the Hokies is that they've grown used to going against former quarterback Tyrod Taylor in practice every day, so they know what it's like to face a quarterback who can move. When Robinson is most dangerous, at least to me, is when he goes to throw and nobody is open and he just makes something happen with his feet. That's something defenses can't account for. By having that spy, though, it takes away from everything else and limits coverages and blitzes, but teams have to do it or they're in trouble. This is why Foster has one of the most lucrative contracts in the country, though, to figure this out. If I really knew the answer, I might put my name in at Penn State. Like you said, this is the biggest key to the game, but it's not the only one. What's your final verdict on what will separate these teams in the end?
Rittenberg:
I'm officially starting the Dinich-to-Penn State buzz! The game could come down to whether Virginia Tech can force turnovers and, more important, make Michigan pay for its mistakes. The Wolverines survived a lot of Robinson errors in the first 10 games, thanks largely to their defense. If Robinson indeed has moved past those mistake-prone days, as appeared to be the case against Nebraska and Ohio State, it will be tough for Tech to slow him down for four quarters. Another big key, at least for Michigan, is Toussaint and the ability to have a second rushing threat in the backfield. Fitz recorded 120 rush yards or more in four of Michigan's final five regular-season games. On the other side of the ball, it's all about Wilson vs. Michigan's defensive line. It's strength against strength, and the team that has the edge will be in good shape to win this game.
OK, you get the last word. What factors will determine who leaves the Superdome with a sweet feeling Tuesday night?
HD:
Well, like we mentioned I think the biggest factor will be Virginia Tech's defense against Robinson, but to break it down a bit further, I think the Hokies have to win up front on the defensive line. They've got a young group, including two true freshmen at one of the defensive tackle spots, and Michigan's offensive line has four guys who have started all 12 games. That group is a big reason why Toussaint and Robinson have had so much success. One more key for the defense would be to make the stops on third downs. Michigan is No. 12 in the country in third-down conversion percentage. Also, I think it's important Virginia Tech gets back to running the ball well so it can control the clock. They've got to sustain some drives, and when David Wilson is rolling, so is the rest of the offense. Virginia Tech is ranked higher in the final BCS standings, but to me, they've got the bigger challenge and more to prove. See you in the Dome.
December, 4, 2011
12/04/11
11:40
PM ET
Michigan Wolverines (10-2) vs. Virginia Tech Hokies (11-2)
Jan. 3, 8:30 p.m. ET (ESPN)

Michigan take by Big Ten blogger Adam Rittenberg:
The Allstate Sugar Bowl matchup elicited some groans from around the country, but Michigan fans were all smiles. Michigan is back in a BCS bowl for the first time in five years as the program turns a page on one of its darkest periods.
A victory in New Orleans would give Michigan its first BCS bowl win since the 2000 Orange Bowl.
First-year coach Brady Hoke and his staff deserve much of the credit for Michigan's turnaround, as the team not only improved its win total by three from 2010, but made significant strides on defense after historically poor results the previous three seasons. Michigan's defense improved from 110th nationally last season to 18th this year, and it did so without any first-team All-Big Ten selections. Defensive linemen Mike Martin and Ryan Van Bergen lead the way for Michigan, which must contain Hokies junior running back David Wilson, the nation's No. 7 rusher.
The defense carried the Wolverines for much of the season, but the offense came on strong late behind quarterback
Denard Robinson
and running back
Fitzgerald Toussaint
, who both rank among the nation's top 40 rushers. Michigan still used many spread elements with the speedy Robinson at the helm, although offensive coordinator Al Borges mixed things up quite a bit and showed plenty of creativity with his calls. Virginia Tech's defense provides a good test for Michigan, which has scored 28 points or more in its 10 victories.
Hoke earned Big Ten Coach of the Year honors and has made a significant impact on Michigan's recruiting for 2012. A Sugar Bowl win would cap what has been a remarkable first season for Hoke in Ann Arbor.
---

Virginia Tech take from ACC blogger Heather Dinich:
This was easily the most shocking selection in the ACC -- if not the country -- as Virginia Tech is coming off its poorest performance of the year in a 38-10 loss to Clemson in the ACC championship game. It was the program's worst margin of defeat since joining the ACC, but the Hokies still leapfrogged several other BCS bowl-worthy teams. This the first time the ACC has had two teams play in BCS bowls, but it's going to be a difficult challenge for the Hokies, who struggled against Clemson's offense and will have similar challenges against Michigan.
The Wolverines have an even more athletic quarterback than Clemson in Denard Robinson. Offensively, the Hokies will have to get quarterback
Logan Thomas
back on track after he threw two picks and lost a fumble in the title game. The Hokies scored a combined 13 points in two losses to Clemson, and have no marquee wins on their nonconference schedule. They are also notorious for coming up short against nonconference opponents on the big stage. In three trips to the Orange Bowl in the past four years, Virginia Tech has only a win against Cincinnati.
This will be another chance for coach Frank Beamer to change the perception of his program on the national level as one that can win outside of the ACC and Big East, too. Virginia Tech ended the regular season on a seven-game winning streak and was ranked No. 5 in the country heading into the ACC title game, but the Hokies allowed Clemson 450 total yards, and ACC Player of the Year David Wilson had only 32 yards on 11 carries. Still, Virginia Tech will bring the nation's No. 8 scoring defense to New Orleans, and odds are it's going to need it.