Big Ten:

Logan Tuley-Tillman
April, 1, 2014
Apr 1
11:00
AM ET
ANN ARBOR, Mich. --
Michigan
players are taught to tune out what the outside world is saying about them. But they're still kids, and criticism still finds its way through.
And so the offensive linemen couldn't escape all the negativity floating around about them in 2013. After all, it was virtually everywhere.
[+] Enlarge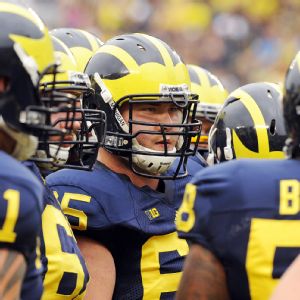 Lon Horwedel/Icon SMIThe redshirt of Kyle Bosch, who was ranked No. 157 in the 2013 ESPN 300, was pulled in October last season as the Wolverines' offensive line struggled.
"It was tough last year, and I'm sure we probably didn't hear as much as there was because we're so busy," sophomore
Erik Magnuson
said. "Any time you're not labeled as a great offensive line when you're at Michigan or even a traditional Michigan offensive line, it definitely hurts."
The Wolverines didn't need outsiders to tell them what was obvious: they struggled up front, particularly in the three inside spots as coaches mixed and matched inexperienced players without much success. Michigan finished 11th in the Big Ten in rushing and tied for the second-most sacks allowed in the league.
This spring, the two most reliable players on last season's line -- tackles
Taylor Lewan
and
Michael Schofield
-- are training for future NFL careers. It's up to many of the same guys who struggled in their first major exposure to step forward and change the outlook.
"We know we don't have the option to not get better," guard
Kyle Kalis
said. "It's getting to that point where we can't really say we're young anymore, because next year, no one is going to want to hear that. So we have to all come together."
Whether you see it as an excuse or simply reality, the Wolverines are awfully young on the O-line. They have one senior --
Joey Burzynski
-- and two juniors in
Graham Glasgow
and
Jack Miller
. The rest are sophomores or freshman, and with Burzynski out with an injury and Glasgow serving a suspension, youth is dominating spring practice reps.
Consider the left tackle position. Magnuson, currently out with a shoulder injury, will likely start out atop the depth chart there when he's healthy. But right now, the three players battling to fill Lewan's shows are redshirt freshmen
David Dawson
and
Logan Tuley-Tillman
and
Mason Cole
, a freshman early enrollee. Cole has impressed his coaches and has an excellent chance of at least making the rotation. But the fact that a guy who should be a high school senior right now is getting so many reps at the most important offensive line position speaks volumes.
"I can't all of a sudden make them older, so we have to make sure we do what we can do," offensive line coach Darrell Funk said. "We're so young that if every day we can get better at something, we'll have what we want."
The good news is that players like Magnuson, Kalis,
Kyle Bosch
and
Ben Braden
all gained valuable experience as freshmen and should naturally improve with more seasoning. New offensive coordinator Doug Nussmeier has simplified many of the blocking schemes and is emphasizing quick, decisive moves in a more north-south running game than predecessor Al Borges.
"You get the the chance to open these huge holes and then let the running backs take one or two steps right or left, find the hill and start running," Kalis said. "That's a big difference from last year."
Last season's group also had a different dynamic with two established senior starters and a whole bunch of young players. Now, many of the players are close together in class and have gone through similar experiences.
"It was Taylor and Scho's offensive line last year, which was fine because we needed that leadership," Kalis said. "But this year, it's kind of cool that we can let it be our line and really come together."
A lot of work remains, even though spring practice wraps up later this week at Michigan. Funk is still mixing and matching while trying to find the combinations that work best, and the returns of Magnuson, Burzynski and Glasgow will change the formula in fall camp. He said everything is still a work in progress right now, including the leadership on the line.
Funk knows that both he and the unit received scathing criticism last season, but he says the only thing that matters is moving forward.
"You take your lumps with young guys, and then the following years you see the rewards," he said. "I don't think that will be any different in this situation."
Nobody has to tell those young guys that they need to improve in a hurry. The outside noise is mere motivation.
"We got the label of not being a good offensive line way too much last year," Magnuson said. "That puts a lot of fuel to the fire when you play at Michigan because you have such high expectations."
May, 8, 2013
5/08/13
10:00
AM ET
Now that spring practice is over, we're starting a new series looking at the most indispensable players on each Big Ten team.
By indispensable, we don't necessarily mean best. We mean the players who would be hardest to replace between now and the start of the season if they got hurt/suspended/crushed by a safe, etc. That could be because of their value to the team or because of a lack of depth at their position.
We'll pick two players from each team, usually offense and defense but not always. Let's start off, in no particular order, with the
Michigan Wolverines
:

Devin Gardner, QB, Sr.
Picking a starting quarterback for any team is pretty obvious, but Gardner might be as indispensable -- again, not the same thing as best -- quarterback in the league. That's because his only experienced backup,
Russell Bellomy
, tore his ACL in the spring. Right now, walk-on
Brian Cleary
is the No. 2 quarterback, and if anything happened to Gardner in the fall, the Wolverines likely would turn to true freshman
Shane Morris
. Michigan wouldn't have to completely change the offense if it lost Gardner as it did last year when Denard Robinson went down at Nebraska. But the offense's productivity -- and likely the team's fortunes -- would take a major hit if he were removed from the equation.
Taylor Lewan, LT, Sr.
Here's a case where Michigan's most indispensable players are probably also their best ones. The Wolverines already lost a very valuable star in linebacker
Jake Ryan
, but at least they have depth at that position. Not so much at offensive line, where Lewan is one of only two returning starters and by far the most decorated. His decision to return for his senior year rather than become a possible high first-round NFL draft pick changed the entire outlook of the offensive line. He's also developing into a respected senior leader. Without Lewan, Michigan would likely have to insert a freshman like Logan Tuley-Tillman or
Erik Magnuson
at one of the tackle spots. And things definitely wouldn't be the same without the All-American.
January, 11, 2013
1/11/13
9:00
AM ET
The folks at ESPN Recruiting have presented their final pre-signing day version of the
ESPN 300
, listing the nation's top prospects in the 2013 class.
Let's see which Big Ten commits made the rundown (note: positions listed by ESPN Recruiting):
No. 11: CB Eli Apple (formerly Woodard), signed with Ohio State
No. 15: QB Christian Hackenberg, committed to Penn State
No. 43: CB Gareon Conley, committed to Ohio State
No. 48: LB Trey Johnson, committed to Ohio State
No. 49: WR Jalin Marshall, committed to Ohio State
No. 56: DT Joey Bosa, committed to Ohio State
No. 62: CB Cam Burrows, signed with Ohio State
No. 67: TE Adam Breneman, signed with Penn State
No. 88: CB Jourdan Lewis, committed to Michigan
No. 91: G David Dawson, committed to Michigan
No. 93 ATH Dymonte Thomas, committed to Michigan
No. 101: G Patrick Kugler, committed to Michigan
No. 102: TE Marcus Baugh, committed to Ohio State
No. 104: OT Logan Tuley-Tillman, committed to Michigan
No. 106: OT Evan Lisle, committed to Ohio State
No. 109: RB Ezekiel Elliott, committed to Ohio State
No. 114: LB Mike McCray II, committed to Michigan
No. 116: DE Taco Charlton, committed to Michigan
No. 127: QB Shane Morris, committed to Michigan
No. 128: LB Mike Mitchell, committed to Ohio State
No. 134: OT Chris Fox, committed to Michigan
No. 147: ATH Rashard Fant, committed to Indiana
No. 149: RB Corey Clement, committed to Wisconsin
No. 157: G Kyle Bosch, committed to Michigan
No. 164: QB Matt Alviti, committed to Northwestern
No. 177: QB Danny Etling, signed with Purdue
No. 182: TE Jake Butt, committed to Michigan
No. 188: LB Shane Jones, committed to Michigan State
No. 208: G Brendan Mahon, committed to Penn State
No. 216: DT Michael Hill, committed to Ohio State
No. 218: S Jayme Thompson, committed to Ohio State
No. 232: WR Jaron Dukes, committed to Michigan
No. 237: WR Dominic Walker, committed to Nebraska
No. 247: QB Johnny Stanton, committed to Nebraska
No. 254: DT Henry Poggi, committed to Michigan
No. 261: QB J.T. Barrett, signed with Ohio State
No. 265: RB Keyante Green, committed to Purdue
No. 279: DT Darius Latham, committed to Indiana
No. 280: ATH Ben Gedeon, committed to Michigan
No. 281: DT Donovan Munger, committed to Ohio State
No. 281: QB Damion Terry, committed to Michigan State
No. 287: DT Billy Price, committed to Ohio State
No. 296: LB Marcus Newby, committed to Nebraska
Ohio State (15 recruits) and Michigan (14) dominate the ESPN 300, but Nebraska has made a nice push recently and Indiana will surprise some folks with multiple entries. Three Big Ten teams -- Illinois, Iowa and Minnesota -- don't have a recruit ranked in the ESPN 300.
The latest
class rankings
also are out.

Ohio State holds steady at No. 4, while Michigan drops a spot to No. 7. Penn State holds steady at No. 24, while Nebraska moves up a spot to No. 26 and Wisconsin moves up two spots to No. 30. Michigan State holds steady at No. 34, while Indiana moves down a spot and rounds out the top 40.
June, 1, 2012
6/01/12
4:45
PM ET
First, we had Michigan recruit
Logan Tuley-Tillman
setting
fire to his Ohio State recruiting letter
and putting the picture on Twitter.
Then Tuley-Tillman received death threats for his gesture.
Then an Ohio State fan named Harrison Watson tweeted that he'd pay $2,000 to "whoever sidelines this kid permanently."
Now, Watson has apologized for that tweet and says he'll donate $2,000 to Michigan to make up for it.
Anyone still doubting the intensity of the Ohio State-Michigan rivalry?
Watson, a 22-year-old Buckeyes fan, wrote on
his personal website
that he meant his Twitter bounty offer as a joke before realizing his remarks were "regrettable and reprehensible."
"I ask for all of you to please excuse my remarks, and more importantly I ask for the forgiveness of Logan Tuley-Tillman," Watson wrote. "Best of luck to you in your endeavors in the classroom and on the football field.

"As a token of my deepest regrets in this situation – I will be making a $2000.00 donation to the University of Michigan to be used towards increasing the already spectacular educational programs that they possess. I hope that this donation will help to ease the pain of my unfortunate remarks. Thank you. I welcome suggestions from the University of Michigan family for which program to direct my donation towards."
This whole story has gotten out of hand, especially with the death threats against a high school rising senior. Watson's comment was irresponsible, but it's not the worst
social media behavior by an Ohio State fan
we've seen this spring.
I love the rivalry and how it sizzles 365 days a year. But, remember, think before you Tweet, especially if the topic is about something which you cannot be rational. Or it might just cost you a couple thousand bucks.
June, 1, 2012
6/01/12
10:00
AM ET
The calendar has flipped to June, so it's time to check the Big Ten 2013 recruiting scorecard once again. There haven't been too many changes from
the last scorecard
, although teams like Illinois have made a surge, and others have picked up pieces here and there. Individual recruiting grades also have been updated throughout the ESPN database.
Michigan still leads the FBS in verbal commits with 18, although teams like Georgia and Texas A&M are closing the gap. The Wolverines have a bigger advantage in ESPN 150 commits with 11 total, three more than any other squad.
Ohio State is tied for fifth nationally in ESPN 150 commits with five, and Penn State is tied for 10th with three.
Scorecard time ...
MICHIGAN
2013 verbal commitments:
18
Spotlight:
Fellow offensive line recruits
Logan Tuley-Tillman
and
Kyle Bosch
have
been in the headlines this week
following Tuley-Tillman's letter-burning incident, but Michigan has secured the nation's No. 1-rated guard in
David Dawson
from Cass Tech in Detroit. Dawson is the No. 2 player in the state behind fellow Wolverines commit
Shane Morris
.
ESPN 150 selections:
11
Highest rated:
Shane Morris
, QB (Grade of 87)
OHIO STATE
2013 verbal commitments:
11
Spotlight:
Ohio State might solidify the cornerback position for years to come in the 2013 class. Both of the Buckeyes' top-rated prospects, Eli Woodward and
Cam Burrows
, play cornerback. Ohio State will have one vacancy at cornerback after the 2012 season, and Woodward and Burrows have the skills to see the field early in their careers.
ESPN 150 selections:
6
Highest rated:
Eli Woodard
, CB (Grade of 89)
ILLINOIS
2013 verbal commitments:
10
Spotlight:
May was a productive month for the Illini, who picked up four commitments, including one from another Detroit Cass Tech player, defensive tackle
Kenton Gibbs
. At 6-foot-1 and 280 pounds, Gibbs won't need to get much bigger to help Illinois on the interior defensive line.
ESPN 150 selections:
0
Highest rated:
Aaron Bailey
, QB (Grade of 80)
IOWA
2013 verbal commitments:
8
Spotlight:
Defensive end
David Kenney III
seems to fit the mold of previous Iowa defensive linemen. He might be able to play both line spots, and has the ability to power rush off of the edge. Along with defensive tackles
Brant Gressel
and
Nathan Bazata
, Iowa is putting together a strong group of defensive linemen in this class.
ESPN 150 selections:
0
Highest rated:
David Kenney III
, DE (Grade of 80)
PENN STATE
2013 verbal commitments:
8
Spotlight:
The Lions hope defensive tackle prospect
Greg Webb
is their next dominant defensive tackle. But Webb will have to bounce back from an injury setback after he tore his ACL in February.
Webb recently told Statecollege.com
that his recovery is going well, and that he's ahead of schedule.
ESPN 150 selections:
3
Highest rated:
Christian Hackenberg
, QB (Grade of 89)
NEBRASKA
2013 verbal commitments:
8
Spotlight:
The Huskers lose two senior tight ends (Ben Cotton and Kyler Reed) after this season, but they're replenishing the position with
Greg Hart
from Bo Pelini's home state of Ohio. Hart already is a big target at 6-4, 225, who should fit in well with Tim Beck's offense.
ESPN 150 selections:
0
Highest rated:
Tre'vell Dixon
, Athlete (Grade of 82)
MICHIGAN STATE
2013 verbal commitments:
7
Spotlight:
Michigan State's last superstar linebacker named Jones, Greg Jones, attended Cincinnati's Archbishop Moeller High School. The Spartans are hoping for the same success with commit
Shane Jones
, a 6-1, 220-pound linebacker. Jones will join another Moeller alum, defensive end Marcus Rush, in East Lansing.
ESPN 150 selections:
0
Highest rated:
Damion Terry
, QB (Grade of 82)
WISCONSIN
2013 verbal commitments:
6
Spotlight:
Defensive end
Chikwe Obasih
continued Wisconsin's pipeline to Brookfield, Wis., with his verbal commitment in late April. He'll
play multiple positions in a 3-4 defense as a senior
before joining the Badgers' 4-3 scheme in 2013.
ESPN 150 selections:
0
Highest rated:
Jack Keeler
, T and
Garret Dooley
, LB (Grade of 79)
NORTHWESTERN
2013 verbal commitments:
2
Spotlight:
Matt Alviti
resembles recent Northwestern quarterbacks in that he lacks height but makes up for it with speed, arm strength and competitiveness. A Dan Persa clone? Wildcats fans would be thrilled if that's the case.
ESPN 150 selections:
1
Highest rated:
Matt Alviti
, QB (Grade of 84)
PURDUE
2013 verbal commitments:
2
Spotlight:
Defensive end
Randy Gregory
originally committed to Purdue in 2011 before heading to a junior college in Arizona. Several other schools pursued Gregory, but he pledged again to the Boilers, and will suit up in 2013.
ESPN 150 selections:
0
MINNESOTA
2013 verbal commitments:
1
Spotlight:
Cornerback
Keelon Brookins
is Minnesota's only verbal so far, but the Gophers had only two players committed at this time last year. So it's too soon to press the panic button. It will be interesting to see how well second-year coach Jerry Kill and his staff do within the state. They had 10 Minnesota players in last year's class.
ESPN 150 selections:
0
INDIANA
2013 verbal commitments:
0
Spotlight:
The Hoosiers are one of four major-conference programs -- Iowa State, Oregon State and Wake Forest are the others -- without a commitment for 2013. This is a departure from the end of the Bill Lynch era, when Indiana was among the Big Ten's leaders in early commits.
May, 31, 2012
5/31/12
12:00
PM ET
It's pretty quiet out there in links land. A little too quiet.
May, 30, 2012
5/30/12
12:00
PM ET
I wasn't going to do these links, but then Sterling Cooper Draper Pryce sent Joan over to convince me.
May, 29, 2012
5/29/12
10:15
AM ET
Urban Meyer had great success in changing some recruits' minds and getting them to commit to Ohio State last winter.
But Michigan commit
Logan Tuley-Tillman
does not appear willing to listen to any overtures from the Buckeyes. The offensive tackle set fire to a recruiting letter he'd received from Ohio State and
tweeted this picture
of the correspondence in flames. He used the hash tags #goblue and #beatohio along with his picture.
Tuley-Tillman is a 6-foot-7 tackle who is an ESPN 150 prospect. He is ranked as the No. 9 offensive tackle in the nation by ESPN.com
Another Michigan committed recruit, linebacker
Mike McCray II
,
reportedly received an offer
from Ohio State. That's interesting because his father was a Buckeyes linebacker and captain. But McCray -- who's from Trotwood, Ohio -- appears to be solid in his commitment to the Wolverines and tweeted that he had no interest in Ohio State's offer.
Michigan coach Brady Hoke has not not had any committed players flip to Meyer yet. It seems like a safe bet that Tuley-Tillman won't be the first.
April, 17, 2012
4/17/12
3:00
PM ET
The 2013 ESPN 150 -- our list of the top high school rising seniors in the country (now with less U!) -- was unveiled this afternoon. And the Big Ten's hand prints are all over the list, which you can find in its entirety
here
. (You can read more about the class, including spotlights on Penn State commit
Christian Hackenberg
and Ohio State recruit
Cam Burrows
,
here
).
Twenty players from the list have already committed to Big Ten schools. So of the 77 players who have committed, the Big Ten claims more than a quarter of them. The Big Ten only signed 12 players from the 2012 ESPN 150 list.
Michigan is responsible for the biggest portion of that haul. The Wolverines -- who have 17 total commitments for the '13 class -- boast 11 ESPN 150 prospects in their corner so far.
That's easily the most of any school in the country. Texas and Florida are next with seven ESPN 150 commits each, followed by Alabama and Georgia with six. Alabama had the top class in the country this year with 13 ESPN 150 signees. Michigan has a chance to compete for the top class ranking next year if this current group holds together and gets a few more notable additions. Brady Hoke and his staff have done an excellent job of locking up early pledges.
Ohio State is doing well, too. The Buckeyes currently have five ESPN 150 commits for Urban Meyer, including three in the top 55 of the list.
But the league school with the highest-ranked prospect so far is Penn State. Let's take a look at the players from the list who are currently committed to a Big Ten team:
No. 11:
Christian Hackenberg, QB, Penn State
No. 12:
Eli Woodard
, CB, Ohio State
No. 21:
Cam Burrows, CB, Ohio State
No. 37:
Shane Morris
, QB, Michigan
No. 39:
Adam Breneman
, TE, Penn State
No. 55:
Jalin Marshall
, ATH, Ohio State
No. 63:
Gareon Conley
, CB, Michigan
No. 75:
Mike McCray II
, OLB, Michigan
No. 92:
David Dawson
, OG, Michigan
No. 97:
Logan Tuley-Tillman
, OT, Michigan
No. 98:
Dymonte Thomas
, ATH, Michigan
No. 105:
Chris Fox
, OT, Michigan
No. 107:
Jourdan Lewis
, CB, Michigan
No. 112:
Kyle Bosch
, OG, Michigan
No. 113:
Matt Alviti
, QB, Northwestern
No. 115:
Taco Charlton
, DE, Michigan
No. 121:
Patrick Kugler
, OG, Michigan
No. 123:
Greg Webb
, DT, Penn State
No. 127:
Marcus Baugh
, TE, Ohio State
No. 142:
Evan Lisle
, OT, Ohio State
Here is where we issue the requisite word of caution, as these are only verbal commitments and it's a long way until signing day next February. Things can change a lot between now and then, and star rankings do not always predict college success. But clearly the Big Ten is doing a good job competing for the nation's highest-ranked prospects during this recruiting cycle.
February, 21, 2012
2/21/12
9:00
AM ET
The roots for Michigan's acclaimed 2012 recruiting class took shape in the months immediately following coach Brady Hoke's hiring.
Michigan's quick start to recruiting — the team had 11 verbal commitments by the end of May and 21 before the season started — resulted in the nation's No. 7 class, according to ESPN Recruiting.
Well, it's happening again.
Michigan's men's basketball team scored a signature victory against archrival Ohio State on the hardwood Saturday night, but the biggest winners during the weekend might have been Hoke and his staff.
Michigan landed eight —
eight —
verbal commitments from high school juniors, giving the team 11 commits for the 2013 class. Six players are on the
ESPNU 150 watch List
.
Here's the full list of commits:
Kyle Bosch, offensive lineman
Wyatt Shallman, running back
Jourdan Lewis, defensive back
David Dawson, offensive lineman
Chris Fox, offensive lineman
Taco Charlton, defensive end
Jake Butt, tight end
Logan Tuley-Tillman, offensive lineman
Tuley-Tillman, Shallman, Fox, Charlton, Butt and Bosch are all on the ESPNU 150 Watch list. Michigan beefed up on both lines and added players like Shallman and Butt who fit the team's offensive vision for the future, based around the power game.
Tom VanHaaren, who does a superb job covering Michigan recruiting for
Wolverine Nation
, tells me that while the number of commitments Michigan received this past weekend jumps out, the Wolverines' fast start doesn't come as a surprise.
"The coaching staff got a jump start in evaluating 2013 prospects, but maybe more importantly offered them scholarships and got them on campus early as well," VanHaaren wrote me in an email. "The night game against Notre Dame is a prime example where around five of Michigan's 11 current 2013 commitments were on hand for that game back in September. That's over six months that these prospects have already had to familiarize themselves with the program, and they haven't even finished their junior year of high school yet. ...
"What it means going forward is that Michigan will be able to target more specific recruits rather than cast a wide net. They need to address the receiver position, defensive line, linebacker, and a few more offensive linemen for the most part."
While Urban Meyer's recruiting success has had the Big Ten buzzing, Michigan made a major statement during the weekend. The Wolverines now move on to future targets, among them running back Ty Isaac.
Be sure to check out
Wolverine Nation
and
VanHaaren
for full coverage of Michigan recruiting.
January, 19, 2012
1/19/12
12:00
PM ET
I'm sorry but you know I have two weakness: children cursing and old people rapping!