December, 28, 2013
12/28/13
9:00
AM ET
LOS ANGELES -- As Lorenzo White watched the confetti fall at Lucas Oil Stadium and Michigan State raise the Big Ten championship trophy Dec. 7, one thought came to mind.
"It's been a long time coming," he said.


White starred at running back for Michigan State's last Rose Bowl team, 26 long years ago. Fueled by a stifling defense and a run-heavy offense -- sound familiar? -- the Spartans blitzed through the Big Ten to earn their first trip to Pasadena since the 1965 season.
It looked like the start of a surge for a team featuring four future first-round NFL draft picks -- White, wide receiver Andre Rison, offensive tackle Tony Mandarich and linebacker Percy Snow -- and a strong coaching staff led by George Perles. But Michigan State once again went more than two decades before its next Rose Bowl berth.
"It's great to have them back," said Perles, who coached Michigan State from 1983 to '94. "It brings back some great old memories."
MSU's latest Rose Bowl run in many way mirrors the path taken in 1987. Both squads faced adversity in nonleague play, regrouped after a loss to Notre Dame, began their ascent with a win at Iowa's Kinnick Stadium in the Big Ten opener and never looked back.
[+] Enlarge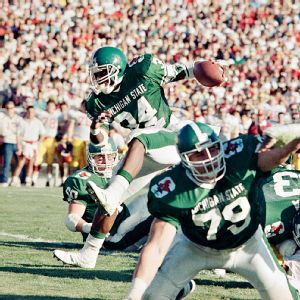 AP Photo/Lennox McLendonLorenzo White carried 35 times for 113 yards and two touchdowns in the 1988 Rose Bowl.
Both leaned heavily on talented defenses guided by coordinators (Pat Narduzzi now, Nick Saban then) pegged for big things. Both offenses struggled before Big Ten play but eventually settled down. Running back
Jeremy Langford
's workload isn't as heavy as White's in 1987 -- White logged 357 carries for 1,572 yards and 16 touchdowns, and backup Blake Ezor added 617 yards -- but he has been just as valuable in closing out Big Ten wins.
The 1987 "Gang Green" defense surrendered an average of just 37.6 rush yards in Big Ten play, the second-lowest average in league history behind the 1965 Spartans (34.6), and forced 35 turnovers. The current "Spartan Dawgs" lead the nation in rush defense (80.8 YPG) and thrive on takeaways, recording a league-leading 27, tied for 17th nationally.
"The [current] defense reminds me of our defense 26 years ago," Perles said. "That proves again you win championships with defense."
MSU defensive backs coach Harlon Barnett, a boundary cornerback on the 1987 squad, notes that the schemes were different -- the 1987 team primarily used a Cover 3 defense that Perles brought over from the Pittsburgh Steelers; the current defense mainly lines up in Cover 4, often leaving the corners isolated on opposing receivers. But both defenses keyed on stopping the run and had fiery coordinators with uncompromising standards.
Saban, who turned 37 that October, oversaw a secondary that recorded 28 interceptions. Safeties Todd Krumm and John Miller combined for 17 picks.
"Nick had a lot of, as he would say, piss and vinegar in him," Barnett said. "He was on us about every little thing and demanded excellence and perfection. So in turn, we got turnovers, we stopped the run, we tackled well and played with toughness, similar to our current defense."
[+] Enlarge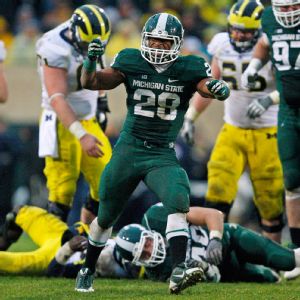 Raj Mehta/USA TODAY SportsLinebacker Denicos Allen had nine tackles, three for a loss, and two sacks against Michigan.
This year's defense recorded its signature performance Nov. 2 against Michigan, holding the Wolverines to minus-48 net rush yards, the lowest total in Michigan history, while racking up seven sacks. It surely reminded some of MSU's 1987 visit to Ohio Stadium, where the Spartans held Ohio State to 2 net rush yards (minus-14 in the second half) and had seven sacks in a 13-7 win.
"That's when we realized how dominant our defense was," said Dan Enos, then a freshman reserve quarterback for MSU who later became an assistant coach at his alma mater. "After that game, we thought, 'Man, we've got a really, really good shot here.'"
There wasn't as much optimism when MSU entered Big Ten play at 1-2. After beating eventual Rose Bowl opponent USC on Labor Day -- in the first night game at Spartan Stadium -- MSU fell to eventual No. 2 Florida State and to Notre Dame, scoring a combined 11 points in the losses.
"That was our nonconference: Southern Cal, Notre Dame and Florida State," Enos said. "Who does that these days? Nobody."
Things didn't get much easier against Iowa, which led 14-7 at halftime. Perles didn't hold back as he addressed his team in the infamous pink locker room at Kinnick. The Spartans rallied to win 19-14.
"He came in, gave us a few choice words," White said with a laugh. "From that point on, we never looked back. The whole season changed."
The next week, MSU beat Michigan in East Lansing for the first time since 1969, thanks to seven interceptions. Despite a tie at Illinois, the Spartans faced Indiana on Nov. 14 with a Rose Bowl berth on the line for both teams.
White carried 56 times, one shy of the Big Ten/NCAA record, for 292 yards as MSU crushed Indiana 27-3. The postgame celebration included a surprise visit from Indiana coach Bill Mallory, who briefly addressed the team.
He congratulated the Spartans and, mindful of the Big Ten's six-game Rose Bowl slide, told players to "go out to the coast and kick [USC's] ass."
"That fired us up," White said. "For another coach to show how much class he had to come over to us and tell us that we had a fine football team, and for us to go out there and kick some butt, that was great."
Mallory, who received Perles' permission before speaking, doesn't recall going into any other opposing locker room after a game in his long career.
"I just had that gut feel," Mallory said. "I didn't want to get carried away, but I wanted to make sure they got our support."
The Spartans' 20-17 Rose Bowl win in many ways typified the 1987 team. They attempted only seven passes but connected for some big gains to Rison, and White had 113 rush yards and two touchdowns.
Snow, who recorded 17 tackles and earned game MVP honors, led a defense that forced five takeaways.
"It was a team loaded with toughness," Perles said.
Barnett, just a redshirt sophomore, expected the Rose Bowl to become an annual trip.
"Little did I know it was going to take 26 years," he said. "I'm really excited for our players to get a chance to experience the granddaddy of them all."
May, 8, 2013
5/08/13
1:30
PM ET
Tommie Frazier's unnecessarily long wait to enter the College Football Hall of Fame
finally ended Tuesday when the Nebraska quarterback joined 11 other players and two coaches
in the class of 2013.
Frazier, perhaps more than any other eligible player, was deemed deserving of a Hall of Fame spot but had been snubbed year after year. He no longer carries that label. So who does?
Today's poll asks which former player from the Big Ten, Nebraska or Penn State (before Penn State joined the Big Ten) most deserves to be in the College Football Hall of Fame. To be eligible for a Hall pass, a player must be:
A first-team All-American
Between 10-50 years removed from his final college season
Finished with his professional playing career
A good citizen off of the field following his college career
Let's look at five eligible candidates for Hall of Fame selection with some bio tidbits for each ...

Trev Alberts, LB, Nebraska, 1990-93:
Named unanimous first-team All-America, Big Eight Defensive Player of the Year and Academic All-America in 1993, when he led the Huskers with 96 tackles, including 47 solo stops, and tied a school record with 15 sacks for 88 yards. He won the 1993 Butkus Award (still only Nebraska player to do so) and twice earned first-team all-conference honors. Alberts earned second-team All-America honors in 1992, when he had 73 tackles, including 11 for loss. He also was Big Eight Defensive Newcomer of the Year as a freshman in 1990 and had his number retired in 1994.
Eric Crouch, QB, Nebraska, 1997-2001:
Crouch won the 2001 Heisman Trophy as well as the Walter Camp and Davey O'Brien awards. He was a first-team All-America selection and won Big 12 Offensive Player of the Year honors after recording 1,115 rush yards and 18 touchdowns to go along with 1,510 pass yards and seven scores. He also earned All-Big 12 honors in 1999 and 2000. Crouch set the NCAA record for career rushing touchdowns by a quarterback (59) as well as 32 Nebraska marks, including longest run (95 yards) and rushing yards by a quarterback (191 at Missouri). Crouch won Fiesta Bowl MVP honors after leading Nebraska past Tennessee in the 2000 game.
John "Jumbo" Elliott, OT, Michigan, 1984-87:
Elliott earned first-team All-America honors in each of his final two seasons for the Wolverines, including a consensus selection as a senior in 1987. A two-time first-team All-Big Ten selection, Elliott helped Michigan share the 1986 Big Ten title and cleared a path for standout running back Jamie Morris. He started four seasons for the Wolverines, finished his career as one of the biggest players in team history and was selected by the New York Giants in the second round of the 1988 NFL draft.
Antwaan Randle El, QB, Indiana, 1998-2001:
A transformative figure in Big Ten quarterback play, Randle El was Big Ten MVP, a first-team All-American and Big Ten Offensive Player of the Year as a senior in 2001. He earned All-Big Ten honors from 1999-2001. He was the first player in NCAA history to score 40 touchdowns (45) and throw for 40 TDs (42), the first to record over 2,500 total yards in four seasons, and the first to both pass for over 6,000 yards and rush for over 3,000 yards. Randle El also won Big Ten Freshman of the Year honors in 1998.
Lorenzo White, RB, Michigan State, 1984-87:
White earned first-team All-America honors in both 1985 (unanimous) and 1987 (consensus), finishing fourth in the Heisman Trophy voting in both seasons. He led the nation in rushing as a sophomore in 1985 with 2,066 yards, which marked a Big Ten record at the time and remains the third-highest single-season total in team history. He was the first Spartan to lead the team in rushing in four consecutive seasons and helped Michigan State to a Big Ten title and a Rose Bowl championship as a senior in 1987. White also started the bell-cow running back tradition in East Lansing, racking up 419 carries in 1985, which remains a league record.
June, 5, 2012
6/05/12
5:00
PM ET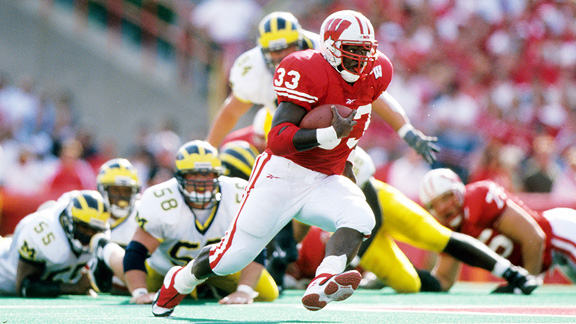 US PresswireWisconsin's Ron Dayne capped off his senior season in 1999 earning several national awards.
On Monday we revealed our list of
top five individual seasons by a Big Ten player in the past 50 years
, and as Brian Bennett explained, the choices weren't easy. We omitted several incredible individual performances, and some of you let us hear about it.
Here's a list of 10 outstanding individual seasons that just missed the cut. As a reminder, these are performances from the
past 50 seasons only
(1962-2011). Although Nebraska has played only one season as a Big Ten member, we considered Huskers' performances from the time span, as well as those by Penn State players before the 1993 season, when Penn State joined the Big Ten. Again, this is a list of outstanding individual seasons, not individual careers.
Even with this list, we're leaving out many great performances.
Here's the rundown, in alphabetical order:
Brad Banks, QB, Iowa, 2002:
Banks played only two seasons in Iowa City, but he left quite an impression in 2002. He led the nation in pass efficiency with a 157.1 rating and had 26 touchdown passes and just five interceptions, to go along with 423 rush yards and five touchdowns on 83 carries. Banks finished second for the Heisman Trophy but took home plenty of awards, including AP Player of the Year, Davey O'Brien and Big Ten MVP.
Kerry Collins, QB, Penn State, 1994:
Penn State is known for producing star running backs, but Collins broke the mold in the team's second Big Ten season with an outstanding performance. He set team records for total offense (2,660), completions (176), passing yardage (2,679), completion percentage (66.7), yards per attempt (10.15) and passing efficiency (172.86). His efficiency mark ranks third in Big Ten history. Collins won the Maxwell and O'Brien awards and finished fourth in Heisman Trophy voting. He led Penn State to an undefeated season and a Rose Bowl title.
Ron Dayne, RB, Wisconsin, 1999:
It was a tough call between Dayne's 1999 campaign and his historic freshman year in 1996, but he capped his Badgers career by sweeping the major national awards (Heisman, Walter Camp, Maxwell, Doak Walker). Dayne rumbled for 1,834 yards and 19 touchdowns, averaging 6.1 yards per carry, as Wisconsin repeated as Big Ten and Rose Bowl champions.
Eddie George, RB, Ohio State, 1995:
Like Wisconsin's Montee Ball, who made our top five list from Monday, George was a model of consistency at the running back spot. He eclipsed 100 rush yards in 11 consecutive games despite often playing sparingly in the fourth quarter, and he finished the season with 1,927 rush yards and 23 touchdowns. He edged Nebraska's Tommie Frazier for the Heisman Trophy and also won the Maxwell, Walter Camp and Doak Walker.
Desmond Howard, WR, Michigan, 1991:
He's the only Big Ten wide receiver to win the Heisman Trophy (Nebraska's Johnny Rodgers played in the Big Eight), and his
Heisman pose
after a punt return touchdown against Ohio State remains an iconic image. Howard had 62 receptions for 985 yards and 19 touchdowns that year. He averaged 27.5 yards per kick return with a touchdown, 15.7 yards per punt return with a touchdown and had 13 carries for 180 yards and two scores. He still holds the single-season record for receiving touchdowns in Big Ten games (13).
Larry Johnson, RB, Penn State, 2002:
Johnson's numbers from 2002 are simply insane, as he averaged 183.1 yards per game and 7.7 yards per carry en route to leading the nation in rushing (2,087 yards). His yards total is the second highest in Big Ten history, and he had 54 fewer attempts than Dayne in 1996. Johnson won the Walter Camp, Maxwell and Doak Walker awards and finished third in Heisman Trophy voting.
Orlando Pace, OT, Ohio State, 1996:
Offensive linemen shouldn't be excluded from a list like this, and Pace was one of the best in recent college football history. He capped his career with an outstanding 1996 season, finishing fourth in Heisman Trophy voting, the best total for a lineman (offense or defense) since 1980. He popularized the term "pancake block" and earned his first Outland Trophy and his second Lombardi Award that year. Pace also earned Big Ten MVP honors.
Ndamukong Suh, DT, Nebraska, 2009:
Everyone around the country learned the name and the "Suuuuuuuh!" calls from Huskers fans. Suh turned into one of the more dominant seasons by a defender in college football history, racking up 12 sacks, 24 tackles for loss, 26 quarterback hurries, 10 pass breakups, three blocked kicks, a forced fumble and an interception. Suh won several national awards (Bednarik, Rotary Lombardi, Nagurski, Outland) and finished fourth in Heisman voting.
Anthony Thompson, RB, Indiana, 1989:
Thompson capped a brilliant career with a flourish, winning the Walter Camp and Maxwell Awards in 1989 and earning his second consecutive Big Ten MVP honor. The Hoosiers star rushed for 1,793 yards and 24 touchdowns, and added 35 receptions for 201 yards. He recorded the top single-game rushing total (377 at Wisconsin) and set the Big Ten's career scoring record, which Dayne eclipsed a decade later.
Lorenzo White, RB, Michigan State, 1985:
There are several work-horse efforts that could be included in this list, but none is more impressive than White's 1985 campaign. The Walter Camp Award winner set a Big Ten record with 419 carries and became the first Big Ten ball-carrier to eclipse 2,000 yards, piling up 2,066. He also ranks second in Big Ten Conference games in both rushing yards (1,470) and rushing average (183.7 yards per game).
February, 28, 2012
2/28/12
3:00
PM ET
The official 2012 FBS ballot for the College Football Hall of Fame selection is out, and it includes 15 former Big Ten players, one former Big Ten coach as well as five former Nebraska and Penn State players who didn't compete in the league.

Let's take a look at the group:
Trev Alberts, LB, Nebraska, 1990-93*
Erick Anderson, LB, Michigan, 1988-91
Otis Armstrong, RB, Purdue, 1970-72
Larry Burton, SE, Purdue, 1973-74
Dave Butz, DT, Purdue, 1970-72
Marv Cook, TE, Iowa, 1985-88
Eric Crouch, QB, Nebraska, 1998-2001*
D.J. Dozier, RB, Penn State, 1983-86*
Jumbo Elliott, OT, Michigan, 1984-87
Dave Foley, OT, Ohio State, 1966-68
Tommie Frazier, QB, Nebraska, 1992-95*
Kirk Gibson, WR, Michigan State, 1975-78
Tim Krumrie, DL, Wisconsin, 1979-83
Robert Lytle, RB, Michigan, 1974-76
Tom Nowatzke, FB, Indiana, 1961-64
Jim Otis, FB, Ohio State, 1967-69
Orlando Pace, OT, Ohio State, 1994-96
Percy Snow, LB, Michigan State, 1986-89
Lorenzo White, RB, Michigan State, 1984-87
Steve Wisniewski, G, Penn State, 1985-88*
Darryl Rogers, coach, Michigan State, 1976-79 (also coached at Cal-State Hayward, Fresno State, San Jose State and Arizona State)
*-played for team not in Big Ten
The 2012 Hall of Fame class will be announced May 15 and inducted Dec. 4.
Selection criteria:
To be eligible for the ballot, players must have been named a First Team All-America by a major/national selector as recognized and utilized by the NCAA for their consensus All-America teams; played their last year of intercollegiate football at least ten years prior; played within the last 50 years and cannot be currently playing professional football. Coaches must have coached a minimum of 10 years and 100 games as a head coach; won at least 60 percent of their games; and be retired from coaching for at least three years. If a coach is retired and over the age of 70, there is no waiting period. If he is over the age of 75, he is eligible as an active coach. In both cases, the candidate's post-football record as a citizen may also be weighed.
It's a strong group from the Big Ten, and you can definitely expect to see some names announced May 15. It's interesting to see several clusters of nominees from certain eras, like the three Purdue players from the early 1970s, the two Penn State players from the mid 1980s, the two Ohio State players from the late 1960s and the two Michigan State players from the mid to late 1980s.
December, 5, 2011
12/05/11
5:00
PM ET
My apologies for posting this late, but the
three finalists are set for the Chicago Tribune's Silver Football award
, given to the Big Ten's most valuable player.
The league's coaches determine the winner and cast their ballots
before
the inaugural Big Ten championship game.
The finalists are:
All three players are worthy candidates, and it's not surprising to see them on this list. Other deserving candidates include Penn State defensive tackle Devon Still and Nebraska linebacker Lavonte David.
Coaches aren't allowed to vote for their own players for the award. Five Big Ten players received first-place votes, and nine players appeared on ballots, including three defensive players.
The winner will be announced Saturday.
A quarterback or running back has won or shared the award for the past six seasons and for 12 of the past 13 seasons. Running back Ron Dayne was the last Wisconsin player to win the award in 1999, the same year he claimed the Heisman Trophy. Michigan State hasn't had a Silver Football winner since running back Lorenzo White in 1987.
April, 20, 2011
4/20/11
2:30
PM ET
EAST LANSING, Mich. -- Several days after Michigan State's disheartening loss in the Capital One Bowl, running back
Edwin Baker
turned his focus toward the 2011 season.
[+] Enlarge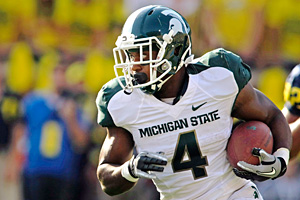 AP Photo/Tony DingMichigan State's Edwin Baker finished with 1,201 rushing yards and 13 touchdowns last season.
Baker always has motivated himself with tangible goals, and the coming season would be no different.
In high school, Baker set the bar at 1,000 rushing yards per season. He racked up 1,295 yards as a prep junior and finished with 863 yards as a senior despite missing four games with a hyper-extended knee. Before last season, he once again targeted 1,000 rushing yards and finished with 1,201 to go along with 13 touchdowns.
But Baker really raised the stakes for himself in 2011. His magic numbers are 2,000 rush yards and 21 touchdowns.
"It's definitely a big difference," Baker said. "But if I want to be an elite player, I have to make elite goals."
Baker's goals aren't totally random. He knows that Michigan State has had only one 2,000-yard rusher in a season, as Lorenzo White racked up 2,066 yards in 1985.
The 21 touchdowns would tie Baker for second on Michigan State's single-season list with former bruiser Jehuu Caulcrick. Former Spartans All-American Javon Ringer holds the record with 22 scores in 2008.
Baker understands the lofty goals mean nothing unless he backs them up this fall. And it'll take a lot of work to come close to his magic numbers.
The 5-foot-9, 208-pound Baker always has stood out in the weight room, earning the nickname "Rock" for his physique. His body hasn't changed, but Baker spent much of the offseason working on his mind.
"I've been watching a lot more film, trying to get my football IQ up," Baker said. "I'm trying to read defenses with [quarterback]
Kirk Cousins
, and I'm picking up more and more every day at practice. Just trying to become a complete football player."
Despite Baker's production as the team's featured back in 2010,
Michigan State's spring depth chart showed three co-starters
in the backfield: Baker, sophomore
Le'Veon Bell
and junior
Larry Caper
, Baker's roommate. Bell was extremely impressive in the first half of the 2010 season, while Caper looked like the team's running back of the future in 2009.
Coach Mark Dantonio calls the running back situation "very competitive," but Baker has only helped himself this spring.
"He gained a lot of confidence a year ago in his play," offensive coordinator Dan Roushar said of Baker. "He has a whole other level of maturity. He's going into his third season here, and it's showing in the way he's playing."
Several ex-Spartans now in the NFL have spent time around the Skandalaris Football Center this spring, including Ringer. Baker has latched onto the former Michigan State star, who had 390 carries and 1,637 rush yards in 2008.
"I always want to know, what can I do to get better?" Baker said. "He says, 'Go out there and be you. Play hard and run hard and don't try to make things that aren't there.' Like [running backs coach Brad] Salem always says, 'You've got to get four [yards] to get 44.' The big plays are going to happen."
Baker will need plenty to reach his goals this fall.
"I reached my goal last year," he said. "Now I'm going to reach for a much bigger goal."
April, 1, 2009
4/01/09
5:53
PM ET
| | |
| --- | --- |
| | |
| | MSU Sports Information |
| | Michigan State running back Andre Anderson will be one of three Spartans backs looking to pick up where Javon Ringer left off last season. |
Posted by ESPN.com's Adam Rittenberg
There were times last fall when A.J. Jimmerson, Andre Anderson and Ashton Leggett could only huddle on the sideline and shake their heads in amazement.
Michigan State kept giving the ball to Javon Ringer, and Ringer kept taking it, leaving his three understudies to watch and wait.
"After a while, you start thinking, 'This can't keep going on forever, not the whole season,'" Jimmserson said.
"You've always got that in the back of your mind, like, 'Alright, he just ran about 60 yards, maybe he'll come out,'" Leggett said. "But it never happened."
Ringer was college football's Ironman, carrying the ball 390 times, 23 more than any back in the country. The All-American and Doak Walker Award finalist had 20 or more rushing attempts in 11 of 13 games and had 32 or more carries in seven contests.
Given Ringer's production and consistency -- 1,637 rush yards, 22 touchdowns -- there was little reason to remove him from the field. So Michigan State didn't.
Opportunities were extremely scarce for Jimmerson, Anderson and Leggett, who combined for just 40 carries all season, less than Ringer's game totals against Florida Atlantic (43) and Indiana (44).
"It got a little frustrating, but then again, you've got to know your role," Leggett said. "Everybody's got to pay their dues. You've got to wait your turn sometimes."
February, 20, 2009
2/20/09
9:00
AM ET
Posted by ESPN.com's Adam Rittenberg
Without the faintest idea that ESPN would do this Mount Rushmore project, I got a head start on Michigan State's list in August when I took a tour of the school's new Skandalaris Football Center. The lobby might as well be a museum of Spartans football history, with tributes to national award winners and All-Americans.

There was some deliberation with Michigan State's Rushmore, and much like Minnesota, the Spartans force you to look back quite a few years. Aside from dominant stretches in the 1910s, 1930s and 1950s and Rose Bowl appearances in 1966 and 1988, Michigan State has been solid but not spectacular. The program underachieved for most of this decade until head coach Mark Dantonio arrived.
Here's the Spartans' fab four:
Duffy Daugherty -- Daugherty guided Michigan State to two Rose Bowls and back-to-back Big Ten championships in 1965 and 1966. He coached in "The Game of the Century" against Notre Dame and was named National Coach of the Year in 1965. The College Football Hall of Famer coached 29 first-team All-Americans.
Bubba Smith -- An athletic marvel at 6-foot-7, Smith was a two-time All-American defensive lineman who starred for the Spartans league title-winning teams in 1965 and 1966. Named UPI's Lineman of the Year in 1966, the immensely popular Smith led Michigan State to two unbeaten seasons before becoming the No. 1 overall pick in the 1967 NFL draft.

John Hannah -- Any university president who has a number retired for him deserves a place on the team's Rushmore. In 1969, Daugherty had the No. 46 retired as a tribute to Hannah's 46 years of service to the school, 28 as president. He lobbied for Michigan State to get into the Big Ten, which took place in 1950, and raised the profile for both the university and the football program.

Brad Van Pelt -- The countless tributes this week after Van Pelt's sudden death underscore what the multisport star meant to the Michigan State program. An oversized safety, Van Pelt was a two-time All-American for the Spartans and became the first defensive back to win the Maxwell Award in 1972. Van Pelt had 14 career interceptions and is one of only five Spartans players inducted into the College Football Hall of Fame.
Other candidates considered included: Clarence Munn, George Webster, Don Coleman, Lorenzo White, Percy Snow and Art Brandstatter.
September, 15, 2008
9/15/08
11:03
AM ET
Posted by ESPN.com's Adam Rittenberg
The official Big Ten Player of the Week selections are out, but if you've been reading the blog, you saw them already. Looks like the league office and I are finally on the same page.
From the release:
OFFENSIVE PLAYER OF THE WEEK
Javon Ringer, Sr., RB, Michigan State
With a driving rain limiting the passing offense, Ringer carried the load in a win over Florida Atlantic by racking up career highs with 43 rushing attempts and 282 yards on the ground to earn his second straight Big Ten Player of the Week award. The senior running back averaged 6.6 yards per carry and scored a pair of touchdowns from 21 and 11 yards out to provide nearly all of the offense in the 17-0 victory. His 282-yard performance represents the fourth-best single-game effort in Michigan State history and the most ground yardage since Lorenzo White broke loose for 292 yards against Indiana in 1987. The last Big Ten rusher to crack the 280-mark in a game was Wisconsin's Anthony Davis, who collected 301 yards against Minnesota on Nov. 23, 2002. Ringer becomes the first Spartan to nab consecutive Big Ten Offensive Player of the Week laurels since quarterback Drew Stanton was honored on Sept. 19 and 26 of 2005. Ringer now boasts three weekly awards, as he was also honored on Oct. 15, 2007.
DEFENSIVE PLAYER OF THE WEEK
DeAndre Levy, Sr., LB, Wisconsin
Levy was all over the field with a team-best nine tackles, four tackles for loss, a sack, a pass breakup and an interception to help hold nationally-ranked Fresno State to only 10 points in a road triumph for Wisconsin. In the first quarter, the senior linebacker picked off a tipped pass on the Bulldogs' 34-yard line to set up the Badgers only touchdown of the game. Trailing 13-10, the hosts moved into Wisconsin territory on their final drive of the game before Levy came up with his biggest play of the night, sacking the quarterback on third-and-11 with less than three minutes remaining to force a punt. The visitors would run out the clock to secure the three-point victory. Levy and the Badgers held Fresno State to only 10 points and 304 total yards after the Bulldogs had posted 24 points and 422 total yards in a season-opening win at Rutgers. This marks the second weekly accolade for Levy, who was also honored on Oct. 29, 2007.
SPECIAL TEAMS PLAYER OF THE WEEK
Andy Brodell, Jr., WR/PR, Iowa
With Iowa clinging to a 10-3 lead over in-state rival Iowa State, Brodell put the game away with an 81-yard punt return touchdown with just over six minutes left in the game. The senior wide receiver recorded his first punt return score and established a new career best, surpassing his 78-yard punt return against Syracuse last season. Brodell is the first Hawkeye to return a punt for a touchdown since Jovon Johnson went 90 yards against Ball State in 2005. Brodell added two receptions against the Cyclones as Iowa reclaimed the Cy-Hawk Trophy. This marks the first weekly honor of Brodell's career.