June, 4, 2013
Jun 4
2:30
PM ET
Big Ten bloggers Adam Rittenberg and Brian Bennett will occasionally give their takes on a burning question facing the league. We'll both have strong opinions, but not necessarily the same view. We'll let you decide which blogger is right.
Colleague Ivan Maisel today writes about
the Pac-12's pipeline of sending head coaches to the NFL
and notes how the Big Ten has lost just one coach to the NFL (Indiana's Sam Wyche to the Indianapolis Colts) since 1948.
Today's Take Two topic
is this: Why hasn't the Big Ten sent more coaches straight to the next level, and when will the drought end?
Take 1: Adam Rittenberg
[+] Enlarge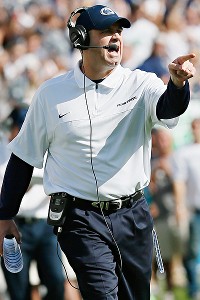 Rob Carr/Getty ImagesBill O'Brien's ties to the New England Patriots should make him an intriguing option as a future NFL head coach.
It's a bit baffling why the Big Ten hasn't sent more coaches directly to the NFL. You can talk about the conference's recent struggles, but the Big Ten still produces a lot of great NFL players and has coaches who have worked in the NFL and who are respected by key decision-makers with those teams.
The Big Ten has featured coaches who had been NFL head coaches (remember Lou Holtz, who coached the New York Jets in 1976, coming to Minnesota in 1984?), a head coach who came to the Big Ten from a USFL top job (George Perles from the Philadelphia Stars to Michigan State) and coaches who left Big Ten teams for other jobs but eventually became NFL head coaches (former Northwestern boss Denny Green, former Illinois boss Mike White, former Michigan boss Gary Moeller). Most Big Ten teams have run pro-style offenses and defenses during the years, and while more squads are going to the spread offense, it wouldn't be a huge transition for most coaches to go to the NFL. I think the tendency for Big Ten coaches to stay at their jobs for longer terms has contributed to the lack of direct NFL departures. Many Big Ten coaches looked at those jobs as destinations rather than springboards to the NFL.
I expect the Big Ten's NFL coach drought to end fairly soon. Kirk Ferentz's name has come up for years as an NFL candidate, and while he has remained loyal to Iowa, you have to wonder whether he'll eventually make that leap, if the opportunity is still there. Although Ferentz's stock has dropped a bit in recent years, he's still held in high regard in NFL circles. The other obvious name is Penn State's Bill O'Brien, who talked with several NFL teams about jobs after his first season with the Lions. Although O'Brien seems relatively happy at Penn State despite the challenges there, few would be surprised if he eventually moves onto the NFL, given his love for that league and his experience with the Patriots. He might not move in the next year or two, but I could see him guiding Penn State through the sanctions and then making the jump. Will the NFL court other Big Ten coaches? I don't see Urban Meyer as an NFL coach, but his success can't be overlooked. I can't see Brady Hoke leaving Michigan, although he might be a good fit in the NFL. Bo Pelini has some NFL experience, but I see him more as a pro coordinator than a pro head coach. I'm still watching Ferentz and O'Brien, and I'd expect one to make the jump sometime in the next 3-5 years.
Take 2: Brian Bennett
Yes, it's surprising that the Big Ten hasn't sent more coaches straight to the NFL, although the track record of college head coaches making smooth transitions into the NFL is spotty at best. For every Jimmy Johnson and Jim Harbaugh, there is a Nick Saban (who, by the way, went from Michigan State to LSU to the Miami Dolphins), and a Steve Spurrier. Time will tell if guys like Chip Kelly and Greg Schiano are ultimately judged as success stories at the next level. Still, you would think more Big Ten coaches would have been more attractive to the NFL, given the league's history of pro-style schemes and, let's face it, conservative play calling that thankfully is starting to erode in the pros.
Adam hit on what I think is the key point: the destination job factor. Think about the top coach in the Big Ten in the past 15 years: Jim Tressel. Wouldn't the Vest have fit right alongside a coach like Tom Coughlin in the NFL? Yet Ohio State was Tressel's dream job, and a place where he built his own fiefdom before it all collapsed. Even though the NFL can pay more, calling the shots at a major college program offers much better job security. I also think back on the story of Joe Paterno and how he was reportedly offered more than triple his Penn State salary to take over the Pittsburgh Steelers in 1969. Of course, he said no and stayed in State College for the rest of his life.
The same can probably be said for Hoke and Northwestern's Pat Fitzgerald, both of whom I think would make strong NFL head coaches. Yet neither seemingly has any desire to ever go anywhere else but their current job. Ferentz is no dummy. Why risk getting fired by taking over an NFL team -- one that probably wasn't very good, or else it wouldn't be in the market for a new coach -- when you have the cushiest contract in college sports? I wonder about Meyer. On the one hand, he has no pro experience. On the other hand, he's incredibly smart and competitive, and perhaps he'll one day view the NFL lifestyle as preferable to the nonstop recruiting demand of college, especially if he can add another national title or two. I feel like Pelini would jump to the NFL if a team wanted him, but I'm not sure how marketable he is as a pro head coach right now. I believe Mark Dantonio would succeed at the next level, but he seems like a college guy through and through.
O'Brien remains the obvious pick to break the drought. There's no question he's the most pro-ready coach in the Big Ten. The NCAA sanctions and constant distractions at Penn State have to wear on him, but you'd also think he'd want to taste the fruits of his labor once the Nittany Lions are eligible for a bowl again. Yet if the 61-year-old Bill Belichick decides to hang it up in the near future, the New England Patriots would have to take a hard look at O'Brien as his successor. If guys like Kelly and Schiano start to win big, the NFL might start looking toward even more college head coaches, including those in the Big Ten.
August, 2, 2010
8/02/10
10:30
AM ET
The Big Ten decided in June that it could
expand without Notre Dame
. The Fighting Irish came out of realignment roulette with their coveted football independence still intact.
Will Notre Dame ever become a member of the Big Ten? It's anyone's guess, but Notre Dame's schedule always will have a Big Ten flavor to it. The Brian Kelly era begins this fall with three consecutive games against Big Ten opponents, as Notre Dame hosts Purdue (Sept. 4) and Michigan (Sept. 11) before heading to Michigan State (Sept. 18).
To help preview the Notre Dame-Big Ten matchups, I sought the wisdom of colleague Brian Bennett, who blogs about Notre Dame for ESPN.com.
Brian Bennett:
Hello, Adam. These aren't exactly colossal tilts, since none of these four teams finished with a winning record in 2009. But interest always perks up when Notre Dame is involved. Out of the troika of Purdue, Michigan and Michigan State, which of those teams do you think will be the best -- and therefore the toughest game for the Irish to win?
Adam Rittenberg:
Wassup, BB. How'd South Beach treat you? You're right about Notre Dame always moving the needle. The Irish could play Savannah State and still dominate "SportsCenter." The road game at Michigan State jumps out to me as Notre Dame's toughest test. Despite Charlie Weis' promises about never losing to the Spartans again after the 2005 game, Michigan State has won two of the teams' past three meetings and had a great chance to win last year. Quarterback
Kirk Cousins
won't make the same mistakes again -- Kyle McCarthy is finally gone, isn't he? -- and the Spartans have the weapons to test the Notre Dame defense. Michigan State's defense also should be much improved as All-American linebacker
Greg Jones
returns to the fold. But the more I look at things, all three games could be really competitive.
Before getting to Michigan, let's talk about the Purdue game. I'm really intrigued by this opener for both teams, as the Brian Kelly era kicks off and
Robert Marve
makes his debut at quarterback for the Boilers. What's your take on the Purdue-Notre Dame matchup?
BB:
Well, I know that Kelly had better not lose that game in his home opener unless he wants to start seeing his face on some unflattering billboards in South Bend. Both teams should be able to score some points, and there will be two quarterbacks in new systems, which could be interesting. But I think if you give Kelly all summer to prepare for a game, you're asking for trouble, and the Irish usually have Purdue's number at home. What's your take on that game?
AR:
Really excited for that one. Purdue should be pretty dynamic on offense with Marve,
Keith Smith
and others, but this just feels like the type of game Notre Dame wins. The Notre Dame mystique might be fading, but only one Notre Dame coach (Dr. Lou in 1986) has lost his first game with the Irish since Elmer Layden back in 1934. I even think back to openers like 2003 against Washington State, where Notre Dame rallied from a 19-3 halftime deficit to win in overtime. I agree with your shootout theory, as neither defense really impresses me. Expect big numbers from both Marve and
Dayne Crist
. While the game certainly could go either way, I'm leaning toward the Irish.
Let's move on to Week 2. We all thought last year's thriller in Ann Arbor meant big things ahead for both teams. Instead, it just showed that neither Michigan nor Notre Dame could play a lick of defense. In case you haven't heard, Rich Rodriguez needs this one. Badly.
What's your take on that matchup?
BB:
As a Big East guy, I'm excited to see Kelly vs. Rodriguez, the two best Big East coaches of the past decade. I was at the game in Ann Arbor last year, and it was one of those who-gets-the-ball-last contest. It could be more of the same this year, since neither defense looks to be all that much improved. I see this as a huge swing game for both teams; if Notre Dame wins, there's a real chance the Irish get off on a roll to start the year. But Michigan -- and Rodriguez -- probably need it more given the pressure the Wolverines are under to win this year.
I hope the old-school Irish fans are ready to see two new-age spread offenses give Touchdown Jesus a workout. I think it will all come down to whether Bob Diaco's defense can hold the fort against
Tate Forcier
or
Denard Robinson
or whoever is lining up under center for Michigan. Manti Te'o might have to make 30 tackles. I give the Wolverines a slight edge in this game given their experience in their system, but this is almost too close to call. What do you think?
AR:
Totally agree on the swing game here, and that it means more for Rodriguez and Michigan than Kelly and Notre Dame. It'll be a lot easier to examine this matchup after Week 1. Michigan goes up against a very good Connecticut team and will need to show improvement on defense and more discipline on offense to win. As stated earlier, Notre Dame's defense needs to show up against Purdue or pay a heavy price. But even if both defenses are better, we're going to see a very unconventional type of Michigan-Notre Dame game with these two head coaches. There's nothing old-school about this game, and it might come down to which defenses forces a few stops or creates takeaways. Michigan doesn't know its starting quarterback, but I really think Rodriguez's offense will do damage whether Forcier or Robinson is calling signals. While Kelly has proven himself as an offensive genius at every level, I like Michigan's offense more in this game. On the flip side, until seeing the Wolverines play, there's not much to like about their defense. Another close contest here, but like you, I'm leaning toward the Maize and Blue.
OK, Week 3, Notre Dame at Michigan State. Both teams underachieved in 2009, and both have higher hopes for this fall. What's your take?
BB:
Ah, yes, the Cincinnati Bowl. Mark Dantonio vs. the man who succeeded him with the Bearcats. Well, this will be the first real test to see if Kelly's team can line up and play a true, smash-mouth Big Ten style. This is the type of game Notre Dame will have to win if it wants to get back to the elite level it so desperately seeks.
The Spartans have a good core returning, including an experienced quarterback in Cousins and the best defensive player on the field in Jones. It's also a road game for the Irish, and this series is almost always close. I just get the feeling that Notre Dame will have a little too much offensive firepower against a more plodding style. Tell me if I'm wrong about this.
AR:
I was going to call it the Brian Bennett Classic, but the Cincinnati Bowl works, too. And what's this you're saying about plodding? Let me remind you, sir, that Michigan State led the Big Ten in passing touchdowns and ranked second in the league in pass offense (269.4 ypg). Although Dantonio is a Jim Tressel disciple and will try to run the ball more this fall, arguably Michigan State's biggest strength is its depth at wide receiver/tight end. Cousins will throw the ball and try to attack a Notre Dame secondary that has been suspect in recent years. You promise me McCarthy's gone, right?
I'm really interested to see if Michigan State's defense improves, especially in the secondary. The Spartans had only six interceptions last season and got burned far too often. If they can hold Crist and my man-crush
Michael Floyd
in check, they might really make some noise this year. But Floyd is the type of play that could drive Michigan State nuts. This is another game that could go either way, but I like Michigan State.
OK, final predictions: Notre Dame vs. the Big Ten in 2010?
BB:
I like the Irish to go 2-1, beating Purdue and splitting against the Michigan schools. All as a buildup to an appearance in the 2011 Big Ten title game against Nebraska. Just kidding. Your final record for the Big Ten?
AR:
I'm going to match your pick, but with the Big Ten going 2-1 against Notre Dame. As much as I like Purdue this season, Notre Dame wins the opener before falling to the Michigan schools. All three games will be decided by 10 points or fewer. Should be great. Can't wait.
July, 20, 2010
7/20/10
3:00
PM ET
What ya got for me today?
Brian from Minneapolis writes:
Love the blog and I have to say you do a great job of spreading the wealth to all the teams in the conference. I wanted to gauge your opinion on the chances that Tim Brewster finishes out his current contract at Minnesota. What record will he need this year to keep his job? What names come to mind as replacements if he does get fired?
Adam Rittenberg: Brian, it's no secret that 2010 is huge for Tim Brewster and the Minnesota program. Despite a contract extension in January, Brewster needs to show tangible progress this fall. What does that mean exactly? Minnesota has to start beating its rivals, Wisconsin and Iowa, and playing better in the month of November rather than regressing as the season goes on. The Big Ten's best coaches, namely Ohio State's Jim Tressel, have excellent records in November, while Brewster has yet to win a Big Ten game after Nov. 1. Minnesota's schedule is no picnic, and I could see the Gophers being a better team with a similar record to the last two seasons (7-6 and 6-7). The key for Brewster is quality wins, beating Wisconsin or Iowa or Penn State or USC. Those are the wins that tell the athletic director and the fans that progress is being made. If things don't work out, Minnesota should look for a guy with Midwest ties who can also recruit elsewhere. Houston head coach Kevin Sumlin, an Indianapolis native and a Purdue alum, would be a potential candidate. I don't know if Temple's Al Golden would be interested, but he has done a great job with the Owls.
---
Matt from NYC writes:
Adam, I am surprised they are completely disregarding the Michigan game as a whitehouse. There is a good chance that game could be JoePa's 400th win, if psu loses to 'bama and Iowa before hand, something that as a Penn State fan is saddening, but in reality a highly likely scenario. You think feelings around Happy Valley would change if this game has the potential to be number 400?
Adam Rittenberg: Matt, I was thinking the exact same thing when I saw the news about no White House for 2010. It would be nice if Penn State could reassess the situation in early October, but it sounds like this is an event that must be scheduled way in advance. Paterno certainly could be going for No. 400 against Michigan, but he also might reach the milestone by that point. I also think Penn State doesn't need anything extra, like a White House, to celebrate Paterno and win No. 400. Even without the White House, the Michigan game has the potential to have a great atmosphere.
---
Greg from Chicago writes:
I believe that the Purdue football team may be better than many people think. Most people write off the 1st game as a loss against the new Notre Dame team with Kelly at the helm. Do you think that there is a good chance that the boilermakers could leave South Bend with a win?
Adam Rittenberg: I do, Greg. The thing that concerns me is that Notre Dame tends to find ways to win games like this, when it's the start of a new era and the fans and players are all fired up. The Irish have lost their opener under a new head coach just once since 1934 (Lou Holtz dropped his first game to Michigan in 1986). I could see this turning into a shootout, and Purdue has to be prepared to score a ton of points against Brian Kelly's team. Quarterback Robert Marve needs a big performance, especially with questions about the run game. Defensive end Ryan Kerrigan also will play a big role as he pursues Notre Dame quarterback Dayne Crist. This should be a good one, and Purdue certainly could come away with the W.
---
Travis from St. Louis writes:
Adam- I love the column and reading it is my lunch time ritual. What coaches do you believe are the hot seat? Zook? Brewster? RichRod? Any others?
Adam Rittenberg: Those three for sure, Travis. I'd include Indiana's Bill Lynch in that mix, but his situation doesn't seem as dire as Rodriguez's or Zook's. Lynch clearly has helped stabilize Indiana's program, and his work on the recruiting trail can't be overlooked. I really get the sense that Indiana wants to give Lynch a real chance to get the program on track in all facets rather than rushing to make yet another change. The Hoosiers weren't far away from being a good team last fall. Then again, can Lynch get the program over the hump? Rodriguez and Zook have to win this year, and Brewster needs to show progress in Big Ten play and against Minnesota's rivals.

---
Robert from Philadelphia writes:
Adam, Even though Nebraska isn't yet in the Big 10, why not start including a little about them in your blog and add the link to their team page over on the right of your blog. I'm interested (and I'm sure a lot of other people are too) in keeping track of their doings this year as we anticipate them joining the Big 10 in 2011. Their Junior and Sophomore players will be the key players we'll face next year and it's interesting to keep an eye on them for the future. Thanks!
Adam Rittenberg: Robert, I'll hit on Nebraska quite a bit and certainly post some updates on the Huskers' recruiting efforts, as any player Bo Pelini recruits right now will be competing in the Big Ten. I would also tell you that Nebraska remains part of the Big 12 for 2010, and colleague David Ubben has all the info you need at the Big 12 blog. I promise I won't forget the Huskers, but I have to cover 11 teams as equally as I can, so most of my attention will be on those programs.

July, 16, 2010
7/16/10
12:26
PM ET
June, 18, 2010
6/18/10
12:30
PM ET
Your brain is full of lollipops, rainbows, and cheese.
October, 9, 2009
10/09/09
4:30
PM ET

Posted by ESPN.com's Adam Rittenberg
Send in your Iowa City recommendations now.
Jon from Irvine, Calif., writes:
Is it me or is Michigan getting a lot of hype for their 4-1 record? Eastern Michigan, Western Michigan, Notre Dame and Indiana hardly constitute quality wins (perhaps Notre Dame but they aren't nearly as good as Lou Holtz thought they would be). Yes, Michigan is much better than last year, but give me a break! Shouldn't we wait for them to win a big game before giving them this much attention?We'll see what Michigan is made of this weekend in Kinnick ...
Adam Rittenberg: Definitely agree on your last statement, Jon. Here's the deal with Michigan. It's good for the game when Michigan is doing well. It's good for the Big Ten when Michigan is doing well. As a result, the Wolverines will get hyped more than other teams despite an average
résumé to this point in the season. Michigan gets a ton of attention, win or lose, and especially since the Wolverines were so bad last year, they're going to get some love when obvious improvements are made. It also helps to have a young quarterback (
Tate Forcier
) consistently coming up big in the clutch.
---
Frank from Chicago writes:
Adam, first off, I love the blog and it keeps me very well occupied during classes, Thanks. More importantly, it seems as though Iowa's national profile has diminished from its close win over Arkansas State this past weekend. However, in light of Penn State's thorough victory over preseason sleeper Illinois, doesn't the Hawkeyes win in Happy Valley look more impressive?
Adam Rittenberg: Thanks, Frank. Not sure exactly what you mean, since Iowa actually moved up a spot in this week's AP Poll to No. 12. I thought the Hawkeyes would pay a steeper price for struggling to put away a Sun Belt team on their home field. As for Penn State's win over "preseason sleeper" Illinois, that gave me a good laugh. Beating Illinois doesn't mean a whole lot right now. Iowa's win in Happy Valley still carries a ton of weight in my book, but not for what Penn State did to the hapless Illini.
---
March, 12, 2009
3/12/09
2:00
PM ET
Posted by ESPN.com's Adam Rittenberg
It's common knowledge that baseball is a huge hit in Japan, but apparently football also has started to catch on over there.
Longtime Big Ten official Bill LeMonnier is leaving Friday to conduct four officiating clinics in Japan next week. LeMonnier also will serve as the lead referee for the Global Challenge Bowl, held between Japan's junior national team (high school) and a traveling squad of American high school players.
"People here in the states would be surprised to learn that football took root in Japan 75 years ago," said LeMonnier, who has officiated Big Ten games since 1994 and worked three BCS bowls (two Fiesta, one Orange). "High school, college, and adult leagues participate at different times nearly year-round. The football is outstanding and the Japanese officials are as dedicated and committed as any here in the U.S."
LeMonnier refereed last year's Global Challenge Bowl in Japan and has also worked similar games in Panama and Mexico. He serves as an officiating consultant for USA Football, the sport's national governing body for youth and amateur levels.
The push to popularize football in Japan seems to be increasing, as former Notre Dame coach Lou Holtz will lead a team of former Fighting Irish players against Japan's national team on July 25 in Tokyo.
January, 5, 2009
1/05/09
3:23
PM ET
Posted by ESPN.com's Adam Rittenberg
Northwestern head coach Pat Fitzgerald and former Ohio State head coach John Cooper are among the 14 new College Football Hall of Fame inductees to be honored before tonight's Tostitos Fiesta Bowl.
The Hall of Famers will be introduced just prior to kickoff between No. 3 Texas and No. 10 Ohio State (Fox, 8 p.m. ET). Fitzgerald was inducted as a player, having led Northwestern to consecutive Big Ten titles as an All-American linebacker in 1995 and 1996.
The class actually has three members with Big Ten roots. Head coach Lou Holtz coached at Minnesota from 1984-85.
Here's the full list of Hall of Famers:
2008 COLLEGE FOOTBALL HALL OF FAME CLASS
TROY AIKMAN -- UCLA, QB (1987-88)
BILLY CANNON -- LSU, RB (1957-59)
COACH JOHN COOPER -- Tulsa (1977- 84), Arizona State (1985-87), Ohio State (1988-2000)
JIM DOMBROWSKI -- Virginia, OT (1982- 85)
PAT FITZGERALD -- Northwestern, LB (1993-96)
COACH LOU HOLTZ -- William & Mary (1969-71), NC State (1972-75), Arkansas (1977-83), Minnesota (1984-85), Notre Dame (1986-96), South Carolina (1999-2004)
WILBER MARSHALL -- Florida, LB (1980- 83)
RUEBEN MAYES -- Washington St., RB (1982-85)
RANDALL McDANIEL -- Arizona St., OG (1984-87)
DON McPHERSON -- Syracuse, QB (1984- 87)
JAY NOVACEK -- Wyoming, TE (1982-84)
DAVE PARKS -- Texas Tech, SE (1961-63)
RON SIMMONS -- Florida State, NG (1977- 80)
THURMAN THOMAS -- Oklahoma St., RB (1984-87)
ARNOLD TUCKER -- Army, QB (1944-46)
BIG TEN SCOREBOARD
Saturday, 12/21
Monday, 12/23
Tuesday, 12/24
Thursday, 12/26
Friday, 12/27
Saturday, 12/28
Monday, 12/30
Tuesday, 12/31
Wednesday, 1/1
Thursday, 1/2
Friday, 1/3
Saturday, 1/4
Sunday, 1/5
Monday, 1/6
Tweets from @ESPNCFB/big-ten