April, 19, 2013
Apr 19
4:30
PM ET
We'll recap the Michigan State, Penn State and Wisconsin spring games on Monday. Wishing you a happy and safe weekend. After this week, we need it.
To the emails ...
Andrew from Fremont, Ind., writes:
Adam you went to Purdue this spring and after seeing my beloved Boilers my question is: Is 2013 the year the Shillelagh returns to its rightful place in West Lafayette? I realize Notre Dame is coming off a flop in the BCS National Championship, but Purdue put the fear of God in to the Irish last year before falling 17-20. One thing Coach Hope was noted for was playing up the supposedly much better teams, and I really think one criteria for a first successful season for Hazzell could be a win over Notre Dame.
Adam Rittenberg:
Andrew, you're right that Purdue and Notre Dame played a very competitive game last year, and the Boilers benefit from getting the Irish at Ross-Ade this fall. But Notre Dame likely will be a heavy favorite, and if Purdue has any hope of the upset, it needs a flawless performance along the line of scrimmage. Notre Dame appears to have a significant edge up front, especially with its defensive line, led by
Louis Nix III
and
Stephon Tuitt
. Purdue's offensive line must be able to match that. The Irish also could be improved offensively this season as quarterback
Everett Golson
and others boast more experience. From watching Purdue practice, I saw a lot of speed on the field, but size-wise, the Boilers are lacking a bit.
---
Spencer from Columbus, Ohio, writes:
That's great about Sparty's D, but what about their O? All of us here in Columbus can't believe they hired Jim Bollman as the OC!!!! We are moving forward at the speed of light with Urban and Tom Herman and Sparty took a step back to the stone age!
Adam Rittenberg:
There's a multitude of questions surrounding Michigan State's offense, and the coordinator changes are among them. While Bollman's hiring was greeted mostly with skepticism, it's important to note that Dave Warner will call the offensive plays. It's fair to ask whether Michigan State has modernized its offense enough, and we'll learn more this fall, but few complained about the Spartans' offensive structure in 2011, when the team won the Legends division and the Outback Bowl. I wouldn't expect that structure to change much under Warner, who worked under Dan Roushar and has been on the staff for years. But Michigan State's coaches also are stressing the quarterback run more, and the need for quarterbacks to improvise when plays break down rather than always waiting for plays to develop. Offensive creativity is a must in today's college football, and Michigan State needs to move more in that direction.
---
Adam from Chicago writes:
Hey adam,I have a question about the three person qb race at iu. I know many believe
Tre Roberson
is the frontrunner and the best option because of his dual threat ability to run and pass, but I feel that his passing ability is far behind sudfeld's and coffman's. With indiana's up tempo offense and their success last year offensively, I feel that coffman or sudfeld are the better options. your thoughts?
Adam Rittenberg:
Adam, you make a good point about the nature of Indiana's offense, and I'll add to it by pointing out the Hoosiers' strength at wide receiver. IU might have the league's top receiving corps this fall with
Cody Latimer
,
Shane Wynn
,
Kofi Hughes
and others. You want to maximize that threat in the offense. Roberson told me this spring that he's still a bit rusty with all the time off and is still looking to find the rhythm as a passer. Remember, Roberson passed the ball well in the season opener last season (26-for-36, 280 yards, TD) after an inconsistent freshman season. The coaches think Roberson can effectively run the offense as a dual-threat quarterback, but if Sudfeld or Coffman separates himself as a passer, I doubt they'll hesitate to use them instead. Sudfeld really seemed to take step forward this spring, and both he and Coffman passed the ball well in the spring game. Kevin Wilson places a premium on completion percentage in his offense.
"Right now, if you had completed 63 percent of your balls last year, you would have been 60th in the country,"
Wilson told me last summer
. "I remember [the target] was 58 percent when I was at [North] Carolina in the '80s, and that would have been in the bottom half of college football. It used to be, you thought two out of three [passes completed] was great. Now it's three out of four. That's where the spread has evolved, too."
Bottom line: Indiana's quarterback needs to be accurate, especially with such a strong receiving corps at his disposal. If Roberson can't meet those standards, he won't be the guy.
---
Ryan from Madison, Wis., writes:
Any word on the status of the non-conference series scheduled between Wisconsin and Maryland in 2020 and 2021? Is there a pretty good chance that the games will just be converted into conference games?
Adam Rittenberg:
Yes, the games definitely will become league games, and the dates might be changed based on Big Ten schedules, division alignment, etc. A more pressing example of this is the Penn State-Rutgers series in 2014 and 2015. I've been told these games will be league contests -- almost certainly division games, too -- and even though they're scheduled for mid-September, it's unlikely those dates will be changed.
---
Jason from Northville, Mich., writes:
Do you see any Big Ten players high on the watchlists for national awards?
Adam Rittenberg:
Jason, I do. Starting with the Heisman Trophy, Ohio State quarterback
Braxton Miller
will enter the season as one of the leading candidates. Other Big Ten players like Nebraska quarterback
Taylor Martinez
could work their way into the mix. Michigan offensive tackle
Taylor Lewan
is one of the top candidates for the Outland Trophy. Other potential award candidates include Penn State receiver
Allen Robinson
(Biletnikoff), Northwestern running back
Venric Mark
(Doak Walker), Northwestern kicker
Jeff Budzien
(Lou Groza), Ohio State cornerback
Bradley Roby
and Michigan State cornerback
Darqueze Dennard
for the Jim Thorpe Award, and Michigan State linebacker
Max Bullough
, Wisconsin linebacker
Chris Borland
and Ohio State linebacker
Ryan Shazier
for the Butkus Award.
---
Mike from Papillion, Neb., writes:
Why isn't
Rex Burkhead
getting any love on the draft boards? Even though his knee injury hindered his senior season, I still think he is a solid pick for any team looking for a great player with a variety of skills. He reminds me a lot of Wes Welker, and I think he can be just as successful. He has the work ethic to get a lot better and play for many years if the knee injury doesn't come back.
Adam Rittenberg:
The knee problems definitely hurt Rex's stock a bit, but so does the position he plays. NFL teams have become increasingly leery of drafting running backs, even those with no injury history, in the early rounds. Burkhead showed in 2011 that he can handle the load as a featured back, but he doesn't appear to project to the NFL in the same way. His versatility is what truly stands out, and while I don't know whether the Wes Welker comparison jives, Burkhead can help a team in a variety of ways. He'll find a home in the NFL, and I wouldn't be surprised one bit if he has a successful pro career. But it's not a shock that he isn't projected as a high draft pick.
March, 14, 2013
Mar 14
10:00
AM ET
Adventure? Excitement? A Big Ten blogger craves not these things. Unless we're talking our gameday trips, and then we want to be at the best venues for the best possible matchups.
Alas, we don't have an unlimited travel budget or complete freedom to choose which games to cover each week. Gotta be company men sometimes, you know. But we can imagine how we would travel during the 2013 season in a perfect scenario, and perhaps use this as a Jedi mind trick on our bosses. (
Waves hand.
"These are not the expense reports that you're looking for.").
Anyway, please note that we're limiting ourselves to one game per week and trying to diversify between the bloggers when it makes sense. Don't confuse this with our actual itinerary. Here's where we'd like to be for the week of Sept. 21.
The slate:
Missouri at Indiana
Western Michigan at Iowa
Michigan at Connecticut
Michigan State at Notre Dame
San Jose State at Minnesota
South Dakota at Nebraska
Maine at Northwestern
Florida A&M at Ohio State
Kent State at Penn State
Purdue at Wisconsin
Bye week: Illinois
Brian Bennett's pick: Purdue at Wisconsin


Once again, not a very appealing week of nonconference games, outside of Michigan State-Notre Dame and potentially fun, high-scoring matchup between Missouri and Indiana. So sign me up for that rarest of species: a Big Ten game in the fourth weekend of September. This game was moved up at the Badgers' request because of late-developing deal with BYU, which comes to Madison on Nov. 9.
That change is our benefit, as we get to see a conference game earlier than normal. I covered last year's Wisconsin-Purdue game, which didn't turn out to be
much of a game at all
. But who knows what to expect with this year's meeting since there will be two first-year head coaches involved, and both teams have pretty wide open quarterback competitions at the moment.
The Badgers still figure to be favored this time around, especially at home. But they'll also be coming off a potentially tough road game at Arizona State the week before. Purdue will have to hope its defense has rounded into form before facing what should still be a very explosive Wisconsin offense, led by running backs
James White
and
Melvin Gordon
. The loser of this game will find itself already in a hole in the Leaders Division race. It might not be the sexiest matchup, but if I can see a conference game this early, I'm in.
Adam Rittenberg's pick:
Michigan State at Notre Dame


I'll be attending Spartans-Irish for the second consecutive season, although I'm hoping for a much more entertaining game this time around. Michigan State entered last year's game ranked No. 10 nationally, but the underdog Irish dominated the Spartans and showed the first real trouble signs for an MSU offense that ended up sputtering most of the season. The Spartans' attack not surprisingly is the big question mark entering 2013. Assistant Dave Warner takes over the play-calling duties and will share the coordinator title with new arrival Jim Bollman. Although we'll learn a little about the Spartans' offense against Western Michigan and South Florida, the true test comes against a Notre Dame defense that loses
Manti Te'o
but brings back defensive tackle
Louis Nix
, linebacker
Prince Shembo
and others.
Michigan State had a nice run going against its top two rivals -- Michigan and Notre Dame -- until losing to both squads last season. It's important for the Spartans to re-establish themselves in the Notre Dame series as they aim for their first win in South Bend since 2007. After losing five games by four points or fewer, Michigan State should be in every game this fall because of its defense. A road win against a rival and the national runner-up from 2012 would give Michigan State plenty of confidence heading into the Big Ten. A strong performance for
Andrew Maxwell
or another Spartans quarterback would be especially huge.
Previous Trippin'
Week 1:
Adam at Northwestern-Cal, Brian at Purdue-Cincinnati
Week 2:
Brian and Adam at Notre Dame-Michigan
Week 3: Brian at UCLA-Nebraska, Adam at Wisconsin-Arizona State
September, 23, 2012
9/23/12
1:43
AM ET
SOUTH BEND, Ind. -- All those turnovers, all those jeers, they were nothing but a thing of the past now. Here was
Tommy Rees
, out of the shotgun, third-and-4, Notre Dame's fate against Michigan the only thing riding now on his right arm.
The snap came in, the ball went high down the home sideline, and up went
Tyler Eifert
, the All-American grabbing his first catch of the night for 38 yards, breaking the dam and setting off a party unlike any seen in recent history inside Notre Dame Stadium.
This building has been known more for its quaintness, more for its hospitality, and suddenly that was all coming apart at the seams.
Manti Te'o
was finding his basketball friends in the crowd again, happy
Louis Nix
was dancing the way happy Louis Nix usually does, and no one inside the student section dared ditch the scene a moment too soon.
The Irish had finally knocked off Michigan,
13-6
, after three years of torture, and out from the scrum amid chants of his name came Rees -- first for the television interview, then for a bountiful jog up the tunnel, a far cry from the reception he received the last time he took this field, two weeks earlier.
"It feels good, I'm not going to lie," Rees said. "It feels good to go out there and help the team win and have all your teammates count on you, and you being able to deliver.
"It's still early in the year. We've just got to keep moving forward and taking it one day at a time."
Notre Dame goes into its bye week at 4-0, winning three consecutive games the hard way, two of them behind the poise of the best backup quarterback in the nation, if he can even be called that at this point. Coach Brian Kelly shot his quarterback situation down definitively -- "Everett is our starter," he said -- but the eyes and ears suggest that Rees isn't going anywhere, not in a season ripe with potential like this one.
[+] Enlarge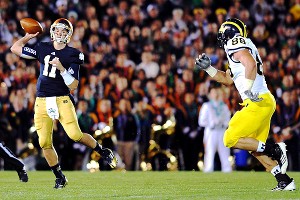 Chris Williams/Icon SMITommy Rees completeed 8 of 11 passes for 115 yards -- and, unlike starter Everett Golson, no picks.
Everett Golson
completed just one more pass to his teammates (three) than he did to defenders (two), and so Rees was summoned midway through the second quarter, making his presence felt on his first drive by plunging into the end zone from 2 yards.
"He's a tough competitor,"
Theo Riddick
said of Rees. "He knows the game, and there's not one day that he doesn't want to go out there and perform. So when his number's called, we expect that."
Riddick carried much of the load in the second half, rushing it 12 times for 40 yards during the Irish's final two drives to help them escape the Wolverines. On a night when Notre Dame's defense was nothing short of dominant, Rees and the offense did everything that was asked of it.
The junior completed 8 of 11 passes for 115 yards, and for the second time this season dispelled the "Turnover Tommy" moniker that dogged him throughout last fall.
Rees' 20 giveaways in 2011 overshadowed his 12-4 career record as a starter, or the fact that he was the only Irish quarterback to enter this season with experience as the No. 1 guy. Those yips were why his off-field arrest this past spring was met by many with a simple headshake rather than a full-out freakout, and why, yes, many of his own classmates let their unhappy feelings show from the stands when he stepped in two weeks ago to relieve Golson before lifting the Irish past Purdue.
Rees will never have the arm that Golson does, never bring the fans or teammates to their feet with a big run like the redshirt freshman. And yet he is beginning to win over his locker room in a way few other reserves could, by tossing distractions aside and by taking care of the football.
"No. 1, it just shows that you can't be selfish," Riddick said of Rees' showings. "It's a team sport, and you've got to do whatever you've got to do to make this team better, and he understands that. And like I said, when he comes in, we all expect him to know everything and play as if he is the starter."
Kelly called last week's win at Michigan State a signature victory. After beating Michigan to end a perfect month, he said this group knows it has a chance to do something big.
Yes, Golson is the man of the future and will start in two weeks because of his promise. But the guy who was nothing more than a glorified graduate assistant a short month ago will be ready if his number is called, as big a reason as any that these Irish just may be on their way to something special.