February, 5, 2014
Feb 5
5:50
PM ET
Wisconsin signed a
big class of 25 scholarship players
, plus four preferred walk-ons, on Wednesday. I caught up with Badgers head coach Gary Andersen for this Q&A about the class:
With one of the larger classes the Badgers have signed in a while, how did that affect your strategy?
Gary Andersen:
The mindset walking into it, when we knew we would have a pretty big number with so many seniors leaving, was simply to look and see what position groups we needed and even our numbers. We wanted to even up our numbers in the classes as much as we could, but still use the opportunity to take care of what we need in our deficiencies. We got that done.
We got five wide receivers, five defensive backs and six offensive linemen -- those were tagged early on as we've got to get quality kids in that area. From there we just kind of fit in where we needed. We had to solidify the youth at the running back position and we needed to get an athletic quarterback who can do some things that we may want to move to as we go forward. We had inside linebacker tagged as taking two or three, but with the walk-ons we got and the ability to move
Joe Schobert
inside, we just took one inside linebacker. Which in turn gave us a chance to get another defensive tackle, and we got three of those kids.
[+] Enlarge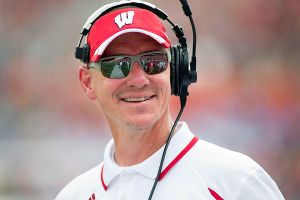 AP Photo/David StlukaWisconsin coach Gary Anderson was all smiles after the recruiting class he brought in this year.
The offensive line depth concerned you last year. Does this class now allow you to sleep better at night?
GA:
It does. The numbers are better. But they're not going to be better in spring ball. We're down both our centers in spring ball, so
Michael Deiter
will walk in here as a true freshman and line up as the starting center for Wisconsin, and that's a unique opportunity. But we're evening out those numbers. Our goal is to be at 16 scholarship offensive linemen. We should be at 14 next year. So the waters are calming, but we've still got work to do. The challenge now is to find at least a couple of those young men who can challenge and back up next season. That will be big part of the 2014 season for us.
With Jared Abbrederis gone, do you expect some of these incoming receivers to play right away?
GA:
I do. This group is very competitive. They're tough-minded kids. You're going to get the same-old from other people recruiting them, "Oh, why would you go to Wisconsin? They don't throw the ball." But they showed us their toughness and want-to and belief in the direction we want to head offensively by sticking with us, and I respect those kids for that. In turn, they're going to have that opportunity to compete.
But we all know that. Anybody who watched Wisconsin football last year can say Jared ended up getting double-teamed, and they ganged up on us in the box and wanted to stop the run and our offense became very difficult at times. Hopefully, a couple of those kids can come in here and help us. We're counting on that.
Will D.J. Gillins get a chance to compete right away at quarterback?
GA:
That is the goal. We're walking into spring practice with a bunch of quarterbacks who we're going to try and get reps. That's a tremendous challenge for us as coaches to give them all an opportunity to compete, and we'll tweak some practice schedules. We want D.J. to be able to compete. That was the mindset of getting him in early, to give him an opportunity to compete in spring ball.
Joel [Stave]
is the starter, he started all our games last year. But you want to create competition at the quarterback spot just like you want to at every position. So it will be a competitive spring.
What do you like about the defensive backs you brought in?
GA:
As a whole, I would use the word competitive, and I'm starting to sound like a broken record, but they are. And we need three of those five to come in and compete and play as freshman. I'm not going to say they're going to come in and start, but they've got to come in and compete.
Austin [Hudson]
is here, and he's really the one I'd look at and say he's definitely a true, true safety.
Lubern [Figaro]
and
Serge [Trezy]
are tabbed as safeties, but they have the ability to play corner. With
[Tanner] McEvoy
moving back to quarterback and obviously
Dez Southward
moving on in his career to hopefully play in the NFL, the safety spot is wide open, so Austin will have some opportunities this spring.
All the kids can run, all are good athletes and I think they all have good ball skills. Hopefully they can all break into what
Sojourn [Shelton]
did a year ago. Of course, the kids in our program here are working hard to make sure that doesn't happen, and that's what you want.
Do you feel like you've added speed to the perimeter with this class?
GA:
That really was one of our major goals, and I think we've accomplished that at the wide receiver and the corner spot. And I feel really good about the speed and the versatility of the three running backs we've signed. I'd also say on the defensive line, they're all very talented athletes that run very well. So hopefully our athleticism shows up next year on the field and in years to come, that we're a team that can make those special plays that really flip a season upside down. That doesn't have one ounce to do with coaching, it has to do with athletic ability. I think we've made progress there, but time will tell.
It seems like you cast a wide net in this class, with players from Hawaii, South Carolina, Georgia, Florida, Tennessee ...
GA:
We did. I think when you're at Wisconsin and you walk into any high school in the country or any junior college, and you walk in with motion "W" on your chest, they understand where you're from, understand who you are. Recruiting nationally is something we will do, but we still have our core areas -- which are No. 1, right here in Wisconsin and in the Midwest. But we will branch out nationally when we do have the right kid in the right spot, for sure.
Lastly, running backs coach Thomas Hammock left for the NFL today. Was that a surprise, and what's the plan there moving forward?
GA:
We'll make it very peaceful and move through the process I always go through. It's important for me to find a coach that No. 1 is going to take care of the kids and No. 2 is a tremendous recruiter. Thomas was coaching the running backs here at 6:30 in the morning, and he had a decision to make and obviously he made that decision. He wanted to communicate first with the kids, and I think that's so important. It's a decision he and his family made, and I support it. We wish him all the best, but we'll go through the process and get another quality coach here to take care of these kids.
October, 2, 2013
10/02/13
2:00
PM ET
From Wisconsin moving up in the polls to a few schools moving down, it was a busy week in the Big Ten and
the class rankings
reflect that.

Here's a look at what conference recruiting writers Brad Bournival and Tom VanHaaren saw and some trends to follow in the upcoming weeks:
To continue reading this article you must be an Insider
September, 30, 2013
9/30/13
8:00
AM ET
The Big Ten doesn't need an entire schedule of games to make news, and it proved it in the recruiting world.
Here's a look at what happened off the field in yet another busy weekend of looking toward the future.
To continue reading this article you must be an Insider
September, 26, 2013
9/26/13
2:00
PM ET
From Iowa, Michigan State and Wisconsin grabbing a commit, to Penn State receiving great news on the recruiting front, to Ohio State playing host to some big-time official visitors this weekend, Big Ten storylines were everywhere this week.
Here's a look at a busy time in this week's Big Ten storylines:
To continue reading this article you must be an Insider
September, 19, 2013
9/19/13
2:00
PM ET
Just a few days after stubbing its toe on the field, the Big Ten conference will try to right the ship in the recruiting world.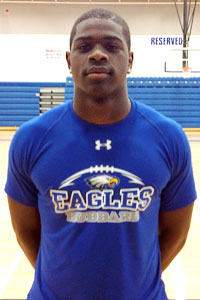 Brad Bournival/ESPNESPN Junior 300 running back Larry Scott will make an unofficial visit to the Horseshoe this weekend.
From official visits to commitments, here's a look at a few programs that highlight a busy time in this week's Big Ten storylines.
Buckeye leafs
The fact Ohio State opened as 57-point favorites against Florida A&M didn't scare off some big unofficial visitors, as ESPN Junior 300 running back
Larry Scott
-- L.J. for short -- out of Hubbard (Ohio) High School will lead a group of three big names with unofficial visits to the Horseshoe.
To continue reading this article you must be an Insider
August, 28, 2013
8/28/13
2:00
PM ET
By
Brad Bournival & Tom VanHaaren
| ESPN.com
The latest version of the
ESPN class rankings
is out, and there are seven Big Ten teams within the top-40 classes.

With movement happening across the board, there are trends and stories developing, so Big Ten recruiting writers Tom VanHaaren and Brad Bournival give you a look at what to watch within the conference:
Trending up
Brad Bournival:
Interest in Ohio State after Buckeyes coach Urban Meyer created his own Twitter account. At the urging of Oklahoma coach Bob Stoops,
@OSUCoachMeyer
was created. In 12 hours, the account has three tweets -- one an introductory tweet and the other two a bible verse. In those 12 hours, the two-time national champion picked up over 24,000 followers. Incidentally, it looks like the first person Meyer followed drives the keys to the Buckeyes' Mercedes (
@BraxtonMiller5
).
To continue reading this article you must be an Insider
August, 22, 2013
8/22/13
2:00
PM ET
By
Brad Bournival & Tom VanHaaren
| ESPN.com
Big Ten fodder is never hard to find, especially in recruiting. Here's a look at a few programs that highlighted a busy recruiting week:
Cotton getting close
Linebacker
Micquell Cotton
(O'Fallon, Ill./O'Fallon) has narrowed his list down to Indiana and Iowa State. The three-star back holds offers from both schools as well as Syracuse and Michigan State.
Cotton has visited both already and will take official visits this fall before making a pick.
The Cyclones have some appeal with a solid 2014 class that includes ESPN 300 wide receiver
Allen Lazard
(Urbandale, Iowa/Urbandale), running back
Tommy Mister
(Chicago/St. Rita) and a few other good looking commitments.
We'll see where things stand after he takes his trips.
Iowa adds cornerback

Cornerback
Josh Jackson
(Corinth, Texas/Lake Dallas) committed to Iowa on Thursday. He confirmed his commitment in a text message.
The 5-foot-11, 175-pound senior becomes Iowa's 13th commit and the unranked defensive back becomes the third player to be taken in the secondary in the Hawkeyes' 2014 recruiting class. He joins cornerback
Omar Truitt
(Washington, D.C./St. John's College) and safety
Jyaz Jones
(Dallas/South Oak). Jackson's commitment continues the youth movement at Iowa, as six underclassmen will return next season from Iowa's two-deep chart.
"I think it's going to be great," Jackson said. "With the guys coming in, we'll definitely make a big impact in the Big Ten and for the team."
Defensive end
Torey Hendrick
(Brooklyn, N.Y./ASA College) hasn't broken down his top five yet, but the junior college sensation already knows one he'll take a visit to Iowa.
The 6-foot-4, 225-pound Hendrick hasn't set a date, but Iowa City be a destination. Expect Kansas to maybe earn a visit as well.
Hendrick currently has offers from Arizona State, Florida State, Kansas State, North Carolina State and Rutgers to go with Iowa and Kansas.
Lacrosse commit getting looks


Jason Alessi (Birmingham, Mich./Brother Rice) is committed to Michigan for lacrosse, but that might not be the sport he ends up playing in college as he is starting to get noticed for football as well.
Alessi is a 2014 defensive back who already holds football offers from Cornell and Air Force. He has heard from Yale, Harvard and most recently Michigan State.
The 6-foot, 170-pound safety took a visit to East Lansing last week and is now waiting for the Spartans to make a move. The coaching staff told him they want to watch film on his first few games this coming season and then make a decision.
If he has a good start to the season the Spartans might not be the only team to come calling.
Linebacker U looking again

Penn State has opened up its search to replace outside linebacker
Jared Wangler
(Warren, Mich./De La Salle), who decommitted from the Nittany Lions before pledging to Michigan.
With Syracuse commit
Jason Cabinda
(Flemington, N.J./Hunterdon Central) already in the mix of candidates, Penn State has offered outside backer
Brandon Lee
(Indianapolis/Lawrence Central). That means Northwestern has some company in landing the standout as Lee will travel to California on an official visit when the Golden Bears play the Wildcats on Aug. 31. Lee currently has a top five of Cal, Louisville, Northwestern, Oregon and Virginia Tech.
London a wanted man
To continue reading this article you must be an Insider