January, 23, 2013
1/23/13
11:25
AM ET
Illinois on Wednesday announced a second hire for its offensive coaching staff as Tim Beckman selected Jim Bridge to oversee the Illini offensive line.
Bridge spent the past six seasons at NC State, the past two as the Wolf Pack's offensive line coach. He coached NC State's tight ends from 2007-2010 and needed a new post following the school's dismissal of Tom O'Brien.
Bridge replaces Luke Butkus, who
left Illinois after just one season for a post at Florida International
. He joins an offensive staff now led by coordinator Bill Cubit, who replaced the ousted Chris Beatty.
"Illinois is a great fit for me, personally, and Coach Beckman has assembled an outstanding staff," Bridge said in a prepared statement. "As a coach, you always look forward to competing in a premier conference like the Big Ten and at one of the nation's great academic institutions such as the University Illinois. I can't wait to get started with the members of our team and especially our offensive linemen."
Beckman and Bridge coached together on Urban Meyer's staff at Bowling Green in 2000, as Bridge coached tight ends and Beckman served as defensive coordinator. Bridge has coached tight ends or offensive line for most of his career and has made previous stops at Boston College, Eastern Michigan and The Citadel. His only previous Big Ten experience came as a graduate assistant at Ohio State in 2001.
He takes over an offensive line that underperformed in 2012 despite two veterans in
Hugh Thornton
and
Graham Pocic
. Several young linemen received extensive experience last fall, and Bridge will need to get the group back to the level it performed at for much of the 2010 season.
January, 10, 2013
1/10/13
9:00
AM ET
Illinois' offensive staff will have a fairly different look in 2013 after the unit finished 119th out of 120 FBS teams this past season.
We already know Illinois didn't retain offensive coordinator/quarterbacks coach Chris Beatty and is expected to name former Western Michigan coach Bill Cubit as his replacement. Illinois also will have a new offensive line coach as
Luke Butkus reportedly is leaving the program
to join Florida International. FootballScoop
first reported
Butkus' move to FIU.
Why would Butkus leave a Big Ten program for one in the Sun Belt? He played center for new FIU coach Ron Turner at Illinois and reportedly will be run game coordinator at the school. He also could be seeing the writing on the wall as head coach Tim Beckman enters a make-or-break 2013 season in Champaign. Illinois' offensive line struggled this season, as the Illini ranked 97th nationally in rush offense and 111th nationally in sacks allowed. Butkus, the nephew of Illini great Dick Butkus, joined Beckman following five years as a low-level assistant in the NFL.
It'll be interesting to see where Illinois turns for this hire and whether any more changes are coming for 2013. Cubit's hiring is expected to be announced next week. I heard in late November that Illinois would have at least two new assistants for 2013 (Butkus was one of the names mentioned).
April, 23, 2012
4/23/12
12:00
PM ET
April, 2, 2012
4/02/12
12:00
PM ET
I had to get these links done early so I could hit up a lunch buffet with Betty Draper.
March, 19, 2012
3/19/12
12:00
PM ET
So is your Final Four still alive?
February, 3, 2012
2/03/12
9:00
AM ET
Billy Gonzales knows what a championship-caliber team looks like.
He was a part of two national title teams at Florida as the receivers coach under Urban Meyer, and he served as passing game coordinator this past season for LSU. Now Gonzales is taking over the Illinois offense as coordinator under head coach Tim Beckman and hopes to lead the Illini to a championship before he's through.
I caught up with Gonzales this week. Here are some of his thoughts on his new gig:
[+] Enlarge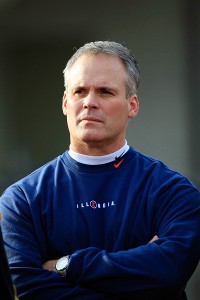 AP Photo/Marcio Jose SanchezNew Illinois coach Tim Beckman has high expectations for his team as it begins spring practices.
You had a pretty good gig before this. Was it just your previous relationship with Tim Beckman and the chance to call plays that made this job attractive?

Billy Gonzales:
Definitely. I've known Coach Beckman for 12,13, 14 years now. He does a great job. He's very detailed and organized, very cool, clear, concise and direct in his teaching. When you have the opportunity to [call plays] and get a chance to step back and see who you'll be working for and with, that's the biggest thing. Coach Beckman has done a great job of hiring guys that are like him, with the same drive, the same direction. It's a good thing right now.
How do you feel about the chance to coach in the Big Ten after being in the SEC for a while?

BG:
I'm pumped. I got my coaching start here in Illinois at a small Division III school, MacMurray College, as soon as I got out of college. I've been at Kent State and Bowling Green, so I've spent a fair amount of time in the Midwest, and I always admired this conference even when I was down in other conferences like the SEC. There's great football here. It's a tough conference and the teams all compete at a high level. So I'm excited to have the opportunity to work here and get going.
How would you describe your offensive philosophy?

BG:
The biggest thing is, Coach Beckman had a fantastic offense at Toledo. Some of the things they did there, as far as upbeat tempo, spread, will be the things you hear us talk about. We'll have an offense that will be multiple, obviously, and will be able to get lined up quickly with the speed and tempo. The philosophy is, if you get 100 shots at a target, your chances of hitting it go up if you can get 30-to-40 more chances. So if we can get a bunch of plays called and score a bunch of points, that's ultimately our goal.
You spent a lot of time working under Urban Meyer. How much of his philosophy will you use in your offense?

BG:
Urban is a fantastic coach who does a great job. I respect him a great deal and picked up a lot of things and learned a lot of things from Coach Meyer. Obviously, I come from the same tree as he does, along with coach Beckman. We're all from the same group, guys who have been around the style we're going to try to portray here at Illinois. There will be some things that will be similar, but at the same time we want to have our own direction here and continue to go with it. We have some great minds here on staff with coach [Chris] Beatty and Coach [Tim] Salem who's our running backs coach, Coach [Alex] Golesh who's worked with a great tempo and spread offense before and Coach [Luke] Butkus, who had a chance at Oregon to experience some of this. So we'll put our heads together and get on this thing and start knocking it out.
Switching to a different type of offense, how important will this next month or so be for the players to get in the film room and study the playbook?

BG:
I think the conditioning part is going to be key. Any time you're going with an uptempo offense, you've got to do a great job of getting your guys lined up, and you've got to be in great shape. Coach Beckman ran a tempo offense at Toledo, so he understands what needs to be done. The biggest thing is making sure our players are fundamentally sound and that we do a great job making them better. It is going to be critical.
You had a busy January. Was it difficult to get over the BCS title game loss and jump right into a new job?

BG:
It was hard. It's extremely hard. You know, when you have a great season like we did at LSU, that shouldn't be something that's forgotten. Did it sting? It stings bad. Nobody wants to lose at all, especially not that game. To get all the way to the top and not finish the way you want to, of course it stings and it hurts. But at the same time, you've got to look back and say, what did we do and not do? You cant change it, and you've got to move on, but it's a learning experience for us. You try to grow from it. Now our thought process turns to trying to win a Big Ten championship here.
How difficult was it for you to jump into recruiting at Illinois in mid-January, with only a couple of weeks to get to know prospects?

BG:
It's hard no matter what for a staff to come in. Three or four of us didn't come until after our bowl games in January. You want to try to get players committed and continue to build relationships with in-state players. At the same time, all coaches have had relationships and were looking at players all year at other schools. Is it difficult? It is, but at the same time there's a lot of excitement about the university and about Coach Beckman.
The biggest thing as a new staff is to do your due diligence. You've got to get your players, but at the same time, don't rush. We were doing some research here the other day, looking at classes where coaches who had just come in signed players just to fill out a class, and seeing how many of them had really made it in the last four or five years. So don't rush is probably the biggest thing when you come into a new program and try to fill out your numbers.
What kind of reception did you get from recruits?
BG:
I think they're pretty fired up. Everyone I talked to was very, very receptive and excited about our offense and how we plan on utilizing them. It's been overwhelmingly good. I can't tell you how excited I am to be here, and any time coaches are excited it starts to flow into recruiting and players start to get excited as well.
You're still going to work with receivers?

BG:
That's what I am, where I feel my strong suit is. Each coach has an expertise level, and I feel very, very, very strong about what I do. I have a passion level and a love for coaching wide receivers, and now I will encompass the entire offense. I am excited to get going with this crew. We've got no seniors, a couple of juniors and some underclassmen, so you get a chance to mold them and make them yours, make them understand we're all in this thing together.
You've got a couple of good young quarterbacks in Nathan Scheelhaase and Reilly O'Toole. What kind of attributes are you looking for out of a quarterback in this offense?

BG:
First and foremost, they've got to be able to manage at that position. You better have a guy who understands. He's got to be able to communicate well, and he's got to be a leader. I've been a part of some really good programs, and when we had a great leader at that position, I think that's the No. 1 prerequisite. Because players rely on them. You've got quarterbacks on some teams that are asked to be the playmaker. You've got quarterbacks on some teams that have got a great group of guys around them so they're asked to manage. I think the biggest key for the quarterback is, he's got to be able to communicate effectively, he's got to be a leader because he is the voice that everybody will follow.
Do you prefer a mobile quarterback for this system?

BG:
Obviously, you want to have a quarterback that can throw the ball the best he can possibly throw it. Obviously, you want to have a quarterback who can run as fast as he can. Those are all attributes that you want. But again, the biggest thing is to be a great leader, and you've got to be smart. Those are the things that are going to get you over the top. I've been very fortunate to be around some great quarterbacks over the years.
Alex Smith
at Utah, he was unbelievably smart and very mobile to run the offense we ran there. Obviously, Chris Leak and
Tim Tebow
at Florida. And I was around some quarterbacks at LSU that could sling the ball and were very athletic as well. But I always go back to, I want to have a guy who's an effective leader, a guy the team can follow, a guy that is the voice.
January, 19, 2012
1/19/12
5:00
PM ET
The Big Ten had three head-coaching changes in recent weeks, and new leading men have stepped in at Ohio State, Illinois and Penn State. We will be sharing our thoughts on the three new coaching staffs as they become complete. First up is Illinois, as head coach Tim Beckman finalized his staff earlier this week with the
hiring of Tim Banks as defensive coordinator
.
Here's the new Illinois staff:
[+] Enlarge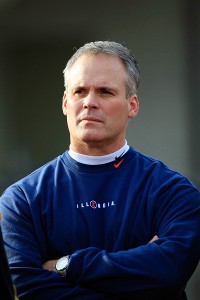 AP Photo/Marcio Jose SanchezNew Illinois coach Tim Beckman has high expectations for his team as it begins spring practices.
Tim Beckman -- head coach
Tim Banks -- defensive coordinator/safeties
Billy Gonzales -- co-offensive coordinator/receivers
Chris Beatty -- co-offensive coordinator/quarterbacks
Luke Butkus -- offensive line
Steve Clinkscale -- cornerbacks
Keith Gilmore -- defensive line
Alex Golesh -- tight ends/specialists/recruiting coordinator
Tim Salem -- running backs/special teams coordinator
Mike Ward -- linebackers
So
Today's Take Two topic is:
How did Beckman fare in putting together his staff at Illinois?
Take 1: Adam Rittenberg
There were a few bumps along the way, namely Jon Tenuta's hiring as defensive coordinator and subsequent change of heart, but Beckman eventually got his staff in place. The youth of the staff certainly stands out, as six of the nine assistants are 40 years old or younger. This certainly could help Illinois on the recruiting trail, and by all accounts Beckman has added some strong recruiters to the mix. He made a good move in retaining Gilmore, who helped defensive linemen Corey Liuget and Whitney Mercilus become stars the past two seasons. Banks also comes in with a strong background, especially after helping the Cincinnati defense lead the nation in tackles for loss and rank second in sacks during the 2011 season. Although Mercilus departs, Banks inherits talented defenders like linebacker Jonathan Brown who can pressure the quarterback. This isn't the most experienced offensive staff, and it will be interesting to see how Gonzales and Beatty fare as co-coordinators. Illinois' offense fell apart late in the 2011 season, and the coaches need to get quarterback Nathan Scheelhaase and others back on track. Butkus is a former Illinois player with a famous name, but he'll be taking on a key position group by himself for the first time in his career. Salem is certainly the veteran on the offensive side, and he looks like a strong addition to help the running backs and also Illinois' special teams, which really struggled in 2011. I felt defensive coordinator would be Beckman's most important hire after Illinois lost Vic Koenning to North Carolina. Banks looks like be a strong addition. I'm really interested to see if the offensive staff can prove itself in Year 1.
Take 2: Brian Bennett
Youth is definitely the buzzword on this staff. Banks and Beatty are in their late 30s, Gonzales is 40
,
Butkus is 32 and Golesh graduated from Ohio State less than six years ago.
They should be able to relate to the Illinois players and fare well on the recruiting trail. They should also bring a lot of energy, something that will be needed to keep up with the naturally caffeinated Beckman. While many of the assistants are young, they have some intriguing résumés. Gonzales worked for Urban Meyer at Florida and was part of two national title teams and nearly won another one this year at LSU. I know Beatty from my old beat on the Big East, and West Virginia people thought he was a promising up-and-coming young coach. Neither has called plays at the FBS level and will be asked to run Beckman's spread offense; even though Beckman has a defensive background, I'd expect him to be highly involved in the offense. Banks was a nice hire after turning around Cincinnati's defense in 2011. A lot of these assistants will have to prove themselves in some ways, whether it's in a new role or against tougher competition. Few seem to have strong connections or history in recruiting the state of Illinois, which will be a key for the program's long-term success. Beckman might not have brought in a lot of high-profile names, but a young, hungry staff might be just the thing to help him move the Illini forward.
January, 5, 2012
1/05/12
12:00
PM ET
January, 3, 2012
1/03/12
7:38
PM ET
New Illinois coach Tim Beckman has added three assistants to his staff, including coaching veteran Jon Tenuta as his defensive coordinator.

Tenuta coached linebackers the past two years at NC State. He has been defensive coordinator at Notre Dame, Georgia Tech, North Carolina and Kansas State, among other stops. He's also familiar with the Big Ten from his time at Ohio State, where he served as defensive backs coach from 1996-2000 and defensive coordinator in 2000.

Tenuta's defenses at Georgia Tech from 2002 to 2007 were often among the best in the country, but he was not as successful at Notre Dame. In his second season in South Bend, the Irish ranked 86th nationally in total defense and their inability to stop anybody helped lead to head coach Charlie Weis' firing.

Tenuta is known for liking aggressive blitzing schemes, which sometimes can be seen as a gambling style. Beckman will have to hope Tenuta can maintain the level of defensive production the unit turned in under former coordinator Vic Koenning, who turned down a chance to stay on staff. Though star defensive end Whitney Mercilus is skipping his senior year for the draft, the Illini still have talent on defense. Linebacker Jonathan Brown in particular could thrive under Tenuta.

The other two new assistants are Chris Beatty and Luke Butkus. Their roles have not been specified, though Butkus is expected to coach the offensive line.

Beatty spent the past season at Vanderbilt as wide receivers coach and offensive recruiting coordinator. Before that, he worked three seasons at West Virginia as running backs/slot receivers coach and recruiting director. Beatty was well regarded in Morgantown as a strong recruiter and up-and-coming coach.

Butkus is well known to Illlini fans, as he was a three-year starting center for the program from 1999-2001. He was a two-time All-Big Ten honoree who was on the 2001 Sugar Bowl team. Butkus has worked the past five seasons in the NFL, the last two with the Seattle Seahawks as a quality control assistant with the offensive line. He was also an assistant offensive line coach for three seasons with the Chicago Bears from 2007-09. It never hurts to have a guy named Butkus on your staff, especially in Illinois.

Beckman had previously announced that defensive line coach Keith Gilmore will stay on staff, while he hired Alex Golesh and Mike Ward from Toledo. He still has three open coaching spots, including offensive coordinator.