March, 17, 2010
3/17/10
2:30
PM ET
Here's the second half of my interview with Indiana head coach Bill Lynch, who opens spring practice Tuesday.
For Part I, click
here
.
It sounds like you have high expectations for Mitchell Evans. He's been moved around to a lot of places, but transitioning back to safety, how do you feel about him there?
Bill Lynch:
He's just a good football player, and he can play a lot of places. But we have a need there, and he's certainly a guy who will have an opportunity to play every snap. Where on offense, we've got some depth at wideout and we aren't in three and four wideouts all the time. He had a limited number of snaps as the Wildcat guy, so this will get him an opportunity to be on the field all the time, and that will help our football team.
[+] Enlarge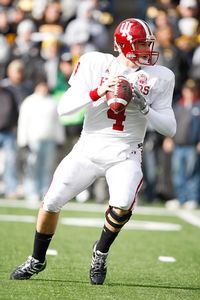 Scott Boehm/Getty ImagesBen Chappell enters spring practice as the Hoosiers' leader on offense.
Are there other guys you're moving over to defense that might be able to play?
BL:
Matt Ernest. Matt is an interesting guy. Matt played some wideout for us last year, and we had pretty good wide receivers with some depth. And he played special teams. But we're going to move him over and have him compete at cornerback. We think he's got a lot of skills, he played [cornerback] in high school. But he's playing baseball now. He had been a good high school baseball player but didn't play his first two years here, and he walked on and now he's pitching for them and pitching pretty well. He'll be a little limited as far as what he does in the spring, but he'll be going through drills so we'll have a chance to look at him over at corner.
So will he keep playing baseball while spring ball goes on?
BL:
Yeah, we won't get him beat up, because he's becoming pretty important for the baseball team, so we don't want to take that opportunity away from him. It's very similar to Andrew Means a few years ago.
And then on offense, do you look to build off of some of the good performances last year?
BL:
I think so. I like what we're doing scheme-wise offensively, and now it's just getting better at it. We've got to replace Rodger Saffold at left tackle, and we've got two juniors who have played and have been in the program a long time in Andrew McDonald and Josh Hager. Those are the first two guys who will get a crack at it, and I know they're anxious to go. And then it'd be nice to get a good spring out of [running back]
Darius Willis
. He seems to be healthy. He was banged-up a lot last spring, and then he was in and out last fall. He had a little shoulder surgery right after the season, and I know that helped. He seems to be ready to go now. And then we've got a freshman that we redshirted [in 2009],
Nick Turner
, who I'm anxious to watch compete at tailback this spring as well.
Will anyone be out or limited this spring?
BL:
Evans isn't going to practice a whole lot, even though he's going to play safety. He had some surgery after the season. And Justin Pagan, one of our offensive linemen, had some surgery, so he's not going to do too much. Zach Davis-Walker, a backup tailback, is going to be pretty limited.
Terrance Turner
's not going to practice at all. He's going to have a little surgery. All should be in good shape and ready to go in August.
For Ben [Chappell], having a full offseason as the starter, is he clearly the leader on the offense now?
BL:
I think so. He's a great leader, and he played very well in the fall. He's got a whole year of experience as the starter. Now we've got a couple of young guys who are going to compete for the second spot, and you're able to give them some shots [with the first-team offense] in the spring, but certainly going into it, they've got to beat Ben out.
March, 16, 2010
3/16/10
1:30
PM ET
Anyone who watched Indiana in 2009 could see the obvious improvement that took place in Bloomington. The Hoosiers had a more dynamic offense and good speed on both sides of the ball. But once again, progress didn't translate into a better record, as IU couldn't finish off potential victories against Michigan, Northwestern, Iowa and Penn State. Fourth-year head coach Bill Lynch will be on the hot seat entering 2010, and he'll need to see his team make more strides on the field, particularly on defense, and most important, in the win column this fall.
[+] Enlarge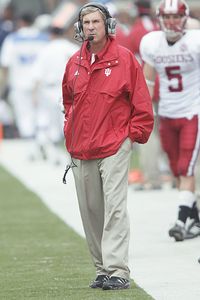 AJ Mast/Icon SMIAfter losing seven starters on defense, Bill Lynch's staff has it's work cut out on that side of the ball.
Indiana kicks off spring ball a week from today, and I recently caught up with Lynch to preview the spring.
You were so close in so many games last year. Is there any way to build off that as you hit the field again?
Bill Lynch:
I certainly think so. I've seen it throughout the winter program. We're building off what we did in the fall, and I've certainly seen good leadership, good gains in the weight room. We've got a great attitude going into the spring. Obviously, we've got two different kinds of teams. We've got great experience on offense. Certainly our skill position guys are back and healthier than they were a year ago. Offensive line, we lost a couple guys, but we've got some good young guys that have been waiting their turn. Defense is a bunch of young guys that are really anxious to go, some kids who have redshirted and we feel are very talented, guys that haven't played but who we think are going to be really good football players for us. So it will be fun to watch them get out and go. It's going to be a fun spring that way. I like what we're doing from an X's and O's standpoint. We just have to get better at it right now.
You mention the defense and I know you lose a lot [seven starters] on that side. As a head coach, I know you're an overseer, but will you spend more time with the defense this spring?
BL:
I don't think my personal time will be spent any more [with the defense]. We'll certainly do a great job of evaluating the kids. We've got to do more of it this spring than we've done in the last couple [of years], in terms of being very accurate in our grading and what we do in the spring with personnel, particularly on the defensive side. When you get out of the spring, you want to have a pretty good idea of your two-deep going into the fall. Now things can change and other kids can have great summers, but you have to have a starting point. In the spring, you give a lot of guys opportunities and see where it shakes itself out. But going into the fall, you have to have a pretty good idea.
So, would you like to know your depth chart on defense coming out of the spring?
BL:
Yeah, I think so. I've always felt like you'd like to come out of the spring knowing who your top 50 football players are. That's not to say you're not going to tweak some things over the summer before they get here in August, but it's important, not only offense and defense, but it gives you a great idea of how you'd like to start out with your special teams.
You mentioned the anxiousness of young players on defense to get out there. Who are some of the guys you're looking forward to seeing this spring?
BL:
I'll start at defensive end, because [Jammie] Kirlew and [Greg] Middleton played so much. Darius Johnson and Javon Cornley. We've got a guy named Kevin Bush, an older guy, really, but he's had a great fall and winter. He was a walk-on who was in the military and came back to school. And then Fred Jones, Eric Thomas are guys who have been in our program that are good football players. They've been waiting their turn to really go in and compete. At linebacker, it's more of a young group, but Damon Sims and D.J. Carr-Watson and Griffen Dahlstrom and Chad Sherer are all kids that are looking forward to showing what they can do because [Matt] Mayberry and [Will] Patterson and [Justin] Carrington and some of those guys that played so much [are gone]. We've got a JC kid in Jeff Thomas from Northern California; we like what we've seen from him in the winter, so I'm anxious to see him on the field. He's an inside [linebacker]. And then in the secondary, it's wide open. [Austin] Thomas and [Nick] Polk played so much, and then [Ray] Fisher played last year. There are some guys there that have had good winters because they know it's going to be very competitive, and this is their opportunity.
I'm sure you have a good idea of your leaders on offense, but who steps into those roles on defense?
Lynch:
There are a couple guys who are great leaders on that side. Tyler Replogle is as good as you're going to find, and Mitchell Evans is the same way, and we're moving Mitchell from offense to defense. So it starts there with those two guys. But all our [defensive] tackles played a lot of football for us last year, so we have good experience there. Evans certainly will give us some stability in the back end there because he's played so much football, even though it hasn't all been on defense.