June, 23, 2014
Jun 23
12:00
PM ET
Back from vacation. Nice to link up again.
June, 9, 2014
Jun 9
12:00
PM ET
August, 14, 2013
8/14/13
12:00
PM ET
Happy hump day. Do you believe the season is barely two weeks away? Fired up.
Link time ...
May, 9, 2013
5/09/13
9:00
AM ET
Northwestern's offense has been rooted in the same philosophy -- players, formations, plays -- since coordinator Mick McCall arrived in 2008. McCall shapes his scheme around the players first before choosing formations and plays that maximize their skills.
In the first four seasons under McCall, most of the players ended up being wide receivers and quarterbacks. Most of Northwestern's formations highlighted the wideouts and most of the plays were passes. Northwestern's offense had a clear passing lean, especially in 2009, when the Wildcats ranked 13th nationally in pass offense. The Wildcats didn't neglect the ground game, but when it came time to identify the best players, the running backs didn't make the cut.
[+] Enlarge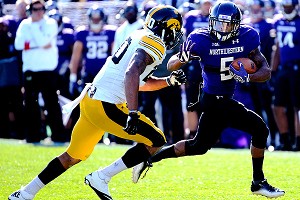 Mike DiNovo/USA TODAY SportsLast season Venric Mark became the first Northwestern running back to eclipse 1,000 yards in a season since Tyrell Sutton in 2006.
"There's been some times in the past at Northwestern in the running back room where there was one guy, and that was it," Matt MacPherson, the team's running backs coach since 2006, told ESPN.com.
MacPherson clearly has his one guy in senior
Venric Mark
, who earned second-team All-Big Ten honors in 2012 after rushing for 1,366 yards and 12 touchdowns. Mark, who earned All-America honors as a return man, was Northwestern's first 1,000-yard rusher since Tyrell Sutton in 2006.
But MacPherson thinks Northwestern's options in the backfield go beyond Mark.
"I feel like we have four or five guys in my room right now that we can go win Big Ten football games with," MacPherson said. "That gives you a lot of flexibility, and it allows you to do a lot of different things. I came out of spring very pleased with the way they performed."
Mark remains the undisputed starter and will get the lion's share of the carries in the fall. He sat out most live-tackling drills this spring as a precaution, which allowed the other backs --
Mike Trumpy
,
Treyvon Green
,
Stephen Buckley
and
Malin Jones
-- to get more reps.
Trumpy racked up 349 yards and three touchdowns on 76 carries as Mark's primary backup in 2012. Green endured a tough season with injuries and personal issues but bounced back and "had a great spring," MacPherson said. Both Buckley and Jones redshirted in 2012 but likely worked their way into the carries rotation with good springs.
"Our running back room has gotten deeper," McCall said. "We've got some guys that can play in a lot of different situations there. We've continually gotten better in that room."
Northwestern made a noticeable shift toward the run last fall behind Mark and dual-threat quarterback
Kain Colter
. After finishing no better than 45th nationally in rushing in McCall's first four seasons as coordinator, Northwestern surged to 19th nationally last year (225.4 ypg).
The rushing focus should continue as long as more running backs meet the first principle of McCall's philosophy. MacPherson thinks they will, and Northwestern might go with a two-back formation, which it used for 10-12 plays per game in 2012, more often this season.
"In my room, those eyes light up when they know we're going to start running the ball a bunch," MacPherson said, "and we're going to have two running backs on the field at the same time. That's something for them to get excited about. That just gives another aspect of competition, knowing that, OK, Venric may be the guy, but when we get into the two-back set, who's going to be the other guy?"
It's a question MacPherson is glad to be asking.
May, 3, 2013
5/03/13
8:00
AM ET
2012 record:
10-3
2012 conference record:
5-3 (third in Legends division)
Returning starters:
Offense: 8; defense: 7; kicker/punter: 2
Top returners

RB
Venric Mark
, QB
Kain Colter
, QB
Trevor Siemian
, C
Brandon Vitabile
, WR
Christian Jones
, TE
Dan Vitale
, S
Ibraheim Campbell
, CB
Nick VanHoose
, DE
Tyler Scott
, LB
Chi Chi Ariguzo
, K
Jeff Budzien
Key losses
G
Brian Mulroe
, T
Patrick Ward
, DT
Brian Arnfelt
, LB
David Nwabuisi
, DE
Quentin Williams
2012 statistical leaders (*returners)
Rushing:
Venric Mark* (1,371 yards)
Passing:
Trevor Siemian* (1,317 yards)
Receiving:
Christian Jones* (417 yards)
Tackles:
Damien Proby
* (112)
Sacks:
Tyler Scott* (9)
Interceptions:
David Nwabuisi and Nick VanHoose* (3)
Spring answers
1. Secondary options:
Northwestern has had major issues in the secondary during the past 15 years or so, but the group took a step forward in 2012 and should take another one this fall. Improved recruiting efforts throughout the defense are starting to pay off, and it showed up at both the cornerback and safety spots this spring. Young players such as safety
Traveon Henry
and cornerback
Dwight White
had strong springs, and the Wildcats are able to go at least four deep at both spots. "Our secondary runs as well as it has at all four positions," coach Pat Fitzgerald said.
2. Depth emerging at WR, RB:
The Wildcats bring back almost every offensive skill player from 2012, but they saw depth at both wide receiver and running back improve this spring. Fitzgerald and his offensive staff were pleased with the spring performances of veteran receivers Christian Jones and
Rashad Lawrence
. Jones and sophomore tight end Dan Vitale should boost the passing game in the middle of the field. The Wildcats also have plenty of insurance behind All-Big Ten running back Venric Mark. They can go four deep at the position as redshirt freshmen
Stephen Buckley
and
Malin Jones
both showed flashes this spring.
3. Living on the edge:
Like the secondary, Northwestern's defensive line made progress last season, especially with the pass rush. There's a chance to make more this season, especially at the defensive end spot. Tyler Scott returns after tying for the Big Ten sacks lead, and the Wildcats boast three young speed rushers --
Dean Lowry
,
Deonte Gibson
and
Ifeadi Odenigbo
-- who had some impressive moments this spring. Lowry is the furthest along in his development, but both Gibson and the ultra-athletic Odenigbo will be part of the rotation.
Fall questions
1. Walk that line:
Offensive line is undoubtedly the biggest question mark for Northwestern entering the season. Several projected starters missed spring practice following postseason surgeries, which allowed younger players like tackle
Shane Mertz
and guard
Adam DePietro
to get a bunch of reps in practice. The Wildcats are set at left tackle (
Jack Konopka
) and center (Brandon Vitabile), but there will be plenty of competition at the other three spots in preseason camp. Northwestern needs to set its starting rotation fairly early and then build that all important chemistry before the season kicks off.
2. Filling gaps on defense:
There's more overall depth on defense entering 2013, but Northwestern has to fill gaps in all three areas of the unit. Henry likely locked up a starting safety spot this spring, but the cornerback spot opposite Nick VanHoose will feature plenty of competition in camp between White,
C.J. Bryant
and
Daniel Jones
. Northwestern also needs a third starting linebacker, where
Drew Smith
and
Collin Ellis
will compete. And defensive tackle might be the team's thinnest spot on defense. It'll be important to see some progress there in camp.
3. Shaping the offensive identity:
Northwestern seemed to run two or three different offenses in 2012 and endured a
midseason identity crisis
that, in my view, cost it at least one game and maybe two. That's the danger of using a two-quarterback system, which will remain for the 2013 campaign. Northwestern is looking for a bit better run-pass balance as it has enough weapons at receiver and tight end to attack defenses more through the air. Fitzgerald thinks he can win a Big Ten title with both Kain Colter and Trevor Siemian at quarterback, but figuring out exactly what the offense will be remains a challenge that continues in preseason camp.
March, 13, 2013
3/13/13
2:00
PM ET
EVANSTON, Ill. -- Northwestern running back
Venric Mark
stands just 5-foot-8 and weighs only 171 pounds, but he has a nose tackle-sized chip on his shoulder.
It's why his favorite run play is the inside zone. It's why he often gets in the face of defenders half a foot taller after between-the-tackles runs. It's why he runs to contact rather than away from it, like many backs his size.
"There's no question on Venric's toughness," Northwestern coach Pat Fitzgerald said. "He's a tough, tough guy."
But is he a durable Big Ten running back? Mark suffered some minor injuries during the second half of the 2012 season, in which he rushed for 1,366 yards and 12 touchdowns and led the Big Ten with 2,171 all-purpose yards.
[+] Enlarge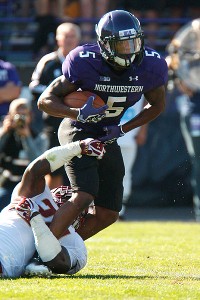 AP Photo/Matt QuinnanNorthwestern running back Venric Mark led the Big Ten with 2,171 all-purpose yards last season.
Although Mark started all 13 games at running back for the Wildcats, he got banged up against Boston College, Nebraska, Michigan and Michigan State and eclipsed 18 carries just once in the final six games.
Some question whether
Mark -- with his size and style of play -- is built to last, even though he tied for fourth in the Big Ten in carries (226) last fall.
Mark greets the durability doubts much like he does those bigger, seemingly badder defenders -- head on.
"They're always talking about, 'Is he durable? Is he durable?'" Mark told ESPN.com. "That was my first year playing running back. People see that I played my freshman and sophomore year. Yeah, but I wasn't an every-down back. So this year, I know what to expect from myself, being my last year, and everybody's going to say, 'Can he last? Can he last?'
"I'm going to let them do their job and talk. I'm just going to play."
He also won't forget what has been said or written.
"It gets on my nerves," he said.
Mark also isn't na´ve about the wear and tear his body will take this coming season. Just because he has been through a season as a No. 1 back doesn't mean he'll last through another. And he can't do a whole lot about his size. This winter, he has
gained
seven pounds to check in at 171 after losing some weight because of injury during the season. He hopes to play this season around 175 pounds.
To prepare himself for the pounding, Mark has been running and cutting with a 20-pound weight vest. Mark wants to emulate how Northwestern quarterback
Kain Colter
uses his vision to scan the field while still keeping his shoulders square when running between the tackles.
"For instance, if Kain and I, we're running 2-Knife, and I'm running inside zone, and a defender sticks his arm to turn me, [the vest] will help me keep my shoulders square," said Mark, a second-team All-Big Ten selection at running back and an All-American at punt returner. "That way, if a linebacker comes to my right or left, I can plant and still cut instead of running like this [shows his shoulders turning] where I can't make that move."
Mark also talks about the need to play smarter.
"Instead of trying to always run over people, at my size, I need to dip and drive, I need to sometimes cut back, juke," Mark said. "That will help me last longer, of course."
Mark averaged 17.4 carries per game in 2012 and had 20 carries or more just four times. He said 16 carries is the "minimum, minimum" amount he'd like to have in 2013 and would "prefer to get close to 20."
Wildcats offensive coordinator Mick McCall puts a greater value on overall touches than carries. This especially applies to a player like Mark, who averaged 18.7 yards on punt returns with two touchdowns, also serves as Northwestern's primary kick returner and had 20 receptions last season. And McCall doesn't just look at total touches, but what types of plays are being run.
"If it's inside zone 16 or 17 times, that might be a little high for Venric," McCall said. "If it's 20-25 touches but half of those are out in space, that's not bad. So we've got to manage him, how many touches he gets but more so, where he touches the ball.
"Some of it's got to be inside, there's no doubt. He does a great job in there. And as much as you want to manage it, he's still going to get dinged up. If he was a 225-pound back, look at the big backs from a year ago in our conference, they still get dinged up. That's part of that position."
McCall fully expects to play multiple running backs and multiple quarterbacks every year. And he has been pleased with the emerging depth this spring at running back with senior
Mike Trumpy
, junior
Treyvon Green
, and redshirt freshmen
Malin Jones
and
Stephen Buckley
.
But Northwestern's coaches have no doubts about their No. 1 back. And Mark expects to prove he's built to last this fall.
"He took some hits last year that he didn't need to take," Fitzgerald said. "It was similar to a quarterback going through his first year. V learned a lot on how he's got to take care of his body. The next step is just being smarter.
"He doesn't need to prove his toughness to anybody. That's always been his trademark."
August, 21, 2012
8/21/12
5:00
PM ET
Great to be back. Let's get to your questions.
Next mailblog comes your way Friday, so be sure and
send questions here
. The season is rapidly approaching.
Rex from Oconomowoc, Wis., writes:
The past three years, Wisconsin has constantly been in the conversation as a serious BCS contender yet they have been to back-to-back Rose Bowls and nothing to show for it. Do you think that this is finally the year that they win the Rose Bowl or even compete for a national title due to a much improved defense and star-power returning on offense?
Adam Rittenberg:
Rex, while I think Wisconsin gets back to the Big Ten title game, I expect the league champion to come out of the Legends division this season. The Badgers likely won't be quite as potent offensively as they've been the past two seasons. While there's room for improvement on defense and some strides there could make a huge difference, the 2012 Badgers don't seem to be as strong as the 2011 version. I'm still baffled how last season's team managed to lose three times. The key really is the defense, as I expect the offense to be good and, at times, very good but not nationally elite. If Wisconsin can develop an elite pass-rusher or two and some playmakers in the secondary to complement a strong linebacking corps, the ceiling for this team will be raised.
---
1IllHusker from Illinois writes:
Despite the criticism
Taylor Martinez
gets for his mechanics, isn't more important for him to get back to running the ball the way he was early on in 2010? The Huskers are undefeated when Taylor rushes over 100 yards and also undefeated when the team rushes over 185. It's a given that their passing games needs to improve to balance the offense but I think it's more important for him to regain his explosiveness on the ground. What are your thoughts?
Adam Rittenberg:
Some good points, Husker. Martinez says he's finally back to 100 percent after the ankle slowed him down for the second half of 2010 and all of 2011. While his rushing numbers dropped last fall, the bigger effect might have been on his passing. Taylor says the ankle problem forced him into some bad habits with his throwing mechanics that he has tried to correct during the offseason. There's no doubt that having Martinez at top speed helps the Huskers, as he can take it to the house on every snap. But Big Ten defenses can contain mobile quarterbacks better than those in the Big 12, in my view. Martinez will need to pose a bigger threat as a passer for Nebraska's offense to surge this fall. His explosive running will help, but only if defenses can't load up at the line of scrimmage to stop him and
Rex Burkhead
.
---
Eric from TriBeCa writes:
Hi Adam, love the blog. I've found the best/worst case fairly entertaining. I was taking a look at UofM's, and was wondering if you would be willing to say what scenario you believe to be more likely? An 11-1 national championship season, or the 6-6 disappointing season. While I think they have the talent to put in an 11-1 season, I could also see them dropping games to Bama, Air Force, @Notre Dame, @Purdue, Michigan State, @Nebraska, @Ohio State.
Adam Rittenberg:
Can I tell you after the Alabama game? The opener should tell us a lot about this Michigan team and its ceiling for the 2012 season. Right now, I have a tough time seeing the Wolverines win, because of their question marks on both lines and Alabama's strength up front. But if
Denard Robinson
plays a big game, Michigan forces some turnovers, plays a clean 60 minutes and prevails in Texas, it really changes the complexion of the season. The Wolverines then would be on the national championship radar. A loss doesn't kill Michigan, but I think it increases the chances for an 9-3 or 8-4 type of season. My sense is Michigan will be a better team than 2011 with a worse record than 2011. Will the Wolverines tumble to 6-6? Highly doubtful. But I also don't see the Maize and Blue going 11-1. Not with this schedule. But I might feel differently after Sept. 1.
---
@vedderkj (via Twitter) writes:
What's the word on the Northwestern backfield? Trumpy fully healed?
Venric Mark
durable enough? RB by Committee (again)?
Adam Rittenberg:
Mike Trumpy
is back in the fold and will be a part of the mix this season. But Mark seems to be transitioning well to running back, and could play a bigger role than I thought he would, even outside of the option game. His size certainly is a concern, but with him and Colter on the field together, Northwestern has a ton of speed. The younger backs --
Jordan Perkins
,
Malin Jones
,
Stephen Buckley
-- also should be part of the mix. So yes, a committee system seems likely, although Northwestern would benefit more from a featured back emerging. That was the case when the Wildcats ran the ball very well between 2000-08.
---
Dave from Columbus, Ohio, writes:
Adam -I read that a quarterback at Wisconsin has recently left the team. Do you think Bielema's call to start his newest, experienced quarterback from NC instead of another QB who has been on the team longer makes his "sell" more difficult to a high school junion/senior quarterback who now has to weigh whether Bielema will just continually take a quarterback from another college? Thanks! Dave
Adam Rittenberg:
Dave, I think
Joe Brennan
's decision to leave had more to do with his drop on the depth chart than Wisconsin bringing in
Danny O'Brien
. While O'Brien moved ahead of Brennan, so did
Curt Phillips
and
Joel Stave
. As to your larger question, Wisconsin landed a highly touted quarterback recruit in February in
Bart Houston
. They might not sign a quarterback for the 2013 class, but their overall depth shouldn't be too bad with O'Brien back for another year, and both Houston and
Jon Budmayr
returning from injuries. I don't think Wisconsin will have to keep taking transfer quarterbacks, and depth certainly played a role in the Badgers adding both O'Brien and Russell Wilson. So while it might be a tough sell for a 2013 quarterback recruit, it shouldn't be an issue beyond that date.
---
Alex from Cincinnati writes:
Isn't it a bit to soon to deem Michigan State an "established power". Sure, 2010 and 2011 were consecutive seasons with 11 wins. Good for them, but let's not jump to conclusions here. People seem to easily forget a stretch of mediocrity in the years preceding. In the 2006-2009 they went a combined 26-27 (season records of 4-8, 7-6, 9-4, 6-7). During the last 6 years they have a 1-4 record in bowl games and have yet to appear in, let alone win, a BCS bowl game. I'm sorry, but a quick flash of success doesn't immediately make you an "established power". Give it a couple seasons, and at the end of the day MSU is closer to the likes of Iowa, Illinois, or Wisconsin than it is to Michigan or OSU. So let's cool the jets on this Big Ten powerhouse talk.
Adam Rittenberg:
I agree that "established power" is the wrong term (and not one I think I've used). But emerging power is a fair description for Michigan State, which has finally found some stability under Mark Dantonio. Take away the 2009 season, which featured a lot of problems both on and off the field, and the Spartans have been very solid since 2008. Dantonio has kept his staff together and elevated the recruiting, particularly on the defensive side. Michigan State also has made important financial investments into the program, the coaches, etc. I agree that right now, Michigan State is closer to Wisconsin and Iowa than Ohio State. Actually, Wisconsin is that "next team" to challenge the elite, despite the Spartans' success against the Badgers. But to dismiss Michigan State as temporary or the same old Spartans is shortsighted in my view. Dantonio has built a foundation for long-term success, and while Michigan State might not challenge for a league title every year, I don't expect to see the dramatic swings we saw with the program too often from 1991-2006.
---
Brady from Newell, Iowa, writes:
Mr. Rittenberg, Now that the Hawkeyes seem to have lost another running back...could you offer your input on a possible depth chart with whoever else knows how to run the ball?
Adam Rittenberg:
While
Greg Garmon
might not start Iowa's opener in Chicago, I expect him to emerge as the featured back soon enough. The Hawkeyes simply don't have many other options, especially after Barkley Hill's ACL tear. While Garmon is a young freshman, the team has to go with its most talented player.
Garmon showed off his power in the most recent scrimmage
and should help Iowa grind out some tough yards. It wouldn't surprise me if
Damon Bullock
ends up starting the opener, but unless Bullock takes some significant strides, I expect Garmon to get a shot fairly early on.
---
AC from Pittsburgh writes:
Am I the only one that is sick of being told that Penn State fans "still don't get it"? What exactly is it that we don't get? I'm a recent graduate and I can assure you that the horrible crimes that took place are not being forgotten or brushed aside in State College. I'd argue that it's everyone else that simply "doesn't get" the hypocrisy of the entire situation. Look at other big time football schools. Do you really think if what happened at Penn State happened anywhere else that the reaction would be any different? If it were LSU's former coach who got arrested for abuse, do you really think that LSU fans would be clamoring for their own death penalty? Of course not, they'd be defending their favorite program. The issue isn't Penn State and football, it's the entire country and football. If the NCAA, and by that I mean Mark Emmert feels the need to make Penn State the example so be it. I just don't see how a man who said "...success in LSU football is essential for the success of Louisiana State University" can change his tune so quickly and hope to change the "...mindset in which football will never again be placed ahead of educating, nurturing, and protecting young people..." Can't have it both ways Mr. Emmert. Criticize me all you want but I sincerely hope people actually understand what I said before they rush to judgement.
Adam Rittenberg:
AC, I think there's a lot of truth to what you write. I don't think the reaction would be vastly different in other places where football is king. One difference between Penn State and LSU is the way Joe Paterno is/was viewed compared with most coaches. LSU fans don't have the same loyalty toward Les Miles as Penn State fans have/had toward Paterno. Not saying Tiger Nation wouldn't support Miles, but Paterno's longevity and impact on the program and the community was truly unique. Has it clouded the judgment of some folks, who seem unable or unwilling to acknowledge the possibility that Paterno made major mistakes? I believe it has. But that's not all Penn State fans. Defending the program against the sanctions makes more sense than defending Paterno or the other school leaders, but people also need to realize that massive leadership failures have consequences that can go beyond the removal of those individuals. The nature of NCAA punishments always has been geared more toward the present and the future than the past. That certainly hits home for Penn State.
February, 23, 2012
2/23/12
10:15
AM ET
Adonis Smith
's decision to transfer from Northwestern might not mean much come September.
But his exit adds to the questions surrounding a position that hasn't provided enough definitive answers in the past few seasons.
Smith appeared in 17 games the past two seasons, racking up 462 rush yards and three touchdowns. He might have evolved into the Wildcats' featured back, but he also might have been a career backup. It's tough to tell. Coach Pat Fitzgerald announced Smith's departure Wednesday.
[+] Enlarge

Jerry Lai/US PRESSWIRERunning back Adonis Smith has decided to transfer from Northwestern.

"We're disappointed to see Adonis leave Northwestern," Fitzgerald said in a statement. "He is an outstanding young man and we wish him nothing but the best in his future endeavors."
Wildcats fans will forget about Smith if, say,
Mike Trumpy
returns from a torn ACL and surges as the starter. Or if true freshman Malin Jones emerges in preseason camp. Or if
Treyvon Green
builds on a freshman season in which he rushed for 362 yards and four touchdowns.
But if Northwestern can't identify a featured back and fails to generate a consistent rushing attack in 2012, Smith's name likely will be brought up.
While a struggling defense should be coach Pat Fitzgerald's top priority in the offseason, running back shouldn't be too far down his checklist. Northwestern's offense has made strides under Fitzgerald's watch, producing a steady stream of quarterbacks and wide receivers in recent years. But the running back position, once a program strong point, has declined.
Fitzgerald's predecessor at Northwestern, the late Randy Walker, left an indelible mark on the position he played in college. Walker had a 1,000-yard rusher in 25 of his 30 seasons in coaching, including each of his final four seasons as Northwestern's head coach (2002-05). Northwestern produced a 1,000-yard rusher in five of Walker's final six seasons.
But since Tyrell Sutton finished with exactly 1,000 yards in 2006, Fitzgerald's first season as Wildcats coach, Northwestern has failed to produce a 1,000-yard rusher.
Here are the team's leading rushers the past five seasons:
2007: Sutton, 451 yards

2008: Sutton, 890 yards

2009: Arby Fields, 302 yards

2010: Trumpy, 530 yards

2011: Kain Colter, 654 yards
Colter, by the way, plays quarterback for the Wildcats. Fields transferred following a disappointing 2010 season when he struggled to hang onto the ball or a favorable spot on the depth chart.
Why can't Northwestern produce featured backs anymore? An offense rooted in high-percentage passes and accurate quarterbacks has something to do with it. But the Wildcats have run the spread since 2000, and it didn't stop them from producing standout backs under Walker.
Northwestern has run the ball better as a team the past two seasons, rising from 95th nationally in rushing in 2009 to 58th in 2010 and 45th in 2011. But the team had a league-low 3.8 yards-per-carry average last fall.
Jones, the team's first commit in the 2012 recruiting class, could be the answer, much like Sutton was in 2005, when he captured Big Ten Freshman of the Year honors. Perhaps Trumpy bounces back from injury or Green takes steps in his development. Maybe a committee system is the best approach.
If not, you might hear some grumbling about Adonis Smith in September.
February, 6, 2012
2/06/12
11:00
AM ET
The Big Ten recruiting classes are signed and sealed, and although a few more recruits could come aboard, we have a good idea of what the rosters will look like heading into the 2012 season.
That means it's Power Rankings time. Again.
We're taking a post-signing day look at where the league stacks up. There aren't too many changes from our
previous rundown
, but some teams received a bump from strong recruiting classes.
As they say on Twitter, #legooo.

1. Michigan State:
The Spartans' recruiting class didn't crack ESPN's top 25, but it features several strong prospects and is loaded up at wide receiver and defensive back. Mark Dantonio tells us he can't remember recruiting 10 athletes like the ones Michigan State added in the class. Michigan State already is one of the Big Ten's most athletic teams, so this bodes well for the Spartans as they look for another big season.
2. Michigan:
Brady Hoke and his staff rode a fast start to 2012 recruiting and finalized a class ranked No. 7 nationally. The Wolverines started three freshmen on defense in 2011 and added several more who can contribute early in their careers, including linebacker Joe Bolden, cornerback Terry Richardson and defensive tackle Ondre "Pee Wee" Pipkins. If Michigan can maintain its momentum on defense after losing several stud linemen, it will be very tough to beat in 2012.
3. Ohio State:
Urban Meyer announced himself with a superb recruiting class featuring arguably the nation's best crop of defensive line prospects. Ohio State would have been an improved team in 2012 after its first seven-loss season since 1897, but the recruiting class boosts the Buckeyes even more. The defensive front seven should be a deeper and stronger unit, and players like Noah Spence, the Big Ten's top-rated recruit, have a chance to contribute immediately.
4. Nebraska:
The Huskers missed on their top signing day target (offensive lineman Andrus Peat) but still inked a solid class that should help at positions like linebacker, where Big Red lacked size and depth. Linebacker Michael Rose could contribute early in his career. Nebraska also addressed the departure of standout cornerback Alfonzo Dennard with talented juco addition Mohammed Seisay.
5. Wisconsin:
Quality not quantity was the theme for Wisconsin, which signed only 12 players, the Big Ten's smallest class by five recruits. The Badgers lost two offensive line commits to other schools but added a decorated quarterback in Bart Houston and some solid players to the defensive back seven, including linebacker Vince Biegel. This is the type of season that will test Wisconsin's ability to reload and provide a true gauge of the program's progress under Bret Bielema.
6. Penn State:
New coach Bill O'Brien and his staff had to scramble to keep the class together, and the 2012 recruiting haul didn't quite match what Penn State adds in most seasons. The coaches were able to keep some good prospects and fulfilled a need at wide receiver with Eugene Lewis and others. It'll be interesting to see how quarterback Steven Bench turns out after Penn State lost verbal commit Skyler Mornhinweg to Florida.
7. Purdue:
The Boilers added speed in their 2012 class, and they loaded up on quarterback prospects for the future with four signal-callers. But Purdue also beefed up along the offensive line with Jordan Roos and others. With coaching changes and personnel changes throughout the Leaders Division -- not to mention Ohio State's bowl ban -- Purdue has an excellent chance to make some noise in 2012.
8. Iowa:
The big story in Iowa City isn't so much the recent recruiting class but the seismic changes going on in one of the nation's more stable programs. After having the same coordinators for the past 13 seasons, Kirk Ferentz must replace both Norm Parker and Ken O'Keefe, who left late last week for a post on the Miami Dolphins' staff. Iowa will have new leadership on both sides of the ball, creating some uncertainty but also some excitement. The Hawkeyes added some nice pieces in the 2012 class, such as running back Greg Garmon and defensive end Faith Ekakitie.
9. Northwestern:
Although the Wildcats' class didn't crack the national rankings, it looks like the best haul in Pat Fitzgerald's tenure as head coach. Northwestern picked up a potential difference-maker on defense in defensive end/linebacker Ifeadi Odenigbo. Malin Jones could be the team's answer at running back, a spot that has suffered during Fitzgerald's tenure. The Wildcats also added the league's top transfer in former USC receiver Kyle Prater.
10. Illinois:
It might take a year for Tim Beckman and his staff to make a big splash on the recruiting scene. Illinois' 2012 haul didn't receive great reviews, but the Illini are pursuing several nationally elite 2013 prospects from within the state. Linebacker recruits Tajarvis Fuller and Tyrone Neal should help Illinois in the defensive back seven. There's enough talent on the squad to get back to a decent bowl, but Beckman and his staff have plenty of work ahead.
11. Minnesota:
The Gophers inked a class that drew good reviews from ESPN's analysts. Jerry Kill and his staff retained several top in-state prospects, including offensive lineman Isaac Hayes, wide receiver Andre McDonald and quarterback Philip Nelson. McDonald and fellow wideout Jamel Harbison could be immediate contributors for an offense that needs more options. But defense must be the top offseason focal point for Minnesota, which added several juco defenders.
12. Indiana:
Although the Hoosiers remain at the bottom, we liked their recruiting class, which should first and foremost provide immediate help on defense. Junior college defenders like Tregg Waters and Jacarri Alexander likely will step in right away for a struggling unit. Indiana also will increase the competition at quarterback with heralded prep prospect Nate Sudfeld and juco addition Cameron Coffman.
January, 12, 2012
1/12/12
12:00
PM ET
July, 19, 2011
7/19/11
6:00
PM ET
Mail time.
No mailblog Friday as I'll be off, but
get those emails in for next week
as we approach Big Ten media days.
Keygan from Lincoln, Neb., writes:
Hey Adam. I feel like the only one who thinks this whole "pay-for-play" idea is utterly ridiculous, so it'd be nice to hear your thoughts on it. I'm a music education major AND in the marching band at Nebraska. I support the school. I spend roughly 15 hours a week in rehearsal for the upcoming games. I only get 1 credit hour. I'm just as much a student as the athletes so why shouldn't I be entitled to a stipend if they are? I understand why it's being discussed and I LOVE sports as much as the next guy, but come on, let's not cut the rest of us students short.
Adam Rittenberg:
Keygan, while I respect what you do and know Huskers fans appreciate your work with the band, you don't bring in the same kind of money as football players do. Not even close. No students do. Does that entitle football players to more resources? A full-blown pay-for-play system for athletes seems very tough to regulate, but going to a cost of attendance model for scholarships makes sense. It would apply to all athletes on full scholarships. While not every FBS program could afford this, the division between the haves and the have-nots is already there in areas like facilities. I don't think certain schools going to a cost-of-attendance model changes things too much. If Big Ten schools can improve the lives of their student-athletes, especially those from low-income backgrounds, I'm for it.
What I'd ultimately like to see is more flexibility for student-athletes to get jobs and paid internships. I filled my three college summers with two paid internships -- one at ESPN.com, which helped me land my current gig -- and a job back home. I also was able to earn money during the school year. I wish student-athletes had more time to get this type of work and didn't have to be so tethered to the athletic building year-round. These types of jobs and internship opportunities also prepare student-athletes for life after sports.
---
Eric from Waco, Texas, writes:
Adam, in your post "Recapping Big Ten position rankings" you Nebraska and Penn State both got the same average score yet Nebraska is "in that top mix" while Penn State was grouped with the wild cards. Penn State also had one more player in your "Top10/Top5" list totals. I'll always be a die hard Penn State fan but I'm not going to forecast a national championship this season. I find it interesting to see that Penn State's "numbers" match up to may analysts preseason favorite, Nebraska, yet they're not getting as much hype. If the numbers are the same, what factors in your opinion would put Nebraska over a Penn State, Ohio State, or Wisconsin?
Adam Rittenberg:
Thanks for the note, Eric. You bring up a point I wanted to make about the position rankings. It's a little dangerous to look at the averages and say these two teams are definitely equal, or Team X is definitely superior or inferior to Team Y. When it comes to Nebraska and Penn State, the rankings suggest Nebraska's defense will be better than Penn State's offense or defense. Nebraska's defense very well could be the best single unit in the Big Ten this year. The Blackshirts are the biggest reason why Nebraska is considered a potential Big Ten favorite. Penn State, meanwhile, has no truly bad units, but questionable areas on both sides of the ball. I'm talking mainly about the lines. If Penn State's D-line addresses some questions, the overall defense could be very, very good. Same goes with the offensive line and the offense as a whole. But there are fewer certainties with PSU. When you put these teams next to one another entering the season, I'd give an edge to the squad (Nebraska) with a truly complete unit (the defense).
---
Sam from Jump Town, Wis., writes:
Adam, I've noticed that many of the preseason watch lists have included james white instead of montee ball. I feel like the general consensus around campus is that
Montee Ball
is the man for the starting job this fall. Ball fits the Wisconsin mold moreso than White and will arguably get the majority of the touchdowns as he is going to be the goal-line back. Is there a reason White is getting more love than Ball other than the fact that he was such a freshman phenom?
Adam Rittenberg:
Sam, this is a really interesting question. Montee Ball honestly looked more like Wisconsin's featured back down the stretch of the 2010 than
James White
did. White, meanwhile, is getting more hype because he won Big Ten Freshman of the Year and played more meaningful snaps than Ball. I agree that Ball fits the Wisconsin mold as a bigger back, and he really came on strong down the stretch as injuries cropped up for
John Clay
. Still, I wouldn't dismiss White as a potential featured back. Sure, he doesn't fit the traditional Wisconsin mold, but that's not a bad thing. Former running backs coach John Settle told me several times how White provides a new element to the Badgers' rushing attack. The interesting thing is both backs worked on their bodies during the offseason, as Ball slimmed down and White strengthened his lower body. They both want to be complete backs and Wisconsin should benefit from having both in the fold.
---
Tyler from Fort Dodge, Iowa, writes:
First off love the blog. This is the only place that suffices during the off season. I have the utmost faith in
James Vandenberg
and believe he will have 2 great years wearing a Hawkeye uniform. But with Jack Rudock on his way to town is there any way he will compete for the starting job in 2012? Could the whole Christensen/Stanzi scenerio come into play if Vandenberg isn't up to snuff?
Adam Rittenberg:
Tyler, it would take a pretty disappointing performance from Vandenberg and a lack of development from
John Wienke
and
A.J. Derby
for Jake Rudock to be in the mix for a starting job in 2012. Iowa coaches and players are extremely confident in Vandenberg, who showed a lot in 2009 after being placed in an extremely difficult situation. Their assessment would have to be pretty far off for a Stanzi/Christensen redux to occur. That said, Rudock very well could be Iowa's quarterback of the future. And by future, I'm thinking 2013 and beyond.
---
Mike C. from St. Paul, Minn., writes:
Love the blog, BUT someone has to go to bat for the gophers. As a self-loathing gopher fan with an eternal inferiority complex... I sat by as the gopher position rankings revealed themselves. I can sit idle no more! A collective 10.3?! Lower than Indiana?! (No offense Indiana). This ranking is less logical than Ben Bernanke Congressional testimony. This atrocity is highlighted by an 11th place WR/TE finish. You would think that Biletnikoff and Mackey award candidates (Mcknight, Lair) would allow us lowly gophers to crack the top 10! I would go into detailed arguments on how fallacious some of your other position rankings, but the truth is, there is a line of reasoning used in calculating these rankings that I, and all us gopher (and hoosier) fans must swallow: you tailor you ratings to where you think the teams will finish and NOT the other way around. An honest assessment of talent, and removing the circular reasoning (assuming what you're proving to be true) that comes with best teams (not that they don't deserve it) would leave the position rankings little different. Now, that does not mean I disagree with your team rankings, but come on Adam, a few good position rankings are all we gopher fans have these days. Are you going to take that from us?
Adam Rittenberg:
Mike, love your passion, your humor and some of your points. But here's what concerns me about fans' assessments of our position rankings. Everyone thinks their team should be higher, which is fine. But very few folks look at the whole picture and explain to me why other teams should be below their team. Yes, some position rankings are based on track record, but I really try to look at all the personnel groupings from every team and evaluate them independently.
OK, let's look at receivers/tight ends. This is an unusual year where the Big Ten boasts terrific depth at these positions. Normally, a Minnesota crew boasting
Da'Jon McKnight
and
Eric Lair
would rank higher. But there's very little depth other than those two, and while in hindsight I should have ranked Lair higher individually, I see quite a few teams with more proven options than the Gophers, Indiana being one of them.
From a defensive standpoint, Minnesota has a ton of question marks. Most Gophers fans would admit this. The D-line was terrible in 2010. Could it be better this season? Sure, but we've got to see it on the field. Other than Troy Stoudermire and Kim Royston, who comes off a very serious injury, the secondary is a big mystery. The linebackers, meanwhile, could be very good. It wouldn't surprise me if they rise up the rankings.
Again, my point isn't to rip on Minnesota or its players, several of whom I really like. But tell me why other teams should be below your team, not always why your team should be higher.
---
June, 3, 2011
6/03/11
9:00
AM ET
The calendar has flipped to June, and summer recruiting is in full swing around the Big Ten.

There have been quite a few verbal commitments in recent days, so let's take a quick look at where each Big Ten team stands with its 2012 class.

ILLINOIS
INDIANA
IOWA
MICHIGAN
MICHIGAN STATE
MINNESOTA
NEBRASKA
NORTHWESTERN
OHIO STATE
PENN STATE
PURDUE
WISCONSIN

February, 8, 2011
2/08/11
12:00
PM ET
Maybe I should feel weird about giving a stranger my social security number, but the guy's a Nigerian prince!