December, 5, 2010
12/05/10
11:11
PM ET
Alabama Crimson Tide (9-3) vs. Michigan State Spartans (11-1)
Jan. 1, 1 p.m. ET (ESPN)

Alabama take by SEC blogger Chris Low
: National championships don't come easily, and back-to-back national championships in college football are practically unheard of.
Alabama (9-3) fell short in its goal to repeat this season, which isn't stunning given how rarely that's happened in this sport. But seeing the Crimson Tide lose two of their last three SEC games was certainly different, especially when you consider that Nick Saban's club had won 16 straight regular-season SEC games coming into this season.
Inconsistency plagued the Crimson Tide, who had trouble putting four quarters together. Never was that more apparent than in the final regular-season game when they built a 24-0 lead on No. 1 Auburn in the first half, only to unravel across the board and drop a bitter 28-27 decision at home.
This is still an extremely talented team with three guys who will probably go in the first round of the NFL draft next April. Nonetheless, the Crimson Tide's inexperience in the secondary caught up with them this season. They will be even more inexperienced in the bowl game. Junior safety Mark Barron underwent surgery for a torn pectoral muscle after being injured in the Auburn game and won't be able to play against Michigan State.
Senior quarterback
Greg McElroy
suffered a concussion against Auburn, but he should be fine for the bowl game. Probably the most surprising thing about this season for the Crimson Tide was that they weren't able to run the ball better, although
Mark Ingram
and
Trent Richardson
battled injuries.
---

Michigan State take by Big Ten blogger Adam Rittenberg
: A BCS bowl appearance would have been huge for Michigan State, but a matchup against Alabama in the Capital One Bowl is the next best thing.
As expected, the Spartans were snubbed from the big bowls despite a BCS-worthy résumé: a team-record 11 wins, a co-Big Ten championship, a victory against Rose Bowl-bound Wisconsin. Instead, they get an opportunity to prove just how worthy they are against the defending national champions, who are led by a man who used to coach in East Lansing.
The Nick Saban-Michigan State connection certainly adds intrigue to arguably the nation's best non-BCS bowl. Saban coached the Spartans from 1995-99, compiling a 34-24-1 record before bolting for LSU before the 2000 Citrus Bowl (now Capital One Bowl). Current Spartans coach Mark Dantonio served as Saban's secondary coach in East Lansing.
The game pairs two of the nation's smartest and classiest quarterbacks in Michigan State's
Kirk Cousins
and Alabama's Greg McElroy as well as two of the nation's most accomplished defenders in Michigan State's Greg Jones and Alabama's Marcell Dareus. Jones and the Spartans' run defense face arguably their biggest test of the season against reigning Heisman Trophy winner Mark Ingram, a native of Flint, Mich., as well as dynamic sophomore Trent Richardson.
After setting so many milestones this fall, Michigan State aims for one more. The Spartans look for their first bowl win since 2001 and their first Jan. 1 bowl win since the Citrus in 2000.
August, 17, 2010
8/17/10
3:00
PM ET
For years, football coaches have motivated their players in practice by using images of upcoming opponents.
(Growing up in Berkeley, I remember sneaking onto Cal's practice field in the mid-1990s and seeing the face of Arizona quarterback Dan White -- that week's opponent -- taped onto blocking sleds.)
Penn State offensive tackle Quinn Barham is taking things to a new level this summer.
Every time Barham checks his cell phone, he sees Adrian Clayborn or Marcell Dareus. Barham put pictures of the star defensive ends from Iowa (Clayborn) and Alabama (Dareus) on his cell phone background.
[+] Enlarge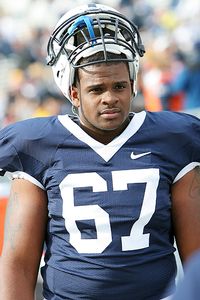 Matthew O'Haren/Icon SMIQuinn Barham is excited about the challenge of facing some of the nation's elite pass-rushers.
As Penn State's new starting left tackle, Barham will be assigned to block some of the nation's elite pass-rushers. He'll face Dareus in Week 2 at Alabama and Clayborn three weeks later in Iowa City.
"I've had [the pictures] up all summer, just as motivation," Barham told me last week. "Clayborn's a great player; the guy at Alabama, Dareus, he's a great player. So all those guys, just seeing what makes them great and learning how to beat them can also help me become a better player as well.
"I know they're going to be working just as hard as I am, if not harder. That's going to push me to work harder and learn different tricks and things to do to beat them and become a better offensive tackle."
You wouldn't blame Penn State players if they never wanted to see Clayborn again. The Iowa star had the decisive punt block and return for a touchdown in last year's Hawkeyes victory at Beaver Stadium.
But Barham sees an opportunity Oct. 2 in Iowa City.
"He's a great player," Barham said. "They say he's going to be a top-10 draft pick, so I would love to go against him."
Clayborn and Dareus won't be the only defensive ends to have their pictures on Barham's phone.
"I'm going to put up different defensive ends as each game goes by," Barham said. "I'm going to have a Youngstown State defensive end up pretty soon."
The 6-foot-3, 298-pound Barham is expected to make his first career start Sept. 4 against Youngstown State after backing up Lou Eliades as right guard this spring.
The cell phone pics are only one way Barham is preparing for an enhanced role. He has worked in camp on expanding his vision.
While he recognizes the importance of handling his individual assignment, Barham knows that the elite offensive linemen have total awareness of what's happening around them.
"In the past, I never would see everything on the field," he said. "Now I'm learning to see everything and how everything clicks: recognizing blitzes, recognizing coverages and different lineups, and how to adjust to them on the fly. As a young offensive lineman, you don't necessarily pay attention to all that at first. You're just so focused on your assignment. But once you see the field and how everything works together, you understand how to work together and how the chemistry can build.
"We're trying to be better than last year's O-line. We've got big goals, and we're trying to reach 'em."