March, 25, 2014
Mar 25
5:00
PM ET
Spring practice is in full swing around the Big Ten, and we've got you covered. Be sure to check us out
on Twitter
.
Mail call ...
Lance from Mooresville, N.C., writes:
Some hypotheticals for you in regards to the 2013 Spartans: 1. If Le'Veon [Bell] would have stayed, would MSU have won a national title? Or would MSU have used him as a crutch like it did in 2012. 2. If MSU would have beat tOSU in the BIG CCG by 20-plus points and not given tOSU the lead back in the third quarter, would it have gone to the NCG? 3) How crazy is it that the BCS came a year too late for U of M and they didn't get an outright national title, and the playoff came a year too late for MSU, and it didn't get a chance to play for one either.

Adam Rittenberg:
1. I don't think Le'Veon Bell, as good as he is, would have been the difference in Michigan State winning a national title. And as you note, it might have changed how the coaches approached the quarterback position. MSU needed to lean more on its QB, partly because Bell wasn't there, and it allowed for
Connor Cook
to emerge. 2. Maybe if Missouri had beaten Auburn, MSU could have vaulted into the No. 2 spot. There was a strong push to get the SEC champ in the game after the run of national titles, but Missouri didn't have the backing that Auburn did. 3. I guess the college football powers-that-be are anti-Mitten State. It's really too bad MSU didn't have a chance to participate in a playoff last year.
---
Puck from Chesapeake, Va., writes:
What impact does
Taco Charlton
make the for Wolverines this fall? I want him to be a game-changer!

Adam Rittenberg:
Puck, few young players impressed me more physically on my spring trips last year than Taco Charlton. Freshmen simply don't look like that very often. He got a small taste of game action last fall, appearing in 10 games as a reserve and recording two tackles. I'm interested to see if he makes a significant jump in Year 2. Michigan needs more pass-rushing production, and while Charlton is behind
Brennen Beyer
, he could have a bigger role.
Frank Clark
and
Mario Ojemudia
are on the other side and boast more experience, but I don't know if any Michigan defensive end has Charlton's physical gifts.
---
Leo from Philadelphia writes:
I grew up in close proximity to both Maryland and Rutgers. I feel like I know what both schools represent (having lots of friends from each), and I can't see either being a rival to Penn State (for obvious reasons). I understand why people from those schools try to justify it, but in reality Penn State has no true rival in the B1G. Ohio State might be the closest thing, but at the end of the day it's not (for obvious reasons). If the Big Ten caters to it, Nebraska, Wisconsin or Michigan State have serious potential (mainly Nebraska). Thoughts?

Adam Rittenberg:
Leo, the only way Maryland or Rutgers becomes Penn State's rival is if one or both start beating the Lions on a regular basis. James Franklin's connection to Maryland makes that series more interesting, but I can't call it a rivalry until the Terps start winning. Penn State will see Ohio State, Michigan and MSU annually in the East Division, but all three programs have bigger rivals. A lot of Penn State and Nebraska fans wanted to see that series continue annually, but the division realignment makes it tough. Penn State might never have a true Big Ten rival. At least Pitt returns to the schedule in 2016.
---
Stephen from Mount Prospect, Ill., writes:
Where do you stand on conference games beginning from Week 1? I think one of the more overlooked parts of the early part of the schedule is the effects it has on rankings and conference prestige. More early conference games will truly show who are the top teams. Look at the Michigan game when it lost to App State. It was the first game of the year, and the Wolverines were ranked fifth. It was a huge deal that they lost, and the perception was that the Big Ten was bad that season. If they played them at the end of the season with three losses, it wouldn't have been as big of a story.

Adam Rittenberg:
Stephen, some really good points here. I've long been in favor of earlier conference games because they add some spice to those September Saturdays. No one like the Big Ten's MAC/FCS Invitational, which seems to take place one Saturday per season. Sprinkling in earlier league games, as we'll see in the near future, ensures the league remains somewhat relevant in the national discussion. But your point about early league games shedding light on which teams are good and which teams are not is very valid. I hate preseason polls and early-season rankings, but they would be slightly more accurate if teams faced stronger competition in September.
---
Al Baker from Lincoln, Neb., writes:
It's Southern Illinois University-Carbondale, not Edwardsville, a much smaller satellite campus.
Adam Rittenberg:
Actually, the Illinois state senators were referring to the Edwardsville campus, in the context of having a Big Ten candidate closer to a larger media market (St. Louis). Carbondale brings nothing to the Big Ten in terms of market. Same goes for Illinois State, Northern Illinois and most of the highly unrealistic candidates for Big Ten expansion. SIU-Edwardsville at least has location in its favor, but not much else.
May, 3, 2013
5/03/13
10:00
AM ET
2012 record:
8-5
2012 conference record:
6-2
Returning starters:
Offense: 6; defense: 6; kicker/punter: 3
Top returners:

QB
Devin Gardner
, WR
Jeremy Gallon
, TE
Devin Funchess
, LT
Taylor Lewan
, RT
Michael Schofield
, DT
Quinton Washington
, LB
Desmond Morgan
, LB
Jake Ryan
, CB
Raymon Taylor
, S
Thomas Gordon
Key losses
QB Denard Robinson, WR Roy Roundtree, OG Patrick Omameh, C Elliott Mealer, DE Craig Roh, DT William Campbell, LB Kenny Demens, CB J.T. Floyd, S Jordan Kovacs
2012 statistical leaders
Rushing:
Denard Robinson (1,266 yards)
Passing:
Denard Robinson (1,319 yards)
Receiving:
Jeremy Gallon* (829 yards)
Tackles:
Jake Ryan* (88)
Sacks:
Jake Ryan* (4.0)
Interceptions:
Thomas Gordon* and Raymon Taylor* (2)
Spring answers
1. Defensive line fine:
Michigan had to replace a four-year starter in Craig Roh as well as defensive tackle Will Campbell up front. It doesn't seem like it will be an issue. Michigan has a potential star in
Frank Clark
at rush end as well as depth at the position with
Mario Ojemudia
and
Taco Charlton
.
Keith Heitzman
, for now, seems to have locked up a spot at strong side end, but there is a lot of talent there, too. The Wolverines have depth at all four spots and while competitions will continue into the fall, Michigan should be able to rotate at defensive coordinator Greg Mattison's leisure.
2. Devin Gardner's progression:
After the way he played toward the end of last season, there was not much doubt about Gardner as the starter, but Michigan's coaches appear happy with his growth throughout the offseason. He has developed as a quarterback the way the coaching staff has liked, and this is even more critical because he is the only healthy scholarship quarterback until
Shane Morris
arrives next month. Gardner's teammates believe in him and he is setting up for a big year.
3. Tight end weapons:
Michigan still doesn't have great depth at tight end, but what the Wolverines do have is a young group of guys who will become big targets for Gardner as the position evolves into a more featured role. Devin Funchess could have a breakout sophomore season and
Jake Butt
has a similar skill set.
A.J. Williams
slimmed down as well, perhaps turning him into more than just an extra blocker.
Fall questions
1. Who runs the ball:
Michigan was never going to be able to answer this question in the spring with
Fitzgerald Toussaint
coming off a broken leg and freshmen
Derrick Green
and
Deveon Smith
still not on campus. But none of the running backs who participated in spring made a lasting impression on the coaches, meaning if he is healthy, Toussaint will likely receive the first chance at winning the job in the fall.
2. Can Jake Ryan be replaced:
Michigan seems confident with its grouping of
Brennen Beyer
and
Cam Gordon
at strongside linebacker, but part of what made Ryan Michigan's best defender was his ability to instinctively be around the ball. Whether or not Beyer or Gordon can do that in games remains to be seen. If the combination of those two can approximate that, Michigan's defense should be fine.
3. Can the interior of the line hold up:
Michigan is replacing both of its guards and its center. While the combination of redshirt sophomore
Jack Miller
at center and redshirt freshmen
Ben Braden
and
Kyle Kalis
at guard has a ton of talent, none have taken a meaningful snap in a game before. How they mesh with returning tackles Taylor Lewan and Michael Schofield, along with how they connect with each other on combination blocks on the inside, could determine not only Michigan's running success this fall, but also how many games the Wolverines win in Brady Hoke's third season.
April, 30, 2013
4/30/13
3:30
PM ET
ANN ARBOR, Mich. -- Two words attach themselves to Michigan defensive end
Frank Clark
.
The first is potential. Clark has plenty. Wolverines All-American left tackle
Taylor Lewan
saw it throughout spring practice, when he faced Clark on a daily basis. Michigan coach Brady Hoke and defensive coordinator Greg Mattison also see what the 6-foot-2, 277-pound Cleveland native could be this season for the Wolverines defense.
"He's so athletic, it's unmatched in my opinion," Lewan told ESPN.com. "He has so much potential to do so many things here, which would be awesome. But a person told me once that potential means you haven't done anything yet. Frank has the opportunity this year to really come out and blossom."
The value of that opportunity isn't lost on Clark because he nearly threw it away last summer. He
pleaded guilty in September to second-degree home invasion
after admitting to stealing a laptop computer from a student's room in his dormitory. The offense took place June 14 -- Clark's 19th birthday.
Clark was
suspended for Michigan's season-opening loss to Alabama
before returning to the field.
"I had to mature after last year," Clark said. "My coaches, as much as they've done for me, giving me another opportunity to play here at this great school, another opportunity to further my education despite everything I went through last year, there's nothing more I could have asked for."
[+] Enlarge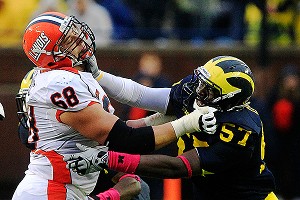 AP Photo/Carlos OsorioMichigan's Big Ten foes will be going up against an even stronger Frank Clark in 2013.
The lesson for Clark?
"I've got to stay out the way, I can't get into any more trouble, I can't do what I did," he said.
Although Clark missed only one game, he paid "heavy consequences" for his mistake, according to Hoke, inside the walls of Schembechler Hall. Hoke saw changes in Clark, especially after the season and when Michigan got into spring ball.
"Growing up as a young man, you really see an accountability to his teammates from Frank," Hoke said.
There's that second word, accountability. Clark always has had potential to be a star, but only recently has he embraced the need to be accountable and the responsibility he now carries for the Wolverines' defense.
Just a true junior, Clark is one of Michigan's most experienced defensive linemen along with
Quinton Washington
and
Jibreel Black
. He has appeared in 23 games, starting four last season, and quietly recorded nine tackles for loss, two sacks, a forced fumble, a fumble recovery and three pass breakups in 2012.
When Michigan lost All-Big Ten linebacker
Jake Ryan
to a torn ACL in March, the big question around the program was who would step into a featured role for a defense that, aside from Ryan, lacked star power last season. Clark's name came up a lot.
"Playing last year and having a bigger role than my freshman year, it forced me to change my mindset," Clark said. "I've got a new set of goals. I've got things I know I've got to help my team out with a little bit more. I've got to be more of an impact player on the defense. I've got to help bring the defense together in the absence of one of our leaders, Jake Ryan.
"Whether it's working harder in the weight room or working harder on the field, I'm doing whatever I can do to help motivate the guys under me: Mario [Ojemudia], Taco [Charlton], the whole defensive line."
Thanks to Lewan, Clark had no trouble keeping track of his progress this spring. They went at it during team drills in workouts, and challenged each other in the weight room, even if they were in different lifting groups.
They competed to see who could do the heaviest set of squats, the top bench-press total and the most pull-ups. Clark didn't win each time, but his victories boosted his confidence.
"I say it to myself, I say it to my family and my friends back home," Clark said. "When you're going against the best offensive lineman in the nation -- and that's how I feel about Taylor -- there's nothing else in the world that can challenge you more. He's an All-American. He's somewhere I want to be, somewhere all my life that I dream to be.
"If I can put myself in that position, live up to expectations of what many people see me as, I know how much I can help my team out."
Mattison has made the pass rush a major priority after Michigan finished eighth in the Big Ten and 78th nationally in sacks last season with 22. The Wolverines lose end
Craig Roh
(four sacks) to graduation and Ryan (4.5 sacks) for at least the start of the season.
There's a bigger burden on players like Clark, Black, Ojemudia and Taco Charlton, a 6-6, 265-pound man-child who enrolled early and went through spring drills.
"He's grown up," Mattison said of Clark. "He's understanding that he has a responsibility to this defense because he is a veteran and he's played quite a bit of football, so his best performance is the only thing that's acceptable."
Mattison tells Clark that "potential is nothing." Those who live up to it separate themselves.
After last summer, Clark is ready to take that step.
"You can't make the same mistake twice," he said. "That's in life and on the field."
April, 5, 2013
4/05/13
5:30
PM ET
Some questions and answers before the weekend ...
Antonio from Omaha writes:
As I read Brian's article "Huskers take aim at turnover problem" earlier, it hit me how much an impact a team's offensive success or failure has on it's defense, and vice versa, but in a different light. Although the defensive letdowns at Ohio State and in the BIG 10 Championship game last year absolutely cannot be traced back to the offense being "too successful", is there any reason not to think that Nebraska offense SHOULDN'T go at a faster pace this year because it'll put the young and inexperienced defense on the field more? Call me biased and optimistic, but I just see this offense having the experience to be one of the best in the nation, esp if they improve their turnover issues, and could be a threat to put points on the board every time they have possession. Although I don't worry about putting up 35+ points by halftime in some of the nonconference games on the schedule, teams like Michigan and UCLA, who could turn around and score all over a young defense, make me think whether a slower offensive pace would be a beneficial team strategy ...
Adam Rittenberg:
Antonio, this is a very interesting issue in college football right now as so many teams are trying to go faster on offense, in large part because of Oregon's success. I remember talking with Michigan offensive coordinator Al Borges about this, and he did a study on how offensive tempo impacted a team's defense. Not surprisingly, he found that the faster teams go, the worse their defenses perform because those units are always on the field. So you want to be cognizant of that and careful. On the flip side, you don't want to hurt yourself by slowing down to save your shaky defense. As Nebraska offensive coordinator Tim Beck once told me, "We want to play in that high tempo as much as we can. Our players seem to play well that way, our quarterback in particular. Taylor [Martinez], the game comes easier to him for some reason when we're playing fast." I think there's a balance and Nebraska can slow things down at times, but the Huskers don't want to go away from what makes their offense so dangerous.
---
Tom from Berkeley, Calif., writes:
What would your thoughts be on an agreement with the P12 and involved bowls where the B1G sent their #3 team to the Holiday in even years and their 6 or 7 to the Kraft Fight Hunger in odd years? By getting teams at different 'levels' less likely for repeats or rematches, and when it does happen they'd be in different locations. B1G gets a second California bowl each year (three might be too many). Travelling fans could consider catching two.
Adam Rittenberg:
Always great to hear from my hometown, Tom. I completely agree with the idea of having a second Big Ten bowl team in California each year. Your plan makes sense, although I wonder if the Kraft Fight Hunger Bowl appeals enough to the Big Ten or its fans. It's a long trip for a fairly low-tier bowl, although the Bay Area is an attractive destination. The Holiday Bowl, meanwhile, carries a little more prestige, and there's
mutual interest between the two groups
. I would be in favor of adding both games on a rotational basis, and your point about eliminating repeats is a good one. But it ultimately comes down to how the Big Ten views the Kraft Fight Hunger Bowl.
---
Jim from Racine, Wis., writes:
So with the mess at Rutgers...what is the take of the Big Ten Commish? Did they make a mistake? Sounds like Rutgers is really messed up educationally and leadership wise.......Should Big Ten Reconsider ? Also how in the heck did Smith dodge a bullet at Ohio States mess.
Adam Rittenberg:
Check out the
previous post
for the Big Ten's take on Rutgers. No real surprises, as Jim Delany acknowledges Mike Rice's conduct was unacceptable and Rutgers made some mistakes, but the school's future membership hasn't been questioned. As Delany points out, Rutgers isn't the first Big Ten school to deal with personnel issues involving a coach's conduct (see: Knight, Bobby). The difference between Tim Pernetti and Gene Smith is that Pernetti had knowledge of Rice's conduct problems, while Smith wasn't aware that Jim Tressel knew about the Tat-5.
---
Chris from New Haven, Conn., writes:
Adam - I have heard a lot about how Michigan finally looks fast after having been in the same system now for the third year. After having seen Michigan practice do they appear faster, especially on defense? What one player on each side of the ball has stood out as impact players?
Adam Rittenberg:
Chris, there definitely seems to be more team speed at Michigan, not only in the back seven but with linemen like
Mario Ojemudia
, a lean body who has good burst off of the edge. Linebacker James Ross is another defender generating buzz. He has good closing speed. The coaching staff sounds very excited about young cornerback Dymonte Thomas, one of the team's fastest players. Offensively, the Wolverines have good speed at receiver with
Jeremy Gallon
and
Drew Dileo
, and I'm interested to see if
Jehu Chesson
and
Amara Darboh
can make an impact this season. I think they'll have a real chance.
---
Matt from Wausau, Wis., writes:
Adam, this Rb draft class seems to be a real head-scratcher to me. I've been tearing through inside draft profiles both here and on other sites and it seems
Eddie Lacy
is the consensus top pick for RB's. I'll concede he may have better top-end speed then
Montee Ball
, but in every other facet of a RB profile, Ball is heads and tails above Lacy and everyone else. The other thing that bugs me is Lacy had a better OL this year, and worse numbers than Ball. Would someone stop this insanity and actually declare Ball the top back in the draft?
Adam Rittenberg:
Matt, you know Brian and I are huge fans of Montee Ball, but how is he better than Lacy in "every other facet of a RB profile?" Does he have more power? I don't think so. Does he break more tackles? I saw Lacy break plenty during his Alabama career. Sure, Lacy played behind a better offensive line than Ball did last season, but he also did plenty of damage in the open field, particularly in big games. Lacy also wasn't featured as much as Ball. He had no game with more than 20 carries and just eight games with 15 or more carries. In those eight contests, Lacy averaged 123.5 yards per game. Ball certainly helped himself at Wisconsin's pro day and will be a very good NFL back in my view. But I think you're selling Lacy short.
---
MrVandy from Bethlehem, Pa., writes:
Adam, I totally understand why Michigan State is not an option for the west division even though they would make the most sense competitivewise. With an odd number in each division, if we are to end the season with Big Ten teams playing each other, there will have to be one crossover game on that date. If we want to be consistent from year to year and als end with rivalries, of MSU is in the west the only constant crossover would be Michigan, and we all know they already have a partner for that Saturday. Otherwise, MSU would be stuck rotating with Penn St., Rutgers, and Maryland (and those teams would also rotate each other). That's why Purdue or Indiana must go west. Lastly, since the divisions will be aligned geographically, can we send you over to cover the west division, while Brian covers the east division?
Adam Rittenberg:
So you're just trying to get rid of me, Vandy? I see how it is. We won't be splitting up the division coverage, so you're stuck with both of us covering the whole league. But you bring up a good point about the odd number of teams in the divisions and how it impacts the schedule for the final regular-season Saturday. You couldn't have Michigan-MSU on that date, so Purdue-Indiana is a good option. I also think the Big Ten loses less by having a weaker schedule rotation for Purdue or Indiana than it does with bigger brands like Michigan and Michigan State.
---
KMan from Baltimore writes:
Adam,A couple questions/comments - as you did yesterday w/ Michigan State, will either you or Brian be doing a live blog from PSU this spring? Second, my pick for PSU's breakout player in 2013 is wideout
Eugene Lewis
. With measurables comparable to star receiver
Allen Robinson
, I've heard nothing but good things. He should complement Robinson nicely along with Moseby-Felder this season. In terms of the slot, I feel this is perfect spot for
Bill Belton
given his shiftiness and athleticism, much like his role in late 2011. I don't see him succeeding at tailback. Your thoughts?
Adam Rittenberg:
Neither Brian nor I will be going to Penn State this spring, but our colleague Ivan Maisel will be there early next week. Look out for a possible live blog from Ivan. Lewis is a good call for potential breakout player, as the Lions need at least another receiver to emerge, even though they have Robinson and tremendous depth at the tight end position. I know Bill O'Brien is excited about the younger receivers like Lewis,
Trevor Williams
and
Alex Kenney
. As for Belton, I wouldn't give up on him at running back just yet, although slot receiver could be an option down the line. A lot depends on how he competes with the other backs like
Zach Zwinak
and
Akeel Lynch
.
March, 26, 2013
3/26/13
2:30
PM ET
The
Jake Ryan
replacement project is under way at Michigan.
Ryan, the team's top defender in 2012, left a significant hole at the strongside linebacker spot after
suffering a torn ACL last week in practice
. The Wolverines expect
Cam Gordon
to step in for Ryan, but they need more bodies at the position.
That's why junior
Brennen Beyer
has been
moved from defensive end to outside linebacker
, defensive coordinator Greg Mattison said Tuesday. Beyer played linebacker in 2011 but moved to rush end role last season and started eight games, recording 19 tackles and a forced fumble.
Mattison said Beyer will play linebacker only until Ryan returns to the field. The coach is pleased with Beyer's performance in his first few practices in his new/old spot.
Mattison also sounds confident in Gordon, who started all 13 games in 2010 at safety and linebacker but has had a reduced role in each of the past two seasons. He recorded three tackles for loss and a pass breakup last fall.
"Right now for the first time, and it was starting to happen last year, he's really getting confidence and he can kind of look in the mirror and say, 'I am an outside linebacker,'" Mattison told reporters Tuesday in Ann Arbor. "It's not, 'I wonder if I can do this.' He knows he can do it, now he has to get better and better at it."
Beyer's move also makes sense because Michigan has much better depth at rush end with
Frank Clark
,
Mario Ojemudia
and Taco Charlton. Clark made four starts last season and had nine tackles for loss and two sacks. Ojemudia recorded 2.5 tackles for loss, a sack and a forced fumble in nine games as a reserve, while Charlton is a true freshman.
April, 30, 2012
4/30/12
1:25
PM ET
Michael Rothstein writes

: Michigan defensive end Mario Ojemudia is the fourth member of the Wolverines' 2012 class to enroll early at U-M.
Tom VanHaaren writes

: Seffner, Fla., safety Leon McQuay III combines elite play with great academics, two factors that have Michigan in hot pursuit of him.
WolverineNation chat wrap
: VanHaaren answers reader questions about Michigan recruiting in his bi-weekly live chat.
June, 3, 2011
6/03/11
9:00
AM ET
The calendar has flipped to June, and summer recruiting is in full swing around the Big Ten.

There have been quite a few verbal commitments in recent days, so let's take a quick look at where each Big Ten team stands with its 2012 class.

ILLINOIS
INDIANA
IOWA
MICHIGAN
MICHIGAN STATE
MINNESOTA
NEBRASKA
NORTHWESTERN
OHIO STATE
PENN STATE
PURDUE
WISCONSIN