Big Ten:

Marion Barber III
July, 2, 2014
Jul 2
5:00
PM ET
You know it, you love it, you can't live without it. It's Wednesday mailbag time.
@GeoffreyMarshal via Twitter writes:
What do
Wednesday's commitments
say, if anything, about B1G recruiting? Is B1G recruiting too top-heavy?

Brian Bennett:
Ohio State's additions of a pair of top 20 players in linebacker
Justin Hilliard
and defensive end
Jashon Cornell
is huge news for the Buckeyes, but not all that surprising. Urban Meyer and his staff have killed it on the recruiting front since they arrived in Columbus. We also know that James Franklin is going bonkers at Penn State, with ESPN's No. 4 nationally ranked class right now. And don't forget about Brady Hoke. While Michigan hasn't wrapped up as many commitments this summer as it has in years past, the Wolverines are still sitting on a top 25 class with room to improve.
But did we learn anything? Those three schools have long been at the forefront of recruiting in the Big Ten. If anything, the aggressive tactics of Meyer and Franklin might pull the rest of the league forward, because they risk getting left behind if not.
Then again, look at the last three Big Ten champions: Michigan State and Wisconsin (twice -- one impacted, of course, by Ohio State's probation). Neither of those programs usually finds itself among the elite in the recruiting rankings but instead both do a great job of scouting and developing talent. So just collecting star prospects guarantees nothing, though it is a nice place to start.
---

@hicksoldier via Twitter writes:
What in your opinion is the reason that MSU keeps missing out on top recruits, especially on defense? And what can they change?
Brian Bennett:
It's a stretch to say the Spartans keep missing out. Remember
Malik McDowell
, a top defensive tackle recruit Michigan State landed earlier this year after much drama? But I see your point. Michigan State made Cornell's final top five, but he ended up choosing Columbus. One would think, given Mark Dantonio's success in developing players -- especially on defense -- coupled with the team's rise toward the national elite would help the Spartans land a few more studs. But a school like Ohio State is always going to have some advantages in recruiting. The good news is Dantonio's staff does a tremendous job figuring out which players will fit the team's system and then polishing them into stars. And if Michigan State can continue to win big on the field and churn out pros, higher-caliber recruits should look toward East Lansing.
---
Glenn from Siesta Key, Fla., writes:
Brian, why is it that during this offseason you constantly are mentioning the PSU OL as a weakness and question mark, while it seems OSU is pretty much in the same boat? Yet, all you talk about is how OSU will win its division and could be a playoff contender. Won't
Braxton Miller
have the same challenge as
Christian Hackenberg
if his OL doesn't show up?
Brian Bennett:
For starters, I haven't said Ohio State will win the East Division. I'm not ready to predict that yet. You make a decent point, as both the Buckeyes and the Nittany Lions likely will be replacing four starters on the offensive line. I have written that the offensive line is a question mark for Ohio State. But the two teams also are coming from different starting points. Ohio State's offensive line was the best in the league the past two years, and the recruiting at that position has been solid. Ed Warriner is one of the best position coaches in the nation.
Penn State's offensive line wasn't as dominant last year as the Buckeyes', and depth is a concern given the scholarship limitations. But I do really like Herb Hand and think he very well could have a Warriner-like impact for the Nittany Lions. We'll see. If Ohio State's line doesn't come together quickly, the Buckeyes could have problems early on against Virginia Tech.
---

Chris from Princeton, N.J., writes:
I know you guys don't see Rutgers as a bowl team this year but let's say they do manage to get six wins. Where do you see those potential wins coming from?
Brian Bennett:
It's not out of the realm of possibility that Rutgers makes a bowl, but the Scarlet Knights will have to win all of their toss-up games for it to become likely, given the schedule. They figure to be heavy underdogs against Michigan and Wisconsin at home and versus Ohio State, Nebraska and Michigan State on the road. Going across the country for the opener against Washington State in Seattle looks very difficult as well.
That leaves very little margin for error. You can pencil in wins over Howard and Tulane at home. Beating Navy in Annapolis, while not an easy task, is doable and probably crucial. Conference games against Indiana at home and Maryland on the road could go either way. The Big Ten opener against Penn State should be played in front of a raucous atmosphere, and the Lions were often vulnerable on the road last season. So Rutgers is basically going to have to sweep all of its 50-50 games or pull off a big upset anywhere. Good luck with all that.
---

Craig from Braintree, Mass., writes:
Brian, do you recall the days of Marion Barber and Laurence Maroney? Could the mix of guys the Gophers have produce two 1,000-yard rushers?
Brian Bennett:
I sure do, Craig. Those two guys were loads of fun to watch. I'm not sure which is harder to believe, in retrospect, about the 2004 Gophers: that they finished only 7-5 with that pair in the backfield, or that they beat Alabama in a bowl game. But going back to your question, Minnesota has an awful lot of talent at running back this season.
David Cobb
somewhat quietly ran for 1,202 yards last season, 12th most in school history.
Donnell Kirkwood
came close to 1,000 yards in 2012, and
Rodrick Williams Jr
. is a 247-pound beast who's almost impossible to bring down on first contact. Add in redshirt freshman
Berkley Edwards
, who might be more talented than all of the, and quarterback
Mitch Leidner
, who's got great wheels as well. And that's not even considering top 2014 recruit
Jeff Jones
, who might not be academically eligible.
Can two Gophers get to 1,000 yards? Minnesota almost certainly will be a rush-first team again this year. The hope is that the passing game improves enough so the offense isn't rush-first, rush-second and rush-third as well. I'm not sure there will be enough carries for two players to get to 1,000 yards, and the offense has to stay on the field longer to provide more opportunities. There may not be a Maroney or a Barber in this group, but it still should be fun to watch.
January, 21, 2010
1/21/10
9:00
AM ET
It's time to look back at the best Big Ten coaches of the decade. The top choice was a no brainer. After that, it gets interesting. I really struggled with the decision about the No. 2 coach. I put a premium on making bowl games, winning bowl games and winning in Big Ten play.
Here's a look:
[+] Enlarge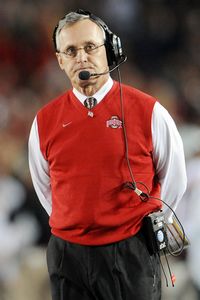 Chris Williams/Icon SMIOhio State coach Jim Tressel won six conferences titles and a national title, making the 2000s the decade of the vest in the Big Ten.
1. Jim Tressel, Ohio State:
Other than USC's Pete Carroll, no coach dominated a major conference this decade like Tressel dominated the Big Ten. Since 2001, Tressel has won a national title, six Big Ten titles (outright or shared), five bowls and four BCS bowls. He owns a 94-21 record at Ohio State, and, perhaps more impressive, a 59-13 mark in Big Ten play. This was unquestionably the decade of The Vest.
2. Lloyd Carr, Michigan:
It seems like a while since Michigan last won a Big Ten title, but Carr's teams claimed three of them (two shared, one outright) in the first half of the decade. Michigan finished first or second in the league in seven of the eight years Carr coached this decade. He struggled against Tressel and in the Rose Bowl, but Carr's accomplishments shouldn't be overlooked. He gets an ever so slight edge over Kirk Ferentz.
3. Kirk Ferentz, Iowa:
Ferentz revived a struggling Iowa program this decade and restored the Hawkeyes among the Big Ten's elite. Since 2002, he has guided Iowa to two Big Ten championships, four seasons of 10 or more victories and eight bowl games, winning five of them. Iowa owns four top-10 finishes this decade under Ferentz.
4. Joe Paterno, Penn State:
Paterno is right up there with Tressel in the second half of the decade, winning two Big Ten championships and averaging 10.2 wins per season between 2005-09. Four losing seasons in the first half of the decade sting a bit, but JoePa is getting better with age!
5. Joe Tiller, Purdue:
Tiller won his only Big Ten title in 2000, and Purdue reached bowl games in the first seven years of the decade. Purdue's all-time coaching victories leader made the Boilers into a consistent upper-half Big Ten team in the aughts.
6. Bret Bielema, Wisconsin:
Bielema probably hates being listed ahead of his boss and predecessor, but his record in the past four years speaks for itself. He owns a 38-14 record at Wisconsin (20-12 Big Ten) and has taken the Badgers to bowl games each year. Bielema coached Wisconsin's best team of the decade in 2006, a squad that went 12-1 and finished seventh in the final AP Poll.
7. Barry Alvarez, Wisconsin:
Alvarez was arguably the Big Ten's Coach of the 1990s, and he kept the program among the league's elite until he stepped down following the 2005 season. He had three seasons of eight or more victories and won three bowls during the decade. Alvarez's best season this decade came in his last, as Wisconsin went 10-3 and beat Auburn in the Capital One Bowl.
8. Glen Mason, Minnesota:
Mason coached Minnesota to six bowls in seven years until his dismissal after the 2006 Insight Bowl. He oversaw one of the nation's top rushing attacks this decade as backs Laurence Maroney and Marion Barber III piled up yardage. Mason had a 10-win season in 2003, but his inability to get Minnesota to the next level led to his firing. He went just 24-32 in Big Ten play this decade.
9. Randy Walker, Northwestern:
The late Wildcats head coach won a Big Ten title in 2000 and took NU to three bowls in six years this decade. Northwestern won six or more games in four of the six seasons Walker coached this decade. Walker also fared well in Big Ten play, going .500 or better four times.
T-10. Mark Dantonio, Michigan State:
Dantonio has stabilized a Michigan State program that underachieved for most of the decade. The Spartans have reached bowls in each of Dantonio's three seasons as head coach. Dantonio owns a 13-11 mark in Big Ten play, which is much better than his predecessors.
T-10. Pat Fitzgerald, Northwestern:
Fitzgerald, who took over after Walker's sudden death in 2006, owns 17-9 record (10-6 Big Ten) in the last two seasons. He's just the second coach to lead Northwestern to consecutive bowl appearances. Expect Fitzgerald to be higher on this list for the next decade recap.
January, 19, 2010
1/19/10
9:00
AM ET
Our decade recap continues with a look at the top players in the Big Ten from 2000-09. The league produced just one Heisman Trophy winner, Ohio State quarterback Troy Smith in 2006, but many other national award recipients on both sides of the ball.
We saw outstanding one-year performances from players like Brad Banks (2002), Larry Johnson (2002), James Hardy (2007) and Shonn Greene (2008), and impressive four-year career efforts from Paul Posluszny, James Laurinaitis, Mike Hart, Javon Ringer, Taylor Stubblefield and others.
[+] Enlarge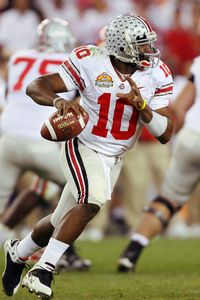 Jason Parkhurst/US PresswireOhio State's Troy Smith was the runaway winner of the Heisman Trophy in 2006.
The league produced solid linemen and linebackers the entire decade, while star quarterbacks and running backs were sprinkled throughout.
Believe me, it wasn't easy to get this list down to 10 players, but here goes.
I put more weight on players who had multiple outstanding seasons. Also, players who had most of their production in the 1990s didn't make the cut.
1. Troy Smith, QB, Ohio State:
The league's lone Heisman Trophy winner tops the list. Smith took home the Heisman, the Walter Camp and the Big Ten MVP awards in 2006. He also led Ohio State to a Fiesta Bowl championship following the 2005 season.
2. Braylon Edwards, WR, Michigan:
The 2004 Biletnikoff Award winner earned consensus All-America honors that year, completing a terrific four-year run in Ann Arbor. Edwards still holds the Big Ten record for career touchdown receptions with 39, two more than fellow Wolverine Anthony Carter.
3. A.J. Hawk, LB, Ohio State:
Hawk was the face of a ferocious Buckeyes defense during the mid part of the decade. The two-time All-American (unanimous in 2005) won the Rotary Lombardi Award and helped Ohio State to a Fiesta Bowl victory.
4. Joe Thomas, T, Wisconsin:
The Thomas-Jake Long debate is a good one, but I'm giving the edge to Thomas, the 2006 Outland Trophy winner. Thomas anchored several powerful Wisconsin offensive lines, earned consensus All-America honors in 2006 and twice made the All-Big Ten squad.
5. Paul Posluszny, LB, Penn State:
Posluszny is one of only two Big Ten players to win the Bednarik Award two times. He also took home the Butkus Award in 2005 and helped restore Penn State after the program had slipped from 2000-04.
6. James Laurinaitis, LB, Ohio State:
Laurinaitis was quite possibly the most decorated Big Ten player of the decade on either side of the ball. He joined select company at Ohio State in earning All-America honors three times (unanimous in 2007). Laurinaitis won the Butkus and Nagurski awards and twice earned Big Ten Defensive Player of the Year honors.
7. Greg Eslinger, C, Minnesota:
Laurence Maroney and Marion Barber III shared the rushing load, but Eslinger was the mainstay who created rushing lanes no matter who had the ball. The 2005 Rimington Trophy winner was Minnesota's only three-time All-Big Ten selection this decade.
8. Bob Sanders, S, Iowa:
No player meant more to Iowa's renaissance this decade than Sanders, the team's only three-time All-Big Ten selection in the aughts. Nicknamed "The Hitman," Sanders epitomized a program that got the most from its players for the majority of the decade.
9. Mike Hart, RB, Michigan:
We witnessed lot of great one-year performances from Big Ten running backs, but Hart was one of the league's few mainstays this decade. Despite being plagued by injuries as a sophomore, Hart finished fourth on the Big Ten's all-time rushing list (5,040 yards) and had 28 career 100-yard rushing games.
10. Antwaan Randle El, QB, Indiana:
Randle El brought a new brand of football to the Big Ten and had a record-setting career despite never reaching a bowl game. The dual-threat star won Big Ten MVP honors in 2001 and ranks fourth on the league's career total offense list with 11,364 yards.
Also considered:
Michigan T Jake Long, Michigan State WR Charles Rogers, Michigan State RB Javon Ringer, Iowa QB Brad Banks, Iowa T Robert Gallery, Purdue WR Taylor Stubblefield, Ohio State WR Ted Ginn Jr., Michigan DE LaMarr Woodley, Illinois RB Rashard Mendenhall, Penn State QB Michael Robinson, Penn State RB Larry Johnson, Purdue WR Dorien Bryant, Purdue WR John Standeford, Ohio State S Mike Doss, Wisconsin DE Erasmus James, Iowa RB Shonn Greene, Northwestern QB Brett Basanez, Illinois LB J Leman, Penn State LB Dan Connor.
September, 1, 2009
9/01/09
11:30
AM ET

Posted by ESPN.com's Adam Rittenberg
Duane Bennett
lost a season but gained a healthy dose of perspective, not to mention a new offense that makes running backs drool.
Bennett appeared destined for big things last fall at Minnesota. He racked up 140 rush yards, 125 receiving yards and three touchdowns (2 rush, 1 receiving) in less than two games before tearing the ACL in his left knee in the fourth quarter of a win at Bowling Green.
| | |
| --- | --- |
| | |
| | Tom Dahlin/Getty Images |
| | Duane Bennett is looking forward to going back to a run-oriented offense. |
After quickly establishing himself as the Golden Gophers' top back, Bennett could merely watch as the team struggled on the ground, finishing last in the Big Ten and 104th nationally in rushing (103.8 ypg).
"I felt I was taking a step in the right direction to really have a solid season last year," he said Monday night. "But once the injury occurred, we refocused and gathered our thoughts, never detoured from the vision but changed the way we went about it."
Bennett has fully recovered from the injury and returns to a seemingly perfect situation with the Gophers this fall.
The team's woeful rush attack in 2008 prompted head coach Tim Brewster to revamp the offense. This fall, Minnesota will employ a pro-style system that will accentuate a downhill run game.
Two years of the spread offense diverted Minnesota from its rushing roots, as the team fell from among the nation's elite in 2004 and 2005 to the middle of the Big Ten in 2007 and then to the bottom last fall. Brewster hired offensive coordinator Jedd Fisch and offensive line coach Tim Davis, the team's running game coordinator, to get things back on track.
"We still had a great game plan with the spread, but just jumping back into the I-formation was a great transition for us," Bennett said. "It gives us the chance to see the defense from a different perspective, having those seven-man boxes, eight-man boxes. It gets us back to what Minnesota's running game is all about, using a tight end and a fullback and really pounding the ball, playing like a Big Ten team is supposed to play."
Minnesota unveils its new offense Saturday in the season opener against Syracuse (ESPN2, noon ET), a team that ranked 101st nationally against the run last fall. Brewster expects to use a three-man rotation at running back with Bennett,
DeLeon Eskridge
and
Kevin Whaley
.
Bennett, who received a medical hardship waiver for 2008, went through winter workouts with his teammates and was allowed to do noncontact drills during spring ball. Brewster last week declared the sophomore "100 percent healthy," and Bennett has spent preseason camp absorbing the new offense.
"The cuts are a little more crisp," he explained. "You're able to use your linemen a lot more, really press the issue with those big guys up front. In the spread, it's all about speed and how you can get to one point faster than the defender, so I really felt that converting to the I-formation is good. We've been able to re-establish the dominance up front, really putting the game on the shoulders of the offensive linemen once again.
"Being able to get downhill, being able to see things from a North-and-South perspective instead of an East-and-West [perspective] is really going to help."
Minnesota's running tradition wasn't the deciding factor in Bennett's decision to play for the Gophers, but he's well aware of the names that came before him.
"I knew about Marion Barber, Thomas Tapeh, Terry Jackson, Laurence Maroney, all the consecutive 1,000-yard rushers they had over those years," Bennett said. "I wanted to go to a team that really established the run, and at that point in time, Minnesota was one of the best teams in the run game."
Minnesota hopes to reclaim that distinction this fall, and Bennett could be the man leading the charge.
February, 11, 2009
2/11/09
4:57
PM ET
Posted by ESPN.com's Adam Rittenberg
Minnesota's 2009 recruiting class might not be complete, as the Gophers hope to add running back Trabis Ward in the coming days.
Ward, ranked as the nation's 27th best running back by ESPN's Scouts Inc., told the St. Paul Pioneer Press' Marcus Fuller that he'll sign with Minnesota as long as he receives a qualifying score on the SAT. Minnesota already has signed one running back for 2009, Hasan Lipscomb of Houston.
"I might sign when I come up on my visit . . . probably on Friday," said Ward, who is also considering South Carolina. "[Minnesota's] a running back school. I think I can do a lot of great things there."
Ward's last statement is important to note because Minnesota really couldn't be characterized as a running back school the last two seasons, when it used the spread offense. Quarterback Adam Weber led the team in rushing in 2007, and the Gophers had the Big Ten's worst rushing offense in 2008.
But Minnesota is taking steps toward returning to its running roots, namely hiring Tim Davis as offensive line coach/run game coordinator and Jedd Fisch as offensive coordinator.
Davis dramatically changed the way the Gophers' linemen block after arriving in late November, and Fisch plans to run a pro-style offense. It might not click right away, but Minnesota wants to get back to the not-so distant days when players like Laurence Maroney, Marion Barber III, Tellis Redmon and Gary Russell put up big numbers.
The message appears to be resonating for prospects like Ward.
BIG TEN SCOREBOARD
Wednesday, 12/24
Saturday, 12/20
Monday, 12/22
Tuesday, 12/23
Friday, 12/26
Saturday, 12/27
Monday, 12/29
Tuesday, 12/30
Wednesday, 12/31
Thursday, 1/1
Friday, 1/2
Saturday, 1/3
Sunday, 1/4
Monday, 1/12
Tweets from https://twitter.com/ESPNCFB/lists/b1g