April, 18, 2014
Apr 18
9:00
AM ET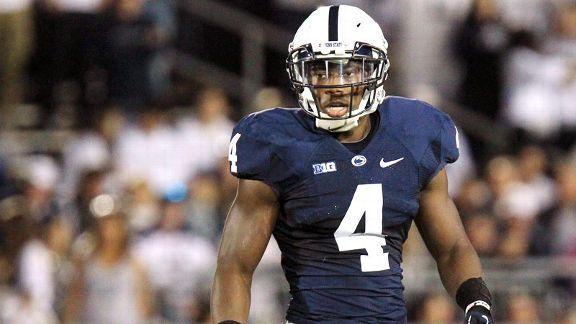 STATE COLLEGE, Pa. -- Penn State has produced a first-team All-Big Ten defender in eight of the past nine seasons, but no Nittany Lions defensive back has made the list since 2008 (safety Anthony Scirrotto). The drought could end this year.
If safety
Adrian Amos
plays to his potential, it will end.
"I don't know if I've ever coached a player with Adrian's skill set before," Lions defensive coordinator Bob Shoop told ESPN.com. "He's so big, so strong, so fast. He can contend for first-team All-Big Ten and be a guy who receives national recognition if he pushes himself to the next level."
[+] Enlarge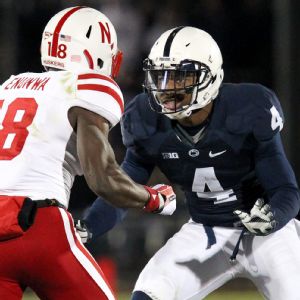 Matthew O'Haren/USA TODAY SportsAdrian Amos' size, speed and versatility make him a key cog in Penn State's secondary.
Shoop has yet to coach Amos in a game, but sees the potential on tape and on the practice field and is setting the bar high for the senior. Amos has the size -- nearly 6-foot-1 and 212 pounds. He has the speed, clocking a 4.43 in the 40-yard dash as a sophomore (unlike 99.9 percent of the population, he actually gets faster as he gains weight). He has the playmaking ability, with four interceptions and 12 pass breakups.
He also has versatility, although where he plays has sparked debate among Penn State fans.
"He's got a lot of things we're all looking for in recruiting, and what people are looking for at the next level in terms of drafting: height, weight, speed," PSU head coach James Franklin said. "He processes information fast as well. There are some guys that will test fast but they don't think fast on the field, so it slows them down.
"He does all those things extremely well."
Whether Amos' unique skills translate at safety remains to be seen. He played predominantly cornerback in high school in Baltimore and had success there early in his Penn State career, earning honorable mention All-Big Ten honors in 2012.
He moved to safety last year to mixed results, as Penn State slipped to 59th nationally in points allowed and 73rd against the pass. Amos moved back to cornerback late in the season and performed well in an
overtime win against Illinois
, deflecting a pass that led to the clinching interception.
"Amos, his natural position, is corner," then-coach
Bill O'Brien said at the time
. "I think he's a good corner."
But he's a strong safety again with the new coaches. Shoop's rationale: it's the position a team's best defensive back should play.
"He's a natural safety," linebacker
Mike Hull
said of Amos.
Amos' take: "I'd say I'm a cornerback but I play well at safety. I can be very, very good at safety. The movements and everything are more natural and they come easily to me."
So which is it: safety or cornerback? Franklin acknowledges that Amos' versatility creates a debate. Amos and
Jordan Lucas
form an effective tandem at cornerback. Then again, having one standout at both secondary spots could be Penn State's best route. And
the Lions coaches seek versatility
, perhaps more than any other trait, on a roster where depth remains in short supply.
The truth is Amos can play well at both spots. But the comfort level he displayed during spring practice didn't come from his position.
"If I'm comfortable in the defense, I'm comfortable at any position," Amos said. "This defense allows me to play fast, so I enjoy playing safety in this defense. It allows me to be aggressive. It allows me to be around the ball a lot more, just making more plays.
"When you're a safety and you understand the defense, you play faster."
Amos calls the new defense a "fresh start," and has spent more time studying himself and his teammates on film. Shoop also shows him tape of his former Vanderbilt defenses and how certain unique players similar to Amos moved from safety to corner to nickel to dime.
This spring, they watched Tampa Bay Buccaneers safety
Mark Barron
, the former Alabama star, shift from covering the slot receiver to being the dime linebacker to working at strong safety and then free safety.
"He's a unique weapon for a defense," Shoop said of Amos. "To use a basketball analogy, you try to get him his touches."
Amos was too banged up to run the 40-yard dash for the new coaches before spring practice, but his goal is to break 4.4 at the next testing session. He believes he can play both secondary positions in the NFL, where bigger cornerbacks are trending and sturdy, physical safeties are still in demand.
But first thing's first. "We want to be the best secondary in the Big Ten," he said.
Elite secondaries have elite players, and Penn State could have one in Amos this fall.
"He has so much athleticism and skill," Hull said. "I haven't seen that out of very many players in the Big Ten. He has the whole package. He just needs to put it all together this year."
April, 4, 2014
Apr 4
10:30
AM ET
STATE COLLEGE, Pa. -- There are several ways to combat the unique depth challenges Penn State faces with its reduced roster.
1. Upgrade recruiting:
If Penn State brings in more players who can make significant contributions early in their careers, it should have fewer gaping holes on the depth chart. Not surprisingly, James Franklin and his assistants are already succeeding here.
Penn State signed a top 25 recruiting class
in February, less a month after Franklin's hiring. The Nittany Lions already have 11 verbal commitments for the 2015 class, the most in the country, and six ESPN 300 prospects in the fold.
[+] Enlarge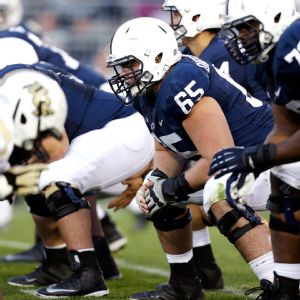 AP Photo/Gene J. PuskarLosing guard Miles Dieffenbach to a knee injury puts further stress on a Penn State offensive line that was thin to begin with.
2. Pray for good health:
Penn State's projected starters could yield good results in the fall. But the Lions can't afford many injuries because at many spots there's a sizable drop off between starter and backup. Although Penn State could get lucky here, veteran guard
Miles Dieffenbach
reportedly suffered a serious knee injury
last week. It's hard to imagine he'll be the only key Lion to go down. Just the nature of the game.
3. Maximize versatility:
If a smaller group of players fills a larger number of roles, teams can avoid major trouble spots. It's more of a patchwork solution, but Penn State's sanctions, while originally labeled catastrophic, appear to be a short-term challenge, especially with the way Franklin is recruiting.
As Franklin and his staff evaluate personnel this spring, they're looking for talent, but they're also looking for versatility.
"We as coaches have to be open-minded, and players have to be open-minded," said Charles Huff, PSU's running backs coach and special teams coordinator. "They've got to understand, 'I'm not just a linebacker, I'm not just a running back, I'm not just a wideout. I'm a football player. There may be times, whether it's by play, by game, by unit, that I'm asked to do some things that may not be under the umbrella of my given position.'
"And as coaches, we have to step out of the box with what we're comfortable with and do some things that fit the players better."
No position group at Penn State has greater depth issues than the offensive line. With Dieffenbach out, left tackle
Donovan Smith
is the only returning starter practicing this spring.
Angelo Mangiro
is the only other returning letterman who played offensive line in 2013.
There's a need for versatility up front, and
Derek Dowrey
and
Brian Gaia
, two converted defensive tackles who shifted to guard only two days before spring practice, both are in the mix for playing time.
"Sometimes it takes months or even a full year to really get it, and those guys for the most part have adapted pretty quickly," offensive coordinator John Donovan said. "It's one thing to learn a new system. It's another thing to learn a new side of the ball plus a new system."
Both Gaia and Dowrey have adjusted so well that Smith can't even tell that they played defense just months earlier.
"They've probably had a better spring than I have," Smith said.
Dowrey and Gaia could help Penn State put a decent starting five on the field this season. But Donovan would like three sets of linemen: the starters, the backups and the redshirts/developmental/emergency group.
Penn State won't have that luxury this season, so the coaches and players must get creative. Franklin recalls how one of his former Vanderbilt players,
Wesley Johnson
, started at all five offensive line spots during his career.
"We're going to have to have that here," Franklin said. "When you don't have a two-deep of scholarship players, you've got issues. I don't know if there's too many Division I programs that don't have at least a two-deep at every position. We don't. It is what it is. We're going to have to find ways to overcome it.
"It might be a situation almost like an NFL roster where you have your five starters and then your sixth man backs up every position."
Penn State's personnel situation is better on defense, but coordinator Bob Shoop and his staff still look for flexibility. Although
Deion Barnes
and
C.J. Olaniyan
have played defensive end throughout their careers, Shoop thinks both could play outside linebacker when the Lions switch from a 4-3 alignment to a 3-4.
Adrian Amos
already has started at both safety and cornerback for the Lions. While he's back at safety, he could help on the perimeter opposite
Jordan Lucas
if needed. Shoop has shown Amos film of how he used Vanderbilt defenders in multiple roles. They watched film on Wednesday of
Mark Barron
of the Tampa Bay Buccaneers working at both safety spots and as as linebacker in the dime package.
"He could definitely play corner," Shoop said of Amos. "He could play safety, he could be a nickel, he could be a dime for us. He and Jordan both provide a significant amount of flexibility."
Scholarship players who can play several positions is one way to combat depth issues. Another is the strong walk-on program that Franklin inherits at Penn State.
His PSU predecessor Bill O'Brien repeatedly emphasized the importance of non-scholarship players, whom he called run-ons. Penn State recently had a meeting for potential walk-ons and 160 students attended, according to Franklin.
"We could have given pizzas away at [Vanderbilt] and not had that many people show up," Franklin said. "We had seven guys playing for us who never played high school football. Here, we had really good numbers show up, really good quality."
The Lions coaches hope with versatile scholarship players and willing, capable walk-ons, they can win the numbers game this fall.
September, 8, 2011
9/08/11
11:00
AM ET
Linebacker Michael Mauti called the performance "kind of embarrassing."
Left tackle Quinn Barham admitted some younger players were intimidated at Bryant-Denny Stadium.
But Penn State vows Saturday's game against Alabama will be different because this year's Nittany Lions team is different.
"We're more comfortable, we're more confident and we actually know what we're getting into," Barham said.
Saturday's date with No. 3 Alabama will, if nothing else, be an excellent barometer for No. 23 Penn State. The Lions remain somewhat of a mystery right now -- a team talented enough to compete for a Big Ten title but potentially flawed enough to finish 7-6 again.
Joe Paterno didn't give his team much of a chance last year in Tuscaloosa, and Penn State
fell 24-3
in a game where the score could have been worse. While Paterno is keenly aware of the challenge awaiting Saturday, he's more optimistic.
"This is a better team than we had last year," Paterno said. "Whether it's good enough, we'll see. But they've worked. And I think we've done a little bit better job coaching. I know we've asked more of them and they have responded."
Will the Lions' response translate into a signature win?
Here are three keys for Penn State to take down the Tide.
1) Don't waste scoring chances
[+] Enlarge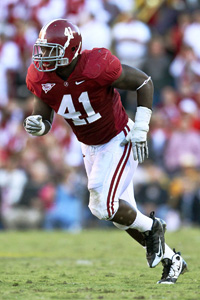 Derick E. Hingle/US PresswireCourtney Upshaw and the Tide defense are stingy, so the Lions must capitalize on scoring opportunities.
Alabama boasts what many regard as the best defense in the country, and for good reason. The Tide return 10 starters, led by standouts such as safety Mark Barron and linebackers Dont'a Hightower and Courtney Upshaw.
Penn State likely won't have too many scoring opportunities Saturday, and the Lions must be more efficient than they were a year ago.
They reached Alabama's red zone on two of their first three possessions but committed turnovers both times. They moved the ball well on their first drive of the second half before quarterback
Rob Bolden
threw another interception in the Tide red zone.
Penn State had three sustained drives -- 10 plays, 56 yards; seven plays, 68 yards; and 11 plays, 44 yards -- and ended up with nada.
"When you're facing a team of Alabama's caliber, you can't afford to put drives together and turn it over, especially when you're down in their red zone and trying to put some points on the board," Lions receiver
Derek Moye
said.
Added Barham: "We shot ourselves in the foot."
2) Make Alabama's young QBs win the game

The intimidation factor works both ways, and as Bolden did last September in Tuscaloosa, Alabama's quarterback will be making his first career road start Saturday at a raucous Beaver Stadium.
"We've got the best fans in the county and the loudest for sure," Mauti said. "That Alabama offense is going to have a tough time hearing. I know on defense, I'm yelling at the guy next to me and I can't hear them. They've never been to Beaver Stadium before, and it'll be a challenge for them."
Whether it's
AJ McCarron
or
Phillip Sims
, Penn State must find ways to rattle the Tide signal-caller and put the burden on him to make big plays. Like Alabama, Penn State's strength is its defense, particularly a deep and talented group of linebackers and defensive backs.
Alabama will try to help its inexperienced quarterback by sparking star tailback
Trent Richardson
, who ran for 144 yards and a touchdown against Penn State last year. If Richardson gets going Saturday, Penn State can pretty much forget about winning the game.
The Lions might need their defense to generate offense, and the presence of players like linebacker Gerald Hodges, who broke his leg on the opening kickoff last year against Bama, could loom large.
"He brings a different type of intensity to our defense," Mauti said. "He flies around, and it's just an energy he brings. ... He's fast, he's physical and he's a playmaker for us."
3) Get clutch plays from Bolden and McGloin
[+] Enlarge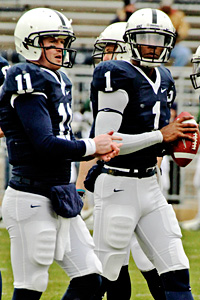 AP Photo/Gene J. PuskarThe play of QBs Matt McGloin (11) or Rob Bolden (1) are likely key to Penn's upset chances.
Paterno remains in quarterback-protection mode, once again not naming a starter and trying to deflect as much attention as he can from Bolden and
Matt McGloin
.
"The whole team's got to play solid," he said. "I wouldn't put it all on the quarterback."
But to win a game like this against an opponent like Alabama, teams typically need their quarterbacks to step up in big moments.
Bolden and McGloin will need protection from an offensive line that surrendered three sacks last week to FCS Indiana State, prompting former Penn State QB Daryll Clark
to tweet
: "Mannnnnnn... Qbs are getting hit way tooooo much this game #gottacleanitup." Barham graded the line's performance at a "B, B-minus."
The quarterbacks also need help from the run game, as
Silas Redd
and
Brandon Beachum
face an Alabama defense that finished 10th nationally against the rush in 2010 (110.2 ypg allowed).
But in a low-scoring, possibly low-possession game -- the type Penn State should hope for Saturday -- clutch quarterback play often makes the difference.
"They understand the offense, they understand what they have to do, what their role will be," Paterno said of Bolden and McGloin. "Just go in there and play our game. Don't do stupid things, protect the ball, try to keep it when we do get it, make a couple plays in the clutch, make a couple of third-down throws.
"Literally every tough game you're in, that's how you win 'em."
Paterno has been through more than a few, and another arrives Saturday afternoon.
December, 5, 2010
12/05/10
11:11
PM ET
Alabama Crimson Tide (9-3) vs. Michigan State Spartans (11-1)
Jan. 1, 1 p.m. ET (ESPN)

Alabama take by SEC blogger Chris Low
: National championships don't come easily, and back-to-back national championships in college football are practically unheard of.
Alabama (9-3) fell short in its goal to repeat this season, which isn't stunning given how rarely that's happened in this sport. But seeing the Crimson Tide lose two of their last three SEC games was certainly different, especially when you consider that Nick Saban's club had won 16 straight regular-season SEC games coming into this season.
Inconsistency plagued the Crimson Tide, who had trouble putting four quarters together. Never was that more apparent than in the final regular-season game when they built a 24-0 lead on No. 1 Auburn in the first half, only to unravel across the board and drop a bitter 28-27 decision at home.
This is still an extremely talented team with three guys who will probably go in the first round of the NFL draft next April. Nonetheless, the Crimson Tide's inexperience in the secondary caught up with them this season. They will be even more inexperienced in the bowl game. Junior safety Mark Barron underwent surgery for a torn pectoral muscle after being injured in the Auburn game and won't be able to play against Michigan State.
Senior quarterback
Greg McElroy
suffered a concussion against Auburn, but he should be fine for the bowl game. Probably the most surprising thing about this season for the Crimson Tide was that they weren't able to run the ball better, although
Mark Ingram
and
Trent Richardson
battled injuries.
---

Michigan State take by Big Ten blogger Adam Rittenberg
: A BCS bowl appearance would have been huge for Michigan State, but a matchup against Alabama in the Capital One Bowl is the next best thing.
As expected, the Spartans were snubbed from the big bowls despite a BCS-worthy résumé: a team-record 11 wins, a co-Big Ten championship, a victory against Rose Bowl-bound Wisconsin. Instead, they get an opportunity to prove just how worthy they are against the defending national champions, who are led by a man who used to coach in East Lansing.
The Nick Saban-Michigan State connection certainly adds intrigue to arguably the nation's best non-BCS bowl. Saban coached the Spartans from 1995-99, compiling a 34-24-1 record before bolting for LSU before the 2000 Citrus Bowl (now Capital One Bowl). Current Spartans coach Mark Dantonio served as Saban's secondary coach in East Lansing.
The game pairs two of the nation's smartest and classiest quarterbacks in Michigan State's
Kirk Cousins
and Alabama's Greg McElroy as well as two of the nation's most accomplished defenders in Michigan State's Greg Jones and Alabama's Marcell Dareus. Jones and the Spartans' run defense face arguably their biggest test of the season against reigning Heisman Trophy winner Mark Ingram, a native of Flint, Mich., as well as dynamic sophomore Trent Richardson.
After setting so many milestones this fall, Michigan State aims for one more. The Spartans look for their first bowl win since 2001 and their first Jan. 1 bowl win since the Citrus in 2000.