January, 30, 2014
1/30/14
2:30
PM ET
Purdue isn't a program that wins in spite of its quarterback. It isn't a place for game managers or those content with handing off the ball 40 times a game.
You don't need to be a Purdue historian to know that the program's spikes in success are tied to its star quarterbacks, from Bob Griese in the mid 1960s to Mark Herrmann in the late 1970s to
Drew Brees
from 1997-2000. Even average Boilers teams had productive signal-callers, from Bob DeMoss to Len Dawson to Gary Danielson to
Jim Everett
to
Kyle Orton
to
Curtis Painter
.
Purdue lacks the luxuries or location to consistently build great teams with defense or the run game. Although the program bills itself as the "Den of Defensive Ends," and for good reason, it's more significant nickname is "Cradle of Quarterbacks." Fifteen Purdue quarterbacks have moved on to the NFL, accounting for more starts and throwing for more yards than those from any other FBS program.
[+] Enlarge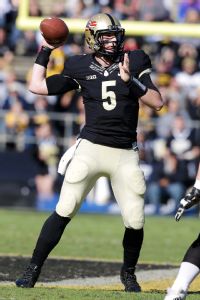 AP Photo/Michael ConroyDanny Etling was solid in his freshman season at Purdue, starting the final seven games, but knows the Boilers QBs need to play better in 2014.
As the Boilers begin digging out from a 1-11 bunker last fall, their worst season in 20 years, they know where to start.
"The entire quarterback room has a big responsibility in turning this whole culture around," quarterback
Danny Etling
told ESPN.com. "Any time you've ever had success at Purdue, you've always had a very good quarterback at the helm. That shows with our Rose Bowls. It was Bob Griese and Drew Brees. So in order for Purdue to be successful, the quarterback position has to be playing very, very strong."
Growing up in Terre Haute, Ind., Etling needed no education on Purdue's quarterback tradition. Boiler quarterbacks dominate the passing section of the Big Ten record book, occupying the top four spots in single-season yards and four of the top eight spots in career yards.
But last season, Purdue finished last in the Big Ten and 119th nationally in both scoring (14.9 points per game) and total offense (282.9 yards per game). It ranked 106th in team passing efficiency.
"At Purdue, you're the focal point of why a team is going to be successful or not," Etling said. "I'd rather have that on my shoulders. I'd rather have to be the big man on campus having to take control of a team and try to lead them, throwing it 30, 40 times a game instead of handing the ball off a bunch. That's what Purdue has a history of doing."
Purdue's history is what lured Etling, rated by ESPN RecruitingNation as the country's No. 12 quarterback in the 2013 class.
Austin Appleby
grew up in North Canton, Ohio, as a big Ohio State fan, but he also knew about Purdue's reputation for producing NFL quarterbacks.
The same draw also helped Purdue land 2014 recruit
David Blough
, who, like Brees, hails from Texas. Blough, who
stood out at the prestigious Elite 11 finals last summer
, has already enrolled at Purdue, like Etling did last winter.
"We have three Elite 11 quarterbacks right now, three pretty highly touted guys and it's not by mistake," Appleby said. "There's such a tradition here for good quarterbacks. Danny, David and myself, we're all genuinely good people. We love to work and we love to push each other. You won't find a time where you walk into the film room and one of us isn't in there. That's the thing that has separated us, aside from the talent."
Appleby and Etling both competed alongside
Rob Henry
for the starting job last spring and summer. Henry got the nod for the opener, but after a 1-3 start, Purdue turned to Etling, who started the final seven games.
Although Etling showed some promise, especially in his final three games when he competed 66.7 percent of his passes for 871 yards with six touchdowns and two interceptions, he'll need to beat out both Appleby and Blough when spring ball kicks off March 6.
"We didn't have the season we wanted, and I don't think any job is safe," Appleby said. "That's one of the best things that could possibly happen to this team. There needs to be a sense of urgency in the program that we are going to turn things around and we're going in a certain direction. You either need to get with us or you need to get outta here. That's been explained to us from the top.
"It's enough talk. We've got to be men of action."
The quarterbacks are taking charge this winter, from meeting with receivers and linemen to review routes and protections to organizing 7-on-7 sessions in the indoor facility. They've also tried to set examples with some of the off-field policies coach Darrell Hazell implemented after his arrival, such as sitting in the front row of classes and not wearing hats indoors.
"The quarterback has to set the tone," Etling said. "The tone is set by the strong, and we're a very, very strong quarterback room, I believe, one of the better ones in the country."
Etling wasn't pleased with his play last fall and has set several goals for his sophomore season: 3,000 passing yards, a completion percentage well above 60 and, the most ambitious, 30 completions per game -- "whether we call 35 passes or 50," he said. He has worked on his timing with receivers and wants to make quicker decisions, whether it's on downfield shots or checkdowns.
Although Appleby appeared in just two games last season, completing five of six attempts, his approach to be the starter hasn't changed. He thinks he knows the offense as well as the coaches.
"There's always an urgency," Appleby said. "I'm looking to get this program back on the right track, and it's going to go through the quarterback position."
July, 15, 2011
7/15/11
11:00
AM ET
Two former Big Ten players and one former Big Ten coach will receive one of college football's highest honors this weekend.
Former Wisconsin coach Barry Alvarez, former Purdue quarterback Mark Herrmann and former Michigan wide receiver (and current ESPN colleague) Desmond Howard will be enshrined into the College Football Hall of Fame. The 2011 class will be enshrined Saturday in South Bend, Ind.
You can find out all you need to know about
the enshrinement festival here
.
Here are some recent links on
Howard
,
Herrmann
and
Alvarez
heading into the Hall.
July, 11, 2011
7/11/11
12:00
PM ET
Links, oh how I missed thee.
June, 30, 2010
6/30/10
12:00
PM ET
A lot of recruiting nuggets today.
May, 27, 2010
5/27/10
1:00
PM ET
The 2010 College Football Hall of Fame inductees class includes a Heisman Trophy winner at Michigan, a record-setting quarterback at Purdue and the man who made Wisconsin football relevant again.
Not a bad showing for the Big Ten at all.
Michigan wide receiver Desmond Howard, Purdue quarterback Mark Herrmann and former Wisconsin head coach Barry Alvarez all earned their Hall passes Thursday in New York City. They will be inducted into the Hall of Fame on Dec. 7.
There shouldn't be many gripes about these choices, as all three men are very deserving of admission to the Hall.
In case you forgot what they accomplished, here's a refresher:
BARRY ALVAREZ, head coach, Wisconsin, 1990-2005
Went 118-73-4 (.615) in 16 seasons at Wisconsin
Led the Badgers to three Big Ten championships (1993, 1998, 1999) and three Rose Bowl victories
Only Big Ten coach to win back-to-back Rose Bowls (1999, 2000); one of six coaches to win three or more Rose Bowls
National Coach of the Year in 1993; Big Ten Coach of the Year in 1993 and 1998
Went 8-3 in bowl games
Led Wisconsin to back-to-back Big Ten titles for the first time since 1896-97
DESMOND HOWARD, wide receiver, Michigan, 1989-91
Won Heisman Trophy in 1991 after leading the nation in both scoring (11.5 ppg) and kickoff returns (27.5 ypr)
Became the first wide receiver to the lead the Big Ten in scoring
Earned 640 first-place votes (85 percent) in the Heisman race and won by the second-largest margin in the award's history
Also won the Walter Camp Award and the Maxwell Award in 1991
Set or tied five NCAA records and 12 Michigan records. Still holds Michigan marks for single-season points (138) and single-season touchdowns (23)
Helped Michigan to three Big Ten championships and two Rose Bowl appearances
MARK HERRMANN, quarterback, Purdue, 1977-80
Unanimous first-team All-American and Big Ten MVP in 1980; finished fourth in Heisman Trophy balloting
Set nine NCAA records in his career, including marks for passing yards (9,188) and completions (707)
Started 45 of 47 games for Purdue and completed 772 passes for 9,946 yards and 71 touchdowns (including bowl games, which the NCAA didn't count for its statistics back then)
Earned MVP honors in three consecutive bowl games (1978 Peach, 1979 Bluebonnet and 1980 Liberty)
Still ranks fifth on the Big Ten's career passing chart
Needless to say, three very deserving choices.
Alvarez got the word last week during Big Ten spring meetings. Officials from the National Football Foundation came to Chicago to tell him in person, and did so in a gathering of all the league's coaches and athletic directors. Several folks told me it was a pretty emotional moment for Alvarez, who left the hotel carrying a College Football Hall of Fame football under his arm.
Colleague Ivan Maisel has more on
Alvarez's Hall of Fame moment
, and here's a breakdown of
all the new members
of college football's elite club.
March, 3, 2009
3/03/09
3:42
PM ET
Posted by ESPN.com's Adam Rittenberg
The National Football Foundation announced its 2009 ballot for the College Football Hall of Fame Tuesday, and the list includes 16 players from the Big Ten and two coaches who spent time in the league.
Former Michigan wide receiver Desmond Howard, the 1991 Heisman Trophy winner, leads the Big Ten contingent on the ballot, which includes 76 players and six coaches.
Ohio State, Michigan and Purdue each have three players on the list, while both Penn State and Michigan State have two players. Wisconsin, Iowa and Indiana each have one candidate.
Here's the list of Big Ten players eligible for induction, along with some information on each candidate provided by the NFF:
Otis Armstrong, Purdue, running back (1970-72) -- Named consensus All-America in 1972 after accumulating 3,315 career rushing yards, a school and Big Ten record. Named Big Ten MVP in 1972.
Dave Butz, Purdue, defensive tackle (1970-72) -- Consensus first team All-America. Finalist for the Lombardi Award in 1972 and named first team All-Conference. Named Defensive MVP of the Senior Bowl.

D.J. Dozier, Penn State, running back (1983-86) -- Named 1986 consensus first team All-America and led Penn State to perfect 12-0 season and national championship (1986). Finished eighth in 1986 Heisman voting. First Penn State running back to lead the team in rushing for four consecutive seasons.
Dave Foley, Ohio State, offensive tackle (1966-68) -- Named consensus first team All-America in 1968. Led Buckeyes to the 1968 national championship and an undefeated season. National Football Foundation National Scholar-Athlete in 1968.

Kirk Gibson, Michigan State, wide receiver (1975-78) -- Named first team All-America, led Big Ten in receiving in league play and helped the Spartans to a Big Ten co-championship and a No. 12 national ranking in 1978. Played Major League Baseball for 17 seasons and won National League MVP honors in 1988.

Curtis Greer, Michigan, defensive tackle (1976-79) -- First team All-America selection. Set school record for tackles for loss in a season (23) and career (48). Two-time first team All-Big Ten selection (1978-79). Led Wolverines to three conference championships and four bowls.
Mark Herrman, Purdue, quarterback (1977-80) -- Named unanimous first team All-America, Big Ten MVP and finished fourth in the Heisman Trophy voting in 1980. A first team All-Conference selection, he broke NCAA career records for passing yards (9,188) and completions (707).
Desmond Howard, Michigan, wide receiver (1989-91) -- Consensus first team All-America and Heisman Trophy winner in 1991. Led Wolverines to three Big Ten titles and two Rose Bowls. Led the nation in scoring (11.5 points per game) and kickoff returns (27.5 avg.) in 1991.

Tim Krumrie, Wisconsin, defensive line (1979-83) -- Named a consensus first team All-America in 1981. Led Badgers to 1981 Garden State Bowl and earned Defensive MVP honors in 1982 Independence Bowl. Three-time first team All-Conference selection, recording 444 career tackles.
Robert Lytle, Michigan, running back (1974-76) -- Named consensus first team All-America in 1976. Finished third in the 1976 Heisman Trophy voting. Named Big Ten MVP in 1976 and led Michigan to two conference championships.
Tom Nowatzke, Indiana, fullback (1961-64) -- Named first team All-America in 1964. A two-time All-Conference selection (1963-64), he led the Big Ten in rushing in 1963. Played in the East/West Shrine Game, Senior Bowl and Coaches All-American Game.

Jim Otis, Ohio State, fullback (1967-69) -- Named consensus first team All-America in 1969. Member of the 1968 national championship team. Named First Team All-Big Ten in 1969 and led the Buckeyes to two conference titles. Led the team in rushing three times.

Percy Snow, Michigan State, linebacker (1986-89) -- Unanimous First Team All-America in 1989 and Butkus Award winner. Led MSU to 1987 Big Ten title and Rose Bowl win. Ranks second all-time in career tackles (473).

Chris Spielman, Ohio State, linebacker (1984-87) -- Two-time first team All-America selection (1986-87) -- unanimous in 1987, consensus in 1986. The recipient of the 1987 Lombardi Award, he is a three-time first team all-conference selection and a member of two Big Ten title teams.

Larry Station, Iowa, linebacker (1982-85) -- Two-time first team All-America selection (1984-85) -- unanimous in 1985, consensus in 1984. A three-time first team all-conference selection, he was named team captain and MVP in 1985. Iowa's all-time leader in tackles with 492.
Curt Warner, Penn State, running back (1979-82) -- Named first team All-America in 1981 and led Penn State to 1982 national championship. Most outstanding offensive player in 1980 and 1982 Fiesta Bowls. Finished career with 11 season, 10 career, 14 bowl and 42 school records.
Howard and Dave Foley are on the ballot for the first time.
Two coaches with Big Ten ties also are on the ballot. Darryl Rogers coached Michigan State from 1976-79, going 24-18. William "Lone Star" Dietz coached Purdue in 1921, going 1-6.
The 2009 class will be announced on April 30 and inducted at the National Football Foundation's annual awards dinner on Dec. 8 in New York.