May, 13, 2013
5/13/13
12:00
PM ET
Red Wings-Blackhawks one last time in the Western Conference playoffs? Yes, please.
May, 5, 2011
5/05/11
12:00
PM ET
Mitchell: You do love pink.
Cam: No, pink loves me.
August, 19, 2010
8/19/10
1:30
PM ET
Mike Rallis felt like any player would as he lay on the field at TCF Bank Stadium, his leg mangled after being hit on kickoff coverage against Cal.

A broken leg and torn ankle ligaments ended Rallis' season after just three games. It was a rough reality for the former Minnesota walk-on.

These days, Rallis has a dramatically different take on what happened.

"Looking back at it now, it was definitely a blessing in disguise," Rallis told me Wednesday afternoon. "When it first happened, I was pretty devastated, as you'd expect, just because I'd worked so hard all offseason, all spring, for the season, just as everyone had. But I didn't pout over it too long. Went right back to work the next day in the weight room."

It was there where Rallis started the transition from safety to linebacker, even though he didn't know it.

At the time of the injury, Rallis weighed 210 pounds. But his work in the weight room during the Big Ten season added eight more pounds of good weight to his frame. Then Minnesota head coach Tim Brewster summoned Rallis to his office and told him he would switch to linebacker.

"Coach Brew, as usual, got me fired up about the move, and I just embraced it," Rallis said. "Went straight back to the weight room and kept lifting."

Working with strength coach Mark Hill, Rallis increased his weight to 225 pounds, saw how it felt, and kept going. He now checks in at 6-foot-2 and 235 pounds, ideal size for a linebacker, and expects to stay at this weight for the season.

After a very impressive performance in spring ball, Rallis is being viewed as the leader of a unit that loses all three starters from 2009.

Lee Campbell, Nate Triplett and Simoni Lawrence combined for 309 tackles, 24.5 tackles for loss, four interceptions, four fumble recoveries and 18 passes defended last fall. Their departures didn't serve as the primary motivation for Rallis' excitement about the switch, although he acknowledges the obvious.

"You can say there's an opportunity, but there's also a void that's left," Rallis said. "Someone needs to step up and fill that void. That's an exciting thing, to have people expecting you to do something. I step up to the challenge. I'm a guy who loves a challenge, and to live up to what those three guys did, we definitely have a challenge in front of us as a group of linebackers."

Minnesota also returns Keanon Cooper and Gary Tinsley, both of whom appeared in every game last season as reserves and combined for 64 tackles. But it's clear the coaches are looking to Rallis to lead the way.

"I've always believed this," he said, "you have to lead by example first; show them what to do before you can tell them what to do. Especially at linebacker, you can be more physical day in and day out and just go to work every single day. That's what I tried to do from the moment I got back from my broken leg."
July, 23, 2010
7/23/10
9:00
AM ET
You asked (nicely) for it, and this time, you get what you want.
Remember colleague Bruce Feldman's annual "Freaks" list, which examined the
top workout warriors in college football

for 2010? Ohio State sophomore defender John "Sandman" Simon
made the rundown
, along with other weight-room stars from around the country.
Several of you loved Feldman's list so much that you wanted me to create a similar one just for the Big Ten. Thanks to help from sports information staffers and strength coaches from around the conference, I've compiled the following list.
I based my selections primarily on weight-room numbers and comments from Big Ten strength coaches.
Not every player submitted made the rundown, and
both Wisconsin and Iowa chose not to make any individual player nominations
. While I know guys like Iowa's Adrian Clayborn and Wisconsin's J.J. Watt do some serious damage in the weight room, I'd rather only list players who have their schools' support and whose schools provided weight-room data and/or comments from strength coaches.
Penn State
didn't provide weight-room statistics but singled out linebacker Michael Mauti, wide receiver
Derek Moye
and defensive tackle Devon Still for their weight-room performance.
Here are my selections, listed alphabetically by school:
[+] Enlarge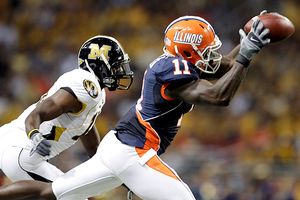 AP Photo/Jeff RobersonIllinois receiver Jarred Fayson has only four percent body fat.
Illinois WR Jarred Fayson
6-0, 215, Sr., Tampa, Fla.
Bench-presses 405 pounds, squats 500 pounds, power cleans 352 pounds

Runs the 40-yard dash in 4.4 seconds

Has just four percent body fat
Indiana LB Tyler Replogle
6-2, 238, Sr., Centerville, Ohio
Bench-presses 455 pounds, leg-presses 760 pounds

Has 33-inch vertical jump

Clocked at 4.2 seconds in the shuttle run
Michigan DT Mike Martin
6-2, 294, Jr., Redford, Mich.
Bench-presses 505 pounds, squats 700 pounds

Power cleans 430 pounds, hang cleans 475 pounds

Runs the 40-yard dash in 4.9 seconds

Strength coach Mike Barwis says: "Mike is an absolute warrior. He has a never quit attitude and is a natural born leader. He is one of the most impressive physical specimens I have ever seen."
Michigan C David Molk
6-2, 270, Jr., Lemont, Ill.
Bench-presses 490 pounds, squats 660 pounds

Power cleans 420 pounds, hang cleans 440 pounds

Runs the 40-yard dash in 4.9 seconds

Strength coach Mike Barwis says: "Dave is an outstanding worker and a natural athlete. He is one of the most naturally explosive linemen I have ever trained."
Michigan State LB Eric Gordon
6-0, 228, Jr., Traverse City, Mich.
Bench-presses 415 pounds

Squats 600 pounds

Best 40-yard dash time among Spartans linebackers at 4.52 seconds (Greg Jones clocks in at 4.55)
[+] Enlarge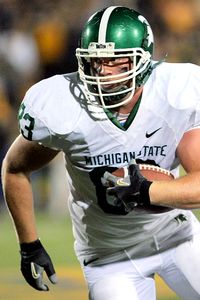 Dave Stephenson/Icon SMIMinnesota's Charlie Gantt has the fastest 40-yard dash time among Spartan tight ends.
Michigan State TE Charlie Gantt
6-5, 248, Jr., Farmington Hills, Mich.
Bench-presses 470 pounds

Squats 535 pounds

Has the top 40-yard dash time among Spartans tight ends at 4.72 seconds
Minnesota LB Mike Rallis
6-2, 210, So., Edina, Minn.
Has increased his bench press from 325 to 365 pounds during the last year

Power cleans 345 pounds and squats significantly more than 550 pounds

Strength coach Mark Hill says: "Mike's work ethic exemplifies a guy who wants to succeed. He comes into the weight room every day and shows that he wants to contribute to this team winning. He does everything he needs to do. Mike absolutely attacks his workouts every day."
Minnesota RB DeLeon Eskridge
5-11, 198, Jr., San Francisco
Has improved his squat from 250 pounds when he arrived at Minnesota to 375 pounds now

Increased his bench press from 300 pounds to 340 pounds during the last year

Has increased his power clean from 250 to more than 300 pounds as a Gopher

Strength coach Mark Hill says: "I've been very impressed by DeLeon's improvements. He was a 185-pound freshman who had to play, due to depth issues. He could have used a redshirt year to get bigger and stronger. But to see where he's gone to achieve the strength, weight, speed, explosiveness and power needed to be a successful Big Ten back says a lot about his hard work."
Northwestern QB Dan Persa
6-1, 210, Jr., Bethlehem, Pa.
Bench-presses 385 pounds, squats 550 pounds and power cleans 330 pounds, all top marks for Wildcats quarterbacks

Soon will earn second consecutive "Top Cat" award as Northwestern's top weight-room performer

Strength coach Larry Lilja says: "Dan is off the charts. No one works harder in the weight room. For his size, I doubt there is any quarterback who can match his numbers."
[+] Enlarge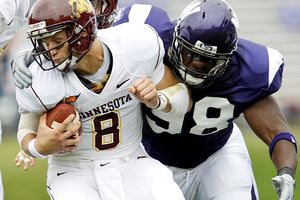 AP Photo/Nam Y. HuhCorbin Bryant, a 285-pound defensive tackle, has a 34-inch vertical jump.
Northwestern DT Corbin Bryant
6-4, 285, Sr., Chicago
Bench-presses 475 pounds, squats 600 pounds and power cleans 385 pounds

Has a 34-inch vertical jump

Strength coach Larry Lilja says: "He's one of our best workers and a true champion in the weight room."
Ohio State DL John Simon
6-2, 270, So., Youngstown, Ohio
Bench-pressed 450 and squatted 700 pounds as a high school senior

Can do 40 bench-press reps at 225 pounds

Runs the 40-yard dash in 4.8 seconds

Strength coach Jeff Uhlenhake says: "John Simon is the best total package workout guy I've ever been around, in college, in the pros, as a coach, anybody. He is amazing."
Purdue T Nick Mondek
6-5, 299, Jr., Naperville, Ill.
Former defensive lineman bench-presses 435 pounds, squats 605 pounds, power cleans 352 pounds

Has a 31-inch vertical jump

Runs the 40-yard dash in 4.82 seconds

Strength coach Jim Lathrop says: "Great worker who really has challenged himself. He has taken the position change and run with it. He is a leader in the weight room."
Purdue S Albert Evans
6-0, 206, Jr., Gary, Ind.
Bench-presses 355 pounds, squats 500 pounds

Power cleans 319 pounds

Strength coach Jim Lathrop says: "Albert has really improved and is establishing himself as a leader."
June, 23, 2010
6/23/10
10:00
AM ET
Football strength training is the flavor this week on ESPN.com, as we attempt to pump ... you up! Sorry, couldn't resist.
Head coaches get most of the credit -- and, to be fair, most of the blame -- but strength coaches spend more time with players than anyone else on campus. They play major roles in developing personnel for the season.
So who are these guys? Here's a quick look at the Big Ten strength coaches.

ILLINOIS
Name:
Lou Hernandez
At Illinois since:
2005
The skinny:
Hernandez made the transition from Florida to Illinois with Fighting Illini head coach Ron Zook, for whom he has worked since 2003. A native Texan, Hernandez received both his bachelor's and master's from the University of Houston, where he worked from 1992-2001 as both an assistant strength coach and the head man. Hernandez spent 2002 as the assistant strength and conditioning coach for the New York Jets. Despite being just 5-foot-8, Hernandez
was a competitive power lifter
who could bench 507 pounds and squat 720 in his heyday. He also consults Illinois players on nutrition and
helped defensive end Will Davis add to his frame
in 2008.

INDIANA
Name:
Mark Wateska
At Indiana since:
2002
The skinny:
Wateska has spent nearly a quarter century as a strength and conditioning coach, including the last eight seasons with the Hoosiers football program. He played football at Penn State and was part of the 1986 national championship team. Wateska received both his bachelor's degree and his master's degree in exercise and sports science from Penn State and started his career there. He eventually left for Boston College, where he served as an assistant strength coach for four years before he took his first head job at Maine. Before Indiana, Wateska spent seven years as Stanford's head strength and conditioning coach. After his first year at The Farm, Wateksa was named Pac-10 Strength and Conditioning Professional of the Year by the National Strength and Conditioning Association (NCSA).

IOWA
Name:
Chris Doyle
At Iowa since:
1999
The skinny:
Doyle has been in Iowa City for
every step of the program's resurgence
under Kirk Ferentz. He made his mark right away, earning Big Ten Strength Coach of the Year honors from the NCSA in 1999. Doyle has helped 149 players who have reached the professional ranks in the NFL, NHL and NBA, including 24 Iowa players selected in the last six NFL drafts. A native of Quincy, Mass., who earned two degrees at Boston University, Doyle came to Iowa after a year at Utah but was no stranger to the Big Ten. He served as Wisconsin's assistant strength and conditioning coach from 1996-98. Doyle worked both the football and hockey teams in Madison.

MICHIGAN
Name:
Mike Barwis
At Michigan since:
2008

The skinny:
Barwis followed Rich Rodriguez to Michigan after spending 14 years at West Virginia, where he worked with the school's Olympic sports programs before taking over strength and conditioning for football in 2003. Rodriguez is extremely loyal to Barwis and gives Barwis a lot of credit for the Mountaineers' rise to national prominence from 2005-07. Barwis has coached 24 NCSA All-Americans since 1999 and received the Bronze Award from the NCSA certification commission in 2004. A former mixed-martial arts fighter, Barwis'
workout regimes at West Virginia
became legendary, and the Philadelphia native has developed quite a reputation among Michigan players and fans.

MICHIGAN STATE
Name:
Ken Mannie
At Michigan State since:
1994
The skinny:
Mannie made the transition with Nick Saban from Toledo to Michigan State in 1994, but while Saban moved on, Mannie remained a fixture in East Lansing. He has received numerous awards and honors during his Michigan State tenure, including being named Master Strength and Conditioning Coach by the NSCA in 2002 and being inducted into the Varsity S Club as an honorary member in 2007. Mannie, who oversees the strength and conditioning programs for all of Michigan State's sports, is a regular contributor to the
Scholastic Coach and Athletic Director
publication. He first met Spartans head coach Mark Dantonio at Ohio State, where they both served as graduate assistants in 1984.

MINNESOTA
Name:
Mark Hill
At Minnesota since:
2007
The skinny:
A 1999 graduate of Tennessee-Chattanooga, Hill already has worked as a high-level strength coach in the Big 12, Pac-10 and Big Ten. He joined Minnesota's staff in head coach Tim Brewster's first season after spending three years as associate director of performance enhancement at Arizona. Hill worked closely with Antoine Cason at Arizona, helping the defensive back win the Thorpe Award. He has mentored six All-Big Ten players at Minnesota and helped coach 13 All-Americans and 28 NFL draft picks as the assistant strength and conditioning coach at Oklahoma from 2000-03. Hill was an All-Southern Conference wide receiver at Tennessee-Chattanooga.

NORTHWESTERN
Name:
Larry Lilja
At Northwestern since:
1981
The skinny:
Lilja is the dean of Big Ten strength coaches and counts current Northwestern head coach Pat Fitzgerald among the many Wildcats players he tutored during his lengthy run in Evanston. He was a three-year starter at Northwestern from 1973-75, serving as a captain in 1974, before returning in 1981 to run the school's strength and conditioning center. Lilja played a major role in helping Northwestern transform its football program by winning Big Ten championships in 1995 and 1996. He earned Big Ten Conference Strength and Conditioning Professional of the Year honors in 1996. The Lilja family has deep roots in the Big Ten, as Larry and his brothers George (Michigan) and Dave (Indiana) are the only siblings in league history to serve as captains for three different teams.

OHIO STATE
Name:
Eric Lichter
At Ohio State since:
2006
The skinny:
Lichter built his reputation in the private sector by opening the Speed Strength Athlete Training Center in Euclid, Ohio, where he trained athletes in many sports, including Ohio State NFL draft prospects like Donte Whitner and Bobby Carpenter. He served as a consultant to Ohio State's 2002 national championship team and brought
Power Plate technology
to the program. Head coach Jim Tressel hired him in 2006 to oversee the strength and conditioning program. Lichter has trained six Top 10 NFL draft picks and has worked with LeBron James, Ron Dayne and others. His mother, Linda Lichter Witter, is Ohio State's synchronized swimming coach, and Eric served as a consultant for the synchronized swimming team before joining Tressel's staff.

PENN STATE
Name:
John Thomas
At Penn State since:
1992
The skinny:
Like pretty much every member of Joe Paterno's staff, Thomas has been in State College for quite some time,
making his mark on the Penn State program
. In 2002, Thomas was named a Master of Strength and Conditioning Coach by the NSCA, one of only 27 people to carry the title at the time. He also was named National Collegiate Strength and Conditioning Coach of the Year in 1997. Thomas is a staunch supporter of the High Intensity Strength Training System (HIT), which early last decade
created some discontent
that has since subsided. Thomas came to Penn State from Army, where he served as head strength and conditioning coach in 1990-91. He played both offensive and defensive line at Muskingum College.

PURDUE
Name:
Jim Lathrop
At Purdue since:
1998 (sixth year as director of strength and conditioning)
The skinny:
Lathrop made the trek with Joe Tiller and Danny Hope from Wyoming to Purdue after being named the WAC's strength and conditioning coordinator professional of the year in 1996. He spent seven years as strength and conditioning coordinator before being promoted to oversee strength and conditioning for Purdue's entire athletic program. Lathrop designs specific training programs for football, wrestling, and men's and women's track. A former offensive guard for Northwest Missouri State, Lathrop served as both an assistant and a director of strength and conditioning at Georgia Tech from 1988-92. Georgia Tech won the 1990 national championship during his first year as director.

WISCONSIN
Name:
Ben Herbert
At Wisconsin since:
2002 (named head strength and conditioning coach in January 2009)
The skinny:
Herbert cut his teeth under longtime Wisconsin strength coach John Dettman before working his way into the top football job last winter. A two-year starter on the defensive line for the Badgers, Herbert helped Wisconsin reach back-to-back Rose Bowls in 1998 and 1999. He joined Wisconsin's strength and conditioning staff as an intern in 2002 before being promoted to an assistant the next year. Herbert
shook things up after becoming the head strength coach
, introducing position group workouts, innovative competitions and some unique motivational props, including a WWE replica belt and two potted plants.