August, 19, 2014
Aug 19
9:30
AM ET
Boston College coach Steve Addazio remembers an era when players wanted to redshirt as true freshmen to better prepare them for the final four years of their college career.
"Now it's 'I want to play,' " Addazio, 55, said. "If you're talking about not playing them early, the majority are like 'What do you mean?'"
So, the ability to play or possibly even start as a true freshman has become a regular sales pitch for coaches from the Power Five to the Group of Five. It's certainly a tool in the belt for Florida State coach Jimbo Fisher. Last week, Fisher alluded to the number of freshmen All-Americans he's coached the last four seasons. Twenty-four hours later, it was on the program's official recruiting Twitter page.
"The last [four] years we've had 14 freshmen All-Americans," said Fisher, condensing multiple outlets' freshmen award teams into one, concise Florida State propaganda poster. "If you come in ready to play, we're willing to put you on the field. It's critical for guys to come in saying 'When I'm the best, I'll play.'"
Fisher has the goods to back up his claims, even if the numbers are obviously skewed to best represent his program. But how does his résumé compare to those coaching some of the country's other top programs?
I tried to come up with a way to accurately discern which schools play the most freshmen and decided true freshmen letterwinners was the simplest and most effective way to crunch the numbers. To earn a letter, a player has to actually play consistently through the season. The disclaimer is each program can use different benchmarks when awarding letters, but there is never going to be a perfect way.
I began with Florida State's, looking back at the 2011-2013 classes. To properly quantify the data from Florida State, I decided I'd look at the five schools ranked highest in the preseason polls that have had its coach in place at least five seasons. Oregon's Mark Helfrich was offered an exemption because he was promoted from within and is in his sixth season with the Ducks. Coaches in place at least five years was the stipulation since an incoming coach might be susceptible to playing the prospects he recruited or having a number of transfers that could open up starting or rotational spots.
The criteria: Each class was looked at and the total number of signees was pared down to just those who enrolled as members of the football team in the fall. Junior college signees were excluded, as were any recruits who were academically or medically disqualified before playing a game. That explains why the total number of freshmen for our purposes might look different than what might be seen on RecruitingNation. Any true freshmen who spent a year at a post-graduate or prep school was also excluded. Redshirt freshmen were disqualified, too.
Bottom line is if the player was not a part of the football team the fall following his high school graduation, he was excluded.
Nearly all of the data was collected after poring through media guides and archives, although the communications departments at some of the schools were also helpful providing numbers and deserve recognition.
So, here is the actual data:
It is hardly a coincidence that Fisher and Alabama's Nick Saban, who mentored Fisher at LSU, have identical percentages of true freshmen earning a letter. Fisher and Saban arguably have been the two best recruiters over the last few cycles, and, the data shows those two are not going to keep young talent off the field simply because of age. Nearly half of the true freshmen at Alabama and Florida State lettered over the last three seasons.
Mark Dantonio has built Michigan State into a national title contender in a different manor, relying on experience. Only 12 percent of true freshmen lettered over the last three seasons. Recruiting to Michigan State is not the easy task it is at some other top-10 programs, and the Spartans are not recruiting as many ESPN 300-level players as the likes of Alabama and Florida State.
It should be noted Michigan State, Oklahoma and Oregon don't have quite the recruiting base Alabama and Florida State do.
Inquiring minds want to see how that 45 percent stacks up to some of the other top programs in the country, so even though they did not fit the criteria I looked at a few other schools with coaches in place at least five seasons and lately in the top half of the rankings. LSU was worth a look considering it's Les Miles' 10th season in Baton Rouge and, like Fisher and Saban, has recruited exceptionally well for a long period of time. Mark Richt is in his 14th season at Georgia and, like Miles, usually has a highly-regarded recruiting class. Steve Spurrier is in his 10th season at South Carolina and has steadily improved the Gamecocks' class to the point that the 2015 class is No. 5 nationally. Dabo Swinney has turned Clemson from a perennial disappointment into a two-time BCS bowl participant. And Ohio State and Texas A&M, mainly because it's worth seeing how third-year Buckeyes coach Urban Meyer fares considering he frequently voices his preference to avoid redshirting. Kevin Sumlin is also in the process of trying to build an SEC power that can compete with Alabama and LSU in the SEC West.
For the Buckeyes, out of the 69 true freshmen to land in Columbus, Ohio, from 2011-2013, 31 lettered -- the same 45 percent. Looking at just Meyer's two seasons, however, he is decimals ahead of Fisher and Saban at 46 percent (21 out of 46), thanks in large part to 14 freshmen letterwinners in his first season.
Georgia's Mark Richt has a percentage of nearly 50 percent, but the Bulldogs' numbers might be the most skewed. Along with South Carolina, the Bulldogs had several recruits that either did not qualify or spent time at a prep school or junior college. Also, Georgia's long list of dismissals and transfers is well documented, and all of the departures has opened up spots for freshmen to earn immediate playing time.
It is Miles, though, who plays a higher percentage of freshmen than all of the others. Twelve true freshmen lettered for LSU in both 2012 and 2013, and another nine earned a letter in 2011. There were a total of 65 applicable freshmen to enter LSU during that span and 33 of them lettered. That's a percentage of 51 percent.
Certainly the numbers will fluctuate year to year, and coaches at every single program are playing freshmen more frequently than ever before. When taking into account the timeline is over three years, LSU averages just one more freshman letterwinner per season than Alabama and Florida State. For our intents and purposes, though, the data shows which top programs consistently play the most freshmen in this new era of freshmen phenoms.
And, uh, FYI, Alabama has 19 ESPN 300 players prepping for their freshmen season this fall. LSU has 16, and Florida State isn't far off with 13 of their own.
December, 30, 2013
12/30/13
9:00
AM ET
New Year's Day is near, along with the end to long layoffs for No. 22
Georgia
and
Nebraska
.


Mitch Sherman and David Ching come together for a final discussion on the TaxSlayer.com Gator Bowl, set for Wednesday at noon ET on ESPN2:
How motivated is Georgia to win this game and why?
Ching:
That's the big question entering this game, isn't it? It doesn't feel like either fan base is particularly jazzed about this matchup since these teams just played in a bowl a year ago. It wouldn't be a surprise if the teams deal with the same problem. Georgia seems like the more talented team here, but the coaches have to convince the Bulldogs that this is a game worth playing their best.
Sherman:
I don't expect motivation to be a problem for Nebraska. The Huskers don't want their streak of nine-win seasons -- a point of much discussion and pride -- to end. A victory over an SEC opponent would serve as boost for Bo Pelini's program and the Big Ten. Moreover, it has been a long, trying season in Lincoln; playing well in the Gator Bowl could change the narrative and allow the Huskers and their fans to focus on positives.
What do you expect out of the quarterback position?
Ching:
Hutson Mason
has the benefit of already making one start in a huge game. He started slowly against Georgia Tech in the regular-season finale, but helped the Bulldogs rally for a double-overtime win. Nebraska has a talented secondary that will test him, but I expect Mason to perform well. He has waited his turn behind
Aaron Murray
, but is well prepared to become a solid performer as a senior in 2014.
Sherman:
We saw at the Big House in November that
Tommy Armstrong
has a knack for playing well under the spotlight. And for a redshirt freshman with seven starts under his belt, New Year's Day is big. Armstrong is motivated. His linemen are healthier than at any point since late October. His receivers are healed up, and while
Kenny Bell
and
Quincy Enunwa
won't surprise Georgia with their athleticism after last year, look for the Huskers to make plays in the passing game.
Who holds the edge when Nebraska has the football?
[+] Enlarge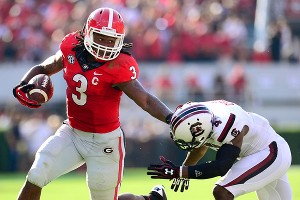 Dale Zanine/USA TODAY SportsGeorgia tailback Todd Gurley has been effective since returning for injury, rushing for six touchdowns in his last five games.
Ching:
Probably Nebraska. I know the Huskers have struggled on offense for most of the season without
Taylor Martinez
, but Georgia's defense has only dominated against the least of its competition this season. I expect Nebraska to produce decent yardage and point totals against the Bulldogs, considering how half of their opponents this season generated at least 400 yards of offense and eight scored at least 30 points.
Sherman:
If we're answering based off the second half of the season, it's Georgia, despite its defensive injuries and propensity to allow chunks of yardage. Offensively, Nebraska simply hit a wall after mid-October, with the exception of the Michigan State game. The Huskers didn't once scored 30 points after all-conference guard
Spencer Long
went down on Oct. 12 at Purdue. Injuries are the wild card, though. Long remains out, but most of the others who missed time are back. If Nebraska creates some momentum early, it could top 400 yards for the first time in five games.
Who holds the edge when UGA has the football?
Ching:
Georgia. The Huskers haven't defended the run particularly well -- they're 60th nationally at 161.2 yards per game -- and that doesn't bode well for stopping
Todd Gurley
after he's had a month to allow his injured ankle to heal. Nebraska's defense has been fairly average in every way, so even with someone other than Murray at the helm, I expect Georgia's high-scoring offense to keep rolling in Jacksonville.
Sherman:
Season-long statistics don't tell the whole story of this Nebraska defense. The Blackshirts are much improved from September, when they were trampled in the opening quarter by an FCS-level foe. Since Nov. 1, the Huskers rank among the top 20 defensive units nationally. They're especially strong against the pass. And with time to prepare, Pelini will devise a scheme to test Mason. As for Gurley, well, he could pose a problem. The Huskers will miss defensive end
Avery Moss
. And Big Ten results so far this bowl season don't bode well for Nebraska.
December, 26, 2013
12/26/13
9:00
AM ET
Aaron Murray
and
Taylor Martinez
, the shelved senior quarterbacks at Georgia and Nebraska, started 95 college games.
They won 67.4 percent.
Bet you thought that rate was higher.
Seems we've watched these two operate forever. In the past four years, Murray and Martinez meant something important to college football. They tormented defensive coordinators and served as the poster boys for a pair of proud programs, trying -- desperately close at times -- to break through.
It's not going to happen in their time.
Despite 64 victories between them (35 for Murray, 29 for Martinez), neither won a conference title. At Georgia and Nebraska, a conference title, at minimum, is the standard of success.
Yet as Murray and Martinez depart the college game in sadly anticlimactic fashion as the Bulldogs (8-4) and Huskers (8-4) meet for a New Year's Day rematch in the TaxSlayer.com Gator Bowl, they leave a record of greatness.
[+] Enlarge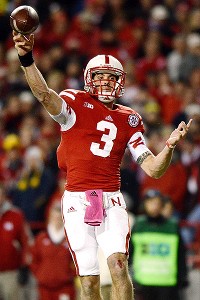 Josh Wolfe/Icon SMITaylor Martinez's final season didn't go as planned, but he'll be remembered in Lincoln.
Murray's senior season was nearly doomed from the start. Injuries to running backs
Keith Marshall
and
Todd Gurley
, several top receivers and playmakers on defense contributed heavily to four Georgia losses.
The QB persevered until Nov. 23, when he suffered an ACL tear in a 59-17 victory over Kentucky. Murray played through the injury for one series but couldn't fight the pain any further.
In similar fashion, Martinez battled for two weeks through a foot injury, suffered in the Huskers' season opener.
He led the Huskers to a 21-3 edge over UCLA in the second quarter on Sept 14, but any thoughts of a storybook ending to his career crashed to a halt in the second half. The Bruins scored 38 consecutive points. Martinez clearly wasn't himself, unable use his usually dangerous feet to stem momentum.
A one-game comeback fell flat at Minnesota in October. Martinez was finished. He lost his final two starts and an opportunity to join Colin Kaepernick as the only players in FBS history to pass for 9,000 yards and rush for 3,000. He finished with 7,258 passing yards and 2,975 rushing yards.
He lost his chance to win a conference title, a hope so promising back in 2010, when Martinez led Nebraska to a 17-point lead over Oklahoma in the Big 12 championship game as a freshman.
Martinez never broke through.
"It's been hard," Nebraska coach Bo Pelini said. "This whole season's been hard on him. It's not the way you want to see him go out."
Georgia coach Mark Richt said the same thing about Murray. Richt visited a hospitalized Murray after he underwent surgery on the damaged knee. Richt said he wanted to feel sorry for his quarterback, but Murray wouldn't let him.
His positivity is relentless. And that's part of Murray's legacy, alongside the 13,166 passing yards and 121 touchdown passes.
No Southeastern Conference quarterback before Murray threw for 3,000 yards in three seasons. Murray did it four times. He broke Danny Wuerffel's SEC record for touchdown passes and Tim Tebow's record for total yardage.
But, like Martinez, his teams never broke through.
Murray's best chance fell 5 yards short last year against Alabama in the SEC championship game. He targeted
Malcolm Mitchell
in the end zone, a shot within reach to win an SEC title as the clock ticked away. Tide linebacker
C.J. Mosley
deflected the pass to Georgia receiver
Chris Conley
. Conley slid to the turf, surrounded by defenders. Time expired on Murray's best opportunity.
[+] Enlarge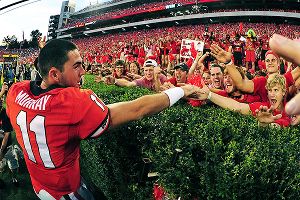 Scott Cunningham/Getty ImagesAaron Murray's place in Georgia and SEC football history is secure.
Instead of a shot to play for the national title, Georgia beat Nebraska in the Capital One Bowl as Murray threw for 427 yards and five touchdowns, both career-best marks.
It all felt anticlimactic for Murray, though nothing like this year.
"Obviously I had a vision of how I wanted to go out," Murray said recently.
This wasn't it.
"It's almost like I didn't say goodbye," he said, "which, I guess, is a good thing. I guess it's like, 'to be continued.' I'm not leaving. I'm always a Bulldog. I'll always be a Bulldog, and I guess if I would have been there to wave and really cherish the end of it, that would have been like, 'Book closed, it's over,' and I feel like it's not over for me."
Murray is eloquent and charismatic. Martinez is quite the opposite.
Uncomfortable in the spotlight, the Nebraska quarterback hasn't spoken to the media since the Minnesota game.
But Martinez appears to be at peace. He has remained at the side of teammates through conditioning drills and practices this month. Those close to him, though, say he's devastated by the injury.
A generation from now, Murray and Martinez will be remembered not for this anticlimactic ending or their inability to break through and win a championship.
Time will heal their wounds. History will reflect well on their legacies. College football will remember them.
December, 13, 2013
12/13/13
10:00
AM ET
We're examining the Big Ten bowl opponents this week. Time to take a look at Georgia, Nebraska's repeat postseason foe in the TaxSlayer.com Gator Bowl.
TaxSlayer.com Gator Bowl
Jacksonville, Fla., Jan. 1, noon ET, ESPN2
Nebraska (8-4) vs. Georgia (8-4)

Georgia Bulldogs
Coach:
Mark Richt (13th season)
Record:
8-4, 5-3 SEC
Combined opponents' record:
90-56
Common opponents:
none
Leading passer:
Aaron Murray
, 225-347 (64.8 percent) for 3,975 yards with 26 touchdowns and nine interceptions. Murray is injured. In his place, Georgia looks to
Hutson Mason
, 46-71 (64.8) for 648 yards with four touchdowns and two interceptions.
Leading rusher:
Todd Gurley
, 144 carries for 903 yards in nine games (6.3 per carry) and 10 touchdowns.
Leading receiver:
Chris Conley
, 42 receptions for 605 yards (14.4 per catch) and four touchdowns.
Leading tackler:
Linebacker
Ramik Wilson
, 72 solos and 56 assists, 11 tackles for loss, four sacks and seven quarterback hurries.
What to know:
The Bulldogs fought injuries almost from the outset after a three-point, season-opening loss to Clemson. The low point came during the first three weeks of October, when Gurley, the sophomore tailback, missed time with an ankle injury as the Bulldogs snuck past Tennessee before losing to Missouri at home and at Vanderbilt. Since Gurley's return, Georgia has won four of five games, losing only at Auburn on Ricardo Louis' miraculous game-winning catch. Murray, the record-setting senior QB, went down with ACL tear against Kentucky, but Mason, a junior, stepped in nicely to throw two touchdowns against Georgia Tech. The receiving duo of Conley and
Michael Bennett
, both 6-foot-3 and back from midseason absences, will test the Nebraska secondary. It's been an adventure for the Bulldogs on defense after replacing a talented, veteran group from a year ago. Eight opponents scored 30 points or more. Georgia was especially susceptible against strong aerial attacks and ranked last in the SEC in allowing 7.6 yards per passing attempt.
Key matchup:
Gurley vs. Nebraska's defensive front seven. As Nebraska gets healthy on offense and prepares to face a Georgia defensive unit that has struggled plenty this year, you might expect the Huskers to fare well in a shootout, especially with Murray on the sideline. Not probable. It didn't work last year in the Capital One Bowl, won by Georgia 45-31 after a close 2˝ quarters. To succeed in Jacksonville, the Huskers likely need a strong defensive showing focused on Gurley, the bruising runner who finished strong with 122 yards and four scores against Georgia Tech. Nebraska was gouged on the ground by the likes of Wyoming, South Dakota State, Minnesota and Northwestern this year. Gurley is better than all of their backs. But the Huskers' defensive front, notably first-year starters
Randy Gregory
,
Vincent Valentine
Avery Moss
and
Michael Rose
, have shown rapid improvement and now rank as a strength of this team.
June, 21, 2013
6/21/13
3:00
PM ET
Part of the surprise about Bret Bielema's sudden departure from Wisconsin to Arkansas in December stemmed from the fact that Bielema seemed like such a Big Ten guy.
Other than perhaps Northwestern's Pat Fitzgerald, Bielema was the most "Big Ten" of the 2012 Big Ten head coaches. Born in Illinois, played at Iowa, spent his first eight years as a coach at his alma mater, left Big Ten country for two years to coordinate Kansas State's defense, returned as Wisconsin's defensive coordinator and then was elevated to head coach after the 2005 season.
But three days after coaching Wisconsin to a Big Ten championship game victory, Bielema bolted for the spotlight and scrutiny of the SEC. And he's not alone.
From today's
Grantland story on Bielema at Arkansas
:
Although SEC football has long been a vessel for expressions of Southern exceptionalism, many of the conference's most successful coaches come from the Midwest. Les Miles, Nick Saban, and Urban Meyer all have roots in Ohio. Mark Richt is from Nebraska. In fact, among the league's 14 current coaches, eight were born in states with Big Ten programs, while only five hail from SEC country.
I've joked that if you don't know where a college football coach grew up, just say Ohio and you'll probably be right. But the percentage of SEC coaches with Big Ten roots is notable. The SEC coaching ranks used to be filled with homegrown coaches like Vince Dooley, Pat Dye, Johnny Majors, Paul Bryant and Phillip Fulmer. Former Florida quarterback and head coach Steve Spurrier is still in SEC territory at South Carolina, but he's no longer the norm.
Here's a quick look at SEC coaches with roots in the Big Ten footprint:
Bret Bielema, Arkansas: Born in Illinois, played and coached at Iowa, assistant coach and head coach at Wisconsin
James Franklin, Vanderbilt: Born in Pennsylvania, played college ball in Pennsylvania at East Stroudsburg
Butch Jones, Tennessee: Born in Michigan, played college ball in Michigan at Ferris State, head coach at Central Michigan and Cincinnati
Les Miles, LSU: Born in Ohio, played at Michigan and served as an assistant coach at Michigan from 1987-94
Dan Mullen, Mississippi State: Born in Pennsylvania (attended high school in New Hampshire)
Gary Pinkel, Missouri: Born in Ohio, played college ball in Ohio at Kent State, coached at two MAC schools (Kent State and Bowling Green)
Mark Richt, Georgia: Born in Nebraska (attended high school in Florida)
Nick Saban, Alabama: Played in Ohio at Kent State, assistant at Ohio State and Michigan State, head coach at Michigan State from 1995-99
Mark Stoops, Kentucky: Born and raised in Ohio, played at Iowa
Kevin Sumlin, Texas A&M: Played high school football in Indiana, played college football at Purdue, assistant at Minnesota and Purdue
The Big Ten has more of a homegrown flavor in its current coaching ranks, as seven leading men grew up in Big Ten states: Illinois' Tim Beckman (Ohio), Iowa's Kirk Ferentz (Pennsylvania, born in Michigan), Michigan's Brady Hoke (Ohio), Michigan State's Mark Dantonio (Ohio), Nebraska's Bo Pelini (Ohio), Northwestern's Pat Fitzgerald (Illinois) and Ohio State's Urban Meyer (Ohio). Purdue coach Darrell Hazell hails from a future Big Ten state (New Jersey).
Although homegrown players are the biggest reason for the SEC's run of dominance, coaches from Big Ten country also have played a role.
December, 31, 2012
12/31/12
10:45
AM ET
Here are three keys for Nebraska in its matchup against Georgia in Tuesday's Capital One Bowl.


1. Protect the football:
It might be asking too much of a team that has given the ball away more (32) than all but five FBS teams, but Nebraska can't expect to upset Georgia if it commits turnovers in bunches. Nebraska tied for the most lost fumbles in the country with 21, and quarterback
Taylor Martinez
threw 10 interceptions. Georgia is good at taking away the ball, ranking 22nd nationally in turnovers forced (27). Bulldogs All-America linebacker
Jarvis Jones
has seven forced fumbles, so Martinez,
Rex Burkhead
and the other Husker ball carriers must be aware of No. 29 at all times. Georgia has had five turnover-free games and boasts a 29-1 record under coach Mark Richt when avoiding a turnover.
2. Pressure Murray:
The lack of a truly dominant defensive lineman has hurt Nebraska in its recent losses. Georgia's
Aaron Murray
is the best drop-back quarterback the Huskers have seen this season, ranking second nationally in pass efficiency (172.4) with 31 touchdown strikes against just 8 interceptions with a completions rate of 65.4 percent. Although Nebraska leads the nation in pass defense (148.2), it will be vulnerable if it doesn't make Murray's life tough in the pocket. Senior defensive end
Eric Martin
showed flashes of dominance at times this season, finishing with 8.5 sacks and 16 tackles for loss. The Huskers need Martin or another pass-rusher to deliver against the Dawgs.
3. Start fast:
Motivation is a big question mark in this game as both teams had much higher goals that vanished after losses in their respective conference championship games. Georgia has to be particularly bummed after being one play away from a spot in the national title game. Bo Pelini's squad must capitalize on any potential hangover from the Bulldogs. It isn't Nebraska's strong suit, as the Huskers are more of a second-half team and have had some problems in the second quarters of games (outscored 118-103). But Nebraska can't expect Georgia to leave the door open like so many Big Ten teams did this season. The Huskers need their best 60-minute effort of the season to pull off the upset in Orlando.
January, 2, 2012
1/02/12
5:42
PM ET
Michigan State gave the Big Ten a much-needed bowl win with a thrilling
33-30 triple-overtime win over Georgia
in the Outback Bowl.
Here's an instant analysis:


How the game was won:
Defense was king to start the day, but we saw both offenses catch some fire in the second half. After being outscored 16-0 in the first half, the Spartans outscored Georgia 27-11 in the second. Michigan State survived quarterback Kirk Cousins' third interception of the day to start overtime, then Georgia's Blair Walsh missed a 42-yard field goal attempt. Spartans kicker Dan Conroy won the game in triple overtime with a 28-yard field goal.
Turning point:
Walsh's missed field goal attempt on Georgia's first possession in overtime kept Michigan State alive and allowed it to score in the next two overtime periods.
Stat of the game:
The teams combined for 68 rushes for 124 yards.
Player of the game:
Michigan State wide receiver
Brian Linthicum
had a spectacular day catching the ball. He hauled in seven catches for 115 yards, and his 50-yard reception in the fourth quarter helped set up a touchdown that gave Michigan State its first lead of the day.
Unsung hero of the game:
Fifth-year senior wide receiver/holder
Brad Sonntag
saved the Spartans on two huge kicks. He snagged a low one on the tying extra point to send the game into overtime and grabbed a high one for the winner.
Best call:
With 3:30 left in the fourth quarter, Michigan State coach Mark Dantonio challenged a play ruled a catch by Georgia's
Marlon Brown
. Even with pass interference being called on the play, a completion would have left the game clock at 3:30, but if it was incomplete, the clock would have had 13 seconds added. The play was overturned, 13 seconds were added, and Michigan State eventually scored its tying touchdown with 19 seconds remaining.
Second-guessing:
Georgia coach Mark Richt has often been criticized for being too conservative, and it almost cost him, as he ran just two plays after Bacarri Rambo's interception before sending Walsh out for the 42-yard field goal attempt on Georgia's first overtime possession. Walsh missed, and Michigan State eventually won in triple overtime ... after a Walsh kick that was blocked.
What it means:
Michigan State ends its five-game losing streak in bowl games and gives Dantonio his first bowl win as the Spartans' head coach. With 11 wins and a bowl win, Michigan State should be overflowing with confidence heading into the offseason. This likely will make the Spartans a top-10 team to open the 2012 season. For Georgia, this loss will sting for a while. The conservative play calling late and the missed field goal likely will be brought up a lot with this team. The Bulldogs should return a talented team that will have it near top-10 status, though.
Record performance:
Brandon Boykin's stellar 92-yard punt return is the longest play in Outback Bowl history. Less than two minutes earlier,
Aaron Murray
's 80-yard touchdown pass to
Tavarres King
stood as the longest play in the bowl's 26-year existence. It was also a career-long pass for Murray and a career-long reception for King. Also, King's 205 receiving yards were a Georgia school record.
Record performance 2:
Walsh's eight points on kicks made him the SEC's all-time leading scorer with 411 points.
January, 1, 2012
1/01/12
12:30
PM ET
Both Michigan State and Georgia fell short in their respective league title games, and as a result they'll meet in a Florida bowl for the second time in four years. The Spartans are searching for their first bowl win under coach Mark Dantonio. Georgia is 7-3 in bowls under coach Mark Richt but had an ugly performance last year in a loss to Central Florida.


Let's take a look at the Outback Bowl, taking place Monday in Tampa.
WHO TO WATCH:
Michigan State quarterback
Kirk Cousins
. He played his best football in the final stretch of the regular season, recording passer ratings of 160 or higher in each of his final five contests and tossing 13 touchdowns against only two interceptions during the span. But Cousins will go against the best defense he has faced all season, a Georgia unit ranked third nationally in yards allowed and fourth in pass efficiency defense. Cousins struggled against Nebraska's defense on Oct. 30 and had a very rough day last year against Alabama in the Capital One Bowl. Captain Kirk should set the tone for MSU in this game as he looks to spread the ball to wideouts
B.J. Cunningham
and
Keshawn Martin
.
WHAT TO WATCH:
The Spartans defensive line going against
Aaron Murray
and
Isaiah Crowell
. Murray can pick apart a defense if given time, and Michigan State will need to pressure the Georgia quarterback with a line that doesn't have great depth entering the game. The Spartans will look for Jerel Worthy, William Gholston and others to log significant snaps and make plays. Crowell, the Bulldogs' heralded freshman, is expected to play despite an ankle injury, although
Ken Malcome
and
Richard Samuel
also are expected to get carries. Michigan State ranks 12th nationally in rush defense and seventh in sacks. The bowl is the time for Pat Narduzzi's defense to shine.
WHY TO WATCH:
After a heartbreaking loss in the Big Ten championship, Michigan State tries to respond and win its first bowl game since the 2001 Silicon Valley Football Classic. The Spartans arguably ended the season playing better than any Big Ten team, and a victory would secure a second consecutive 11-win season and possibly a spot in the top 10 of the final polls. Dantonio always talks about the need to "play up," and after an embarrassing bowl loss to Alabama last year, Michigan State has a great opportunity to take down an SEC team and send a historically successful senior class out on a good note.
PREDICTION:
Michigan State 21, Georgia 20. The teams are evenly matched and it could go either way, but Cousins and the Spartans' seniors are hungry to check off one of the few milestones they haven't achieved in their college careers. Michigan State gets a strong performance from the defense, and the offense once again emphasizes the quick passes it executed in the Big Ten title game to get Cunningham and Martin in space. Cousins finds Cunningham for the game-winning touchdown in the final minute.
December, 10, 2008
12/10/08
9:00
AM ET
Posted by ESPN.com's Adam Rittenberg
Mike Locksley's departure to become head coach at New Mexico leaves Illinois without its offensive architect and top recruiter. Arguably no assistant coach in the Big Ten brought in a better recruiting haul than Locksley, who landed wide receiver Arrelious Benn, cornerback Vontae Davis and defensive end Will Davis, among others.
But Illini head coach Ron Zook won't have trouble finding a replacement at offensive coordinator. Zook's phone has been flooded with calls the last 48 hours, including recommendations from Georgia head coach Mark Richt, former Tennessee head coach Phillip Fulmer and Penn State offensive coordinator Galen Hall.
Hmmm, I wonder who Hall is pushing for the job (Jay Paterno?). Nothing against Fulmer, but Zook should be a little leery of hiring anyone associated with Tennessee's offense this season.
"What makes you busy is that it's a job that a lot of people want," Zook said. "It makes you feel good because people have taken notice, they've seen the progress we've made and they realize we've got some talent here. Now, we've just got to coach it up and get them ready to where they're supposed to be."
Locksley doesn't expect to bring "major guys" from the Illinois staff with him to New Mexico. If Zook chooses to stay in house, wide receivers coaches Jim Pry and Kurt Beathard, both of whom have offensive coordinator experience, would be top candidates.
Though Locksley served as a mentor for quarterback Juice Williams and others, Zook assured his players Tuesday that "nothing's going to change."